This Ambrosia Salad is colorful, fun and couldn't be any easier to whip up. A silky sweet dessert salad filled with fruit that is always a party favorite!
Looking for more light and fruity recipes? Try some of these reader favorites: Lemon Mousse Jello Cups, Strawberry Smoothie Bowl, Homemade Strawberry Mousse and my Mom's famous Banana Pudding!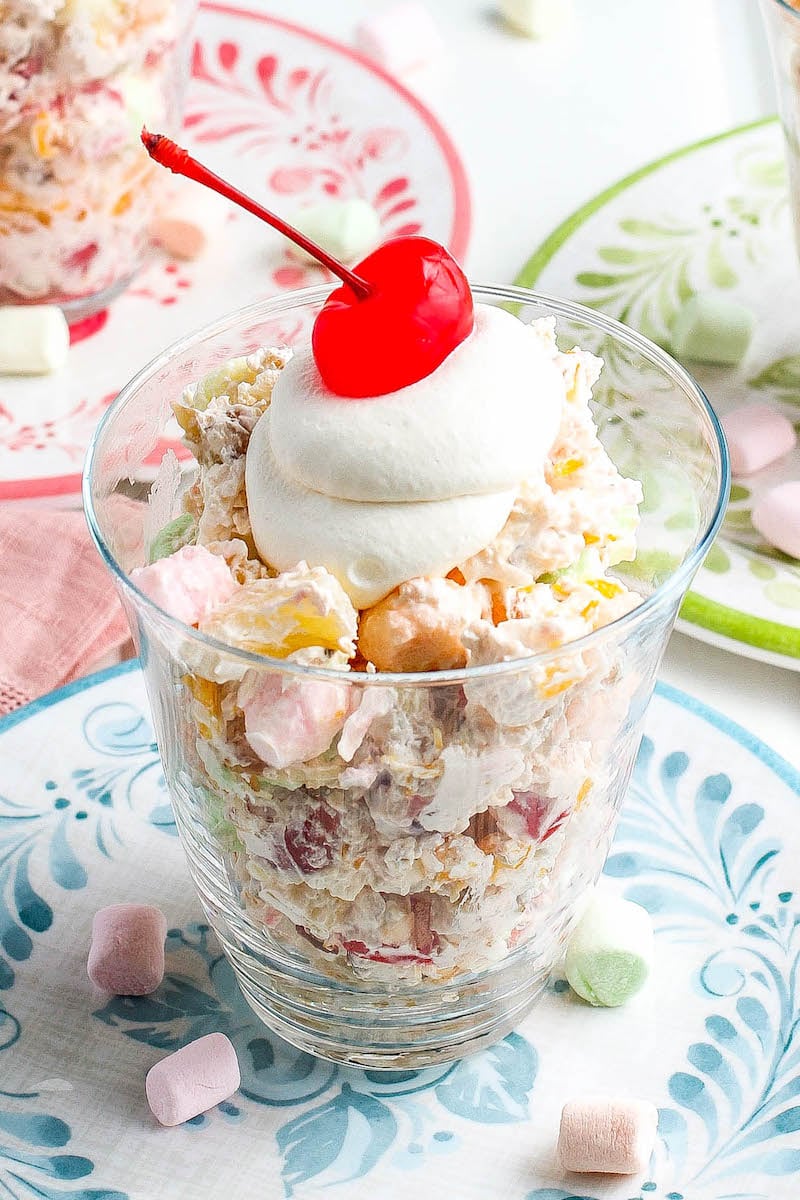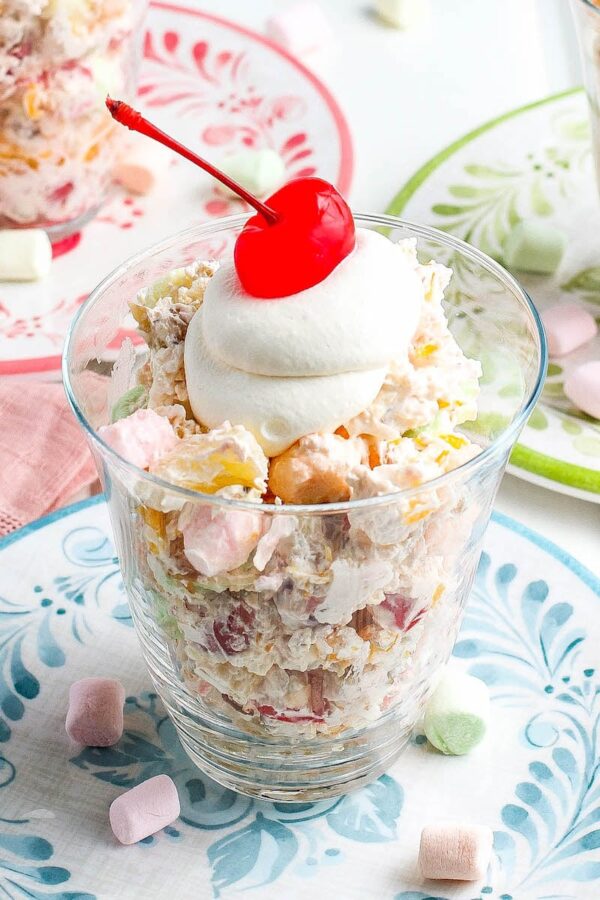 An Easy Ambrosia Salad Recipe
We have been making this Ambrosia Salad recipe for so many years, as it's my mom's favorite. Light and fluffy with tons of hidden fruity bites, this old-school classic holiday recipe (and summer picnic dish) is always one of the first to disappear from everyone's plates!
If you are looking for a simple, fun, and colorful dessert to make with your kids – you have found it! This dessert salad is so easy because all you need is a bowl and a spoon. No fancy equipment needed, and almost no way for this to get messed up!
Small children love to help mama in the kitchen and this is perfect for that! The measurements don't need to be perfect, And, mine LOVE LOVE LOVE the multi-colored marshmallows. Sometimes I have to hide them so they make it into the salad and not just into everyone's mouths!
My kiddos have started calling this Unicorn Salad and it would certainly go great on the menu for a Unicorn themed birthday party. (I also have a Unicorn Fudge recipe you might like!)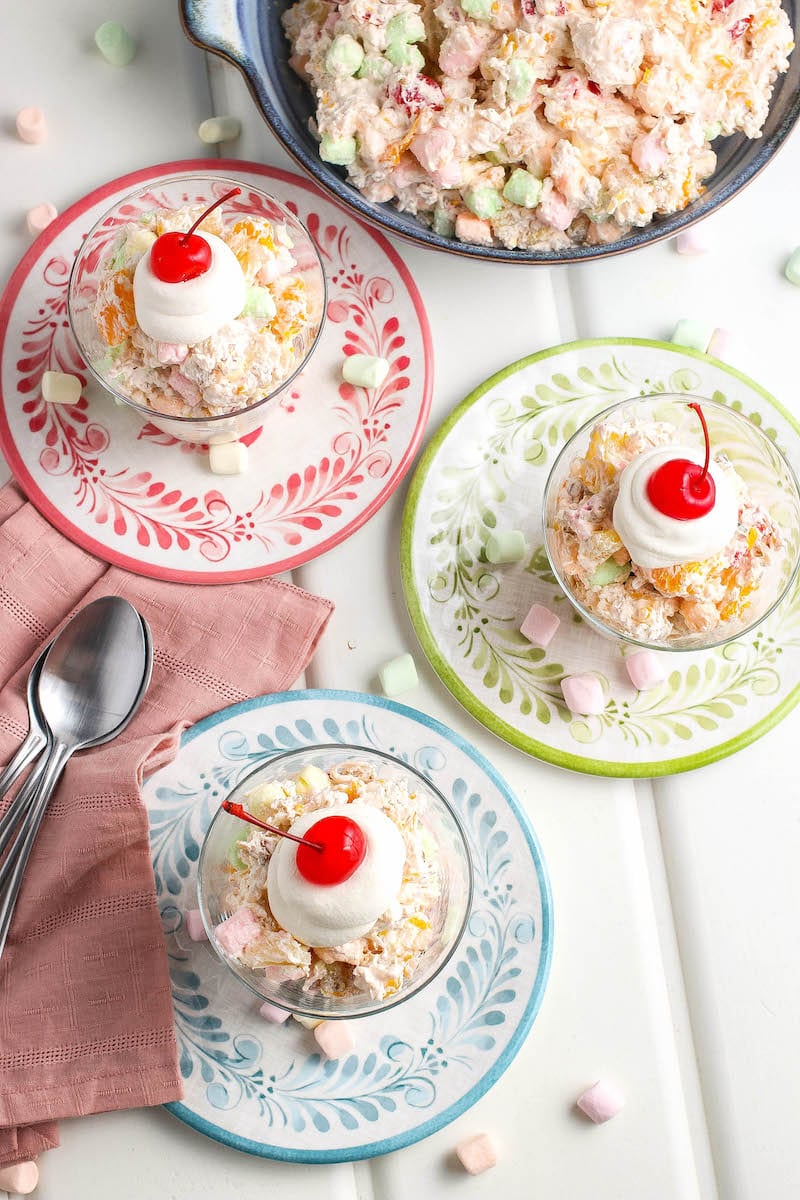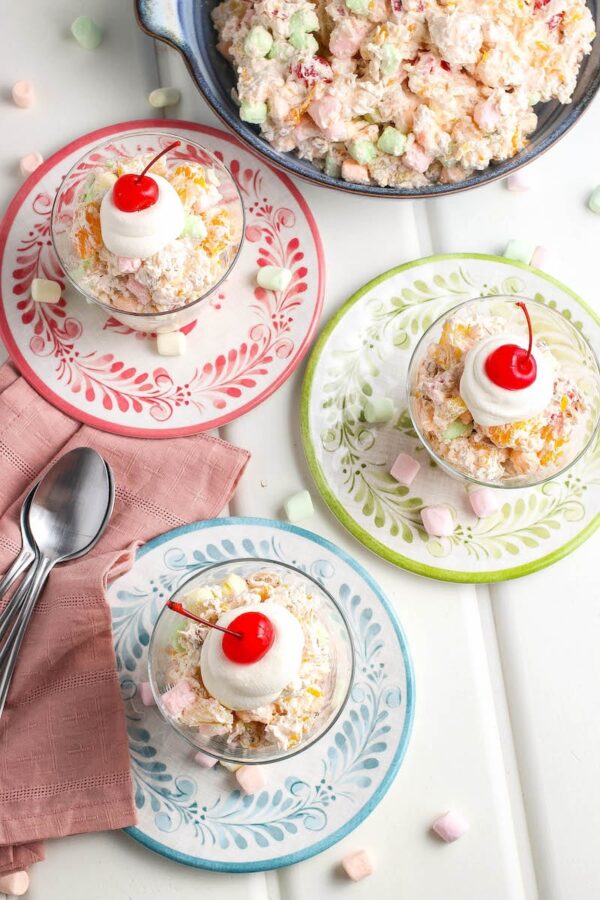 What is Ambrosia?
Ambrosia is a creamy dessert salad that's served cold. The name literally translates to "food of the gods" in Greek, and let me tell you – it does not disappoint.
A traditional ambrosia has whipped topping, marshmallows, shredded coconut, mandarin oranges, and pineapple. Some Ambrosia salads, like mine, include chopped nuts and sour cream, too. The addition of these ingredients will make your Ambrosia salad a bit less sweet, but has the added benefit of more texture and just a touch of saltiness from the nuts. It really hits every note!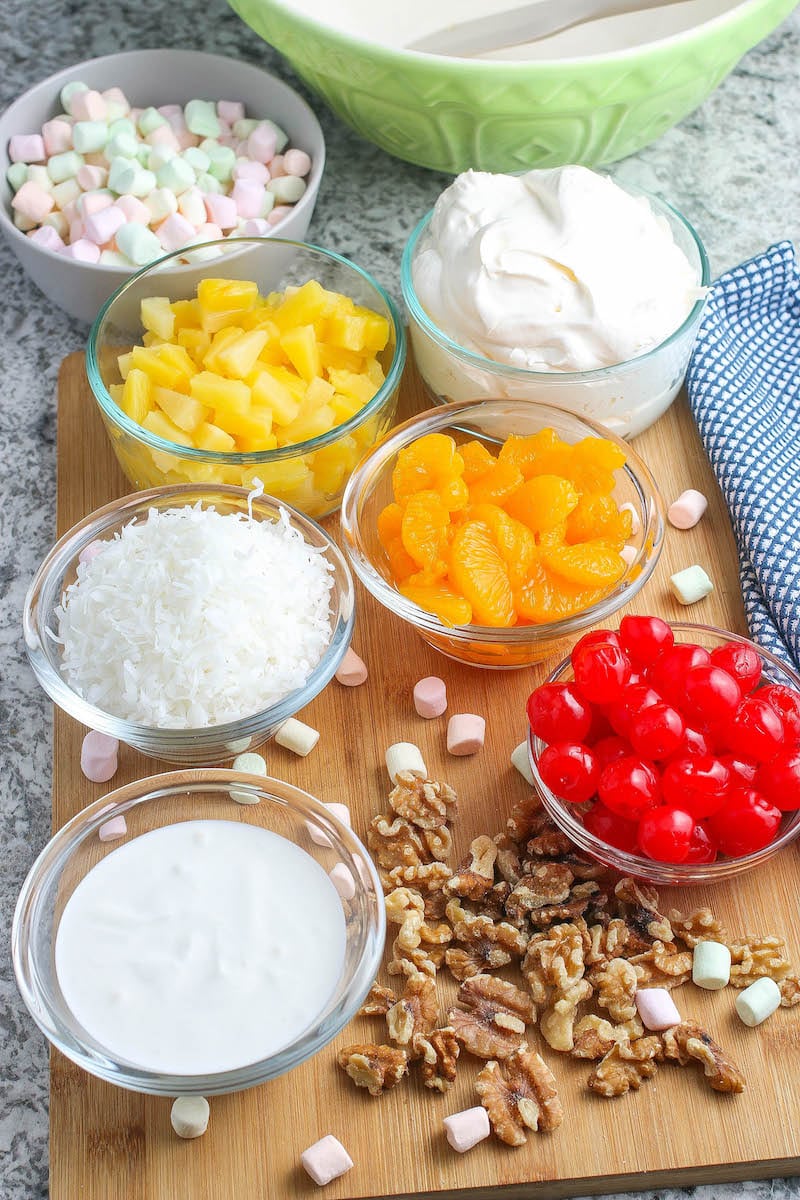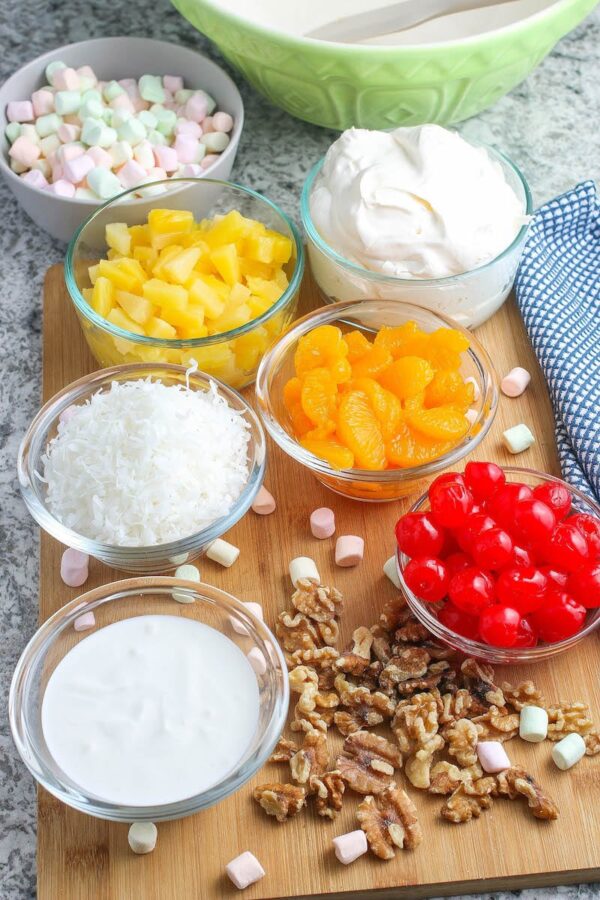 Recipe Ingredients
You won't need fancy ingredients to make Ambrosia salad. Here is all you need:
whipped topping (cool whip)
sour cream
mandarin oranges
pineapple tidbits or crushed pineapple
maraschino cherries
sweetened shredded coconut
mini marshmallows
chopped nuts
Feel free to make some swaps with the fruits and nuts based on what you have available. Sliced kiwi, halved grapes, as well as any berries would work great!
How to Make Ambrosia
1. Combine: In a large bowl, fold together the whipped topping and sour cream until they are smooth.
2. Add: Next, fold in the oranges, pineapples, cherries, marshmallows, nuts and coconut until everything is well coated.
3. Chill: Then, cover the Ambrosia Salad with plastic wrap and refrigerate it for at least 1 hour.
4. Serve: Finally, top your Ambrosia Salad with additional whipped topping and a cherry. Enjoy!

Tips for the Best Ambrosia Salad
For the best Ambrosia salad around, I suggest:
Choose your favorite nut for this recipe, but make sure you chop them into small bits. Large bites of nuts will ruin the overall texture.
You can add in any of your favorite fruits or whatever fruits you have at home, but cherries and mandarin oranges are not optional in my Ambrosia. They give your salad that classic taste.
Always serve this salad chilled. It really is best right out of the fridge! Which makes it a wonderful make-ahead recipe!
Don't skimp on the mini marshmallows. They are what gives it that cloud like texture!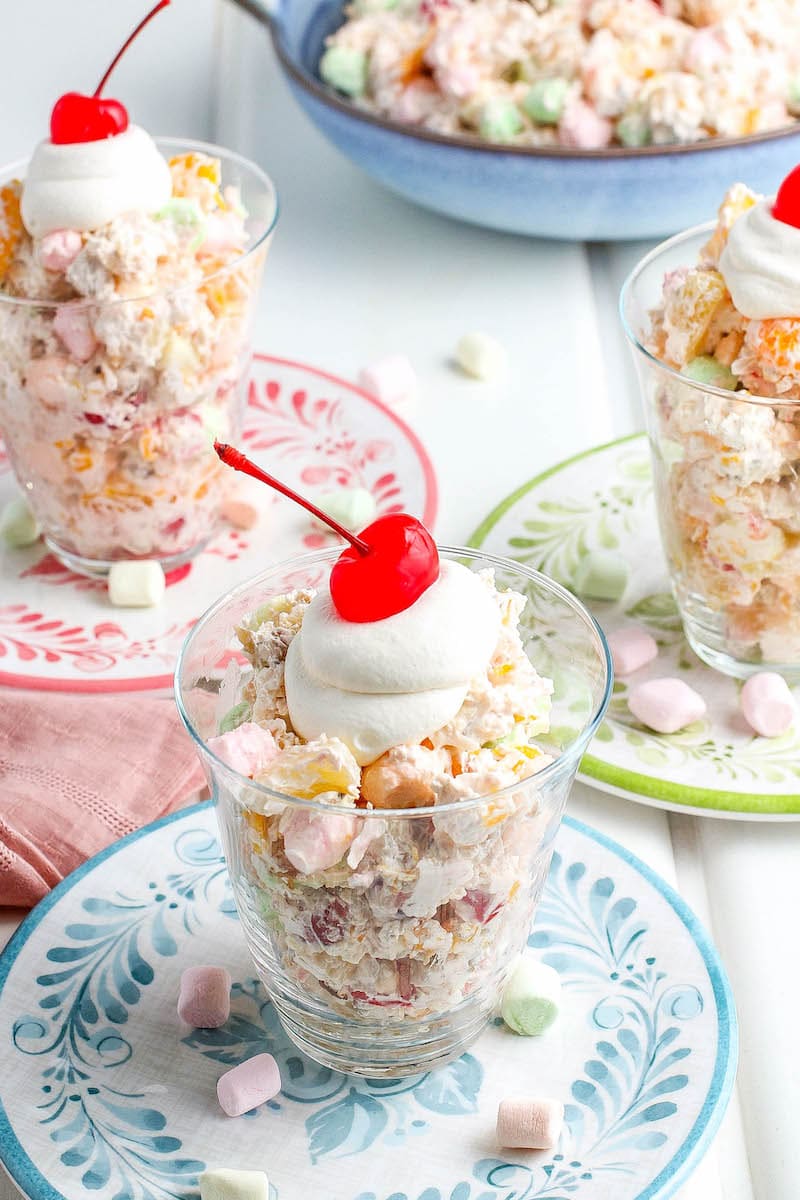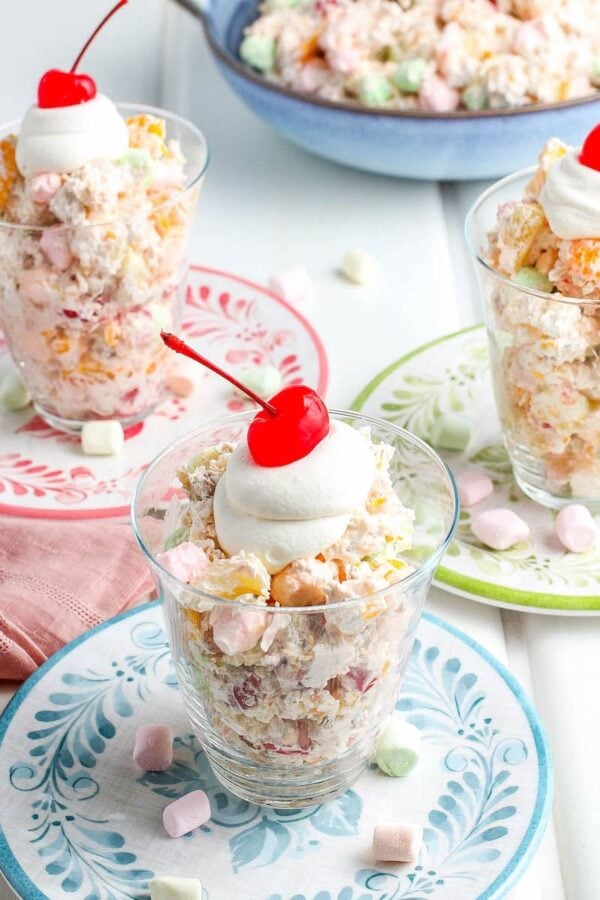 Serving Suggestions
I love to serve this Ambrosia Salad as a fun picnic, potluck, or cookout side dish. It's nice to have a sweet side dish to balance out all of the savory going on.
It's also great as part of a holiday spread because it's so festive. Christmas, Easter, Thanksgiving – it works for any and all holidays! We also serve it at our kids birthday parties because all the kiddos love it so much and call it Unicorn Salad!
How to Store Ambrosia
If you have leftover ambrosia, you can simply cover your bowl tight or place it into an airtight container and store it in your refrigerator for no more than 3 days. Over the course of the 3 days, it may also start to turn pink from the maraschino cherries, but that just makes it more fun! Because of the dairy, I wouldn't store it any longer than that and I wouldn't suggest freezing it.
Yield: 8-10
Ambrosia Salad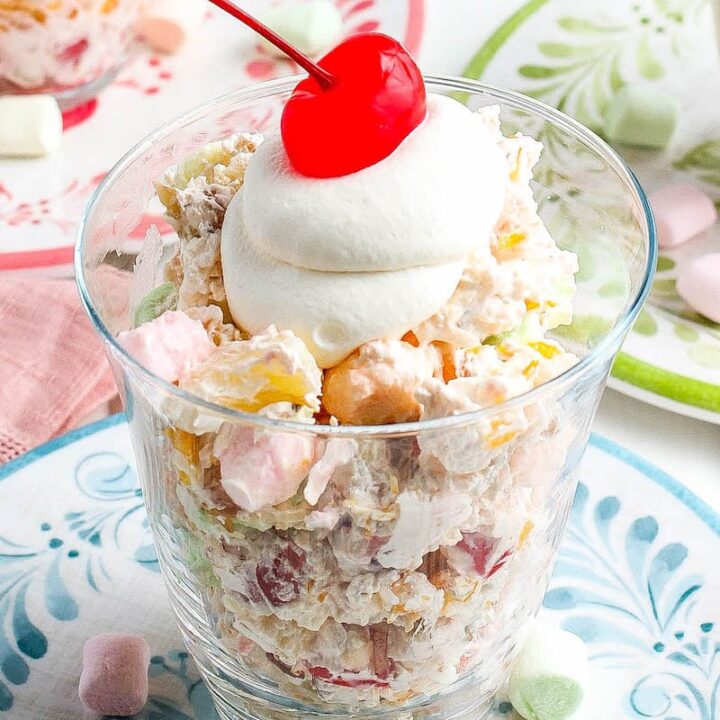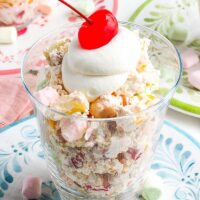 This Ambrosia Salad is colorful, fun and it couldn't be any easier to make. A silky sweet dessert salad filled with fruit that's always a hit!
Total Time
1 hour
5 minutes
Ingredients
1 container (8 oz) whipped topping, thawed
½ cup sour cream
1 can (11 oz) mandarin oranges, drained well
1 can (20 oz) tidbits pineapple, drained well - or use crushed pineapple
1 jar (10 oz) maraschino cherries, drained, rinsed, cut in half
1 cup sweetened coconut
2 cups mini marshmallows, white or multi-colored
1 cup chopped nuts - walnuts or pecans
Instructions
In a large bowl, fold together whipped topping and sour cream until smooth. Fold in oranges, pineapples, cherries, marshmallows, nuts and coconut until well blended.
Cover with plastic wrap and refrigerate at least 1 hour, before serving. Store any leftovers in refrigerator.
Nutrition Information:
Yield:
10
Serving Size:
1
Amount Per Serving:
Calories:

208
Total Fat:

12g
Saturated Fat:

5g
Trans Fat:

0g
Unsaturated Fat:

7g
Cholesterol:

7mg
Sodium:

73mg
Carbohydrates:

24g
Fiber:

3g
Sugar:

16g
Protein:

4g
Want to Save This Recipe?
This post may contain affiliate links. Read my disclosure policy.