These super soft and buttery Cherry Almond Whipped Shortbread Cookies have a bright red cherry in the center and are irresistible! Bonus: The cookies are whipped together very quickly with a dough that doesn't require any resting time.
These buttery, melt in your mouth Cherry Almond Whipped Shortbread Cookies have a delicious red cherry in the center of each cookie. If you are an almond lover, the almond and cherry flavor pair perfectly in this light cookie making it irresistible!
You'll find that these cookies can easily be made with a handful of simple ingredients and that they take less than 30 minutes of time from start to finish. These whipped shortbread cookies are softer than traditional shortbreads. They are lightly sweetened with the perfect amount of almond and maraschino cherries!
Looking for more whipped shortbread cookies? Check out these Lemon Whipped Shortbread Cookies, Orange Whipped Shortbread Cookies and Key Lime Cookies!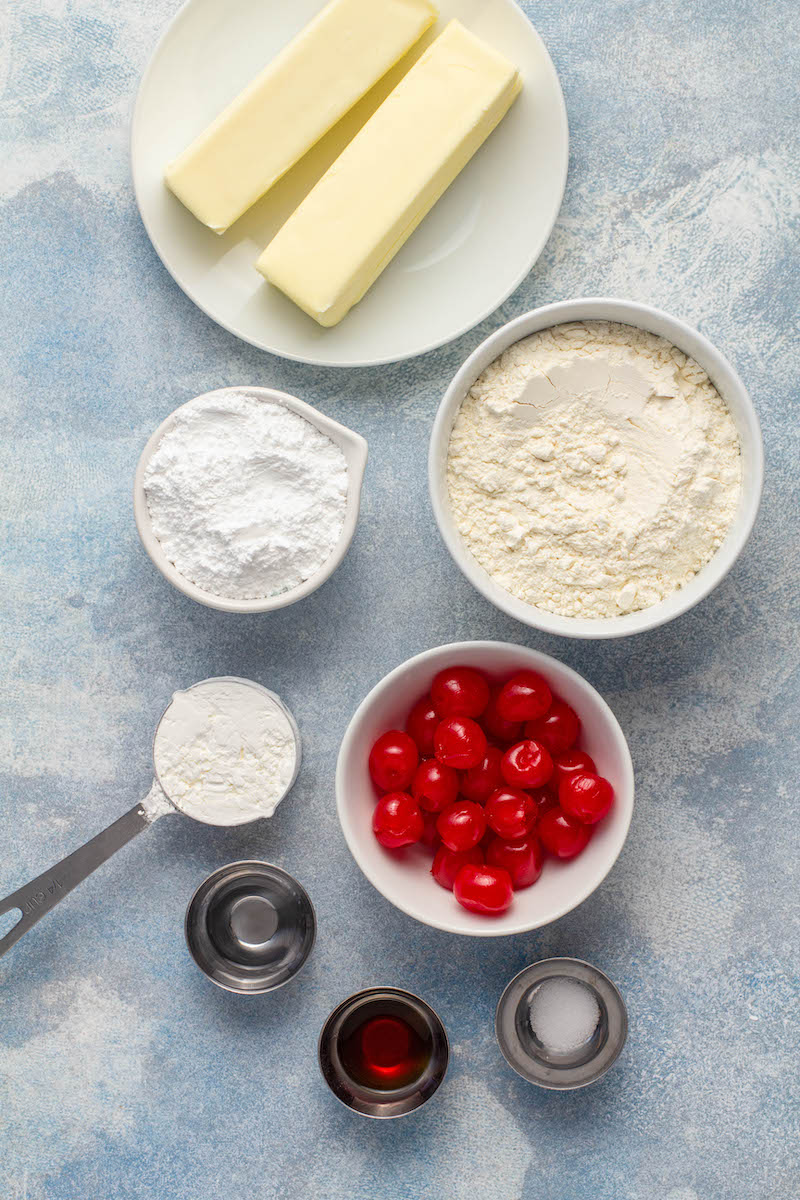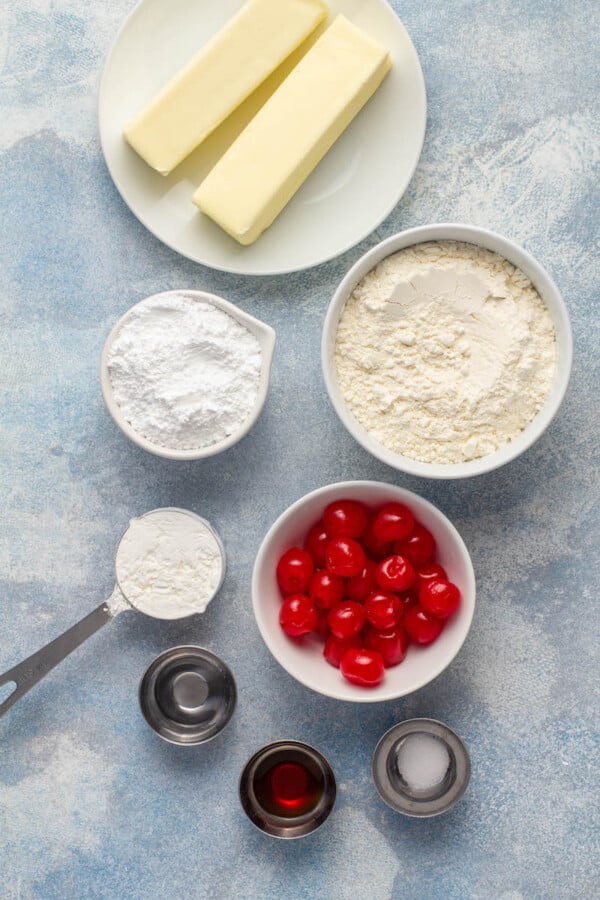 INGREDIENTS NEEDED
You only need 8 simple ingredients to make your new favorite cookies!
Butter
Powdered Sugar
All Purpose Flour
Cornstarch
Salt
Vanilla Extract
Almond Extract
Maraschino Cherries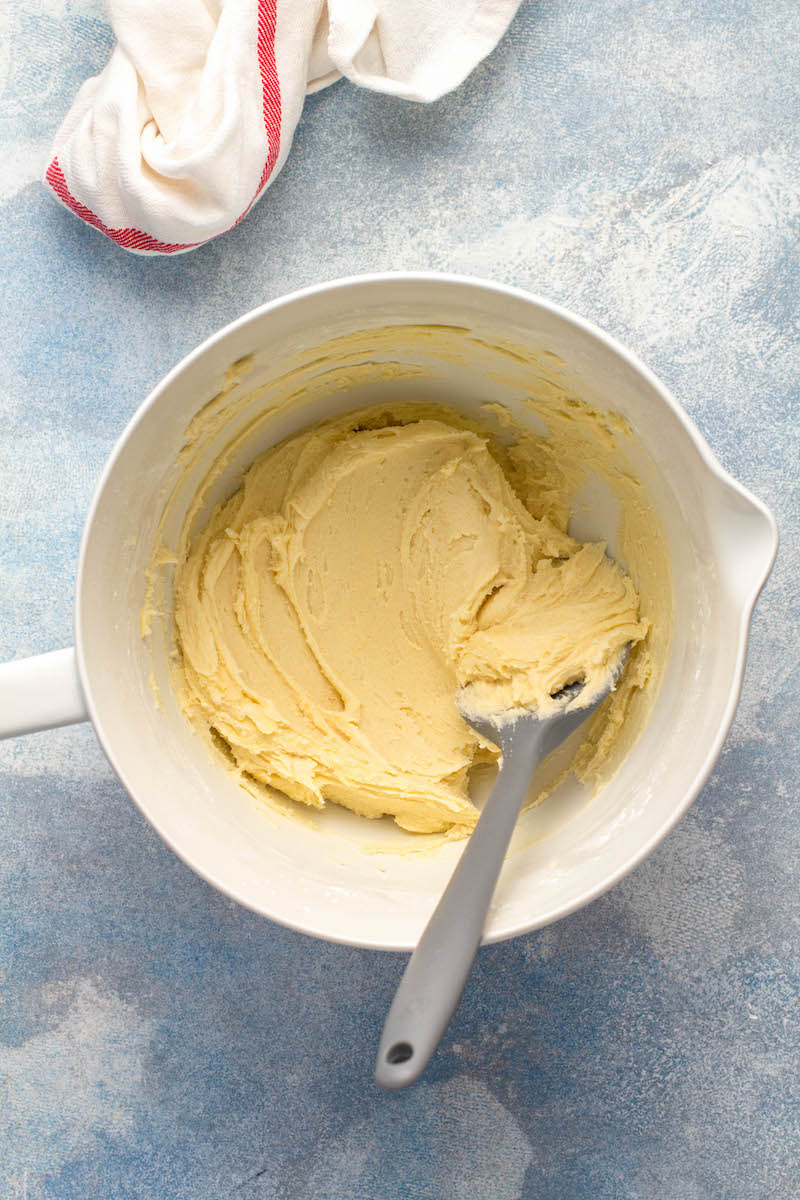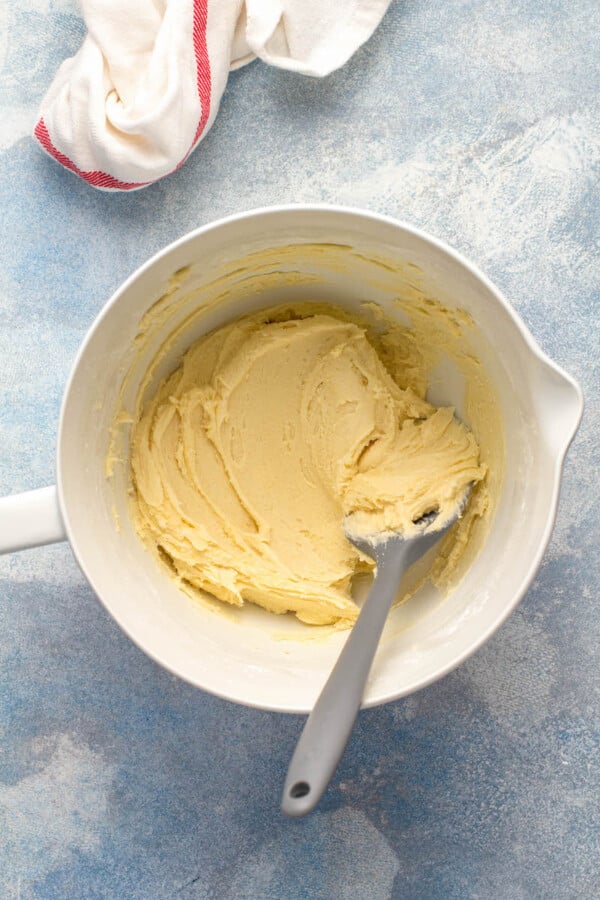 Preheat: Preheat your oven to 350 degrees. While that's heating up, line two cookie sheets with parchment paper or silicone baking mats. Set aside.
Mix: In a large bowl, beat the butter and powdered sugar for about 3 minutes, until the dough is light and airy.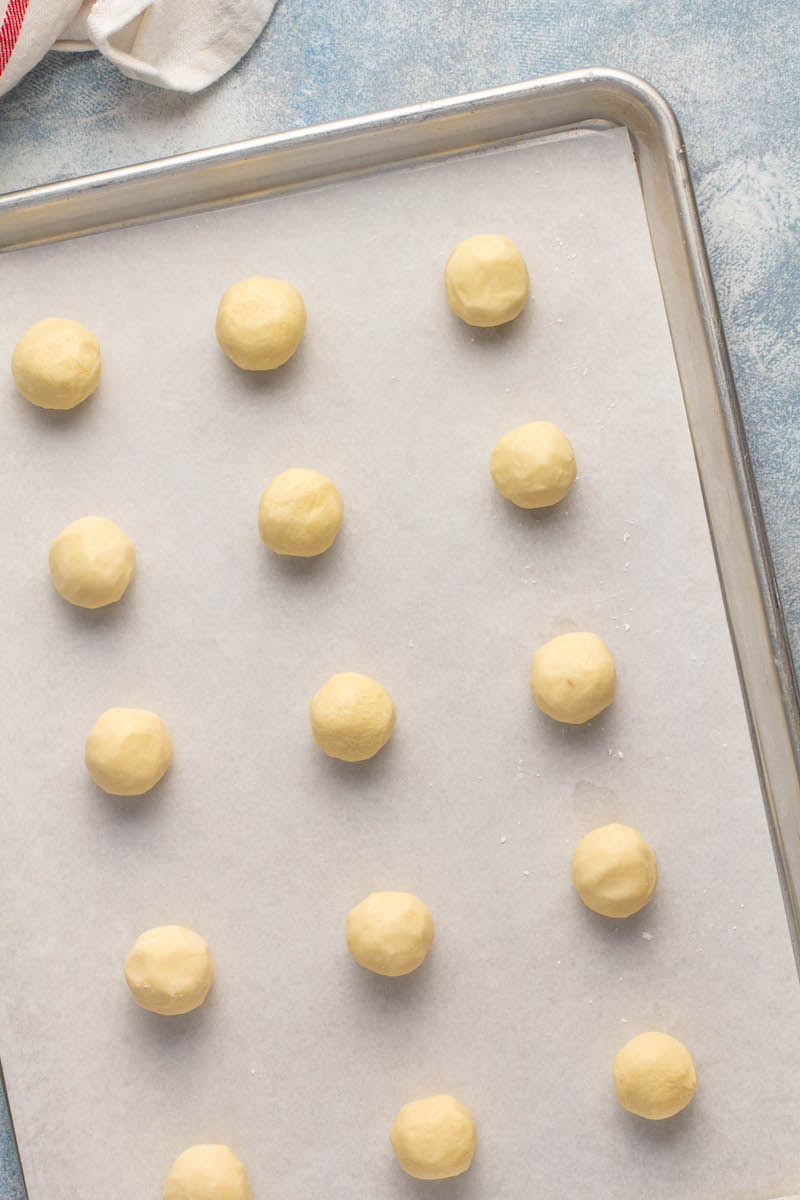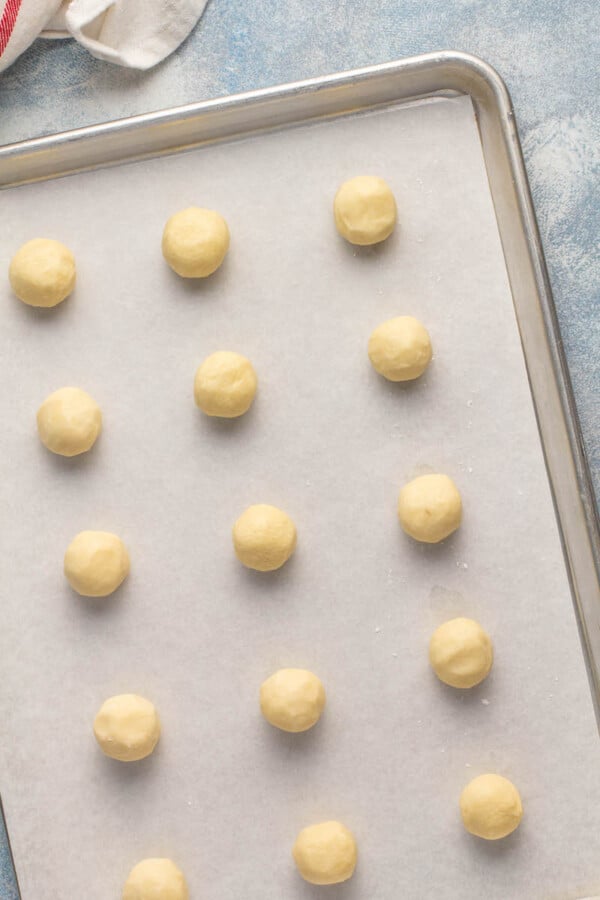 Add Dry Ingredients: Then, beat in flour, cornstarch, salt and vanilla extract until well combined. Your dough should be nice and soft!
Roll: Start with dusting your hands with cornstarch, that way the dough doesn't stick to your skin. Then, form dough balls about 1 tablespoon in size and roll them into balls.
Flatten: Place the dough balls on the prepared baking sheets, leaving a little room for spreading.
NOTE: These cookies won't spread too much as they bake, so I'd recommend just keeping them about an inch and a half to 2 inches apart. Then, flatten the cookies with a fork dusted with cornstarch (to prevent sticking.)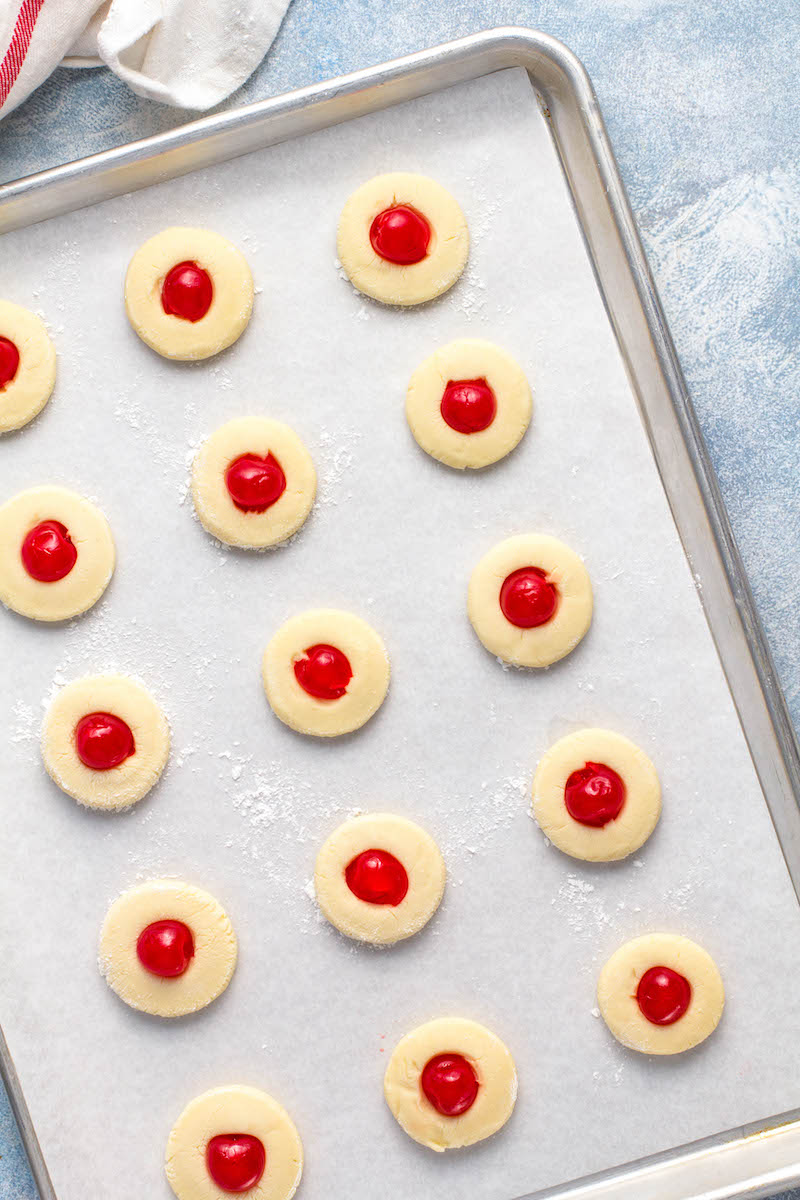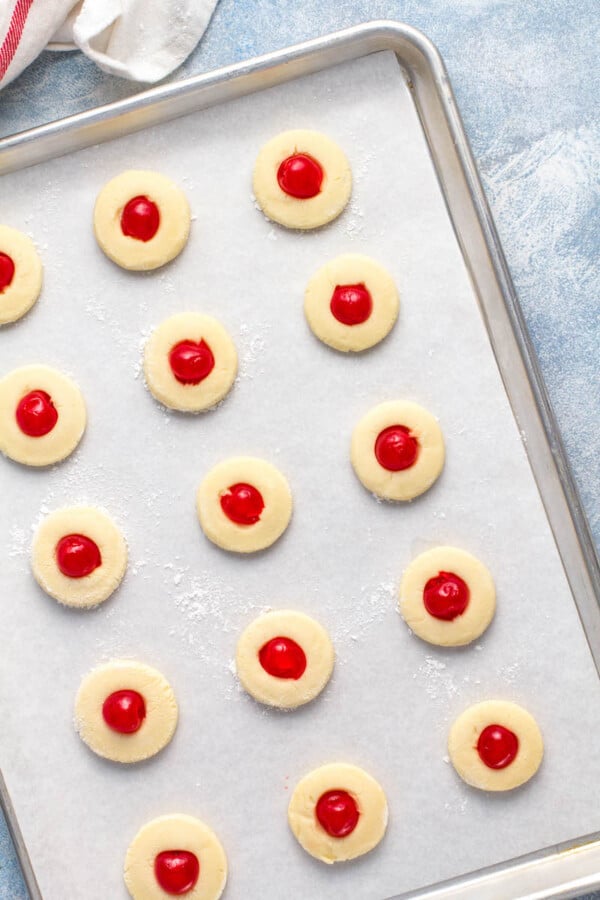 Cherry: In center of each cookie, gently press in a maraschino cherry and press with finger until 2/3 of cherry is inside cookie dough disk.
Bake: Bake the cookies for about 14-16 minutes, or until the tops look just set. The cookies will not brown, so be careful not to over bake!
Cool: Remove them from the oven and allow them to cool on a baking sheet for about 10 minutes. After that, move them to a cooling rack to finish cooling.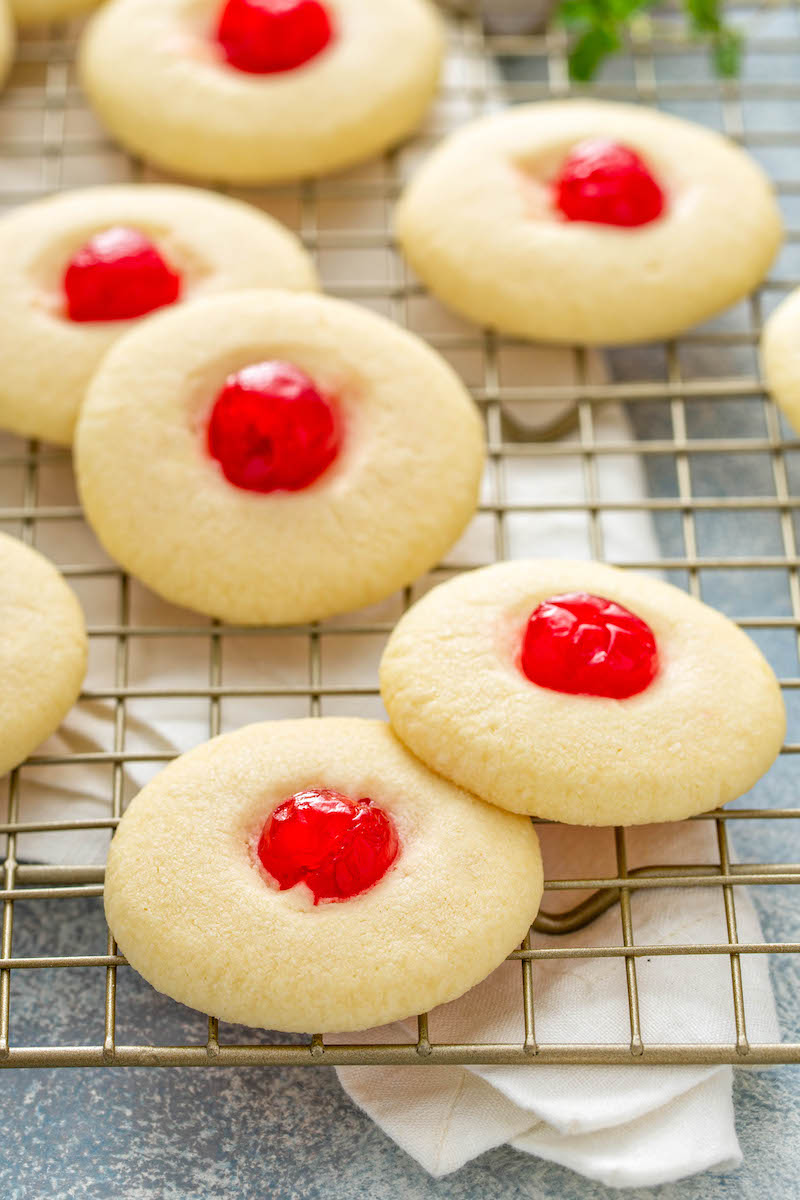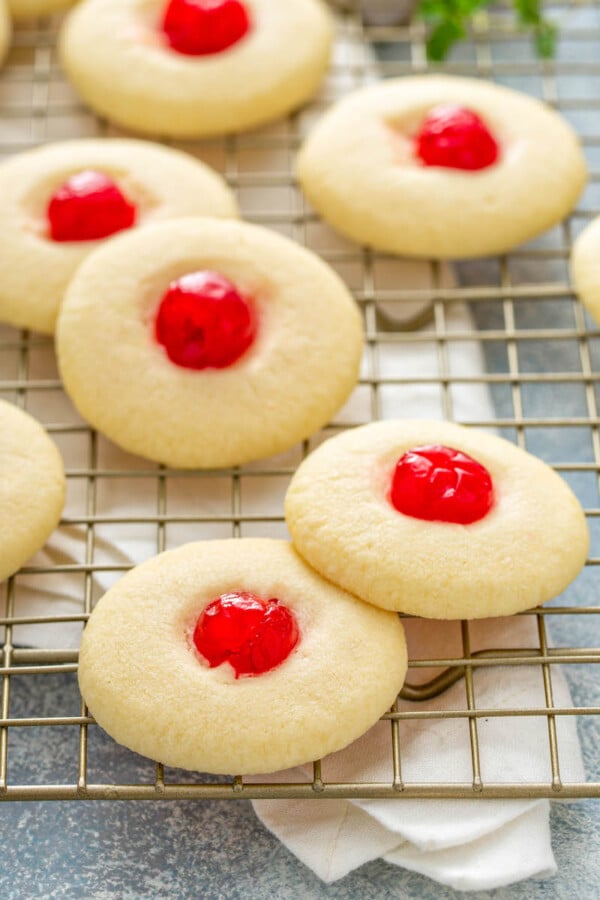 What does the CORNSTARCH do?
The added cornstarch in this homemade cookie recipe actually helps to give them their soft texture. When you combine cornstarch and flour into a mixture, the cornstarch can help to make the baked good lighter and fluffier.
You will have no idea it is there flavor wise, it just gives the cookies a better texture. So don't skip the cornstarch!
You don't technically have to, but it's good to flatten them so that they get baked entirely all the way through. It's harder for a thick cookie to get evenly baked so this is why you flatten them before popping them in the oven.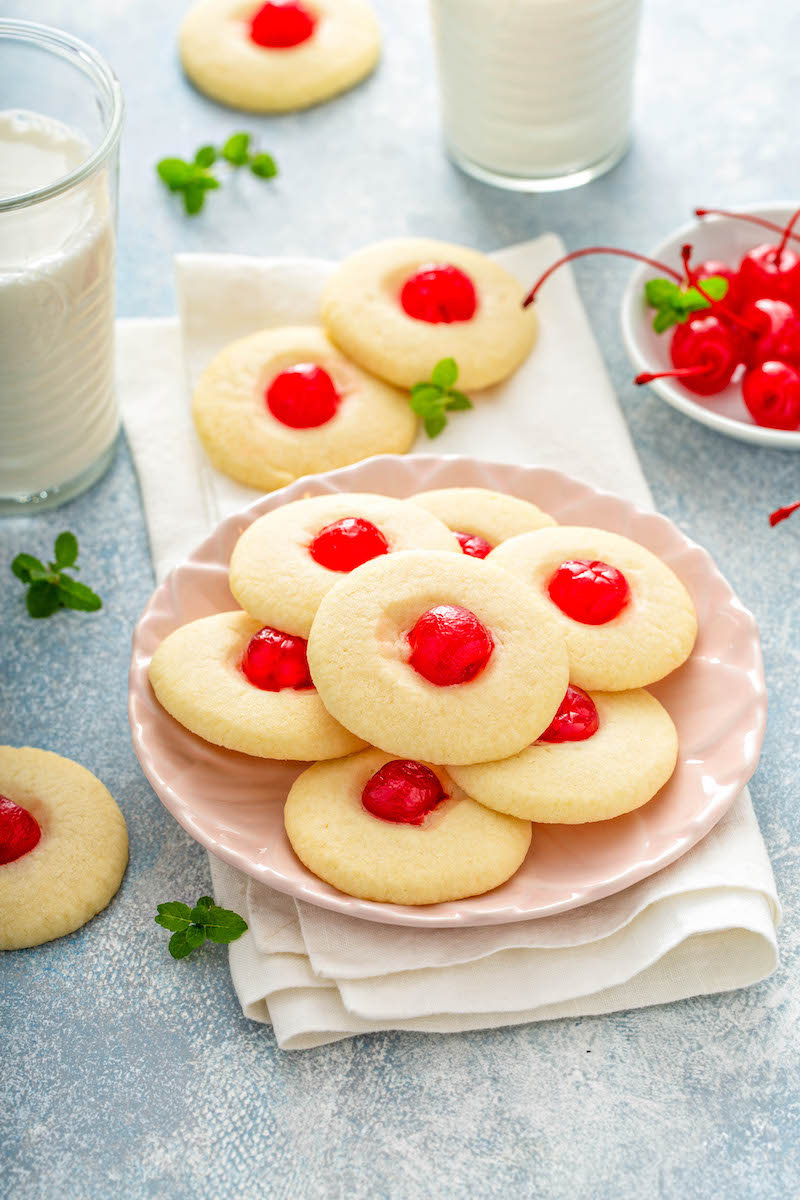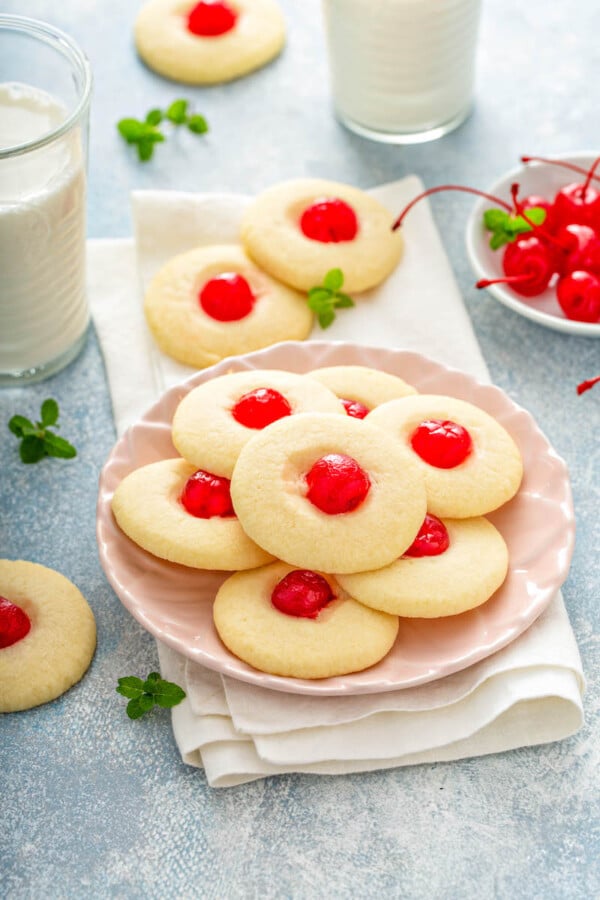 TIPS FOR MAKING THE BEST Cherry Almond WHIPPED SHORTBREADS
Let your butter fully soften before making cookies. If you don't, the butter will not evenly combine. Leaving you with unevenly baked cookies.
Make sure to remove all extra juice and water from the maraschino cherries before placing them in the center of the cookies.
Don't forget to dip your hands into cornstarch before rolling the dough, or the cookie dough will stick to your hands and cause a mess!
Watch the baking time. You want these cookies to just be starting to brown right at the edges. The tops will still look under cooked. Pull them out and let the cool on the cookie sheet and they will fully set up!
Once they're fully baked, you can store these delicious cookies in an airtight container at room temperature for about 5 days. There's no need to refrigerate them!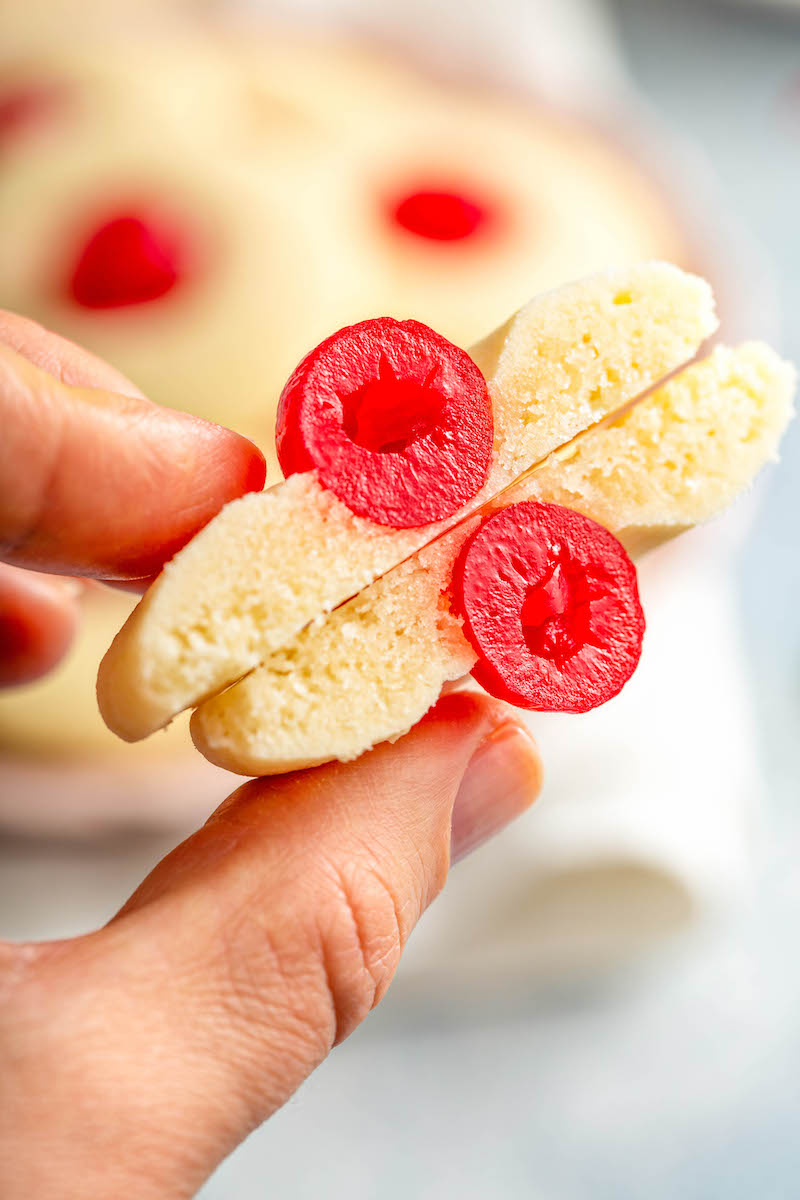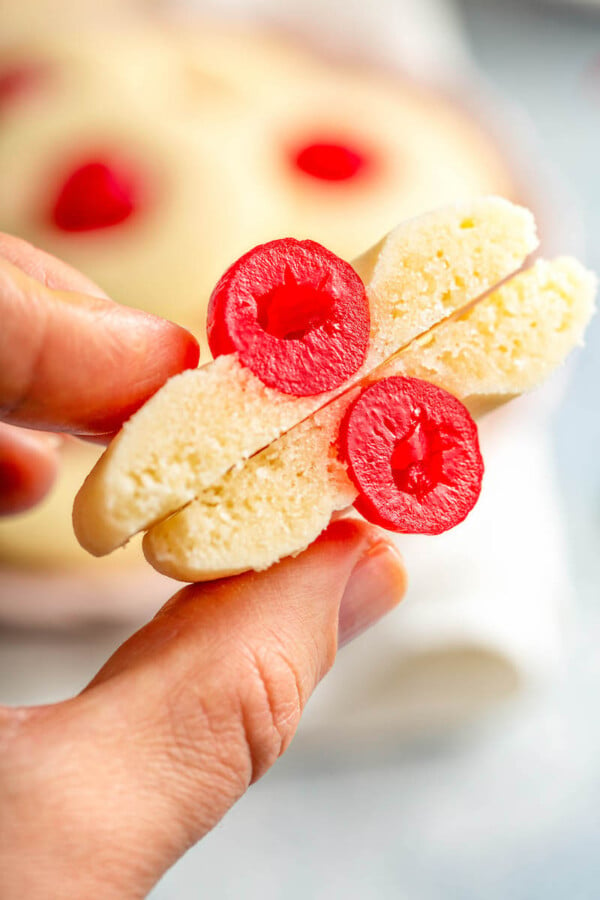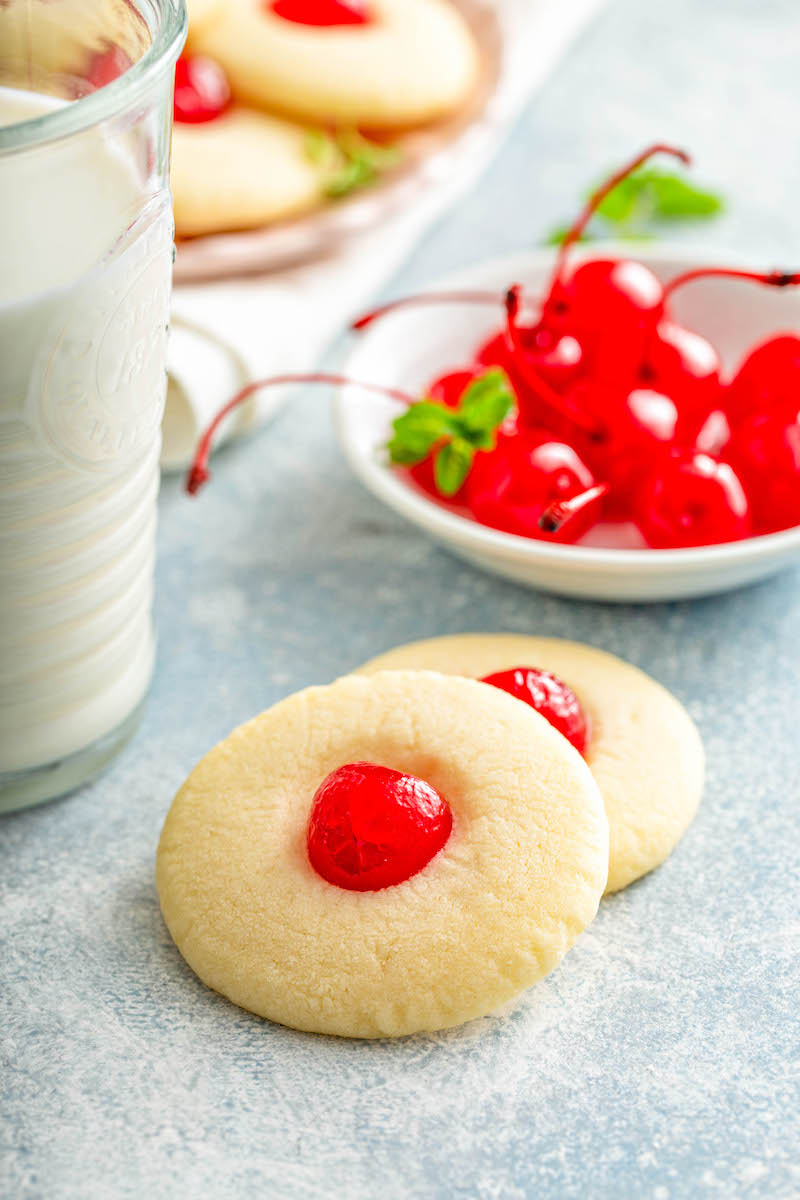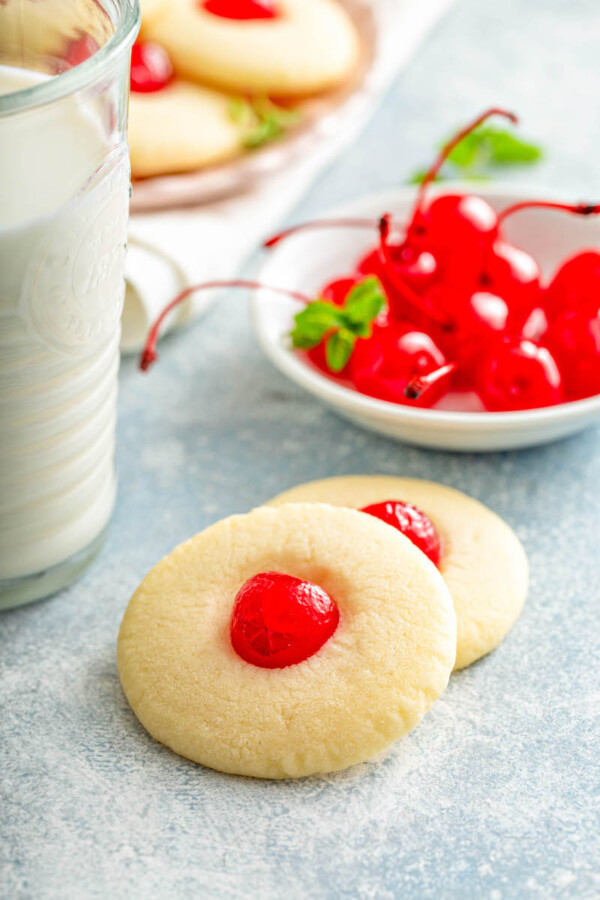 Once you try these Cherry Almond Whipped Shortbread Cookies, you're going to fall quickly in love! Between the sweet almond flavor, the soft and buttery texture, and bright cherry in the center, they're downright addicting. I can guarantee you won't be able to have just one!
Head on over to Dixie Crystals to get the full recipe I developed for them by clicking the button below:
This post may contain affiliate links. Read my disclosure policy.