These soft, moist Carrot Cake Cupcakes are made completely from scratch, with freshly grated carrots, chopped nuts, raisins, and the best cream cheese frosting!
Gorgeous Carrot Cake Cupcakes, Perfect for Spring!
There is something about spring that really gets me in the mood for carrot cake. It's one of my favorite springtime recipes, and it's just the thing to make for an Easter lunch. But for something a little different, today I'm bringing you these delectable carrot cake cupcakes! The perfect individual treats for bake sales, get-togethers, potlucks, and more.
What's so special about these cupcakes? For one thing, they are so light and soft – but still moist and dreamy. Additionally, they're packed with the light sweetness of fresh carrots, cinnamon, and vanilla. And they're easy to make, too! The hardest part is waiting for them to cool off.
Why You'll Love These Cupcakes
Moist and Tender: Carrot cake cupcakes are known for their moist, tender texture.
Versatile: You can add your favorite mix-ins, like chopped nuts, raisins, or shredded coconut, to enhance the texture and flavor of these cupcakes.
Festive and Cute: I decorate these with a few shreds of bright orange carrot on top of the creamy white frosting. However, you could also use frosting decorations, candies, and more.
Individually Portioned: Cupcakes are one of my favorite desserts to take to an event, because they are pre-portioned without the need for a cake knife, plates, or forks.
Easy to Make: This recipe doesn't even need a mixer – it's so easy to whip up, and takes practically no time at all.
(Need more carrot cake in your life? I mean, who doesn't? This Carrot Cake Roll is a gorgeous Swiss-roll-style cake that looks pretty and tastes even better. Or give these easy Carrot Cake Cheesecake Swirl Bars a try – they're ultra-rich and decadent.)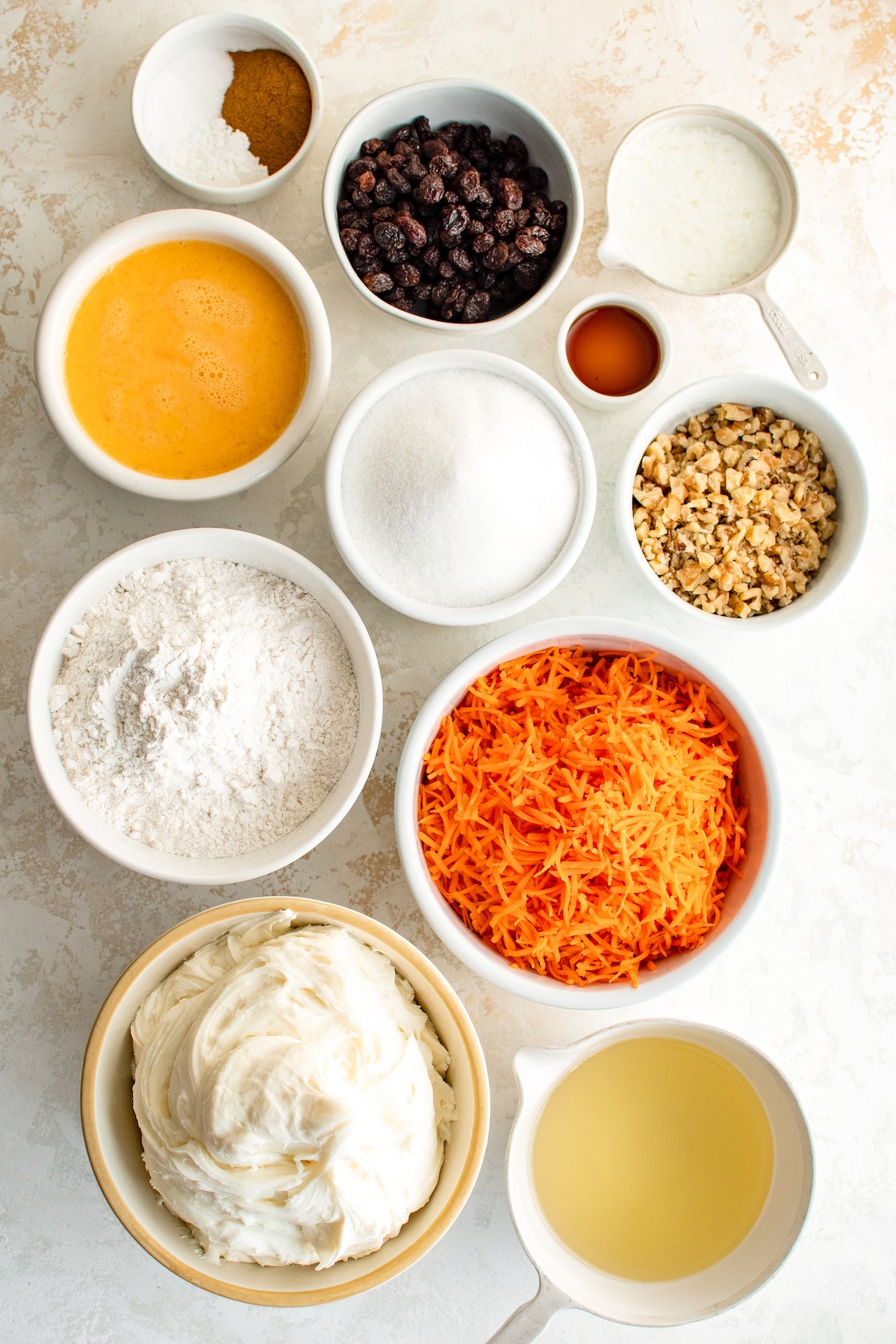 What You'll Need
To make these from-scratch cupcakes, you'll need the following ingredients:
Flour: Plain, all-purpose flour is perfect here.
Sugar: I use regular granulated sugar, but you could use half regular and half brown sugar for a warm, spicy touch.
Baking Powder and Baking Soda: Using both of these gives the cupcakes a light, fluffy texture.
Salt
Cinnamon: Plain cinnamon is my go-to, but you could add a touch of nutmeg as well, if you like that.
Eggs: You will need large, whole eggs, preferably at room temperature.
Canola Oil: Using oil instead of butter helps the cupcakes stay moist but light. You can also use vegetable oil.
Buttermilk: Buttermilk adds moisture, and a light, tangy flavor. See the "Baking Notes" section below for how you can make your own buttermilk substitute.
Vanilla: Pure vanilla extract gives the best flavor.
Carrots: I like to use freshly grated carrots, and they are easy to grate if you have a box grater or food processor.
Walnuts or Pecans: Adding nuts to the recipe gives these cupcakes a nice little crunch. If you don't like nuts, you can definitely leave them out. The cupcakes will still be amazing!
Raisins: I love the pop of sweetness that you get from raisins, But if raisins in baked goods aren't your thing, you can leave these out as well. If you have golden raisins on hand, you can swap those in place of regular raisins.
Cream Cheese Frosting: You can use my favorite Cream Cheese Frosting, or substitute another frosting of your choice. Want to use canned frosting? Go for it! I promise I won't tell!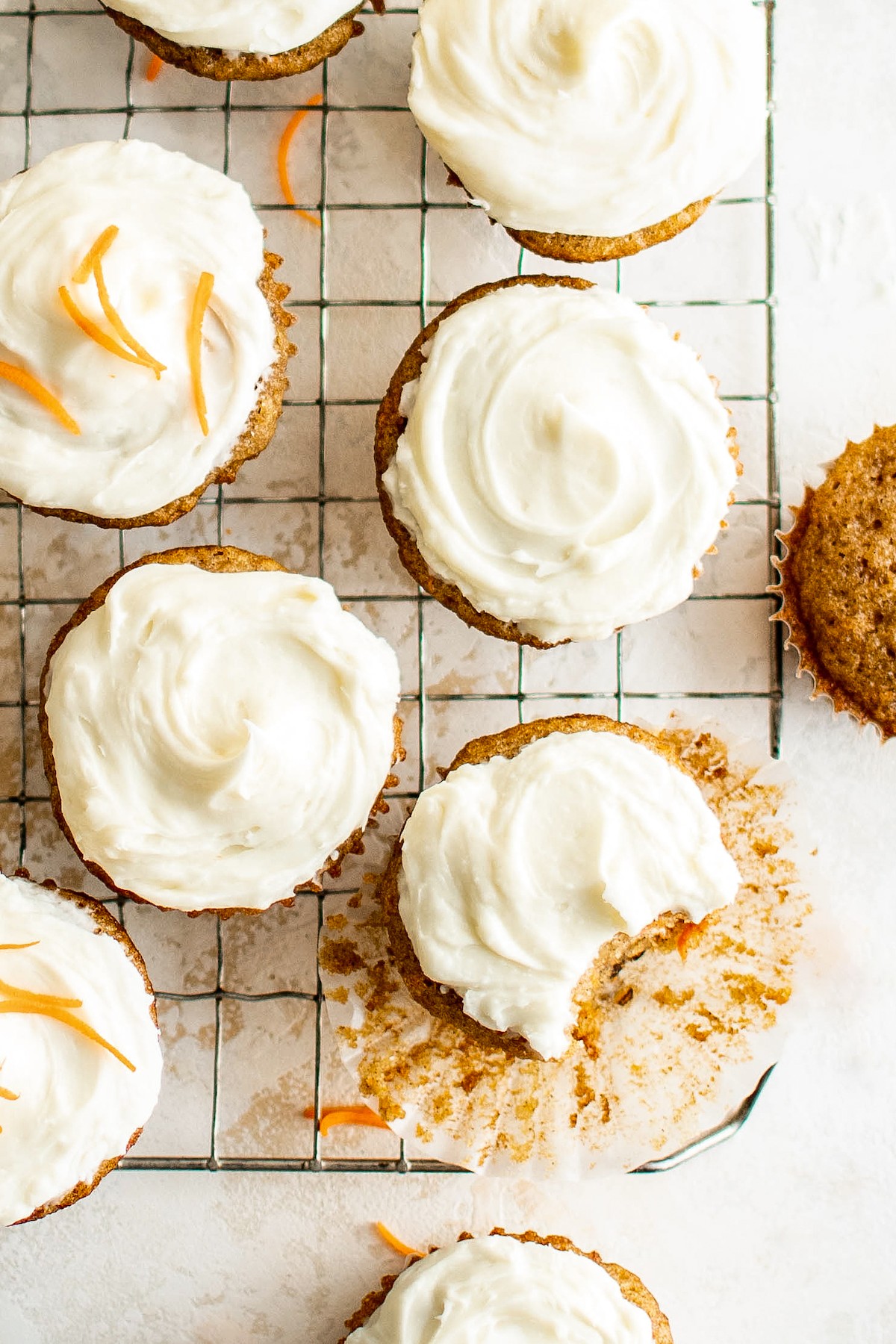 Can You Taste the Carrot in Carrot Cake?
Even if you're not a fan of carrots, I promise you will love carrot cake cupcakes. They don't taste like vegetables! The carrots in the recipe just add moisture, color, and a hint of sweetness. The actual taste of the cake portion is similar to a light spice cake.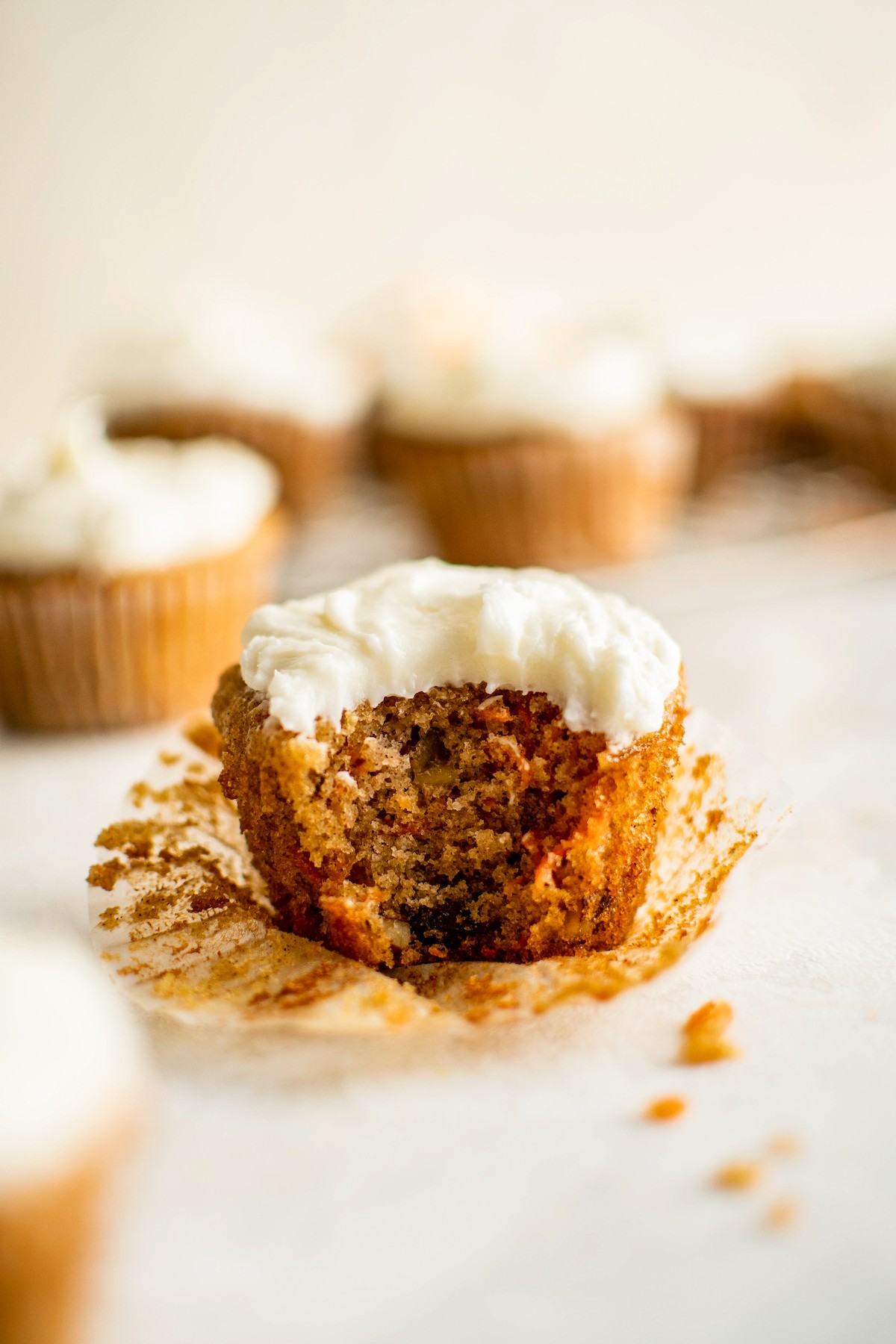 How to Make Carrot Cake Cupcakes
Carrot cake cupcakes are very simple to make with just a few easy steps. You don't even need a mixer – just a whisk will do the trick. Here's how to make them:
Get Ready to Bake. Preheat your oven to 350°F, and line a cupcake pan with cupcake liners. Set the pan aside.
Combine the Dry Ingredients. In a large bowl, combine the dry ingredients: flour, sugar, baking powder, baking soda, salt, and cinnamon. Give them a little whisk to combine, and set aside.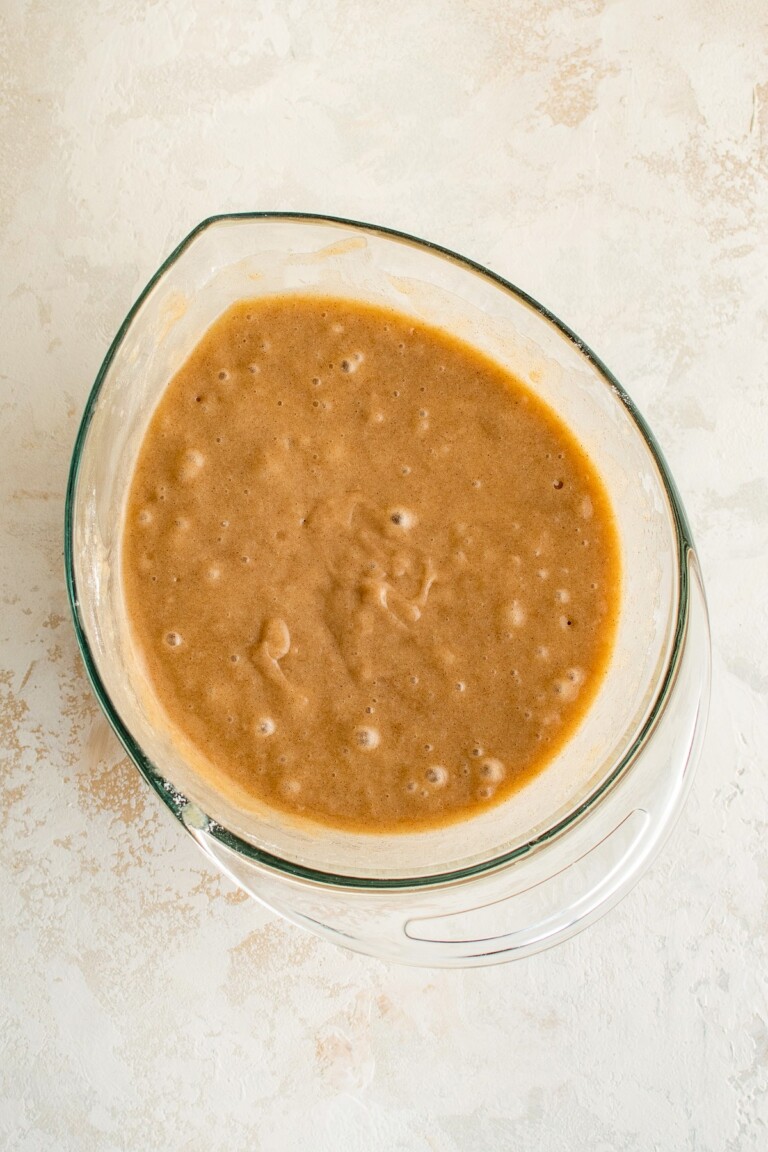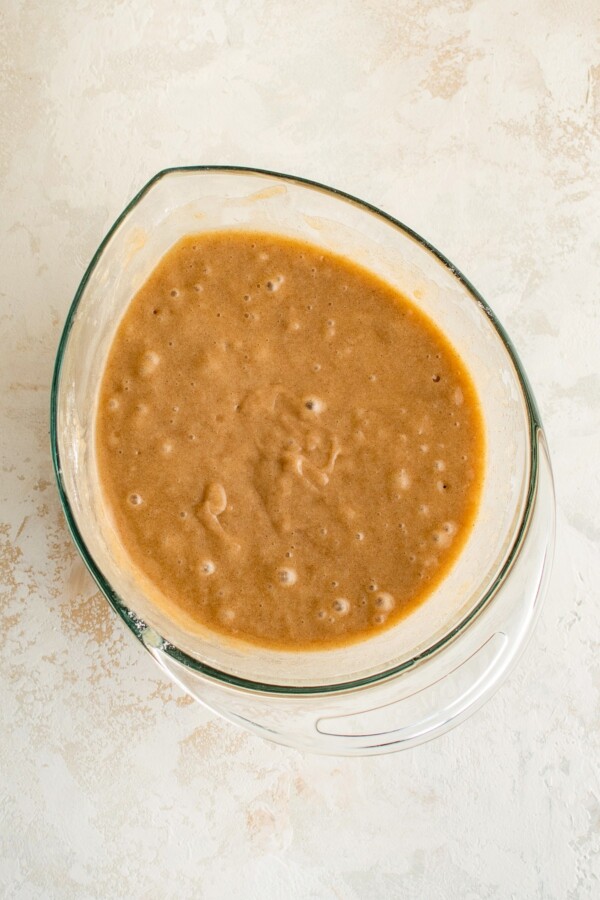 Combine the Wet Ingredients. In another medium-sized bowl, beat the eggs until they are frothy. Then whisk in the oil, buttermilk, and vanilla.
Mix the Wet and Dry Ingredients. Add the egg mixture to the flour mixture, and stir them together. Then stir in the raisins and nuts.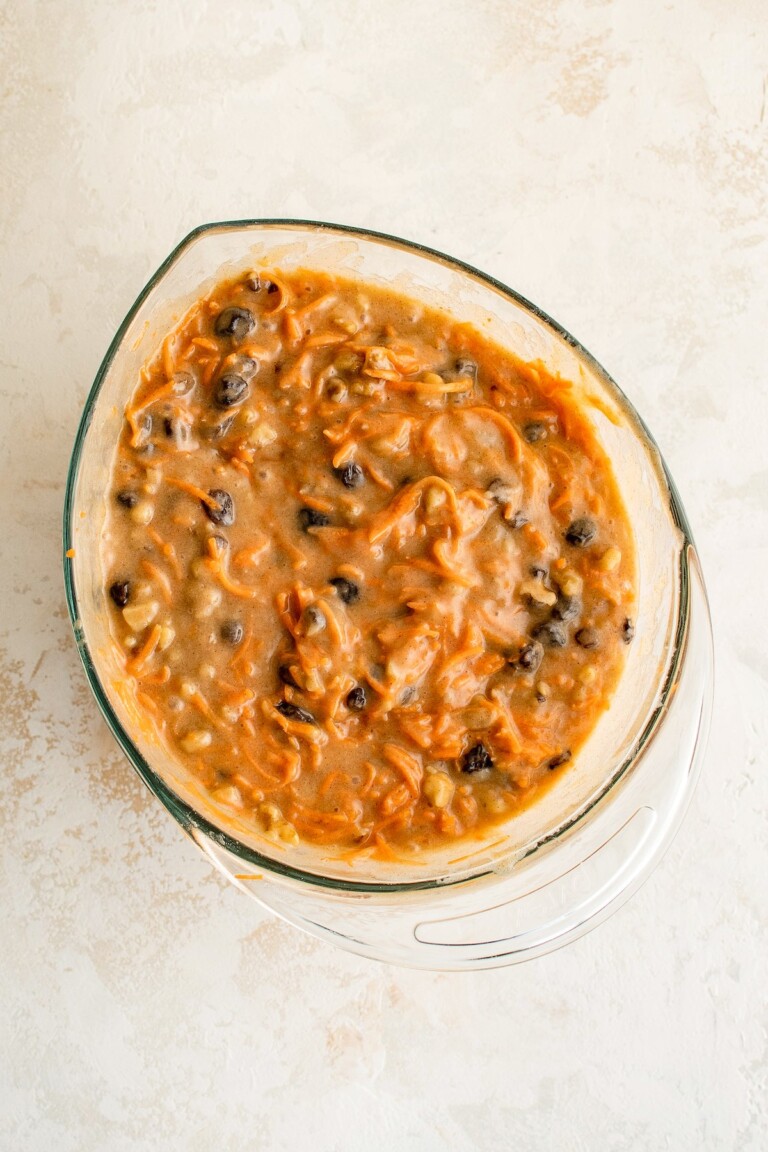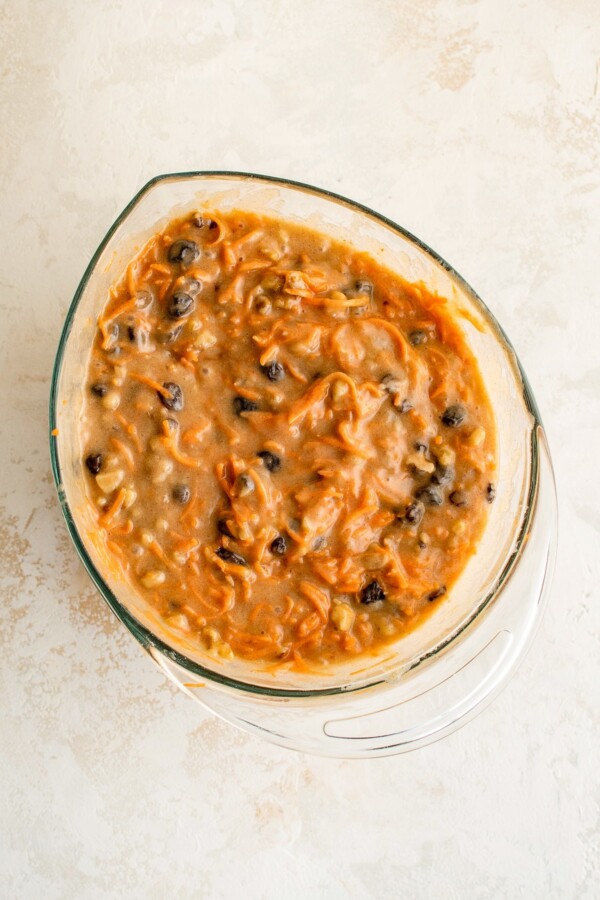 Bake. Divide the batter into the cupcake liners, and bake for about 13 – 15 minutes, or until a toothpick inserted in the center of a few of the muffins comes out clean.
Cool, Frost, and Serve. Let the cupcakes cool completely, and once they are cool, frost them with cream cheese frosting. Add a few shreds of carrot for garnish, and enjoy!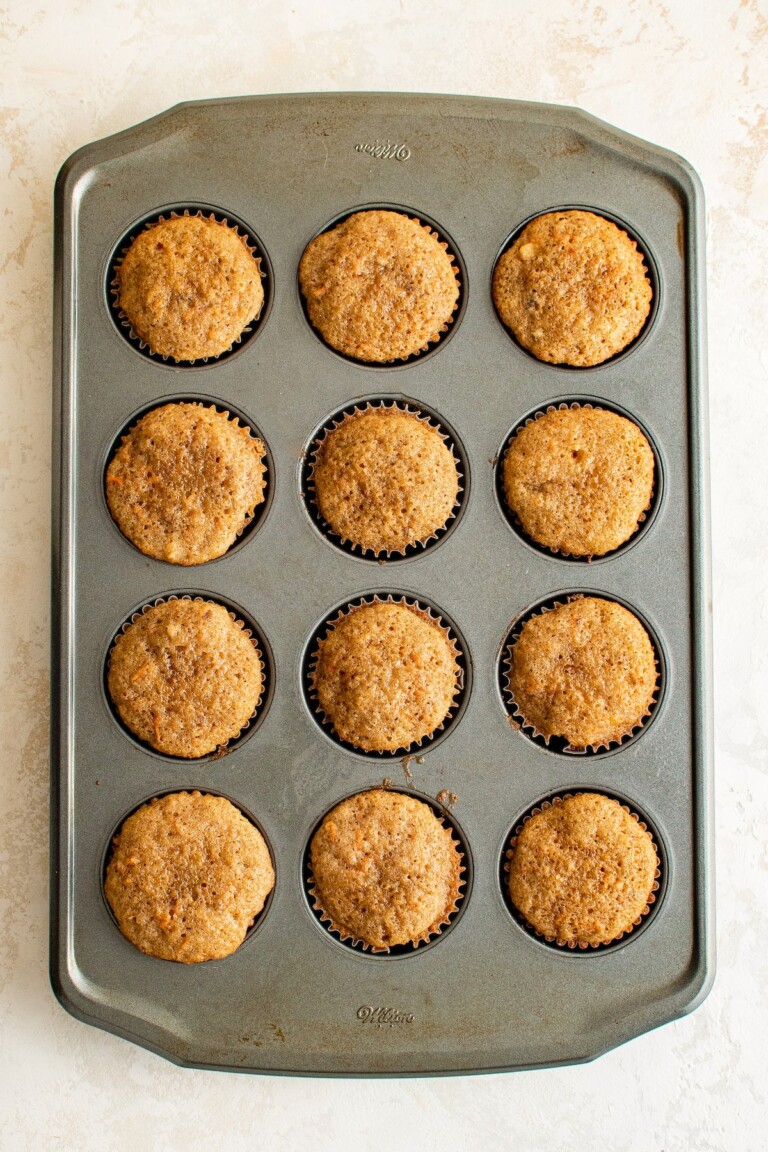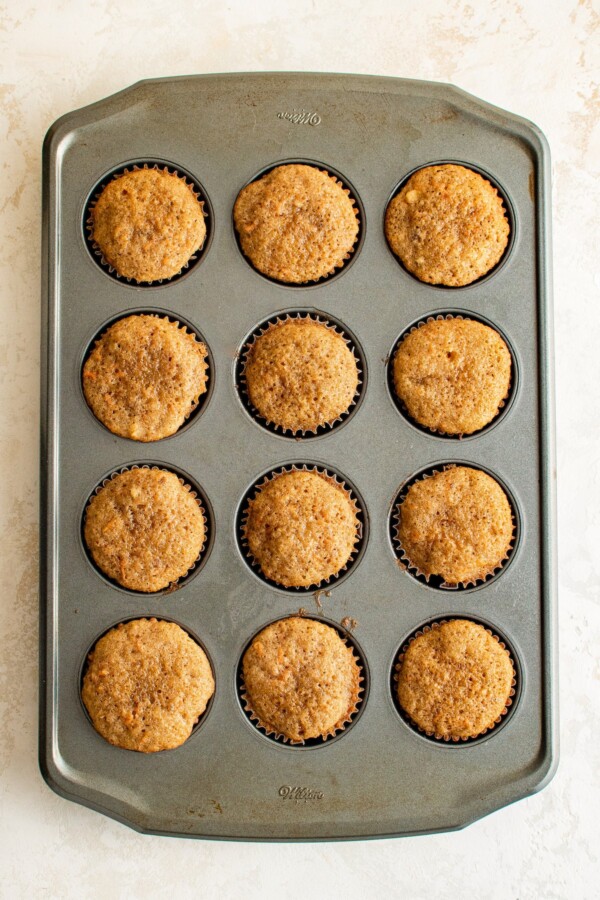 Is Carrot Cake Healthier Than Regular Cake?
Actually, carrot cake is a little healthier than regular cake. It's not exactly a diet food, of course, but the batter does include a generous amount of real carrots, and those add some healthy vitamins, minerals, and fiber.
So in general, I would say that carrot cake is a bit healthier than regular cake, thanks to the added nutrients from the carrots. Still, for anyone watching their sugar, carb, or fat intake, these cupcakes do include sugar, oil, flour, and other typical cake ingredients.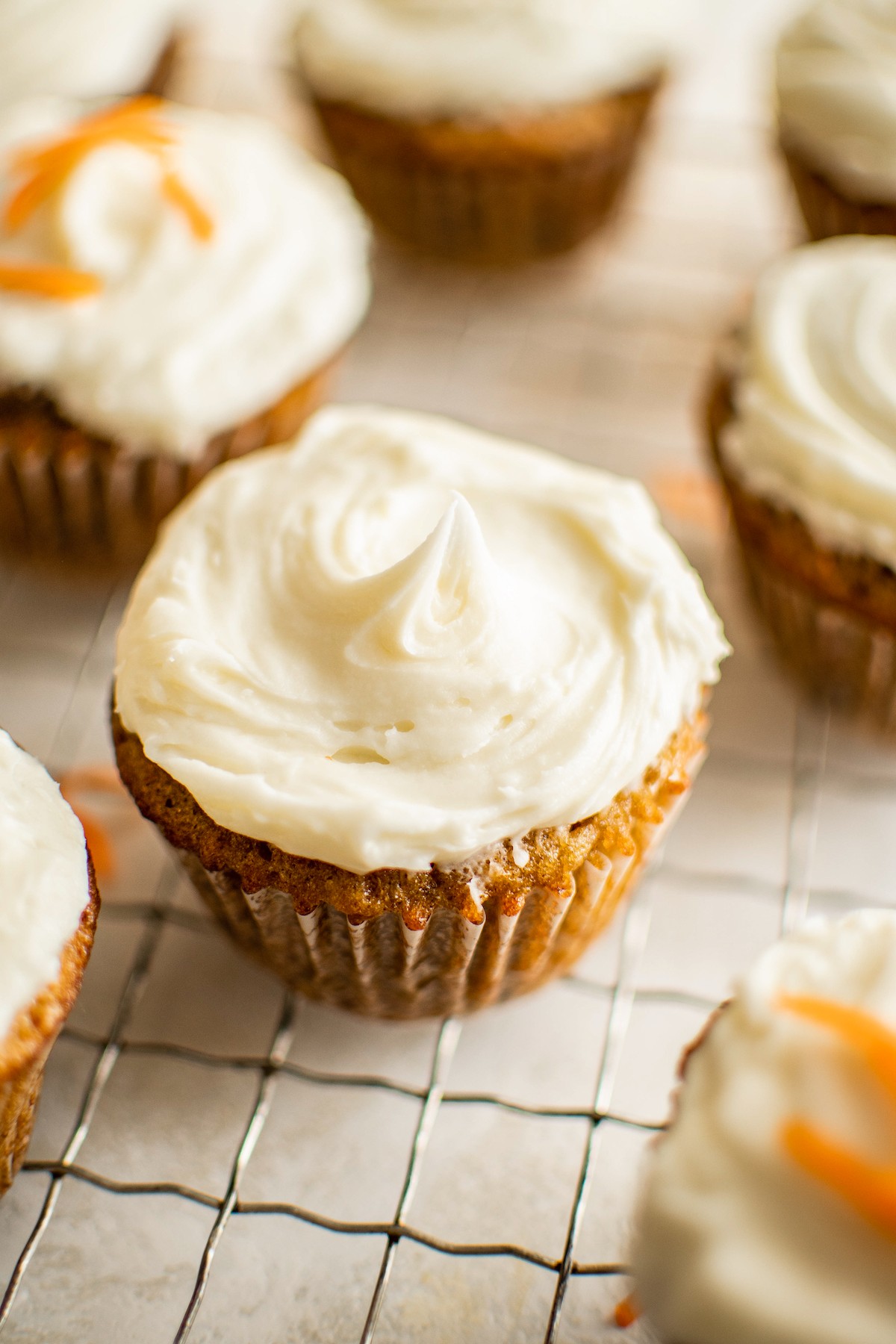 Baking Notes
If you're wondering what kind of substitutions and additions are possible in this recipe, there are so many! Check out this list, and make this recipe your own.
Oil: If you don't want to use canola oil, you can use melted coconut oil, or any other neutral cooking oil. Keep in mind that some of these oils will add their own flavor.
Buttermilk: If you don't have buttermilk, you can use plain yogurt, or sour some milk by adding a tablespoon of vinegar to each cup of milk.
Pineapple: You can add pineapple chunks if you so desire. I do not always have them on hand, but I'll toss them into the batter every now and again for a different take.
Fresh Carrots vs. Pre-Shredded: I recommend grating the carrots in a food processor, or with an old-fashioned box grater. I would advise against using store-bought matchstick carrots – they are drier and lead to a drier cupcake.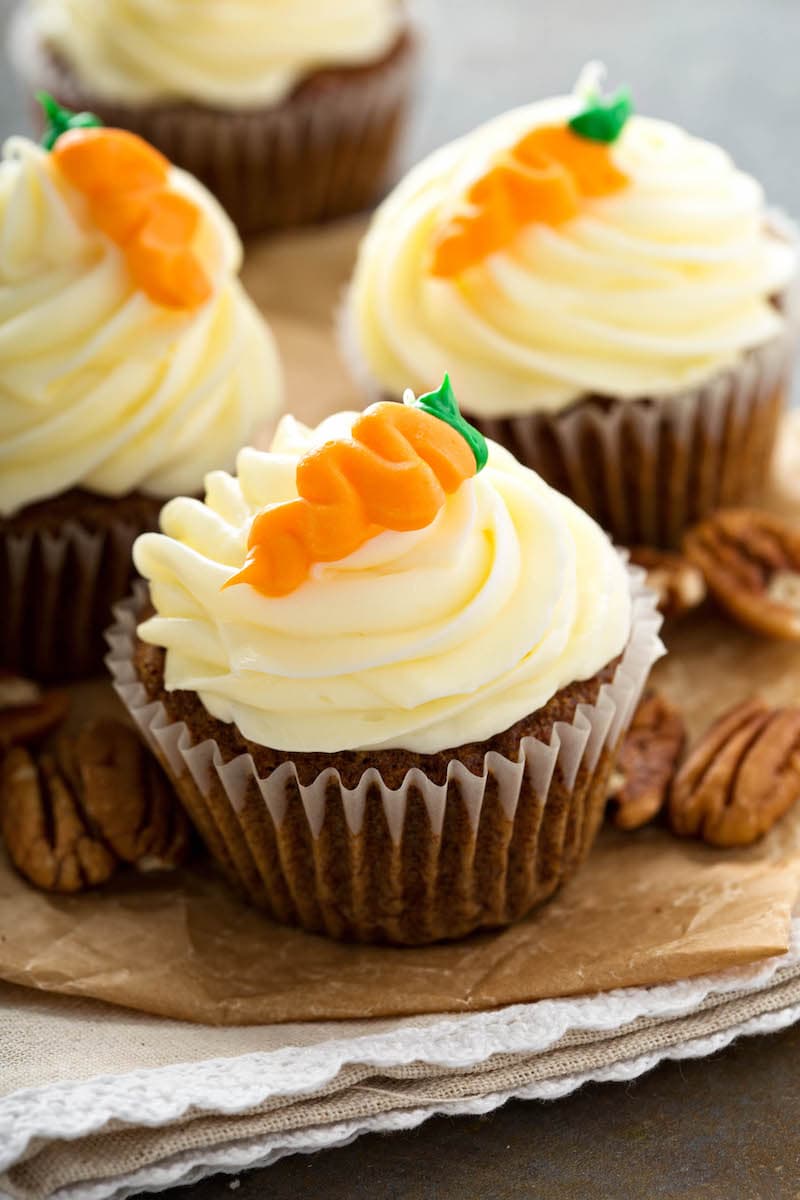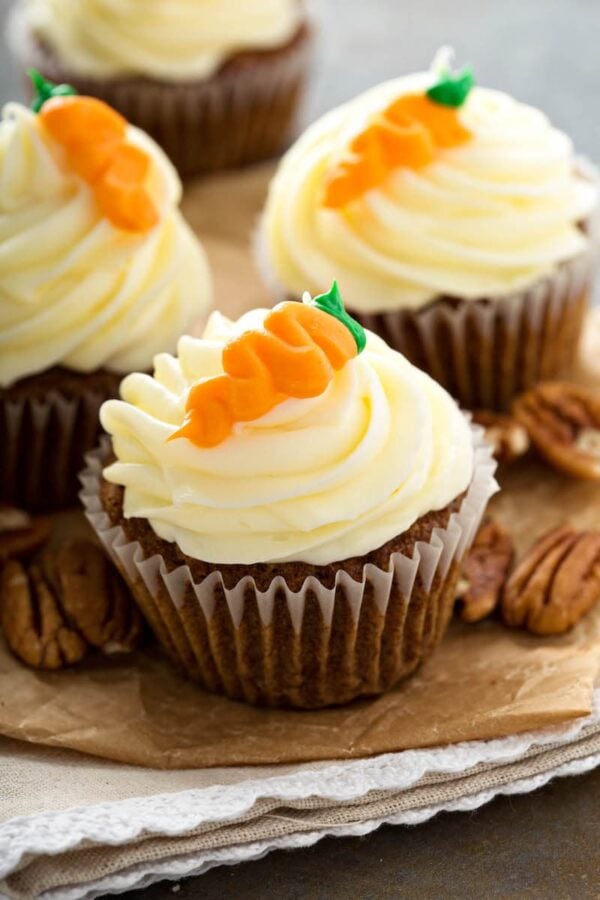 Tips for Decorating Carrot Cake Cupcakes
There are so many ways you can decorate carrot cakes! A swirl of cream cheese frosting is more than enough, but if you would like to have some fun with it, here are a few of my favorite ideas:
Candy Carrots: Frost the icing into a flat topping and use orange Reese's Pieces candies and a green lime wedge candy to create a carrot shape on top of the cupcakes.
Frosting Carrots: Dye your cream cheese frosting with orange and green frosting and pipe carrots on the top of the cream cheese.
Carrots with Parsley: Frost the top of the cupcakes in a flat layer, and pipe the top of a carrot in the center of each one, as if it were planted in the cupcake. Add sprigs of curly parsley on top for the carrot tops.
Crumbled Cake Topping: Crumble one cupcake (without icing) and sprinkle the cake crumbs on top of your frosted cupcakes.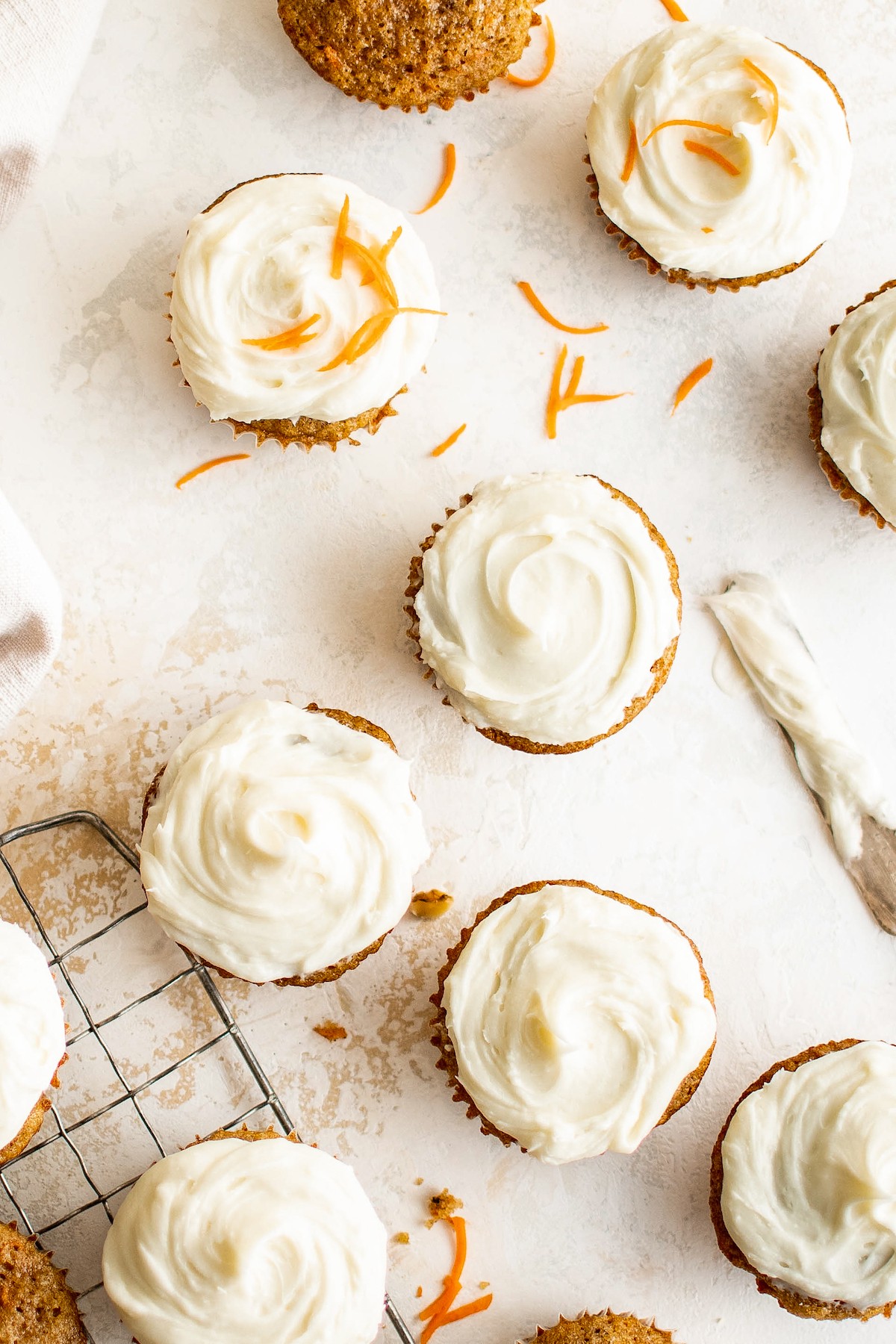 How to Store
These carrot cake cupcakes will be fine at room temperature for a short time, but if it's going to be longer than a few hours before you serve them, they will need to be stored in the fridge because of the cream cheese frosting.
Overall, cupcakes will stay fresh in the refrigerator for about four days in an airtight container in the refrigerator. Before serving them, allow the cupcakes to come to room temperature for the best flavor and texture.
Do Carrot Cake Cupcakes Freeze Well?
Yes, these can be frozen for up to four months. Make sure to wrap each cupcake well in plastic wrap, and place all the wrapped cupcakes in a large airtight container, or large freezer bags. To avoid messing up the frosting, I recommend freezing the cupcakes and frosting, and then frosting them when you're ready to serve.
Carrot Cake Cupcakes
Soft and moist homemade carrot cake cupcakes are made completely from scratch with real grated carrots and the absolute best sweet cream cheese frosting.
Ingredients
2 ¼

cups

all-purpose flour

2

cups

granulated sugar

1 ½

teaspoons

baking powder

1

teaspoon

baking soda

1

teaspoon

salt

2 ½

teaspoons

cinnamon

4

eggs

,

beaten

1

cup

canola oil

,

or vegetable oil

½

cup

buttermilk

1

teaspoon

vanilla extract

3

cups

finely shredded carrots

¾

cup

chopped walnuts

,

or pecans

¾

cup

raisins
Instructions
Preheat oven to 350°F and fill cupcake pan with liners. Set aside.

In a large bowl, combine flour, sugar, baking powder, baking soda, salt, and
cinnamon and whisk together. Set aside.

In another medium sized bowl, beat eggs until frothy. Whisk in oil, buttermilk and vanilla. Add egg mixture to flour mixture and stir to completely combine. Fold in carrots, walnuts and raisins.

Divide batter into cupcake liners and bake for about 13-15 minutes or until a
toothpick inserted in the center comes out clean.

Cool completely and frost as desired with cream cheese frosting!
Notes
Sheet Cake: This recipe can also be made into a 13×9 cake. Bake for 28 to 32 minutes, or until a toothpick inserted in the center comes out clean. Let cool and frost. Storage: Store cupcakes in an airtight container, in the fridge, for up to 4 days. Serve chilled if you like cold cake, or let come to room temperature before serving.
Nutrition
Serving:
1
,
Calories:
252
kcal
,
Carbohydrates:
32
g
,
Protein:
3
g
,
Fat:
13
g
,
Saturated Fat:
1
g
,
Polyunsaturated Fat:
11
g
,
Cholesterol:
32
mg
,
Sodium:
207
mg
,
Fiber:
1
g
,
Sugar:
21
g
More Perfect Spring Desserts
This post may contain affiliate links. Read my disclosure policy.