The Best Classic Berry Cobbler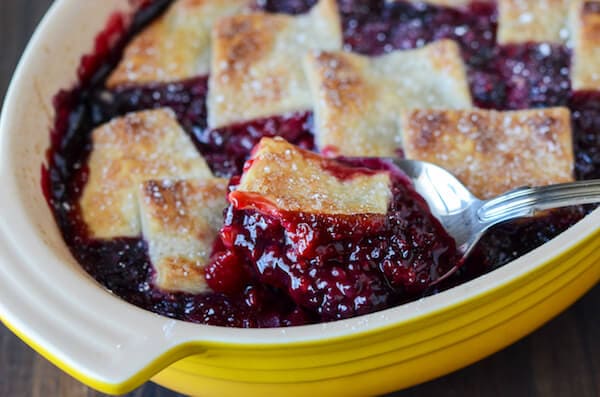 Growing up I remember helping my grandmother make cobblers, specifically berry cobblers. We would go pick wild berries for hours and come home and make a big cobbler to be served after dinner with a huge scoop of vanilla ice cream.
Sometimes, we even made the ice cream from scratch with the big old ice cream makers you had to crank by hand. It's one of my favorite memories and I think about it every spring.
These days, I tend to make at least one berry cobbler a year. The recipe is always the same and I never try to play with it. It's one of those recipes that is incredibly simple…and every time I have tried to fancy it up, I miss the perfectness of the classic.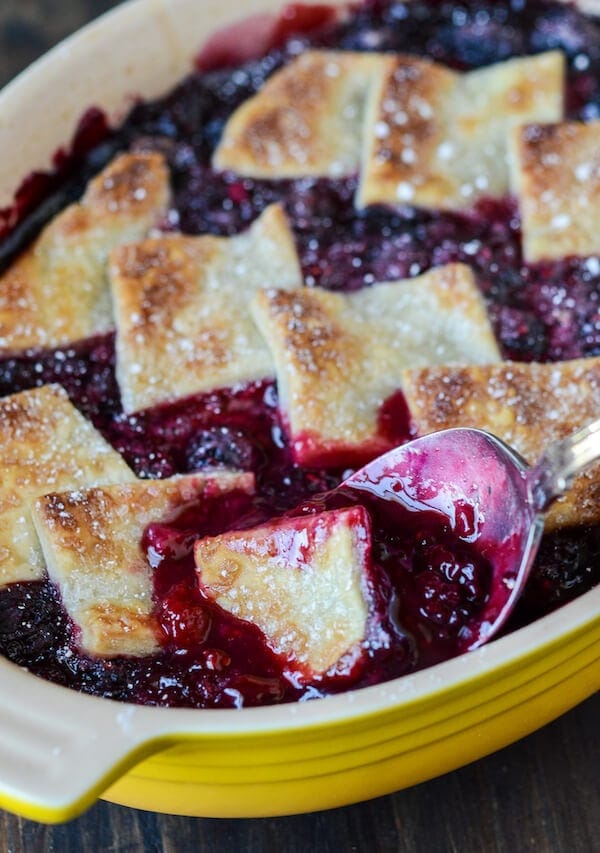 I have never shared this recipe before, because it's one of those super simple recipes that I figure everyone already has. Or, that you already have your favorite cobbler recipe from your own grandmother.
I made this classic berry cobbler again yesterday for dinner with my family and decided that it's time I shared it. Who knows — maybe your grandmother didn't make cobblers! In which case, I mourn for your lack of cobbler past and insist you make this immediately. 😉
My Dad, who NEVER eats dessert, ate a giant bowl. It's the power of berry cobbler — no one can resist.
The Best Classic Berry Cobbler
Note: If using frozen berries instead of fresh, allow berries to come to room temperature on top of paper towels. This will allow any ice crystals to melt off and not wind up making your cobbler soupy.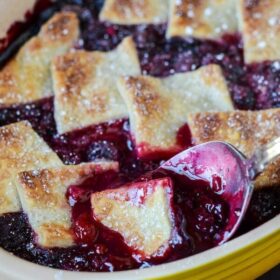 Ingredients:
4 cups your choice of fresh berries (I use blackberries & raspberries)
1 cup granulated sugar
1/2 cup all purpose flour
1/2 teaspoon salt
1 9-inch pie dough (homemade or store bought)
1 tablespoon butter, melted
2 tablespoons granulated sugar
1 teaspoon ground cinnamon
Vanilla ice cream, optional
Directions:
Preheat oven to 400°F. Grease a 9×9 baking dish. Set aside.
In a medium bowl, toss together berries, sugar, flour and salt. Pour into prepared baking dish.
Cut pie dough into 2-inch squares. Arrange squares in a patchwork pattern over berry mixture, leaving openings for steam to escape. Brush dough with melted butter and sprinkle with sugar and cinnamon.
Bake for 30 to 35 minutes or until crust is deep golden and berry mixture is bubbly. Transfer to a wire rack to cool slightly. Serve warm with a big scoop of vanilla ice cream.