Welcome the warmer weather with this sweet and easy Crockpot Peach Cobbler! This semi-homemade dessert fills your home with the summery scent of peaches, without even needing to turn on the oven. Perfectly topped with a delicious brown sugar crumble to bring the flavor home!
Heavenly Peach Cobbler With Brown Sugar Crumble
On those lazy days to come when it's cookin' outside, the last thing I feel like doing is turning on the oven. More hot air inside the house? No, thank you. Still, I have to make something to satisfy the sugar cravings around here. So I turn to my crockpot instead!
This easy crockpot peach cobbler is the perfect summer dessert. Not only because the house fills up with the heavenly, summery smell of peaches, but because there's no baking involved. The crockpot takes care of everything, making this recipe the best for cookouts, potlucks, or as a 4th of July dessert. One bite of this sweet crockpot peach cobbler has everyone feeling peachy!
Looking for more peach recipes? Try out my favorite Peach Dump Cake or Easy Peach Dumplings!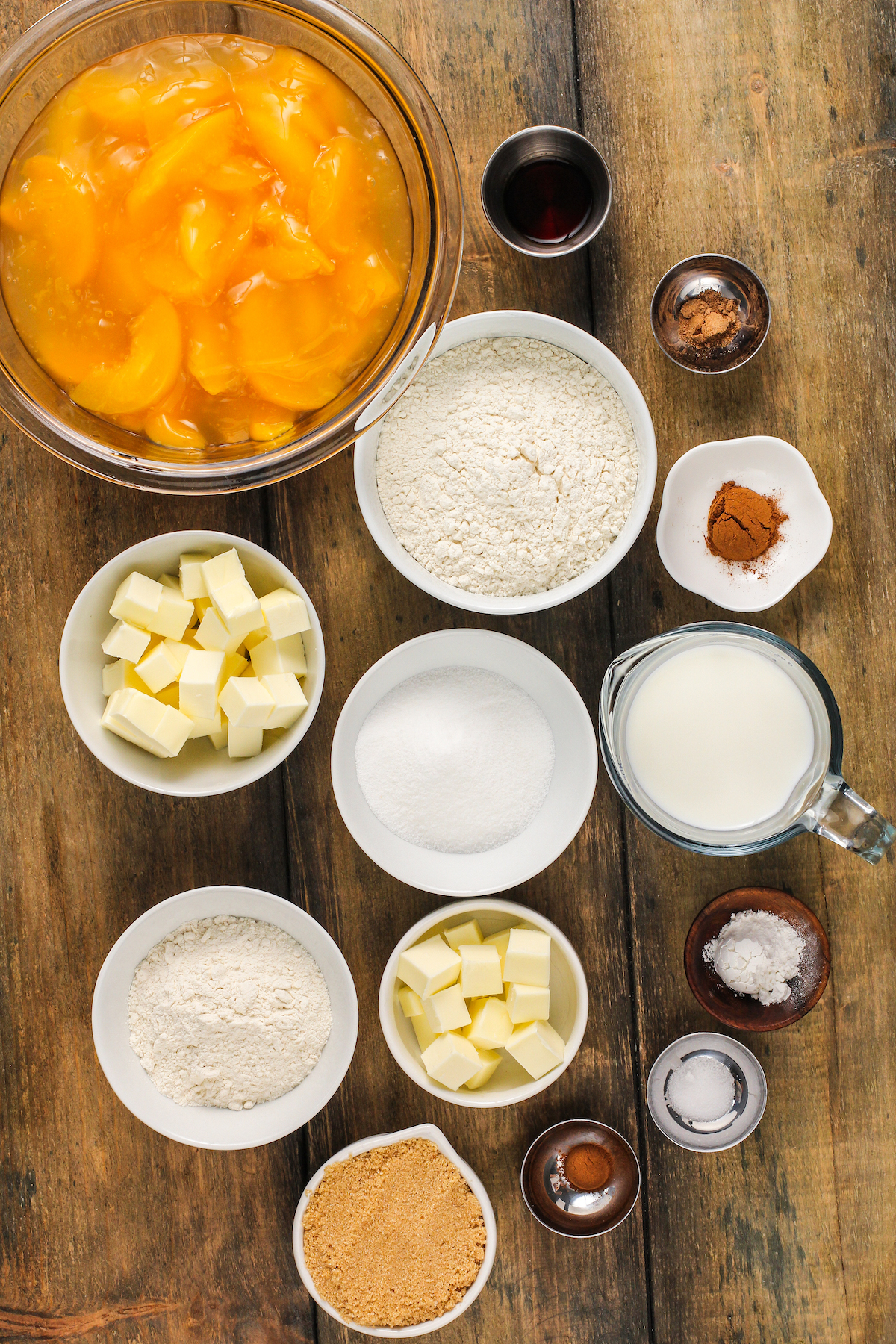 What You'll Need
One major perk of most cobbler recipes is that they call for the most basic ingredients! A quick raid of your pantry should be enough to find most of what you'll need. Here's a quick roundup of the ingredients (find the full details in the recipe card below):
For the Peach Cobbler
Peach Pie Filling: You'll need a couple of cans of peach pie filling. Regular canned peaches will also work.
Vanilla Extract: I recommend using pure vanilla extract rather than imitation vanilla. The flavor is much more natural.
Spices: I add a blend of ground cinnamon and ground nutmeg to my pie filling for flavor. You can also use other spices like cardamom and ginger if you'd like.
Flour: All-purpose flour is most consistent when making the fluffy cobbler batter.
Sugar: I keep things simple with regular white granulated sugar in this recipe.
Baking Powder: Check the date on your baking powder to ensure it's fresh. Fresh baking powder allows the batter to expand and cook.
Cinnamon: Ground cinnamon for a nice cozy hint of spice in the dough.
Salt: If you use salted butter instead of unsalted, you can omit the extra salt.
Butter: Cold unsalted butter, cut into cubes for easy blending.
Milk: I use whole milk, though 2% is fine, too.
For the Brown Sugar Crumble
Light Brown Sugar: I like the slight caramelized flavor that comes with light brown sugar. You can also make the crumble white sugar or dark brown sugar, if you prefer.
Flour
Butter: Also unsalted, cold and cubed like in the cobbler itself.
How to Make Peach Cobbler in the Crockpot
I use a 6-quart Crock Pot for this recipe. Before you begin, you'll need to grease the crock of your slow cooker to prevent sticking. Then follow these simple steps for the perfect peach cobbler in the crockpot: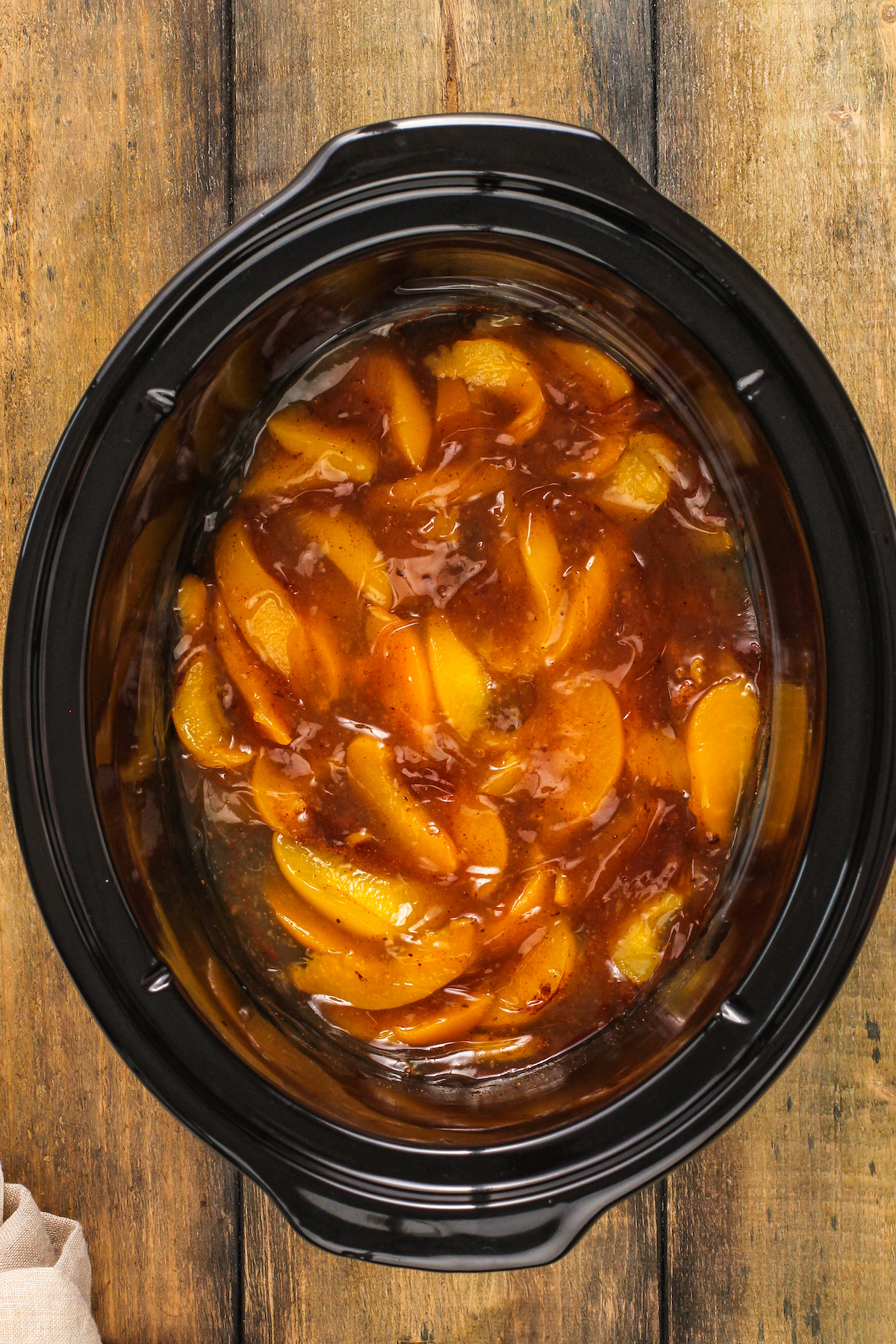 Prepare the Cobbler Filling and Batter: In the bottom of your crock, combine the cans of peach filling with the vanilla and spices and give it a stir. Pulse the ingredients for the batter in a food processor or blender until you reach a crumbly consistency. Slowly pour in the milk and continue to blend until the batter is just combined, being mindful to not over-blend.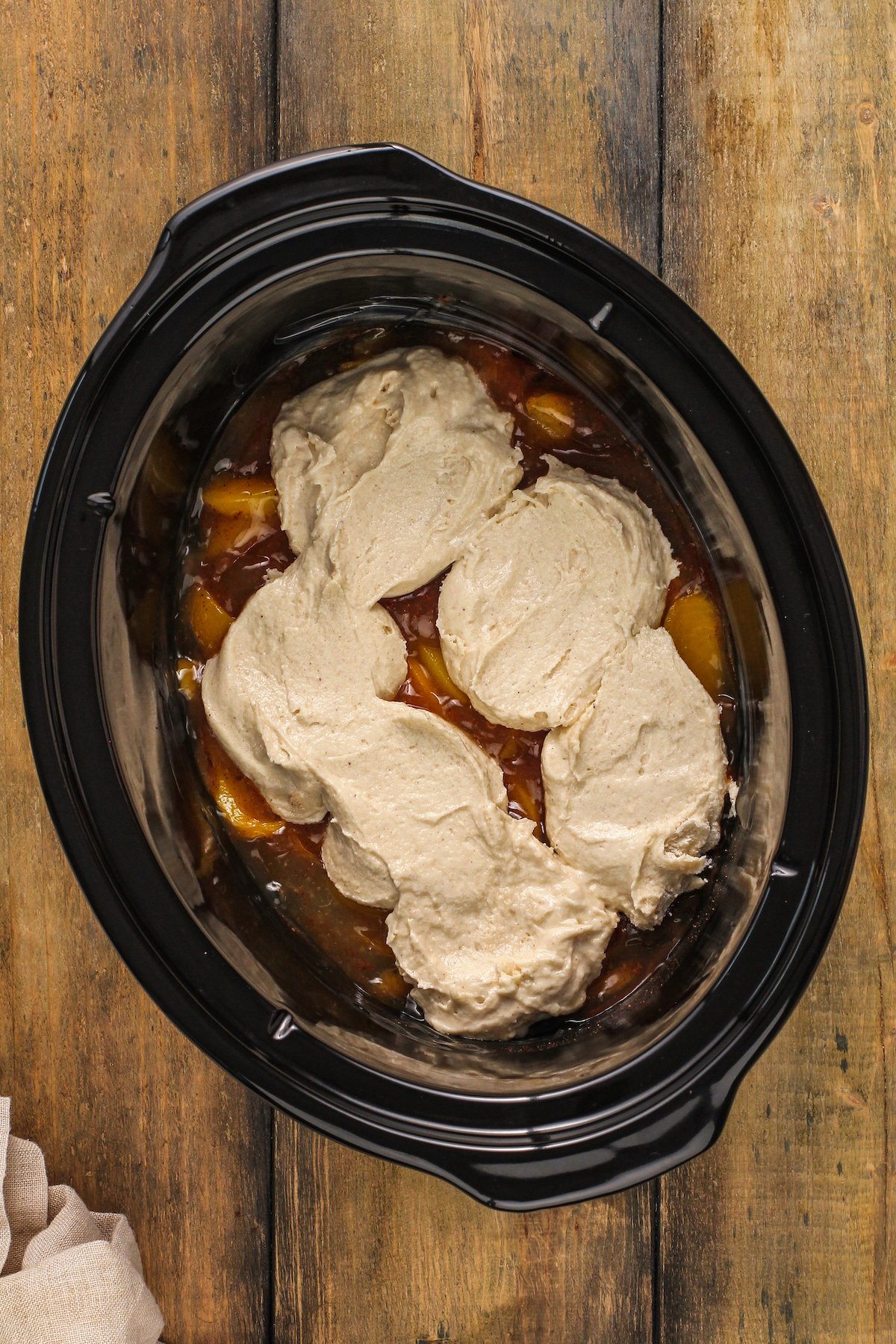 Assemble: Next, scoop spoonfuls of batter overtop the peach filling in the crockpot. Cover as much of the filling as you can, though don't stress about gaps in the batter too much (the dough will puff up as it cooks). Before closing the lid, I cover the opening of my crockpot with a layer of paper towel to catch the steam and help the topping get extra crisp. However, this step is absolutely optional if you're worried about how hot your slow cooker might get.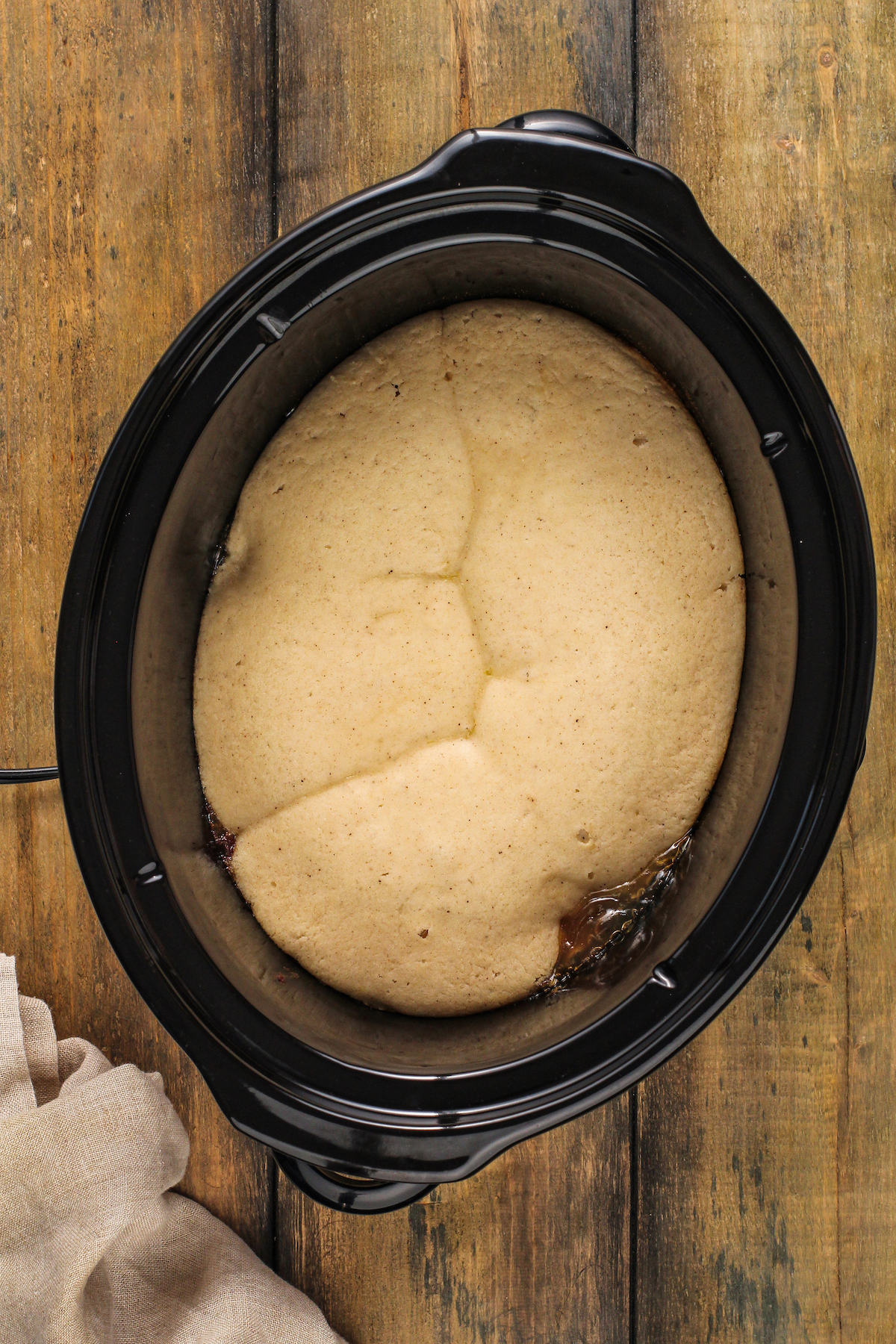 Cook: Cover and cook the cobbler on high. It usually takes between 2 to 2 ½ hours to fully cook, depending on the temperament of your slow cooker.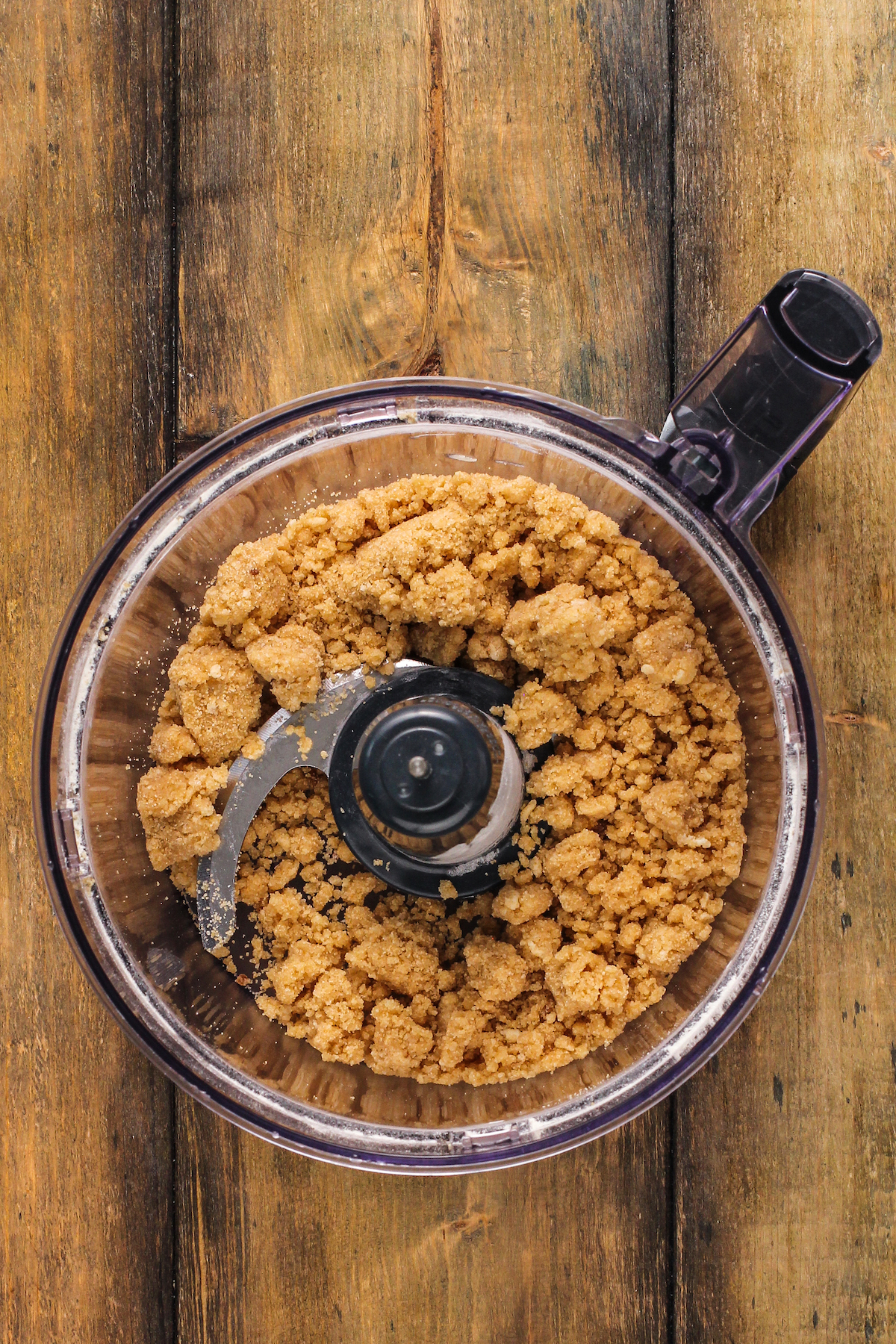 Prepare the Crumble: While your cobbler is slow cooking, clean out your food processor and prepare the brown sugar crumble. Combine the brown sugar, flour, and butter cubes in the blender, pulsing until crumbly. Store the mixture covered in the fridge. Once you're about 90 minutes into the cooking time, take your crumble out and sprinkle it over the cobbler. Cover the crock again to let it finish cooking.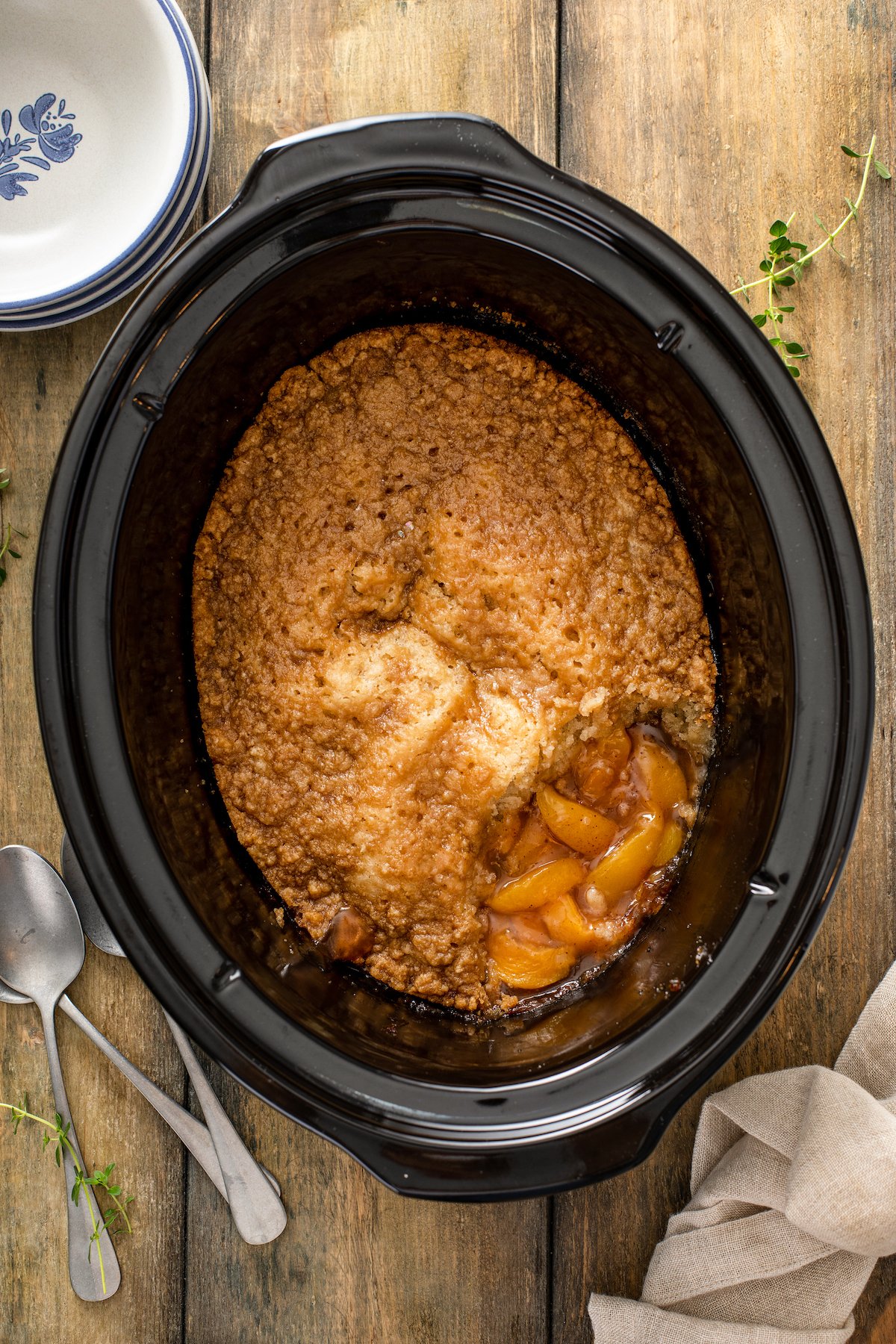 Finish and Serve: Turn off the crockpot and let the cobbler set up for another 15 minutes or so before serving. This is important, otherwise you may end up with some seriously soupy vibes. Dish up and top your peach cobbler with a scoop of vanilla ice cream and enjoy! See below for even more easy serving ideas.
Can I Make This In Advance?
If you'd like to prepare your peach cobbler ahead of time, I recommend making and storing the fruit filling and batter separately in the fridge up to one day before. Whenever you're ready, just assemble the cobbler in your crockpot and cook as directed.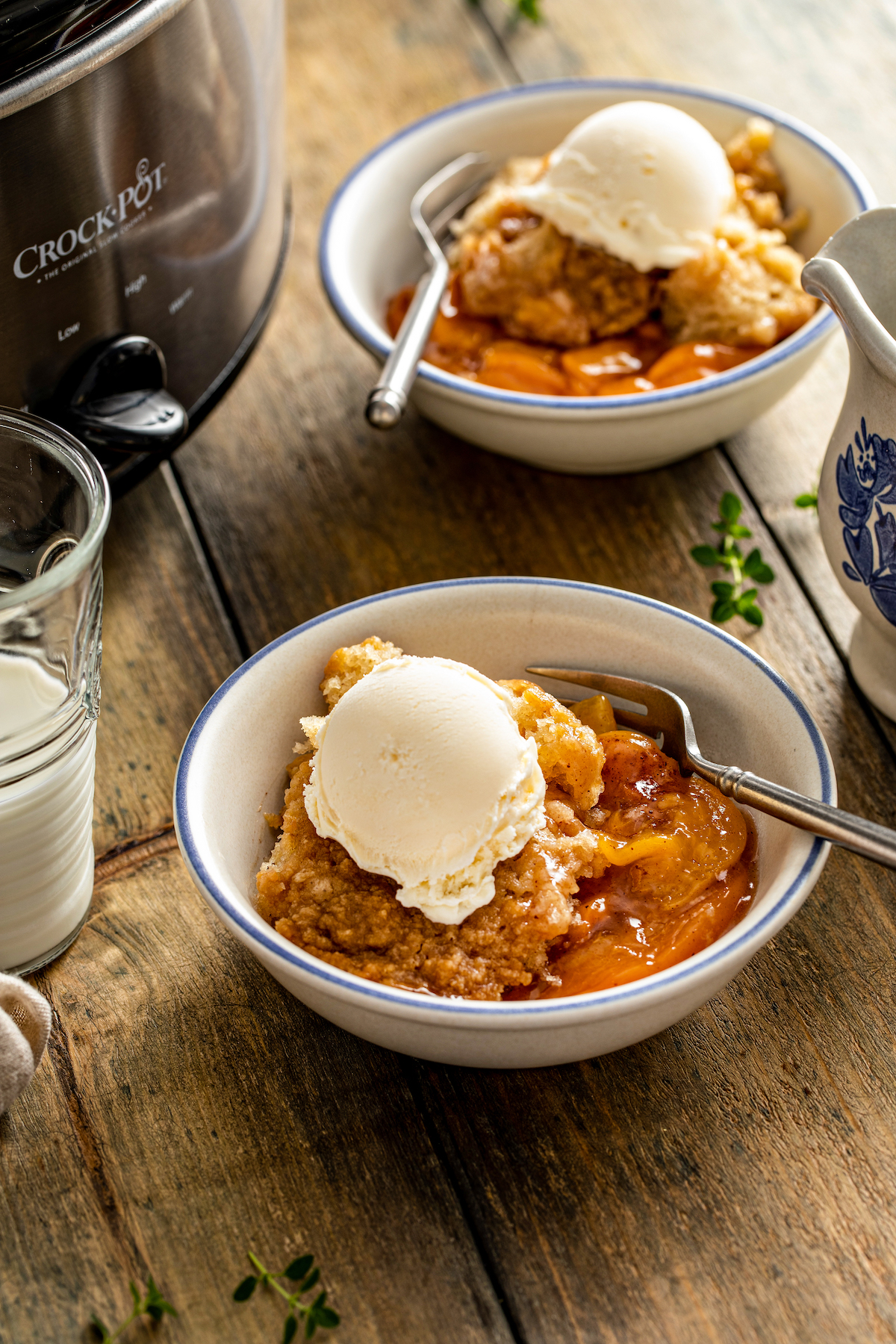 Tips for Success
Check the Cook Time: My cobbler cooks up perfectly in my crockpot after 2 ½ hours on high, or 3 ½ to 4 hours on low. If your slow cooker is prone to cooking hot and fast when set to high, I recommend checking the cobbler after 2 hours. If needed, turn off the heat and keep the cobbler covered until ready to serve.
Do I Have to Add the Crumble?: I find that the brown sugar crumble really adds just one more layer of yum to this homemade peach cobbler. Of course, if you're a cobbler purist, feel free to skip it!
What If I Don't Have a Food Processor?: You can cut the butter into the batter ingredients manually using a pastry cutter instead. This is obviously the more labor-intensive method, but the cobbler will still turn out great.
Use Paper Towel with Caution: Covering the crock with a paper towel while the cobbler cooks is my hack for reducing condensation and helping the batter crisp up. Use your discretion, as this step is at-your-own-risk and not recommended for all crockpots (especially if your crockpot runs very hot). I've included a full disclaimer in the recipe card for this reason, because safety first!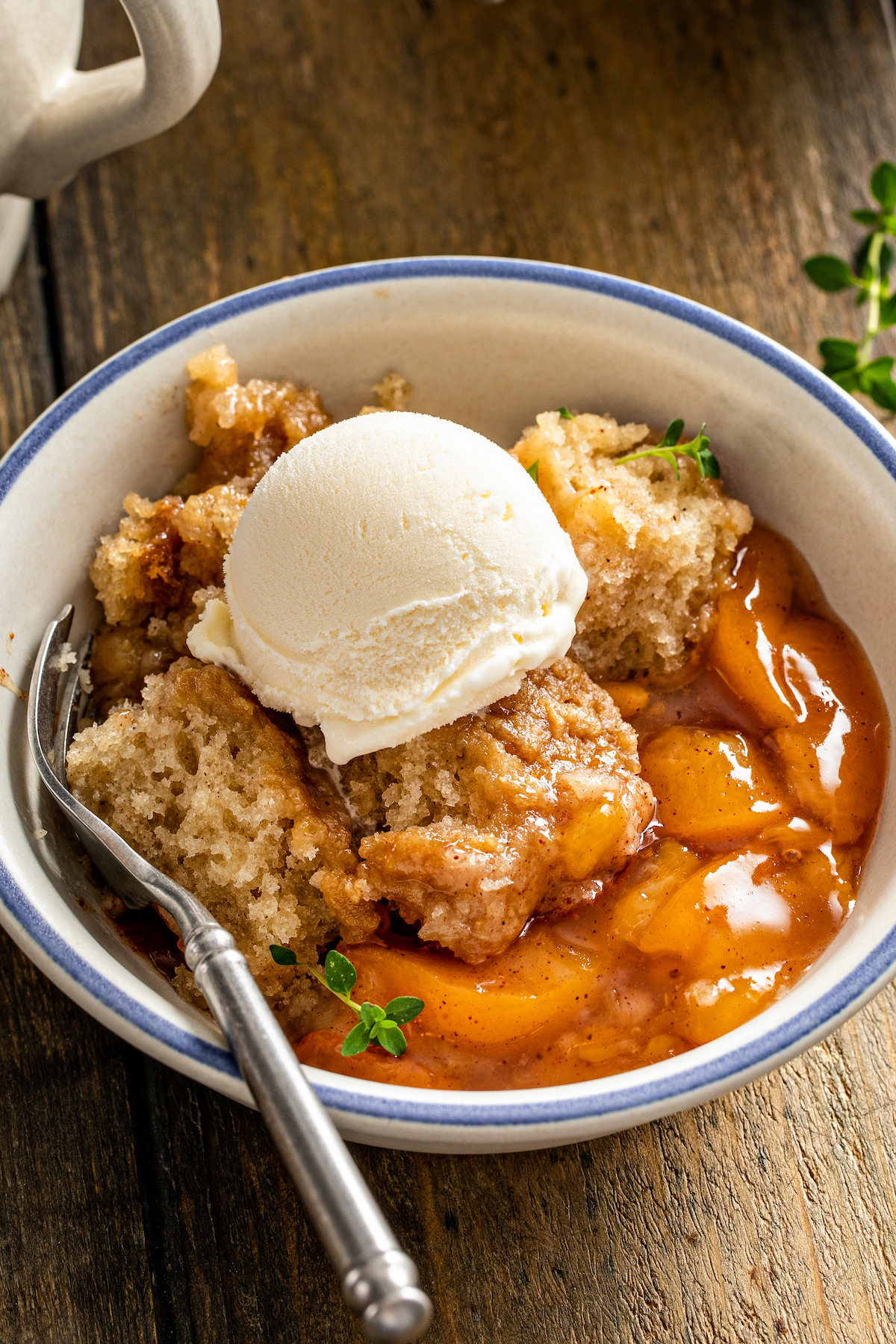 Serving Suggestions
I always think cobbler is best served warm with a scoop of vanilla ice cream. Simple and delicious! You can also enjoy peach cobbler on its own, or try these other easy serving ideas:
Instead of vanilla ice cream, try topping your cobbler with a scoop of homemade Dulce de Leche No Churn Ice Cream or Brown Butter Ice Cream.
Drizzle with caramel sauce. Use store bought, or use the homemade salted caramel from my Churros with Salted Caramel Sauce recipe.
Give your serving of peach cobbler a sprinkle of toasted coconut.
Top with whipped cream and add fresh fruit like blueberries, sliced strawberries, bananas, raspberries, or blackberries.
How to Store and Reheat Extras
This crockpot peach cobbler is best when it's served warm and fresh from the crock. However, if you do have leftovers, these can be stored covered in the fridge for 2-3 days. The dough will lose its crispy texture, but the flavors will still be delicious!
Reheat peach cobbler in the microwave, or place servings in the oven at 350ºF for about 15 minutes, or until warmed through.
Can I Freeze This?
Since the cobbler dough comes into direct contact with the fruit juices, most cobblers don't hold up well when frozen. Freezing and thawing tends to result in a mushy, not-so-tasty mess! If you're looking for a peachy, summery dessert that's perfect for freezing, try my Easy Peach Dump Cake!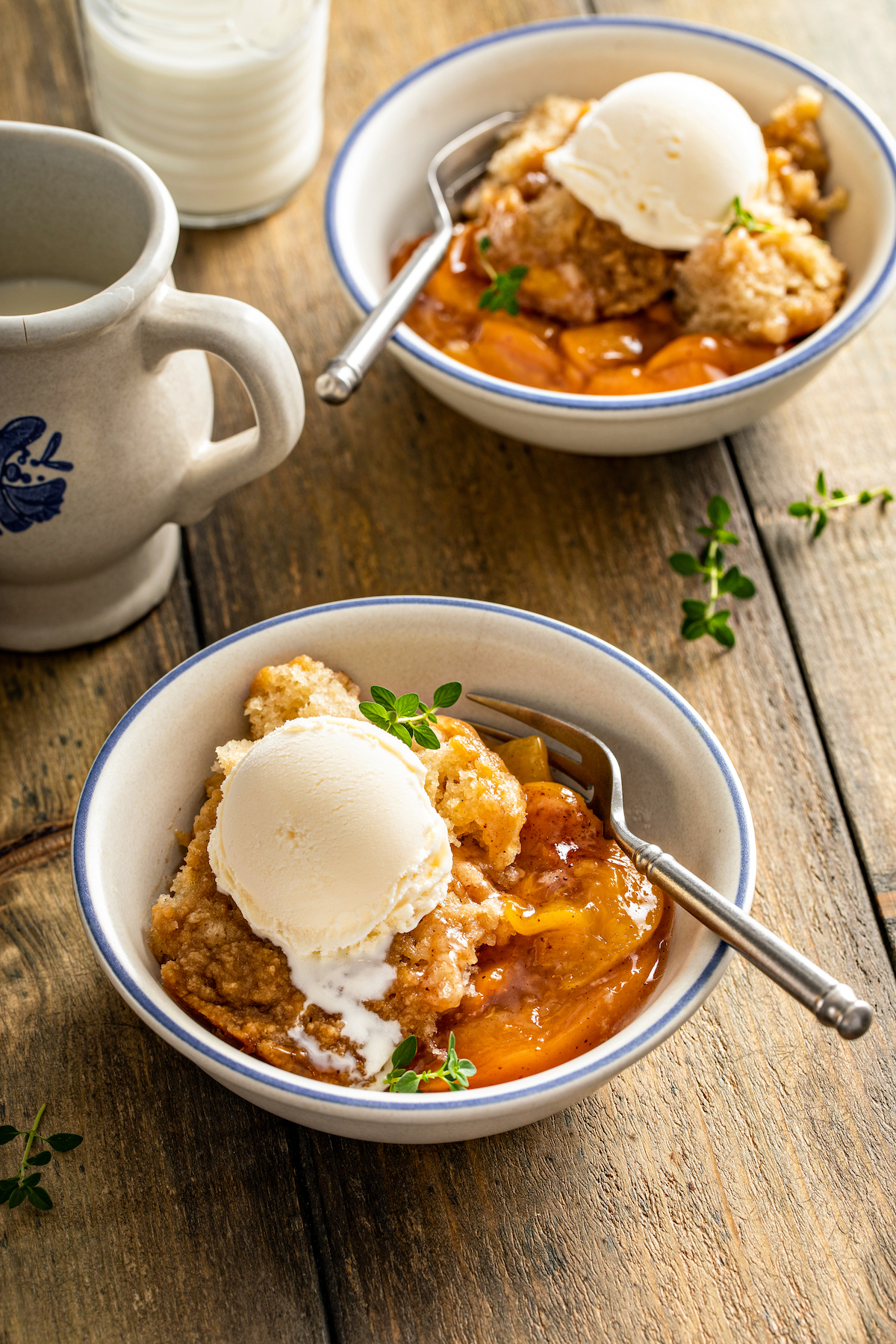 More Comforting Fruit Cobblers to Try
Looking for more delicious fruit cobblers or crisps? Here are a few more easy recipes:
Crockpot Peach Cobbler
This sweet and easy Crockpot Peach Cobbler recipe is a semi-homemade dessert that skips the oven! Perfectly topped with a delicious and buttery brown sugar crumble.
Ingredients
Peach Cobbler
2

cans

,

21 oz each Peach Pie Filling

1

tablespoon

vanilla extract

1

teaspoon

ground cinnamon

¼

teaspoon

ground nutmeg

1 ½

cups

all purpose flour

⅓

cup

granulated sugar

2

teaspoons

baking powder

¼

teaspoon

ground cinnamon

¼

teaspoon

salt

½

cup

1 stick unsalted butter, cold & cubed

¾

cup

whole milk
Brown Sugar Crumble
½

cup

packed light brown sugar

½

cup

all purpose flour

¼

cup

1/2 stick unsalted butter, cold & cubed
Instructions
Grease the crock of a 6 quart slow cooker. Pour the cans of peach pie filling into the bottom of the crock. Add vanilla extract, ground cinnamon, and nutmeg. Stir together.

In a food processor, add the flour, sugar, baking powder, ground cinnamon, salt, and cubed cold butter. Pulse mixture until it begins to look crumbly. Then, slowly stream the milk into the processor and continue to pulse until just combined. Be careful not to over mix.

Add spoonfuls of the batter to the top of peach pie filling. Covering as much of the filling as possible. It is OK to see gaps. The batter will expand as it cooks.

Next, add several sheets of paper towels over the open of the crock and cover. This will help catch excess condensation and allow cobbler to crisp up some. However, if you are worried about how hot your slow cooker might get, it is OK to skip this step, but the cobbler may not get that crispier top.

Cover the crock and cook on High for 2-2.5 hours. Meanwhile, clean and dry the food processor. Add the light brown sugar, flour, and cold and cubed unsalted butter. Pulse several times until the mixture looks crumbly. Transfer mixture to a small bowl and cover. Store in the refrigerator until time to top the cobbler.

About 90 minutes into cooking, remove the brown sugar crumble mixture and begin to sprinkle it on top of the cobbler. Breaking up extra large crumble chunks. Recover the crock and continue until finished cooking. Once done cooking, allow cobbler to set for 10-15 minutes before serving. Serve with vanilla ice cream or a dollop of whipped cream and enjoy!
Notes
If the slow cooker cooks hot and fast, turn off the slow cooker after 2 hours and keep covered for until ready to serve. If the slow cooker is more even tempered, 2.5 hours should be perfect.
Attention: It may be a potential fire hazard to cover the top of the crock pot with a paper towel. Please use caution and your best judgment of the understanding on how the slow cooker cooks. You can also check the paper towel periodically to ensure it is not getting too hot. Use this method at your own risk.
Can be made on low (3.5-4 hours) or high (2-2.5 hours).
Best served warm and with a scoop of vanilla ice cream.
Ensuring fresh baking powder will help the batter expand and cook.
The butter can be manually cut in using a pastry cutter in place of a blender.
Nutrition
Serving:
1
,
Calories:
391
kcal
,
Carbohydrates:
75
g
,
Protein:
6
g
,
Fat:
7
g
,
Saturated Fat:
3
g
,
Polyunsaturated Fat:
4
g
,
Cholesterol:
7
mg
,
Sodium:
364
mg
,
Fiber:
2
g
,
Sugar:
34
g
Categories:
This post may contain affiliate links. Read my disclosure policy.