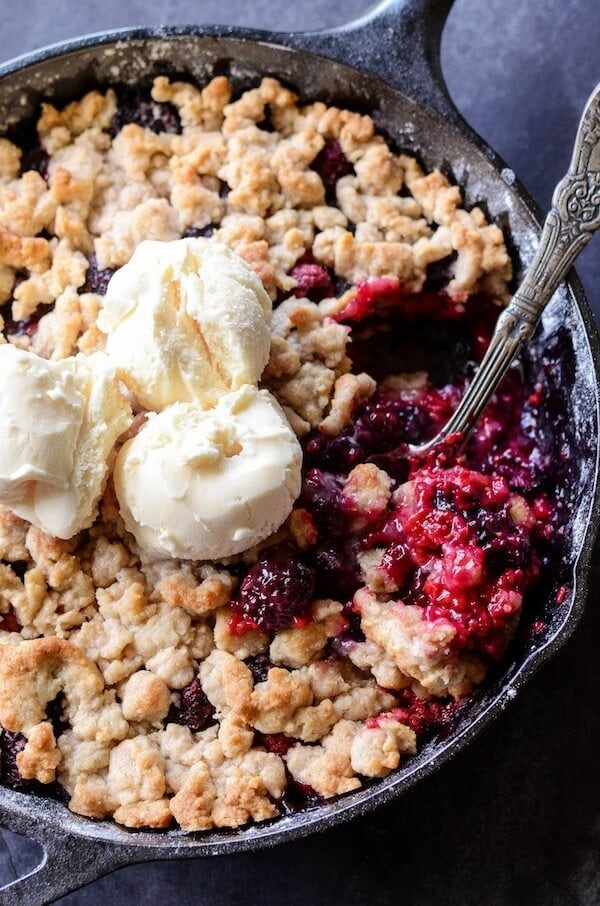 That first photo is killing me. I made this Skillet Berry Cobbler over the weekend and now I am dying for another bowl of it while writing this post tonight!
That's one of my biggest complaints about being a food blogger…when I am writing my posts I start immediately craving whatever it is I am talking about. And for the sake of my pants, I can not make a whole cobbler at 11pm on a Sunday.
I ended up eating a handful of dried banana chips and trying to pretend they were just as gloriously delicious as this berry cobbler was. They absolutely weren't and I am pretty sure I will be dreaming of going swimming in a cobbler tonight.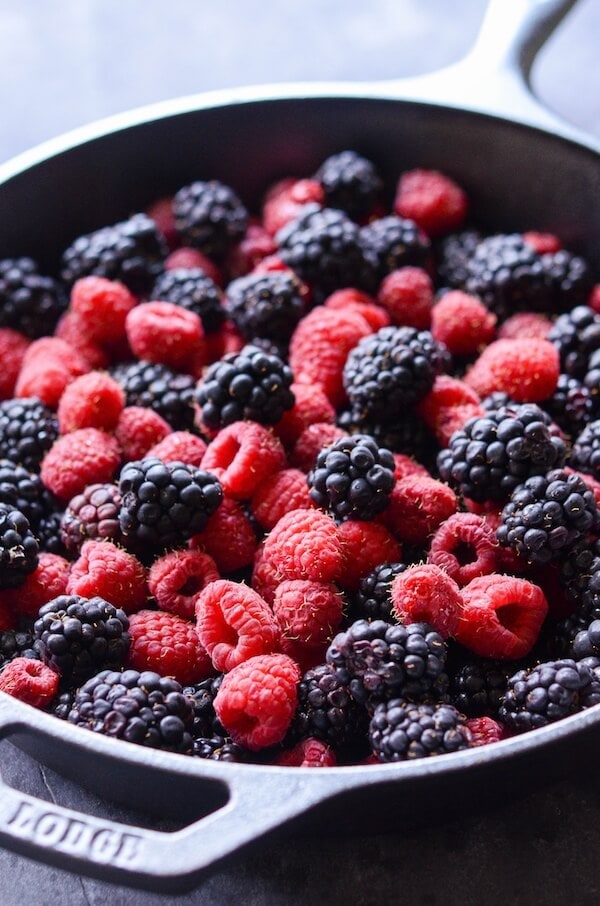 Blackberry & Raspberries are by far my favorite berry combo. While we don't really have raspberry picking here in Florida, we do have blackberry farms and in just a couple of months they will open for picking again.
Last year I made a gorgeous Blackberry Sorbet with all my fresh picked berries and the year before I made Blackberry Pie Bars. I can't wait to see what I can whip up this year. I am thinking muffins.
I can't wait for the girls to get just a little older to really enjoy going berry picking with me. I might go ahead and take them this year…even though I know they will leave stained purple and terrorize all the other pickers.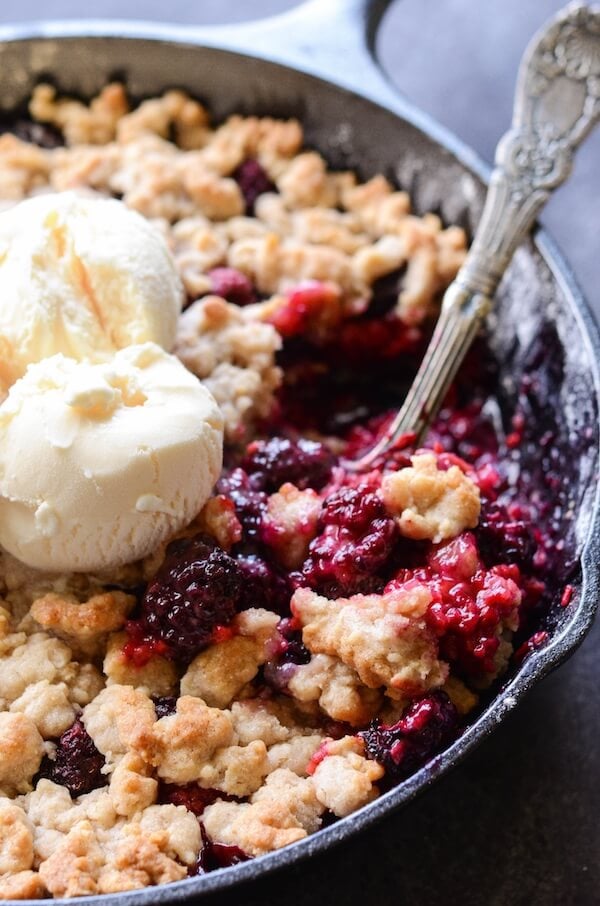 I have always been a berry cobbler addict — check out my Best Classic Berry Cobbler circa 2014 — and I think I might have actually made a better berry cobbler! Shocker, right?
This recipe is the same base recipe, but instead of being topped with pie crust, it's topped with a crumbled buttery topping. And it is like the perfect topping ever for a berry cobbler. Seriously, you must make this immediately.
Yield: 6 servings
Skillet Berry Cobbler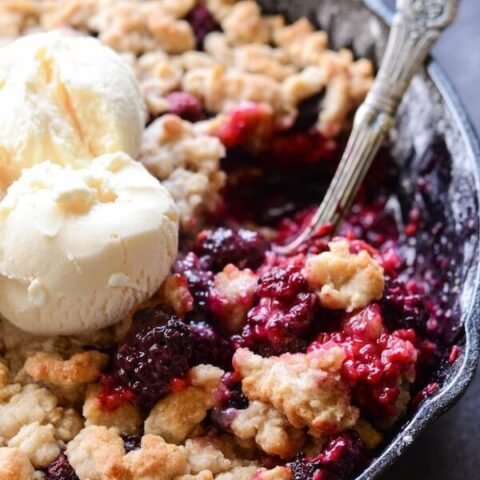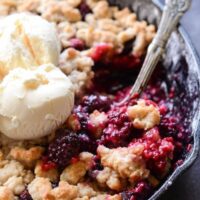 Skillet Berry Cobbler - perfect classic berry cobbler in a cast iron skillet!
Ingredients
4 cups your choice of fresh berries (I used blackberries & raspberries)
1 cup granulated sugar
1/2 cup all purpose flour
1 tablespoon cornstarch
1/2 teaspoon salt
1 cup all-purpose flour
3/4 cup rolled oats
1/2 cup sugar
1/2 teaspoon kosher salt
1/2 teaspoon cinnamon
1 1/2 sticks (3/4 cup) cold unsalted butter, cut into small cubes
Instructions
Preheat oven to 375°F.
In a 10 inch cast iron skillet, toss together berries, sugar, 1/2 cup flour, cornstarch and salt. Smooth berry into an even layer.
In a stand mixer with paddle attachment, add the 1 cup flour, oats, sugar, salt and cinnamon. Add the butter and mix until texture is coarse clumps and mixture will hold together in clumps when you squeeze it with your hand.
Spread topping evenly on top of berry mixture with your hand and press it down lightly.
Bake for 35 to 40 minutes, until the edges are bubbling and the top is golden brown. Serve warm with vanilla ice cream!
Nutrition Information:
Yield:
6
Serving Size:
1
Amount Per Serving:
Calories:

420
Total Fat:

4g
Saturated Fat:

2g
Trans Fat:

0g
Unsaturated Fat:

2g
Cholesterol:

8mg
Sodium:

356mg
Carbohydrates:

92g
Fiber:

6g
Sugar:

56g
Protein:

6g
Want to Save This Recipe?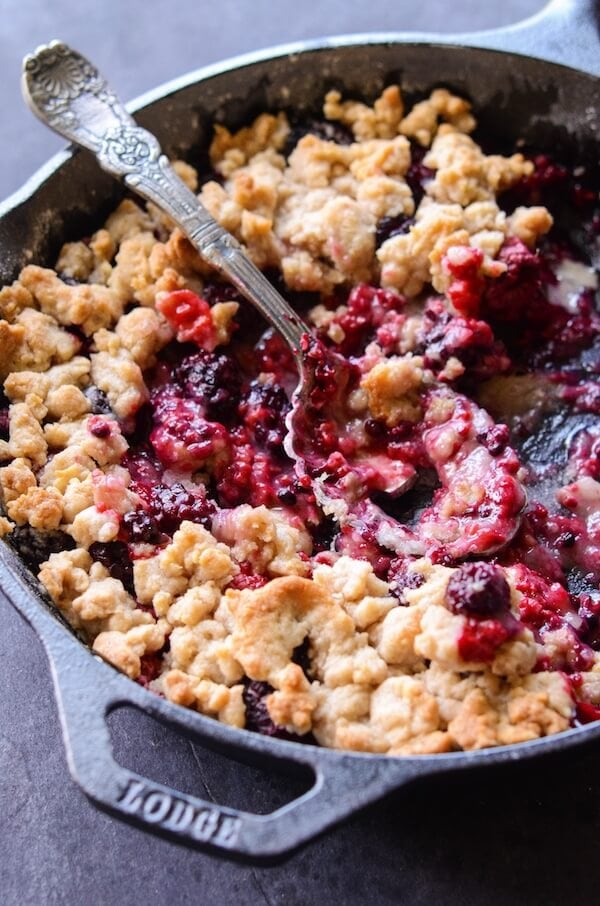 This post may contain affiliate links. Read my disclosure policy.