Crumbly moist pie dough with sweet juicy blackberries combine to make these Blackberry Pie Bars! Get the deliciousness of pie without rolling out the pie dough!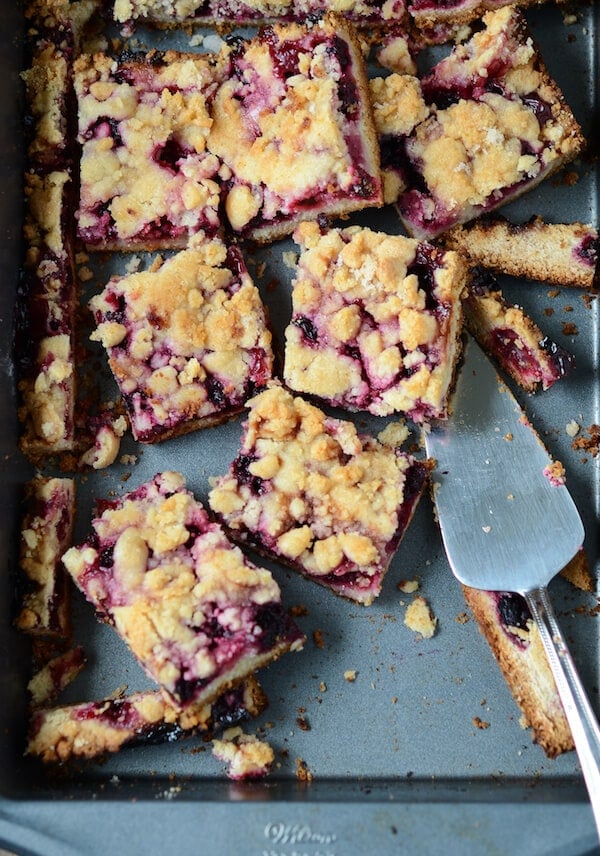 These easy blackberry pie bars are extra delicious with their thick buttery pie crust and blackberry filled bites.
While they look impressive, they are also very easy to whip together and get into the oven.
You can use any kind of berries you have on hand or even a mixture of berries for these pie bars, the flavor is easily changed!
Like pie, they are also amazing if you serve them warm with a scoop of ice cream to really take them over the top!
Blackberry Pie Bar Dough
The best way to make this pie dough is to use a food processor.
Otherwise, you will need to do it by hand by cutting the butter into the flour with a fork and it will take a lot more work.
Like a classic pie dough, we use cold butter cut into squares to make our pie bar dough.
With a food processor, this easy dough recipe will only take a few minutes.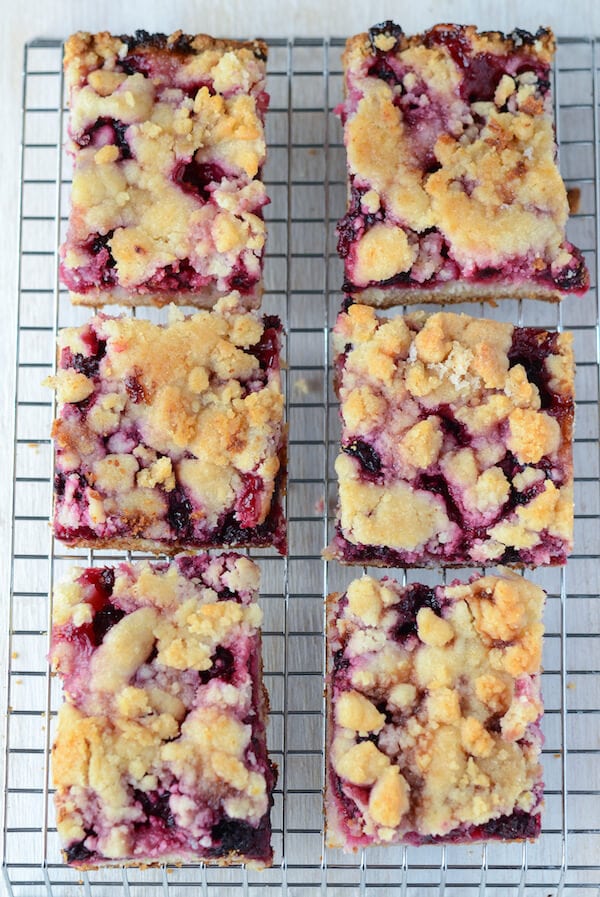 Can I use different fruit in these pie bars?
Yes! You can use any berry with the same results, except strawberries.
Strawberries you have to slice and they can cause a little more liquid. However, they do still work, just a little different final result.
If you want to do a different spin with strawberries, I really recommend you check out my Strawberries and Cream Hand Pies!
For other fruits, if it's a dryer fruit (like apples), they work as well. Dried fruits are also another good option.
However, I personally find these pie bars to be the best when made with the following:
Blackberries
Raspberries
Blueberries
or a mixture of those three!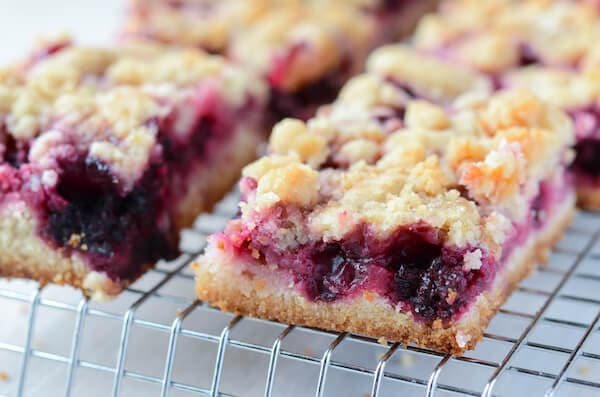 These Blackberry Pie Bars are delicious and don't require you to roll out a perfect pie dough.
The burst of fresh blackberries with a delicious butter pie crust surrounding them is absolute perfection.
If you love this recipe, you will also love my families recipe for Skillet Berry Cobbler that requires no pie crust and combines Raspberries and Blackberries!
When you try this recipe, please leave a review/comment below and let me know how the recipe turns out for you!
Yield: 12 pie bars
Blackberry Pie Bars Recipe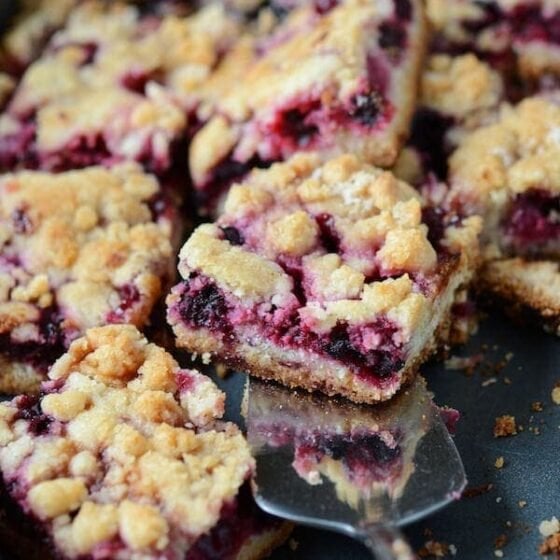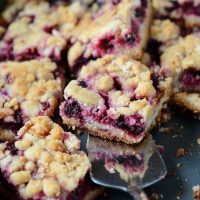 Crumbly moist pie dough with sweet juicy blackberries combine to make these Blackberry Pie Bars! Get the deliciousness of pie without rolling out the pie dough!
Ingredients
3 cups all-purpose flour
1 1/2 cups sugar, divided
1 teaspoon baking powder
1 teaspoon cinnamon
1/4 teaspoon salt
Zest and juice of one lemon, divided
1 cup (2 sticks) cold unsalted butter, cut into 1 inch slices
1 large egg
2 teaspoons vanilla extract
4 cups fresh blackberries
4 teaspoons cornstarch
Instructions
Preheat the oven to 375°F. Grease a 9×13 inch pan.
In a food processor, pulse together flour, 1 cup of sugar, baking powder, cinnamon salt and lemon zest. Add the butter, egg and vanilla extra. Pulsing until dough is crumbly.
Pat half of dough into the bottom of the prepared pan, saving the remaining dough for the topping.
In a medium bowl, stir together the remaining 1/2 cup sugar, cornstarch and lemon juice. Gently mix in the blackberries. Sprinkle the blackberry mixture evenly over the crust. Crumble remaining dough over the berry layer.
Bake in preheated oven for about 45 minutes, or until top is slightly brown (you are only looking for the top to slightly brown, if you cook for too long – the bottom will burn).
Cool completely before cutting into squares. Store in an airtight container.
Nutrition Information:
Yield:
12 bars
Serving Size:
1
Amount Per Serving:
Calories:

253
Total Fat:

2g
Saturated Fat:

1g
Trans Fat:

0g
Unsaturated Fat:

1g
Cholesterol:

18mg
Sodium:

92mg
Carbohydrates:

55g
Fiber:

4g
Sugar:

28g
Protein:

4g
Want to Save This Recipe?
SaveSave
SaveSave
This post may contain affiliate links. Read my disclosure policy.