How to make a delicious homemade strawberry cake with fluffy strawberry frosting completely from scratch. You won't need a cake mix for this recipe!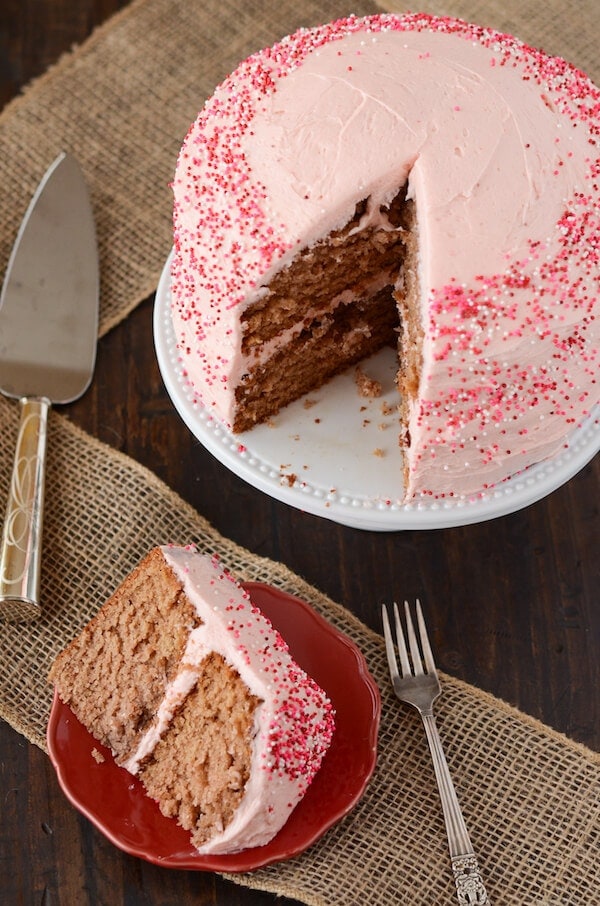 Homemade Strawberry Cake
This sweet and delicious homemade Strawberry Cake has been on my list of cakes to make for a long time. I always love the bright pink store bought version, but I wanted to try my hand at making a strawberry cake from scratch with real strawberries. Sure the cake may not be as bright pink, but I assure you it's even more delicious!
It all started way back when with a Banana Dream Cake in 2011. That cake was the beginning. It then branched off into the Pumpkin Dream Cake. And if you read the comments, it is possibly one of the most made cakes on this blog….which is saying something because I have posted a lot of cakes.
With all the fresh Florida Strawberries that have been showing up on the sides of the roads (Yup, we start getting FL Strawberries as early as the end of December sometimes…gotta love FL!), I just had to try to make a Strawberry Dream Cake.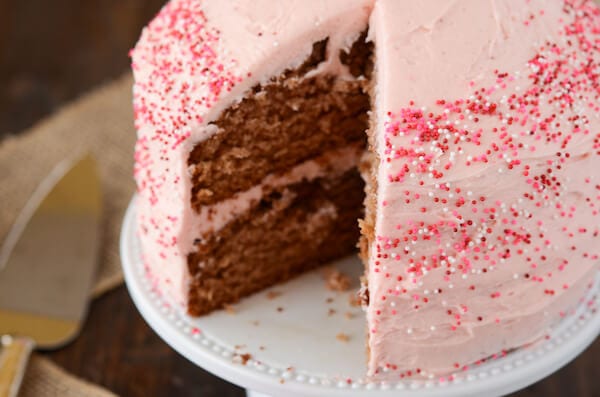 I was waiting for my favorite little old man in red suspenders to show up selling Strawberries, but so far he hasn't been around this year. Maybe he is still sleeping off his New Years hangover. :) Instead, I happened to see a mom and her toddler aged daughter with a tent set up selling some winter citrus and the first FL Strawberries of the season. At $4 for a huge pallet, I just couldn't help but pull in!
I ended up having to make the cake twice, because the first time it came out of the oven like a funky brick. Totally depressing to waste all those ingredients and have to throw away cake…but hey, it happens to all of us right? So I tried again and this time it was a success!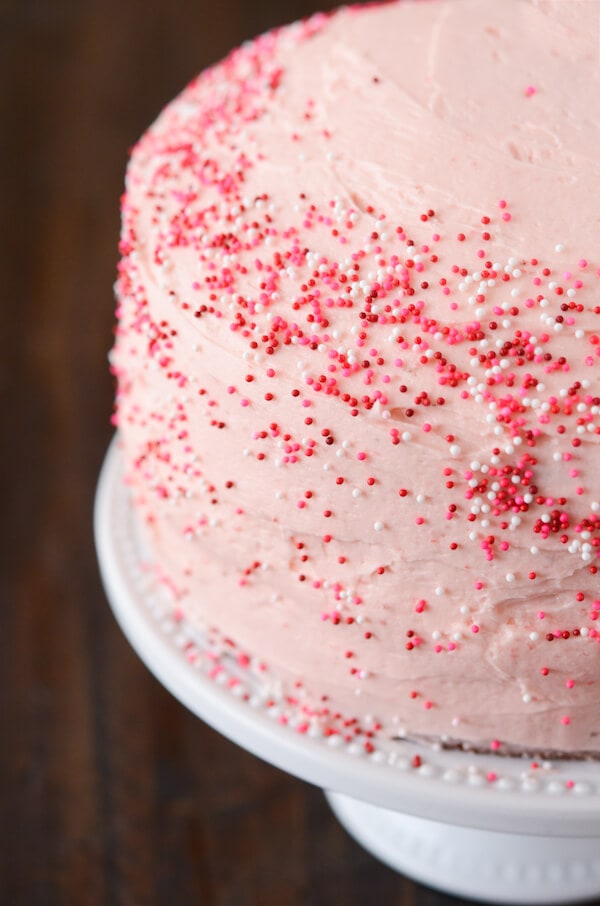 This dream cake is a little different than the previous two dream cakes. Pureed Strawberries have a much different texture than pumpkin or banana. So the cake of course is a little different. You also have to add some strawberry extract to boost the flavor…because even with 2 cups of pureed strawberries, it still needs a little extra Strawberry flavor.
Also, I made this one in 2 layers instead of 3…because I lost my 3rd 8 inch pan. How does that even happen?? But anyways, I left the recipe below in the traditional 3 layers because I like the ratio of frosting to cake that it provides. Speaking of frosting, holy moly this stuff is like strawberry crack! SO GOOD! I hope you enjoy this Strawberry Dream Cake as much as the dream cakes of the past!
Yield: Serves 12
Homemade Strawberry Cake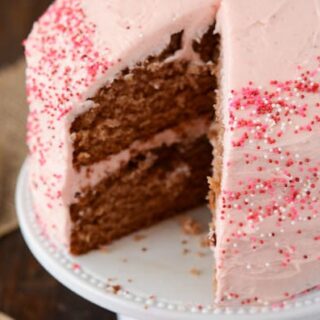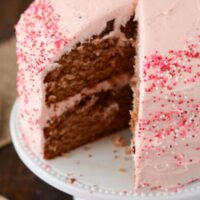 How to make a delicious homemade strawberry cake with fluffy strawberry frosting completely from scratch. You won't need a cake mix for this recipe!
Ingredients
Strawberry Cake
3 cups all-purpose flour
1 1/2 teaspoons baking soda
1/2 teaspoon salt
3/4 cup unsalted butter, softened
2 cups granulated sugar
2 large eggs
2 teaspoons vanilla extract
2 teaspoons strawberry extract
1/2 cup vegetable oil
2 cups pureed strawberries
Strawberry Frosting
3 sticks unsalted butter, room temperature
1/4 cup strawberry puree
3/4 teaspoon strawberry extract
4 1/2 cups powdered sugar
Instructions
Preheat oven to 325°F. Grease 3, 8-inch round cake pans. Set aside.
In a medium bowl, mix flour, baking soda and salt. Set aside.
In a large bowl/stand mixer, cream butter and sugar until light and fluffy. Beat in the eggs one at a time, then stir in vanilla, strawberry extract and vegetable oil. Beat in the flour mixture alternately with the pureed strawberries.
Divide batter evenly into prepared pans. Bake for 30-35 minutes, or until a toothpick inserted into the center of the cake comes out clean. Remove pans from oven and immediately place in freezer for 45 minutes. (This keeps the cake moist by immediately stopping the baking so the cake does not continue to bake when you remove it from the oven.)
For the frosting: Cream the butter in the bowl of an electric or stand mixer. Add the strawberry extract and strawberry puree, combine well.
Begin adding in the powdered sugar and mixing thoroughly after each addition. After all of the sugar has been added and mixed thoroughly, give it a taste and decide if you want to add in more strawberry extract. For thicker frosting you can gradually add in a little more sugar.
To assemble: Assemble the 3 layers with a thick layer of frosting in between each layer. Apply one final thick and even layer around the outside of the cake. Store in the fridge until ready to serve.
Notes
Recipe note: It took me approximately 2 pints of Strawberries to make this cake. And, yes – you can color the inside of the cake with food coloring if you wish.
Nutrition Information:
Yield:
12 slices
Serving Size:
1
Amount Per Serving:
Calories:

819
Total Fat:

45g
Saturated Fat:

22g
Trans Fat:

0g
Unsaturated Fat:

20g
Cholesterol:

122mg
Sodium:

264mg
Carbohydrates:

103g
Fiber:

2g
Sugar:

77g
Protein:

5g
Categories
This post may contain affiliate links. Read my disclosure policy.