A stunning Gingerbread Cake with two thick, moist layers of spiced gingerbread cake and big generous swirls of sweet cinnamon cream cheese frosting on top!
If you love this Gingerbread layer cake, make sure and check out my Classic Gingerbread Recipe! Or my famous Gingerdoodle Cookies — a cross between a gingerbread cookie and a snickerdoodle in one!
Layered Gingerbread Cake
If you are looking for one of the most impressive Christmas cakes, this Gingerbread Cake is a definite win!
Not only is it an impressive looking cake, but it is also absolutely delicious! We start with two big thick layers of moist Gingerbread Cake that are loaded with spices and molasses.
Then we whip together some butter and cream cheese into a sweet cinnamon cream cheese frosting that's the perfect pairing with this classic cake.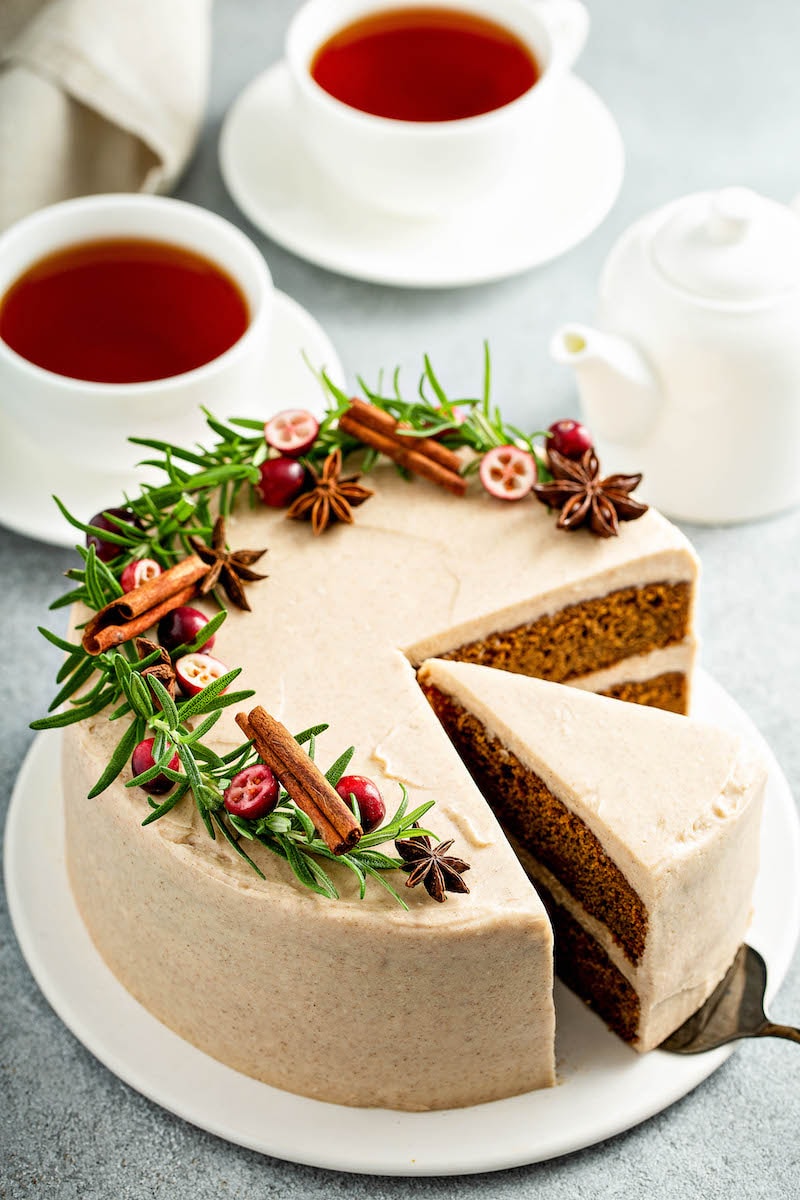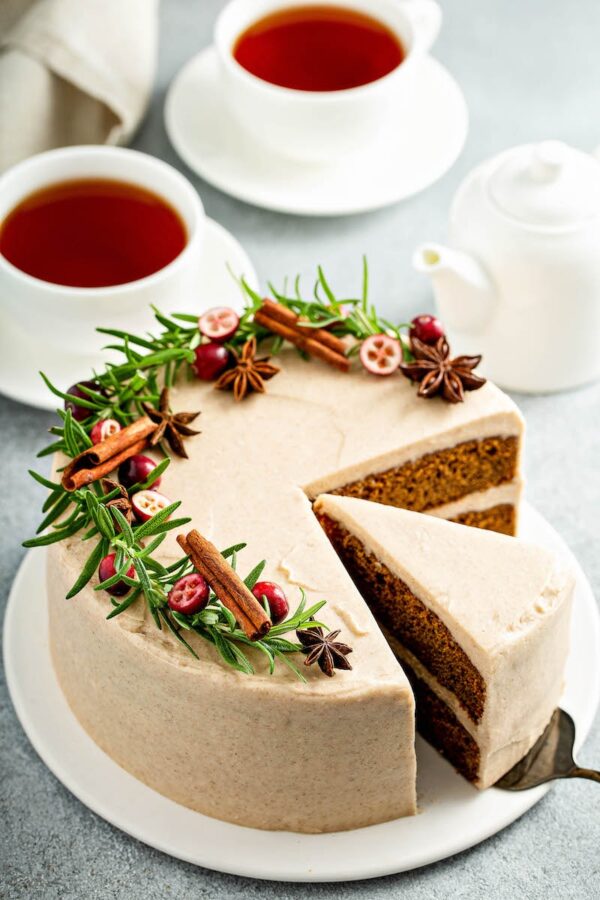 The History of Gingerbread
Gingerbread is said to have begun in Greece and was brought to Europe in 992 CE and then over to the Americas with settlers from Europe. It is now widespread around the world and comes in so many different forms: cakes, soft cookies, gingerbread houses, gingerbread men and even gingersnaps (crisp ginger cookies).
The word " gingerbread" refers to a large category of baked goods, typically flavored with the below ingredients:
ginger
cloves
nutmeg
cinnamon
molasses
It is traditionally sweetened with honey, granulated sugar or brown sugar…or a combination of all three!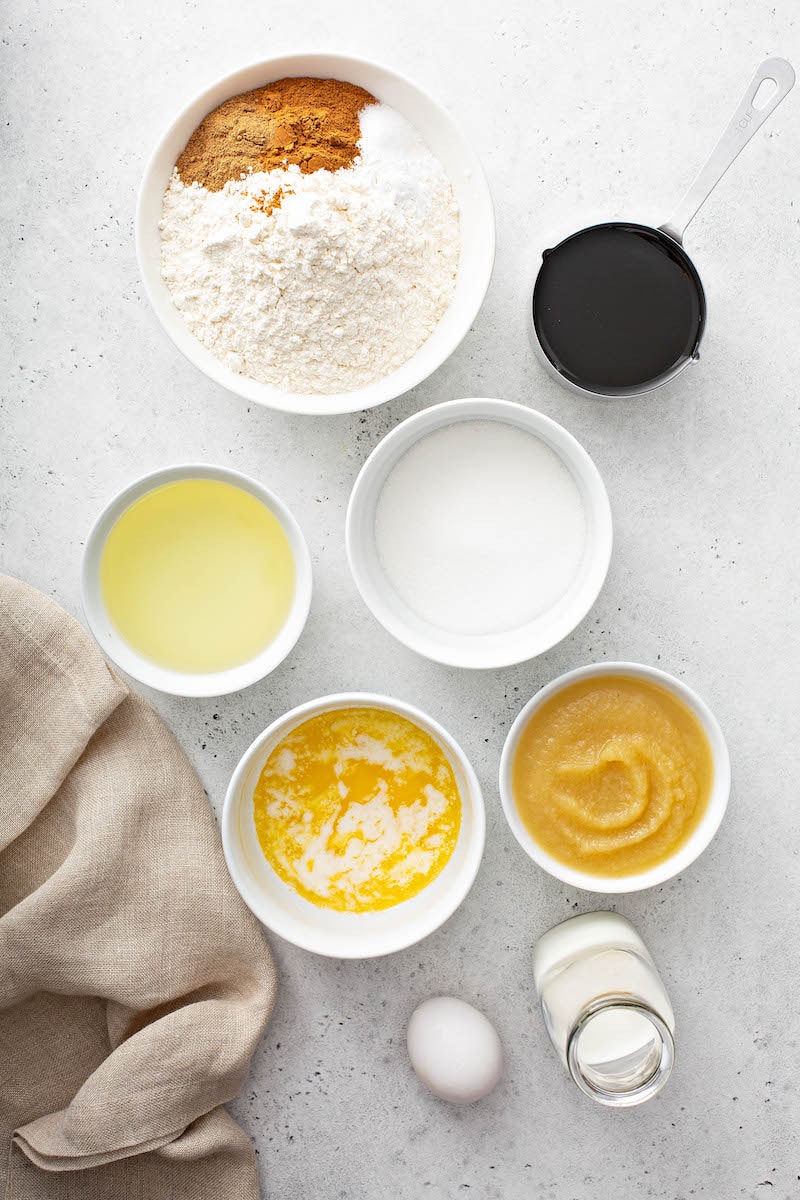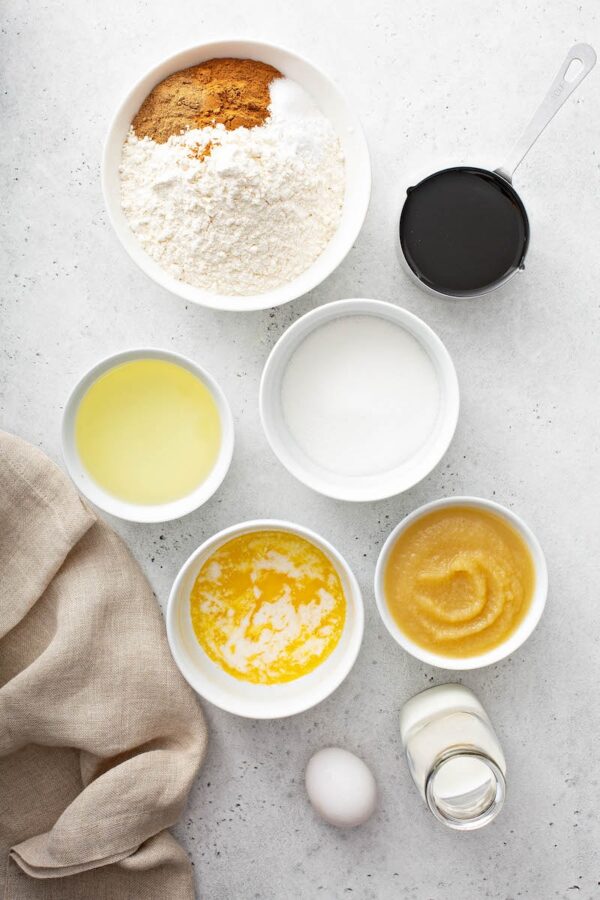 Gingerbread Cake Ingredients
This gingerbread recipe is sweetened with a combination of granulated sugar, applesauce and molasses.
The molasses and applesauce are also both used, along with butter and oil, to keep the cake extra moist.
To give it that perfectly spiced flavor, we use cinnamon, ginger, nutmeg, cloves and a pinch of salt.
While the recipe ingredient list may look intimidating, don't worry, half of the list is made of spices!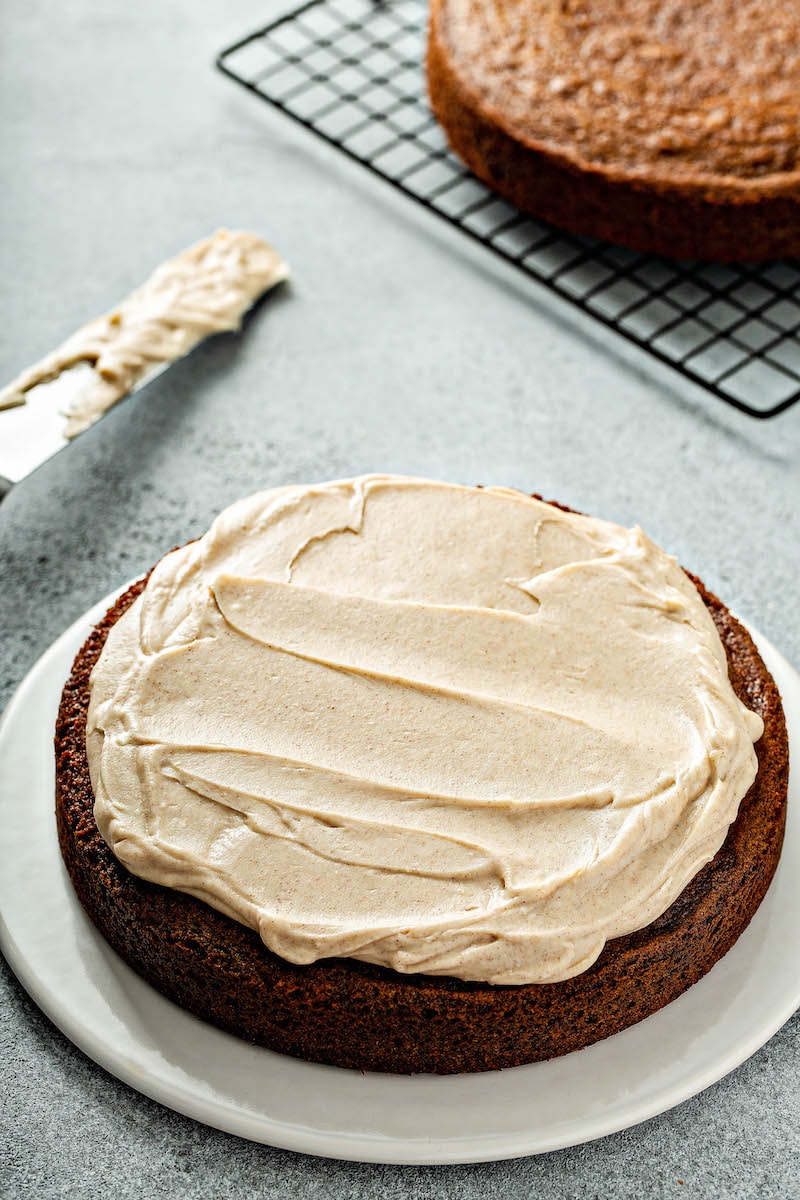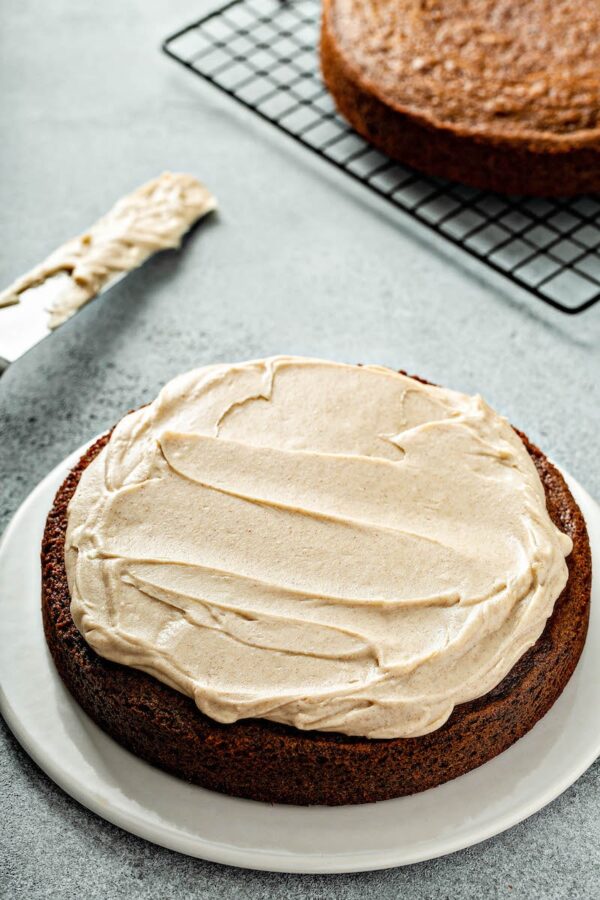 Cinnamon Cream Cheese Frosting for Cake
This Cinnamon Cream Cheese Frosting is one of my favorite frostings I make. It's smooth, creamy and sweet with the perfect amount of cinnamon and splash of maple syrup to warm it up.
I have used it on many of my big layered cakes and it's always a big crowd pleaser! You will always find it thickly spread on my Pumpkin Cake!
To prepare this frosting, we cream butter and cream cheese together until smooth. Beat in the maple syrup, vanilla, and cinnamon.
Add the powdered sugar and beat until frosting is smooth and perfectly whipped! Frost it generously on your cake and enjoy licking those beaters. ;-)
How to Store Gingerbread Cake
Because of the cream cheese, this cake should be stored in the refrigerator in an airtight container.
However, this cake tastes best when it is closer to room temp with just the slightest chill to it.
To achieve this perfect temperature for the best taste and texture, remove this cake from the fridge 30-45 minutes before you are ready to serve. Let the cake sit on the counter and warm up.
Festive Garnish Ideas for Cake
To re-create the garnishes you see pictured on this Christmas cake, arrange the following on top of the frosted cake:
Fresh Rosemary
Cinnamon Sticks
Star Anise
Fresh Cranberries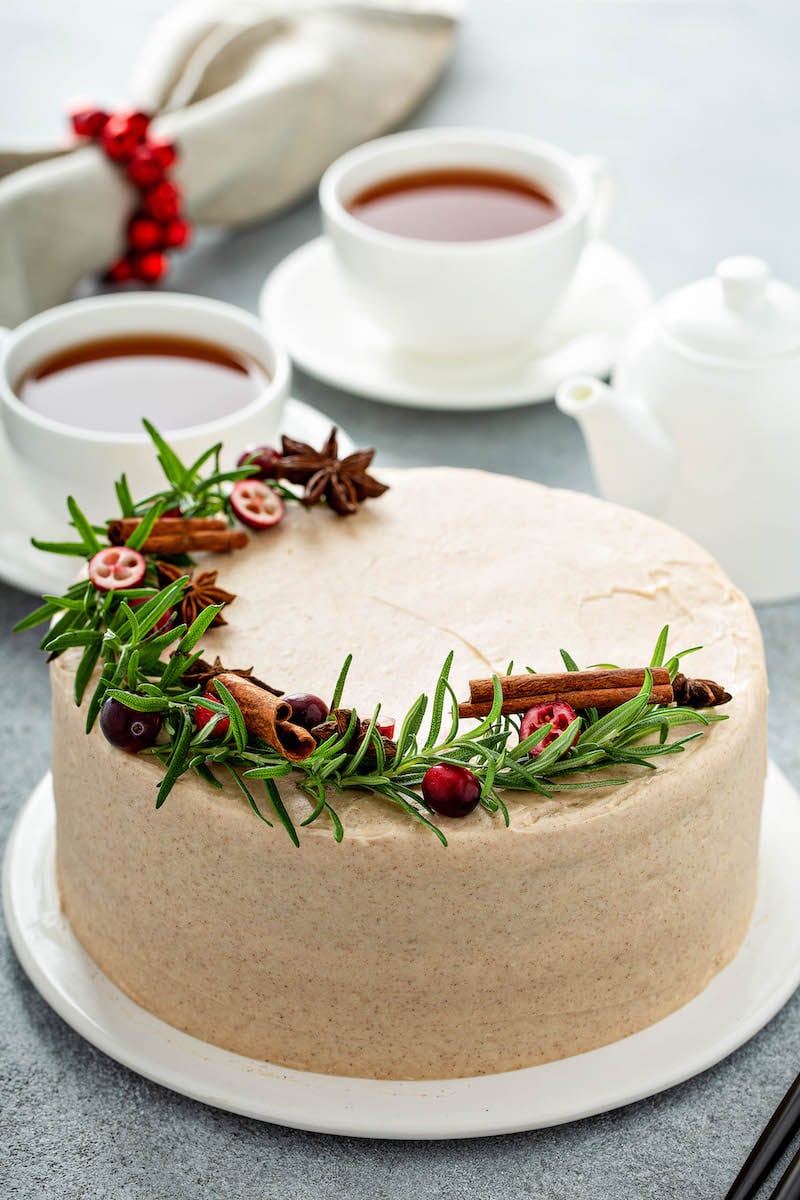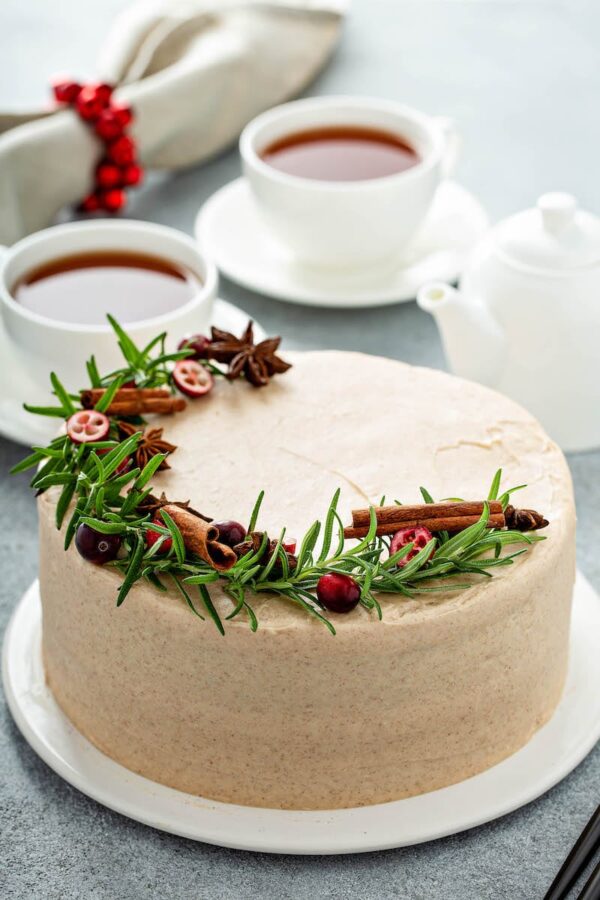 This cake is deliciously moist, full of spices and frosted with the most delicious Cinnamon Cream Cheese Frosting! It is the perfect Christmas dessert recipe that will impress your guests!
Head on over to Dixie Crystals to get the full recipe I developed for them.
RECIPE: Gingerbread Layer Cake
This post may contain affiliate links. Read my disclosure policy.