Air Fryer Green Beans are easy, quick, and tasty! With garlic and lemon juice, they have a bright, fresh flavor and light, crispy crunch. Ready in 20 minutes!
The Ultimate Fast and Yummy Side Dish
Everyone is loving the air fryer these days, and no wonder! This handy kitchen appliance makes it incredibly easy to create crispy, caramelized dishes at home, with no mess. You can air fry just about anything, from salmon to asparagus to your holiday ham.
One of my favorite ways to use the air fryer is making lightning-quick, healthy, and zesty sides, like these air fryer green beans. You get a similar result to roasting, but in a super-short amount of time and without heating up the oven. These air fryer green beans are garlicky, lemony, and just about perfect – sure to please even picky eaters.
These green beans are also tasty enough to make an appearance at the Thanksgiving table! If your family is a fan of green beans like mine is, no reason you can't serve these in addition to a classic French's green bean casserole.
Are Air Fried Green Beans Healthy?
Definitely! Green beans are a good source of healthy veggie fiber, which keeps your digestive system happy. They also have a good amount of folate, which is important not just for healthy pregnancy, but for regulating your hormones – so crucial for your moods, sleep, and more. Other benefits of green beans include vitamin K and calcium, which are good for healthy bones. And since these green beans are lightly cooked without much liquid, they don't leach out their nutrients into the cooking water like boiled green beans.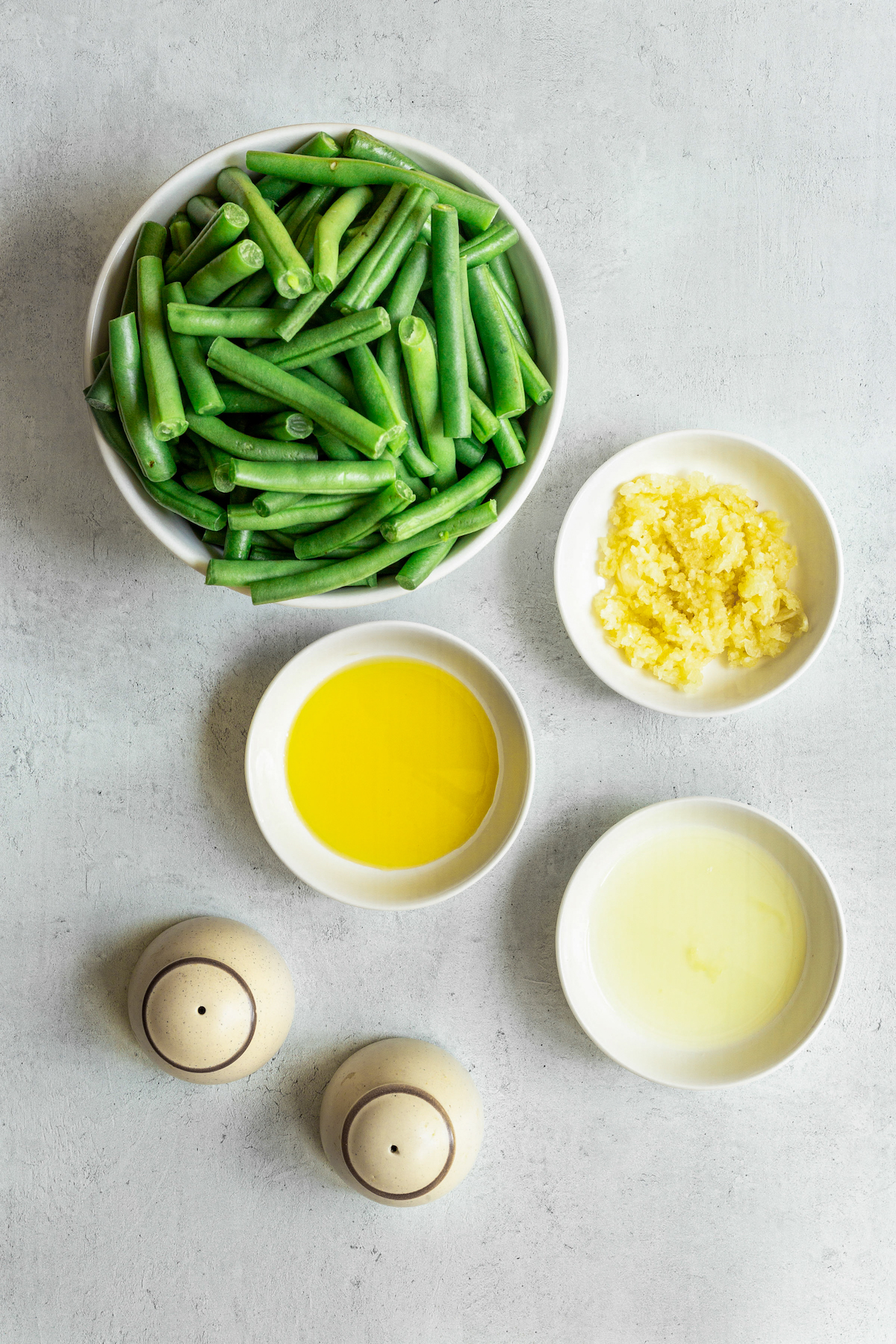 What You'll Need
This recipe is a minimalist's best friend – you only need the bare essentials to make it. Here's the list:
Fresh Green Beans: Rinse them, pat them dry, and trim off the ends.
Garlic: I like using fresh garlic here, but you could use a shake of garlic powder instead, if you're in a hurry.
Salt and Pepper
Olive Oil: Extra-virgin olive oil has the most flavor, but any olive oil is fine. You could als use avocado oil or even vegetable oil.
Lemon Juice: Again, fresh is the most flavorful, but bottled would be fine, too.
How to Make Air Fryer Green Beans (Spoiler: It's Ridiculously Easy)
This is so simple that you almost don't need instructions. All you really need to do is season the green beans, and then cook them until they're crisp-tender.
Preheat the Air Fryer. While a lot of recipes don't call for preheating, I think it gives the best, most consistent results. And since air fryers are so small, they preheat very quickly.
Season the Green Beans. To do this, just toss all the ingredients together in a medium bowl to coat.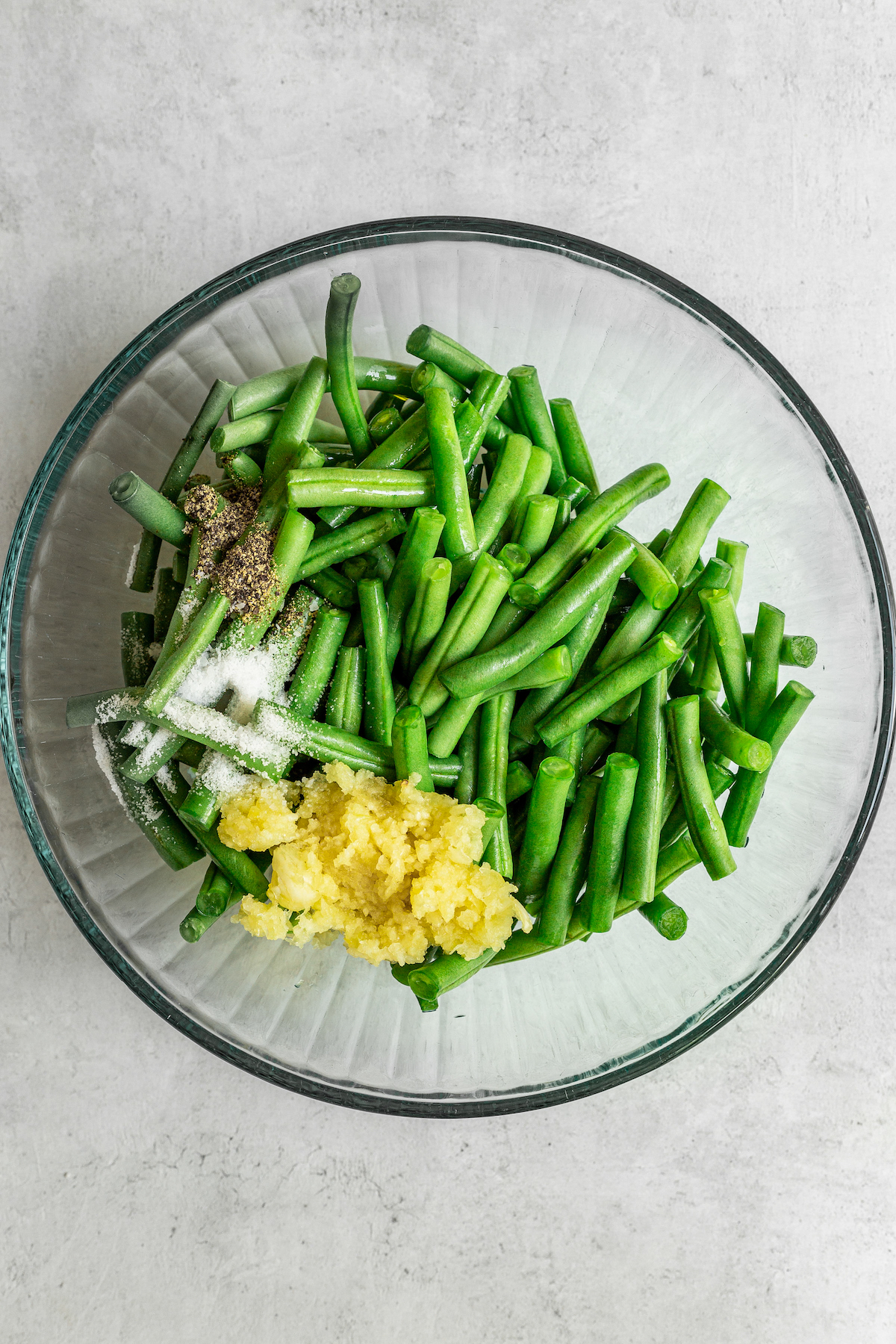 Air Fry the Green Beans. Place the green beans in the air fryer, and let them cook for 10 – 15 minutes. They should be wilted and softened, but with a slight crunch.
Enjoy! Serve immediately.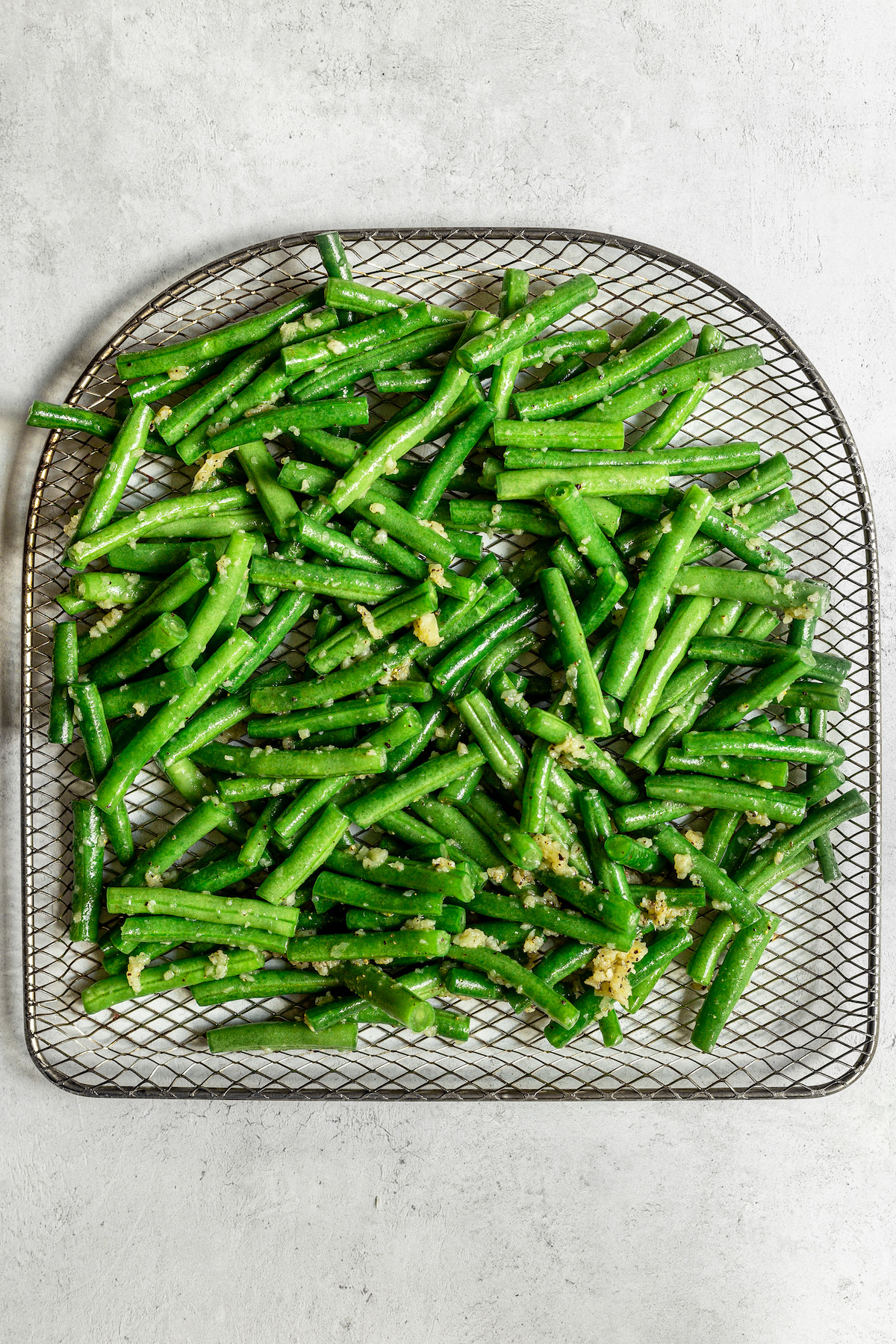 Why Are My Green Beans Still Hard After Cooking?
If you air-fry the green beans but they still seem hard and squeaky, they probably just need a couple more minutes. Each air fryer is different, and so is each bag of green beans! Feel free to cook them a little longer to get that crisp-tender bite.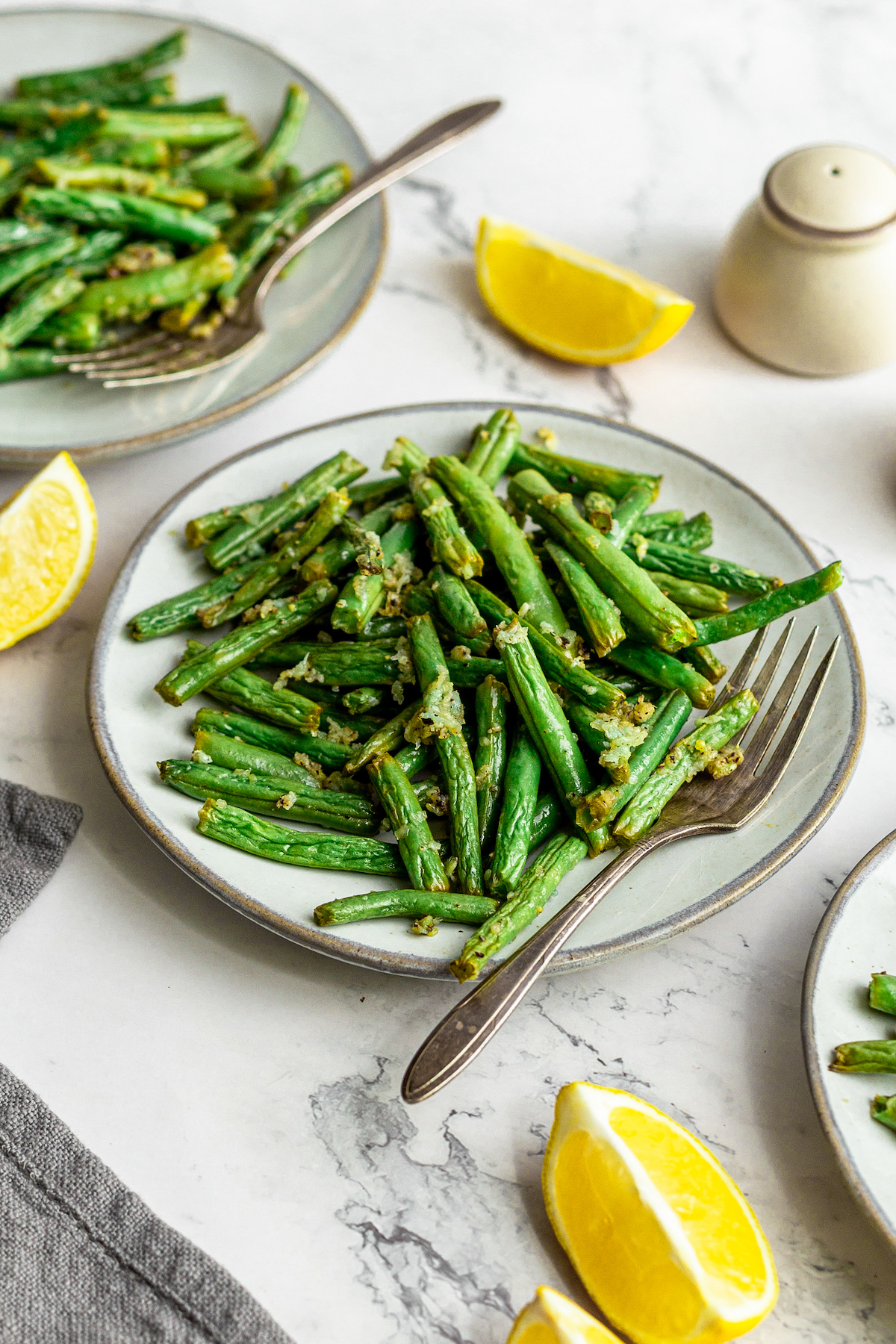 Helpful Hints
With a recipe this simple, there are lots of easy variations and helpful tips out there! Here are just a couple of ways to make this recipe work for you:
Choosing Green Beans: Fresh green beans should be firm and bright, without mushy brown spots or other blemishes. When you break one, it should snap apart.
Frozen Green Beans: If you don't have fresh green beans, you can use frozen green beans instead. Just run them under cool water to thaw them out, and then dry them thoroughly with paper towels.
Seasonings: Season your air fryer green beans your way! Garlic powder, onion powder, seasoned salt, and Montreal chicken seasoning are just some of the things you could sprinkle on for extra flavor.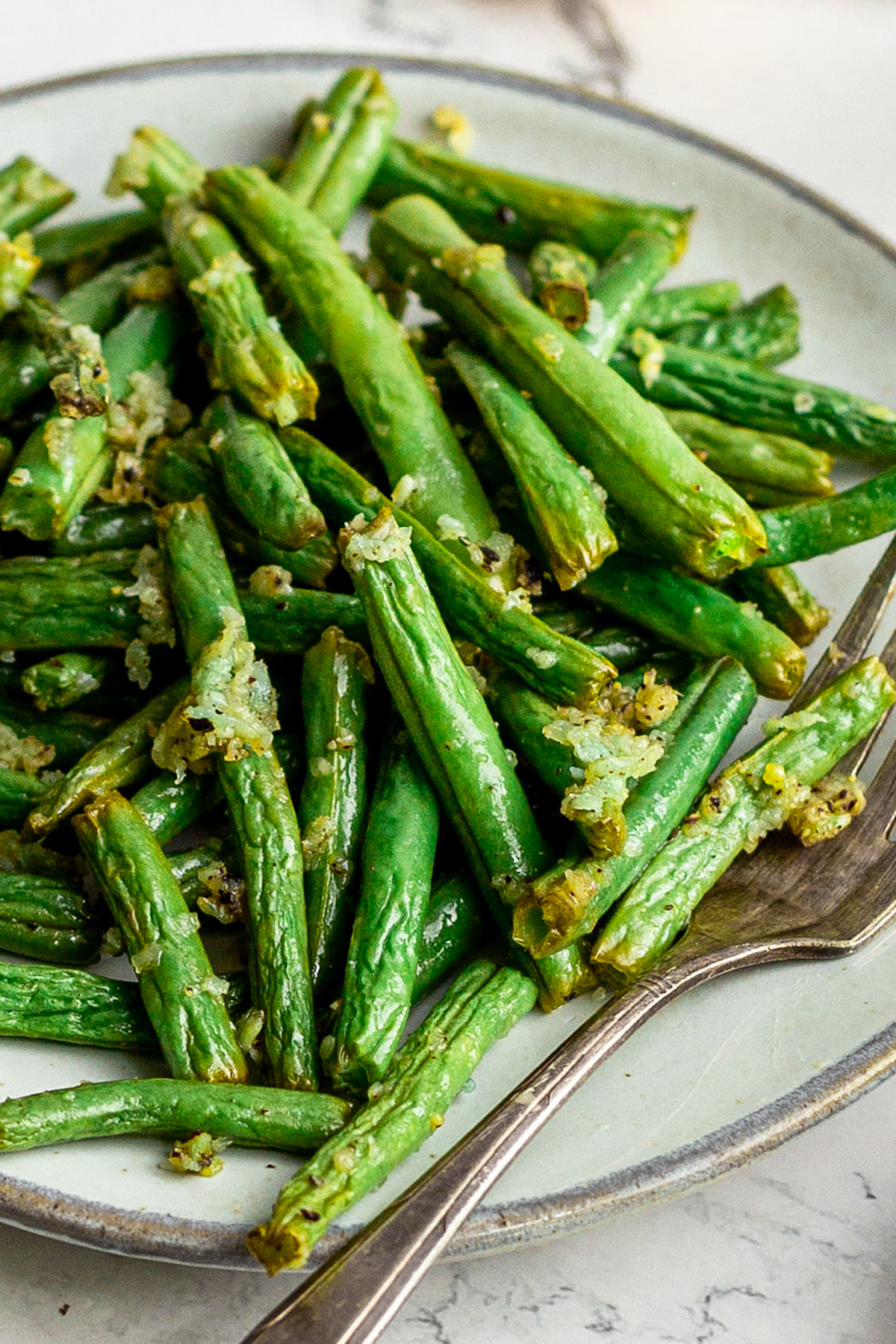 Serving Suggestions
Air fryer green beans are flavorful and attractive enough even for a holiday meal (move over, green bean casserole!). But they are so simple to make, you'll want to make them for easy weeknight dinners on the regular. Here are a few ideas for serving:
Chicken: With their vibrant color and crispness, air fryer green beans provide plenty of contrast to this perfect Baked Honey Mustard Chicken! They also go perfectly with my very favorite recipe for Best Baked Chicken.
Pork Chops: Pork chops and green beans are a match made in heaven. If you want to get fancy, try making these Cranberry Apple Stuffed Pork Chops. Everyone will rave over the tangy-sweet-savory flavor.
Roast Beef: A fall-apart Tender Pot Roast made in the crock pot is the perfect family meal, and a fresh green side like these green beans sets it off perfectly.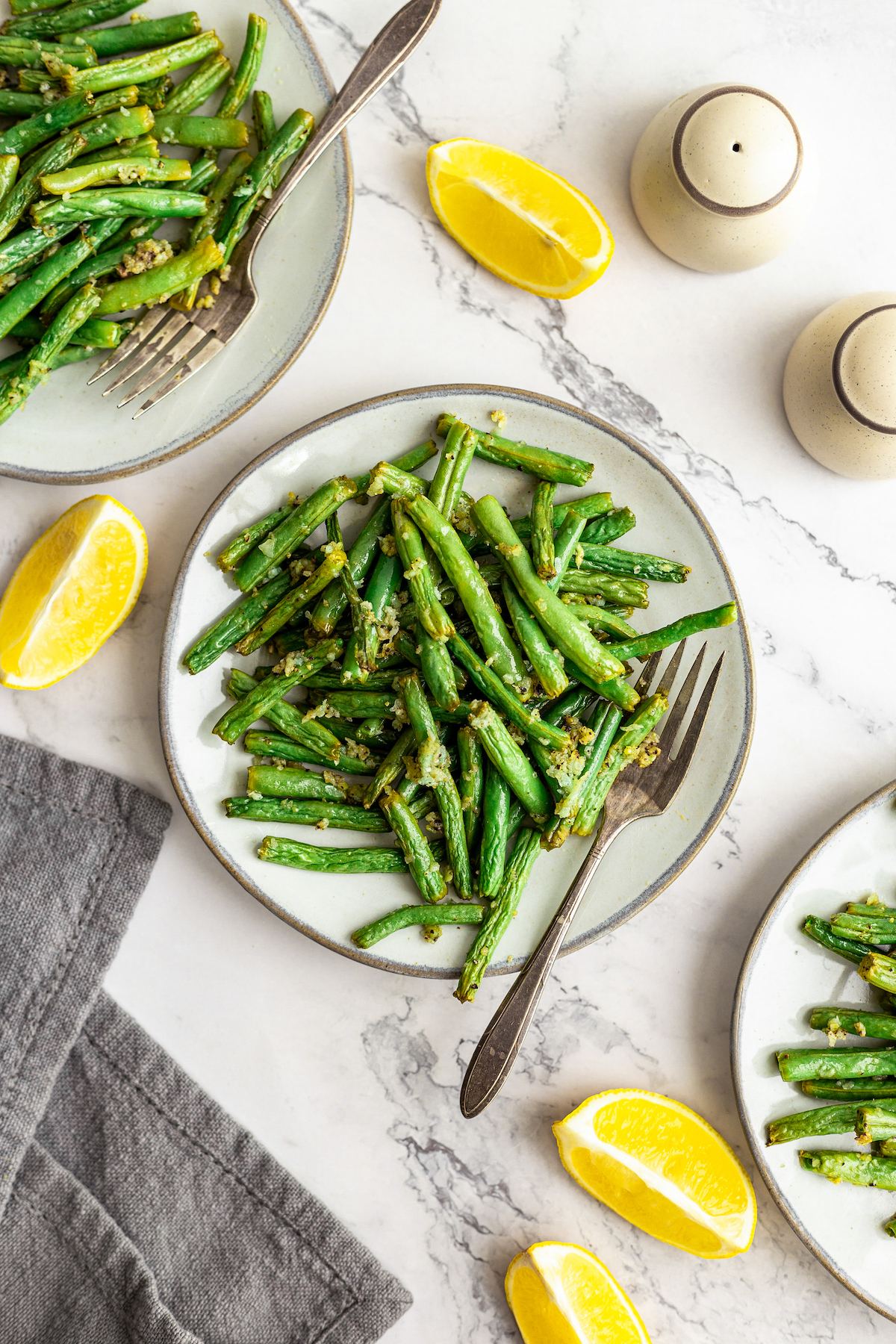 Storing and Reheating
These air-fried green beans can be stored in an airtight container in the fridge for up to 5 days. To reheat, you could microwave them or even heat them in a skillet – but I recommend air-frying them a second time, to help them crisp up again.
Can I Freeze Air Fryer Green Beans?
Yes, you can freeze leftover air-fried green beans for 3 – 4 months. For the best results, I recommend laying the green beans out in a single layer on a baking sheet, and freezing them that way until they're frozen solid. Then transfer the green beans to a freezer bag for storage.
Air Fryer Green Beans
Air Fryer Green Beans are easy, quick and tasty! With garlic and lemon juice, they have a bright, fresh flavor and light, crispy crunch. Ready in 20 minutes!
Ingredients
1

pound

fresh green beans

,

ends trimmed

6

cloves

garlic

,

minced

1

teaspoon

salt

½

teaspoon

pepper

1

tablespoon

olive oil

1

tablespoon

lemon juice
Instructions
Preheat air fryer to 375°F. 

Toss all the ingredients in a medium bowl.

Place the green beans on the tray (or in the basket) if your air fryer, and cook for 10 – 15 minutes until the beans are wilted and soft, but still have a slight crunch.
Notes
You can use frozen green beans, if you prefer.
Cooked green beans can be stored in an airtight container in the fridge for up to 5 days. To reheat, I recommend air-frying them again to help them crisp up again.
Nutrition
Serving:
1
,
Calories:
73
kcal
,
Carbohydrates:
10
g
,
Protein:
2
g
,
Fat:
4
g
,
Saturated Fat:
1
g
,
Polyunsaturated Fat:
3
g
,
Sodium:
537
mg
,
Fiber:
3
g
,
Sugar:
4
g
Categories:
More Simple Side Dish Recipes
This post may contain affiliate links. Read my disclosure policy.