Crispy tortilla chips are topped with an easy, homemade salsa verde sauce in this Chilaquiles Verdes recipe. Add a fried egg or refried beans for an even heartier breakfast!
Are you craving more Mexican food? Try my Mexican Chicken Adobo or Best Carne Asada!
Easy Chilaquilies Verdes Recipe
Chilaquiles Verdes is a traditional Mexican dish that's loaded with all the things you like about Mexican food. This includes one of my favorite snacks – tortilla chips. Who doesn't love a good tortilla chip? And then they're topped with homemade salsa verde. The crispy chips meet the tart and spicy salsa and it becomes the perfect bite.
Don't forget about the garnishes. What I love about this dish is that you can customize it the way you like to eat your Mexican food. I personally love adding cotija cheese, Mexican crema, and avocado. The saltiness from the cheese is perfect with the salsa verde. Then you get the smooth and creamy flavor of Mexican crema. I'm getting hungry just thinking about it!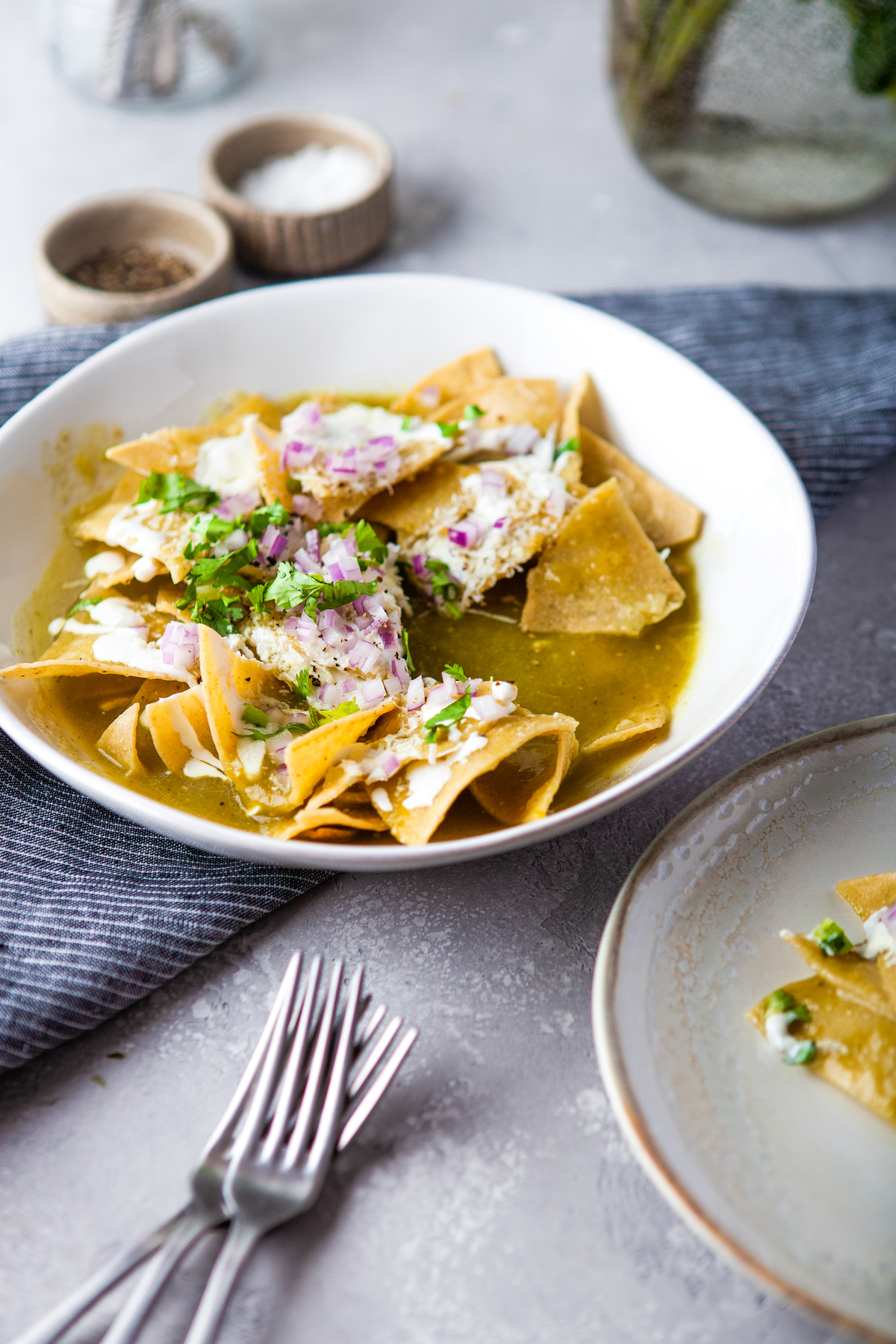 What Are Chilaquiles?
Chilaquiles is an authentic Mexican dish that is made up of corn tortilla chips topped with salsa or a red sauce (mole or red enchilada sauce). Usually, the chips are pan-fried first so that they get hot and extra crispy. Then, when you add the sauce on top, the chips lose a bit of their crispiness (in a good way!) and soak up the flavor from the salsa.
The combination of textures makes this dish really special. You might think they are like nachos, but they aren't. You'll want to grab a fork to eat Chilaquiles.
What's the Difference Between Chilaquiles Verdes and Rojo?
You'll find two different ways to make Chilaquiles – Verdes or Rojo. My version is Chilaquiles Verdes, which means the recipe includes salsa verde (and it's homemade!). Salsa verde, or green salsa, is made with tomatillos.
Chilaquiles Rojo will use a red sauce, or enchilada sauce. Red enchilada sauce is made with dried chilis and has a deep, maroon hue. It has more of a smokey and pepper flavor than salsa verde.
What do Chilaquiles Taste Like?
I know, I know, I can't stop talking about the textures of this dish. But, you'll see what I mean once you make this recipe!
Once the chips are slathered with the salsa verde, they soak up all the delicious taste of tomatillos, garlic, and serrano peppers. Some bits of the chips stay a little crispy, while most of them develop this soft texture that has incredible amounts of flavor in each bite.
Let's not forget the toppings! When you add the toppings, you immediately boost the flavor. You can add some heat with hot sauce, creaminess with crema, or citrus with limes…really, you can add whatever you'd like. (My suggestion is to go all out and add them all!)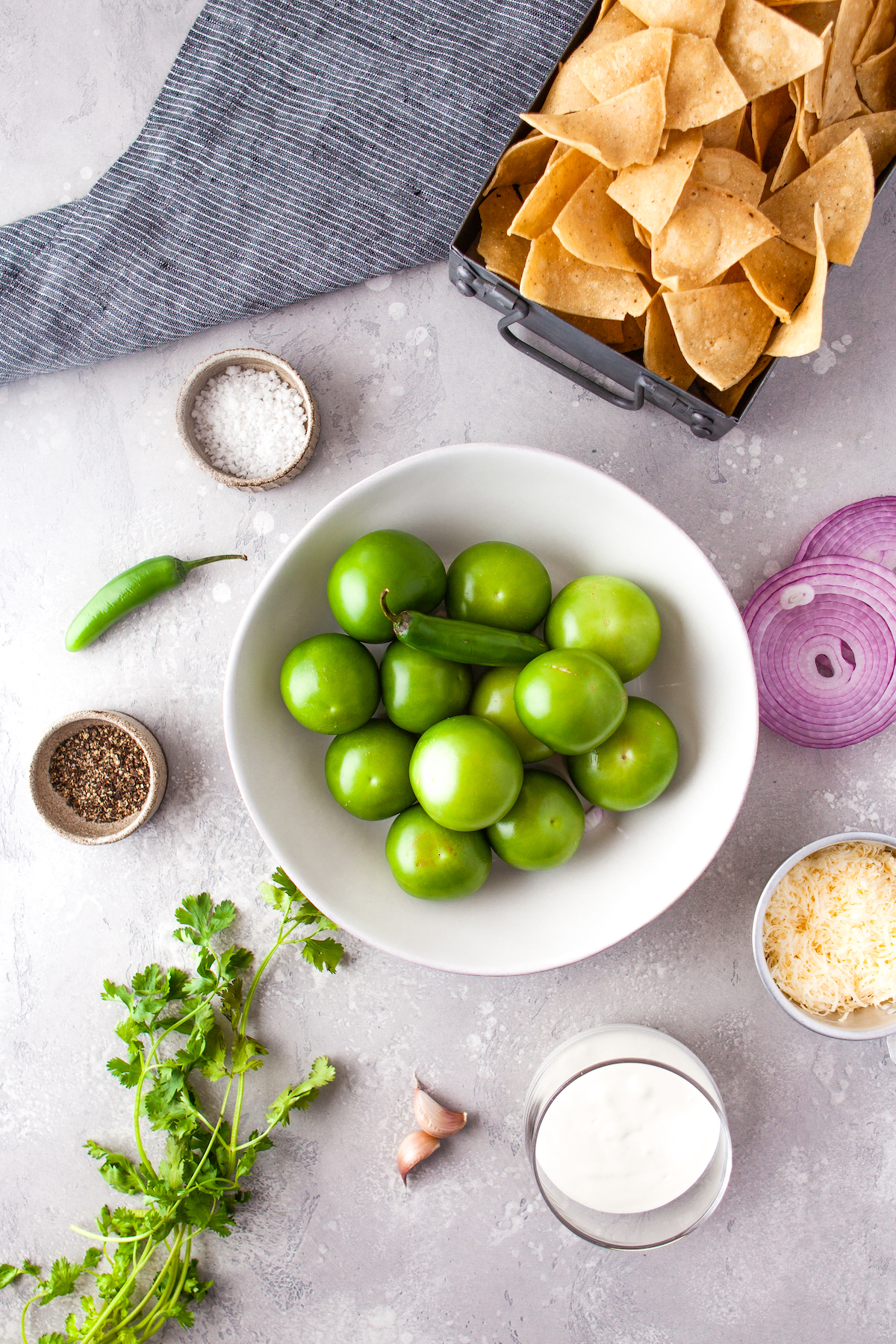 Recipe Ingredients
Are you ready to make some homemade salsa verde? Once you make this simple salsa, you'll be ready to make Chilaquiles Verdes.
How to Make Chilaquiles Verdes
It's always best to gather your ingredients first. It will make the recipe go even faster. Let's get started!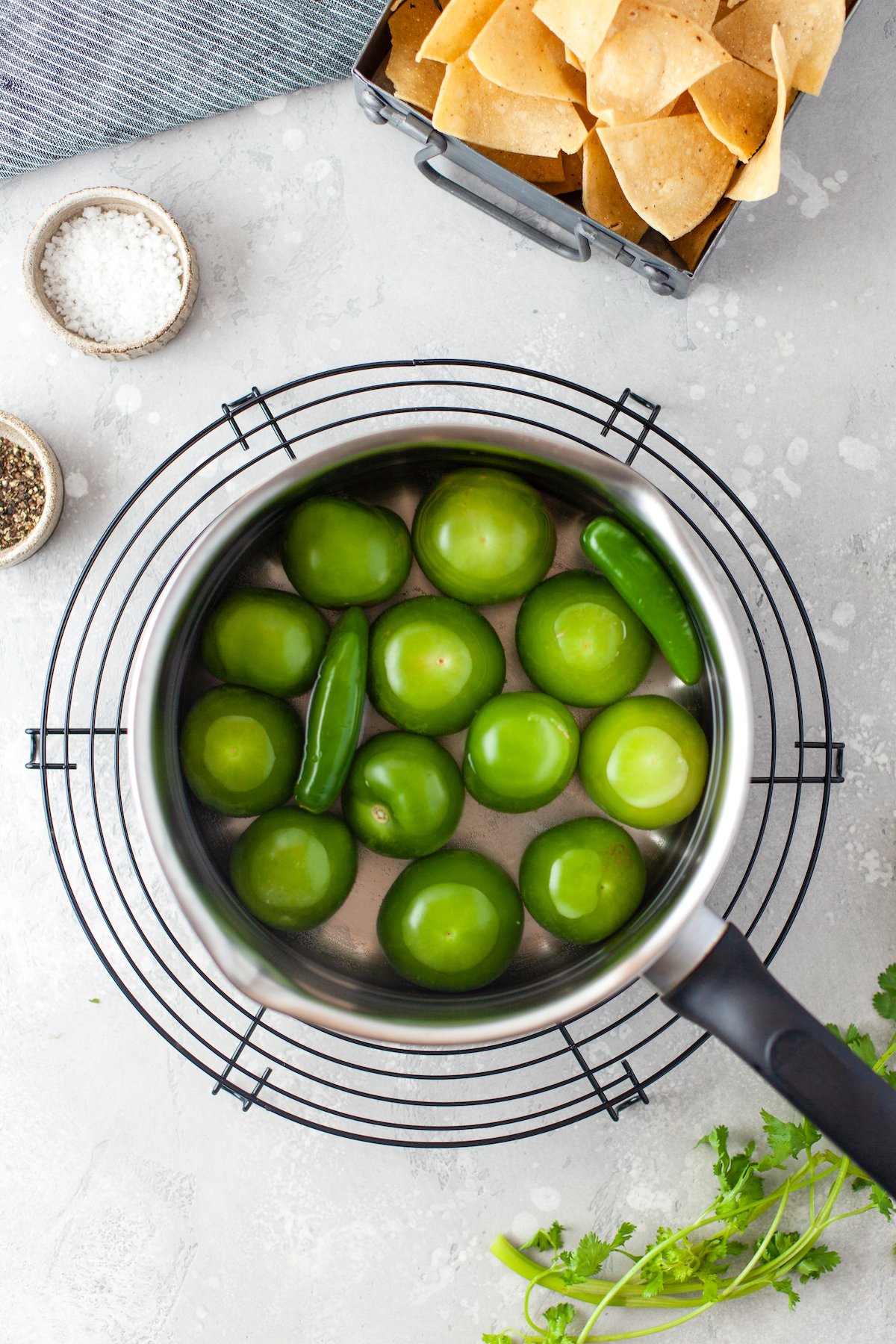 First, you'll make the salsa verde. Remove the husks from the tomatillos and put them in a pot. Add some water to cover the tomatillos. Let it simmer for about 10 minutes.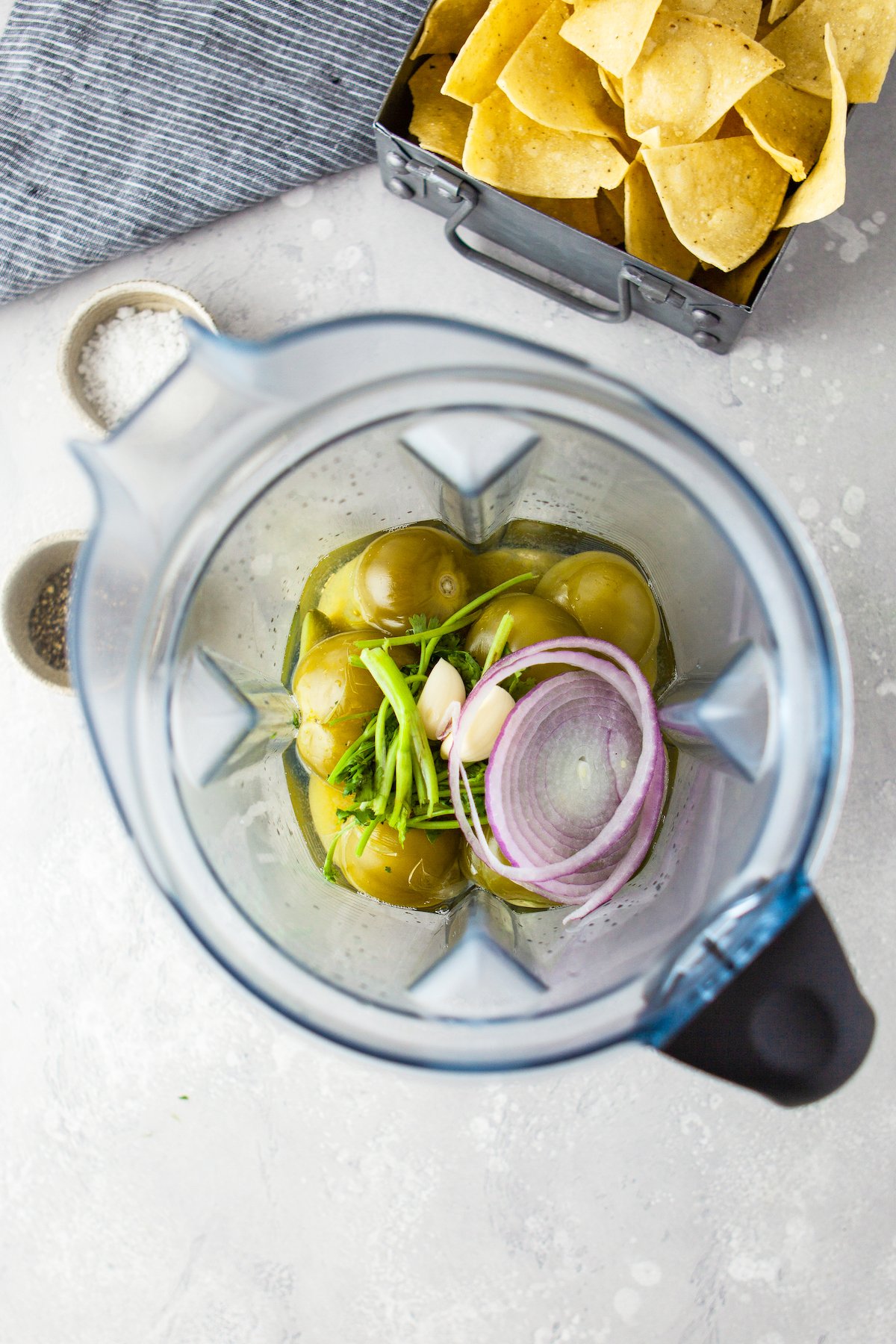 Finish the sauce. You'll puree the cooked tomatillos and peppers, onions, garlic, and cilantro with some of the cooking water.
Heat up the salsa verde before serving. Pour the sauce into a pan and heat up when you're ready to serve.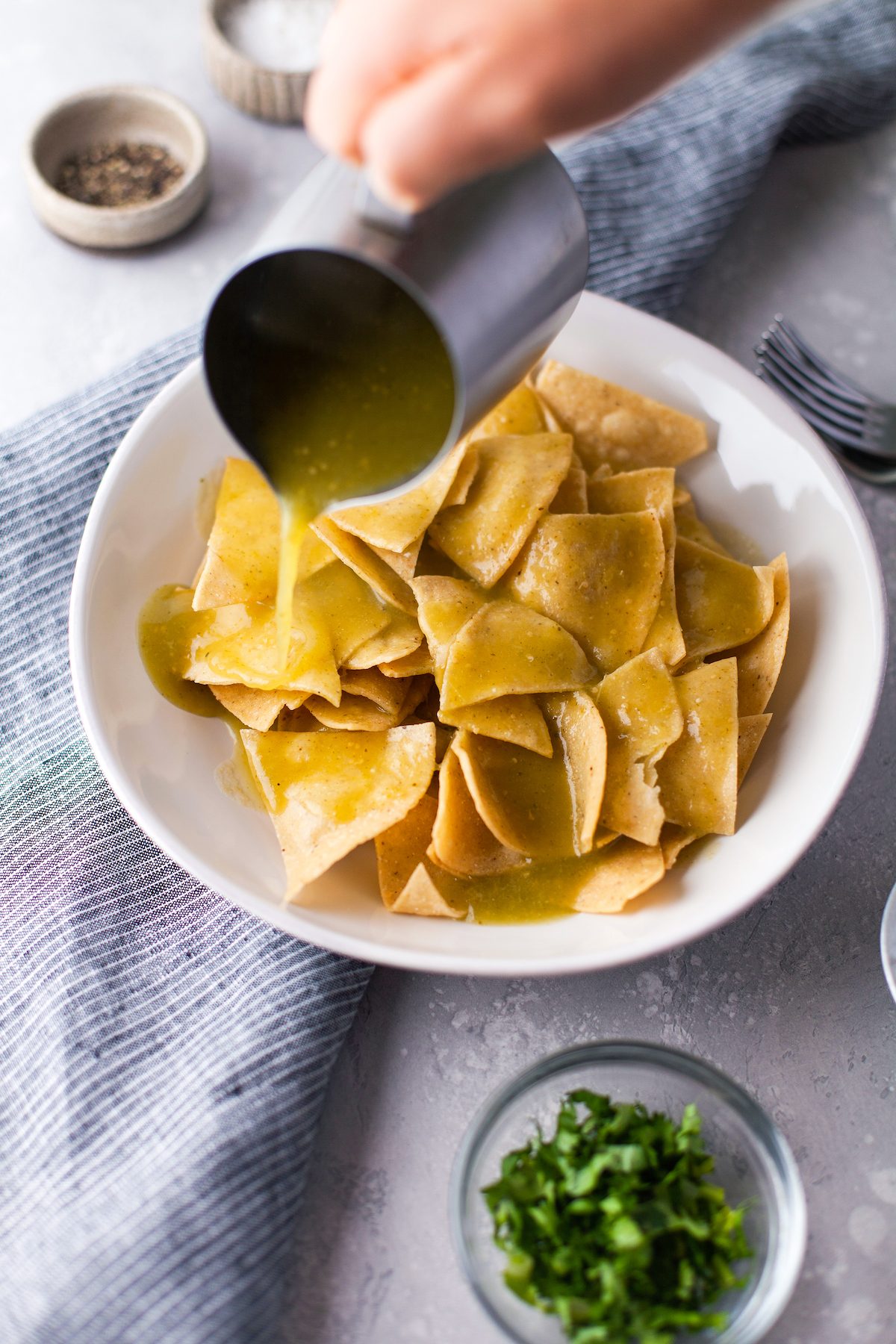 Time to put everything together! Plate the tortilla chips and pour the salsa verde on top.
Garnish and enjoy. Garnish with your favorite toppings like chopped cilantro, diced onions, or sour cream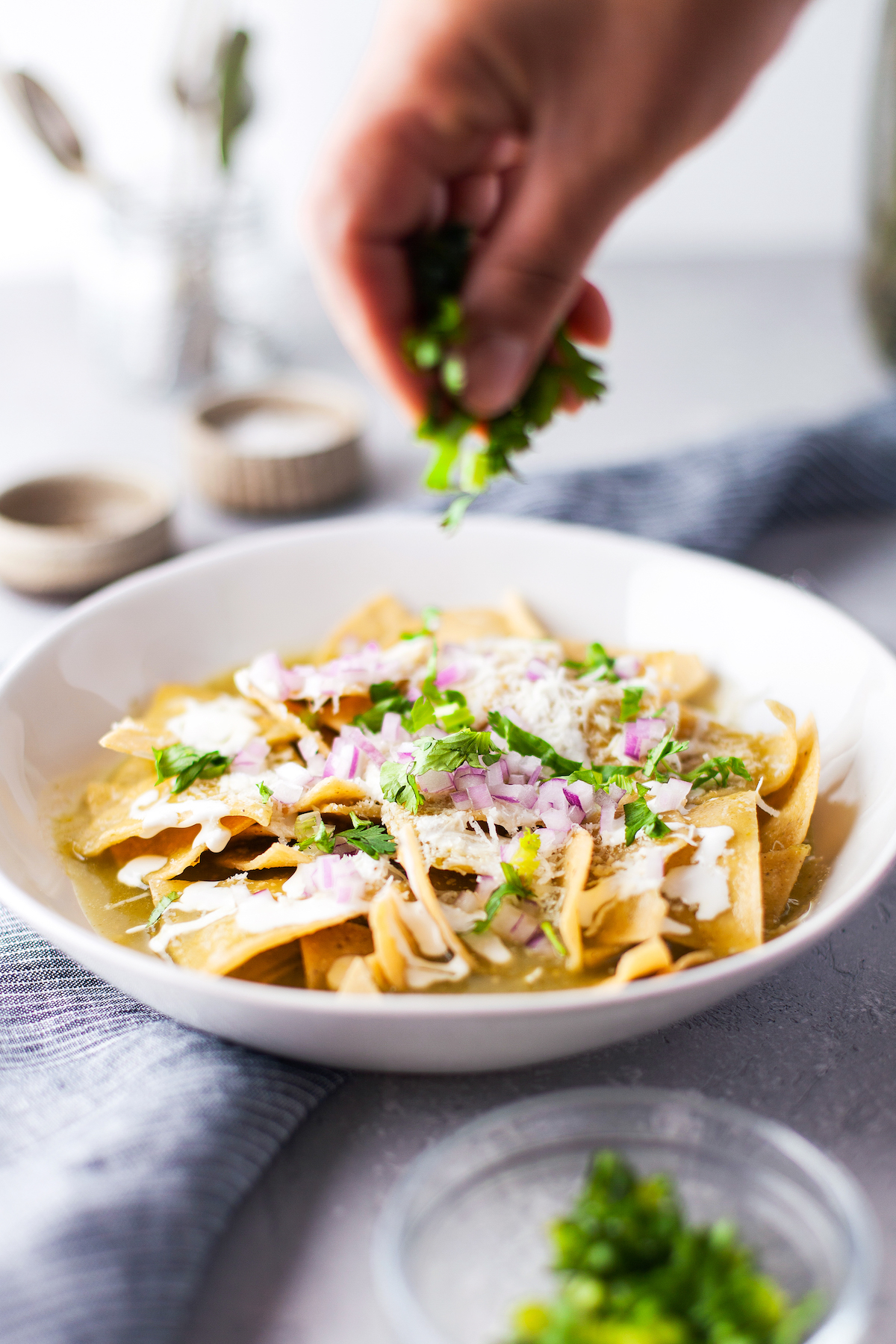 Tips for Success
There are a few tips to keep in mind when cooking this dish. These tips can also apply to many other Mexican dishes!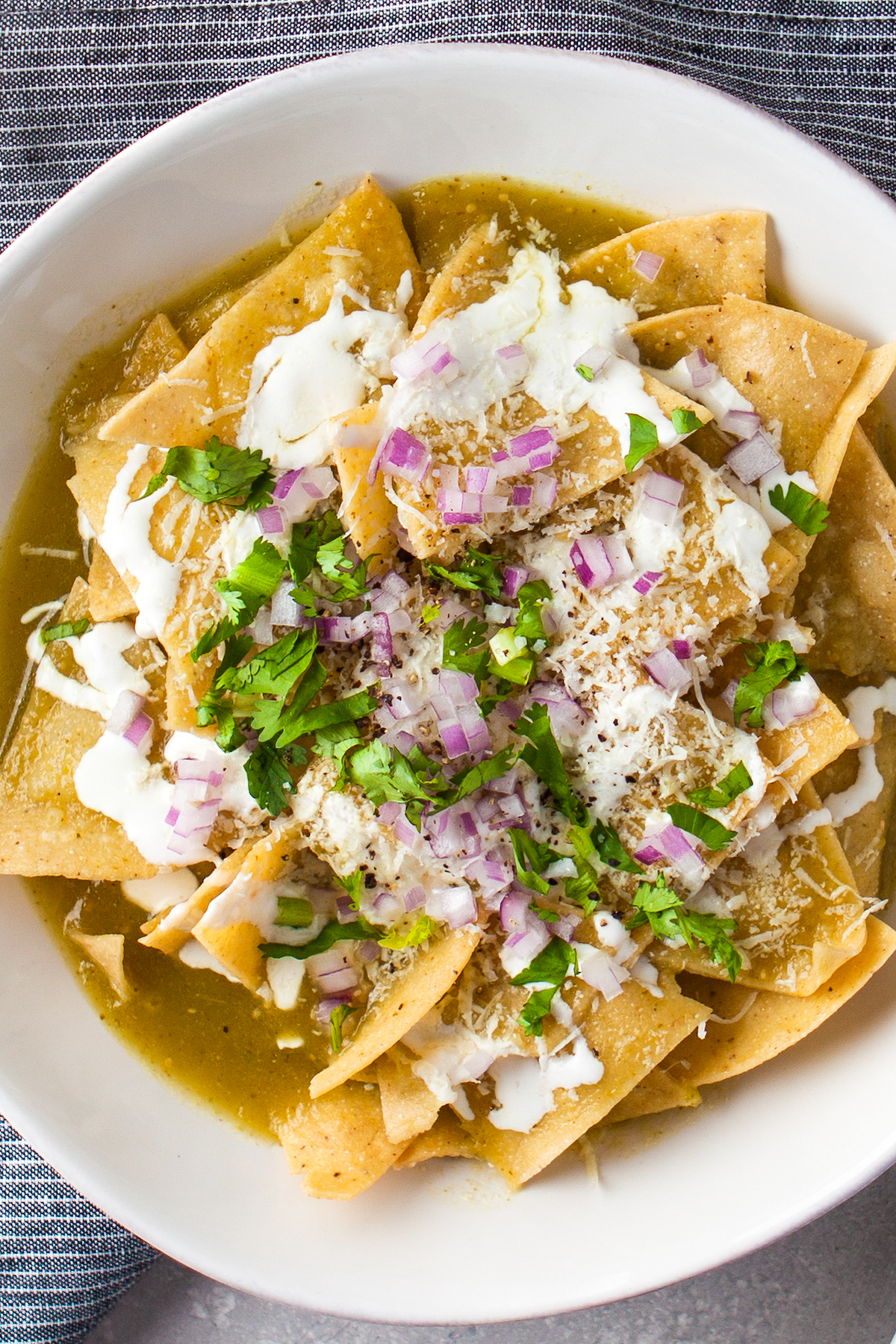 What Goes with Chilaquiles?
What I love most about Mexican food is how a simple garnish goes a long way with flavor. Here are some of my favorite ingredients that go with Chilaquiles Verdes.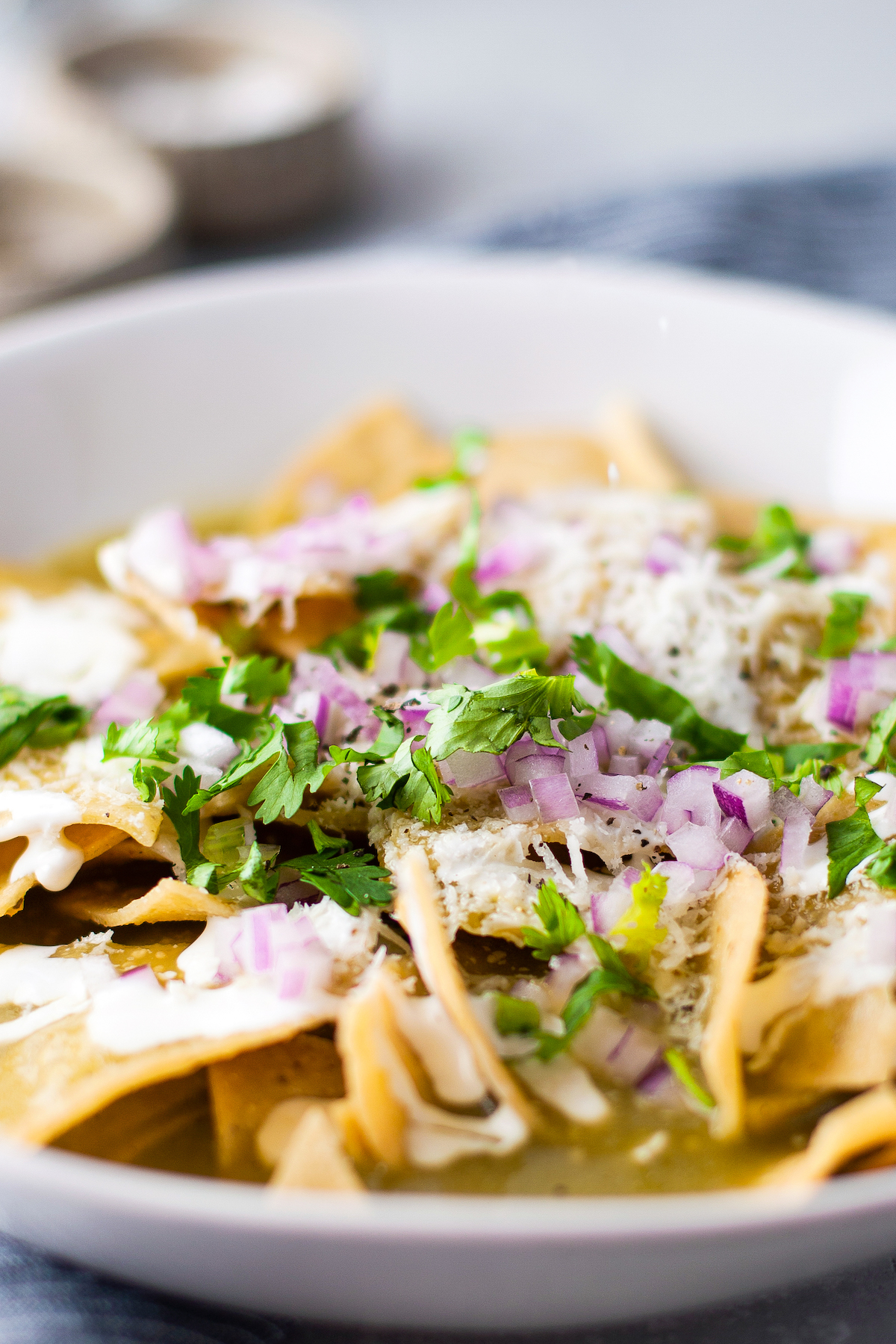 How to Store and Reheat Leftovers
I don't recommend storing, or freezing, any leftovers of the final Chilaquiles dish. Sorry, but you'll end up with a mushy mess!
You can store the verde sauce in an airtight container in the refrigerator for up to 5 days. Or, you can freeze the verde sauce for up to 3 months in an air tight container. Use a freezer-friendly container and don't forget to date it!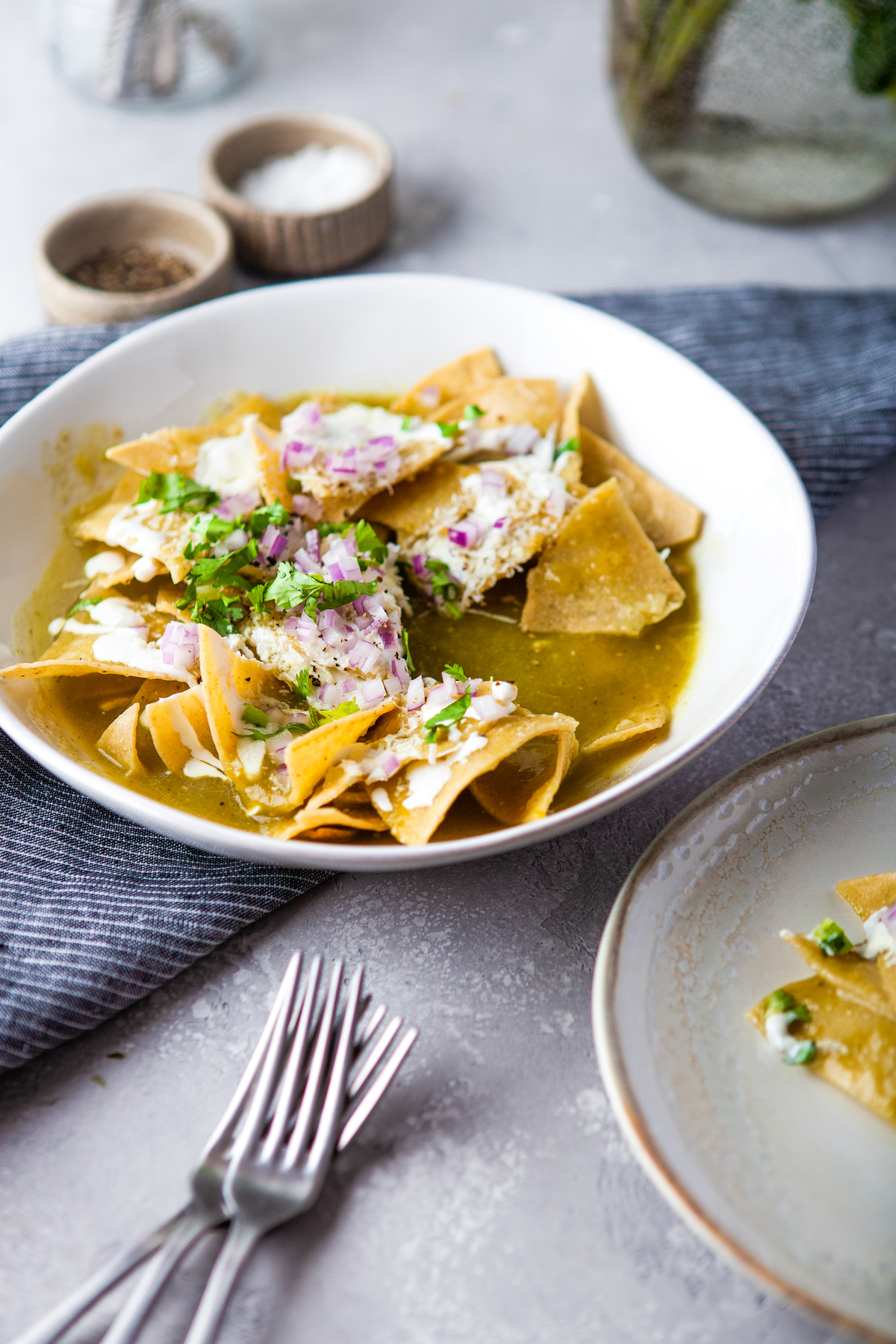 Chilaquiles Verdes
Chilaquiles Verdes is an authentic Mexican dish that begins with crispy tortilla chips and then is topped with homemade salsa verde. Add a fried egg for a nutritious breakfast meal.
Ingredients
1 ½

lbs

tomatillos

1 to 2

serrano

,

or jalapeño peppers, stems and seeds removed

Water

½

of a small red onion

,

roughly chopped

½

cup

cilantro leaves

2

garlic cloves

1

tablespoon

oil

,

avocado, vegetable or canola

Salt and pepper

,

to taste

1

lb

tortilla chips,

warmed
Instructions
Wash the tomatillos and remove any husks. Place the tomatillos and serrano peppers in a saucepan, and cover them with water. Bring them to a boil and then lower the heat to a simmer for 10 minutes. 

Remove ingredients with a slotted spoon, and save the water you boiled the tomatillos and peppers in.

Place the cooked tomatillos, serrano peppers, onion, garlic, cilantro, and 2 cups of the water used to boil the tomatillos and peppers into a blender or food processor. Blend until a fine puree is formed. 

In a skillet, heat 1 tablespoon of oil over medium heat. Once the oil is hot, place the sauce into the pan and bring it to a simmer. Cook for 5 minutes and season, to taste, with salt and pepper.

Place the tortilla chips in a dish and cover them with the sauce, as desired.

Garnish with sour cream, cheese, cilantro, onion, and if you would like some thin slices of avocado. Serve immediately and enjoy!
Notes
Storage:
I don't recommend storing, or freezing, any leftovers of the final Chilaquiles dish. Sorry, but you'll end up with a mushy mess!
You can store verde sauce in the fridge, in an airtight container, for up to 5 days.
You can freeze the verde sauce for up to 3 months in an air tight container. Use a freezer-friendly container.
Nutrition
Serving:
1
,
Calories:
627
kcal
,
Carbohydrates:
88
g
,
Protein:
10
g
,
Fat:
29
g
,
Saturated Fat:
4
g
,
Polyunsaturated Fat:
23
g
,
Trans Fat:
1
g
,
Sodium:
451
mg
,
Fiber:
10
g
,
Sugar:
8
g
Categories:
More Mexican-Inspired Recipes
This post may contain affiliate links. Read my disclosure policy.