Tomatillos, jalapeños, onion, garlic, avocado, and a splash of lime make this simple Tomatillo Avocado Salsa so fresh and flavorful. No cooking necessary, just blend and serve!
Tangy, Creamy, Homemade Salsa!
You're probably familiar with all kinds of salsa, from classic tomato salsa to versions with black beans, corn, mangoes, and more. But if you've ever had green salsa made from tomatillos, you know it's in a class all its own! There are times when I downright crave the sour-savory taste of tomatillo salsa, especially when it's got chunks of fresh avocado mixed right in. Nothing brings out the taste of sharp, bright tomatillos like creamy avocado.
But instead of reaching for a jar of green salsa, next time, why not try making your own? All you need is a food processor or blender, a few ingredients, and a few minutes for prepping and blending. Then voila! You'll have real homemade tomatillo avocado salsa, perfect for topping all of your favorite dishes.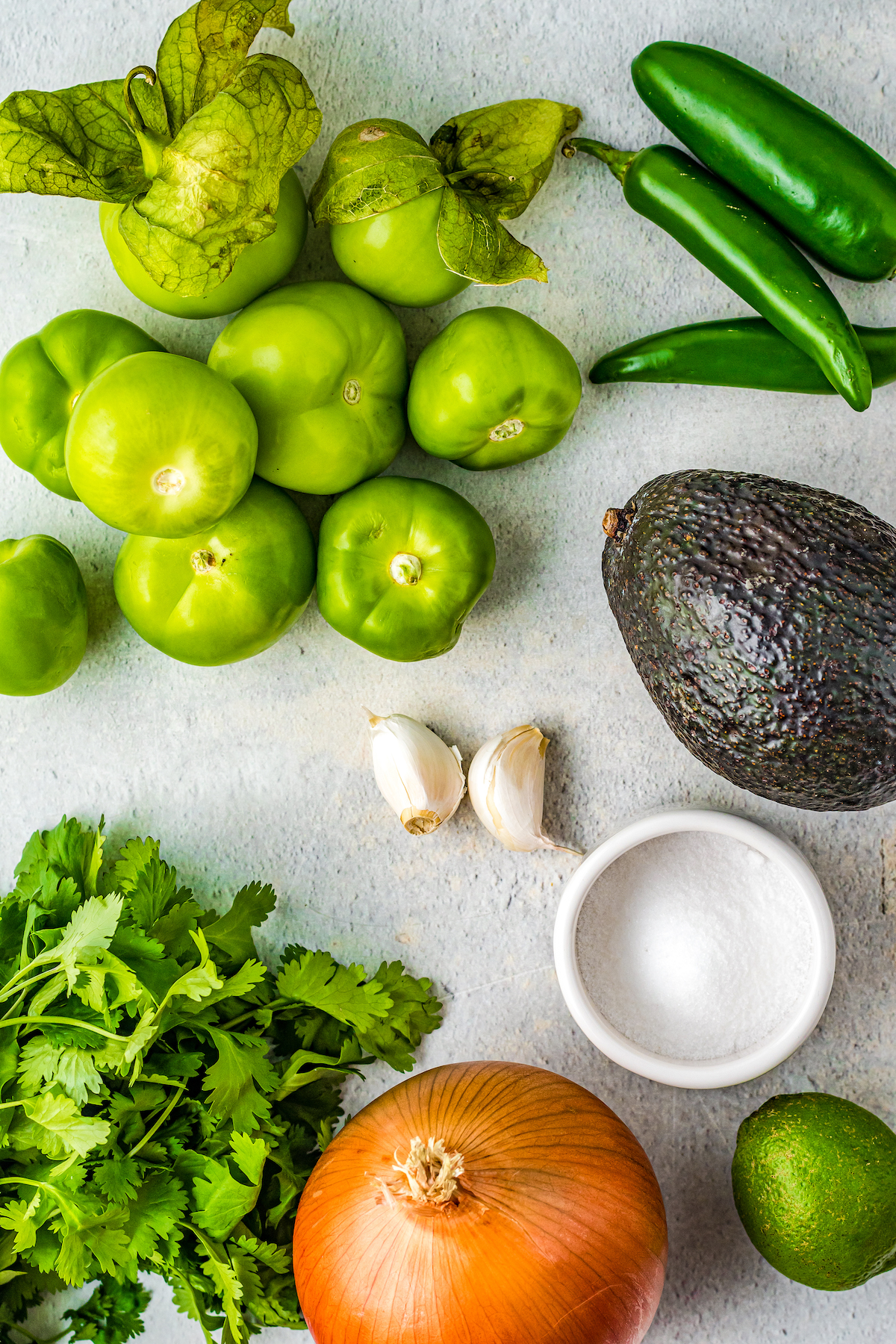 The List of Ingredients
To make tomatillo avocado salsa, you'll need a few items that are usually easy to find in grocery stores, especially when tomatillos are in season. Each ingredient is super-flavorful and brings a lot to the table! Here's that list:
Tomatillos: The star of the show! Remove the husks, rinse the tomatillos, and cut them into quarters.
Jalapenos: For a little heat. Serrano peppers can also be used – although they are spicier.
Cilantro: Pack your fresh cilantro leaves slightly when you measure the amount.
Garlic: Fresh garlic cloves bring a pungent, savory bite.
Yellow Onion: You could also use a sweet onion, red onion, or white onion.
Avocado: Peel and dice one large avocado.
Lime Juice: Fresh is best, but bottled is fine, too.
Salt: To taste.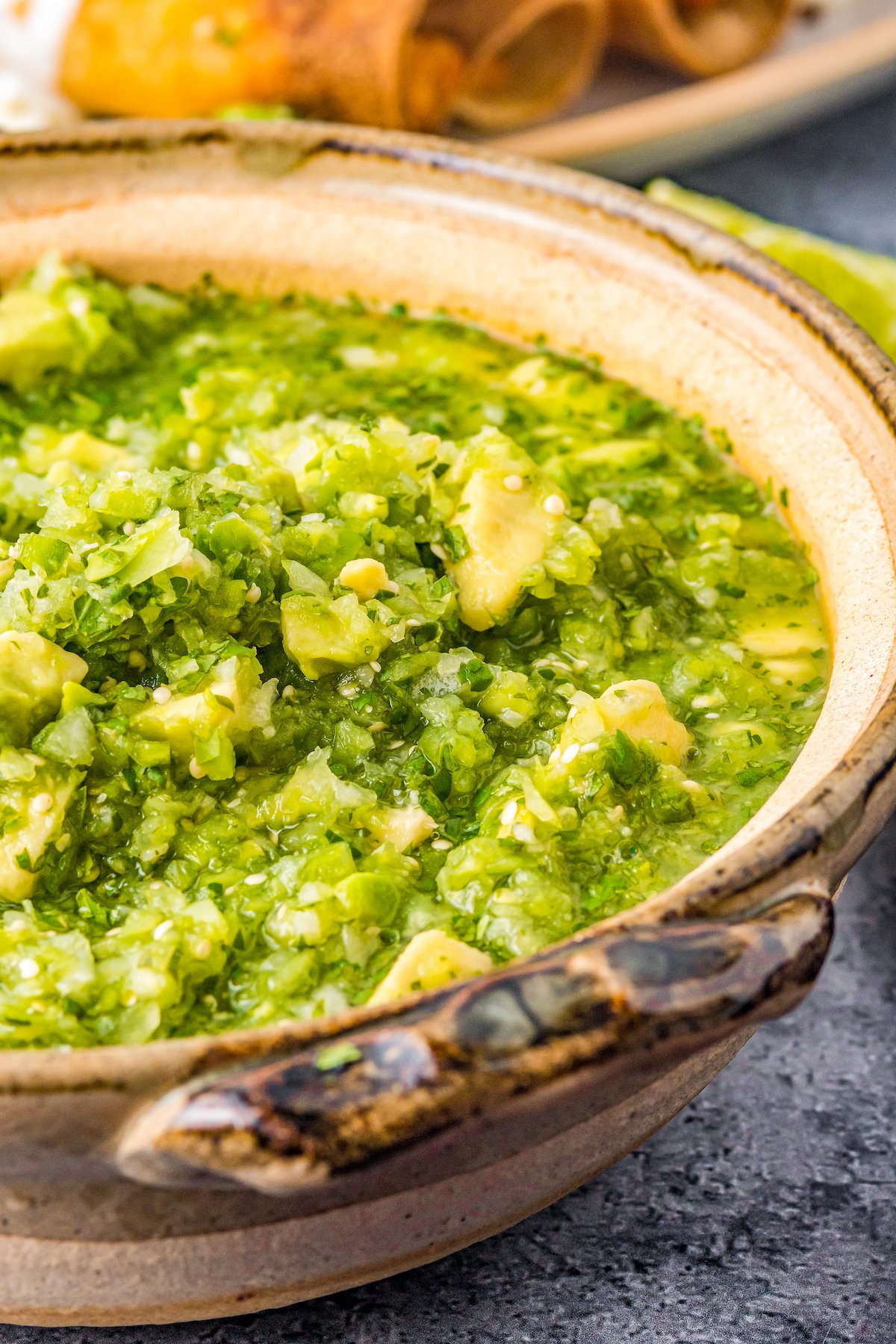 What Do Tomatillos Taste Like?
These little green tomato-like fruits do taste similar to their red tomato cousins, but sharper and brighter. They're perfect for adding a punch of acidic flavor to any recipe! You can add tomatillos to roasted veggies, soups, salad dressings, and more. Used raw or cooked, they're a great little ingredient with a bold taste.
Pro tip: When you take the papery husk off of a tomatillo, the tomatillo itself will be a little sticky. That's no problem! Just give it a rinse under warm water and you're good to go.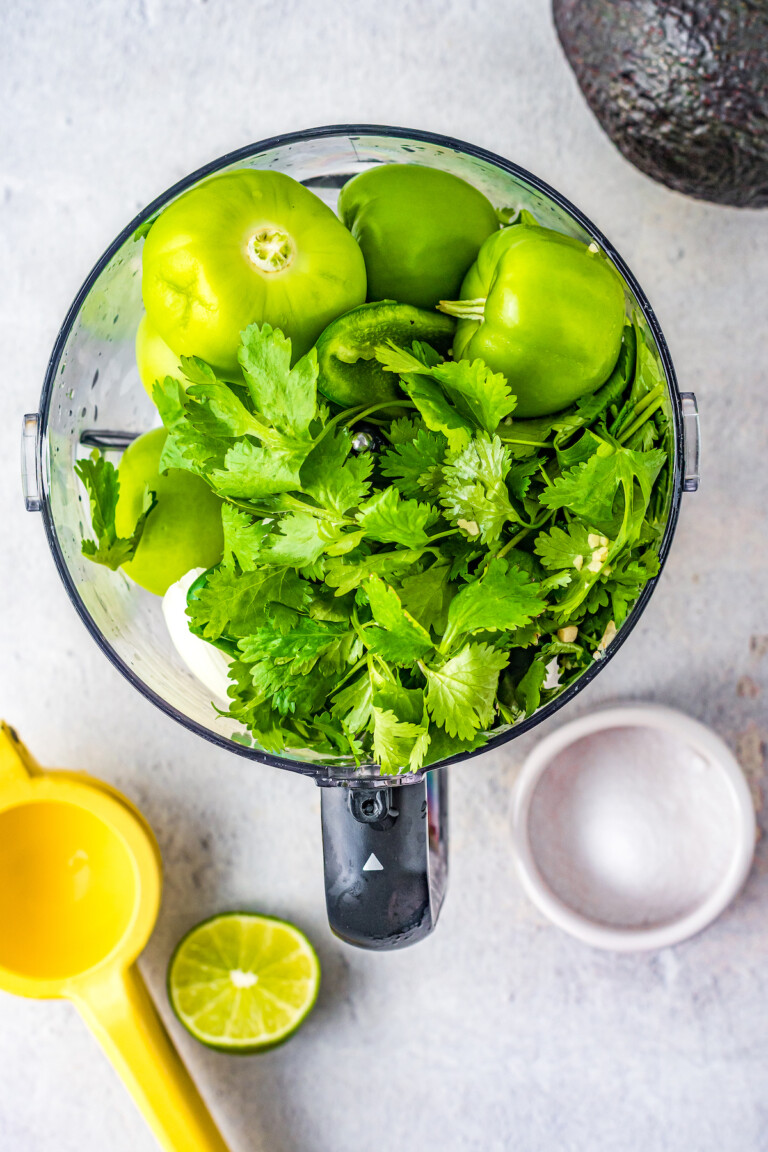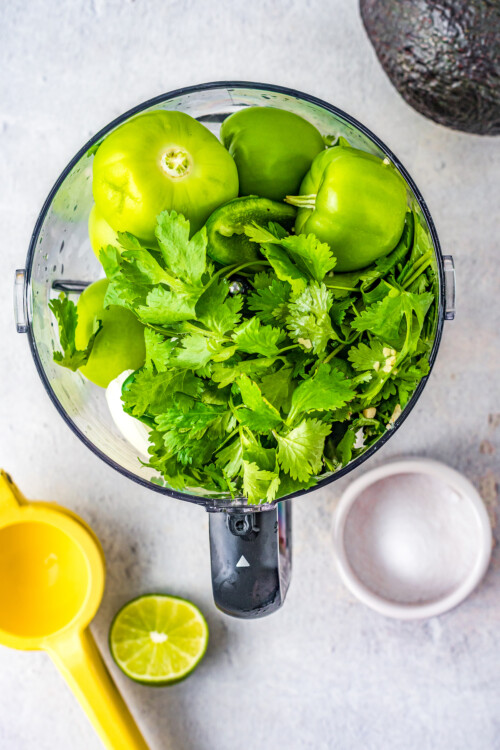 How to Make Tomatillo Avocado Salsa
One of the best things about this salsa is its freshness. Most store-bought salsas are cooked in order to jar or can them, and even the fresh ones often contain preservatives! This is all just good fresh produce, right in your blender – and you can definitely taste the difference!
Process the First Five Ingredients. First of all, combine the tomatillos, jalapenos, cilantro, garlic, and onion in a food processor or blender. Process for about 5 seconds, or until the ingredients are combined and chunky.
Add the Remaining Ingredients. Now stir in the diced avocado, lime juice, and ½ teaspoon salt. Taste the salsa, and add more salt if needed. Stir again.
Enjoy! Serve your fresh tomatillo avocado salsa with chips, tacos, taquitos, and more.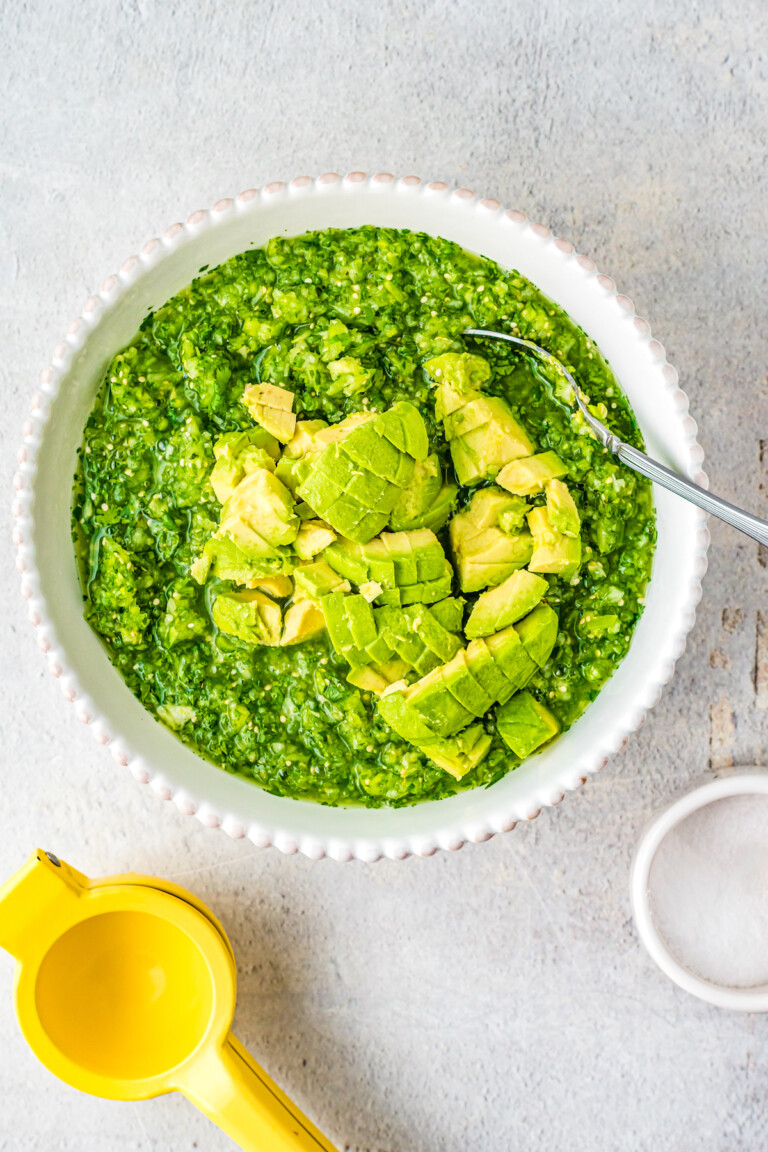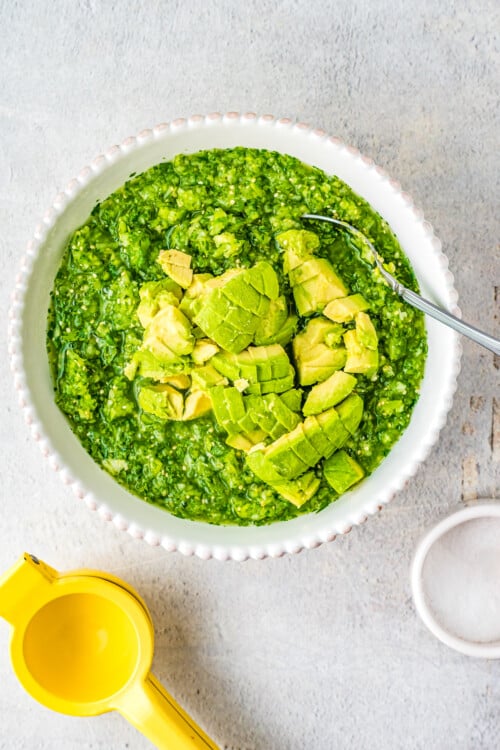 Easy Tips and Variations
This simple recipe is definitely going to be a hit with everyone who tries it. And it's so easy! With very little "investment," you get a huge payoff in terms of flavor and texture. These tips and variations will make it even easier.
Hot Salsa: With jalapenos, this salsa has a medium amount of heat. However, you could up the heat by using serrano peppers instead. Serrano peppers are spicier than jalapenos.
Mild Salsa: If you want your salsa extra mild, use a sharp knife and a spoon to remove the seeds and ribs from the jalapenos before you use them. Much of the heat of a jalapeno is located in the ribs and seeds.
Skin Protection: The juices from peppers can really irritate your skin, especially if you have sensitive skin. To protect your skin, wear gloves while working with the peppers. Avoid touching your eyes and face, as well, and wash your hands thoroughly with soap and water afterwards.
Cilantro-Free: If you're in the cilantro-tastes-like-soap group, that's totally okay! This salsa can be made without the cilantro. I recommend using fresh parsley and a small amount of fresh oregano as a substitute, or you can leave the herbs out entirely.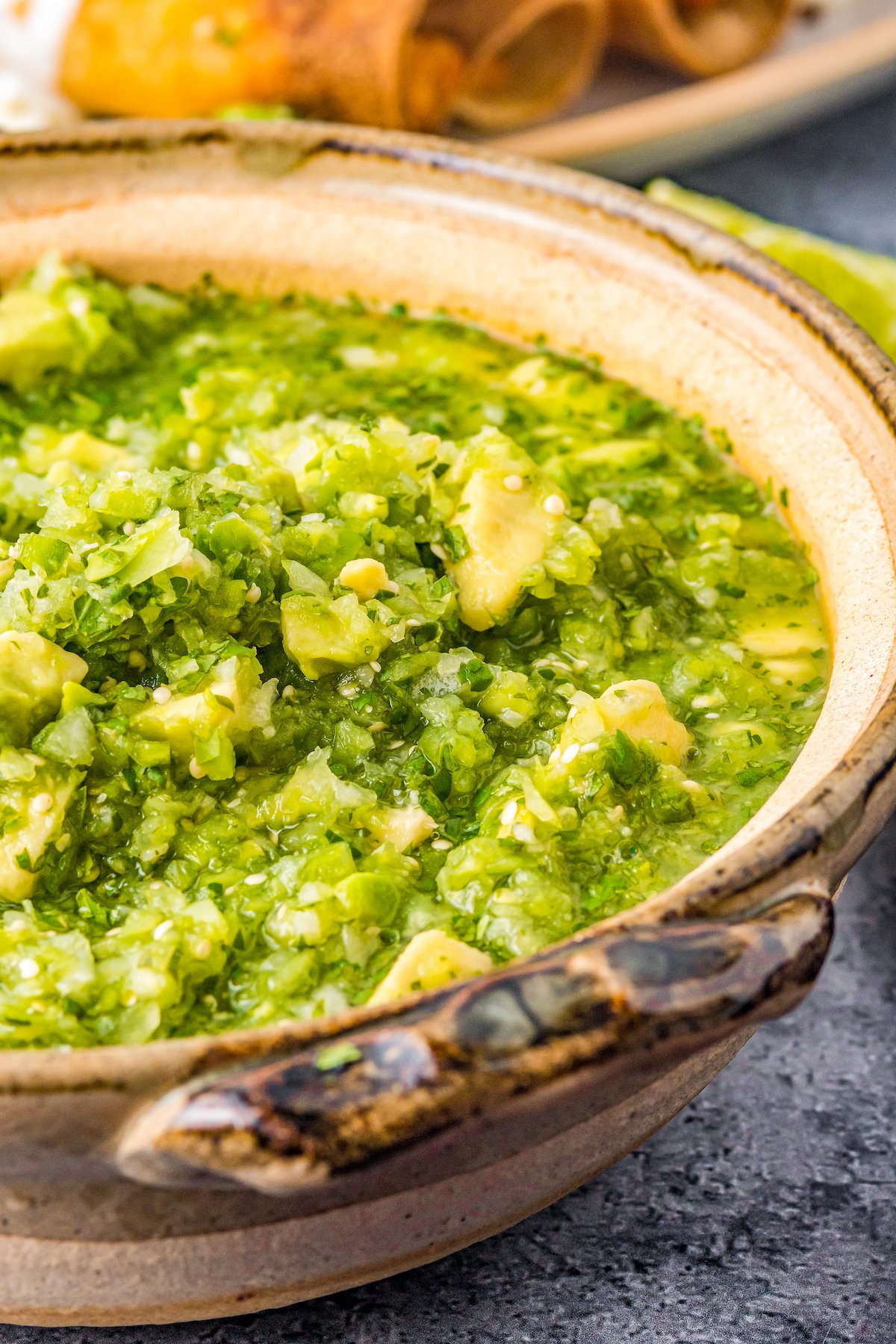 Serving Ideas
Honestly, pretty much any food that you love could be topped with this addictive salsa! From chips and tacos to burrito bowls, scrambled eggs, salads… you really can't go wrong. Here are a few more easy recipes to try with your tomatillo avocado salsa: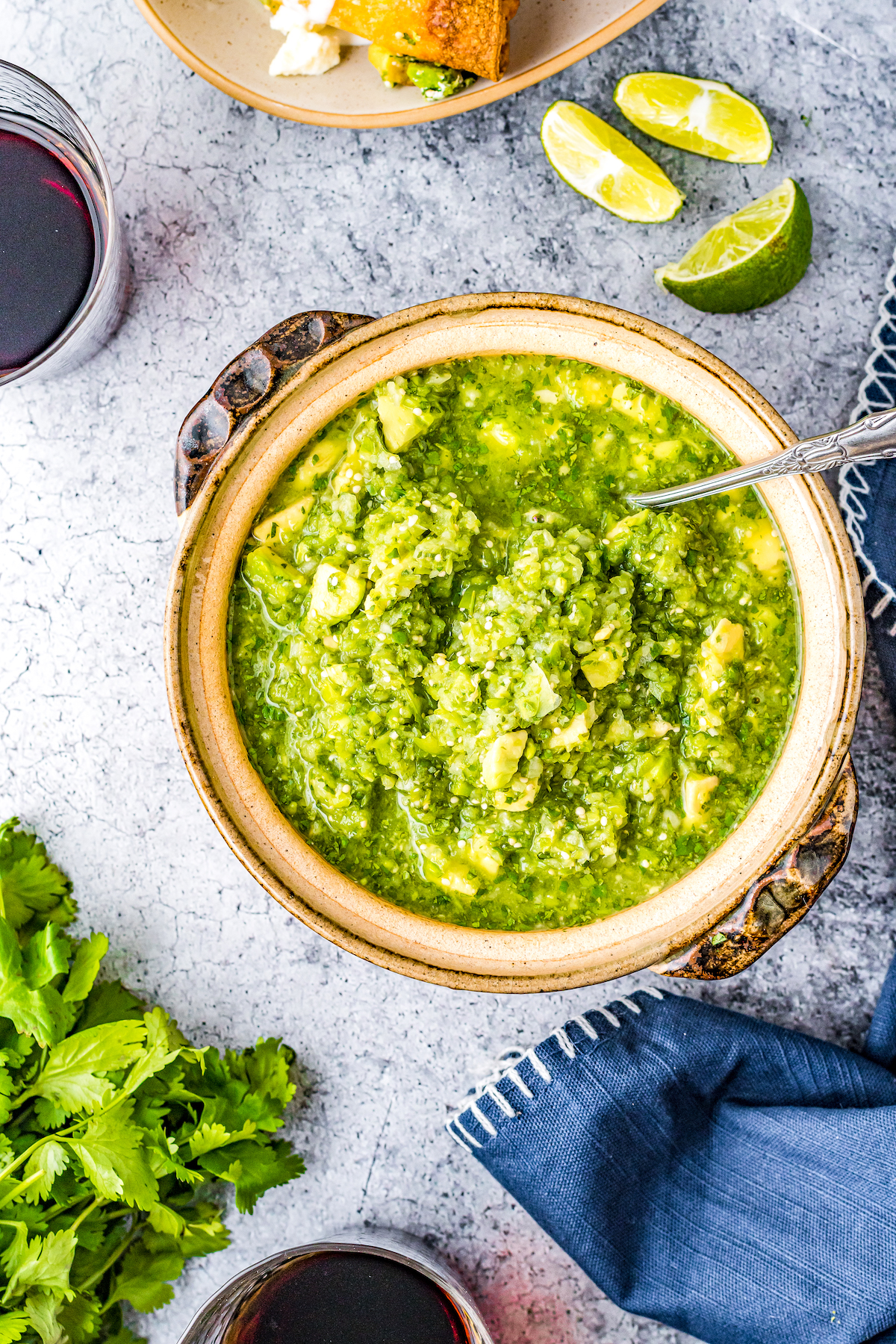 How to Store Leftover Tomatillo Salsa
I like to store this in mason jars, but any airtight container will do. Make sure to keep it in the fridge, and use it within 5 days.
Does This Freeze Well?
Yes, tomatillo avocado salsa is freezer-friendly! Just pour it into a zip-top bag, press out as much air as you can, seal, and freeze. I recommend freezing the bag flat for easy storage. It should keep for around two months. Thaw and stir before serving.
Tomatillo Avocado Salsa
Tomatillos, jalapeños, onion, garlic, avocado, and a splash of lime make this simple Tomatillo Avocado Salsa so fresh and flavorful. No cooking necessary, just blend and serve!
Ingredients
8 – 9

medium tomatillos

,

husked, rinsed, and quartered

2

jalapenos

,

stems removed (or 2 serrano peppers)

½

cup

cilantro leaves

,

lightly packed

3

garlic cloves

⅓

cup

yellow onion

1

large avocado

,

peeled and diced

2

tablespoons

fresh lime juice

Salt

,

to taste
Instructions
Combine the tomatillo, jalapenos, cilantro, garlic, and onion in a food processor and process for about 5 seconds, or until chunky.

Stir in the diced avocado, lime juice, and ½ teaspoon salt. Stir and taste. Add more salt if needed.

Serve with chips, tacos, taquitos, etc.
Nutrition
Serving:
1
,
Calories:
10
kcal
,
Carbohydrates:
1
g
,
Fat:
1
g
,
Polyunsaturated Fat:
1
g
,
Sodium:
13
mg
Categories:
More Flavorful Dips
Dips, sauces, salsas and more are the best way to add flavor to your plate! Here are a few more favorites:
This post may contain affiliate links. Read my disclosure policy.