These easy Pork Carnitas are a delicious and healthy slow cooked dinner that is perfect for family taco night!
If you enjoy these pork carnitas you should also try my Crispy Pork Carnitas with Corn Salsa recipe!
Pork Carnitas Is One Of My Favorite Taco Night Recipes
"You can take the girl out of Texas, but you can't take the Texas out of the girl." — That statement is about 75% true. I still think TexMex is some of the greatest food on this entire earth. I add hot sauce to just about anything and I say y'all on a daily basis. My accent (was never heavy, but I definitely had one), is pretty much completely gone. However, I still have my Texan dialect. For example:
Buzzard: black birds that circle something when it's dead. Here in Florida they call them vultures.
Coke: The name of every soda, ever. In Texas this is how your drink order goes down at a restaurant: "What would you like to drink?" "Coke" "Ok, what kind?" "Dr. Pepper."
Wrecker: instead of tow truck
Cement: Pronounced Sea-Mint. Not Sa-Ment. ….to be honest, I'm not sure if it's Texas that made me pronounce this one wrong all my life or my mother.
Conniption Fit: I said this last week in front of a large crowd and no one knew what having a Conniption Fit was. It's the same thing as a hissy fit…and I have been known to throw my fair share of both.
Tump: My dad said this one just last weekend. Here's how to properly use it: "Expletive!, I just tumped my beer over."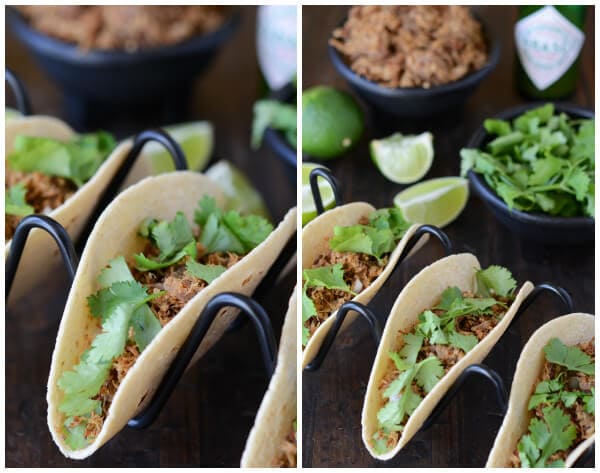 These are just a few that I can think of off the top of my head. So now if you are coming to Blogher Food 2013 in Austin this June, you will have a little bit of preparation. And FYI, no we don't all talk slower than molasses (that's all in west Texas. Just kidding…kind of), no we don't all wear cowboy hats and boots…but yes we do have funny words and a lot of people drive big trucks. Good news is the food is top notch…and sometimes the cowboys look hot in their Wranglers. ;)
Since I have been talking about what we are going to do while in Austin with some of my blogger friends, I have had a craving for some good TexMex food. I opened my very worn copy of Homesick Texan Cookbook and decided to make some Carnitas!
I switched up the recipe a little…and I wanted to use pineapple juice instead of orange juice. When I worked at Pappasitos back in high school, I learned that they marinate their meats in a mixture of soy sauce and pineapple juice. The pineapple juice does a great job of tenderizing the meat and so I decided to use it in my carnitas. I'm glad I did because they were divine!
Pork Carnitas
These easy Pork Carnitas are a delicious and healthy dinner that is perfect for family taco night! 
Ingredients
3

lb

boneless pork shoulder or pork butt

,

cut into 2-inch cubes

1

cup

pineapple juice

½

cup

lime juice

5

cloves

garlic

,

minced

2

jalapenos

,

seeded and diced

1

tablespoon

cumin

2

teaspoons

kosher salt

About 2 1/2 cups hot water

cilantro

onion

lime wedges

Cholula hot sauce
Instructions
Place the pork in a large heavy bottomed pot. Add the pineapple juice, lime juice, garlic, jalapenos, cumin, salt and enough water to just barely cover the meat. Bring the pot to a boil and then reduce the heat to a simmer. Simmer uncovered for two hours. Don't touch the meat.

After two hours, increase the heat to medium-high heat and occasionally stir and turn the pork, continue to cook for about 45 minutes, or until all of the liquid has evaporated, leaving only the pork fat.

Let it sizzle in this fat long enough to brown at the edges, turning pieces gently, only as needed. The more you stir, the more the meat will fall apart and shred.

When pork has browned and most of the fat has cooked off, it's ready! Adjust seasonings to taste and serve on warmed tortillas with all the fixings.
Nutrition
Serving:
2
,
Calories:
756
kcal
,
Carbohydrates:
13
g
,
Protein:
57
g
,
Fat:
52
g
,
Saturated Fat:
19
g
,
Polyunsaturated Fat:
28
g
,
Cholesterol:
216
mg
,
Sodium:
900
mg
,
Fiber:
1
g
,
Sugar:
6
g
Categories:
This post may contain affiliate links. Read my disclosure policy.