Loaded with charred veggies, this refreshing and perfectly spicy restaurant style salsa is great for drizzling over your favorite Mexican foods. Exploding with fresh flavor and ready in 20 minutes, it's the only salsa recipe you'll be making from now on!
Easy Homemade Salsa Recipe
Packed with green, white, and red ingredients, this restaurant-style salsa looks just like the Mexican flag in a bowl. Made extra spicy (or not) for the brave of heart, this recipe's heat level is super versatile so no one has to shed a tear while it's on the table.
The charred veggies make it truly authentic, but don't forget to leave it slightly chunky for a bit of texture. Made with tomatoes, two kinds of chiles, and savory onion, you'll love it on all your Mexican and Tex-Mex meals from now on.
Brightened with a bit of lime juice, this super refreshing salsa will the the star of all your Mexican fiestas. Ready in just 20 minutes, no one needs to know you only charred the veggies and blended them to throw this simple but flavorful recipe together.
Looking for green salsa verde instead? Try my chunky Tomatillo Avocado Salsa, or this Creamy Avocado Salsa for a smooth salsa!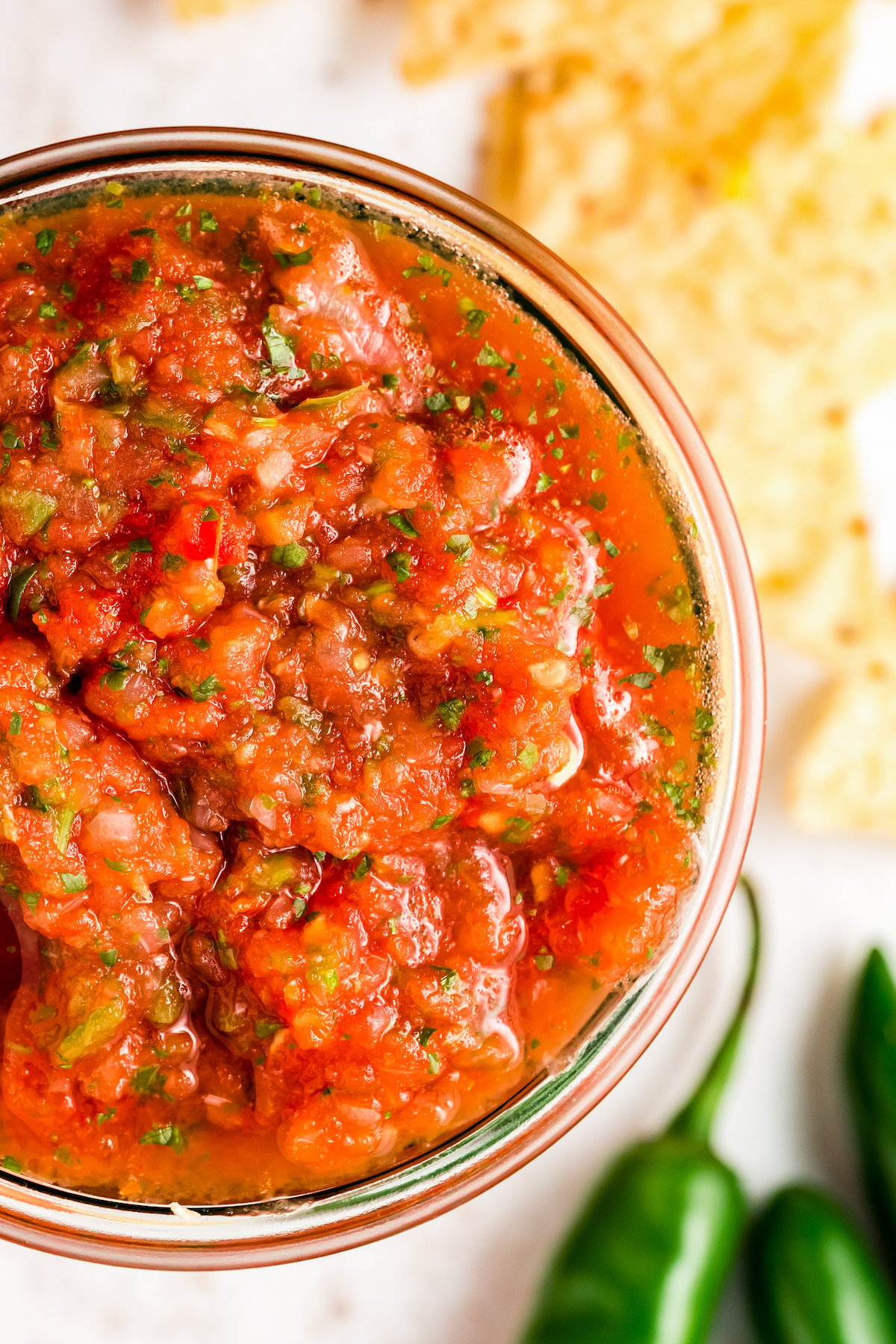 What's Different About Restaurant Style Salsa?
Although it's a tomato-based salsa like many others, restaurant style salsa is particularly smooth in texture. While it's not strained or extremely blended, there aren't any large chunks of vegetables in it like in a Pico de Gallo. This makes it perfect for dipping with some Homemade Corn Tortilla Chips in or even drizzling over your favorite dishes.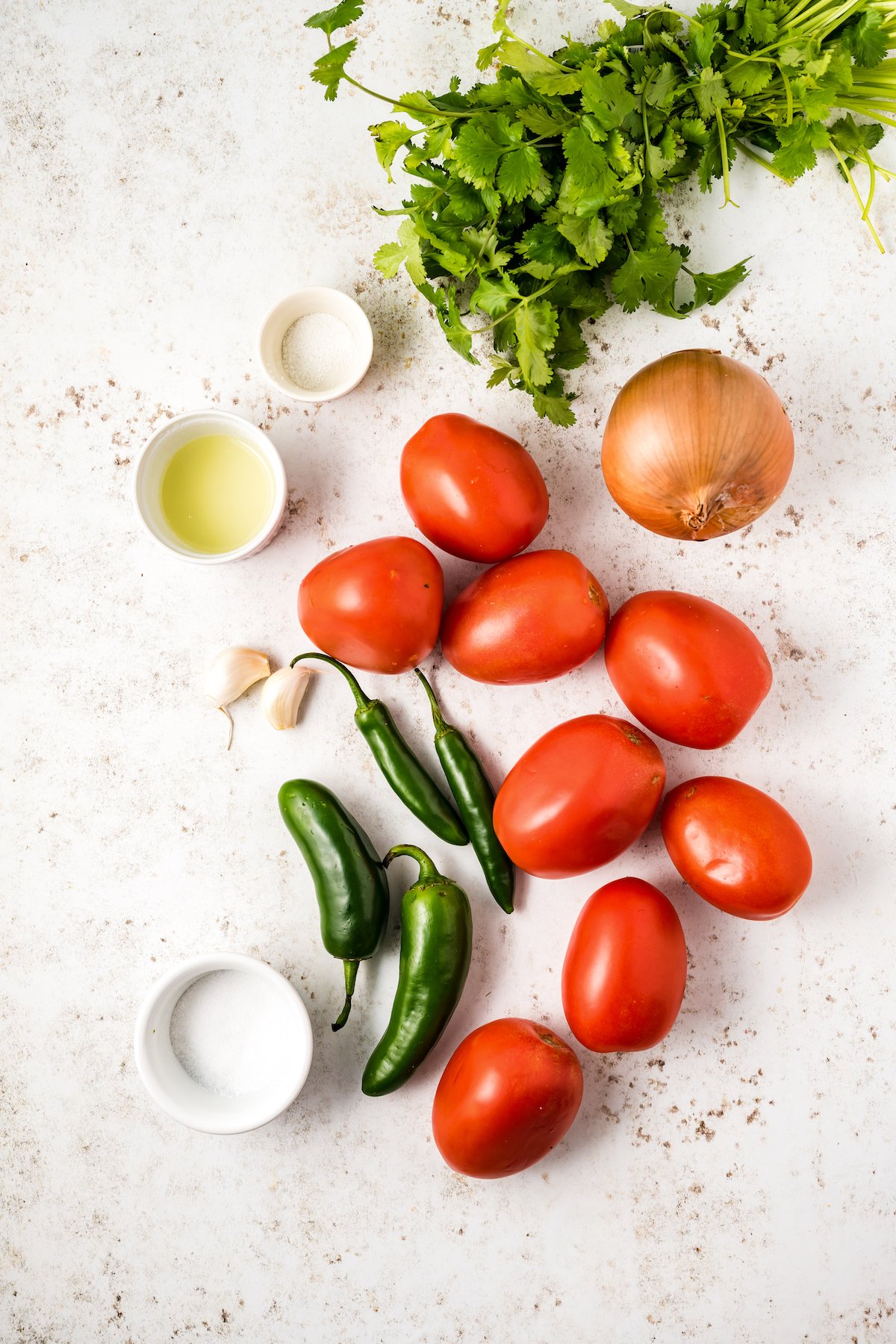 Recipe Ingredients
Fresh veggies add wonderful flavor to this salsa. Check the recipe card at the bottom of the post for full ingredient amounts.
Roma Tomatoes
Jalapeños – Fresh jalapeños are best for salsa, but canned ones work too.
Serrano Peppers – These are spicy so keep this in mind when adding them in.
Yellow Onion – White onion is okay too.
Garlic Cloves – Don't use garlic powder for this, it's important to use fresh garlic for the most flavor!
Cilantro
Lime Juice – Freshly squeezed lime juice will give you the best flavor.
Salt
Granulated sugar – Don't skip this, it rounds out the acidity.
Is This Easy Salsa Recipe Spicy?
It doesn't have to be. How spicy it turns out will depend on how many jalapeños and serrano peppers you add to the salsa.
To make it spicy. Add 1-2 extra jalapeños for a spicier salsa and leave the seeds in the peppers for even more heat. You can also add 1/2-1 extra serrano pepper, but I don't recommend adding more of both unless you're really sure you can take the heat. Remember you can always add more peppers afterwards if needed, but you can't take them back out!
For a milder sauce. Make sure to remove the seeds out of the chiles as they hold a lot of the heat. Only use 1 jalapeño and 1/2 of a serrano pepper for a mild salsa. Just to be safe, you can add in another tomato or even a tomatillo.
How to Make Restaurant Style Salsa
Char the veggies and blend them. That's it for this restaurant-style salsa!
Char the veggies. Heat the broiler to 500°F. Place the tomatoes, jalapeños, serranos, onion and garlic in a large baking pan under the broiler. You can also do it in a lightly greased comal or skillet on the stove (char the veggies over medium heat until blackened on all sides or until the skins split.)
Flip the veggies. Use kitchen tongs to carefully turn the vegetables over every 2-3 minutes.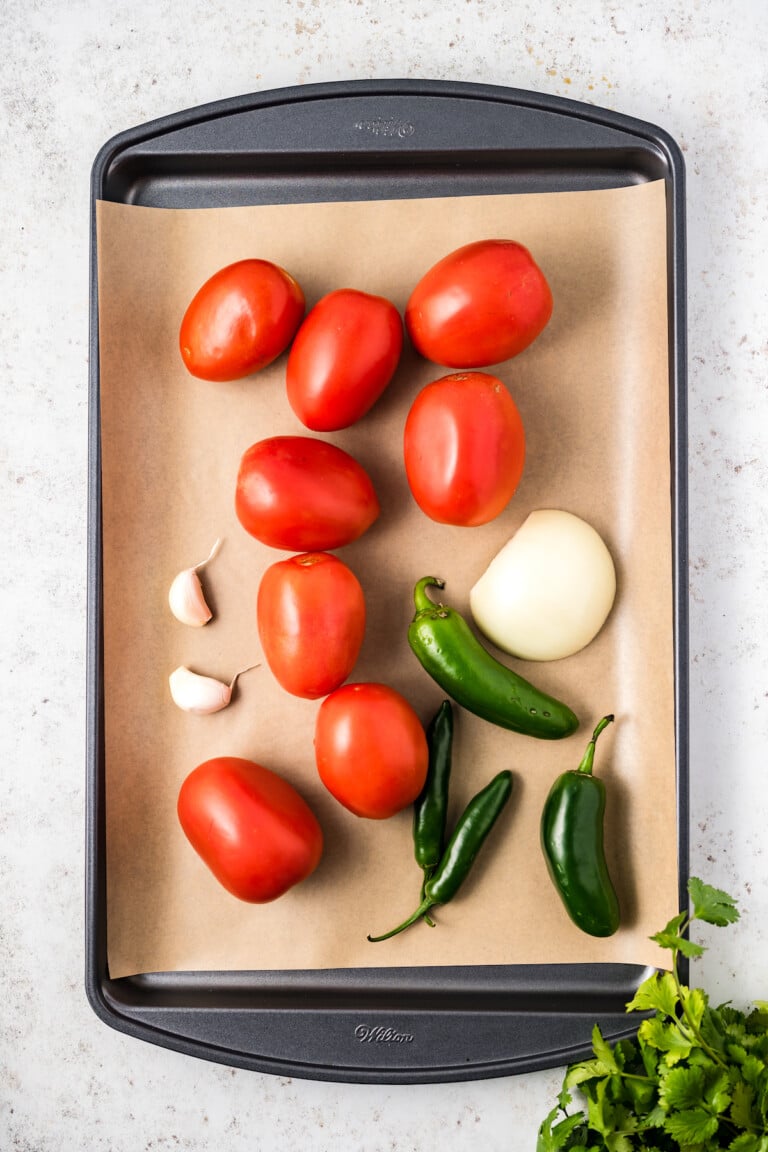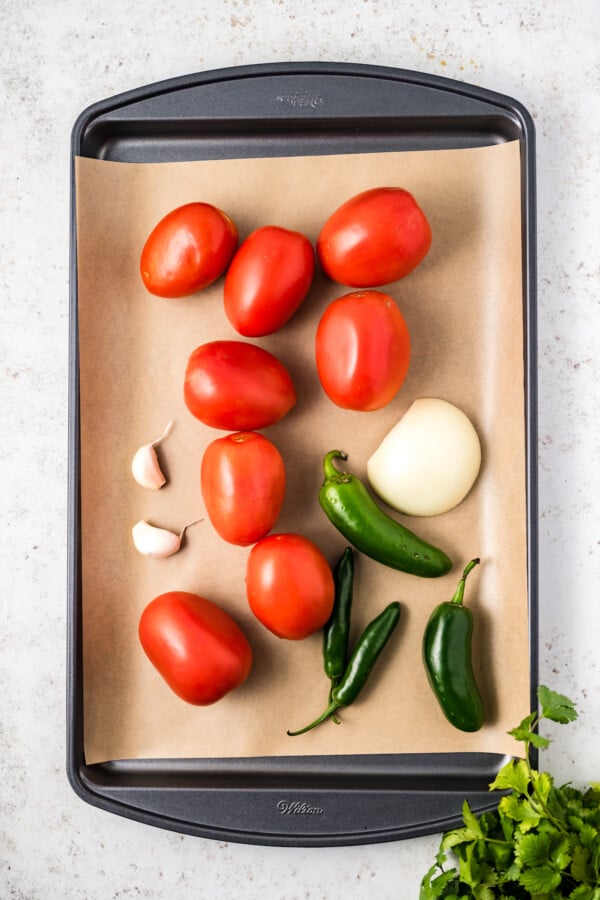 Blend it. Add everything to a powerful blender. Process until the salsa is nearly smooth. Season with more salt to taste, if needed.
Serve. Pour into a serving bowl. Serve immediately if you enjoy it warm. If you prefer it chilled, refrigerate it for at least an hour before serving.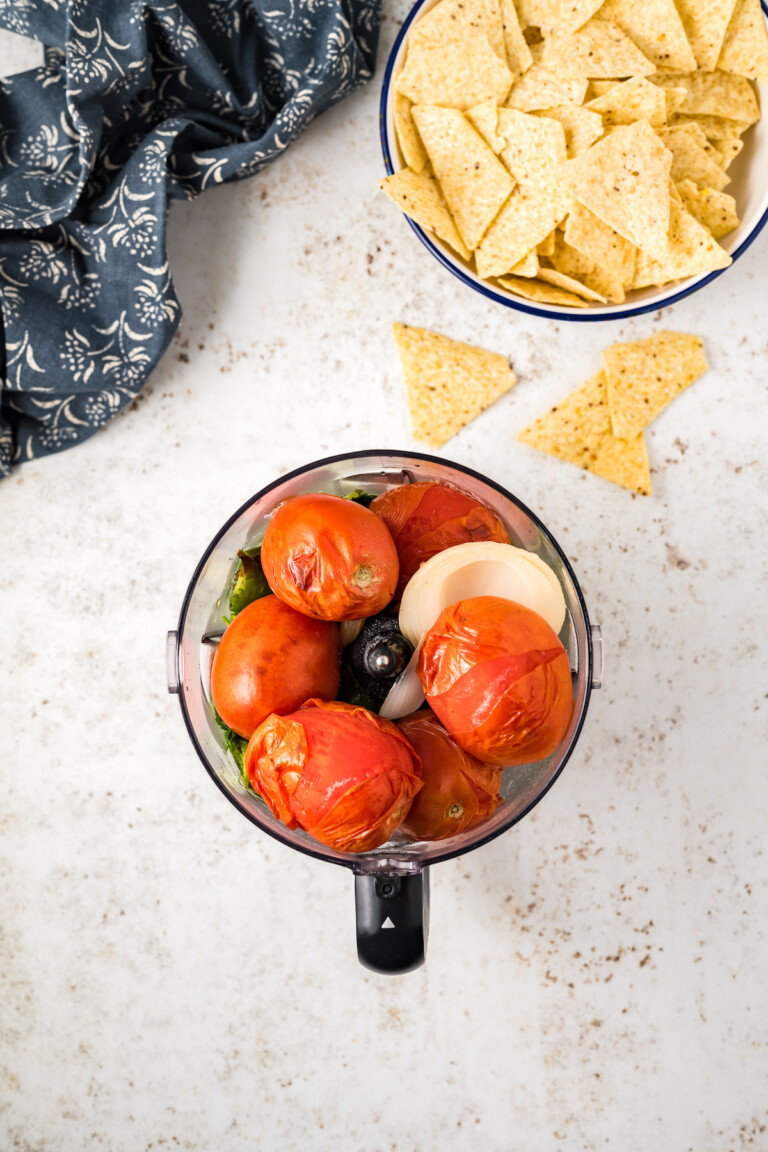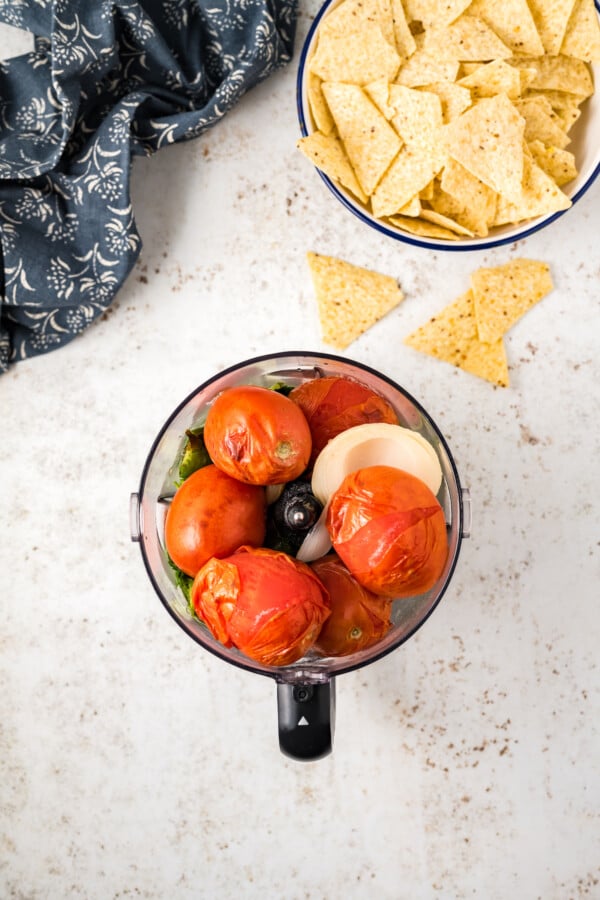 Tips for Success
Making the salsa a little bit chunky and adding some pico de gallo are just some of the ways you can get creative with this recipe.
Adjust the cilantro. Feel free to add more than 1/4 cup of cilantro or even reduce the amount to 2-3 tablespoons if you're not a big fan of it. It's your salsa! I personally can't get enough cilantro!
Use canned tomatoes. If you're not up for charring the tomatoes, using 2 (14.5 ounce) cans of fire roasted tomatoes will do the trick instead.
Make it chunky. Give this salsa some texture by adding the ingredients to the blender and pulsing until nice and chunky to taste.
Add pico de gallo. Adding leftover Pico de Gallo to the blender with the rest of the salsa ingredients is a great way to reduce food waste.
What to Serve with Blender Salsa
Aside from dipping Tortilla Chips in it, this restaurant-style salsa is amazing with Mexican and Tex-Mex dishes. I particularly love it with tacos and burritos— anything that isn't too saucy. Try it with my Carne Asada Tacos and Adobo Chicken Enchiladas for a soft bite. If you're looking for more crunch, go for my Beef Taco Salad Bowls and Cheesy Beef Taquitos.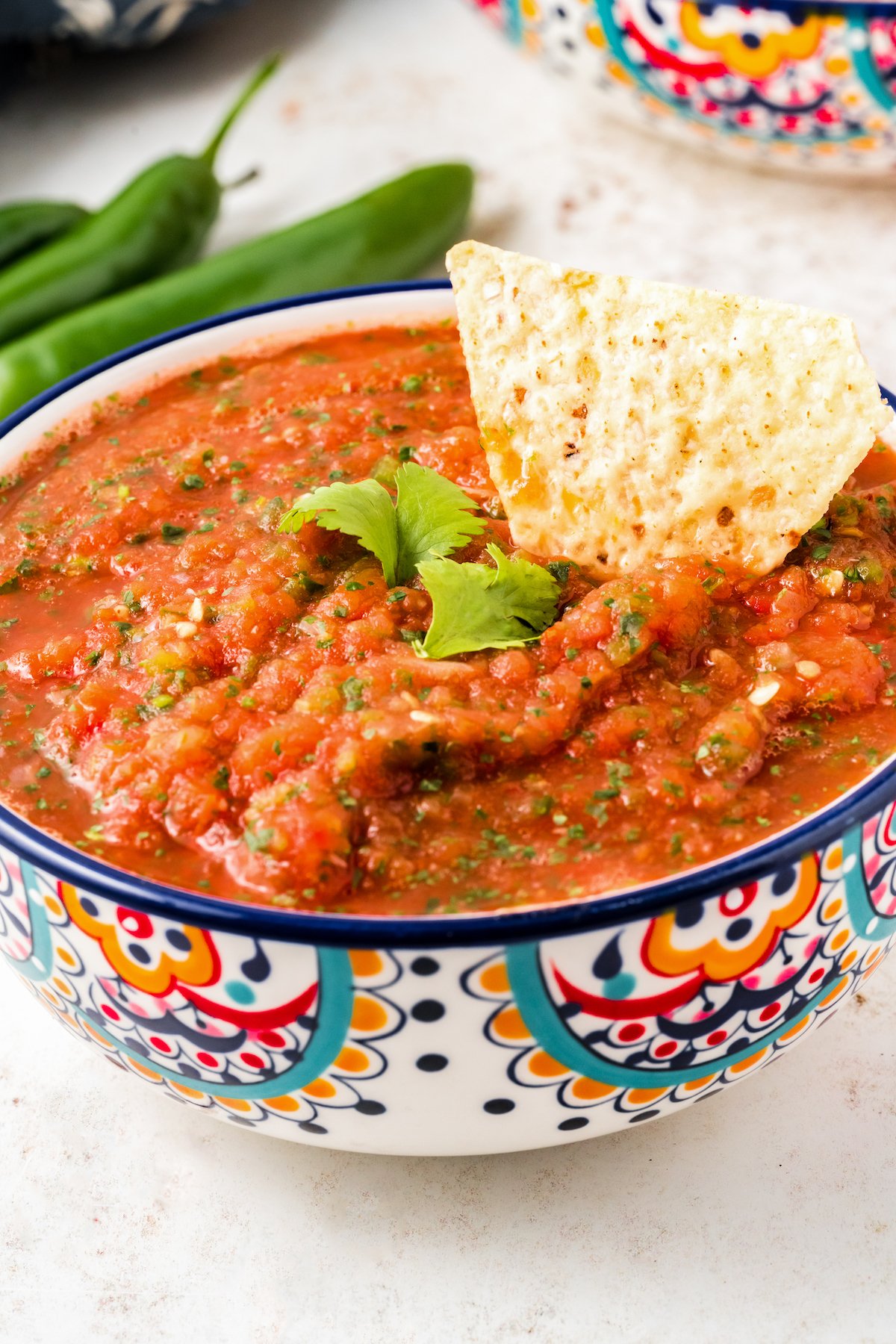 How Long Will This Last?
Once fully cooled, refrigerate this restaurant-style salsa in an airtight container for up to 5 days. Keep it away from heat and sunlight when it's on the counter. It doesn't have to be reheated for serving, but you can pop it into the microwave in 10 second increments until warm, if you prefer.
Can You Freeze Salsa?
Absolutely! We grow tomatoes every summer and I always make a few big batches to freeze for throughout the year. Make sure your salsa is fully cool and then transfer it to a freezer safe ziplock bag or air tight container. (I like to use ziplock backs because the salsa can freeze flat saving freezer space.)
Freeze the salsa for up to 6 months. To thaw salsa, transfer it to the fridge 24 hours before you plan on serving it. Or let it thaw at room temperature for a couple of hours.
More Salsa Themed Recipes
Restaurant Style Salsa
This 20-minute green, white, and red restaurant-style salsa is perfect for drizzling on all your tacos and Mexican food. It's so addictive, I promise you won't be able to have just one bite!
Ingredients
8

roma tomatoes

2

jalapeños

1-2

Serrano peppers

½

medium yellow onion

2

garlic cloves

¼

cup

cilantro

,

roughly chopped

2

tablespoons

freshly squeezed lime juice

1

teaspoon

salt

¼

teaspoon

granulated sugar

,

*optional
Instructions
Heat the broiler to 500°F and place the tomatoes, jalapeños, serranos, onion and garlic on a large pan under the broiler.

Turn the vegetables every 2 to 3 minutes, until the skins split or blacken if you wish.

Add everything to a

powerful blender

or food processor and blend until nearly smooth.

Serve immediately if you enjoy it warm, or cool for an hour and serve chilled.
Notes
More Heat: Leave the seeds in the chiles for 2x the heat! Or if you want to remove the seeds, you can double up on the chiles. Less Heat: Skip the serrano chile and make sure you remove the seeds from inside the jalapenos. * Optional Sugar: While the sugar is optional, I highly recommend it. It is only 1/4 teaspoon of sugar, not enough to taste, but just enough to round out the acidity. Storage: Store in an airtight container in the fridge for up to 5 days. Freeze salsa for up to 6 months.
Nutrition
Serving:
1
,
Calories:
24
kcal
,
Carbohydrates:
5
g
,
Protein:
1
g
,
Sodium:
358
mg
,
Fiber:
1
g
,
Sugar:
3
g
Categories:
This post may contain affiliate links. Read my disclosure policy.