For the ultimate crispy snack, you can't beat homemade Baked Plantain Chips. They're healthy and unbelievably simple to make, with a wholesome flavor and crunch that's irresistible.
An Easy, Salty Snack with Plenty of Crunch!
If you love tortilla chips, potato chips, pita chips, or any other kind of chips, you have got to try plantain chips. Although they might look like banana chips, they are actually savory and mild, similar to a potato chip but with a heartier taste and an almost cracker-like crunch. Once you start eating them, you will be tempted to finish the whole batch.
And sure, you can find plantain chips at most grocery stores – but when you see how easy it is to make your own, you'll hardly ever reach for bagged, factory-made plantain chips again. (And let's be real, the bags are mostly full of air, anyway.) Just grab yourself some firm, fresh plantains and a baking sheet, and you're in business!
If you love plantains, make sure to check out my other plantain recipes for Tostones (crispy fried and smashed plantains) and Maduros (pan fried sweet plantains).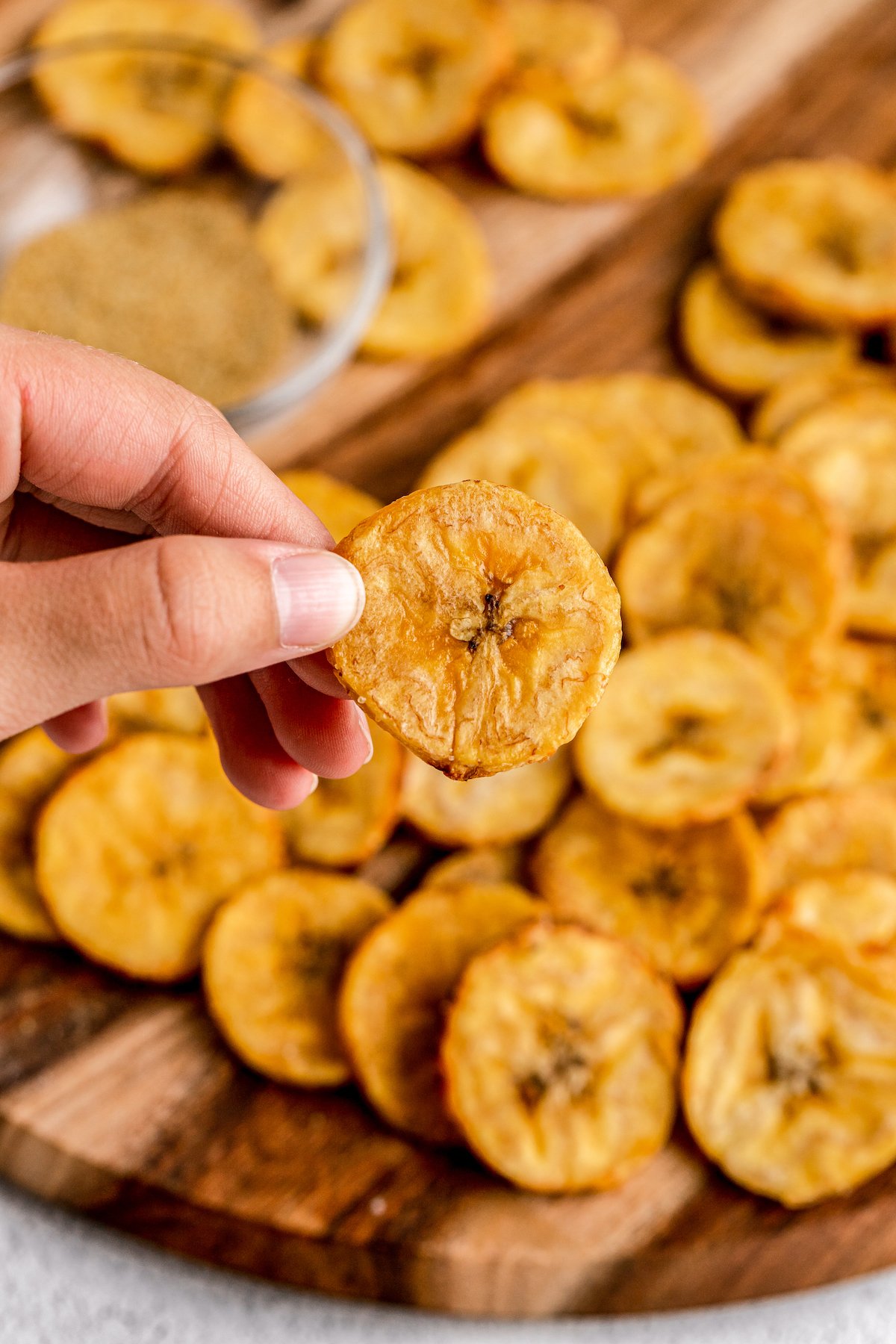 Are Baked Plantain Chips Healthy?
Definitely! Plantains are a healthy source of natural carbohydrates, and on top of that, they are a good source of some important vitamins: A, C, and B-6, to name a few. That's probably why plantains are a major food source in many countries! When baked with a healthy oil and some simple seasonings, plantains are a healthy snack you can feel great about. (And psst: homemade plantain chips like these are naturally gluten-free and free from preservatives, too.)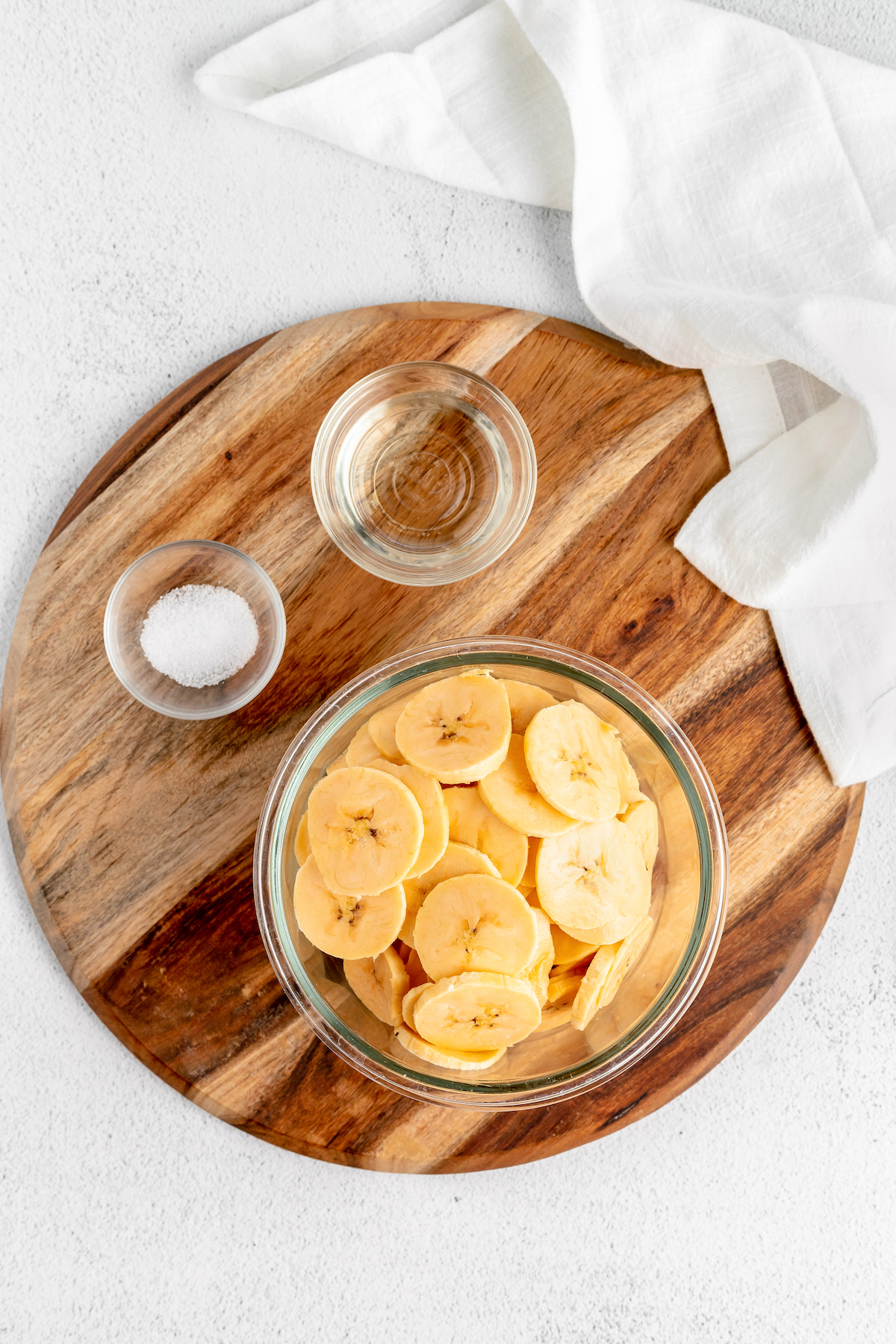 The Ingredients You'll Need
Are you ready for this ingredients list? It's so short that it's almost funny! But I did warn you that this recipe is almost unbelievably simple. Here's all you need to make homemade plantain chips:
Plantains: Peeled and thinly sliced. I like to use a mandolin for this, but a sharp knife is fine, too.
Oil: Go for a neutral-flavored oil that can withstand a little heat – think avocado, peanut, grapeseed, etc.
Salt: Sea salt is my favorite, but any salt will work.
Is a Plantain the Same as a Banana?
While plantains look like oversized bananas, they are definitely not the same when it comes to taste or texture. Plantains are part of the banana "family," but they're much less sweet, and much more starchy – so you probably won't be peeling one to eat raw anytime soon! While bananas are a light, sweet fruit option you can eat anytime, think of plantains along the lines of potatoes or sweet potatoes: scrumptious, but definitely a cooking ingredient.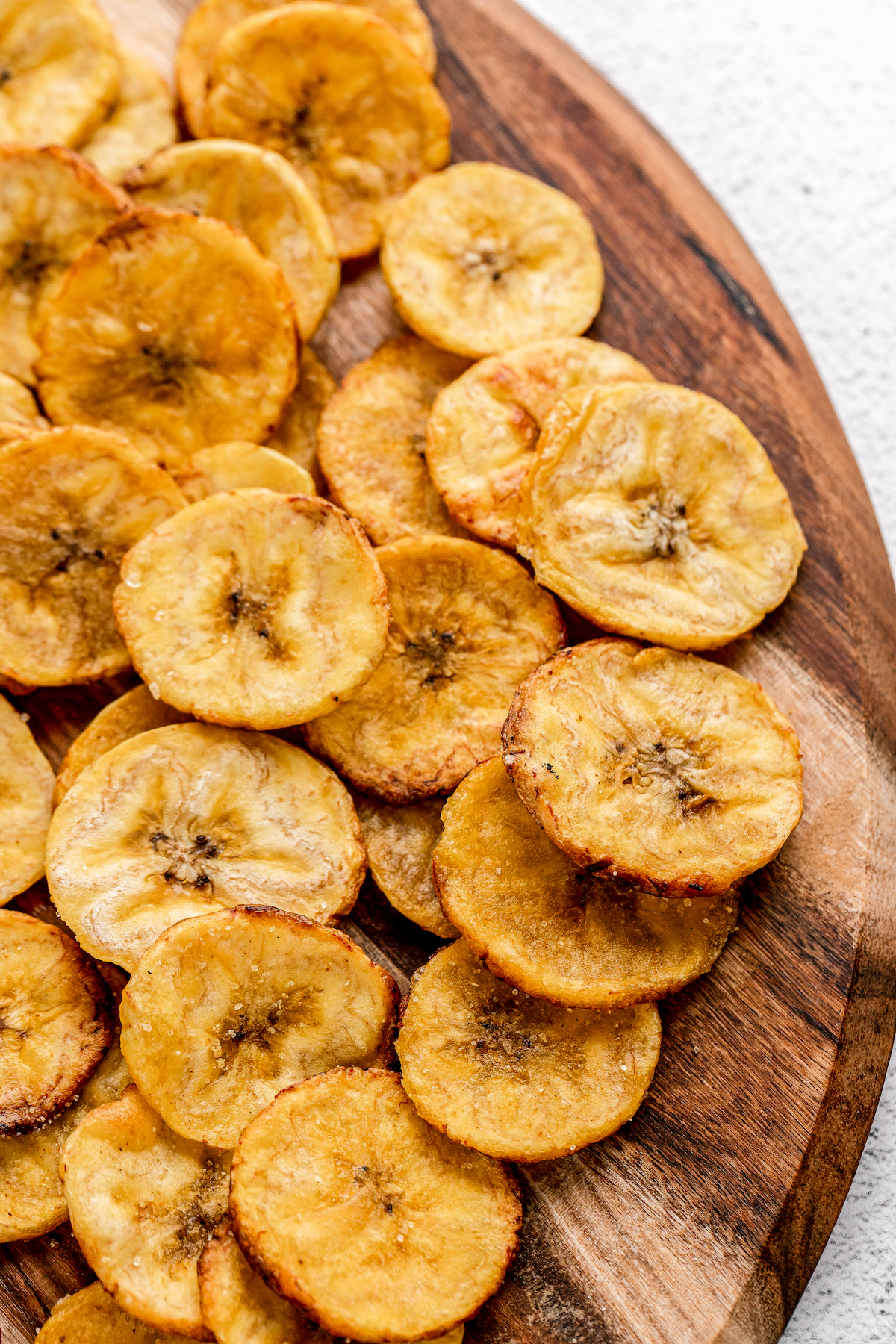 Let's Make Some Plantain Chips!
Making homemade plantain chips is about as easy as it gets – you literally just slice and bake them! A smidgen of oil and salt adds all the flavor and crispiness you need.
Prep the Oven and The Plantains. To begin, preheat the oven to 350°F. Peel the skins off of the plantains, and cut them into thin slices. This is easy to do with a mandolin (but be careful, they are so sharp!). If you need to use a knife, that's fine too – just take your time and shoot for thin, even slices.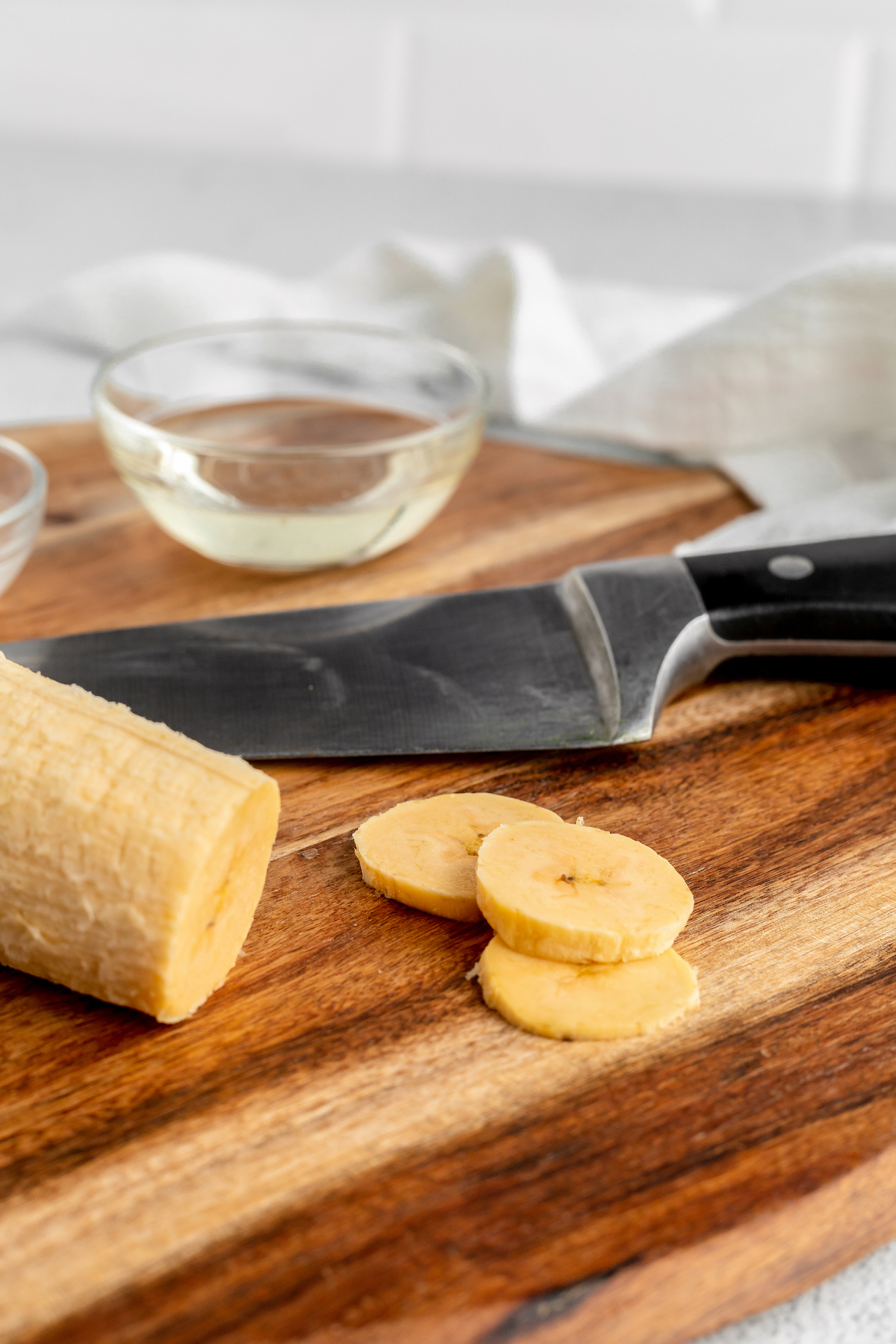 Season the Plantain Slices. Gently transfer the sliced plantains into a large bowl, trying not to smush them. Drizzle your oil of choice over them, sprinkle with salt, and lightly toss with your hands or a spatula to coat.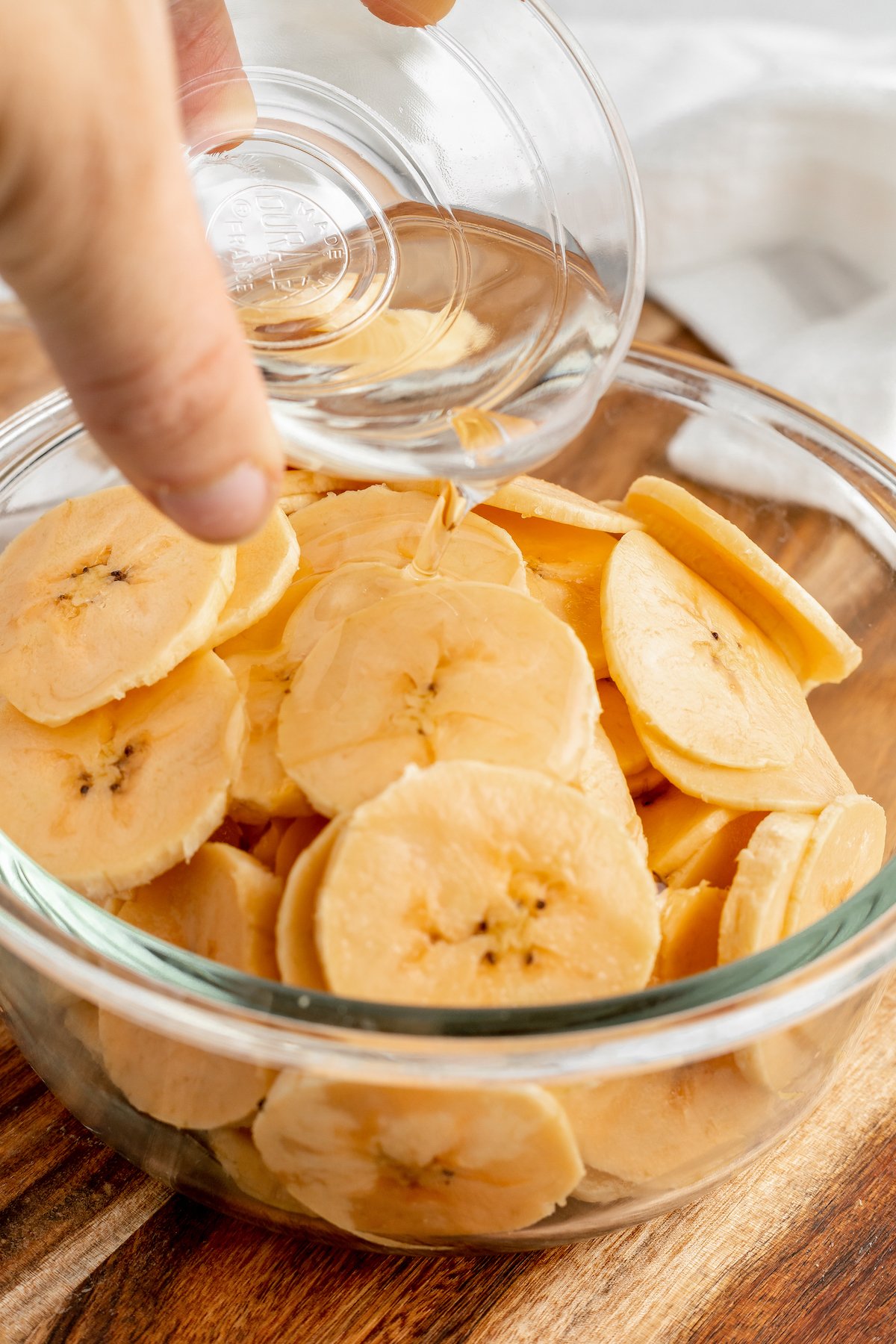 Bake! Set out two baking sheets, and line them with parchment or silicone baking sheets. Lay out the sliced plantains on the baking sheets in a single layer, and bake for about 20 – 25 minutes. You'll know they are done when they're fairly crispy, although they will crisp more as they cool.
Cool the Plantain Chips. Let the chips cool to room temperature before serving or storing.
Enjoy!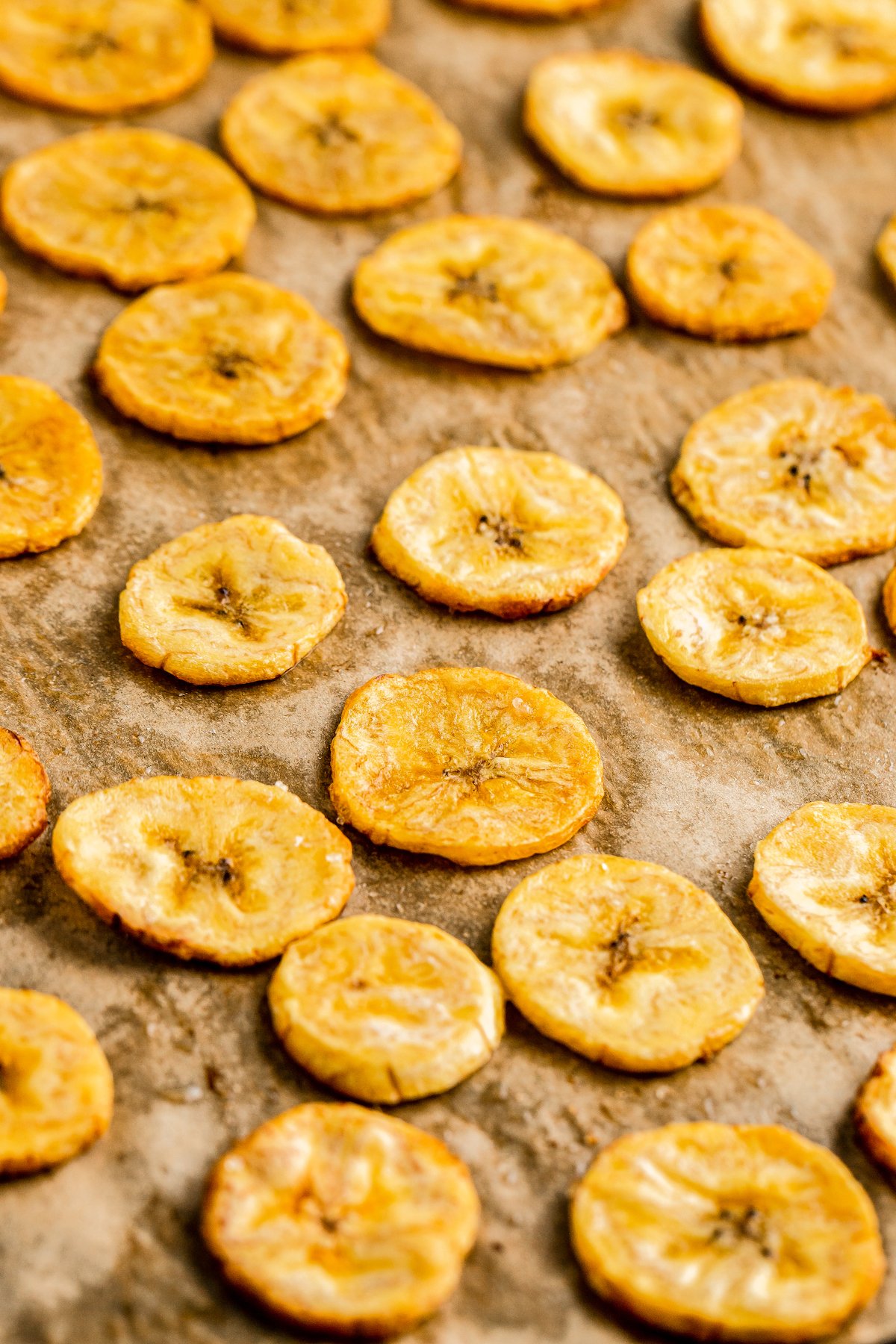 Helpful Tips and Scrumptious Variations
What color plantains should you use? What are some other seasoning options? How many licks does it take to get to the center of a Tootsie Roll pop? Well, I might not be able to answer all of your questions, but I do have the answers to some of them. Here are my top tips and variations for easy, homemade plantain chips.
Use Unripe(ish) Plantains: Plantains range from jade-green to yellow to black, depending on how ripe they are. For a good crunchy chip, you should look for green plantains. Green plantains are unripe – and therefore, less sweet and soft than yellow or black plantains. However, be warned: the darker green the plantain, the harder it is to peel! Go for lighter green ones instead.
Cooling Is Important: It's important that the plantain chips cool with plenty of air circulation, so they don't steam as they cool and get soft. I recommend cooling them on a rack. You can also let them cool in the turned-off oven with the door propped open a bit (be extremely careful leaving a hot oven open around children, of course!).
Adding Seasonings: My favorite way to add extra seasonings? Sprinkle them over the cooled plantain chips in a serving bowl, and give the whole batch a shake and stir to coat. Easy!
More Flavors: Speaking of seasonings, the hearty-yet-mild flavor of plantain goes with just about anything. Try adding paprika and curry powder, seasoned salt, or even cinnamon and sugar.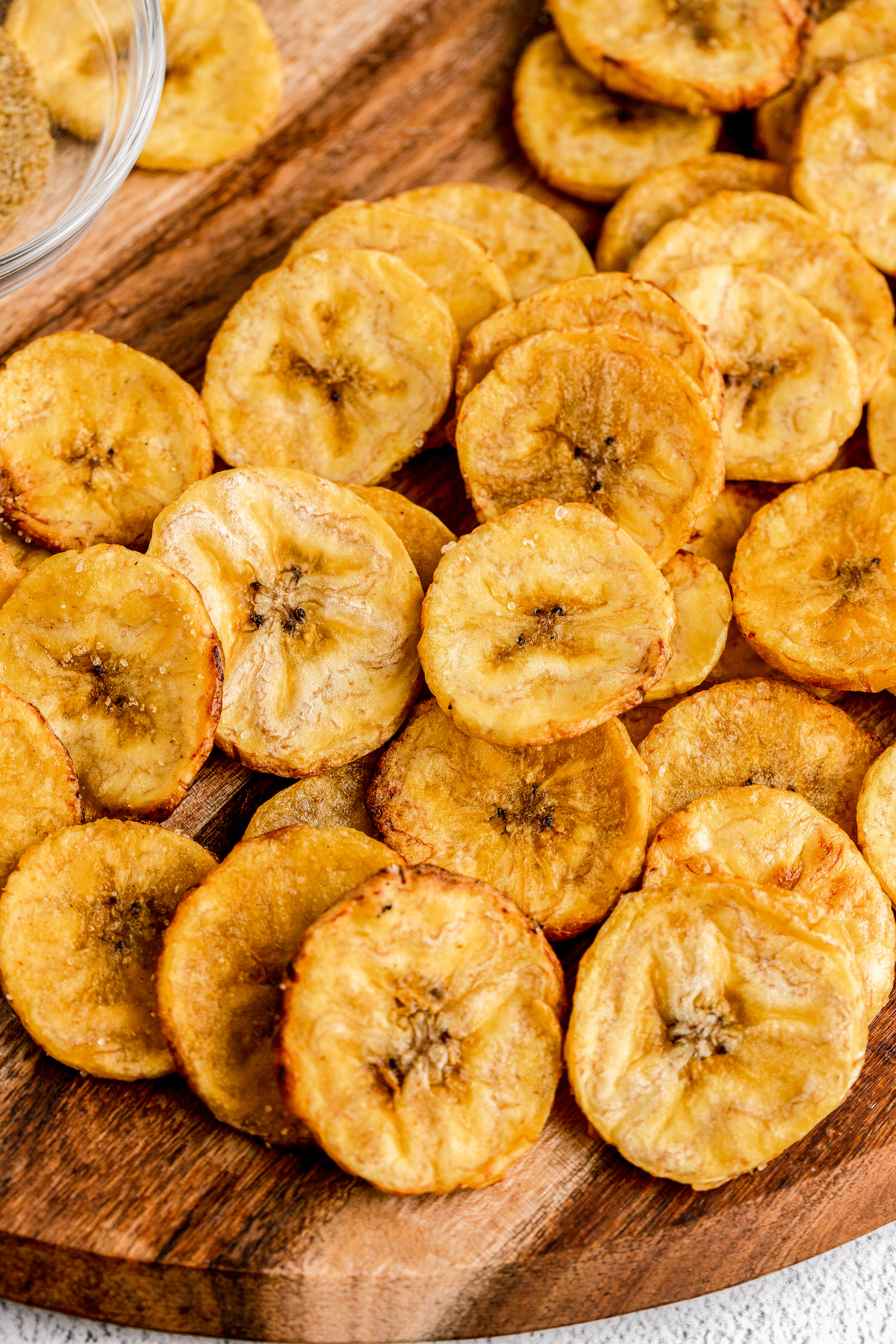 Serving Ideas
Serving plantain chips at my house is honestly as simple as dumping them into a bowl – if everyone hasn't already eaten them off of the baking sheet! But if you can fend off your family members, try serving your crispy little chips with one of these:
Your Favorite Dip: Any dip you'd normally serve with potato chips or tortilla chips would be great here, from Authentic Guacamole to mouthwatering Honey Mustard. Mmmm.
A Hearty Sandwich: Top off your turkey club, tuna salad sandwich, or even a fabulous Air Fryer Shrimp Po' Boy with a pile of crispy plantain chips.
A Savory Soup: Add a little crunch to your lunch by pairing a wholesome soup (Spicy Black Bean Soup would beA Savory Soup: Add a little crunch to your lunch by pairing plantain chips with a bowl of wholesome soup. Spicy Black Bean Soup would be perfect!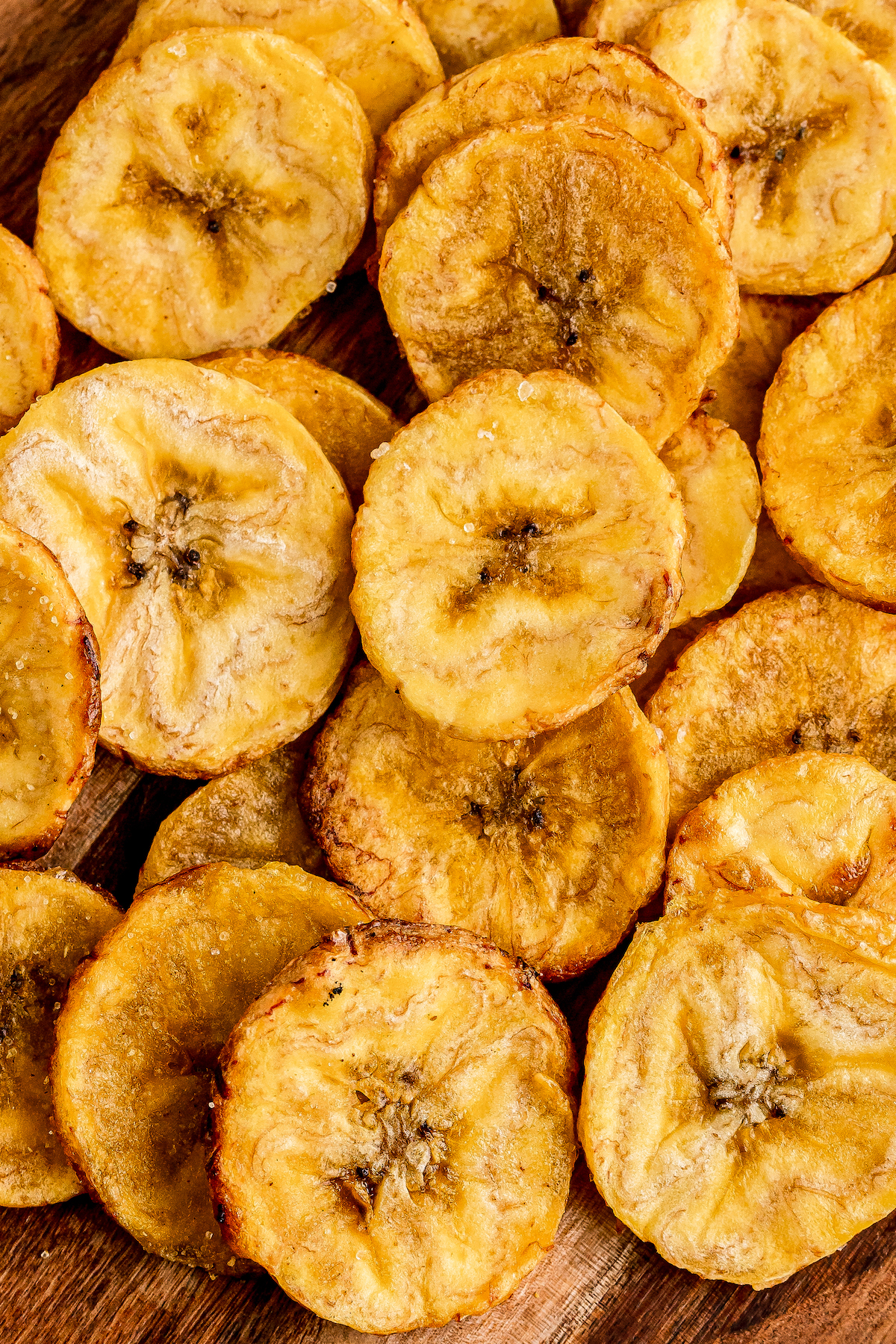 How to Store Homemade Plantain Chips
Freshly-made plantain chips should be stored in an airtight container or zip-top bag at room temperature. If they seem to soften up while stored, you can re-crisp them in the oven for a few minutes.
Baked Plantain Chips
For the ultimate crispy snack, you can't beat homemade Baked Plantain Chips. They're healthy and unbelievably simple to make, with a wholesome flavor and crunch that's irresistible.
Ingredients
2

plantains

,

peeled and thinly sliced

2

tablespoons

neutral oil

,

such as avocado, peanut, or grapeseed oil

½

teaspoon

sea salt
Instructions
Preheat the oven to 350°F. 

Peel the plantains and thinly slice with a mandolin or sharp knife. Place the plantain slices gently into a large mixing bowl. Drizzle with oil, sprinkle with salt, and gently toss until evenly coated.

Line two baking sheets with parchment paper, and arrange the sliced plantains in a single layer. Bake for 20 – 25 minutes, or until crispy.

If you decide to use additional seasoning, toss the baked chips with seasonings in a large bowl.

Store leftovers in an airtight container.
Nutrition
Serving:
1
,
Calories:
402
kcal
,
Carbohydrates:
75
g
,
Protein:
2
g
,
Fat:
14
g
,
Saturated Fat:
1
g
,
Polyunsaturated Fat:
13
g
,
Sodium:
541
mg
,
Fiber:
6
g
,
Sugar:
34
g
Categories:
More Fun Snack Recipes
This post may contain affiliate links. Read my disclosure policy.