Packed with crispy chorizo and hints of chipotle and garlic, frijoles puercos will be your new favorite 20-minute bean dip. Wonderfully smoky and creamy, they're perfect with tortilla chips and bit of jalapeño.
Easy Mexican Bean Dip Recipe
When you're thinking of what to serve for your next gathering, think of frijoles puercos. Ready in 20 minutes with only 10 ingredients, this bean dip is a completely effortless crowd-pleaser. Despite its simplicity, it doesn't sacrifice flavor one bit.
Lots of crispy chorizo adds depth and spiciness to balance out the bean's creaminess. Additionally flavored with chipotle, garlic, and onion, frijoles puercos are a Mexican party on tortilla chips. Top them with creamy avocado and jalapeño slices for a kick of heat. A bit of cilantro adds freshness too, but it's the dip's texture and complex flavor profile that steals the show.
Chip by chip, you'll watch it disappear from the table before you know it. Good luck having any leftovers, but they're also great for taking burritos, tacos, and tostadas to the next level.
Check out these other amazing Mexican friojles recipes: Frijoles Charros (Charro Beans), Refried Beans or Instant Pot Charro Beans!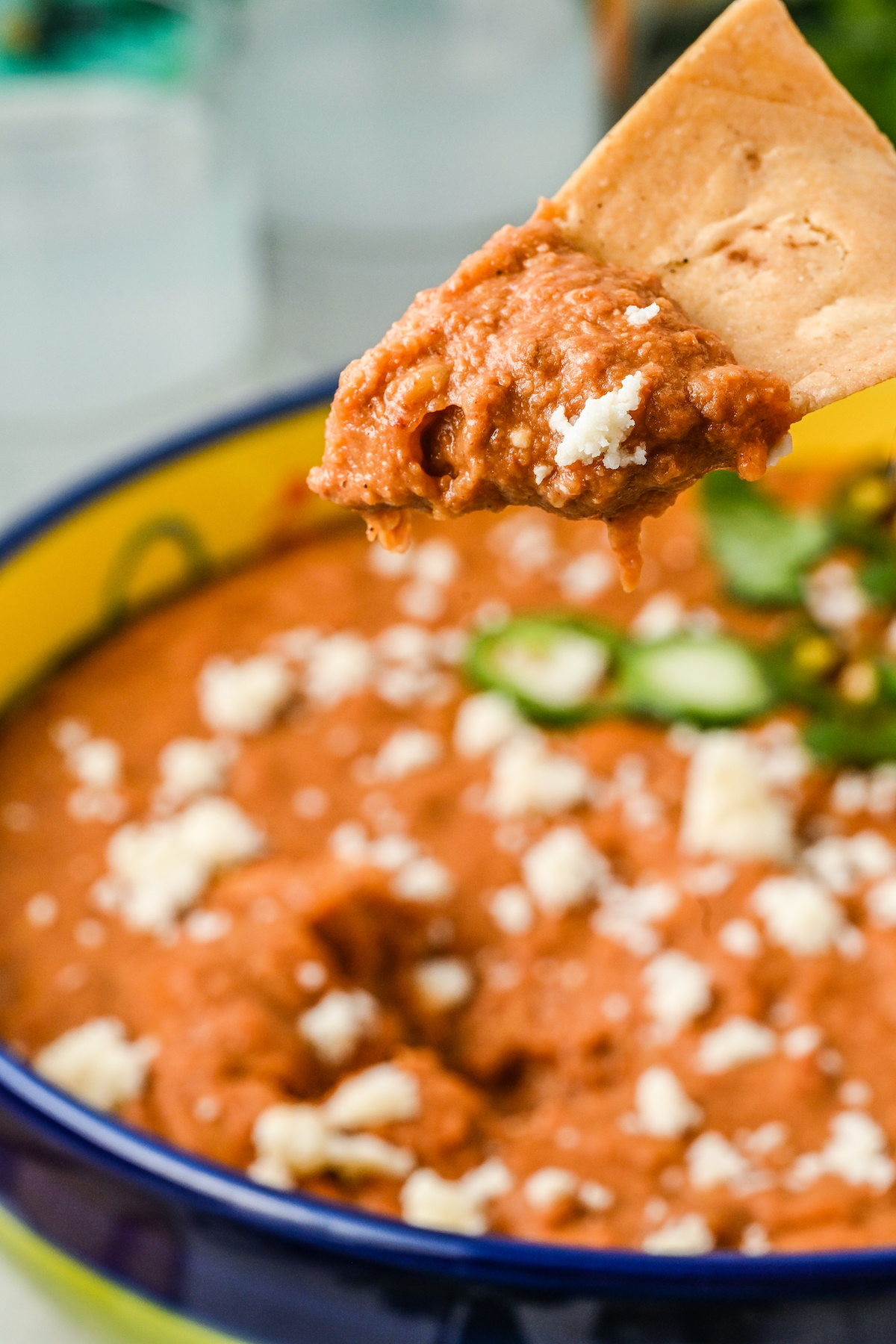 What Are Frijoles Puercos?
Frijoles puercos are a popular appetizer in the northern state of Sinaloa, Mexico. They're often served at parties and gatherings alongside regional dishes.
The dip consists of creamy pinto beans blended with onions, chipotle sauce, and garlic for an intense flavor base. The beans are then fried in lard with crispy chorizo to make an irresistible dip with lots of texture.
Packed with the pungent smokiness from the chipotle and chorizo, they're usually served with milder toppings like silky avocado, cilantro for freshness, and queso fresco for subtle creaminess. With crunchy tortilla chips, they're a quick and easy bite.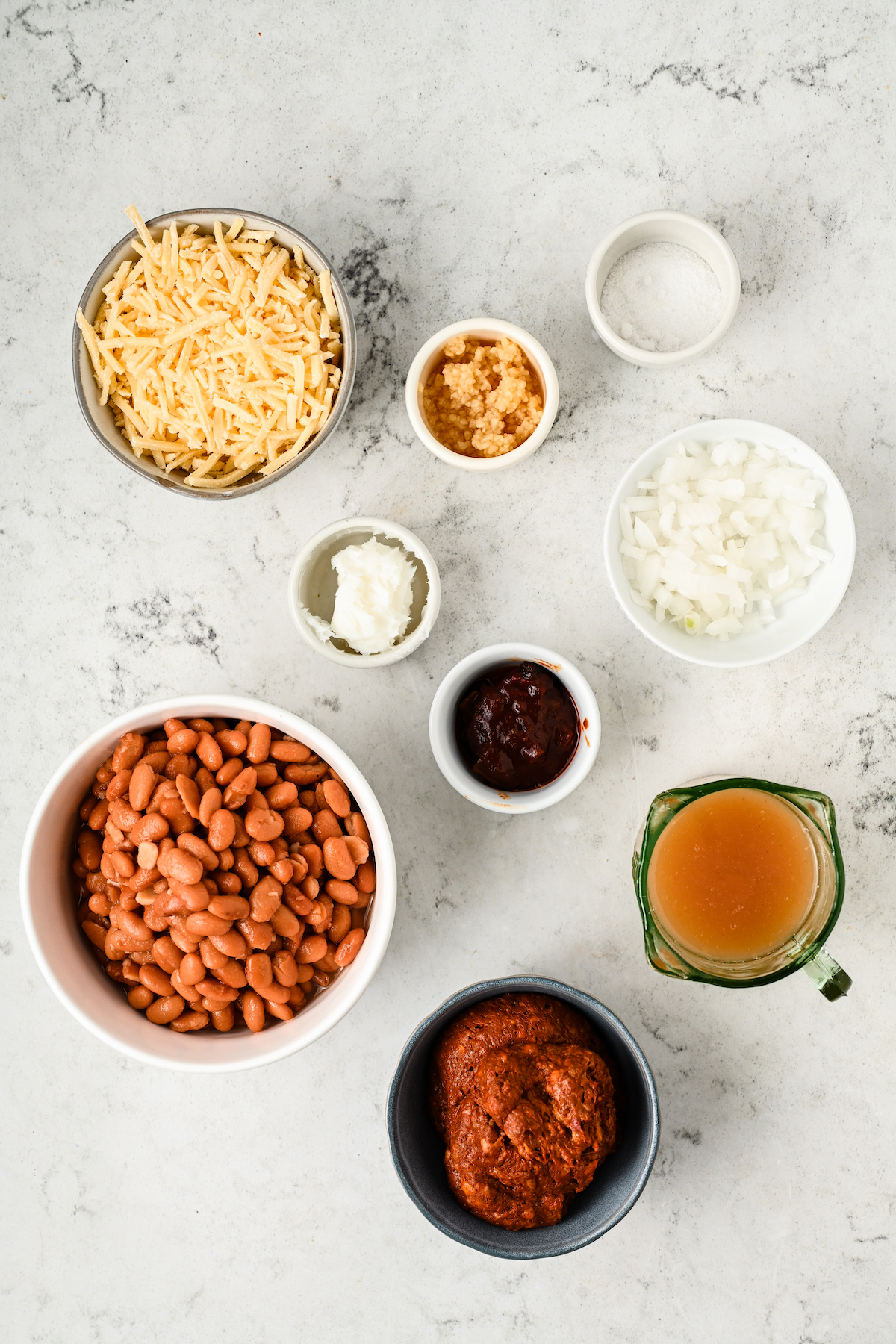 Recipe Ingredients
Despite only having 10 ingredients, frijoles puercos don't sacrifice flavor at all. Check the recipe card at the bottom of the post for exact ingredient amounts.
Pinto beans – These make the best frijoles puercos, but feel free to use black beans and kidney beans.
Onion – White or yellow onions are both okay.
Chipotle sauce – If you can't find Chipotle Sauce, you can use 1-2 chipotles in adobo sauce also work. Don't use chipotle mayo.
Garlic – If you don't have fresh garlic, substitute it for 1/2 tsp garlic powder.
Salt
Bean broth
Chorizo – Pork chorizo is the most flavorful, but beef and turkey varieties are also great. You can use Homemade Chorizo if you have it, or store bought works great too!
Lard – You can substitute it for any neutral-flavored oil with a high smoke point like vegetable, canola, and corn oil.
Oaxaca cheese – If you want to keep it Mexican, use Chihuahua cheese. However, mozzarella, Monterey Jack, and cheddar are great too. Any melty cheese will do.
Tortilla chips – These are for serving, but you can also use baked pita chips or even toasted bread.
Topping Ideas
Now's the time to go crazy with Mexican-inspired toppings. Here are a couple ideas:
Avocado
Cilantro
Oaxaca cheese – Mozzarella, cheddar, Muenster, and other melty cheeses will work.
Queso fresco – You can also use cotija cheese for a sharper taste.
Jalapeño slices – Fresh or canned ones will do. Serrano is also a good option for a spicier bite.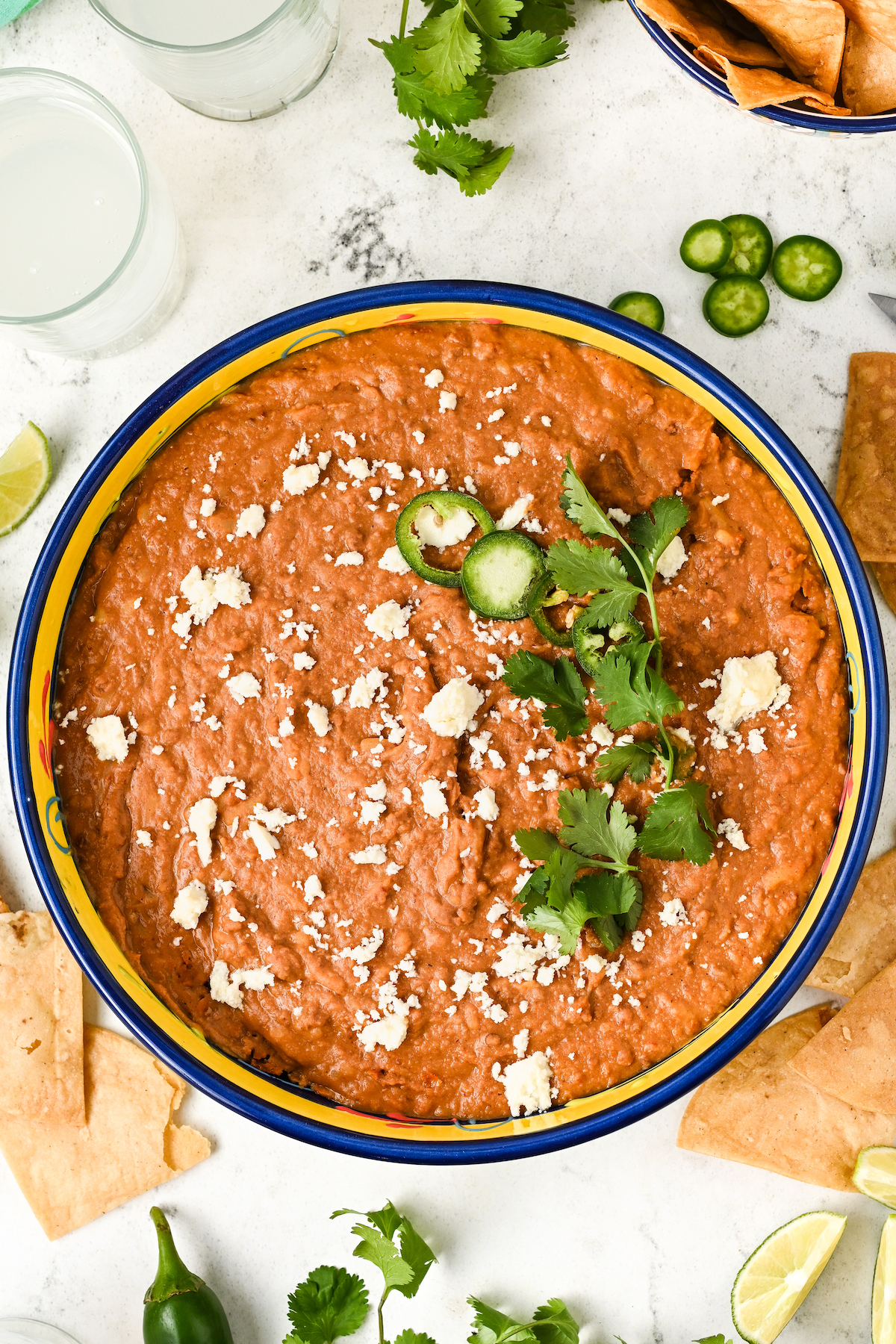 How to Make Frijoles Puercos
All it takes to set this easy dip on the table are 5 quick steps.
Blend. Add the pinto beans, onion, chipotle, garlic, and salt to a blender. Process until smooth.
Add broth. Pour broth to taste into the beans to adjust the consistency. Blend again.
Cook the chorizo. Melt the lard in a large pan over medium heat. Add the chorizo and cook it for 5-6 minutes or until it begins to brown. Use a spatula to break it up and keep it from clumping. You can leave the excess fat in the pan for extra flavor or carefully pour it out.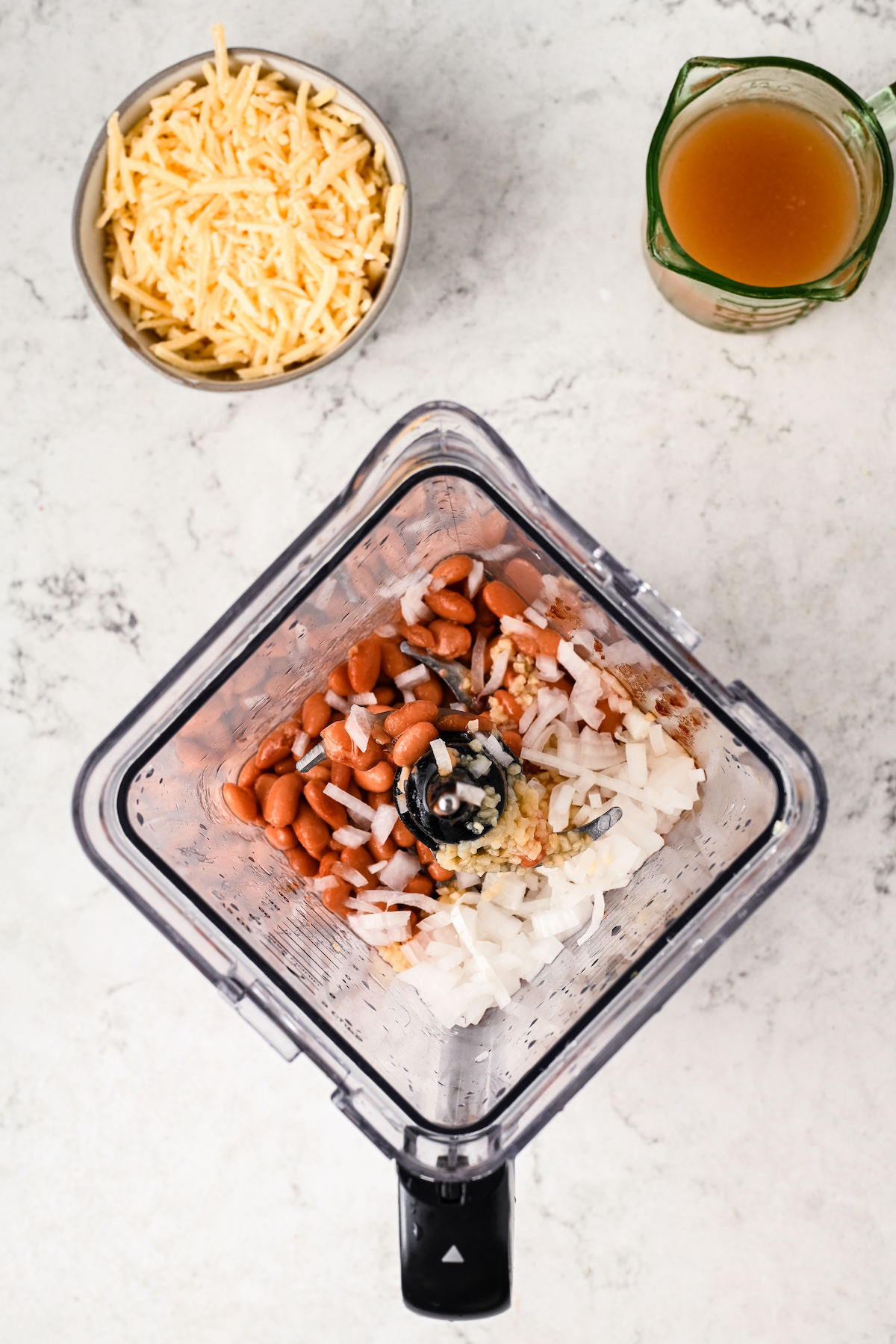 Fry the beans. Add the blended beans to the pan. Stir to combine. Cook the mixture for 4-5 minutes, stirring continuously. Add the cheese and mix well. Once the cheese has melted, remove the pan from the heat.
Serve. Transfer the dip to a serving bowl. Top with avocado, extra cheese, jalapeño, and cilantro. Serve with tortilla chips. Enjoy!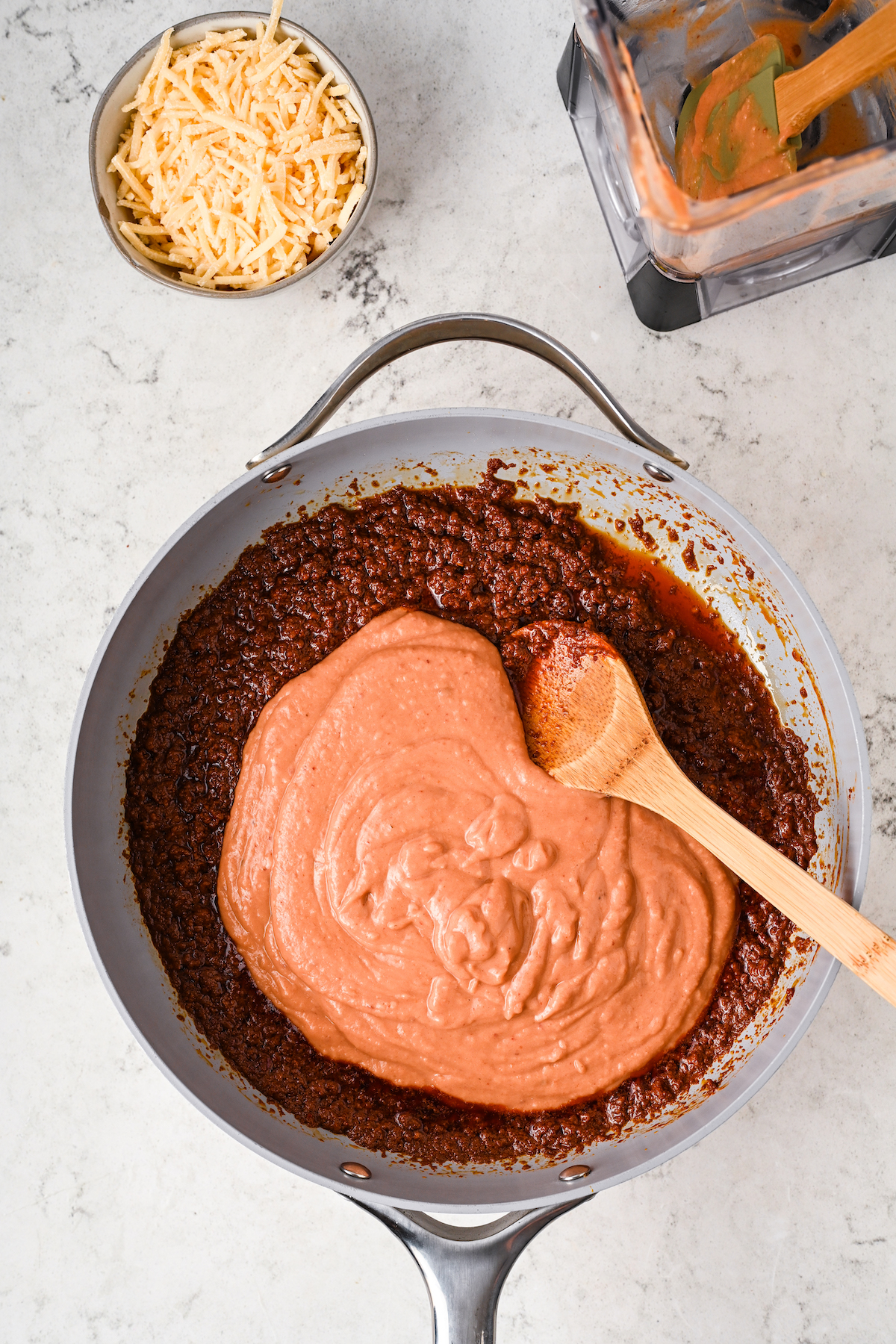 Tips for Success
Follow these easy tips to get an A+ on your bean dip every time:
Get a head-start. Cook the beans a day before so that you have enough time the next day to make the dip without rushing.
Soak the beans overnight. If you're cooking the beans and making the dip the same day, soak the beans in water overnight. They'll be much softer in the morning and will cook a lot faster.
Make sure the pan is hot. Cooking the beans in oil or lard that isn't hot enough will result in an oily dip. If the oil doesn't sizzle when you add a tsp of beans to the pan, let it heat a little longer.
Variation Ideas
To spice things up, try these variations for the recipe:
Add bacon. Cook some bacon in the same pan as the chorizo. Once crispy, crumble it. Place it back in the pan and mix with the beans or use it as a topping for the dip.
Crumble chicharrón. Crush chicharrón (pork rind) and sprinkle it on top right before serving. It'll add a wonderful crunch and another porky element to the recipe.
Drizzle with Mexican crema. Add some crema or sour cream on top for a little bit of richness.
Make it chunky. Don't blend the beans until they're smooth. Leave them slightly chunky for more of a textural component.
Serve with chicharrón. Instead of using tortilla chips, serve it with large pieces of chicharrón for an extra crunchy and flavorful bite.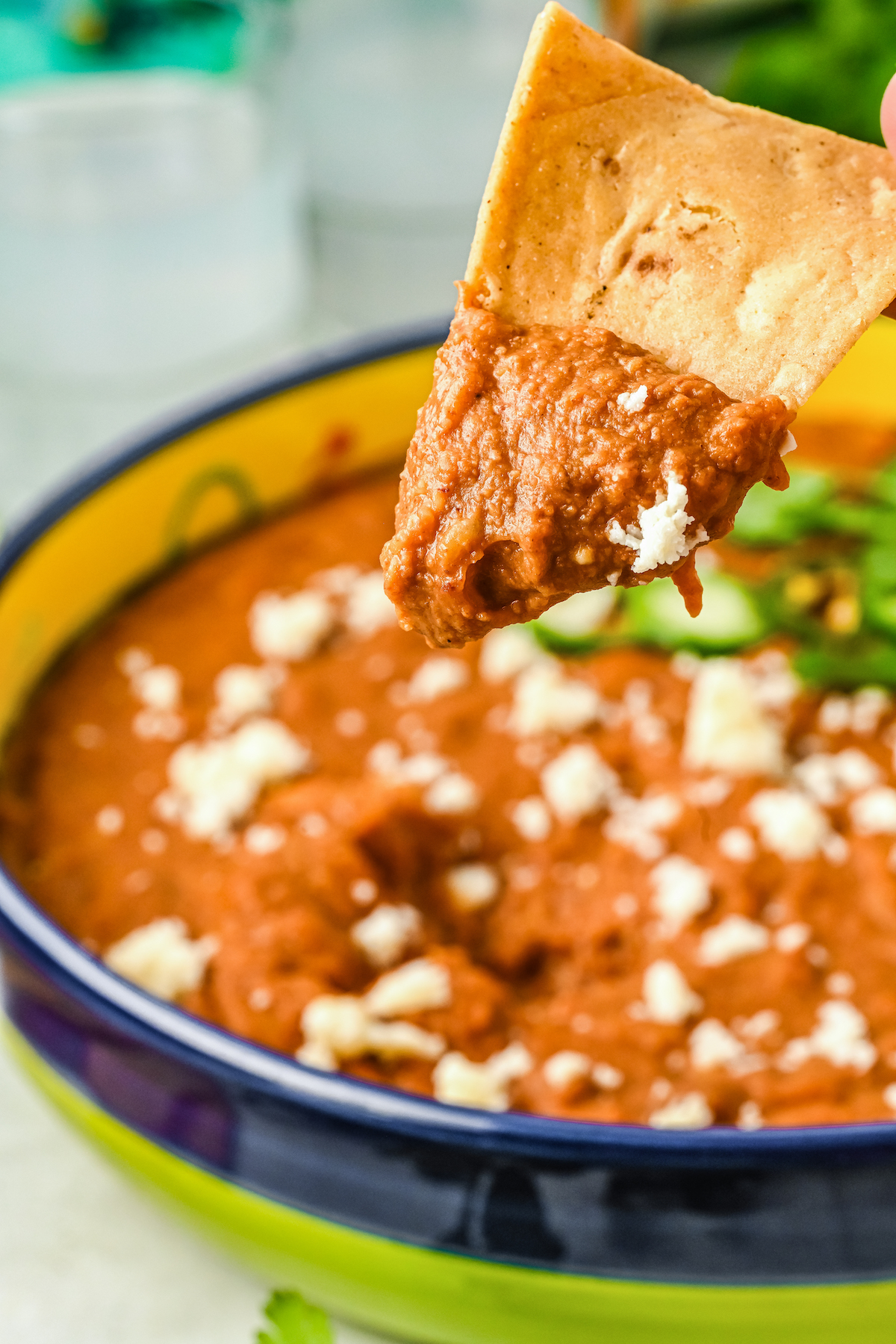 What To Serve with Mexican Bean Dip
Frijoles puercos are served as a side or appetizer along with other mains. My Salsa Verde Chicken Tacos, Mexican Chicken Adobo, and Sheet Pan Chicken Fajitas are hearty dishes you can enjoy with the dip.
However, you can definitely get more creative by incorporating them into your actual meals. Spread some frijoles puercos onto a tortilla and top it with carne asada for the ultimate tacos. You can also spread them over tostadas and top them with shredded lettuce, Mexican crema, and salsa. As for the leftovers, use them to make burritos.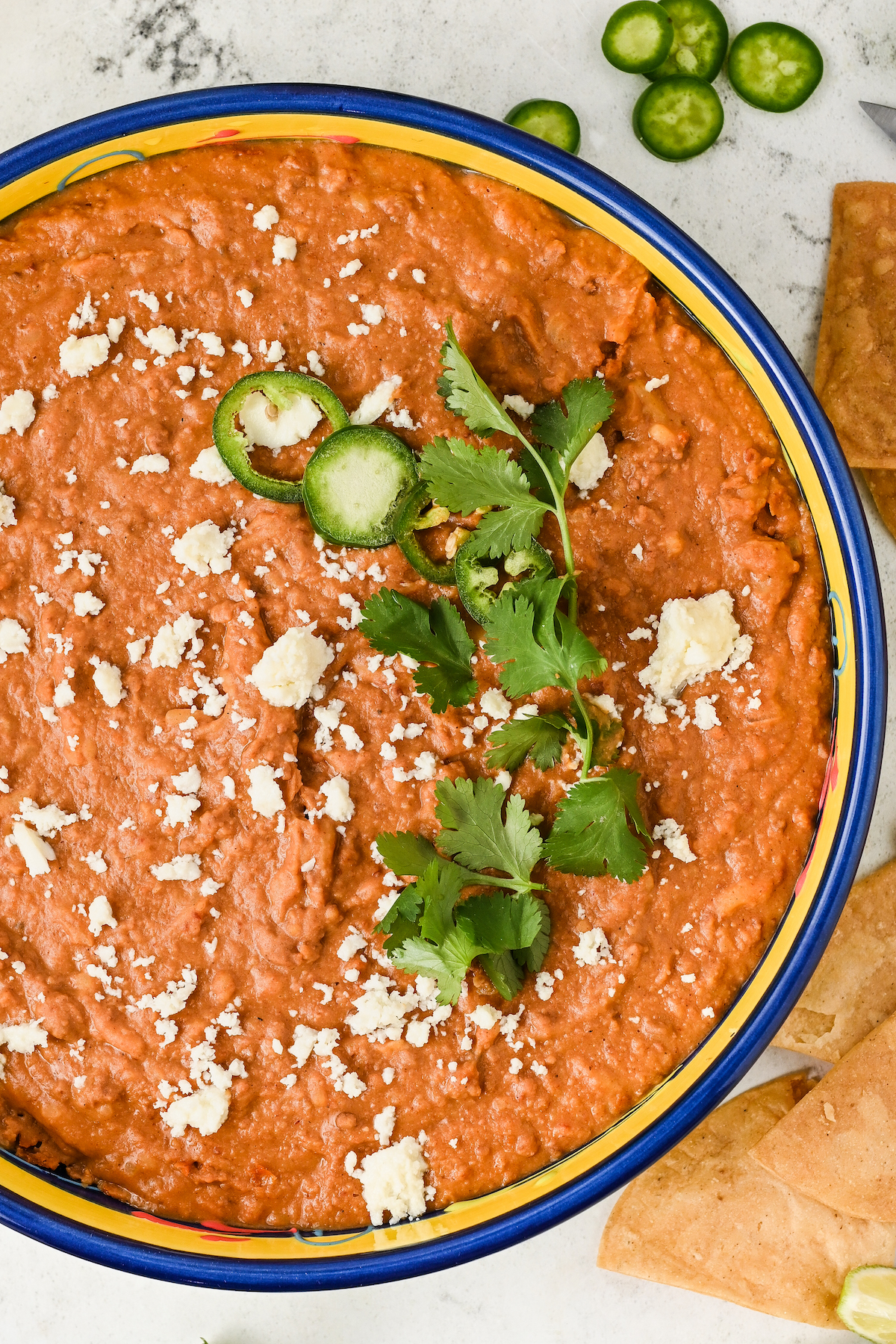 How to Store Leftovers
Refrigerate the leftovers in an airtight container for up to 5 days. To heat them, sprinkle the beans with 1-2 tsp of water and stir briefly to prevent them from drying out. Microwave them for up to a minute or until warm.
You can also freeze frijoles puercos in a freezer-friendly bag or container for up to 3 months. Transfer them to the fridge the night before you're ready to eat them so they thaw.
More Easy Mexican Recipes
Frijoles Puercos (Mexican Bean Dip)
Packed with smoky chorizo and hints of chipotle, frijoles puercos will be your new favorite 20-minute bean dip. It's the ultimate appetizer. 
Ingredients
2

cups

cooked pinto beans

,

drained

⅓

cup

onion

,

diced

2

tablespoons

chipotle sauce

1

teaspoon

minced garlic

1

teaspoon

salt

½

cup

bean broth

,

optional

4.5

ounces

chorizo

1

tablespoon

lard

,

or oil

1

cup

Oaxaca cheese

,

shredded

Tortilla chips

,

for serving
New Group
Optional Toppings:

Avocado

Cilantro

Oaxaca cheese

,

shredded

Queso fresco

,

crumbled

Jalapeño slices
Instructions
Add the pinto beans, onion, chipotle sauce, garlic and salt to a blender and blend until smooth. (If the beans are too thick, add some broth, a little at a time, until they are the consistency you prefer.)

In a large sauté pan, melt the lard and cook the chorizo, breaking apart the meat as it cooks. (You can remove the excess grease or leave it in the pan to fry the beans.)

Pour the bean mixture into the pan and fry for 3 to 4 minutes, stirring often. Stir in the cheese and remove from the heat.

You may wish to top your frijoles puercos with avocado slices, cilantro, extra Oaxaca cheese, crumbled queso fresco or jalapeño slices.

Serve hot with chips!
Notes
Chipotle Sauce: If you can't find Chipotle Sauce, you can use 1-2 chipotles in adobo sauce also work. Don't use chipotle mayo.
Storage: Refrigerate the leftovers in an airtight container for up to 5 days. To heat them, sprinkle the beans with 1-2 tsp of water and stir briefly to prevent them from drying out. Microwave them for up to a minute or until warm.
Nutrition
Serving:
4
,
Calories:
714
kcal
,
Carbohydrates:
40
g
,
Protein:
34
g
,
Fat:
48
g
,
Saturated Fat:
19
g
,
Polyunsaturated Fat:
25
g
,
Trans Fat:
1
g
,
Cholesterol:
91
mg
,
Sodium:
1534
mg
,
Fiber:
13
g
,
Sugar:
4
g
Categories:
This post may contain affiliate links. Read my disclosure policy.