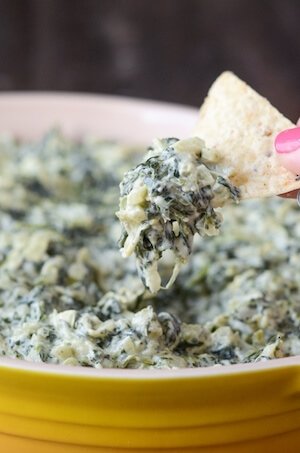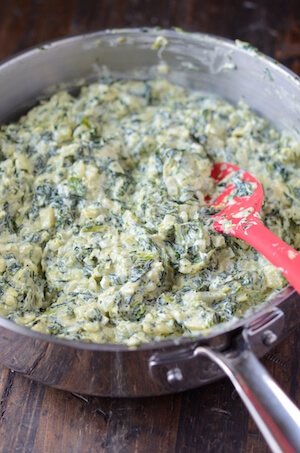 Confession time? I was one of those lame kids that wouldn't eat Spinach. I didn't care how strong it made Popeye, I wasn't touching it with a twenty foot pole. Once I reached high school, spinach leaves were in salads every where — it was the cool thing to do. I always turned my nose up and went for the classic Caesar salad instead. Eventually I found that I actually enjoyed uncooked raw spinach leaves in a salad…but once it was cooked, there was no way I was eating it. Ever.
Fast forward to about 3 years after high school and I finally tried spinach again. I didn't know it was spinach, because it was hidden behind some delicious buttery puff pastry in a Spanakopita. After that, I realized my true love of spinach. I now love it every way except steamed, but my favorite way is in Spinach & Artichoke Dip! It's creamy and cheesy and you eat it with chips. Score!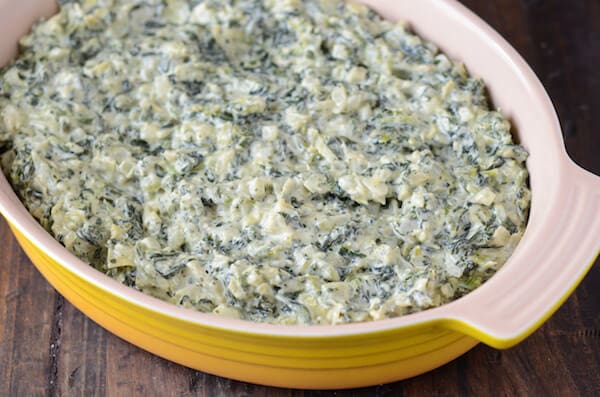 While some people like to buy their Spinach & Artichoke dip already made, I find the flavors to be a whole lot better when made from scratch. And considering this version takes less than 15 minutes — I see no reason not to make your own! I also love that I get triple the amount of dip for the same price, compared to if I were to buy the preprepared version.
If you are into water chestnuts – you can always drain a can and stir them in at the end. However, I am a purist and you will never find them in my Spinach & Artichoke dip. 😉
Yield: serves 8
Stovetop Spinach and Artichoke Dip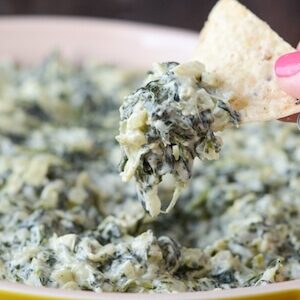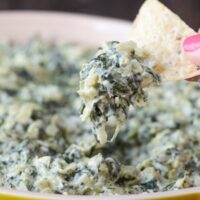 Stovetop Spinach and Artichoke Dip is a classic appetizer/party dip for a reason - it's seriously delicious! If you've got 15 minutes to spare, grab your chips and let's get cooking!
Ingredients
1 tablespoon olive oil
2 garlic cloves, minced
1 large yellow onion, diced
1 (16 oz) bag frozen chopped spinach
1 (13.75 oz) can artichoke hearts
8 oz cream cheese
1/3 cup whole milk
5 oz parmesan cheese, grated
kosher salt and fresh black pepper, to taste
Instructions
In a large skillet over medium heat, warm olive oil. Add garlic and cook for 30 seconds. Add onion, sautéing until translucent – about 7 minutes.
Add spinach and artichoke hearts, cook until spinach is thawed. Add cream cheese and stir until cream cheese is melted and mixture is well combined.
Quickly stir in milk and parmesan cheese and cook for 2 minutes. Season with salt and pepper – to taste. Serve immediately with tortilla chips (or pita chips!).
Notes
Recipe Note: You can cook this ahead of time and then reheat in the oven. However, I find it tastes the best fresh!
Nutrition Information:
Yield:
8
Serving Size:
1
Amount Per Serving:
Calories:

211
Total Fat:

17g
Saturated Fat:

9g
Trans Fat:

0g
Unsaturated Fat:

6g
Cholesterol:

45mg
Sodium:

504mg
Carbohydrates:

8g
Fiber:

1g
Sugar:

2g
Protein:

8g
Want to Save This Recipe?
This post may contain affiliate links. Read my disclosure policy.