Cheesy Turkey Sliders
Cheesy Turkey Sliders: these melted turkey and havarti sliders are covered in a buttery sauce and served warm out of the oven for the ultimate game day treat!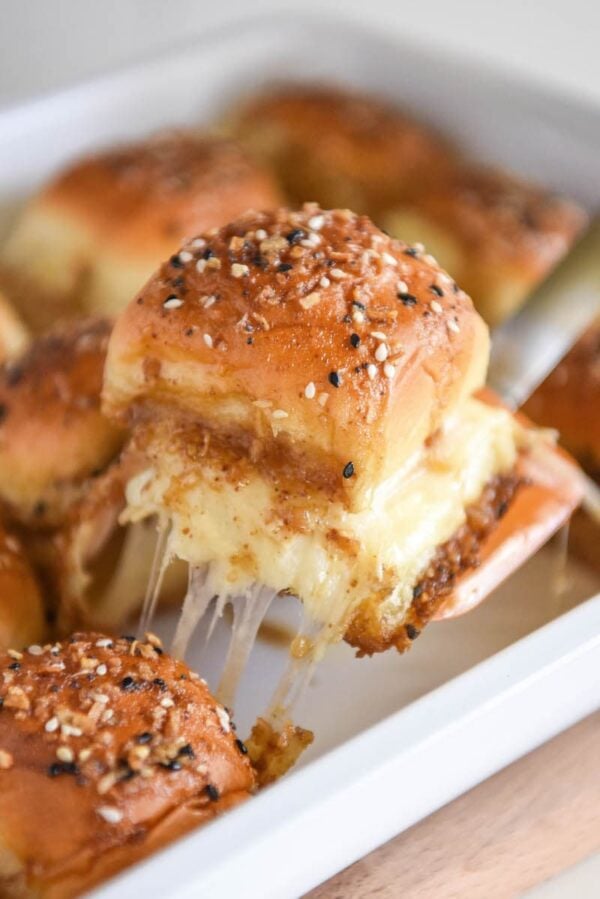 Warm baked cheesy turkey sliders on soft Hawaiian bread. Are you drooling yet? I am.
Anytime I see these type of baked sliders on an appetizer spread at a party I get excited and head straight for them.
I don't care what you put in them, I am taking at least two. Probably three. Ok, maybe four. Don't judge me.
But this combo with Prime Fresh Oven Roasted Turkey Breast and Havarti, just might be my favorite one yet!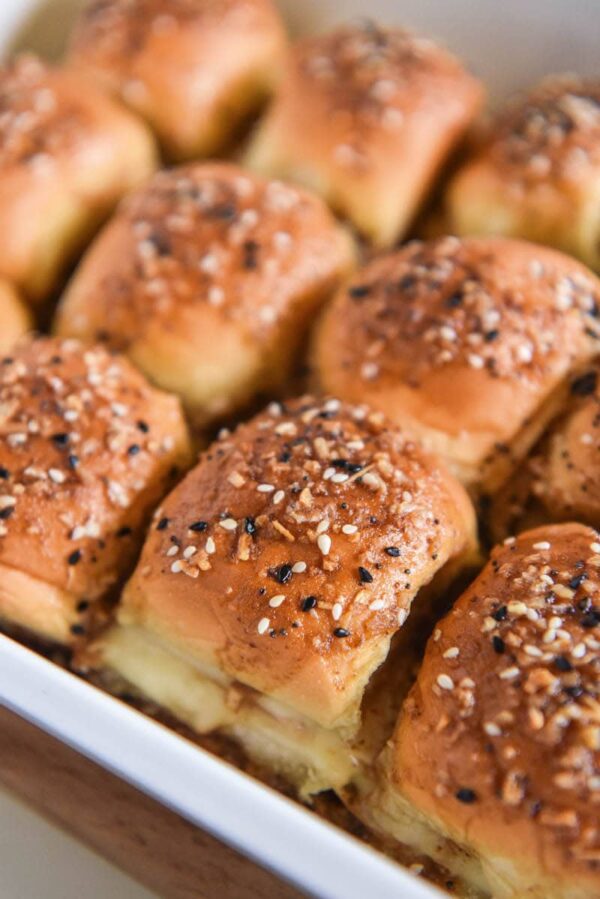 I stuck with the standard butter sauce poured directly over the sandwiches before they headed into the oven.
However, I changed it up a little with how I make it and what I put in it.
This time, I used butter, dijon mustard, worcestershire, salt, dried chopped onion (the kind in the spice aisle) and a little brown sugar.
And instead of heating it all up on the stove, you just microwave the butter and whisk it all together. SO EASY.
AND, as a big flavor bonus, I sprinkled everything bagel seasoning all over the top of the sandwiches before they baked.
And y'all, these Cheesy Turkey Sliders are totally the bomb, they were gone in seconds!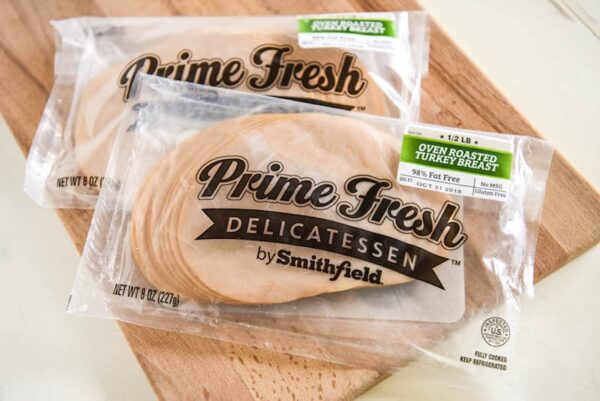 As I mentioned earlier, I used Prime Fresh Oven Roasted Turkey Breast in my Cheesy Turkey Sliders.
If you haven't heard of them yet, Prime Fresh Delicatessen is a new product on the market from Smithfield and we are big fans around my house.
It stays fresher longer than lunch meat "grab n' go" packages and has a transparent film package that allows you to see the premium freshness.
Having the freshest lunch meat, from Prime Fresh, ready to go in my fridge really helps me to make the best sliders possible.
It comes in 6 great varieties and in half pound packages. Bonus: it is also gluten free, has no MSG and is made with whole muscle meats.
Make sure and enter to win the $5,000 Touchdown Tailgate Sweepstakes giveaway from Prime Fresh! Vote for your favorite recipe for a change to win: http://primefreshdeli.com/sweeps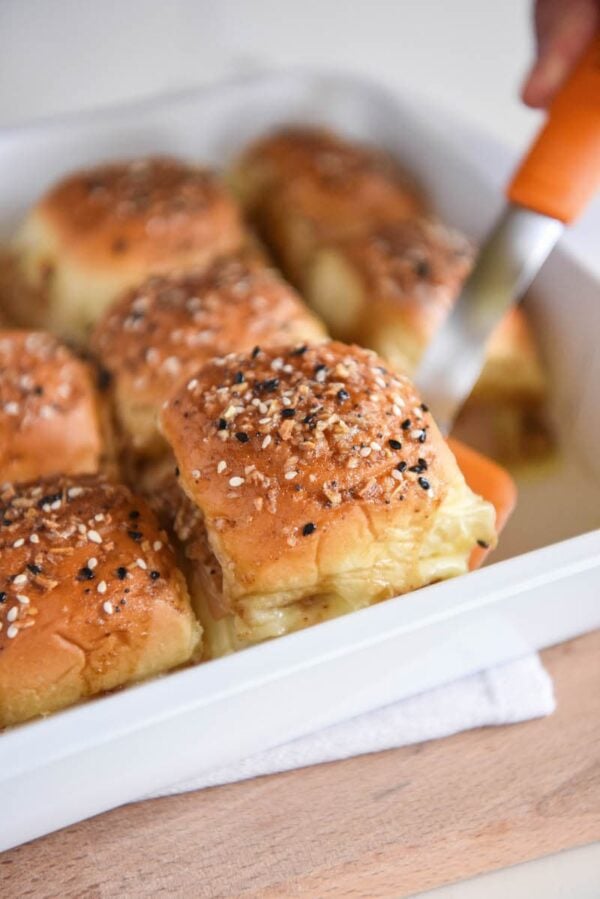 I love Prime Fresh Delicatessen because it makes grocery shopping easier for me.
Here in Florida, we have really long lunch meat waits a lot of the time and I have the twins with me almost every time I am at the store.
So being able to grab and go quickly makes my day a whole lot easier!
I also use their Prime Fresh Honey Ham over the weekend to make my Baked Mustard, Ham and Cheese Sliders and it was divine!
Jorge has been really excited to see Syracuse doing well in the games this year, so we have been eating a lot of game day foods around here!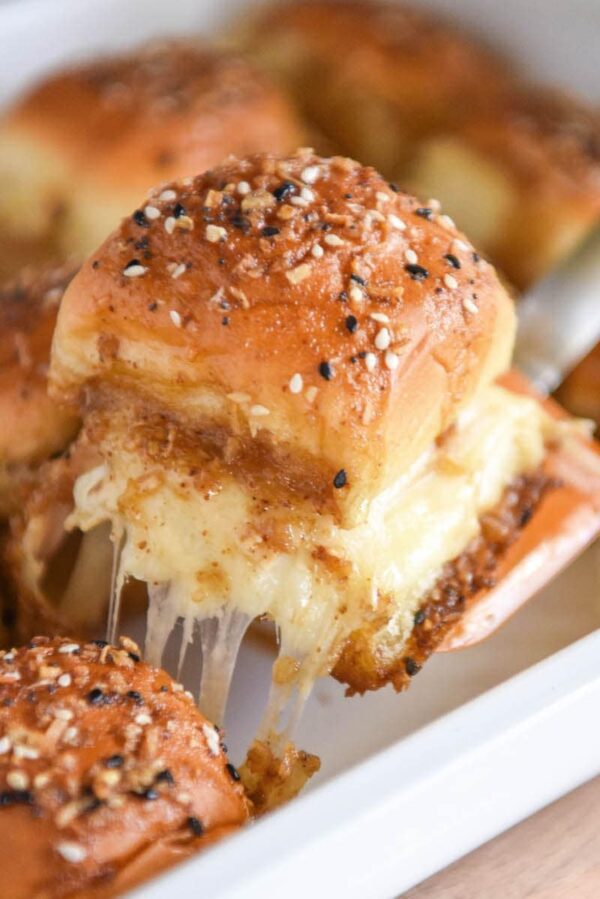 If you aren't a havarti cheese fan, I recommend switching it out for swiss or provolone cheese.
These particular flavors would also work well with sliced honey ham or chicken!
I am really excited for all of you to try these Cheesy Turkey Sliders!
I know they are going to be an instant hit that you will make again and again. They are always the first thing gone at our parties!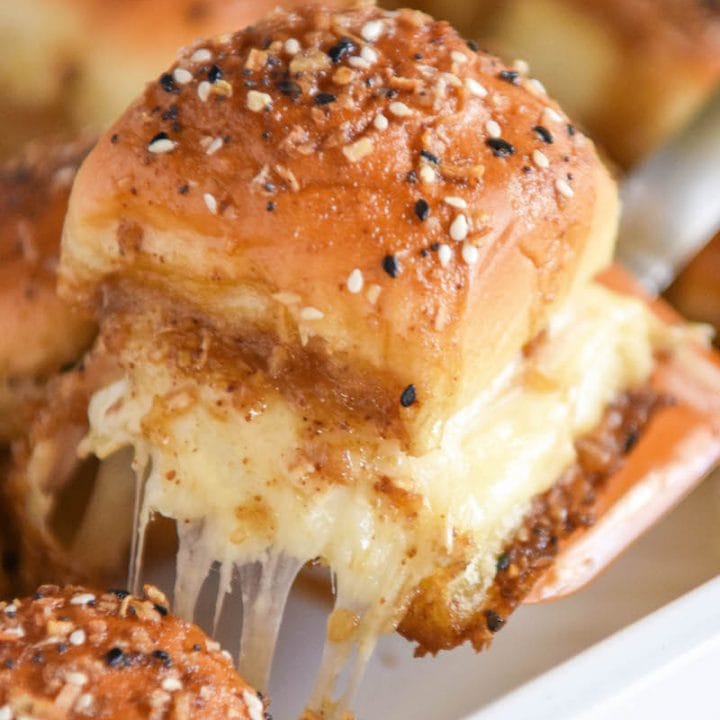 Cheesy Turkey Sliders
Yield: 12 sliders

Prep Time: 10 minutes

Cook Time: 16 minutes

Total Time: 26 minutes

Cheesy Turkey Sliders: these melted turkey and havarti sliders are covered in a buttery sauce and served warm out of the oven for the ultimate game day treat!
Ingredients
1/2 pound Prime Fresh Delicatessen Oven Roasted Turkey
12 Hawaiian original rolls
10 slices of havarti cheese
3/4 cup (1 1/2 stick) unsalted butter
3 tablespoons dijon mustard
1 tablespoon packed brown sugar
2 teaspoons worcestershire sauce
2 teaspoons dried chopped onion
1/2 teaspoon salt
everything bagel seasoning, optional
Instructions
Preheat oven to 350°F. Grease a 9x13 baking dish.
Cut the entire pack of hawaiian rolls in half, horizontally (keeping all top and bottom halves separately in tact). Watch the video at the top of the post to see what I mean.
Place the bottom of the rolls into the prepared baking dish.
Distribute the turkey and cheese evenly over the rolls. I like to do two thin layers of cheese with the turkey in the center. Place the tops on the rolls. Set aside.
In a medium sized microwave safe bowl, melt butter. Whisk in mustard, brown sugar, worcestershire sauce, chopped onion and salt.
Pour sauce evenly over all of the sandwiches. Sprinkle tops with everything bagel seasoning.
Cover with foil and bake for 14 minutes, or until cheese is melted. Uncover and cook for 2 additional minutes. Serve hot.
Nutrition Information:
Yield: 12 sliders Serving Size: 1
Amount Per Serving: Calories: 271Total Fat: 12gSaturated Fat: 6gTrans Fat: 0gUnsaturated Fat: 6gCholesterol: 65mgSodium: 590mgCarbohydrates: 20gFiber: 1gSugar: 2gProtein: 20g

This post is sponsored by Prime Fresh Delicatessen, however all opinions are, as always, 100% my own!