Cheesy Turkey Sliders: these melted turkey and havarti sliders are covered in a buttery sauce and served warm out of the oven for the ultimate game day treat!
If you like these Turkey Sliders, check out the ham version: Baked Ham and Cheese Sliders
Warm baked cheesy turkey sliders on soft Hawaiian bread. Are you drooling yet? I am. Anytime I see these type of baked sliders on an appetizer spread at a party I get excited and head straight for them. I don't care what you put in them, I am taking at least two. Probably three. Ok, maybe four. Don't judge me. They are always the first to go and I don't want to miss out!
This particular combo with turkey breast and havarti cheese, just might be my favorite one yet! These Turkey Sliders are loaded with flavor from the quick homemade sauce we whip together and pour on top. You can prep them ahead for a party and pop them into the oven right before guests arrive. Serve them warm and watch them disappear!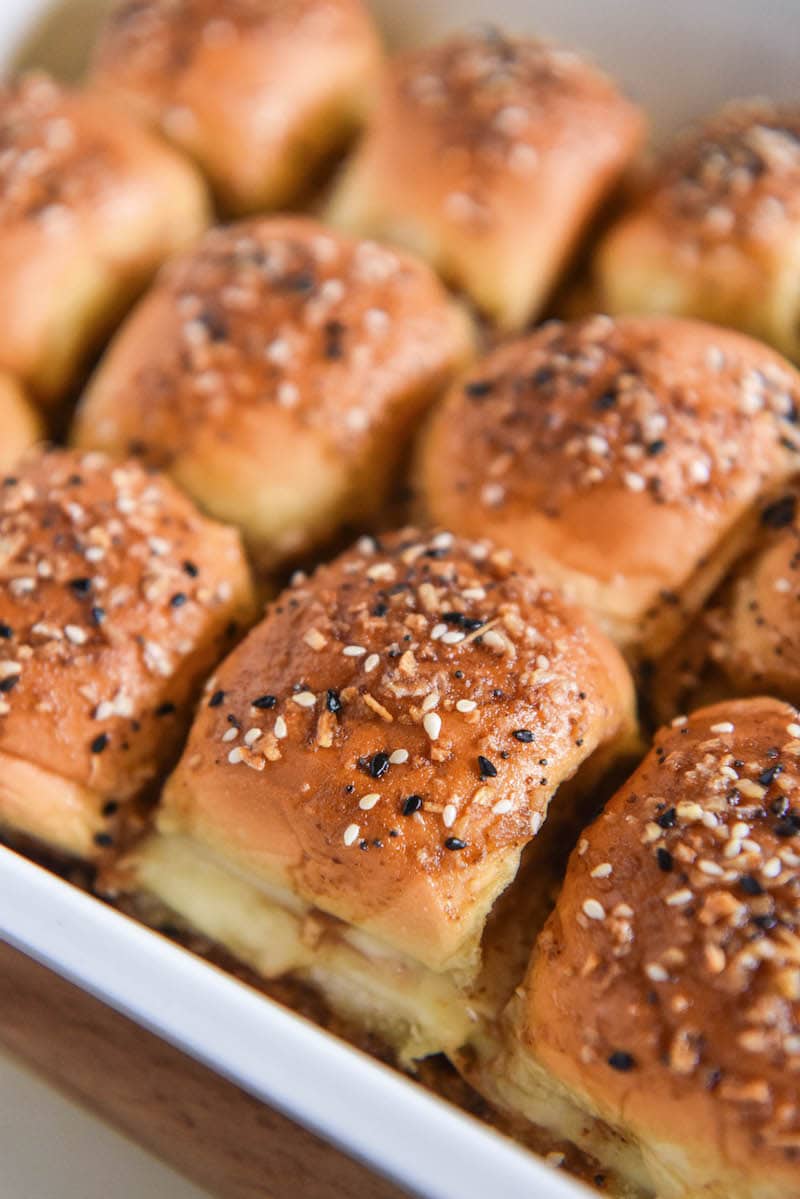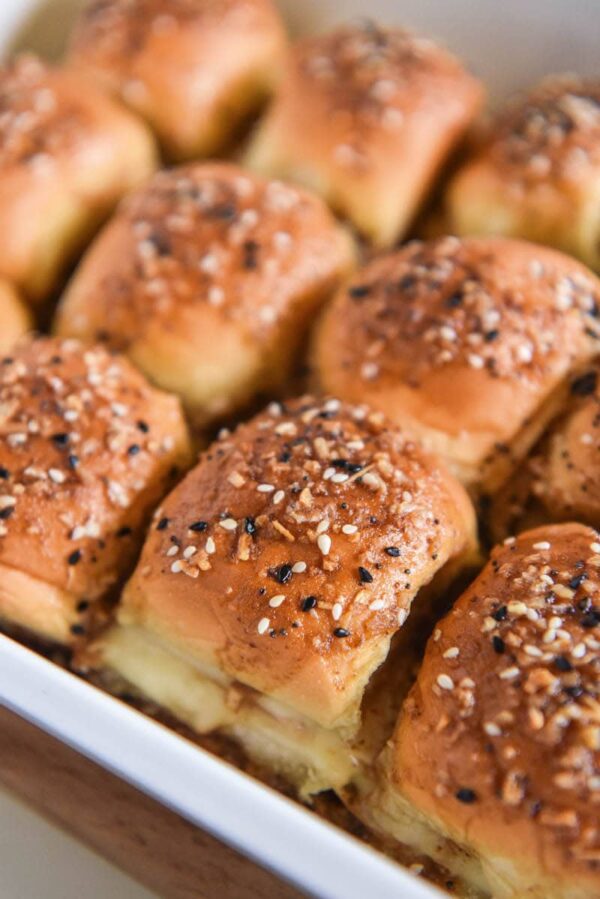 Ingredients for Turkey Sliders
deli sliced roasted turkey
Hawaiian rolls
havarti cheese
unsalted butter
dijon mustard
brown sugar
worcestershire sauce
dried chopped onion
salt
everything bagel seasoning or poppy seeds
For these amazing Turkey Sliders, I stuck with a flavorful butter sauce poured directly over the sandwiches before they headed into the oven. However, I changed it up a little with how I make it and what I put in it. This time, I used butter, dijon mustard, worcestershire, salt, dried chopped onion (the kind in the spice aisle) and a little brown sugar. Then topped them with everything bagel seasoning versus the original poppy seeds.
If you aren't a havarti cheese fan, I recommend switching it out for swiss or provolone cheese. These particular flavors would also work well with sliced honey ham or chicken! The amount of flavor in these Turkey Sliders is insane and it's all due to that glorious easy sauce!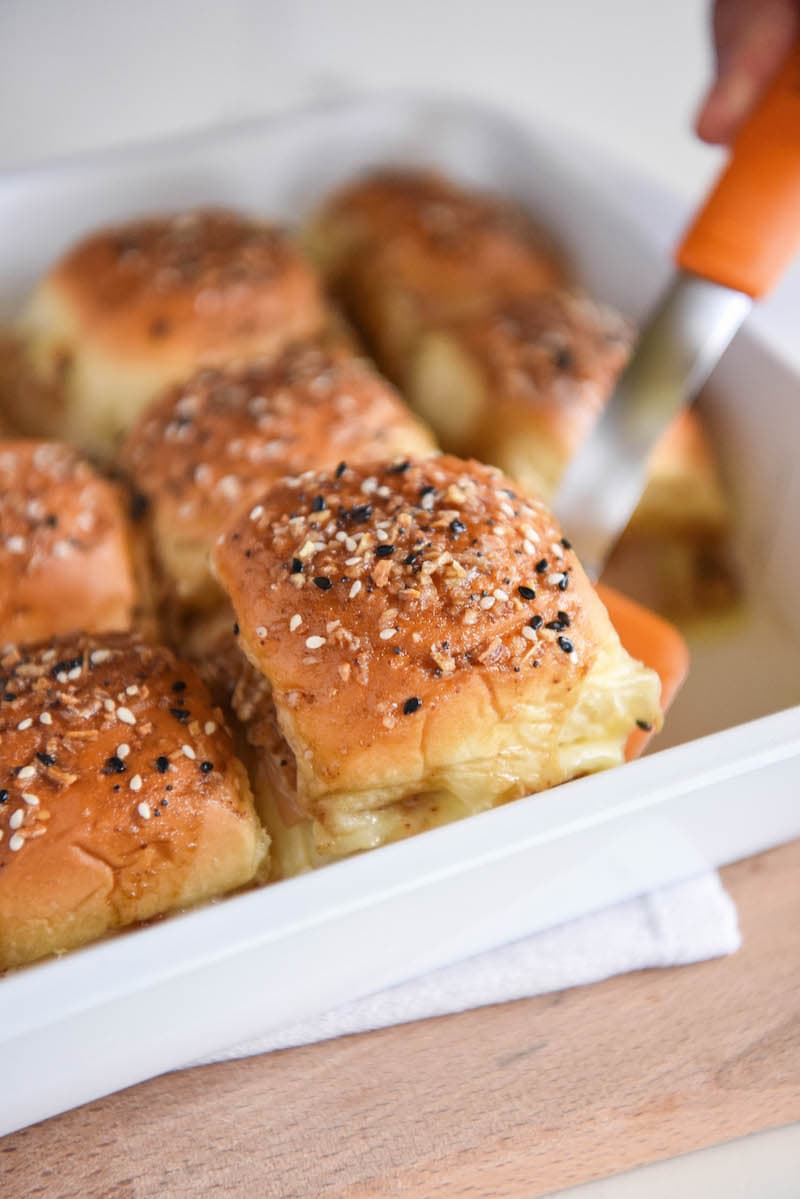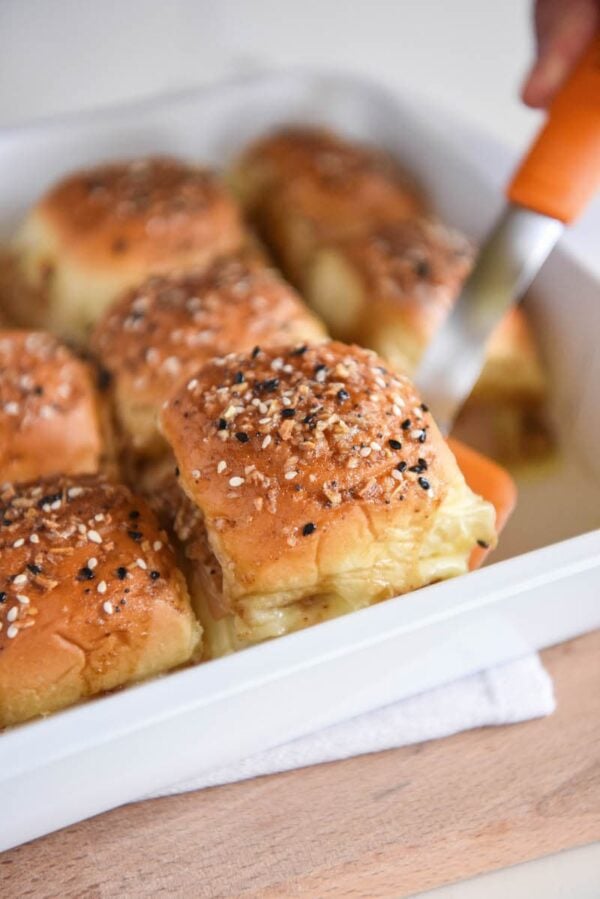 How to make Turkey Sliders
Slice Hawaiian rolls. There are a few ways you can do this, but I recommend slicing the entire package in half (not each individual rolls).
Fill the inside with the cheese and turkey and then using a sharp knife to slice the bread, turkey and cheese into rolls. Watch the video in this post to see how I cut the bread, fill the sliders and cut them into sizes.
Microwave butter and whisk together all the ingredients for the sauce. Pour the sauce on top of the prepared turkey sliders in casserole dish.
Sprinkle the tops of the sliders with everything bagel seasoning (or poppy seeds).
Cover with foil and bake at 350°F for 14 minutes, or until cheese is melted. Uncover and cook for 2 additional minutes. Serve hot!
Can I prep these ahead?
Yes! If I am going to make these ahead for a party, I prep the meat/cheese and bread part, place them in the casserole pan and then wrap them tightly with saran wrap (or foil) so they do not go stale and store them in the fridge. Then I prep the sauce by putting all the sauce ingredients and butter into a microwave safe boil and covering it with saran wrap.
1 hour before my guests arrive, I pull the sliders out of the fridge and let them sit on the counter for 30 minutes. Then I preheat my oven and I microwave the bowl with the butter and sauce ingredients. Pour it on top, sprinkle on my everything bagel seasoning and bake them as directed in the original recipe below!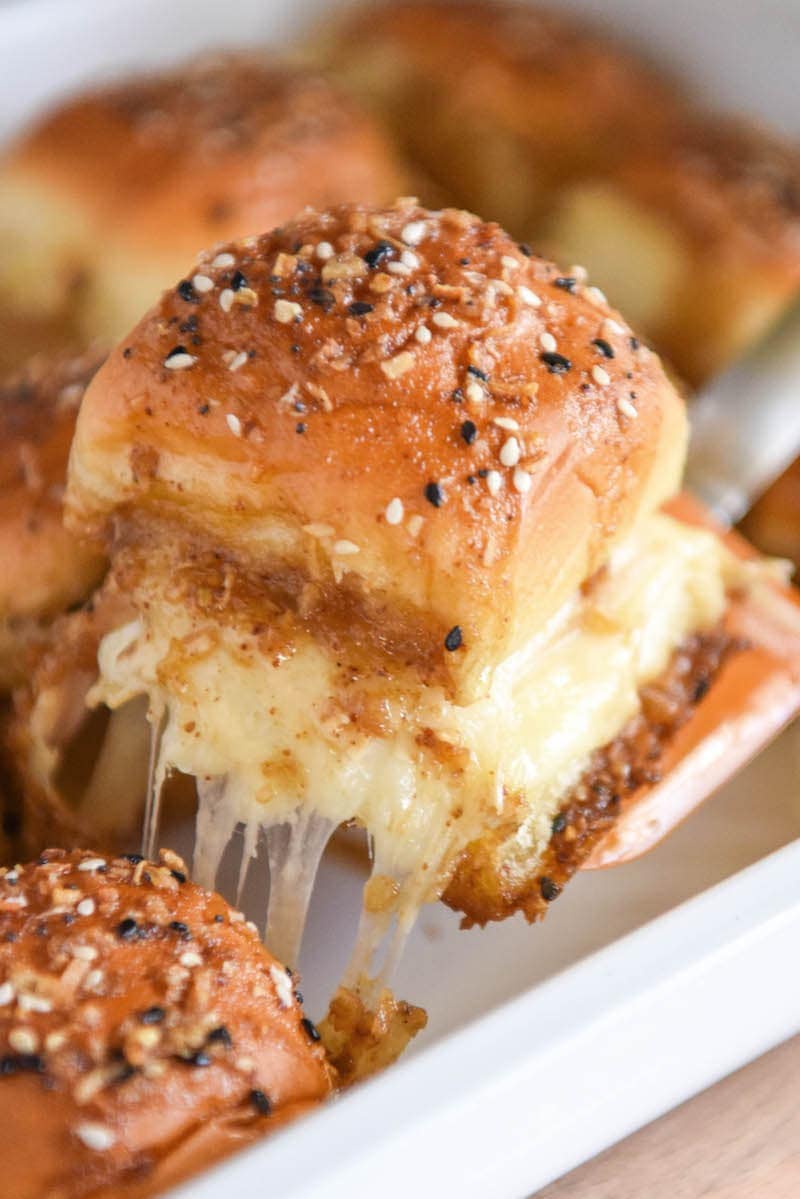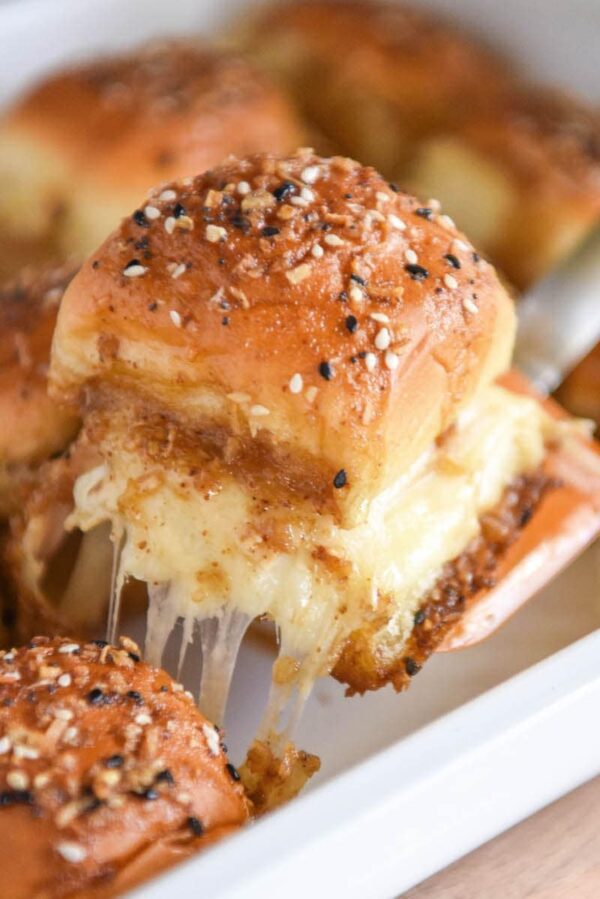 I am not kidding when I tell y'all, these Cheesy Turkey Sliders are incredibly delicious, so easy to make and always one of the first things gone during a party!
I am really excited for all of you to try these Cheesy Turkey Sliders! I know they are going to be an instant hit that you will make again and again. Just try and eat one, I triple dog dare you!
Yield: 12 sliders
Cheesy Turkey Sliders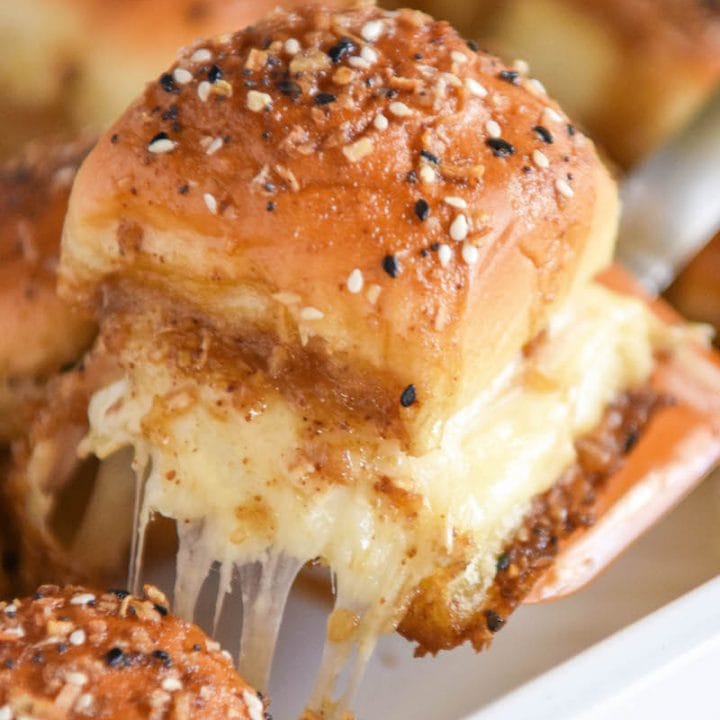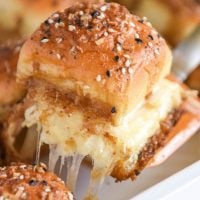 Cheesy Turkey Sliders: these melted turkey and havarti sliders are covered in a buttery sauce and served warm out of the oven for the ultimate game day treat!
Ingredients
1/2 pound deli sliced oven roasted turkey
12 Hawaiian original rolls
10 slices of havarti cheese
3/4 cup (1 1/2 stick) unsalted butter
3 tablespoons dijon mustard
1 tablespoon packed brown sugar
2 teaspoons worcestershire sauce
2 teaspoons dried chopped onion
1/2 teaspoon salt
everything bagel seasoning, optional
Instructions
Preheat oven to 350°F. Grease a 9x13 baking dish.
Cut the entire pack of hawaiian rolls in half, horizontally (keeping all top and bottom halves separately in tact). Watch the video at the top of the post to see what I mean.
Place the bottom of the rolls into the prepared baking dish.
Distribute the turkey and cheese evenly over the rolls. I like to do two thin layers of cheese with the turkey in the center. Place the tops on the rolls. Set aside.
In a medium sized microwave safe bowl, melt butter. Whisk in mustard, brown sugar, worcestershire sauce, chopped onion and salt.
Pour sauce evenly over all of the sandwiches. Sprinkle tops with everything bagel seasoning.
Cover with foil and bake for 14 minutes, or until cheese is melted. Uncover and cook for 2 additional minutes. Serve hot.
Nutrition Information:
Yield:
12 sliders
Serving Size:
1
Amount Per Serving:
Calories:

271
Total Fat:

12g
Saturated Fat:

6g
Trans Fat:

0g
Unsaturated Fat:

6g
Cholesterol:

65mg
Sodium:

590mg
Carbohydrates:

20g
Fiber:

1g
Sugar:

2g
Protein:

20g
Categories
This post may contain affiliate links. Read my disclosure policy.