Calling all pickle lovers! Crisp dill pickles are the star of this refreshing Dill Pickle Pasta Salad, loaded with bacon, cheese, and homemade dressing. Perfect for barbecues, summer parties or anytime!
Creamy, Crunchy Dill Pickle Pasta Salad
If you love pickles, you are going to adore this festive take on classic pasta salad. It's got a creamy, mayonnaise-based dressing, plenty of tender pasta, and chunks of Colby Jack cheese. To go with all of that, real dill pickles are cut small and sprinkled throughout, creating that perfect cheese and pickle combo against the backdrop of smooth dressing and mild elbow pasta. To top things off, crunchy bacon bits are mixed in, adding the perfect hint of smoky, salty goodness. Yum! This easy pasta salad is super-simple, but big on taste.
This is one of those recipes that's just right for Fourth of July, Memorial Day, or any summer occasion when you want a cold pasta salad that's both rich and tangy. It goes beautifully with sweet barbecue, fried chicken, and other warm-weather favorites. Plus, it's low-hassle – prep and cooking are both quick and easy.
If you are a pickle lover like me, make sure to also check out my Dill Pickle Chicken recipe!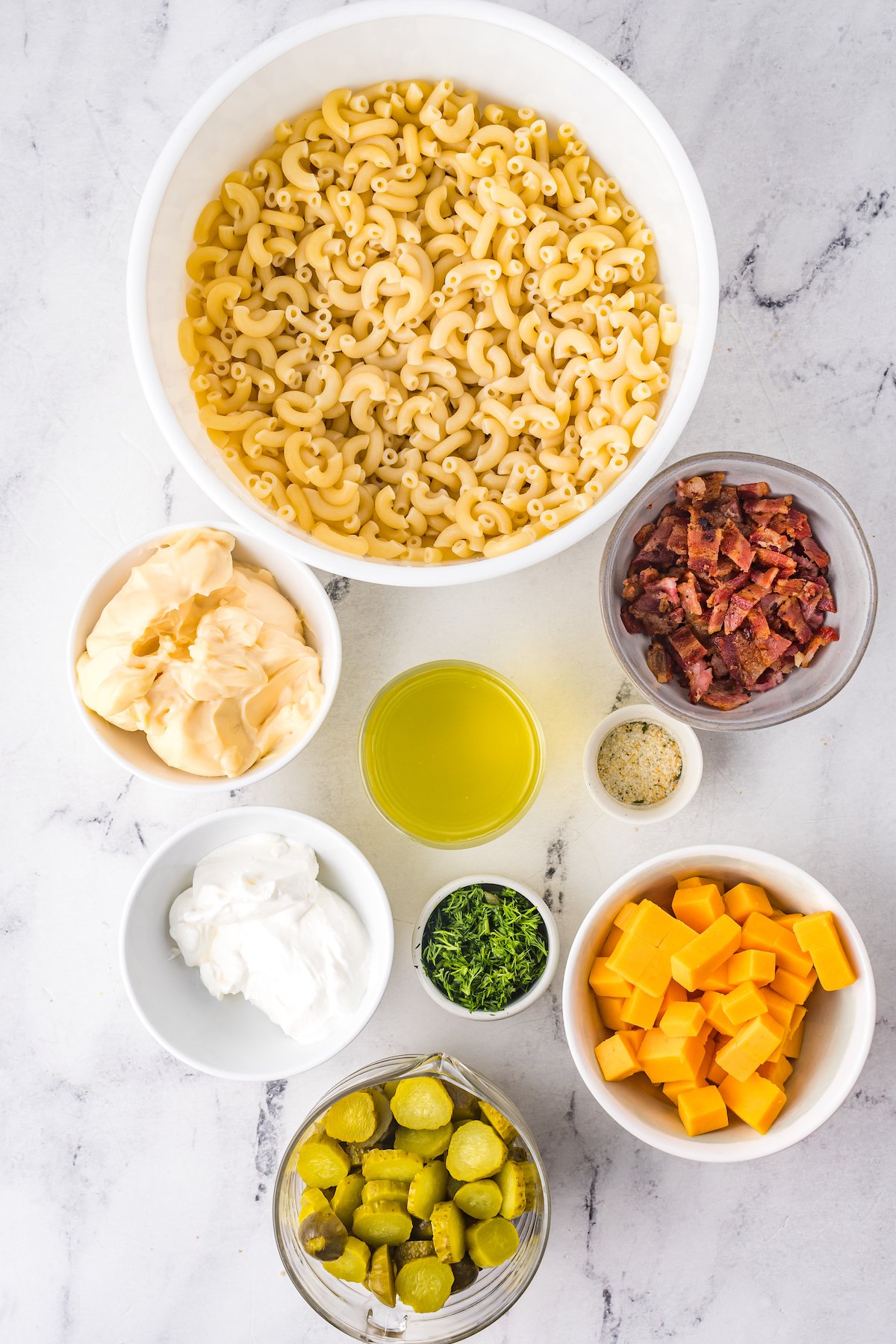 What You'll Need
Let's take a closer look at the ingredients needed for making dill pickle pasta salad. Unlike other pasta salads with a long list of ingredients to chop, this one only requires a few basic items, many of which you probably already have!
Pasta: I like using elbow pasta here, but you can use any small shape that you like. Cook it until it's just al dente (about 30 seconds less than the lowest recommended cooking time is perfect).
Pickles: Cut up the dill pickles. I like to use sliced baby dills. But you can use regular dill pickles if you cut them a little smaller, into half-moons or quarters. And if you are feeling extra fancy, you can also use your own homemade pickles!
Cheese: What could be a better combo than cheese and pickles? In this case, Colby Jack is a mild but sturdy cheese that stands up well to sour pickles. Cheddar would also be great.
Mayonnaise: A cup of your favorite mayo is the base of the creamy dressing.
Sour Cream: Greek yogurt would also work – I recommend full-fat for a robust, creamy taste.
Garlic Powder: Just a smidge.
Pickle Juice: Instead of vinegar or lemon juice, some of the brine from the jar of pickles thins and flavors the dressing.
Dill Weed: Fresh chopped dill is ideal, but dried dill will work, also.
Bacon: Cooked and crumbled. Here is my favorite way to cook bacon in the oven.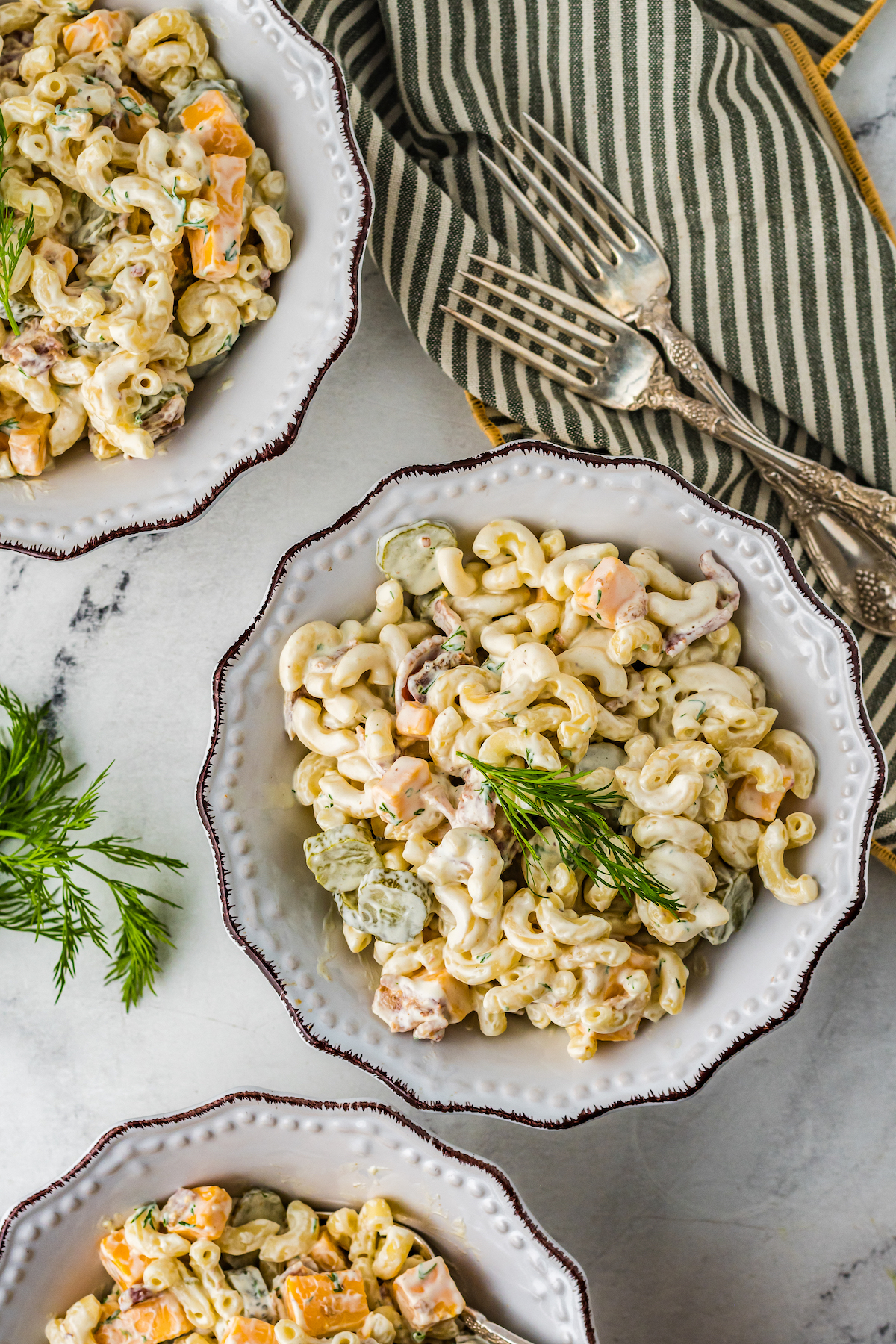 Do Kosher Dill Pickles Taste Different Than Regular Dill Pickles?
If you try a kosher dill pickle and then try a "regular" dill pickle, you may not be able to tell much difference. This is because these terms can mean very similar things, and sometimes virtually the same thing! Kosher usually refers to food that is prepared following Jewish dietary laws, but Kosher dills have become so popular that many pickles are given that name, even if they are not technically approved for kosher tables.
A kosher dill pickle usually tastes salty, fresh, and garlicky. It should also have a good strong dill flavor, of course. Regular dill pickles may be more sour than kosher dills, and may not have garlic. Either way, they're almost identical, and in some cases, they are identical. So if you're torn between using kosher dills or regular dills, either one will work.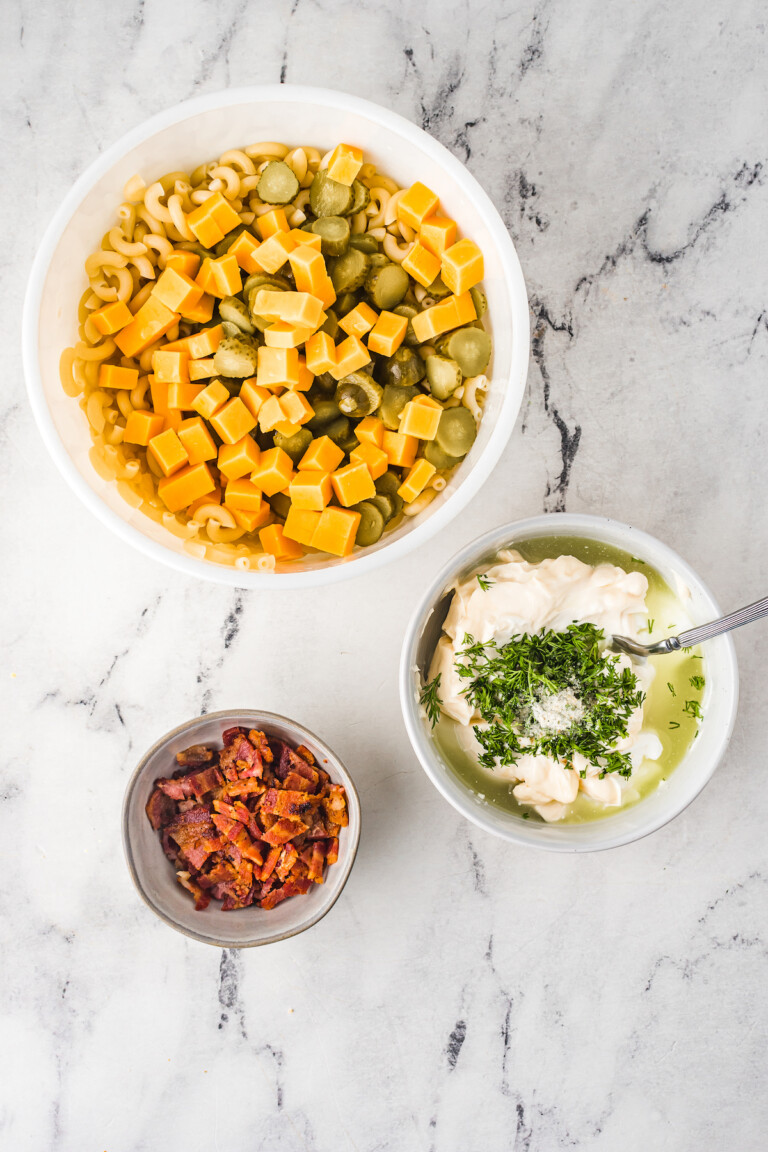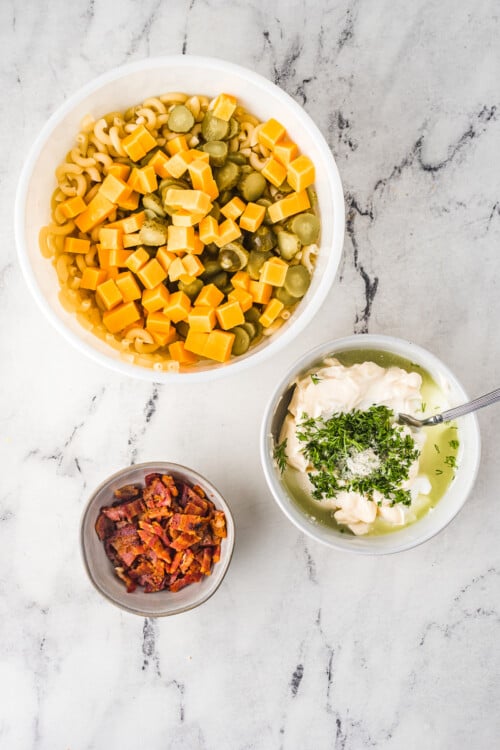 Let's Make Pasta Salad!
Making this dish is as easy as one, two, three – but don't skip the rinsing step! Rinsing the pasta is normally a no-no, but in this dish it is crucial in order to cool the pasta down. No melted cheese here – just cold, crisp, yumminess.
Cook and Rinse the Elbow Pasta. To begin, cook the pasta according to the package directions, but don't cook the pasta until it's fully softened. Instead, undercook it by about 30 seconds so that it's still al dente. Drain, and run under cold water to cool.
Add the Pickles and Cheese. Next, fold the sliced pickles and cubed cheese into the cooked, cooled pasta. You don't have to stir it very much, because you'll also be folding in the dressing.
Add the Dressing and Bacon. Make the dressing in a separate bowl by combining the mayonnaise, sour cream, garlic powder, pickle juice, and chopped dill. Pour this over the pasta mixture, and fold to combine. Finally, fold in the bacon.
Enjoy! Serve immediately, or cover and refrigerate until you're ready to serve.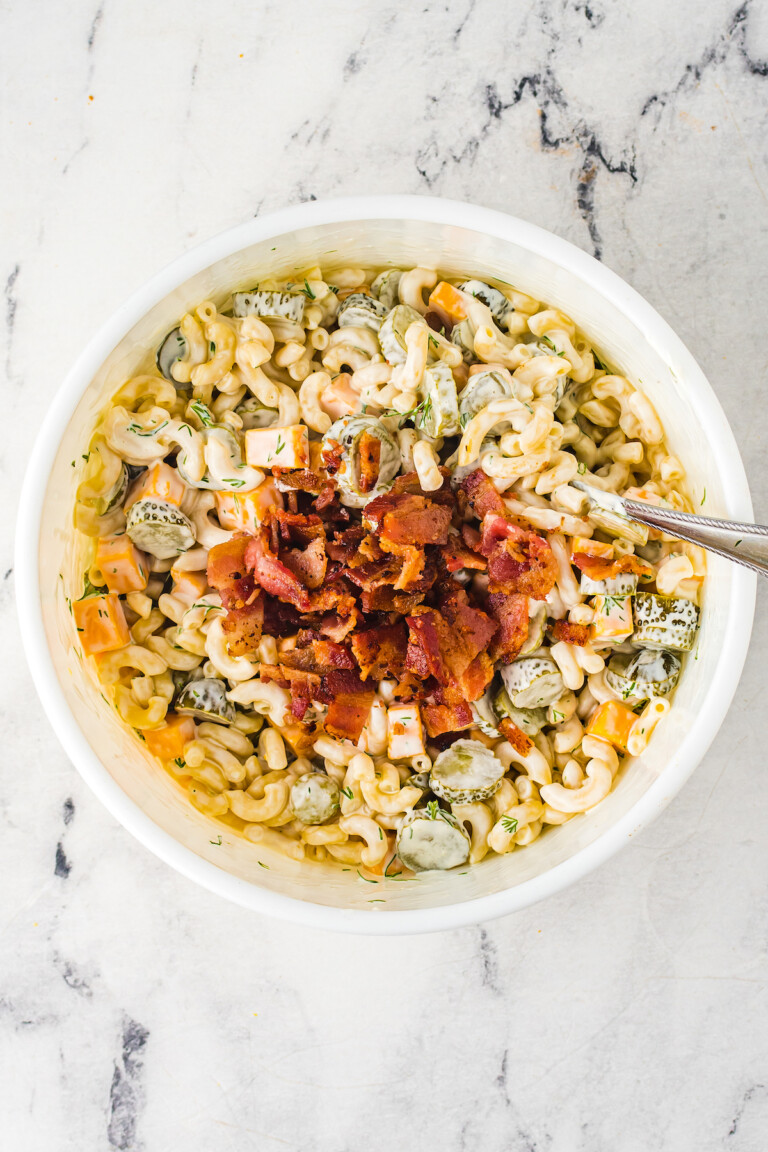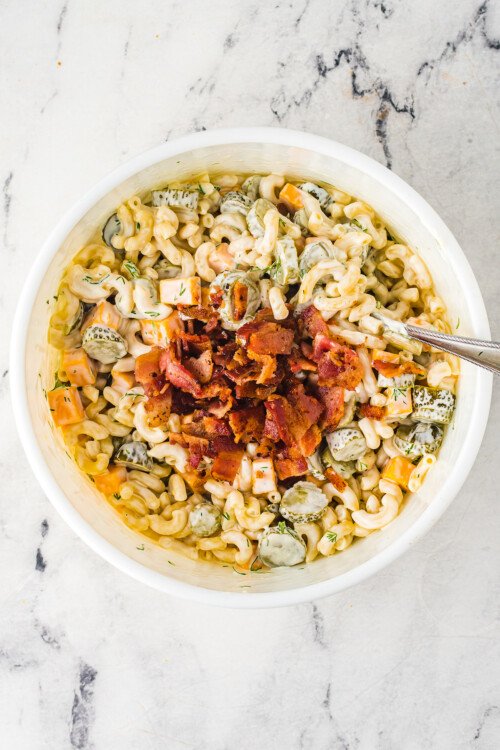 How Do You Keep Pasta Salad Moist?
The best way to keep a pasta salad moist is to serve it quickly, before the pasta has time to absorb the dressing too much. You can also try tossing the pasta with a small amount of olive oil (or another neutral oil) before adding the dressing.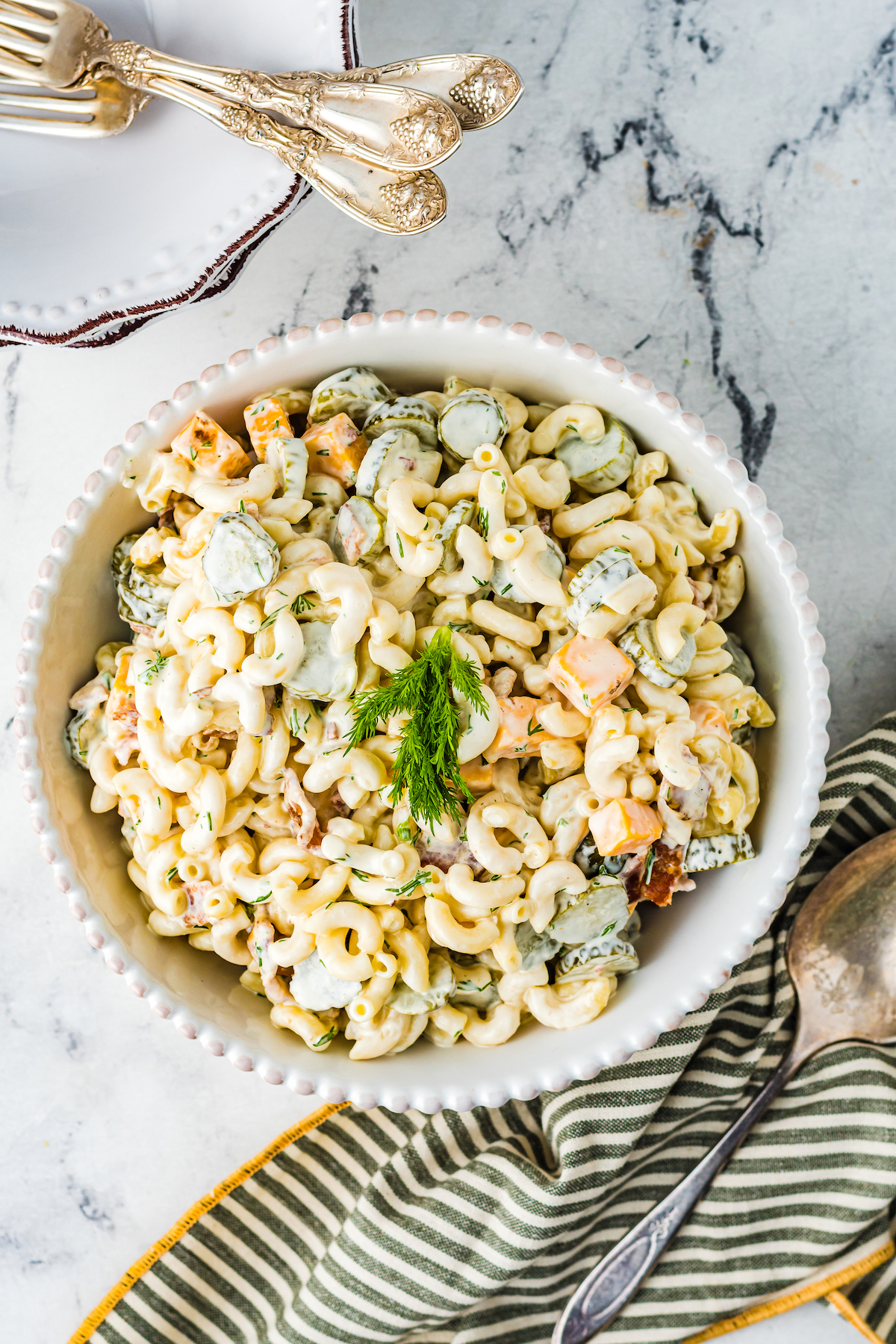 Tips and Hacks
Just writing about this recipe, I can practically taste it! The combination of perfectly-cooked pasta with cold dressing, pickles, and cheese is mouthwatering, and I guarantee that if you try it you will make it again and again. These helpful tips and variations just add to the yuminess!
For Flavorful Pasta: If you want to ensure that the pasta itself has a pleasant flavor and isn't too bland, try adding salt to the pasta water. However, the dressing and other ingredients are quite salty in this dish, so feel free to skip this step.
To Add Heat: Add cayenne pepper to taste for a little spicy kick. You could also try crushed red pepper flakes. Remember to start small – you can always add more!
If the Dish Is Dry: If you realize that the pasta salad is a little dry before serving, stir in some extra pickle juice, sour cream, or mayonnaise, and give it a quick stir.
To Add Protein: This dish is perfect for stirring in chopped pepperoni, ham, or even hard-boiled eggs for extra protein. Yum!
For More Veggies: If pasta salad isn't pasta salad without veggies, I suggest adding chopped celery, bell peppers, and even onions – whatever you love.
Yummy Serving Suggestions
To serve, just put your bowl of pasta salad right alongside your favorite main course. Potluck-style favorites are just right here, from chicken to ribs. For inspiration, check out these easy recipes:
Chicken: Moist and juicy inside, crunchy and well-seasoned outside, this Chicken Fried Chicken is a satisfying, hearty main course. It goes beautifully with this tangy pasta salad, and adds a filling, savory contrast.
Pulled Pork: Anything barbecue is just right to serve with pasta salad, right? And when it's this Pulled Pork Stuffed Sweet Potato, you're adding tons of nutrition. Who could resist a sweet and buttery sweet potato, filled with barbecue-drenched shredded pork?
Lunchmeat Roll Ups: Dill pickle pasta salad makes a great light lunch when you add a turkey or ham roll up, and it's so easy to do. Try Cuban Ham Roll Ups – you'll crave their fresh, savory flavor.
Storage Instructions
Leftover pasta salad should be stored in the refrigerator, tightly covered or in food storage bags. It will keep for around five days.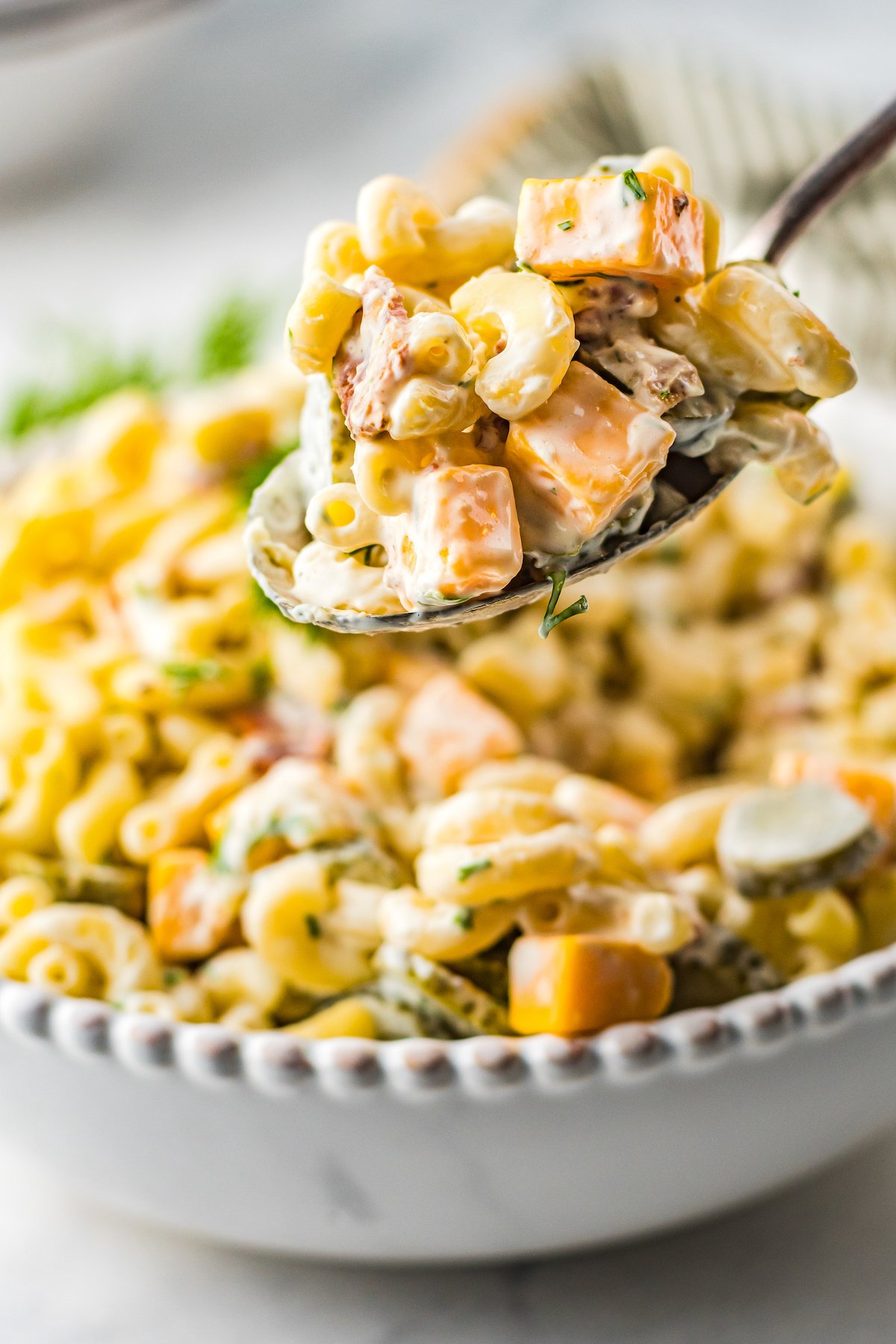 Can You Freeze Dill Pickle Pasta Salad?
Technically, yes – you can freeze the pasta and bacon, at least. Dressing ingredients, cheese, and pickles should be prepared fresh and mixed in just before serving.
Overall, I think it's easiest to make this fresh, but if you'd like to save a step, it may be worth it to prep and freeze the bacon ahead of time.
Dill Pickle Pasta Salad
Crisp, sour dill pickles are the star of this refreshing Dill Pickle Pasta Salad, loaded with bacon, cheese, and homemade dressing. Perfect for barbecues, or anytime!
Ingredients
8

ounces

elbow pasta

,

cooked al dente

2

cups

sliced dill pickles

8

ounces

cubed Colby Jack cheese

1

cup

mayonnaise

½

cup

sour cream

¼

teaspoon

garlic powder

½

cup

pickle juice

4

tablespoons

chopped fresh dill weed

4

slices

cooked bacon,

crumbled
Instructions
Cook the pasta according to the package directions, but undercook by 30 seconds. Drain, and run under cold water to cool.

Add the pickles and cheese to the cooked, cooled pasta.

In a small bowl, combine the mayonnaise, sour cream, garlic powder, pickle juice, and dill.

Pour the dressing over the pasta mixture and gently fold to combine. Mix in the crumbled bacon.

Serve immediately, or refrigerate until ready to serve.
Notes
This pasta salad is best served within a few hours, or the pasta will soak up all of the sauce and the dish will be dry. If too much sauce is soaked up when you are ready to serve it, add a little extra pickle juice, sour cream, and or mayonnaise, and stir.
Undercooking the pasta will help ensure that the pasta doesn't turn out mushy after adding the dressing and refrigerating.
Nutrition
Serving:
1
,
Calories:
438
kcal
,
Carbohydrates:
19
g
,
Protein:
12
g
,
Fat:
35
g
,
Saturated Fat:
11
g
,
Polyunsaturated Fat:
22
g
,
Cholesterol:
52
mg
,
Sodium:
1187
mg
,
Fiber:
1
g
,
Sugar:
4
g
Categories:
More Easy Pasta Salad Recipes
It's potluck season and you can't have a potluck party without a good pasta salad recipe! Here are a few more of my favorites:
This post may contain affiliate links. Read my disclosure policy.