Texas Cheese Fries
I woke up today with all these good intentions. Sure, I ate pounds of buttery grits and pancakes bigger than my head this weekend in Charleston. But today is Monday — the start of a new week — and I was determined to make it a week of smart choices. I had a green smoothie (which was actually brown again because I used too many raspberries and strawberries) and even added a scoop of flax seed. I ran my errands, answered emails and then hit up the gym.
I'm watching season two of One Tree Hill on my iPhone (thank god for Netflix – it makes the gym bearable) and climbing imaginary hills on the elliptical, when this red headed chick climbs on next to me. She is talking to her friend next to her and for every 5 minutes they go, they discuss something that they won't be eating this week. No seriously, that is how they were passing the time at the gym.
Red Head: I am working my ass off here instead of eating that pint of caramel pecan ice cream with an extra drizzle of caramel on top that I was dreaming about last night.
Red Head's Friend: I am enjoying sweating instead of eating those Texas Cheese Fries from Blue Moon. And while they are cheese-y and bacon-y, this is so much better.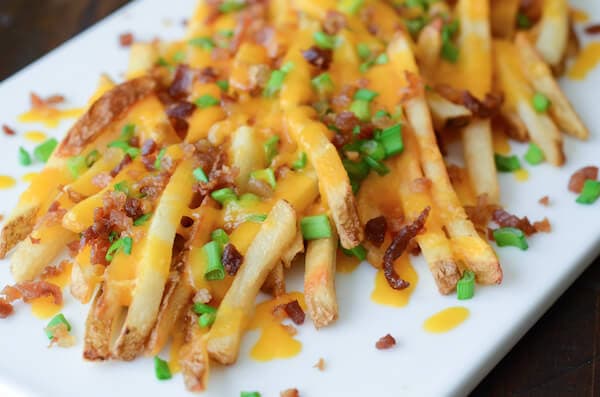 I don't know who lied to them, but sweating and working out is not better than Ice Cream or Cheese Fries. It's just not. Sure it's better for you, but let's not lie and pretend like you are enjoying working out more than eating those items. If that were true, this blog wouldn't be very successful.
Eventually my 30 minutes was up and I left. I came home and pulled out the bag of Alexia frozen fries (personally I like theirs the best!) I keep in the freezer and made my easy version of Texas Cheese Fries. I didn't add sour cream and I went easy on the bacon and cheese…but they were still so good and totally hit the spot.
Also, I officially hate those two girls at the gym and will be avoiding them at all costs from now on. I did have a salad for dinner, so that cancels out the fries, bacon and cheese…right? 🙂
Texas Cheese Fries
Recipe Note: Some people like to dip these in Sour Cream (or they toss some sour cream on top). As much as I love Sour Cream, I was trying to save a few calories. 😉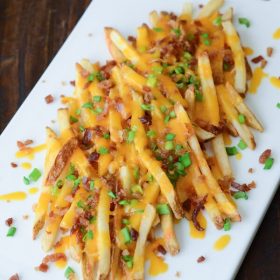 Ingredients:
1 bag frozen thin fries
2 cups shredded sharp cheddar cheese
4 pieces cooked thick cut bacon, crumbled
green onions, minced
fresh ground black pepper, to taste
Directions:
Bake fries according to directions.
Remove fries from oven once crispy. Turn the oven to broil and move one of the oven racks to the top. Top fries with cheddar cheese, bacon, green onions and pepper.
Return to oven and let cheese melt. Watch closely, this will happen in a minute or two.
Remove from oven and serve immediately!