Texas Cheese Fries are your favorite crispy seasoned fries, but loaded with melted cheese, bacon, jalapeños, and green onions. A dollop of sour cream puts them right over the top!
The Best Loaded Texas Cheese Fries!
Game day eats, comfort food or party appetizers…I don't care what you call them, those are all my favorite foods! And these easy Texas cheese fries are the ultimate in addictively delicious, hot and cheesy snacks.
If you're familiar with chili cheese fries, these are not quite the same – although they go great with chili! This version of cheese fries features a boatload of cheese, bacon, green onion and jalapeño. Each bite is totally addictive! You are guaranteed to fall in love with this beloved appetizer, especially when you see how simple it is to make.
Watch How To Make It
Want to see how to make these Texas Cheese Fries from start to finish? Here's a step-by-step video:
These Homemade Fries Are…
Melty and Cheesy: Everyone loves a hot, cheesy appetizer, and this is one of the best!
Easy to Make: It doesn't get easier than baking frozen fries and piling on your favorite toppings.
Zesty and Flavorful: Green onions and crumbled bacon make this dish a flavor-blasted classic!
Spicy, or Not: I love adding some jalapeños for a little heat, but you could easily leave them out or substitute some finely chopped bell pepper instead.
Versatile: Add or subtract any toppings that look good to you! I have a bunch of fun suggestions below on ways to change up these fries, including adding protein to make them filling enough for a meal.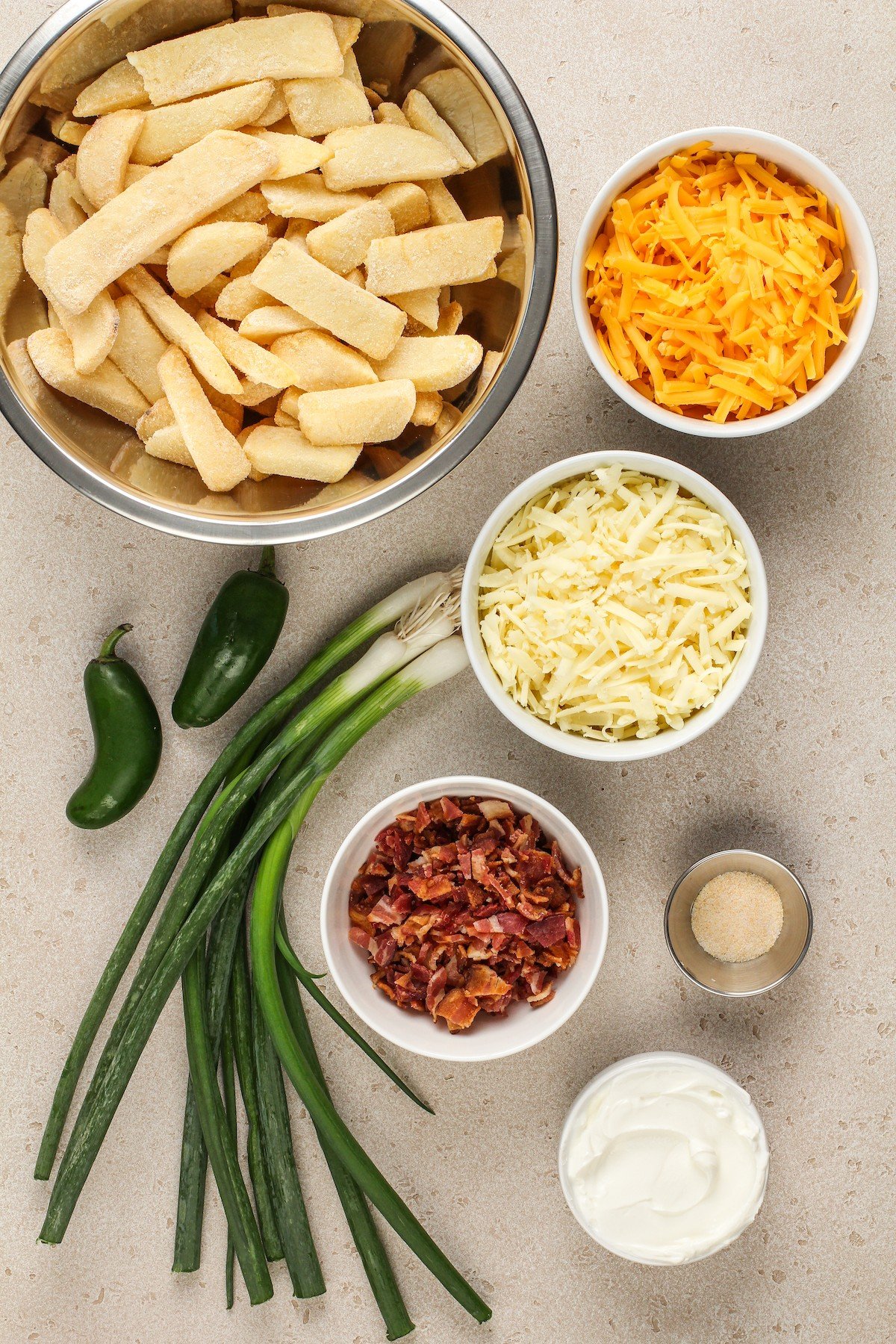 What You'll Need
So what will you need to make this mouthwatering appetizer? Turns out, not a whole lot! I love making this dish because it seems so special and indulgent, but it's actually really easy. Here's the ingredients list:
Frozen French Fries: I like steak fries, but you can see the "What Kind of Fries Should I Use?" section below for more on that.
Seasoned Salt: Such as Lawry's Seasoned Salt.
Cheese: Half of the cheese should be sharp cheddar cheese, but the other half can be almost any melting cheese: Monterey Jack, mozzarella, colby, pepper Jack… you name it.
Bacon: Cooked and crumbled, learn How To Cook Bacon In The Oven.
Green Onions: Thinly sliced.
Jalapeños: These are optional, but so tasty! You could also use pickled jalapeños for milder heat.
Sour Cream: Also optional, but really good for dipping or drizzling.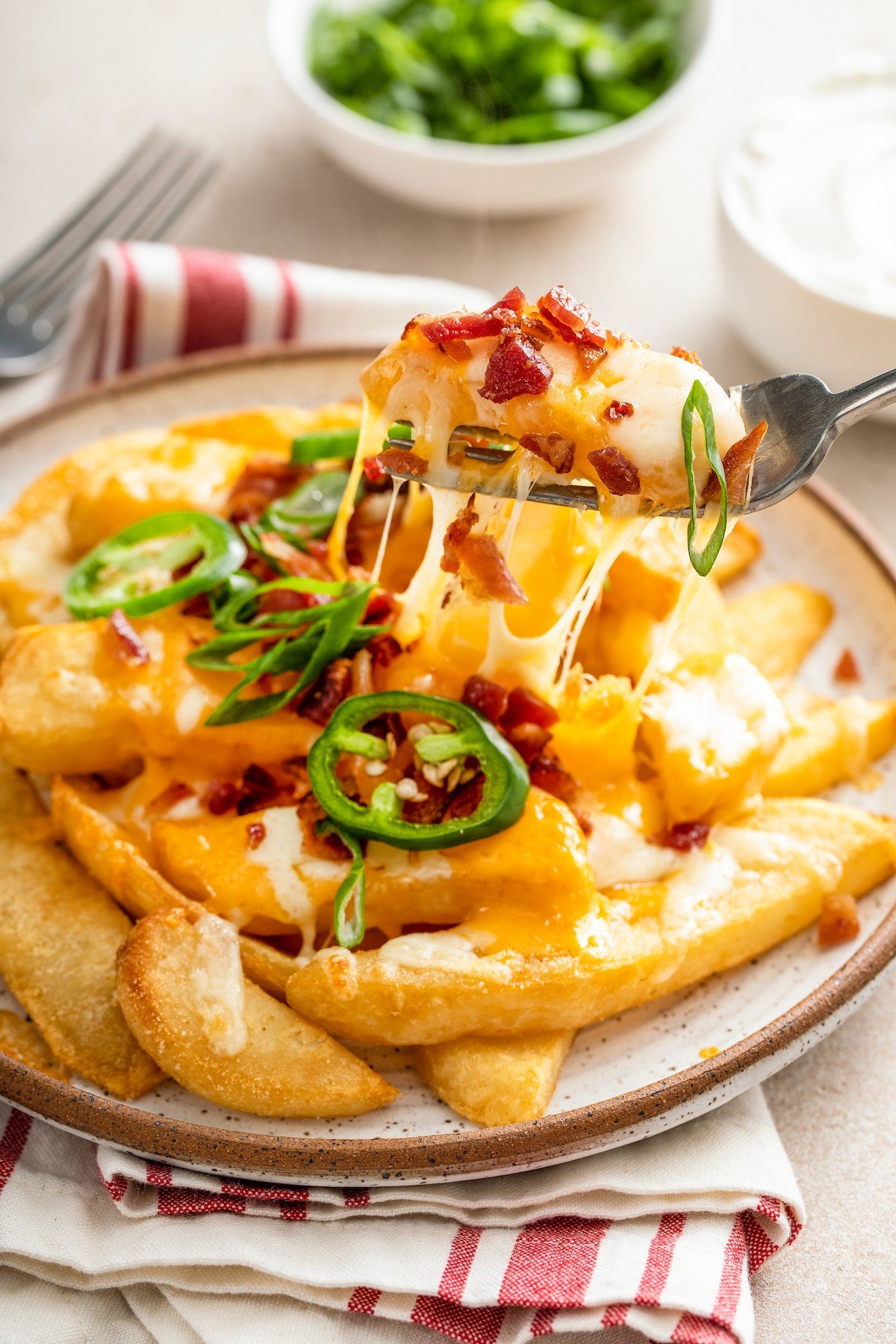 What Kind of Fries Should I Use?
This is a personal choice, but I think the best cheese fries are made with steak fries that you season yourself with seasoned salt. (I don't recommend buying pre-seasoned steak fries, because the flavor can be overwhelming when combined with all the toppings.)
Thin, fast-food style fries are tasty, but they usually don't hold up as well to all of the toppings. In a pinch, a crinkle fry is a good runner up to the steak fry. My second best fry option are the thick crinkle style fries, they also hold up better than a thin french fry.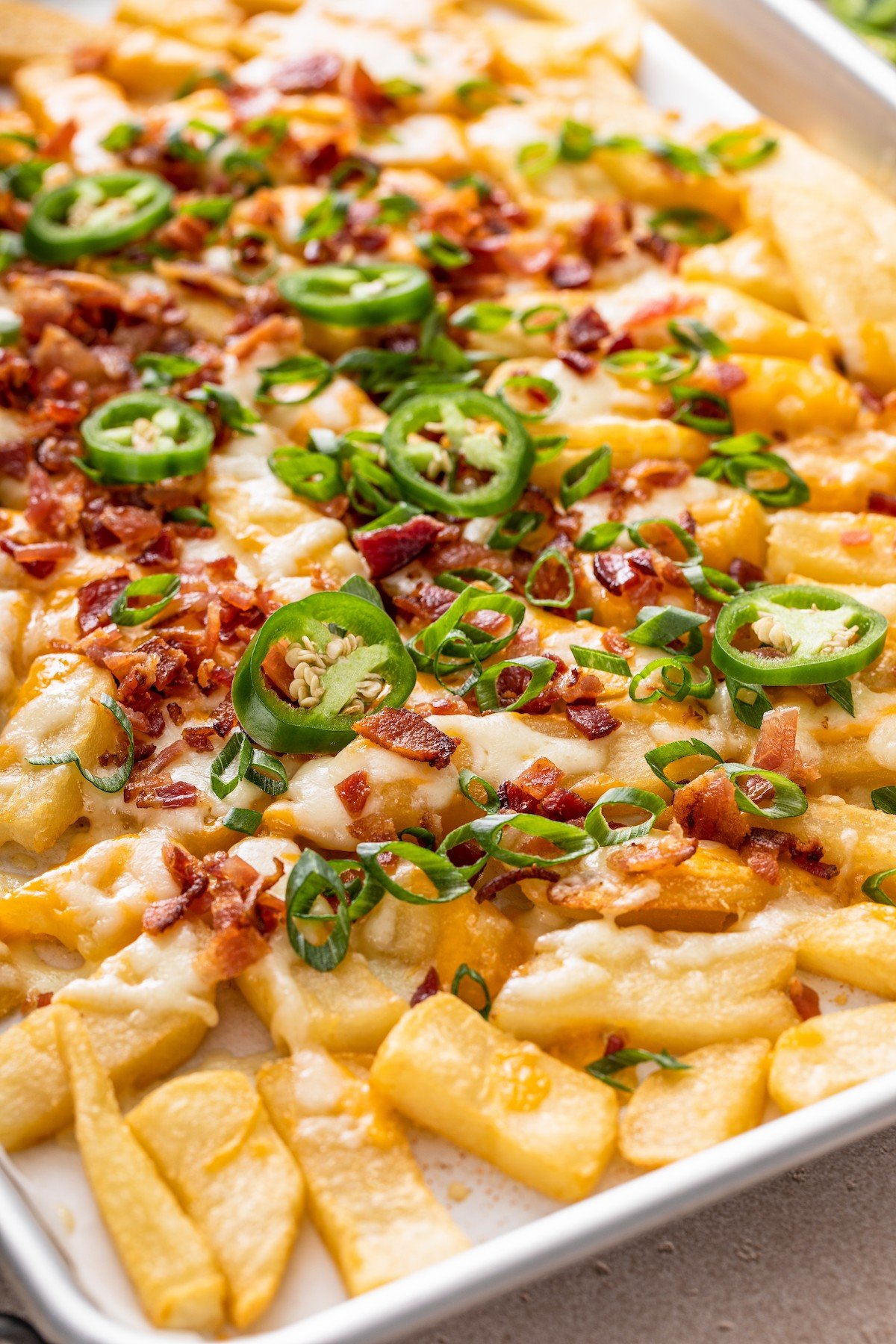 How to Make Texas Cheese Fries
To make this dish as easy as possible, I use my favorite frozen steak fries. You could definitely make homemade fries if you like – just be sure to cook them before adding the toppings. Here's how to make Texas cheese fries, using the frozen kind:
Bake the Fries. Line a large rimmed baking sheet with parchment paper, for easy cleanup. Next, spread your frozen steak fries out on the baking sheet in a single layer. Sprinkle with seasoned salt, and toss to coat. Then bake the fries according to the package directions.
Add Cheese. Once the fries are baked, take them out of the oven, and top with both kinds of shredded cheese. Put the baking sheet back in the oven and bake until the cheese has melted, about 3 to 4 minutes.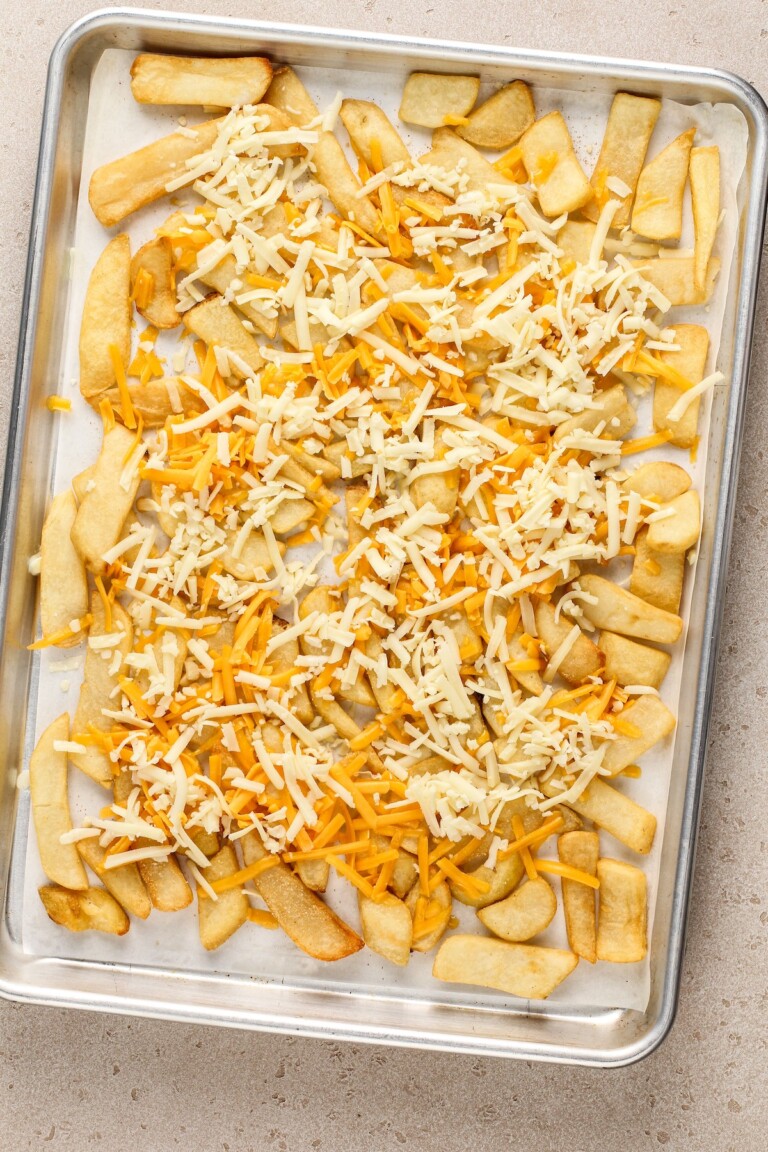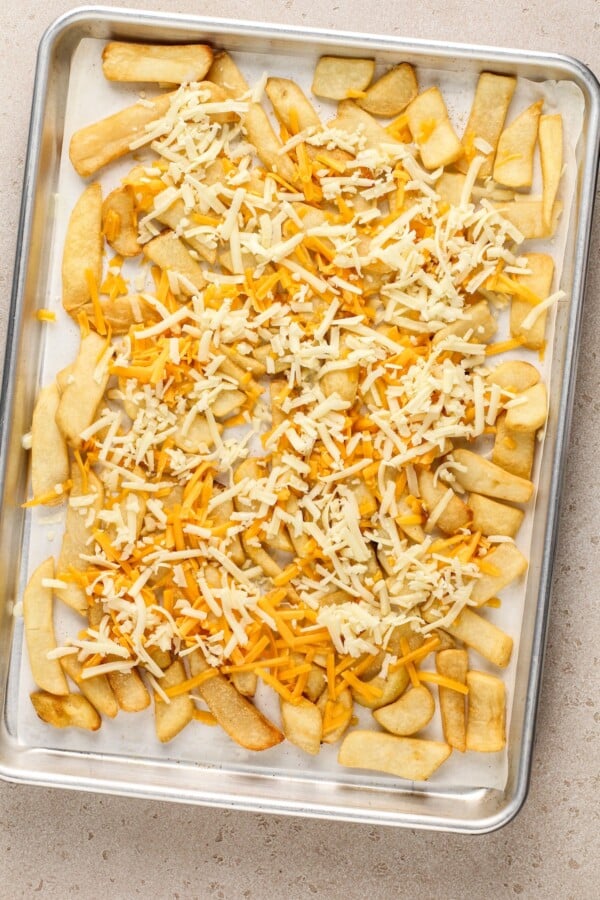 Add Toppings. Take the cheesy fries out of the oven, and sprinkle them all over with crumbled bacon, green onions, scallions and jalapeño slices.
Enjoy! Drizzle or dollop sour cream over the fries before serving, or serve sour cream on the side, for dipping.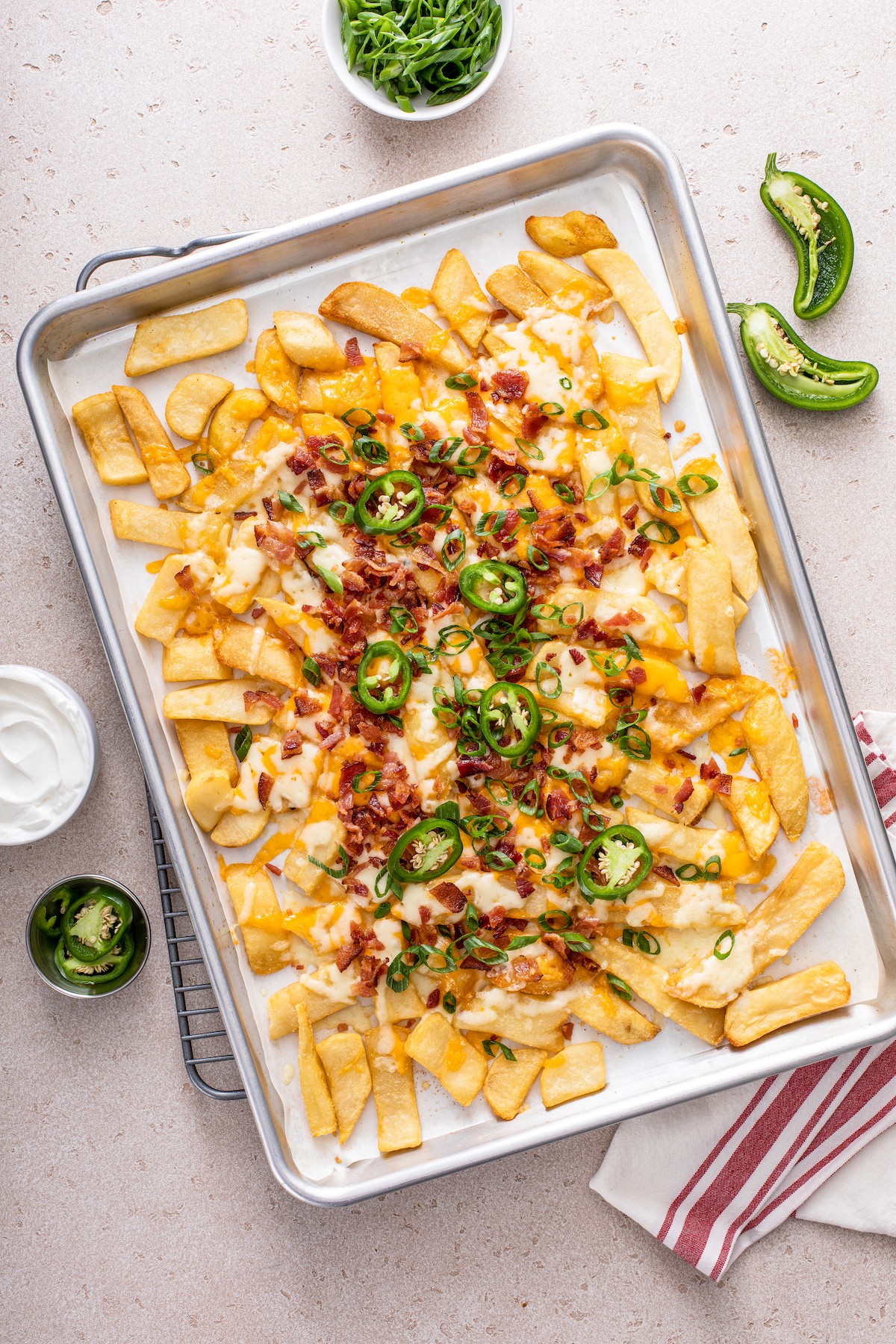 Where Did Texas Cheese Fries Originate?
I was born and raised in Texas, and for the life of me, I can not tell you what makes these cheese fries Texan. Maybe the jalapeños? Even when I did some research, it still wasn't clear to me where these originated, but Texas is a pretty good guess – after all, Texas is known for its love of cheese, Tex-Mex cuisine, and indulgent comfort foods.
Whatever the case, Texas cheese fries are now popular all over the U.S., especially in the South, and lots of regional variations have popped up over time. I've never met a batch of cheese fries I didn't like, so in the Tips section below, you'll see even more great topping ideas for this tasty dish.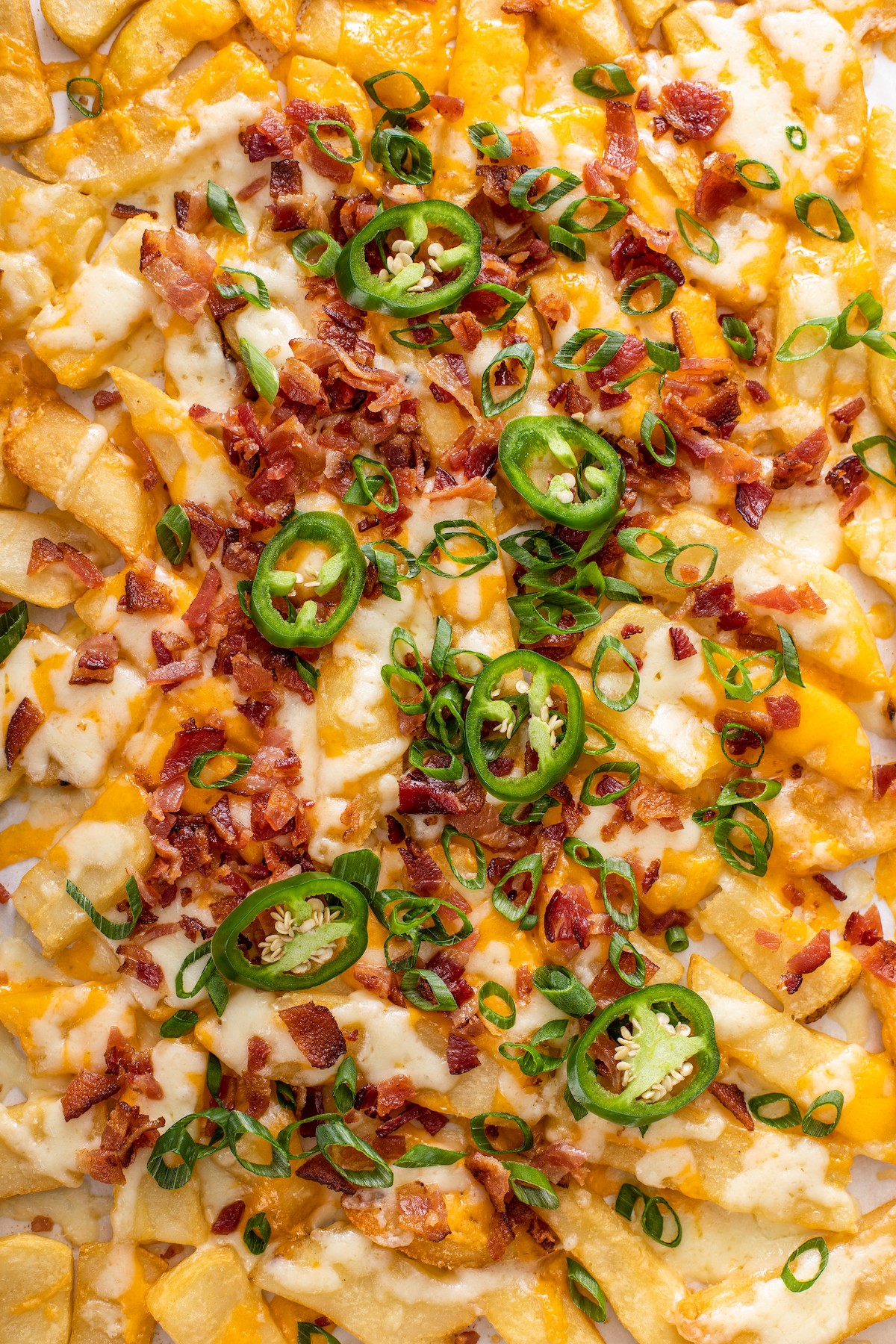 Recipe Variations
There are so many great cheese fries out there. This recipe is the classic version, with melted cheese, bacon, jalapeños and green onions. But you can totally customize them with other toppings, too. Optional fun topping twists include…
Make Your Own Potato Wedges: Skip the store bought frozen french fries and make your own Baked Potato Wedges!
Pickled Jalapeños: Both pickled jalapeños or fresh jalapeños work great – they are absolutely delicious and full of flavor. Fresh jalapeños are hotter, while pickled jalapeños are usually milder in heat.
Blue Cheese: In place of the other cheeses, or in addition to them.
Caramelized Onions: Always so good. Bonus points if you can get a sweet Vidalia onion.
Nacho Cheese: If you want a fair-style version, this is the cheese you need.
Add a Protein: There are quite a few proteins you could add on top of these fries to make them a filling meal or extra hearty appetizer:

Chicken: Depending on your mood, anything from sliced Grilled Chicken to Crockpot Salsa Chicken would be great on top of these fries. You could also go with classic Shredded Chicken (or chicken from a rotisserie chicken) or this flavorful Chicken Tinga!
Pork: Pulled Pork would be great on top of these cheese fries. I would add a hearty drizzle of bbq sauce on top as well.
Beef: Some sliced, juicy Carne Asada would take these fries over the top! Or add some Birria and crumbled Mexican Cheese to make Birria Fries!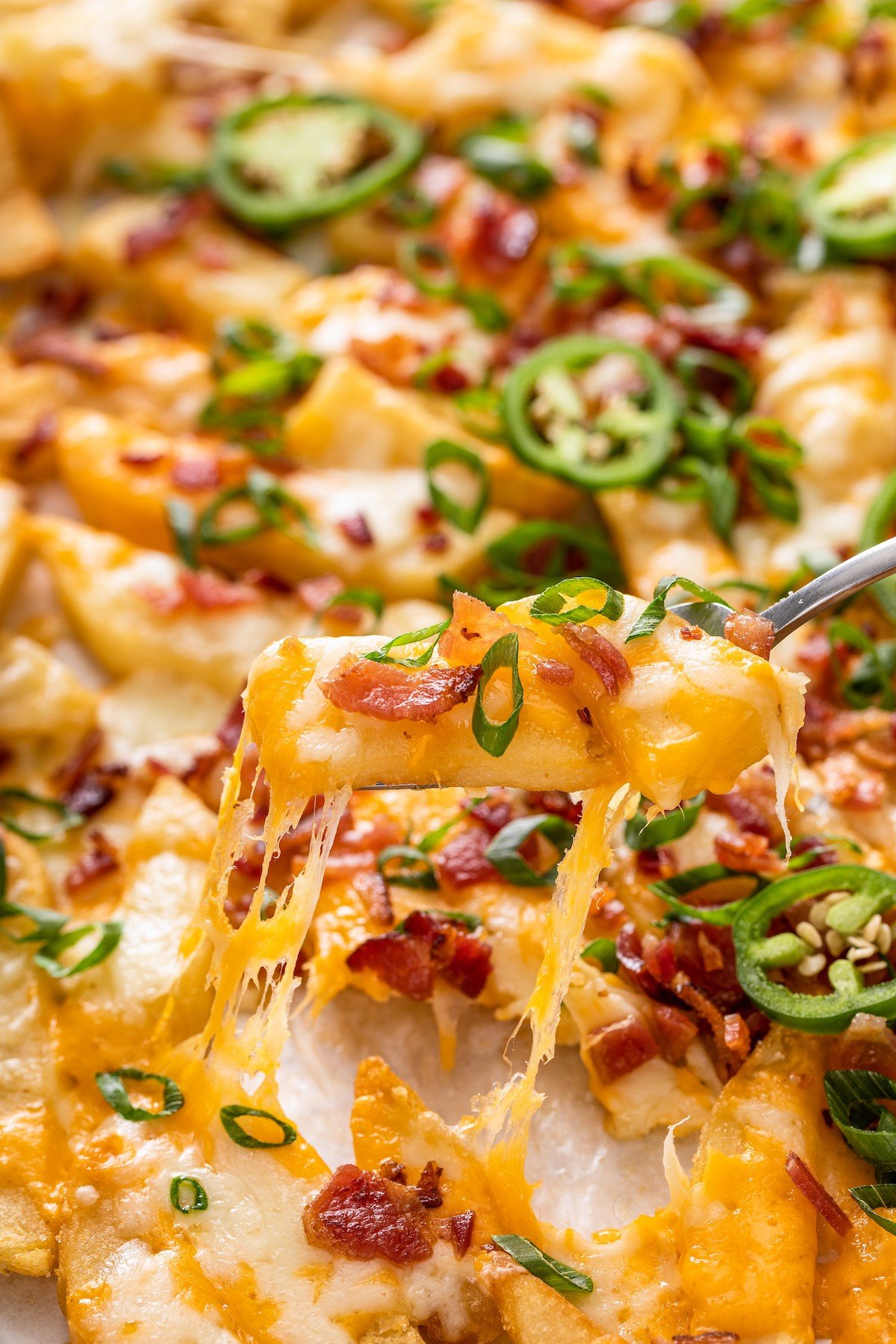 Serving Suggestions
Did you know that this easy appetizer is also a great side dish? Yes, you can make Texas cheese fries into a meal with the right main course. They go perfectly with spicy, bold dishes like…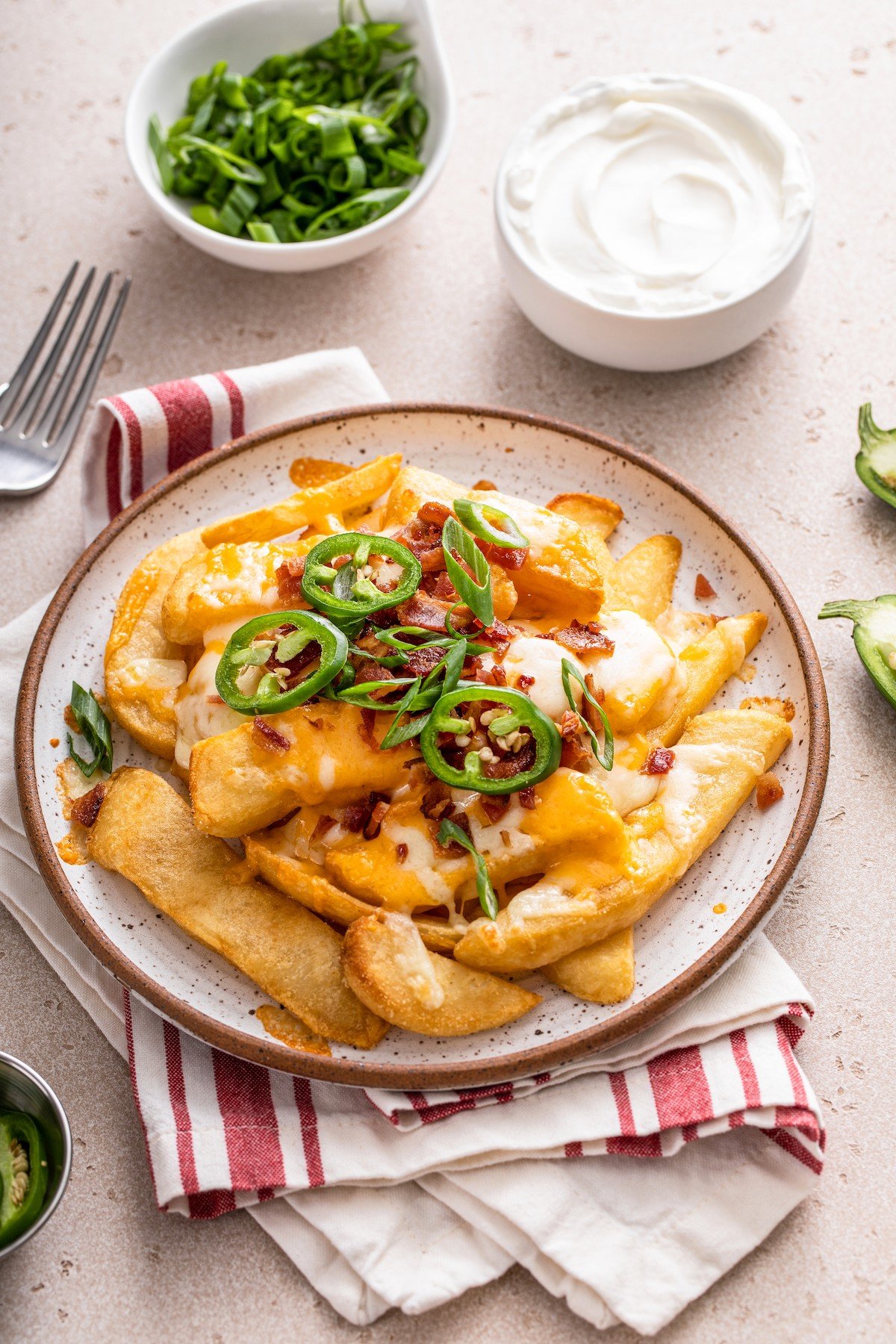 How to Store and Reheat Texas Cheese Fries
When storing Texas cheese fries, it is best to keep them in an airtight container in the refrigerator. They will keep for up to 3-4 days.
To reheat Texas cheese fries, preheat your oven to around 400°F (200°C), and place the fries on a baking sheet. Spread them out gently into a single layer, and then bake for about 10 minutes, or until the cheese has melted and the fries are warmed through.
Can I Freeze These?
While you can safely freeze Texas cheese fries, I don't recommend it – the cheese can separate and turn grainy after freezing and thawing, and the fries are likely to turn out soggy instead of crispy. This dish is best served fresh. If you think this recipe may make too much to use fresh, try cutting the amounts in half to make a smaller batch.
Cheese Fries Recipe
Texas Cheese Fries: crispy seasoned fries are topped with two types of melted cheese and loaded up with crispy bacon, green onions, jalapeños and sour cream!
Ingredients
28

oz

frozen steak fries

1

teaspoon

seasoned salt

1

cup

sharp cheddar cheese

1

cup

shredded Monterey Jack cheese

6

strips bacon,

cooked and crumbled

4

green onions

,

thinly sliced

fresh or pickled jalapeño slices

,

optional

⅓

cup

sour cream

,

optional
Instructions
Line a large rimmed baking sheet with parchment paper. Add frozen steak fries to baking sheet and spread in a single layer.

Sprinkle with seasoned salt and toss to coat. Bake according to package directions.

Once fries are baked, remove from oven and immediately top with both kinds of shredded cheese and return to oven until cheese has melted, about 3 to 4 minutes.

Remove from oven and sprinkle with crumbled bacon, green onions, scallions and jalapeño slices.

Drizzle with sour cream or serve with sour cream on the side for dipping.
Notes
Add some shredded chicken to these and you take an appetizer or side dish and transform it into a delicious dinner!
Nutrition
Serving:
1
serving
,
Calories:
433
kcal
,
Carbohydrates:
35
g
,
Protein:
14
g
,
Fat:
27
g
,
Saturated Fat:
10
g
,
Polyunsaturated Fat:
14
g
,
Cholesterol:
44
mg
,
Sodium:
689
mg
,
Fiber:
3
g
,
Sugar:
1
g
Categories:
More Cheesy Appetizers
This post may contain affiliate links. Read my disclosure policy.