Chicken Souvlaki Gyros with Tzatziki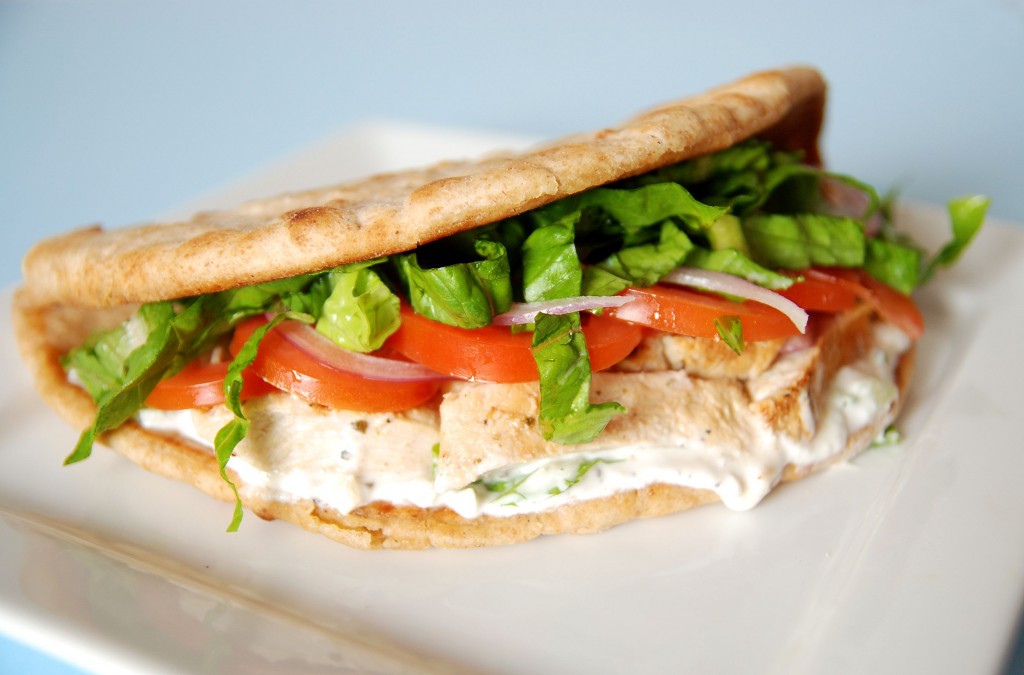 When I moved to Tampa, Florida from Houston, Texas I was in culture shock. Gone were my delicious Mexican and Tex-Mex restaurants. And no brisket or any Texas BBQ for that matter. I was devastated. Then as time went on, I found that Tampa has two other prominent fabulous cultures to offer, that while different from what I was used to, were just as amazing. Tampa has a large Cuban influence and…Greek. Ya, I know…Greek is a surprise right? I mean the Cuban culture is not that big of a surprise, but Greek? Well however the Greeks wound up here in Tampa, I sure am glad they did!!
If you ever take a trip to Tampa there are two places you have to visit. First, Larry's Deli in Land O' Lakes, Florida. Don't be surprised when you pull up and it looks like a little shack (they don't even have a website). It is just a little north of Tampa and has one of the most amazing Cuban sandwiches I have EVER had. Seriously, it is mouthwatering good. It has been featured in the papers, as the best in Tampa, multiple times and it deserves it! Get the 6 inch Cuban Sandwich, All The Way, with the Garlic Butter Press. And prepare yourself for the most amazing sandwich ever. Then after you have recovered, go to Acropolis. They have multiple locations around the Tampa area and order anything that looks good. I promise it is all fabulous! Or, if you would like to immerse yourself in the Greek culture, go to the Sponge Docks in Tarpon Springs, Florida (a short 30 minute drive from Tampa) and eat at Hella's!
After much begging I finally got a traditional Chicken Souvlaki recipe from the chef at Hungry Greek. He said this is not how they make it there, but this is how he makes it at home for his family…so thank you Rhadamanthus! The Chicken Souvlaki is delicious and can be served a number of ways. But my favorite is to use it in a Gyro with some delicious Tzatziki! The Tzatziki recipe is from a friend of mine, Laura. I made this dinner for a group of friends who are Gyro enthusiasts for what we called "Greek Thursday". They LOVED it! I was so proud! They especially loved the Tzatziki, and told me that it was so much better then they have had at some of the Greek restaurants around town. I truly love this meal (especially because it is ass friendly), and hope you will too!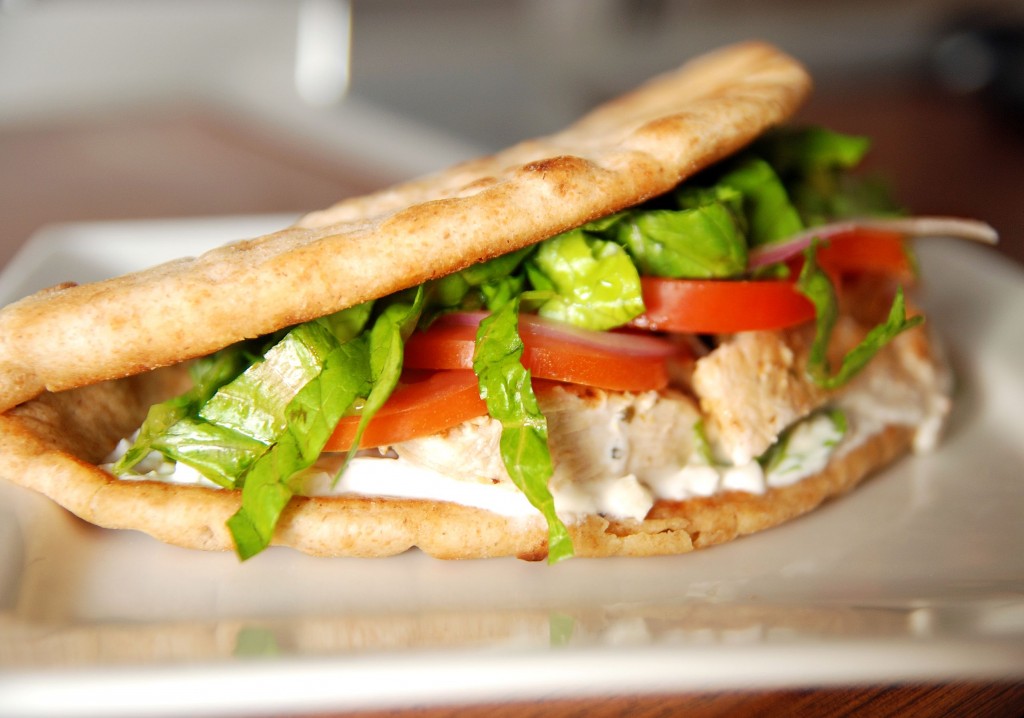 Chicken Souvlaki Gyros with Tzatziki
Ingredients:
Chicken Souvlaki:
1 lb boneless, skinless, chicken breasts, in bite size pieces
2 tablespoons olive oil
1 tablespoon white wine vinegar
4 garlic cloves, minced
3 tablespoons Greek Seasoning (you can purchase this in the spice aisle or make your own)
juice of 1 large lemon
1/2 teaspoon salt
1/2 teaspoon pepper

Tzatziki:
6 oz low fat Greek Yogurt
juice of 1/2 of a medium lemon
1 med cucumber, peeled
3 large cloves garlic, minced
Garlic Salt, to taste
Cracked Black Pepper, to taste
Directions:
Chicken Souvlaki:
Combine all ingredients except chicken, and mix well. Place in a ziplock bag, and add chicken. Shake to ensure the marinade is covering chicken. Allow to marinate in refrigerator overnight.
Remove chicken from marinade, and toss leftover marinade. Thread chicken onto skewers and grill until cooked thoroughly. Remove from Skewers and serve in a Gyro, top with Tzatziki and serve with your favorite sides, or to be a little healthier, serve over a Greek Salad.

Tzatziki:
Slice cucumber in half, length wise. Using a spoon, scrape out seeds. Finely shred cucumber and place in paper towels and squeeze out extra moisture.
Then combine Greek yogurt, lemon juice, shredded cucumber, garlic, garlic salt, and pepper. Refrigerate in a air tight container for 1 hour before serving.
This makes 3-5 servings, depending on how much you like it! 🙂
To serve as a Gyro: Brush whole wheat pita bread with a little olive oil, or butter and then warm in a skillet over medium heat. Then add a little, or in my case A LOT of Tzatziki, tomatoes, lettuce, red onion, and Chicken Souvlaki! Enjoy!
Source: The Novice Chef Original