This dense, moist Christmas Grinch Cake Recipe is coated with white chocolate and decorated like a Christmas wreath! A perfect homemade gift for friends and neighbors during the holidays.
Festive Banana Grinch Cake with White Chocolate
Banana cake is one of the most decadent cakes, thanks to ultra-moist ripe bananas. There's a reason my frosted banana cake recipe is called "dream cake!" But what happens when you take a rich, moist banana cake and "Christmas-ify" it? You get a festive, colorful dessert reminiscent of the Grinch movie and Christmas wreaths!
This easy banana cake is baked in a tube pan, giving it a classic wreath shape. Then we just melt white chocolate, add green food coloring, and pour it over the cake. As a final touch, we're adding tiny red hearts to the chocolate before it sets. The finished cake 100% reminds me of the scene where the Grinch's heart expands from being too small to filled with Christmas spirit.
All you need are a few basic ingredients and a little time to create this gorgeous holiday dessert idea. And if you want to do even more Grinch-themed food, check out these fluffy Grinch Pancakes or this Grinch Fudge!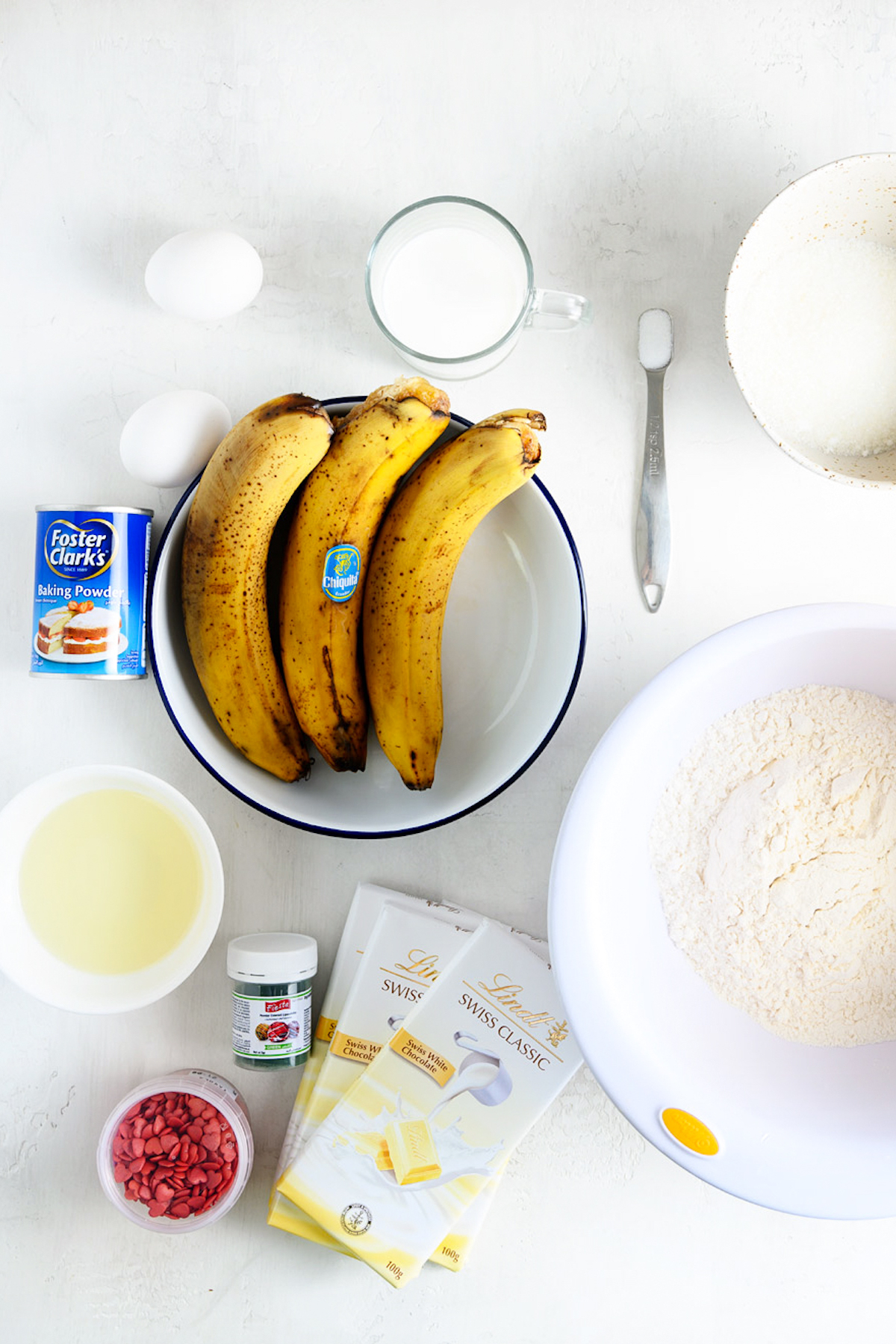 What You'll Need
What goes into this grinch cake? Well, the star ingredient is definitely banana – the riper, the better. Look for dark brown bananas with plenty of splotches and "freckles." Unless the bananas are moldy or rotten, there's no such thing as too ripe for baking!
Flour: Regular all-purpose flour is my go-to.
Sugar: Granulated sugar is fine, or you could substitute raw sugar, or your favorite 1:1 sugar substitute.
Baking Powder: To make the cake rise and have a good texture. Make sure you use baking powder, not baking soda.
Cinnamon: Cinnamon brings extra-cozy vibes, and makes a perfect match for bananas.
Salt
Bananas: Mash up the ripe bananas before adding them to the cake.
Eggs: Large, whole eggs add structure and richness.
Milk: Whole milk, reduced fat, or low fat.
Oil: Using vegetable oil ensures that the cake turns out moist, without making it heavy.
Vanilla: Pure vanilla extract gives the best flavor.
White Chocolate: You'll need a good quality white chocolate (I like Ghirardelli) for melting.
Green Food Coloring: To tint the white chocolate and make the cake look like a wreath, I like to use green gel food coloring.
Red Heart Sprinkles: These heart sprinkles are optional, but they add a fun and festive look!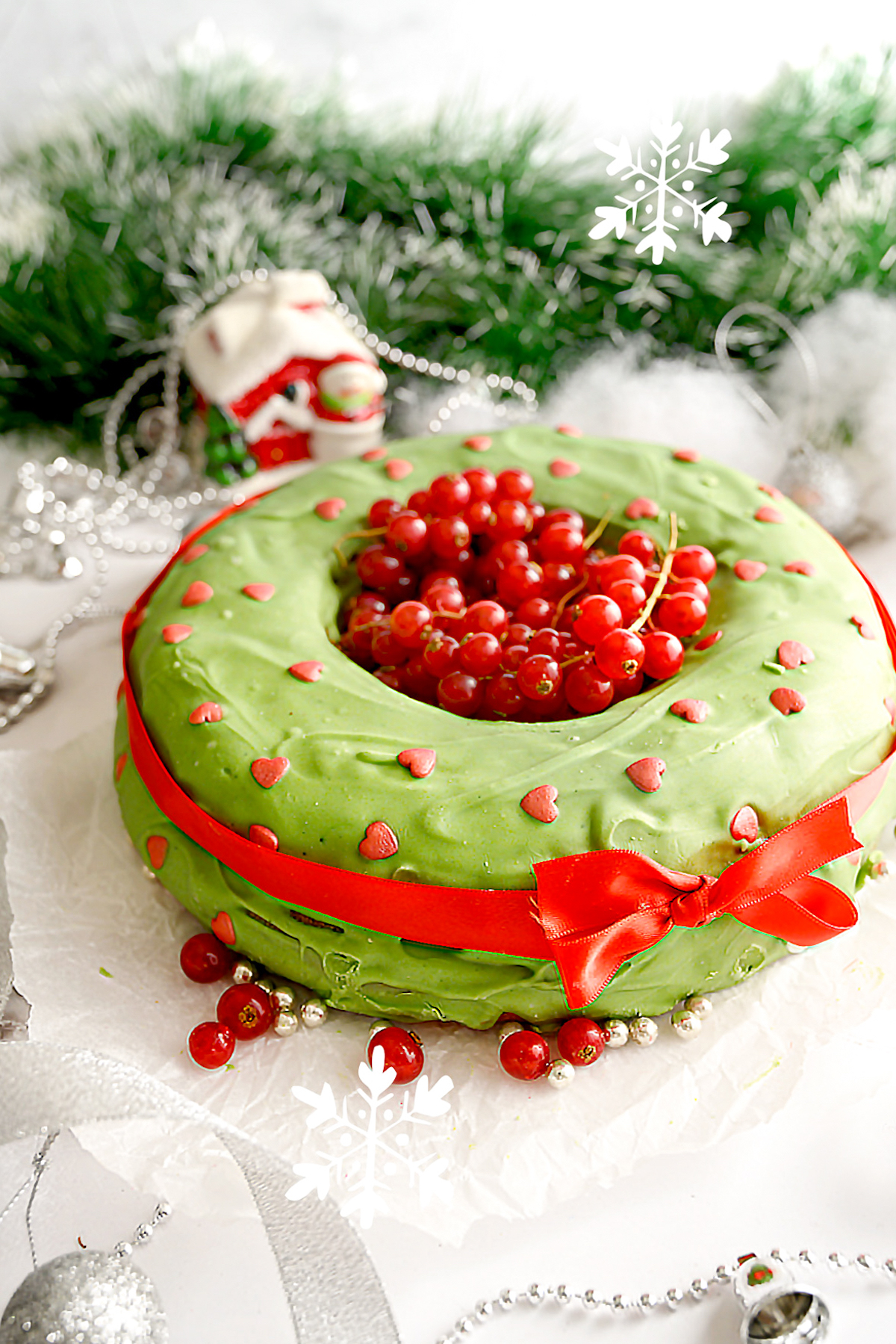 How to Make This Grinch Cake
One of my favorite things about this recipe is how simple it is to make. You don't even need a stand mixer or hand mixer – a couple of bowls and a whisk will do the trick.
Prep Your Oven and Baking Pan. First, you'll want to preheat your oven to 325°F. That way, when the cake is ready to bake, you can immediately put it in the oven. No waiting! Next, grease a Bundt pan or tube pan. You can rub it with oil or butter, or just give it a thorough spray with baking spray.
Combine the Dry Ingredients and Wet Ingredients in Separate Bowls. In one mixing bowl, whisk together the flour, sugar, baking powder, cinnamon, and salt. In another mixing bowl, whisk the mashed bananas, eggs, milk, oil, and vanilla.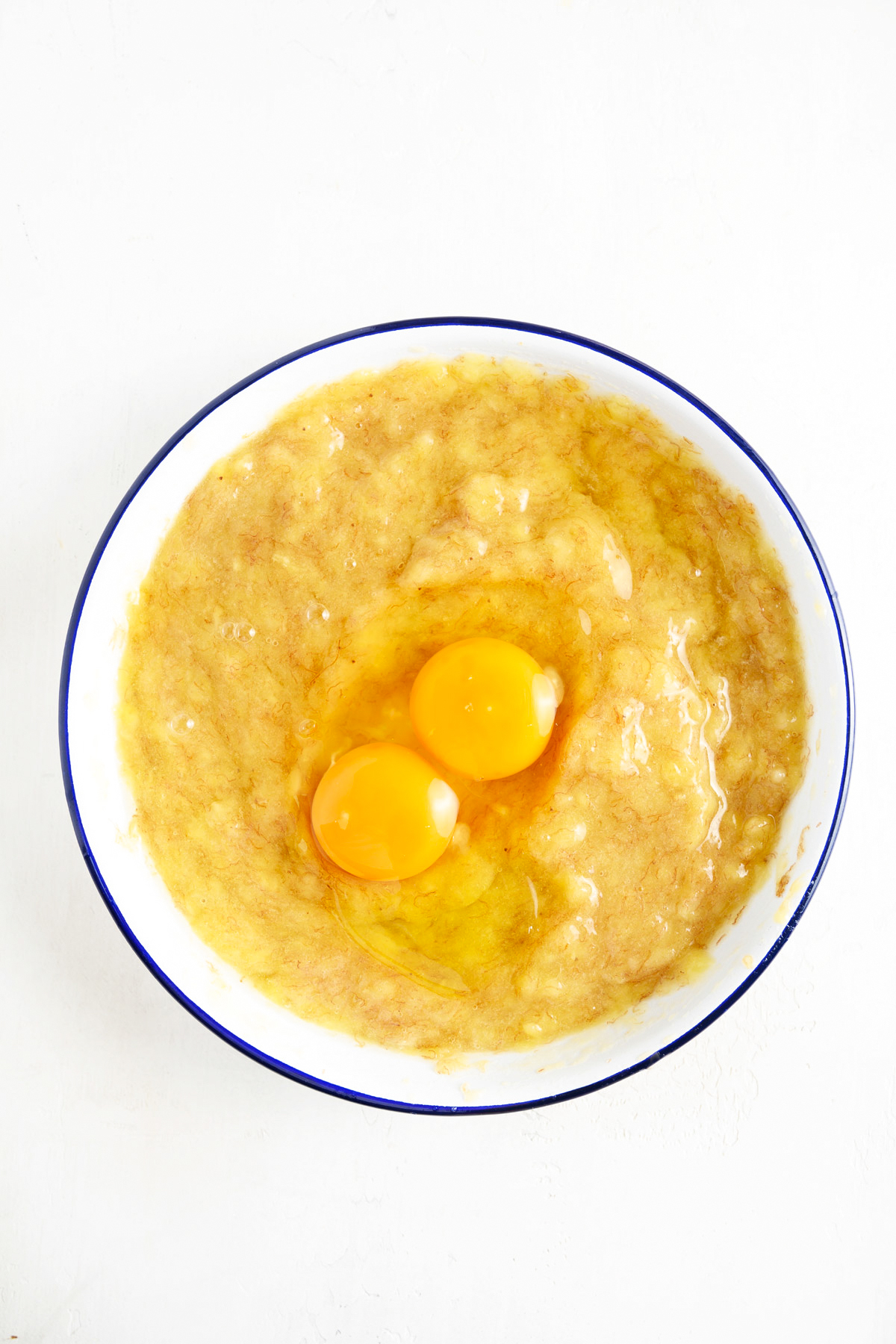 Add the Dry Ingredients to the Wet Ingredients. Now add the flour mixture to the banana mixture, whisking or stirring until the batter is lumpy but well combined. Pour this into your greased baking pan.
Bake. Slide that baking pan into your preheated oven, and let the cake bake for 50 minutes to an hour. You'll know it's done when a toothpick inserted into the center comes out clean, or with a couple of moist crumbs stuck to it. Set the cake aside to cool completely before decorating it.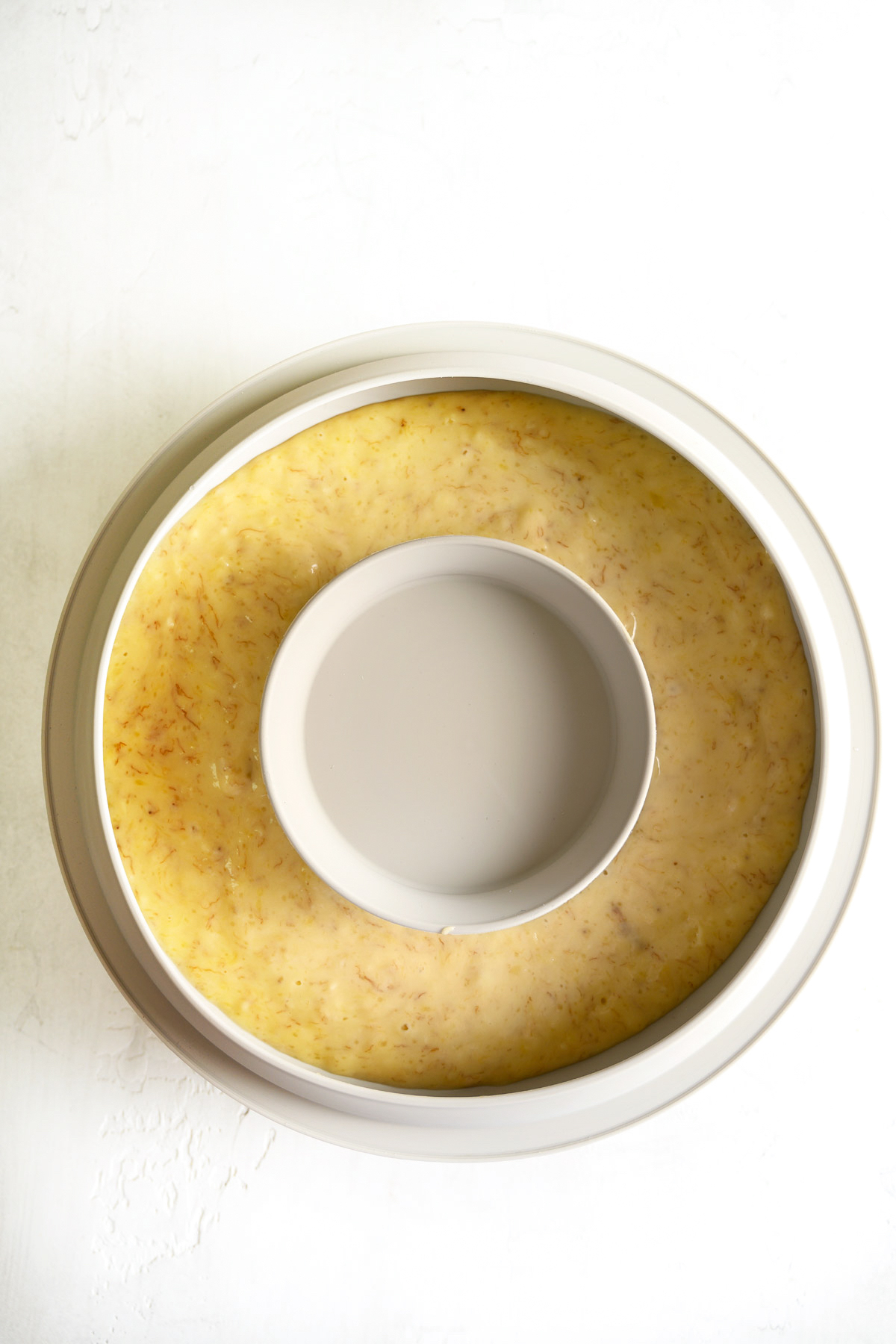 Decorate the Cake. Once the cake has cooled completely, melt your white chocolate according to the package directions. Stir in about half of the green food coloring. That may be enough to get the desired shade of green. If not, add a little more and stir, until you get the color you want. Then place the cake on a wire rack or rimmed baking sheet, and pour the tinted chocolate all over it. Use a spoon or spatula to press the chocolate into any cracks or dents. If you're using sugar hearts, sprinkle those over the cake.
Chill. Place the cake in the fridge until the chocolate is fully set.
Enjoy!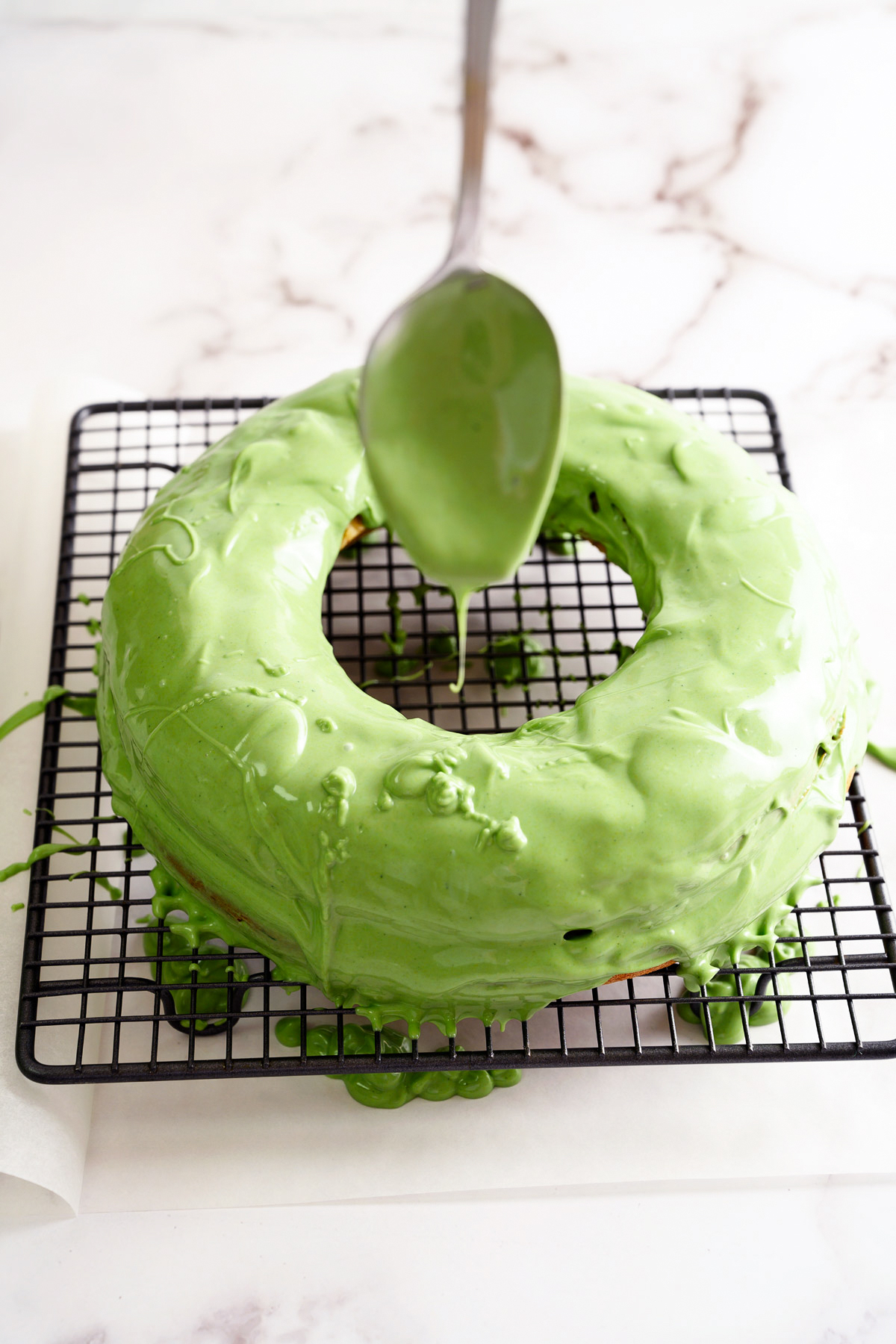 Recipe Notes
These helpful baking tips are my top pieces of advice when it comes to making Christmas cake. Read on, and happy baking!
Which Cake Pan? This is the 9-inch tube pan I used for my cake, but you can feel free to substitute a Bundt pan or angel food cake pan, instead. Keep in mind that some pans will result in a faster bake than others, so keep an eye on your cake!
Ripe Bananas: The darker the bananas, the better – there's no such thing as a too-ripe banana when making this banana cake. Just avoid fruit that's moldy or otherwise rotten.
Decorating: You can decorate the finished cake with ribbons, as shown in the photos. This makes a fun holiday gift for friends and neighbors. I usually wrap the cake in a cellophane wrapping bag, and tie it at the top with a ribbon for a pretty presentation.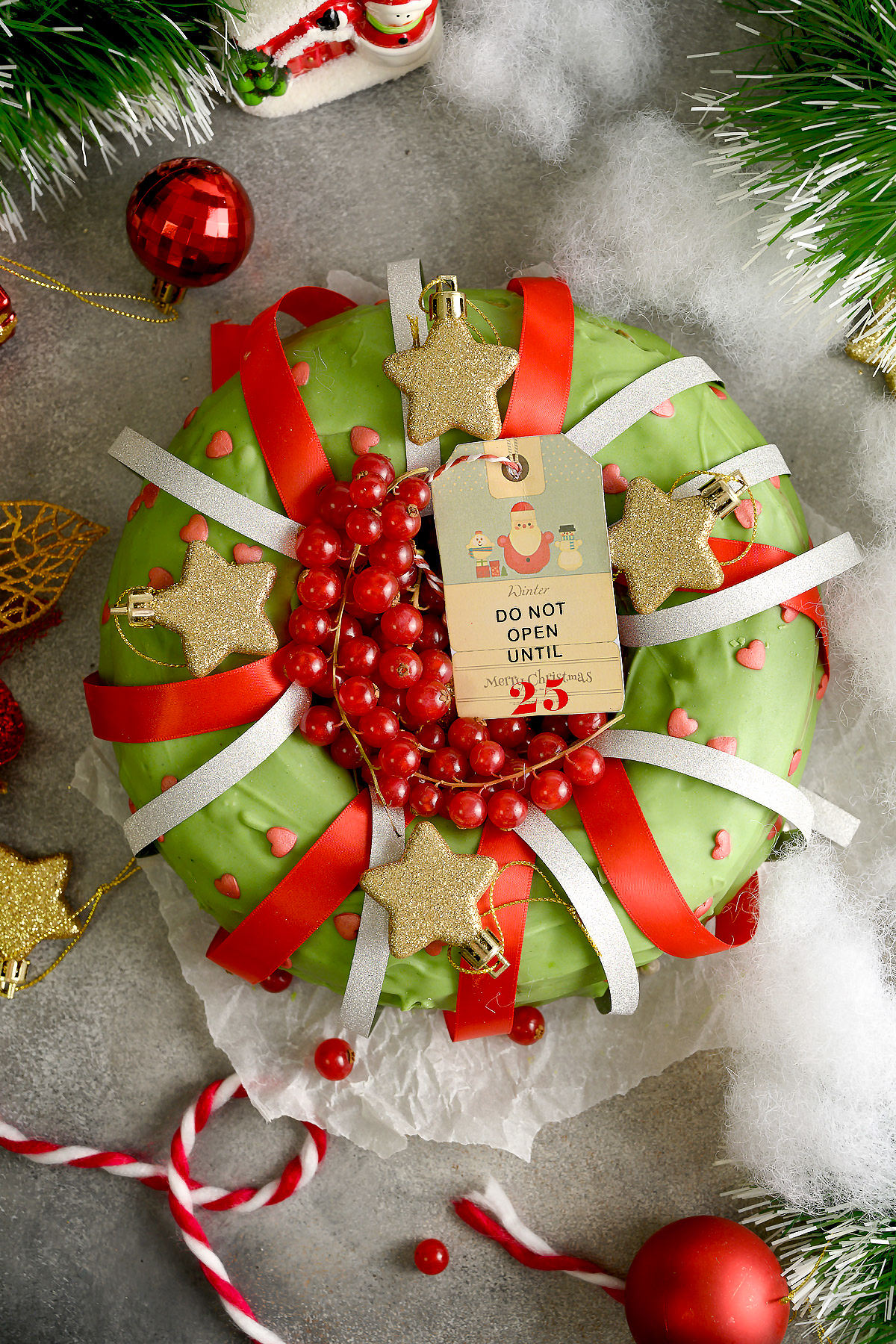 Variation Ideas
If you are interested in making this grinch cake, keep reading – these easy variations are my favorite ideas for changing up the basic recipe and making it that much more flavorful.
Add Nuts: For extra crunch, try sprinkling chopped pecans or walnuts into the batter, or on top of the white chocolate coating.
Warm Spices: In addition to the cinnamon, you can also use extra spices to warm it up, such as a little freshly ground nutmeg.
Sweet Mix-Ins: A lot of traditional Christmas cakes include chopped dried fruit, and you can totally do that with this cake as well. Fold chopped dates, halved raisins, candied citrus, or whatever you like! (Pro tip: to keep these mix-ins from sinking to the bottom of the cake pan, toss them with a little flour before folding them gently into the batter.)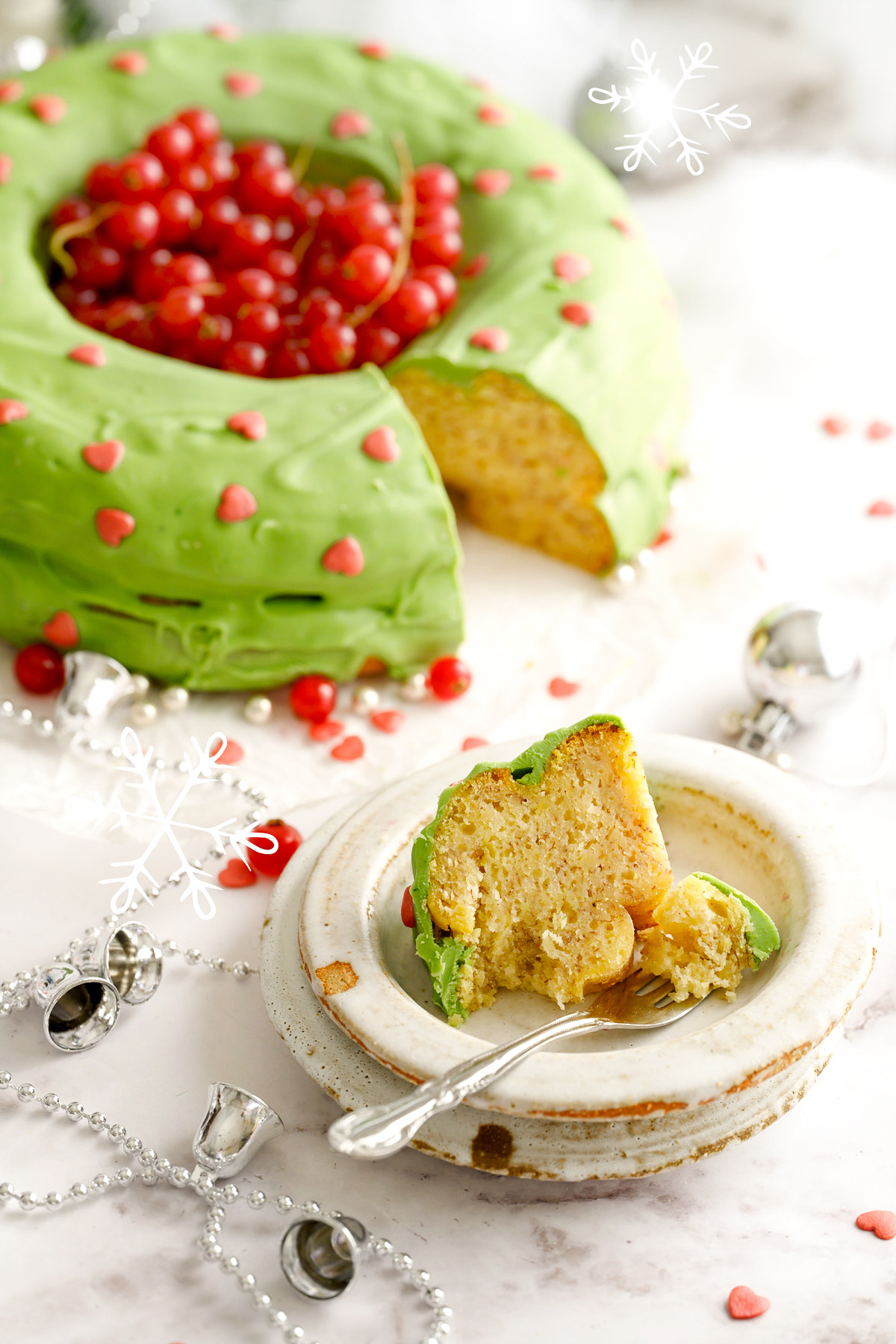 How to Store Leftover Cake
Cover your cake with saran wrap and then store it in the fridge for 5-7 days. This ensures that the chocolate doesn't melt or warm up too much.
The only downside to storing this cake in the fridge is that the chocolate can crack if you cut into the cake while it's still cold. This personally doesn't bother me if all I want is a slice of cake for myself. However, if you are planning to serve the cake to guests I recommended taking it out of the fridge a few hours before cutting into it.
Can I Freeze It?
Yes, you can! Just wrap the chilled cake in a layer of plastic wrap followed by a layer of foil, and freeze for up to 3 months. Thaw in the fridge overnight or on the counter for several hours before serving.
Christmas Banana Grinch Cake
This moist Christmas Banana Grinch Cake is coated with white chocolate that has been dyed green and decorated with tiny red hearts. Fun!
Ingredients
2

cups

all-purpose flour

¾

cups

granulated sugar

2

teaspoons

baking powder

1

teaspoon

cinnamon

,

optional

½

teaspoon

salt

3

medium ripe bananas

,

mashed

2

large eggs

¼

cup

milk

⅓

cup

vegetable oil

1

tablespoon

vanilla

12

ounces

white chocolate

,

or white chocolate chips

¼

teaspoon

green gel food coloring
Red heart sprinkles,

if desired
Instructions
Preheat your oven to 325°F and grease a Bundt pan or

tube pan

. 

In a medium-sized bowl, whisk the flour, sugar, baking powder, cinnamon, and salt to combine.

In a large bowl, combine the mashed banana, eggs, milk, oil, and vanilla extract, whisking until well-combined.

Add the flour mixture to the wet ingredients, and mix until well-combined. There will be some lumps, but that is ok. Transfer the batter to the prepared baking pan.

Bake for 50 – 60 minutes, until a toothpick inserted into the cake comes out clean or with a few moist crumbs. Allow the cake to cool completely before decorating.

Once the cake is cooled, melt the white chocolate according to the package directions. Stir in half of the green food coloring and whisk to combine. If the color is not intense enough, add more food coloring as needed.

Place the cake on a wire rack or a rimmed baking sheet. Pour the melted, tinted white chocolate over the cake until coated. You can use the back of a spoon to press the chocolate into the sides of the cake if there are uneven places that the chocolate doesn't fall into.

Sprinkle the cake with sugar hearts, if desired, and refrigerate until the chocolate is set. 

Enjoy!
Notes
Store this cake for 5 – 7 days in the refrigerator.
Nutrition
Serving:
1
,
Calories:
565
kcal
,
Carbohydrates:
79
g
,
Protein:
8
g
,
Fat:
25
g
,
Saturated Fat:
10
g
,
Polyunsaturated Fat:
13
g
,
Cholesterol:
56
mg
,
Sodium:
315
mg
,
Fiber:
2
g
,
Sugar:
50
g
Categories:
More Holiday Desserts
This post may contain affiliate links. Read my disclosure policy.