These adorably green Grinch Pancakes are a homemade copycat recipe for the IHOP Grinch Pancakes. The kids will love this festive Christmas breakfast recipe!
Copycat IHOP Grinch Pancakes
If you are looking for a festive Christmas Breakfast recipe, these adorable and fluffy Grinch Pancakes are just the recipe you need!
Extra fluffy GREEN pancakes are topped with sweet cream cheese icing, green whipped cream and sprinkled with little red hearts.
These Christmas pancakes are fun to make as a family and the kids will happily help — at least mine did!
Turn on the movie, get out the mixing bowls and get busy making memories with these adorable and tasty Grinch Pancakes!
If you love these Grinch Pancakes, make sure and check out my Grinch Hot Chocolate!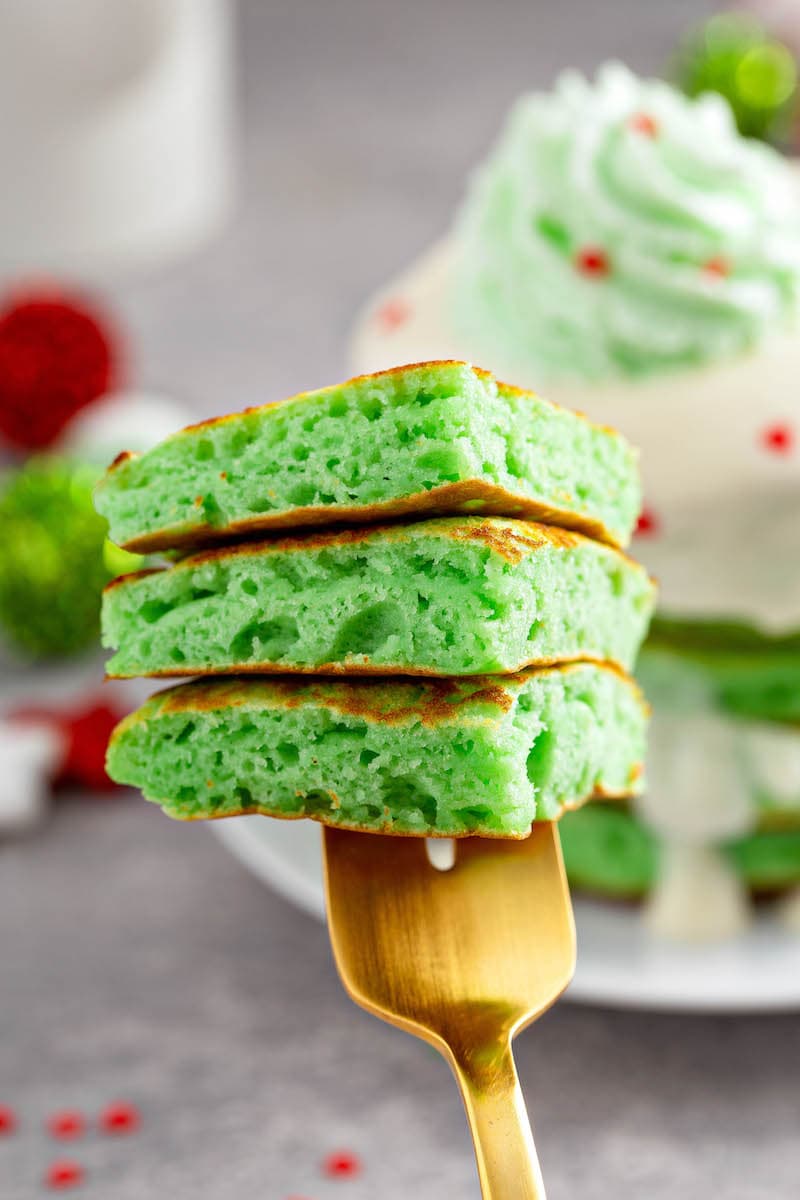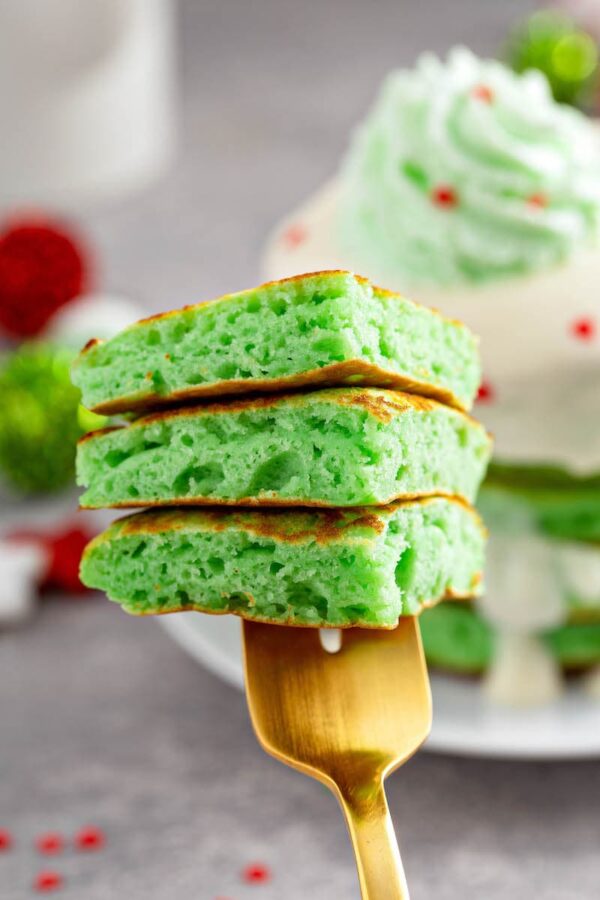 What Are Grinch Pancakes?
If you think these pancakes look familiar, it's because you probably ordered them last year at IHOP!
My little family of 5 is absolutely obsessed with the Grinch and last year I took the girls to have IHOP Grinch Pancakes for a special breakfast after watching the movie.
Now this year, they have been begging to have more Grinch pancakes, but sadly they are not making the Grinch pancakes at IHOP again this year.
So what is a Mom to do? Why, make a Copycat IHOP Grinch Pancake recipe of course!
Thankfully, it's really easy to whip up a batch at home and you probably already have most of the ingredients you need on hand!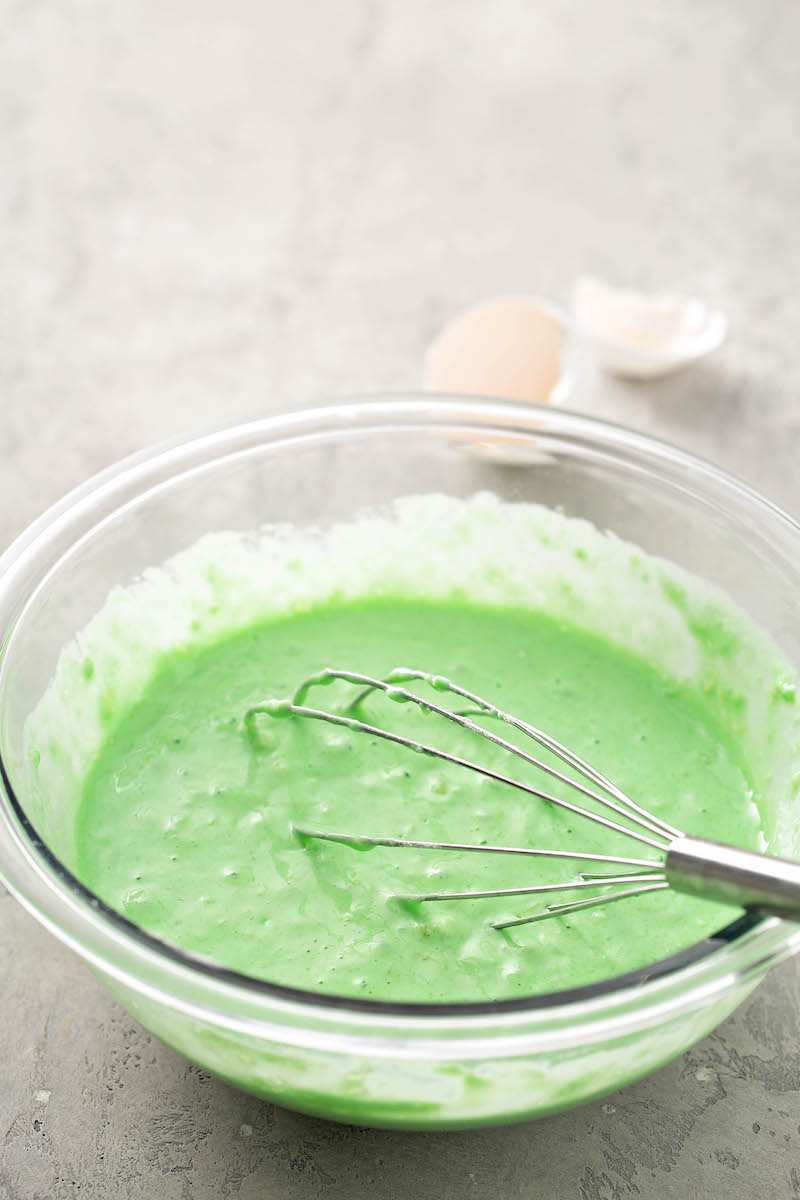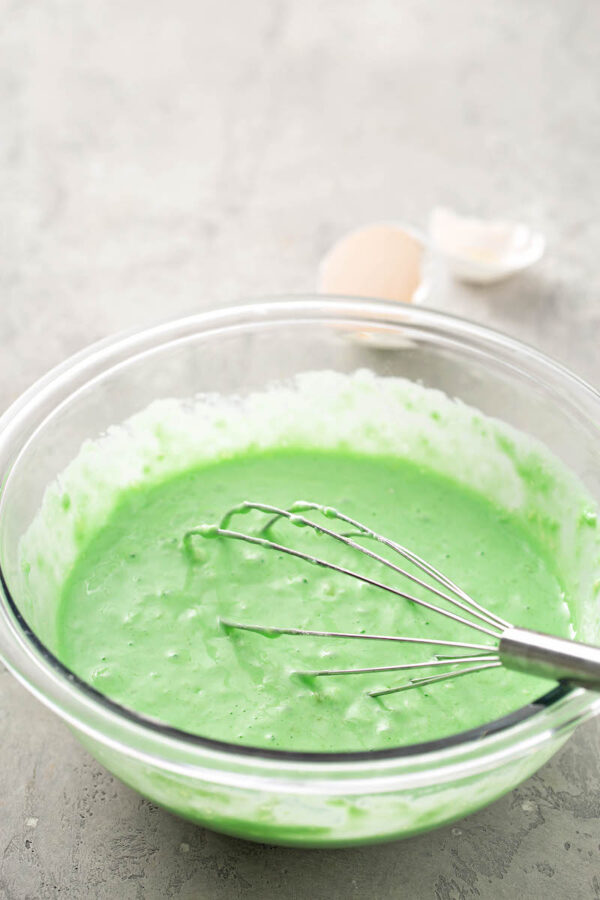 What is the Best Food Coloring for Green Pancakes?
To get the best color green for Grinch Pancakes, I recommend using the Wilton Gel Icing Food Colors (affiliate link).
You can buy them at Walmart, Michaels or even Amazon. They are cheap and a tiny bit goes a LONG way.
You do not have to add much at all to get a lot of color and they have zero effect on taste.
Other Tools/Ingredients Needed to Make These Pancakes:
Aside from the food coloring, there are a couple of tools or ingredients you will need:
Hand Mixer (affiliate link): this really helps when you are beating the cream cheese icing and then the green whipped cream.
Heart Sprinkles (affiliate link)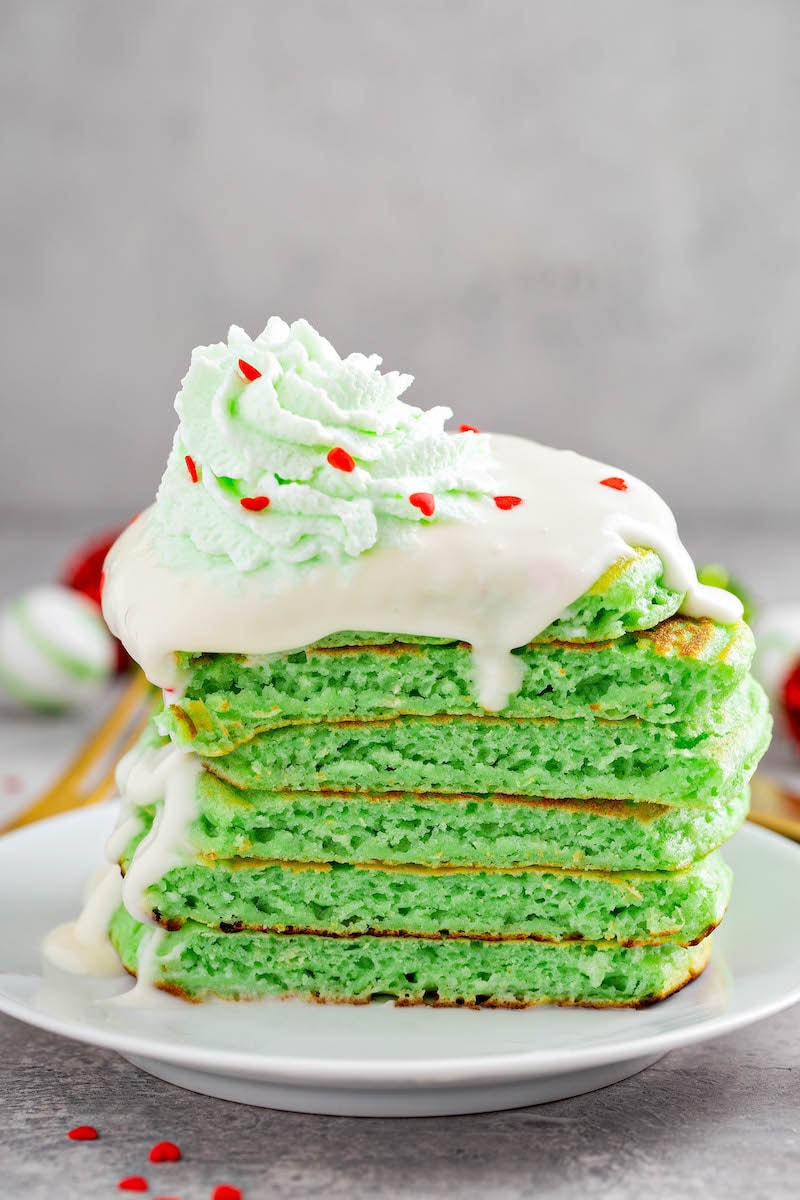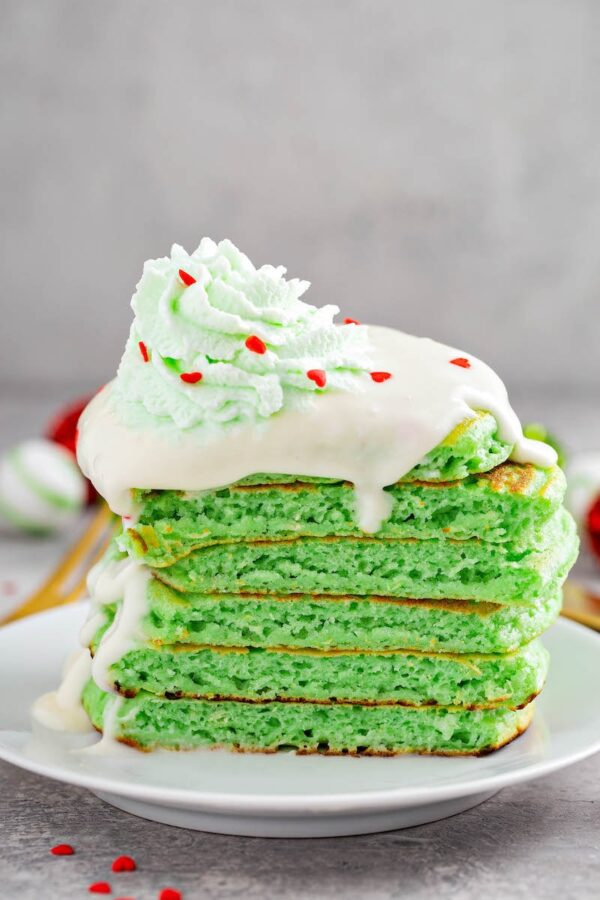 How to Make Fluffy Grinch Pancakes
This pancake recipe is extra fluffy, because that is how my kids like them! I have a few tips on how I keep them so fluffy.
First, I make them with a mixture of milk and vinegar and then a combination of baking soda and baking powder. You can also substitute the milk/vinegar mixture for buttermilk, if you happen to have it on hand.
Do not over mix, you want the bubbles to keep the pancakes fluffy! As soon as the pancake mixture comes together, stop stirring and watch all the bubbles start popping up.
Don't flip your pancakes too early. It's an obvious one, but a big one!
Other than that, this is an easy delicious pancake recipe, just turned green.
While there are a few steps because we make the cream cheese icing and green whipped cream from scratch, they do come together very quickly and easily.
If you are looking for a more diet friendly option, you could also do this same recipe with my 5 star rated Low Carb Pancakes recipe. Just color them green!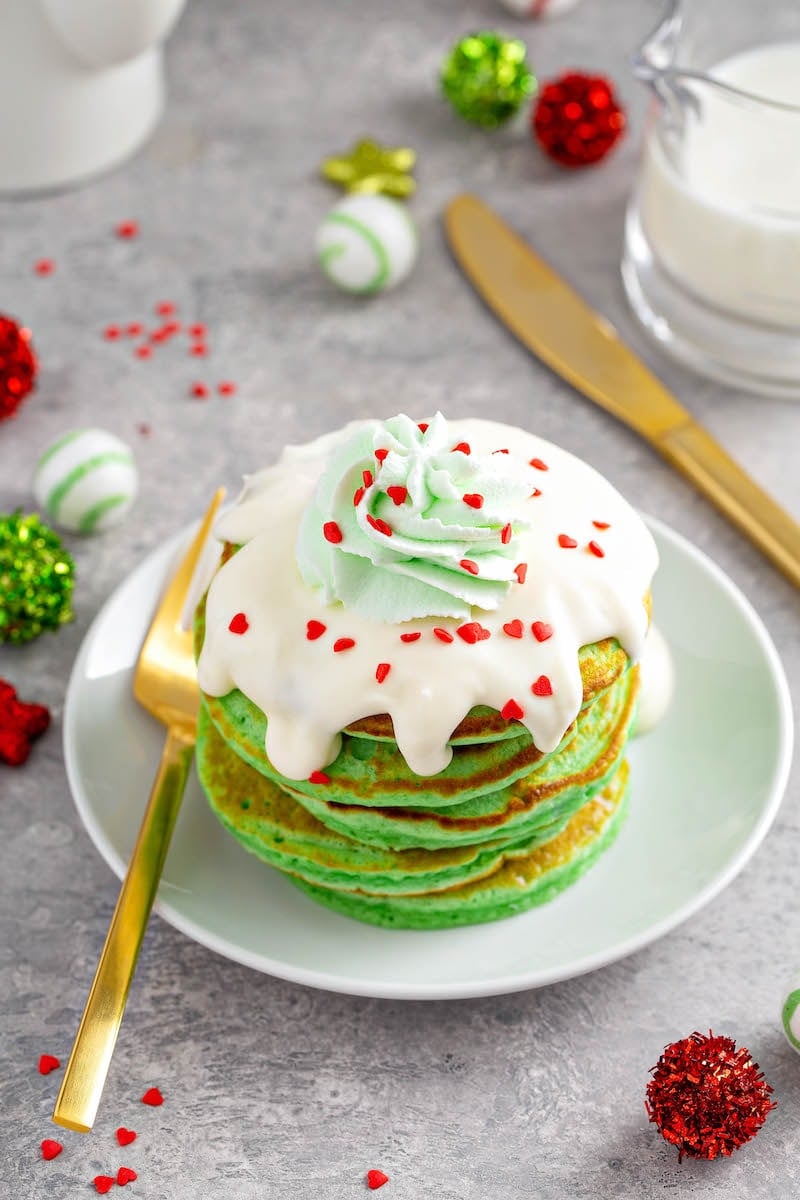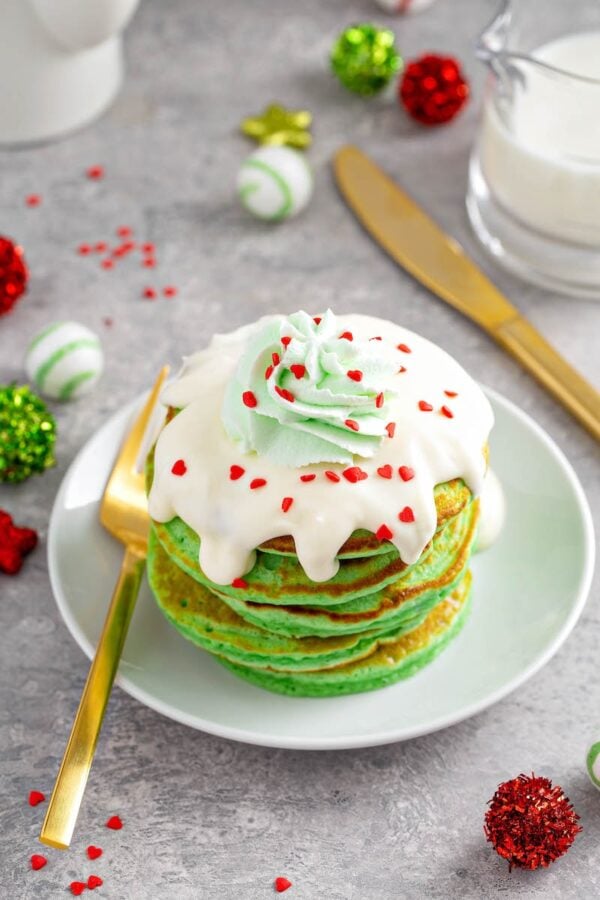 These Grinch Pancakes are as delicious as they are festive and I promise the kids are going to love them.
They make a wonderful Christmas breakfast, but are also fun as breakfast for dinner while watching The Grinch movie as a family.
I hope your family loves these as much as we do, please leave me a comment/review below letting me know how this recipe turns out for you!
Yield: 10 - 12 medium sized pancakes
Grinch Pancakes Recipe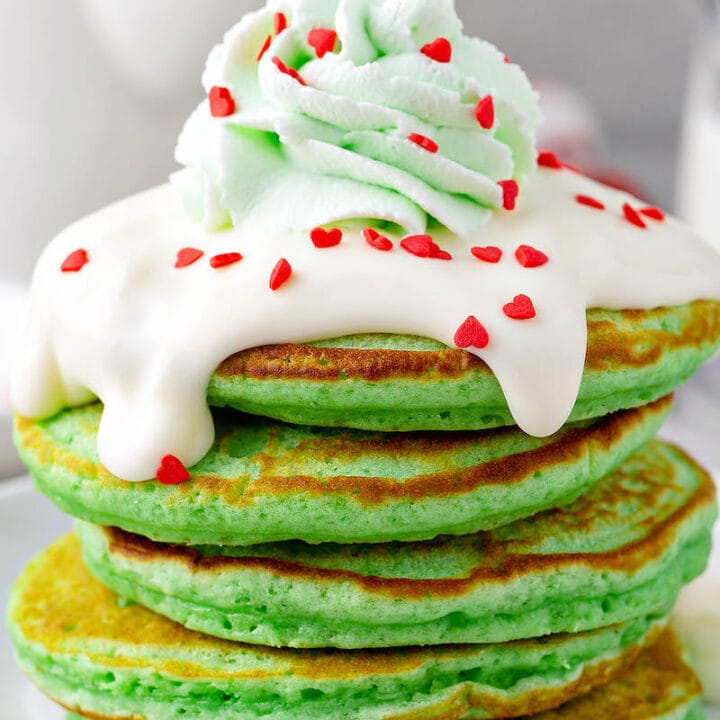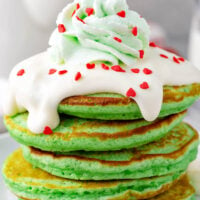 These adorably green Grinch Pancakes are a homemade copycat recipe for the IHOP Grinch Pancakes. The kids will love this festive Christmas breakfast recipe!
Ingredients
Pancakes
3/4 cup whole milk
2 tablespoons white vinegar (or lemon juice)
1 cup all-purpose flour
2 tablespoons granulated sugar
1 teaspoon baking powder
1/2 teaspoon baking soda
1/2 teaspoon salt
1 large egg
2 tablespoons butter, melted
lime green food coloring/gel
cooking spray
Cream Cheese Icing
4 oz cream cheese, softened
1/2 cup powdered sugar
1 teaspoon vanilla extract
1/4 cup heavy whipping cream
Green Whipped Cream
1/2 cup heavy whipping cream
2 tablespoons powdered sugar, sifted
1/2 teaspoon vanilla extract
green food coloring/gel
red heart sprinkles
Instructions
Cream Cheese Icing: In a large bowl, beat cream cheese and powdered sugar, until well combined. Add whipping cream and vanilla extract and beat for 2 minutes until light and fluffy. Set aside.
Green Whipped Cream: Beat all ingredients in a large bowl on low speed using an electric mixer until bubbles start to form and then increase the speed to high. Beat until stiff peaks form. Store in fridge for up to 45 minutes.
Grinch Pancakes: Combine milk with vinegar in a medium bowl and set aside for 5 minutes.
In a medium bowl, whisk together flour, sugar, baking powder, baking soda, and salt. Set aside.
Whisk egg, butter and green food coloring into milk mixture. Pour the flour mixture into the wet ingredients and whisk until lumps are gone. Do not overtax, you want the bubbles to keep the pancakes fluffy!
Heat a large skillet over medium heat, and coat with cooking spray. Pour 1/4 cupfuls of batter onto the skillet, and cook until bubbles appear on the surface. Flip with a spatula, and cook until browned on the other side.
Top pancakes with cream cheese icing, green whip cream and a sprinkle of large red heart sprinkles!
Recommended Products
I am an Amazon affiliate member and I earn a small percentage from qualifying purchases. Thank you!
Nutrition Information:
Yield:
4 servings
Serving Size:
3 pancakes
Amount Per Serving:
Calories:

571
Total Fat:

35g
Saturated Fat:

21g
Trans Fat:

1g
Unsaturated Fat:

11g
Cholesterol:

145mg
Sodium:

729mg
Carbohydrates:

56g
Fiber:

1g
Sugar:

29g
Protein:

9g
This post may contain affiliate links. Read my disclosure policy.