Packed with seemingly fancy ingredients like dried apricots and Boursin cheese, this stuffed pork loin is deceivingly simple. Glaze it with a quick Dijon-balsamic sauce and the oven will do the rest.
The Best Pork Loin Recipe
Don't let this elegant stuffed pork loin intimidate you. With its mesmerizing swirls of apricot and Boursin cheese, who's going to imagine the filling's made in the blender? The sauce is equally easy. Once you get started, you'll be amazed at how easy it is to make a perfectly tender pork loin.
With a Dijon-balsamic sauce with hints of rosemary and lemon zest, the flavors seep into the pork loin and create a complex flavor profile with every mouthful. It's sweet, rich, spicy, herby, and citrusy.
Baked to juicy perfection, this glazed stuffed pork loin is a work of art that doesn't require years to make. Despite this, the flavor isn't compromised one bit. All your guests will praise how exquisite it is and all the time it must have taken you. If only they knew! Served with other easy, fancy sides, it's all eyes on you (and this dish.)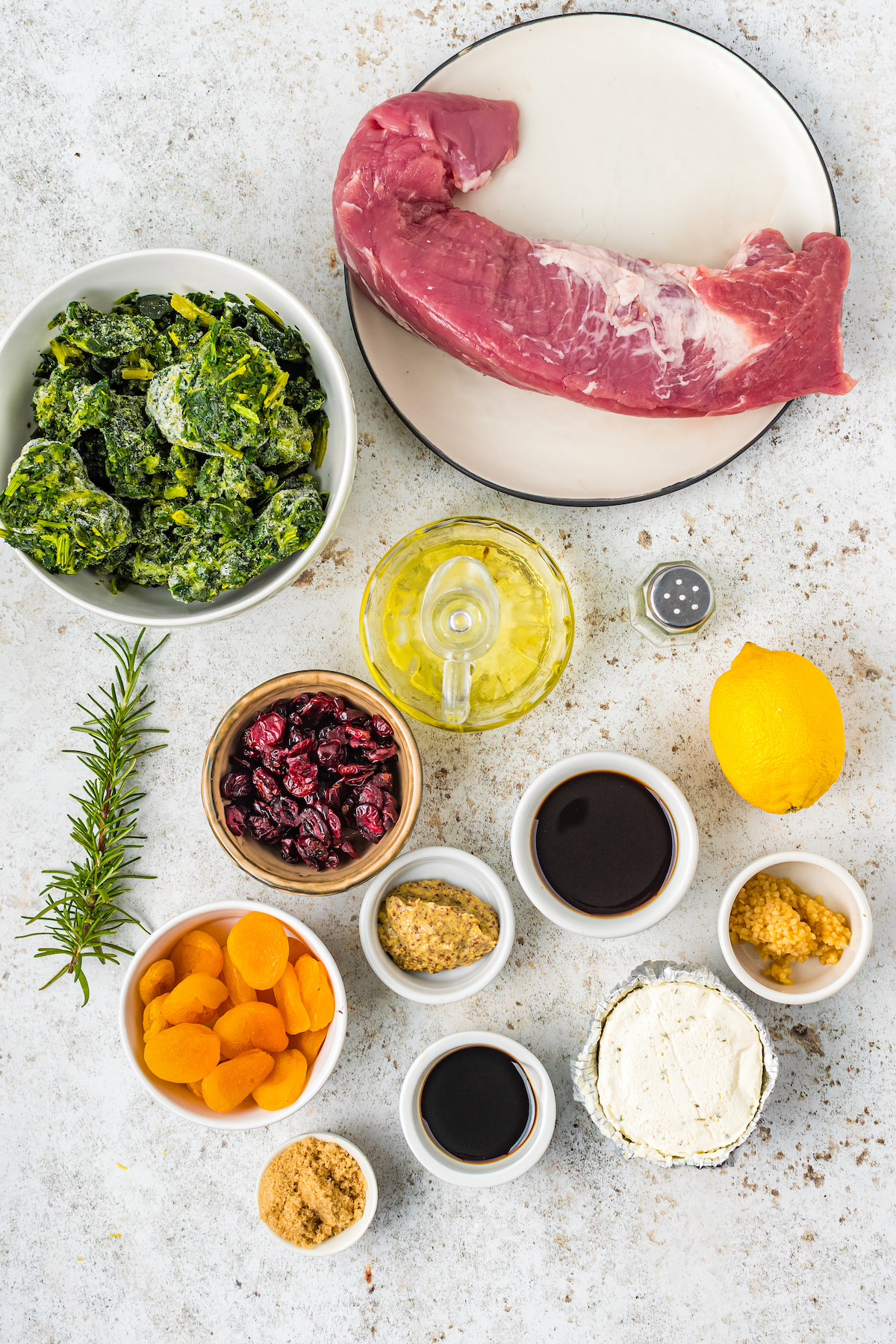 Recipe Ingredients
Here's a quick overview of what you'll need to make this pork loin recipe. Head to the recipe card at the bottom of the post for exact ingredient amounts.
For the Pork
Pork tenderloin – If you ask the butcher to slice it for you, you can cut down on the prep time.
Frozen spinach – You can also use fresh baby spinach.
Garlic – Feel free to substitute it for 1/2 tsp garlic powder.
Dried apricots – Dried peaches are okay too.
Dried cranberries – Do not substitute them for raisins.
Boursin cheese – Goat cheese or herbed cream cheese will do as well.
For the Sauce
Balsamic vinegar – If you don't have any, use the same amount of apple cider vinegar or red wine vinegar.
Olive oil – You can use any neutral-flavored oil like sunflower, canola, corn, or vegetable oil.
Soy sauce – You can also use tamari.
Brown sugar – Light brown sugar is recommended, but dark brown also works.
Dijon mustard – This is extra spicy and adds great flavor, but regular mustard is okay too.
Fresh rosemary – Swap it out for 1/2 tbsp dried rosemary.
Lemon zest – Orange zest is great too.
Minced garlic – It can be substituted for 1/2 tsp garlic powder.
Salt
Is Pork Loin the Same As Pork Tenderloin?
No. Think of pork loin as beef loin. It's a boneless, long, and narrow cut that's practically fat-free.
Pork tenderloin is not as narrow. It's more spread out, can be bone-in, and usually has a layer of fat on top.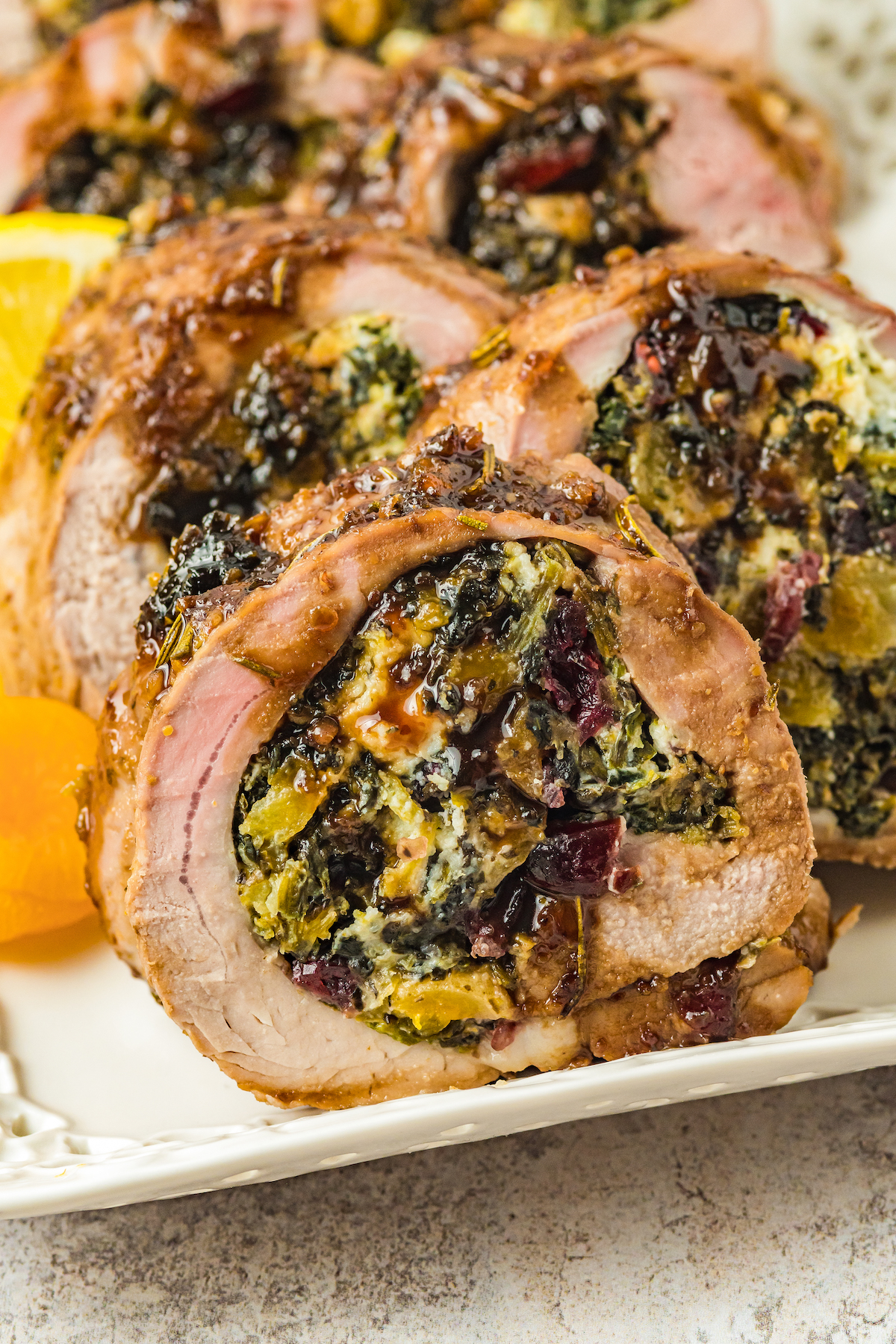 How to Make Stuffed Pork Loin
The filling is blended and the sauce is whisked— I told you this fancy recipe is actually quite simple. Here's everything you need to do:
Prepare the pork. Preheat the oven to 350 F. Use a sharp knife to carefully slice the pork loin open so that it's thin and spread out. Set it aside.
Process the filling. Add the garlic, spinach, apricots, and cranberries to a blender. Process until you get a fine but chunky mixture.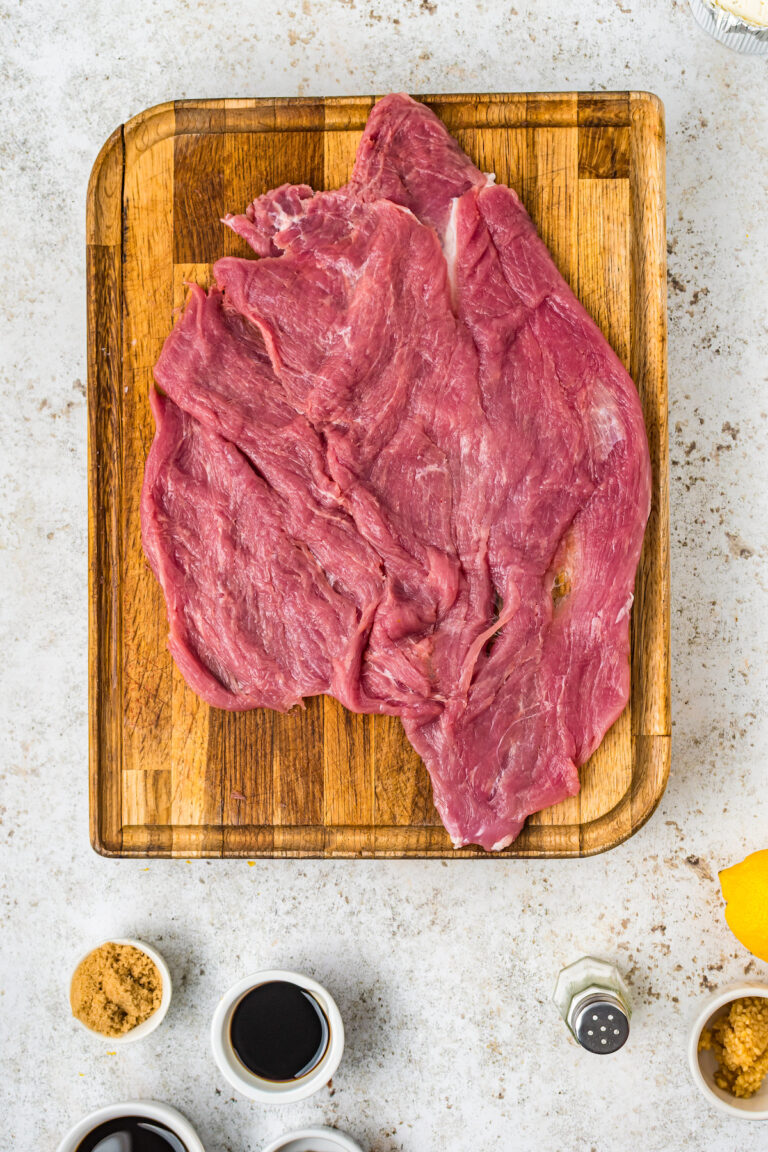 Make the filling. Add the cheese to the blended mixture and stir to combine.
Make the sauce. Whisk all the sauce ingredients. Set it aside.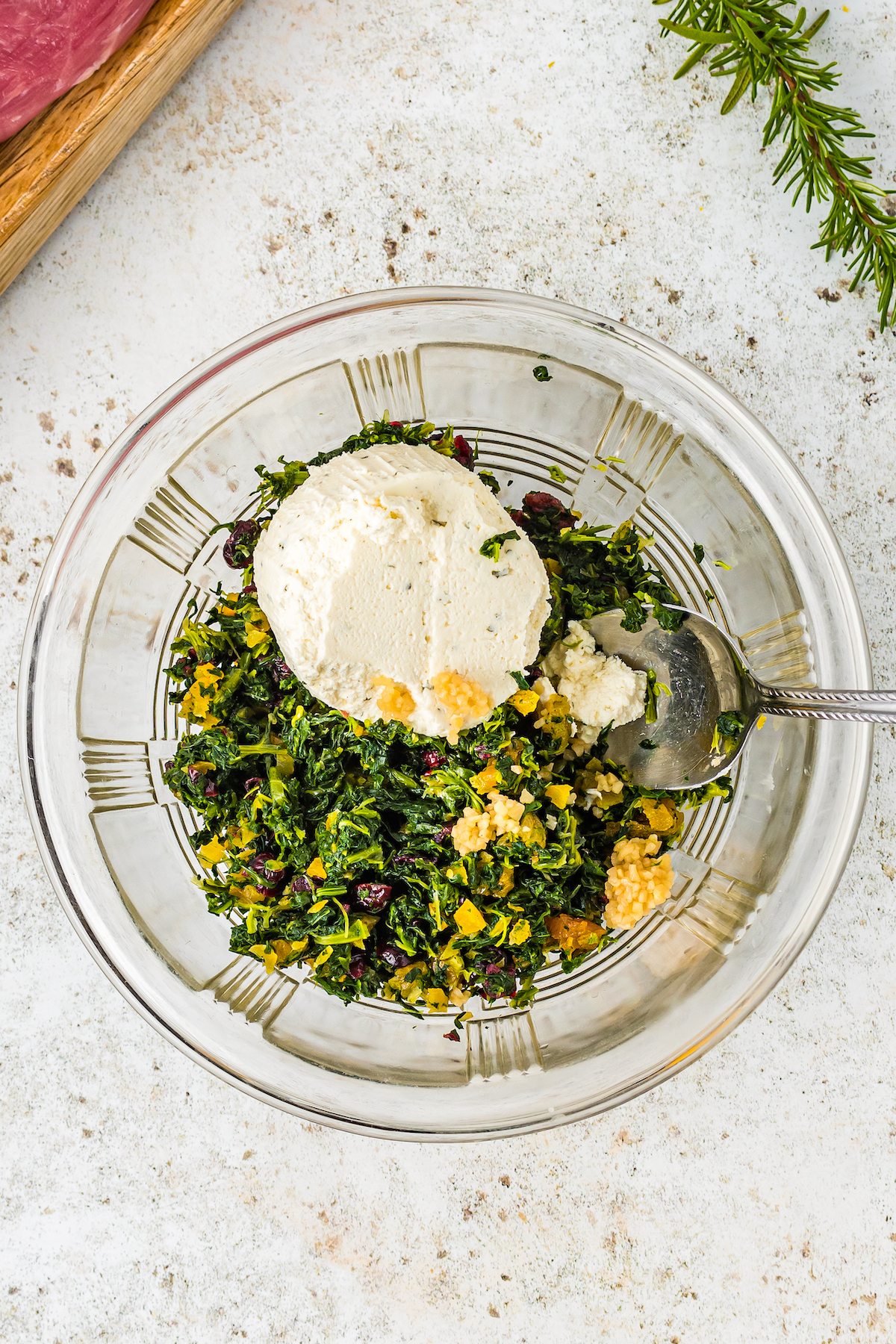 Spread the filling. Use a spoon or offset spatula to spread the filling over the pork loin. Roll the pork up tightly. Tie it with butcher's twine along the center and both ends. This is to prevent it from unfolding in the oven.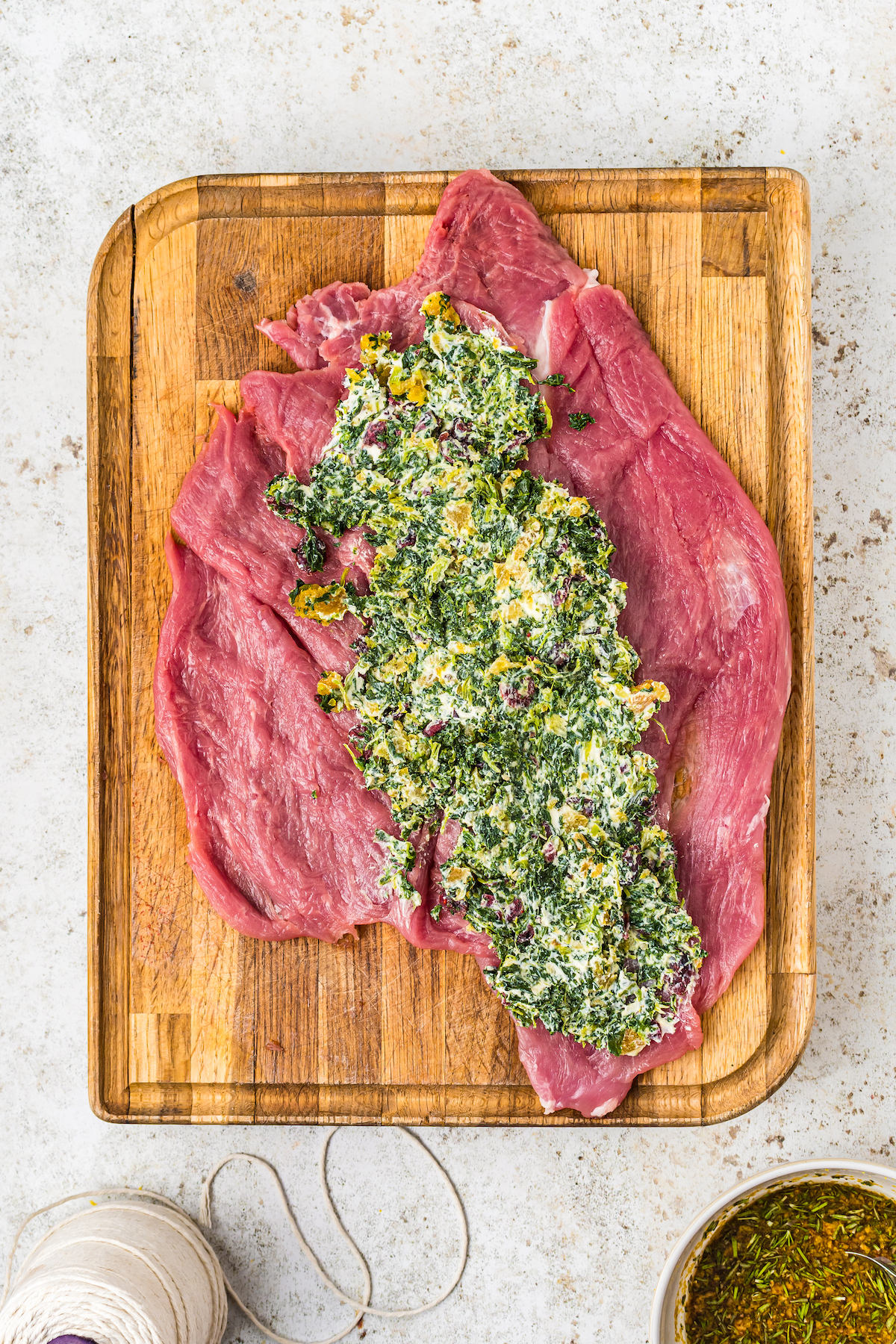 Place it in foil. Place the rolled pork over a piece of foil on a baking sheet. Fold the edges of the foil upward to create a little case. Pour the sauce inside. Loaf pans are also good for this because they'll contain the liquid.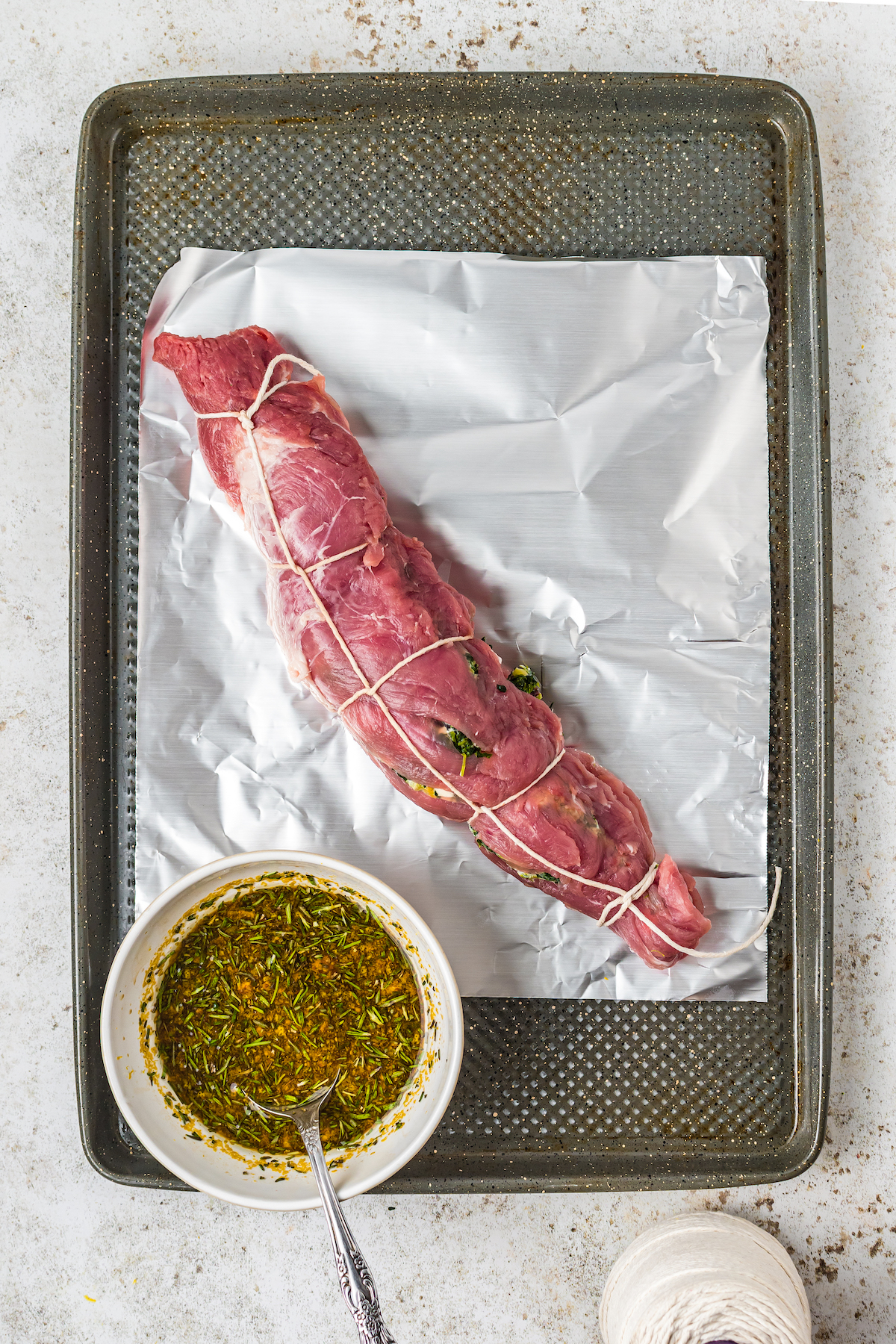 Bake. Pop it into the oven for 40 minutes or until cooked through. A meat thermometer should read 145 F.
Slice. Remove it from the oven and let it rest for 5-10 minutes. Remove the twine and carefully slice the roll into 1″ thick rounds. Serve and enjoy.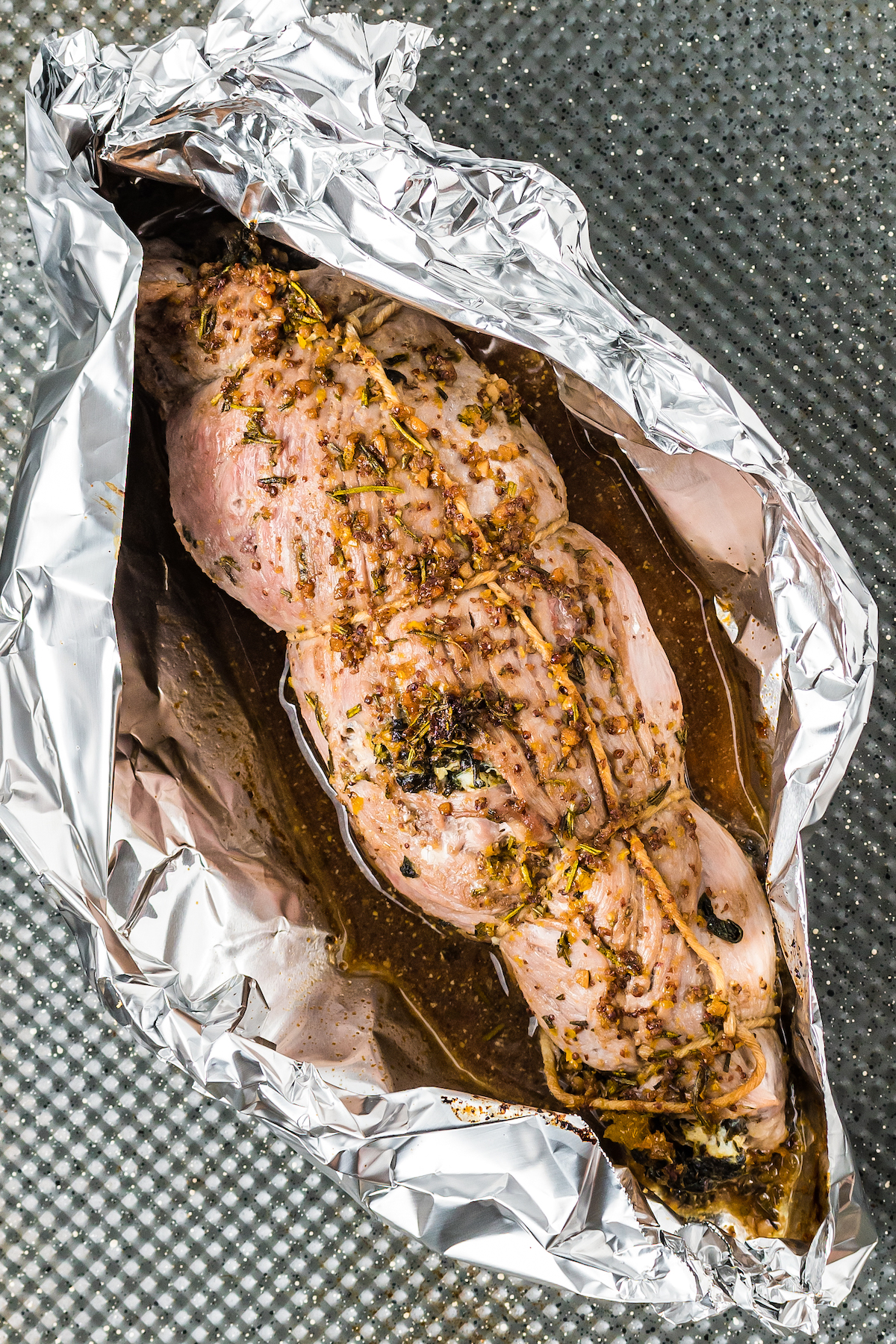 How Long Does It Take To Cook a Pork Loin Stuffed?
It usually takes 40 minutes for the stuffed pork loin to reach an internal temperature of 145°F, at which point it's done cooking. If you don't have a meat thermometer, don't worry. Bake it for about 20-25 minutes per pound of pork.
Tips for Juicy Stuffed Pork Loin
These tips are life-changers for any stuffed pork loin recipe. Don't skip them.
Cover it. If the pork starts to brown too much during baking, cover it with aluminum foil to prevent it from drying out.
Don't raise the temperature. Raising the oven's temperature won't cook the pork quicker. It will only dry it out and burn it. Let it bake at the correct temperature for juicy stuffed pork.
Flatten it. Use a meat mallet or rolling pin to help you flatten the pork loin and tenderize it after you slice it.
Don't open the oven. Avoid opening the oven door as the pork bakes. If the temperature drops, you'll need to cook it for longer, increasing your chances of it drying out.
Create steam. Place a baking tray filled with water on a lower rack as the pork bakes. It will evaporate and release steam, keeping the meat nice and moist.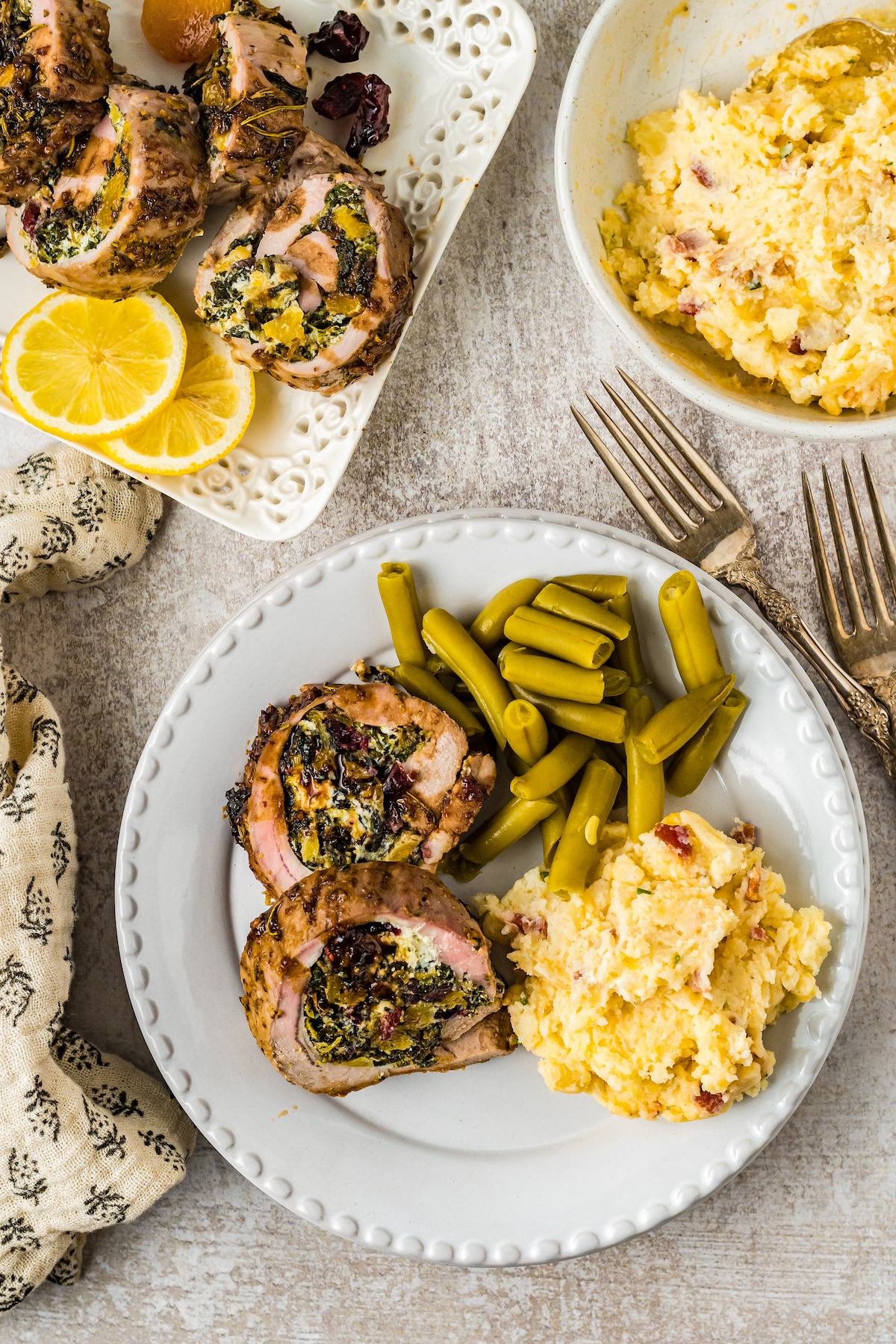 Serving Suggestions
This stuffed pork loin is a lovely dinner when drizzled with extra sauce and served with side dishes.
My Air Fryer Asparagus and Creamy Waldorf Salad are great veggie-packed options for lazy days. However, if you're looking to make equally impressive sides, then try these: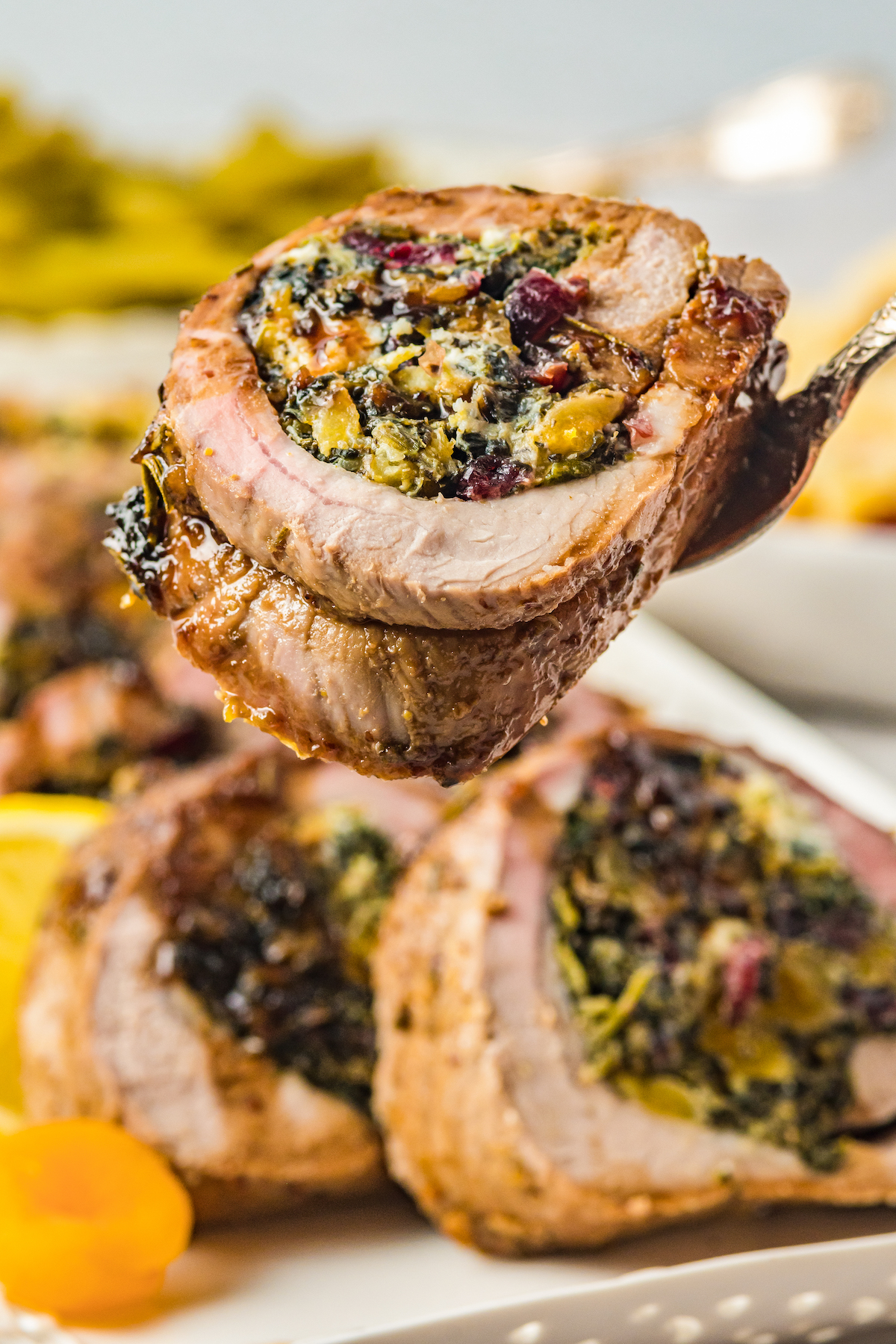 How to Store & Reheat Leftovers
Refrigerate the cooled leftovers in an airtight container for up to 5 days. To reheat it, sprinkle 1 tsp of water on the stuffed pork loin and microwave it for up to a minute or until warm. You can also heat it in the oven at 350°F for 10 minutes.
Yield: 6
Stuffed Pork Loin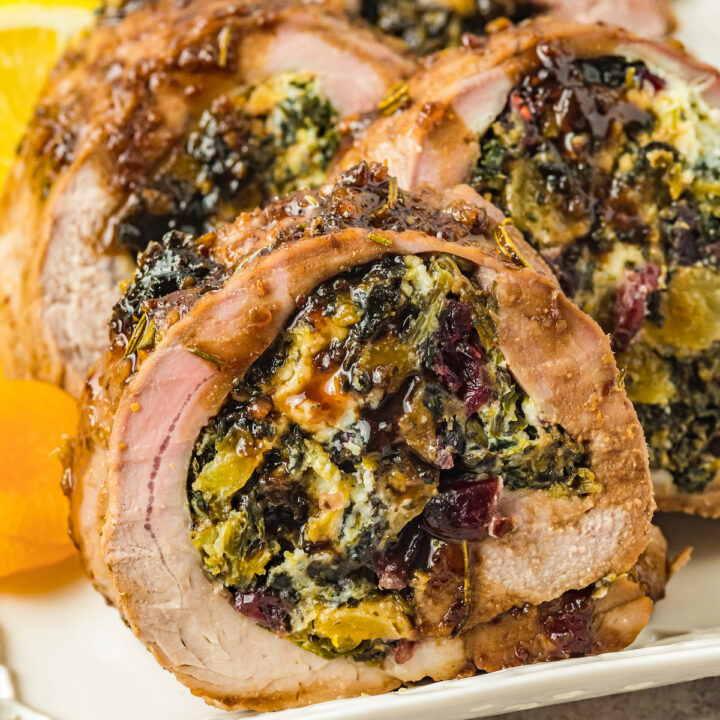 This stuffed pork loin has mesmerizing swirls of apricot and Boursin cheese filling. With an herbed Dijon glaze, it's an easy, fancy recipe.
Additional Time
5 minutes
Total Time
1 hour
15 minutes
Ingredients
For the Pork:
2 pound pork tenderloin
1 bag frozen spinach, thawed and squeeze to remove excess water
1 teaspoon minced garlic
1/2 cup dried apricots
1/2 cup dried cranberries
5.2 ounces Boursin cheese (or goat cheese)
For the Sauce:
1/4 cup balsamic vinegar
2 tablespoons olive oil
1 tablespoon soy sauce
1 tablespoon brown sugar
2 teaspoons Dijon mustard
1 tablespoon minced fresh rosemary
1 teaspoon lemon zest
1 teaspoon minced garlic
1 teaspoon salt
Instructions
Preheat the oven to 350°F.
Carefully slice the pork loin open. Set it aside.
In a food processor, pulse the spinach, garlic, apricots, and cranberries until chunky. Not too large of pieces, but not too small either.
Stir in the Boursin cheese, then evenly spread the mixture over the pork loin. Roll the pork loin up and tie it closed with butcher twine in a couple of places.
Place the stuffed pork loin in a large piece of foil on a cookie sheet. Fold the edges of the foil up around the pork loin to create a little bowl/boat around the meat. This will help to keep the glaze on the pork loin as it bakes. (If you are confused, check the step-by-step photos in the post.)
In a small bowl, whisk to combine all the sauce ingredients in a bowl and pour the sauce evenly over the pork loin.
Bake for about 40 minutes, until cooked through, or until a meat thermometer reads 145°F.
Remove from the oven and let the meat rest for 5 minutes. Remove the twine and slice into 1" rounds with a sharp knife.
Nutrition Information:
Yield:
6
Serving Size:
1
Amount Per Serving:
Calories:

455
Total Fat:

19g
Saturated Fat:

7g
Trans Fat:

0g
Unsaturated Fat:

10g
Cholesterol:

135mg
Sodium:

812mg
Carbohydrates:

24g
Fiber:

2g
Sugar:

19g
Protein:

46g
Categories
More Pork Recipes
This post may contain affiliate links. Read my disclosure policy.