Soft and fluffy, Duchess Potatoes are made from a creamy mashed potato mixture that's super easy to pull together. Make this vintage recipe ahead of time for a crowd-pleasing appetizer or side!
Why You'll Love This Duchess Potatoes Recipe
Perfect for the holidays: Though they look fancy, duchess potatoes are super easy to make – perfect for a special occasion. It's one of those simple, classic recipes that's made with only a few ingredients, but tastes like a million bucks!
Made with a few basic ingredients: The secret to this recipe lies in the old-fashioned combination of heavy cream, egg yolks, and just a little bit of nutmeg to add warmth and spice.
Easy alternative to mashed potatoes: Mashed potatoes are always a hit but duchess potatoes are a great option when you want something a little more elegant or fancy as a side.
(Looking for a more basic mashed potato recipe? I've got you covered – check out my Creamy Make-Ahead Mashed Potatoes, or these amazing Garlic Mashed Potatoes. I also love these Instant Pot Sweet Potatoes. Yum.)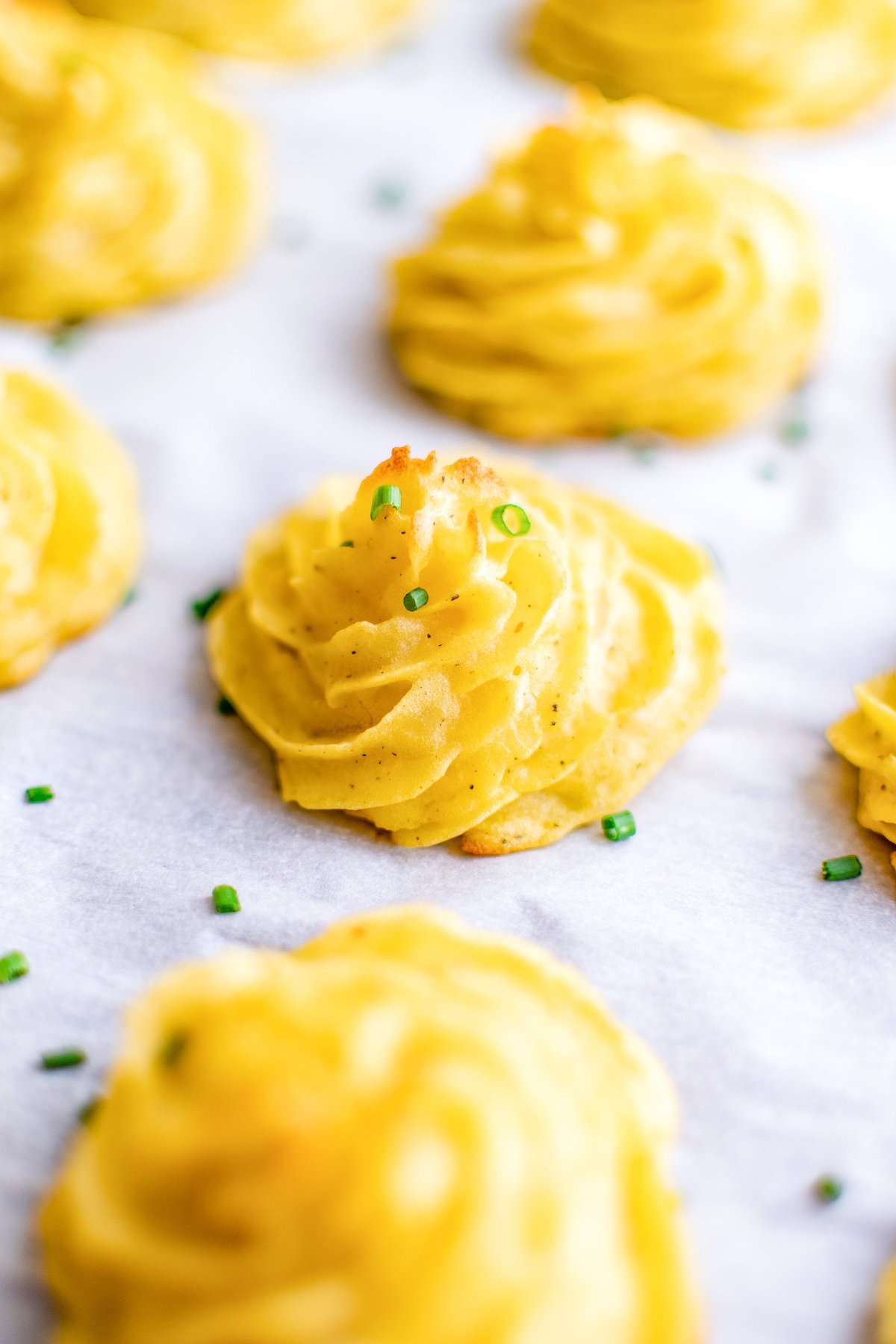 Why Are They Called Duchess Potatoes?
Recipes for duchess potatoes, or pommes de terre duchesse, date way back to 18th century France. Pommes de terre is French for "apples of the earth," AKA, potatoes. But the "duchesse" part is a bit of a mystery. There's no specific duchess tied to this recipe. It was likely just clever marketing to make the dish sound more appealing!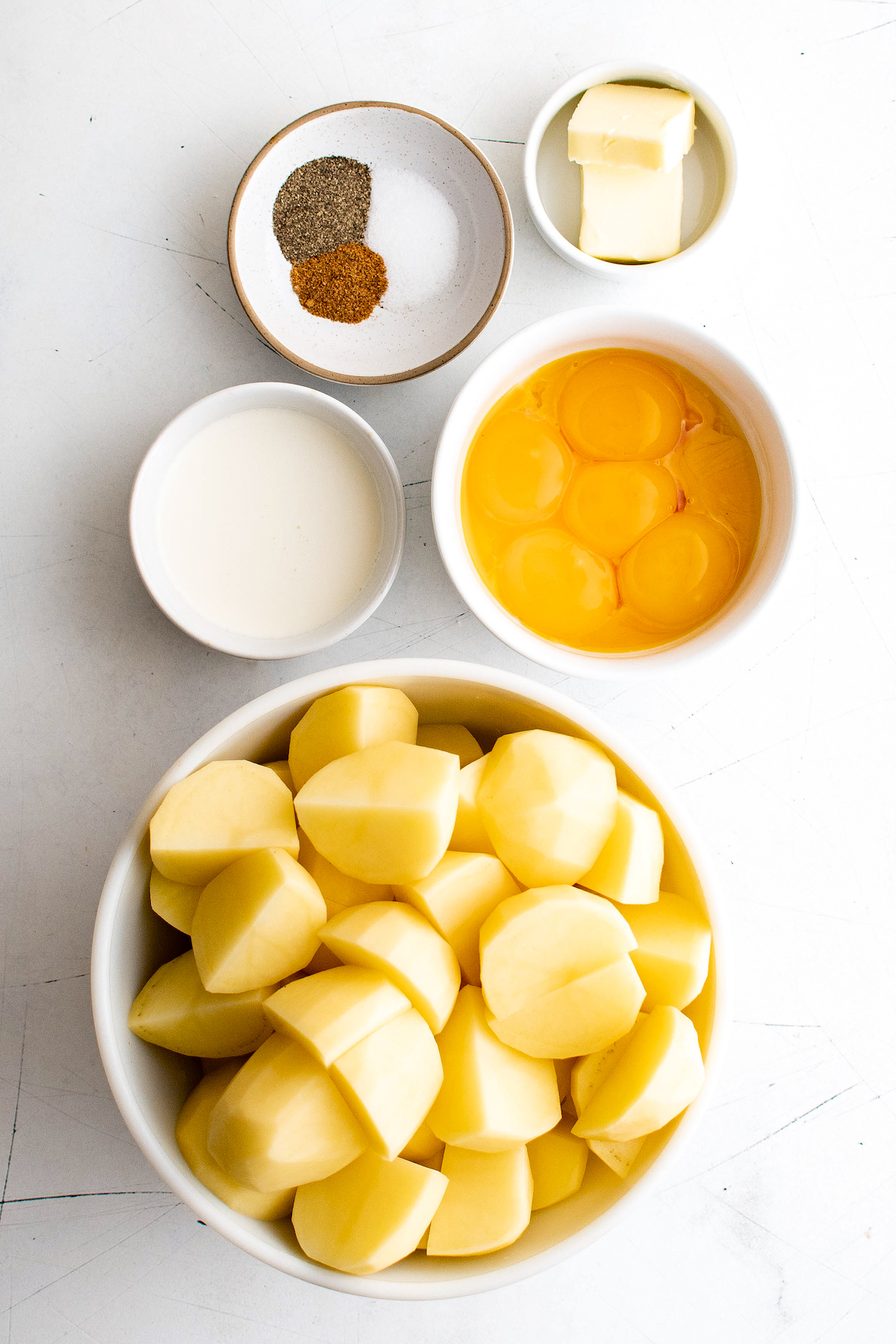 The Ingredients
This duchess potatoes recipe is made with just a handful of ingredients. Scroll down to the recipe card below for measurements.
Potatoes: Normally, I go for russet or Idaho potatoes when the recipe calls for mashing. In this case, though, I like to use yellow potatoes. You can definitely choose your favorite type. Just avoid very waxy varieties like fingerling potatoes.
Butter: You can use salted or unsalted butter.
Cream: Heavy whipping cream – don't use half-and-half here, it's not as rich and your duchess potatoes won't have that special taste and texture.
Seasonings: Salt, pepper, and ground nutmeg.
Egg Yolks: Separate the yolks from the egg whites (you can save the egg whites for an omelet or meringue later). Have the yolks at room temperature before adding them to the recipe. They add richness and a creamy texture to the potatoes.
Optional Garnishes: You don't honestly don't even need any garnishes, but if you want, add some parmesan cheese, sour cream, and chives for even more flavor.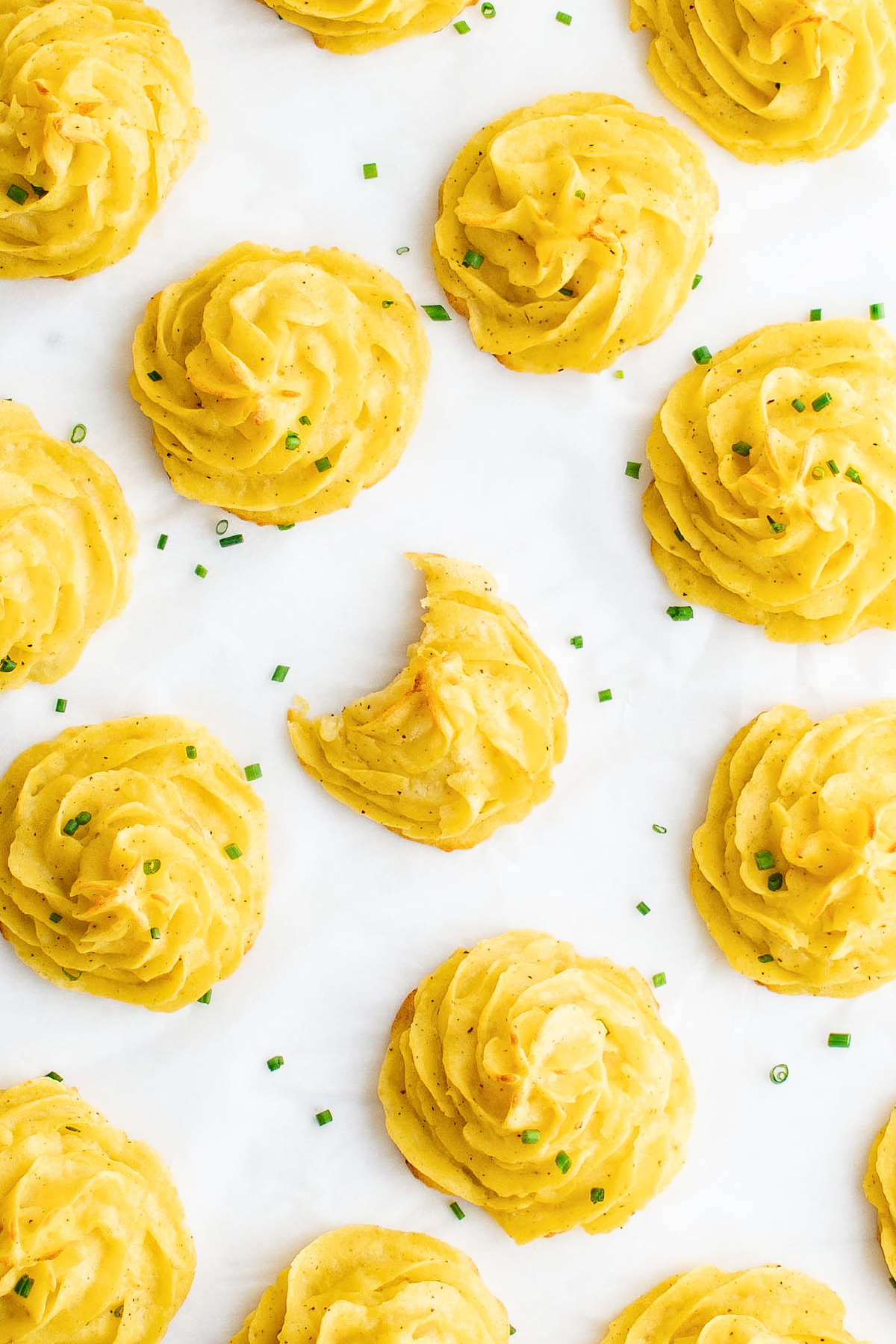 How to Make Duchess Potatoes
So let's talk about the cooking process! This easy recipe is sure to become one of your go-to favorites for the holidays, or just to make an ordinary dinner more special.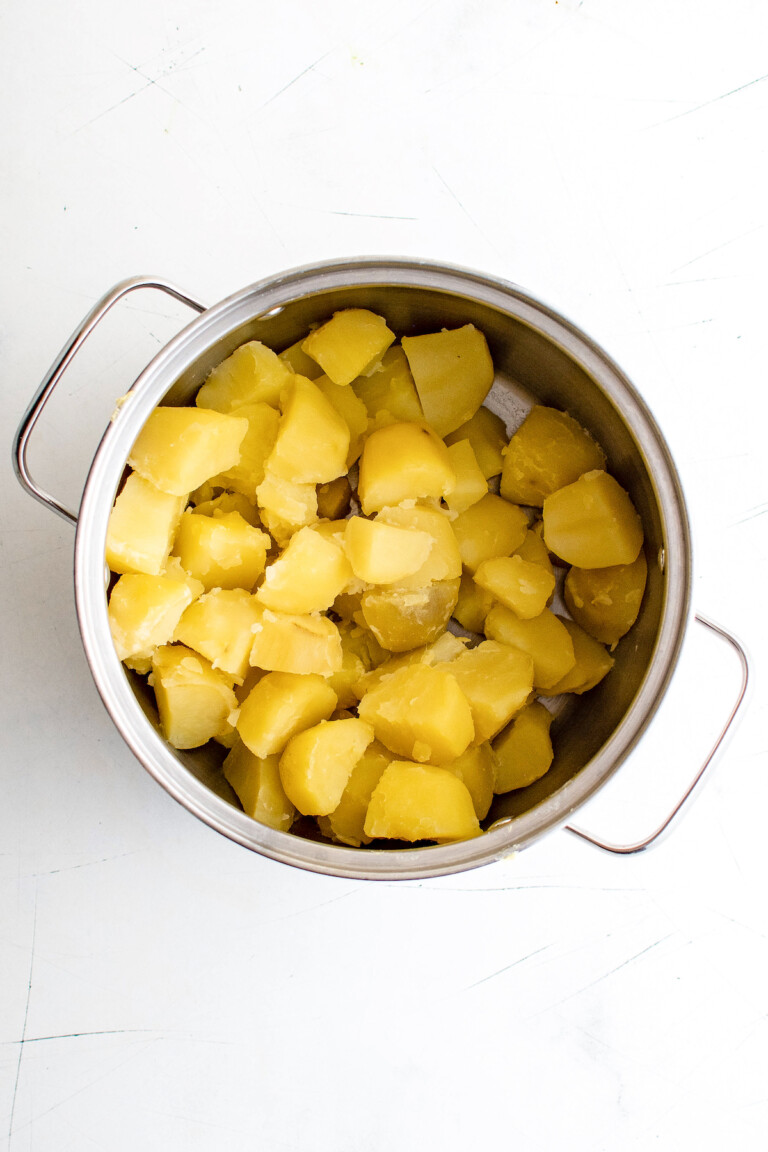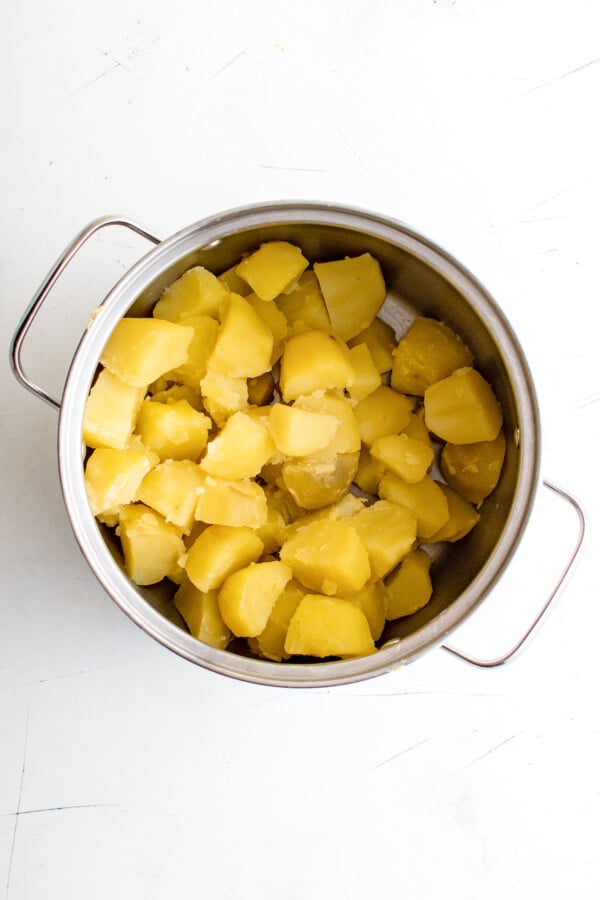 Prepare the potatoes: Boil the potatoes in salted water for 8 to 10 minutes, until fork tender. Drain then return to the pot and let them dry out for 30 minutes.
Mash the potatoes: Preheat the oven then mash the potatoes. Stir in the butter, cream, and seasonings.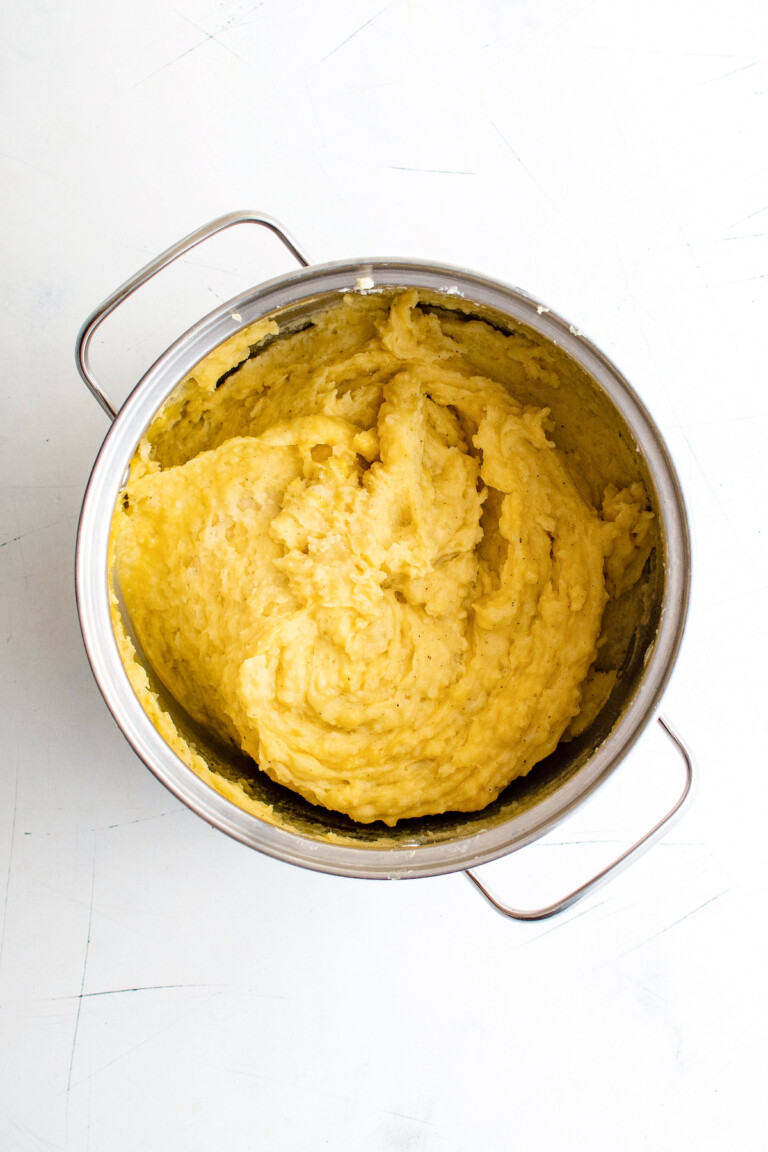 Pipe the potatoes: Fold in the egg yolks then transfer the mixture to a large piping bag with a star tip. Pipe the mixture onto a parchment-lined baking sheet, making small towers.
Bake. Bake for 20 to 25 minutes until the potatoes are golden brown. Enjoy!
Cook's Notes
These are just a few little tips for making duchess potatoes that might come in handy – check them out!
Mixing: Be careful when mashing and mixing the potatoes. You want them nice and smooth, but not gummy. That's why I recommend using a potato masher and folding in the egg yolks. It's a more gentle method than whipping with an eggbeater.
Make Ahead: Since these potatoes freeze well (see instructions below) you can always make them ahead of time and save them for a future occasion. Something to think about when potatoes or eggs are on sale, right?
Duchess Potato Casserole: As pretty as the individual servings of duchess potatoes are, they're just as pretty (and maybe a bit easier to transport to a potluck) piped into a casserole dish and baked that way!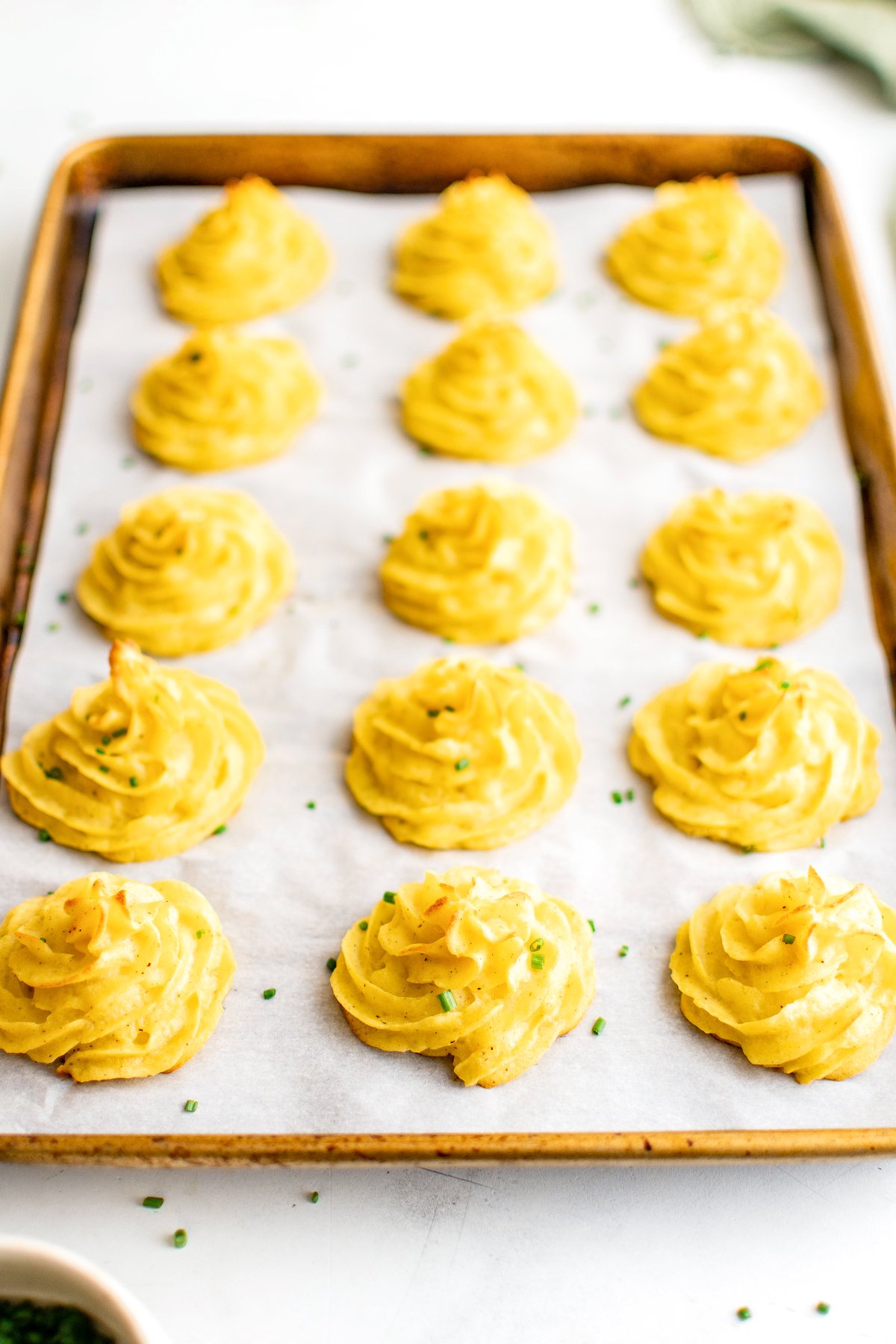 Ideas for Serving
This rich, creamy duchess potatoes recipe is the kind of recipe that goes really well with Christmas or Thanksgiving food. Of course, you don't have to wait for the holiday season to enjoy them! Just use that vibe for menu inspiration, and serve the potatoes with dishes like…
Short Ribs: Red Wine Braised Short Ribs are a show-stopping main course with a deep, gorgeous sauce that you'll crave.
Chicken: A classic roast chicken, like this easy Crockpot Whole Chicken, would be amazing, or go in a different direction with this creamy, tangy Lemon Caper Chicken.
Side Dishes: Duchess potatoes are even better alongside another yummy side dish or two. We adore this recipe for The Best Sauteed Green Beans with Bacon. They're a garlicky, Cajun-spiced side that can't be beat. Or this perfect Roasted Broccoli is always a crowd pleaser!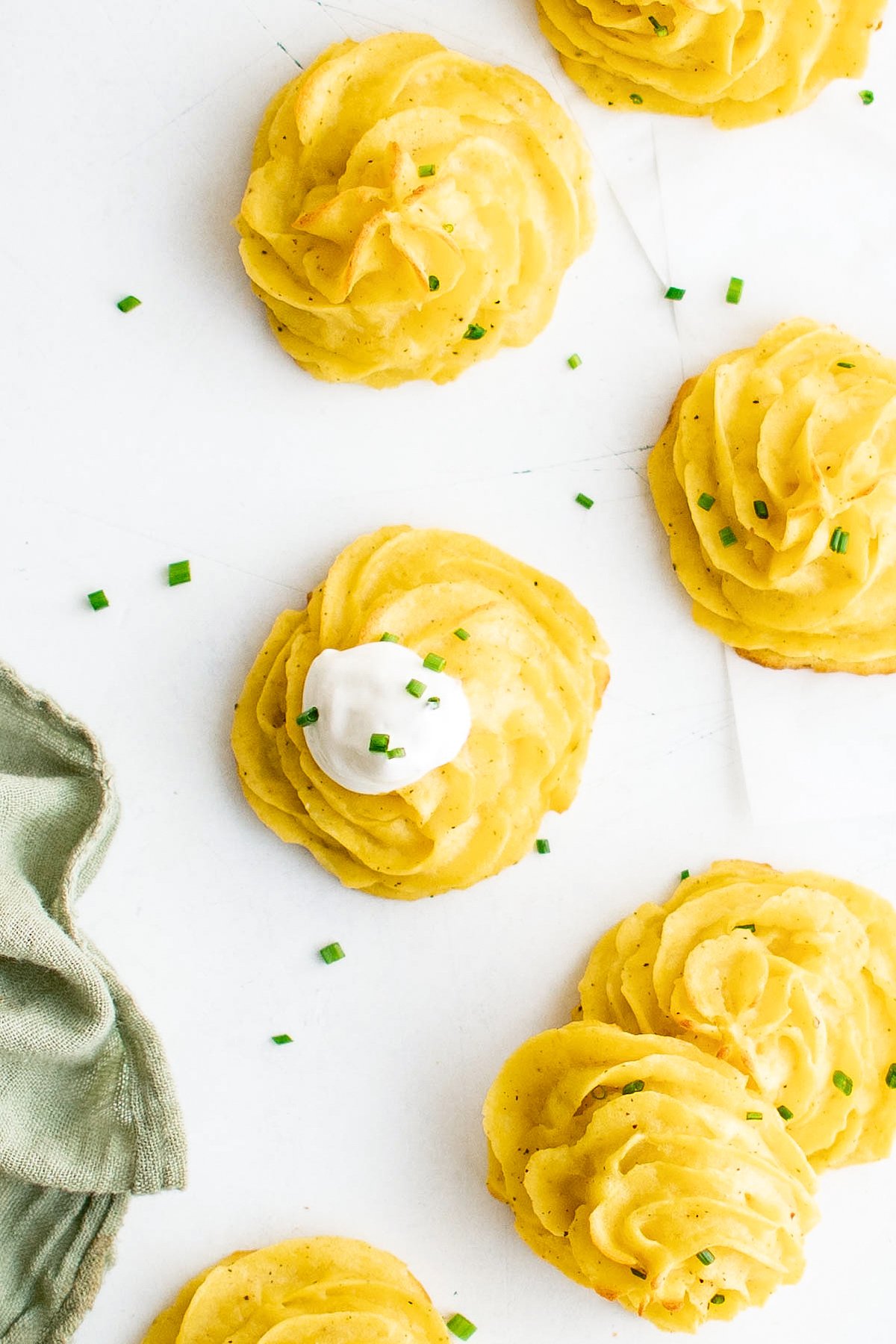 How to Store and Reheat Leftovers
Fridge. Leftover duchess potaotes will last for up to 4 days in the fridge. Store in an airtight-container or cover the baking dish with plastic wrap.
Reheat. The best way to reheat duchess potatoes is in the oven at 350F.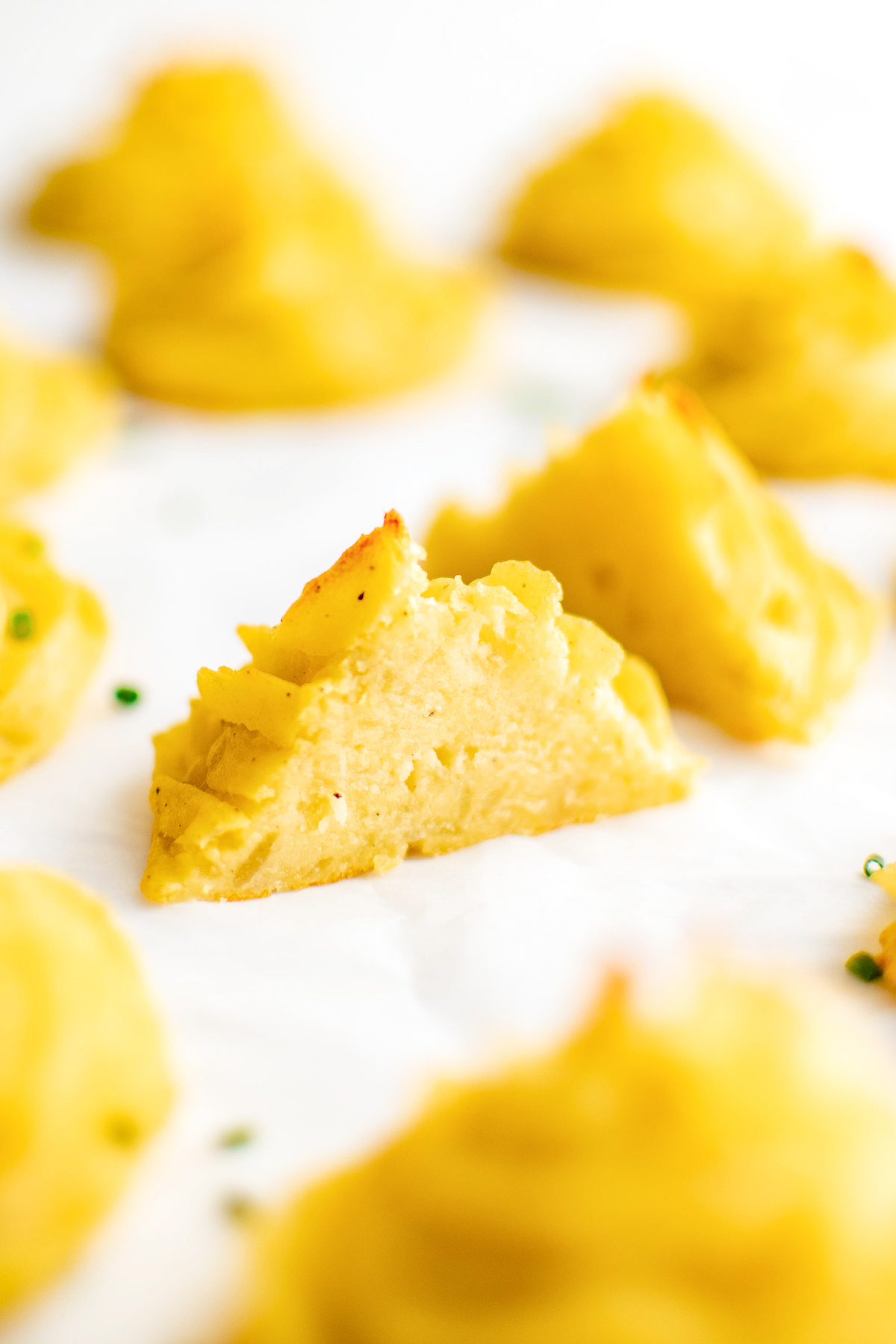 Can I Freeze Duchess Potatoes?
Sure thing! These duchess potatoes are great to freeze for another time.
Freeze. Pipe the potato swirls onto the baking sheet, but instead of baking, place them in your freezer. Let them freeze for an hour or two, until frozen solid. Then move them to an airtight container, and store them in the freezer for up to three months.
Cook. When it's time to reheat, don't thaw them out. Just place on a baking sheet lined with parchment, and bake as directed, adding a few more minutes since you started from frozen.
Duchess Potatoes
Soft and fluffy, Duchess Potatoes are made from a creamy mashed potato mixture that's super easy to pull together. Make this vintage recipe ahead of time for a crowd-pleasing appetizer or side!
Ingredients
3

lbs

yellow potatoes

,

peeled and cut into 2-inch pieces

2

tablespoons

butter

¼

cup

heavy cream

½

teaspoon

salt

½

teaspoon

ground black pepper

¼

teaspoon

ground nutmeg

6

egg yolks

,

room temperature
Optional Garnishes:
Parmesan cheese

Sour cream

Chives
Instructions
Bring a large pot of salted water to a boil and cook the potatoes for 8 to 10 minutes, until fork tender.

Drain the potatoes then add them back to the pot and let them cool for at least 30 minutes to dry out as much as possible.

Preheat the oven to 425°F. Then use a potato masher, or fork, to mash the potatoes.

Stir in the butter, then add in the heavy cream, salt, pepper and nutmeg and mix until well combined.

Line a baking sheet with parchment paper and pipe the potato mixture onto the baking sheet into small towers.

Bake the potatoes for 20-25 minutes or until they are golden brown.

Serve with freshly grated parmesan, sour cream and freshly chopped chives for garnish if desired.
Notes
Storing: Duchess potatoes are still great up to four days later, as long as you store them in an airtight container in the fridge. Reheating: Reheat in the oven at 350°F. Freezing: To reheat, pipe the potato swirls onto a parchment-lined baking sheet, and place in your freezer until frozen solid. Then move them to an airtight container, and store them in the freezer for up to three months. Bake directly from frozen until warmed through and golden brown.
Nutrition
Serving:
1
,
Calories:
256
kcal
,
Carbohydrates:
37
g
,
Protein:
7
g
,
Fat:
10
g
,
Saturated Fat:
5
g
,
Polyunsaturated Fat:
4
g
,
Cholesterol:
156
mg
,
Sodium:
192
mg
,
Fiber:
4
g
,
Sugar:
2
g
Categories:
More Fabulous Potato Recipes
This post may contain affiliate links. Read my disclosure policy.