Gnocchi in Brown Butter Sage Sauce is an easy dinner recipe with made homemade potato pasta. My recipe has a sneaky shortcut that makes it perfect for a lazy, comforting dinner. Let's do this!
Easy Homemade Gnocchi with Sage and Butter
I'm all for a good diet-friendly, low-carb recipe now and then. We all make our little resolutions from time to time, so we can lose holiday pounds or get ready for swimsuit season, blah blah. But you know, when faced with a plate of light and fluffy gnocchi, all of that sounds super… lame.
The only drawback to gnocchi is that it's kind of a long process to make them, so for a lot of us, gnocchi are just a restaurant or take-out thing. Well, all of that is about to change, because today we are making gnocchi using (get ready for it) dehydrated potatoes!
Before you go all purist on me, let me explain – a while back, I had the chance to visit Idaho and some of the amazing potato farms there. I also got to go behind the scenes and learn about what happens to all the potatoes that are too "ugly" or large to make it to your local grocery store. Seeing the potato-flake process firsthand has made me much more comfortable throwing them into my recipes. This gnocchi recipe is one of the best.
You can also use these easy homemade gnocchi in my favorite Creamy Chicken & Gnocchi Skillet or this Copycat Olive Garden Chicken Gnocchi Soup!
Is Gnocchi a Pasta or Potato?
Gnocchi is sort of both! It's a potato-based "dumpling" that you boil in water, like fresh pasta. It's pronounced "NYO-kee." (Pro tip: there are also gnocchi made with ricotta cheese, polenta, and other ingredients, but potato gnocchi are probably the most famous here in the U.S.) You can buy gnocchi ready-to-cook in the pasta aisle of most grocery stores, but they tend to be kind of heavy and chewy. Fresh gnocchi are much tastier, and with this potato flake hack, they're really easy as well.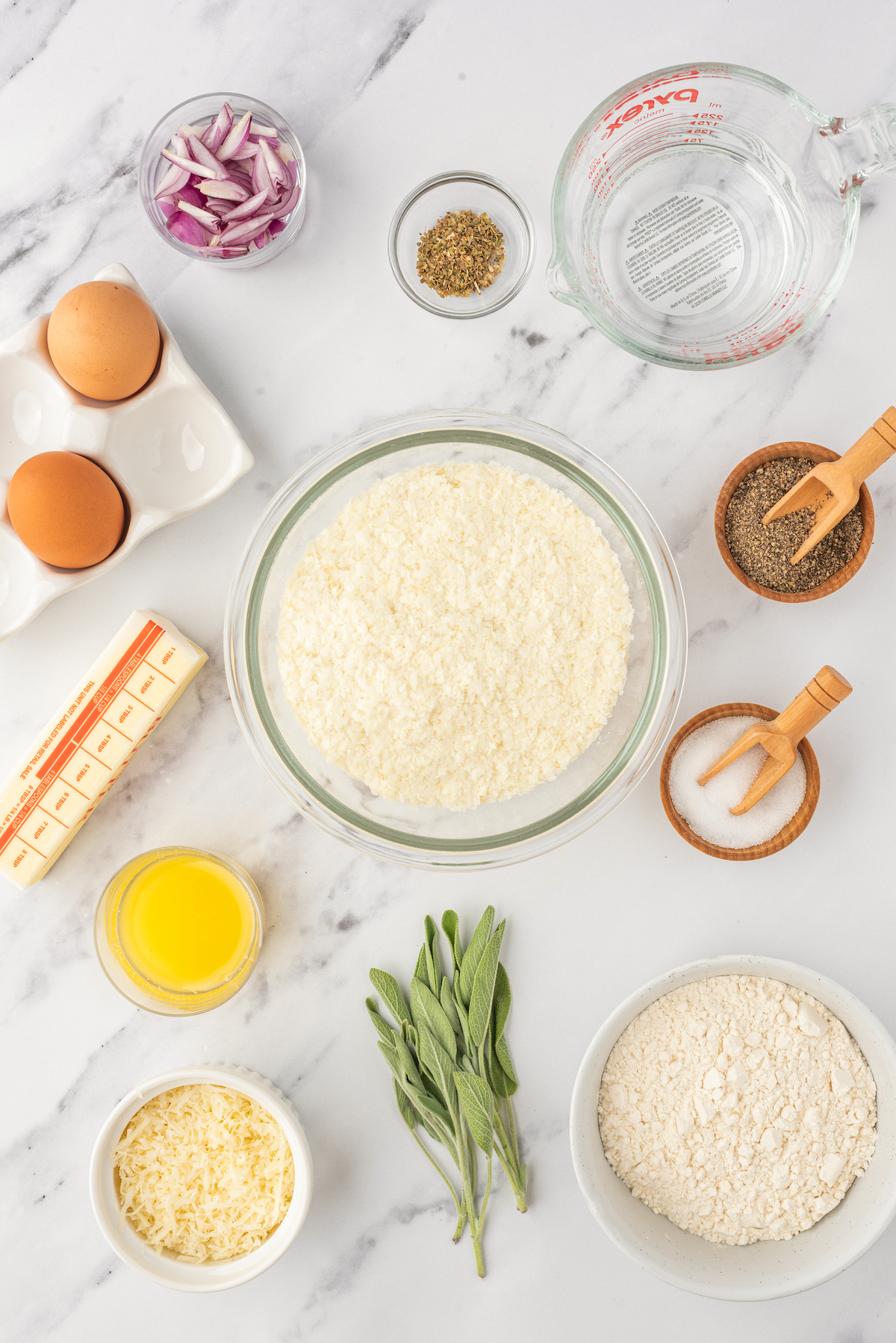 The Ingredients You'll Need
Besides potato flakes, what do you need for this recipe? Just a few simple items. Even the sauce here is incredibly easy to make.
For the Gnocchi
Potato Flakes: AKA instant mashed potatoes.
Flour: I just use all-purpose flour, but if you wanted to be a little extra, use half cake flour and half all-purpose.
Water: For bringing the dough together.
Eggs: Large, whole eggs add richness and help bind the mixture.
Butter: Melt the butter before using.
Salt and Pepper
Oregano
For the Sauce
More Butter: I like unsalted butter, so I can adjust how salty the sauce is more easily.
Shallots: These are usually found near the garlic in the produce section. Some are short and teardrop-shaped (like French shallots and Jersey shallots) while others are longer and thinner (banana shallots and yellow shallots). Any kind will work.
Sage: Fresh sage leaves, finely minced, give this simple sauce an incredible flavor! If you don't have fresh sage, dried rubbed sage would be fine.
Salt and Black Pepper
Asiago Cheese: Parmesan is also good.
What Are Instant Potato Flakes Made Out Of?
Basically, instant potatoes are made out of regular potatoes! Russet potatoes that are good, but not the right size or shape for bagging and sending to the grocery store, are cooked, mashed, and then quickly dried in a thin, flat layer. From there, the dried mashed potatoes are broken into little flakes, and packed. Some varieties include a few added ingredients to keep the potato flakes from sticking and clumping, or to preserve their freshness longer.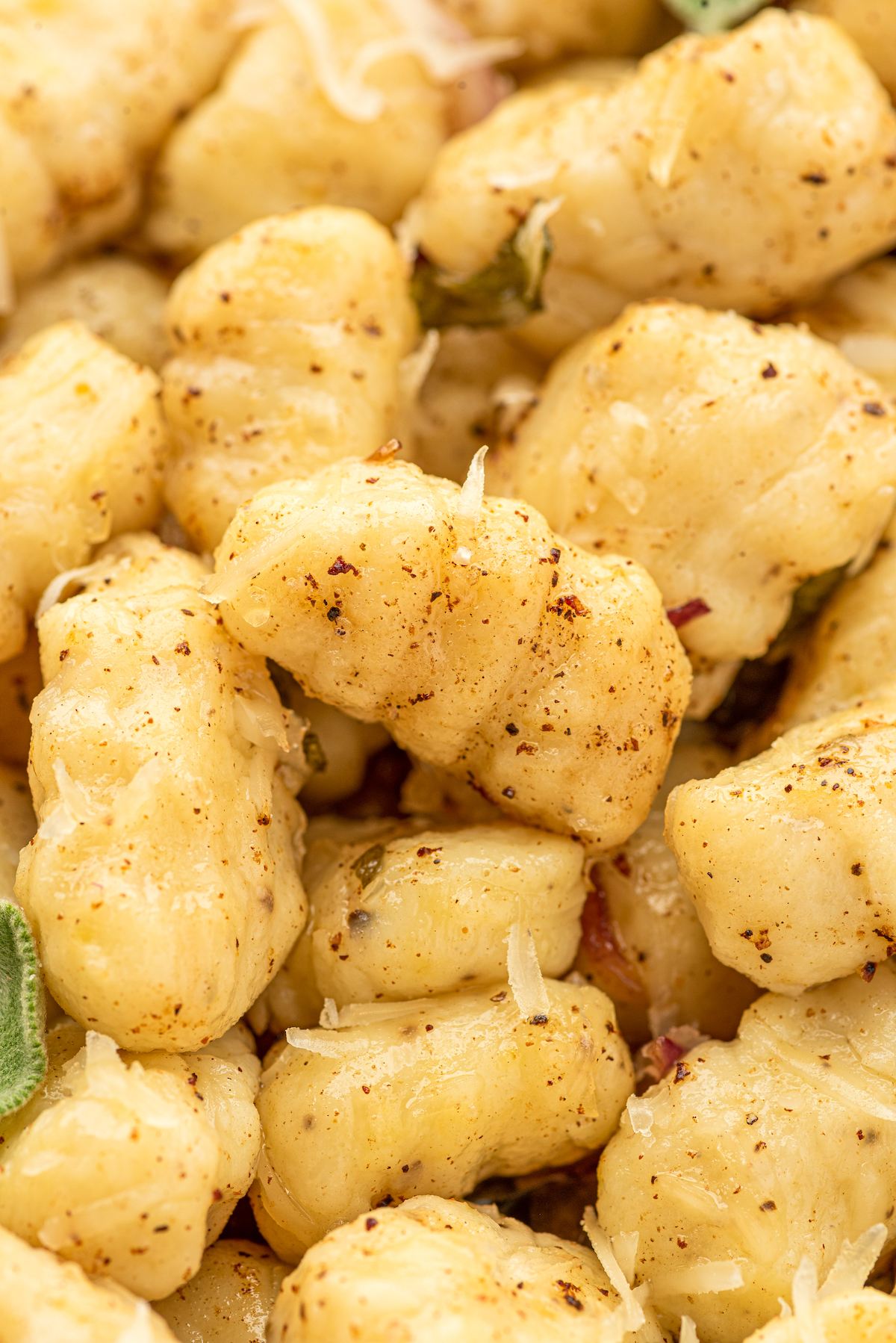 Let's Make Gnocchi!
The process here are very simple, and there's no need for baking, peeling, and mashing the potatoes – which is great, because I always used to rush through those steps and end up with burnt fingers. (I have no patience.) A food processor makes everything even easier.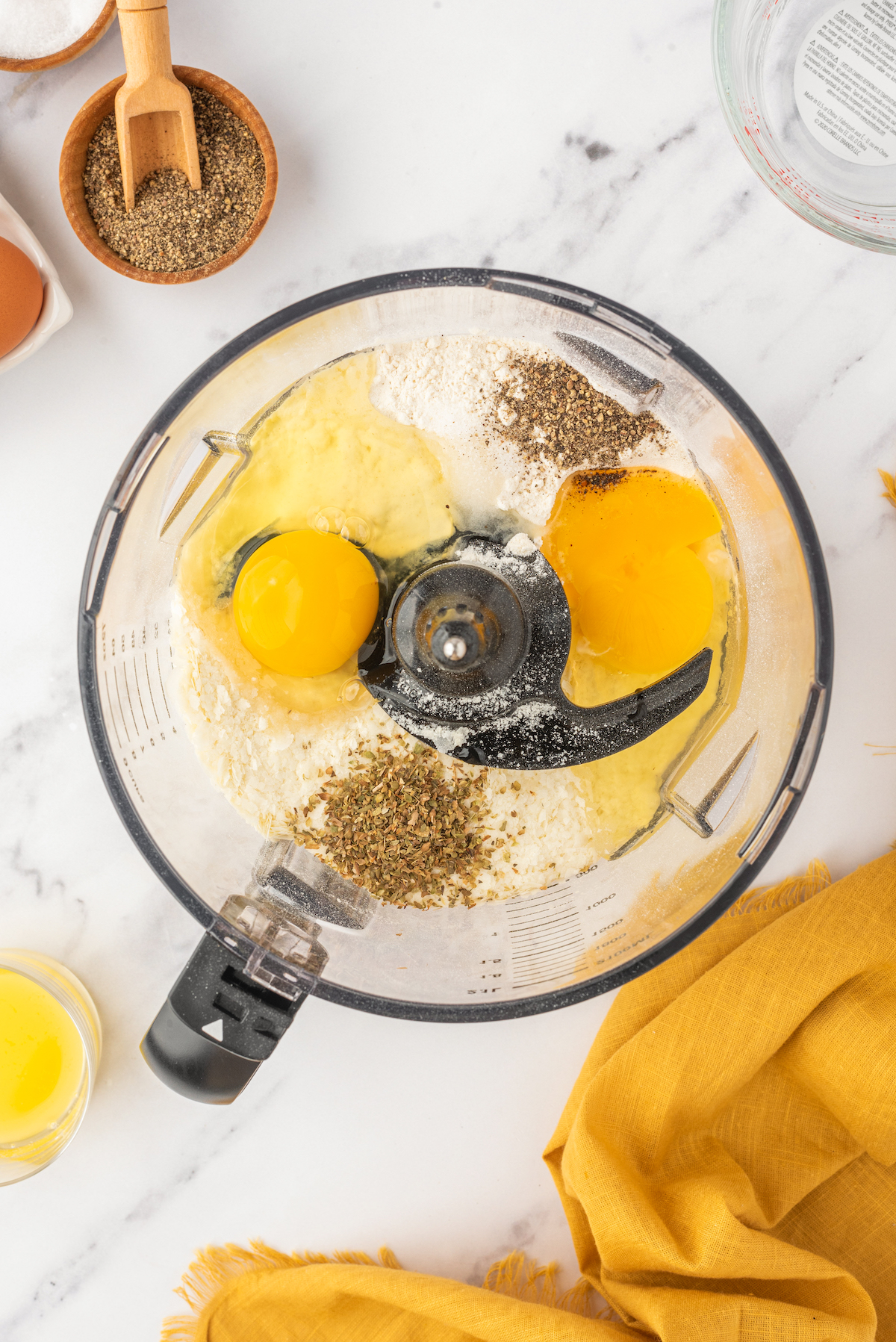 Mix the Dough Ingredients. First, get out your food processor (or use a mixing bowl and a hand mixer). Combine the potato flakes, water, eggs, melted butter, and seasonings in the food processor, and process on low speed to make a dough. Don't over-mix, or the gnocchi will be tough.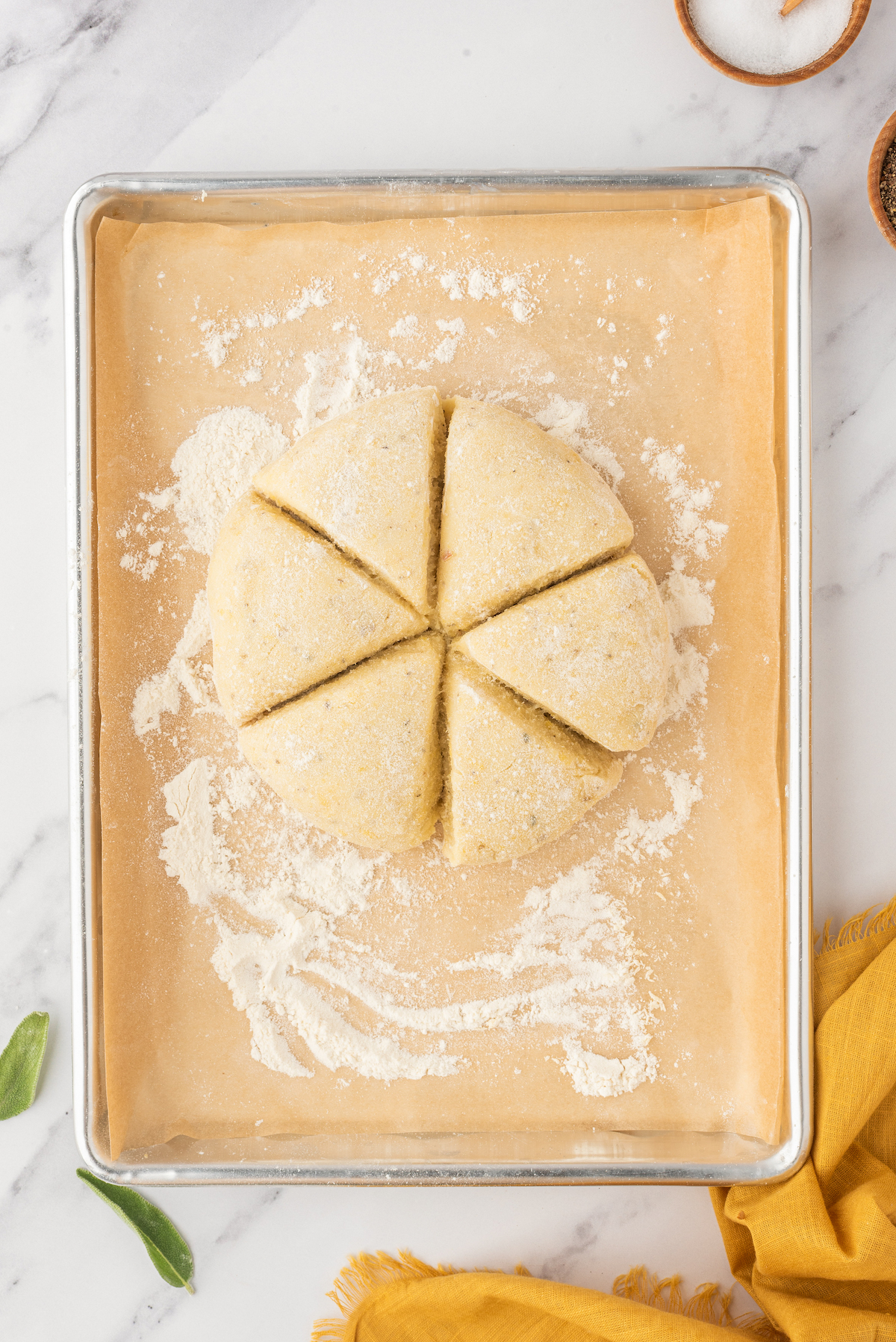 Cut and Shape the Gnocchi. Turn the dough out onto a clean work surface, and cut it into 6 roughly equal pieces. Working with one piece at a time, roll the dough into a long rope about 1/2 inch thick. Slice into little chunks about 1/2 inch long. Pick up each piece, and roll it against the tines of a fork to give it that classic gnocchi shape. Set aside on a floured tea towel or tray. Repeat with the rest of the dough.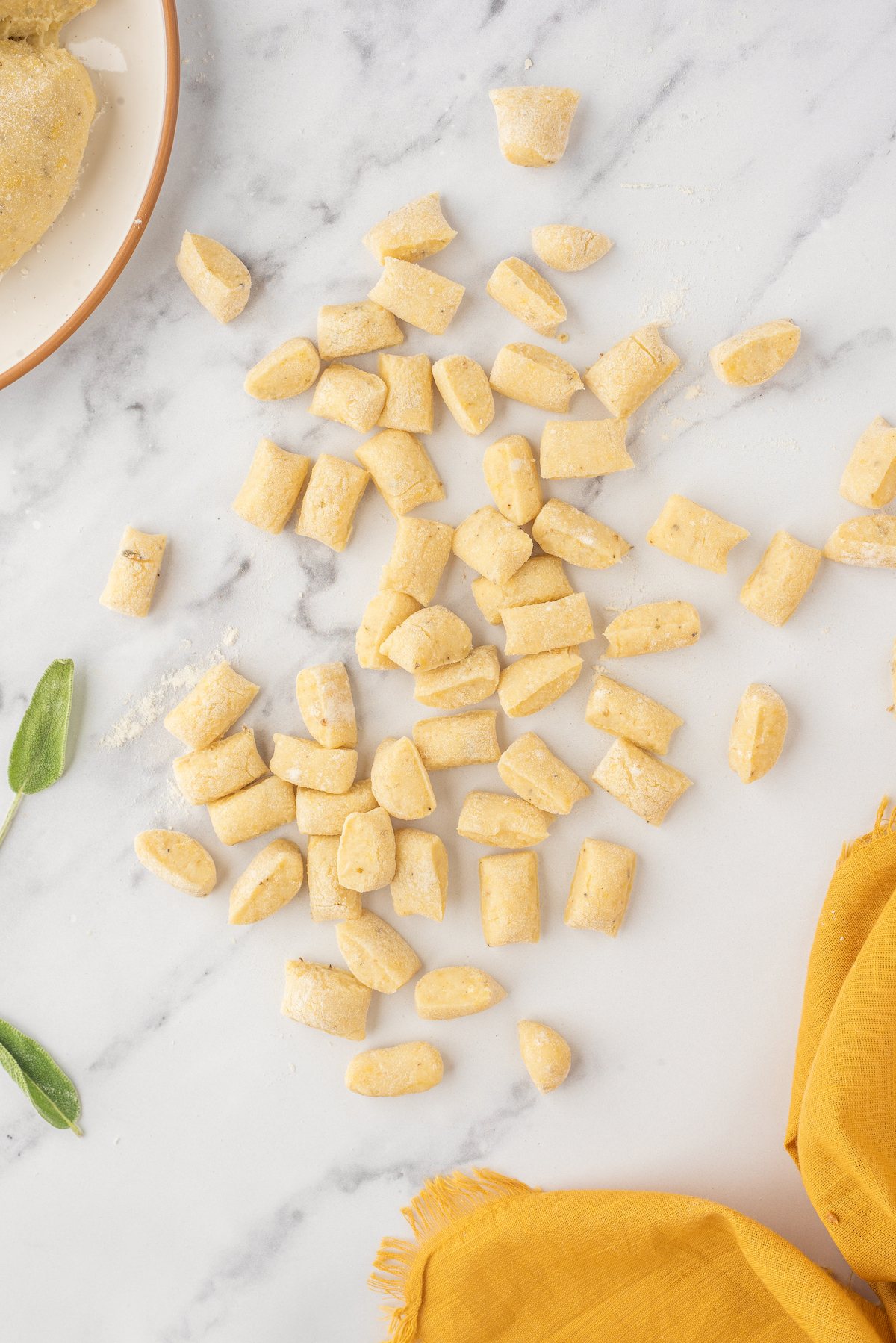 Cook. (Note: at this point, you can refrigerate or freeze the uncooked gnocchi – see instructions for storing and freezing below!) To cook the gnocchi, bring a large pot of water to boil. Add a bit of salt, and cook the gnocchi until they float to the top of the pot. Once they have floated there for 30 seconds to one minute, take them out of the hot water with a slotted spoon and spread them out on a baking sheet while you make the sauce.
Make the Brown Butter Sage Sauce. While the gnocchi cook, heat up the rest of the butter in a deep skillet or saute pan over medium-high heat. Once the butter melts, let it cook undisturbed until the outer edges begin to brown and caramelize. This should only take a couple of minutes. Swirl the butter in the skillet, and add the shallot and sage. Let those ingredients cook for one minute before seasoning the sauce with salt and pepper.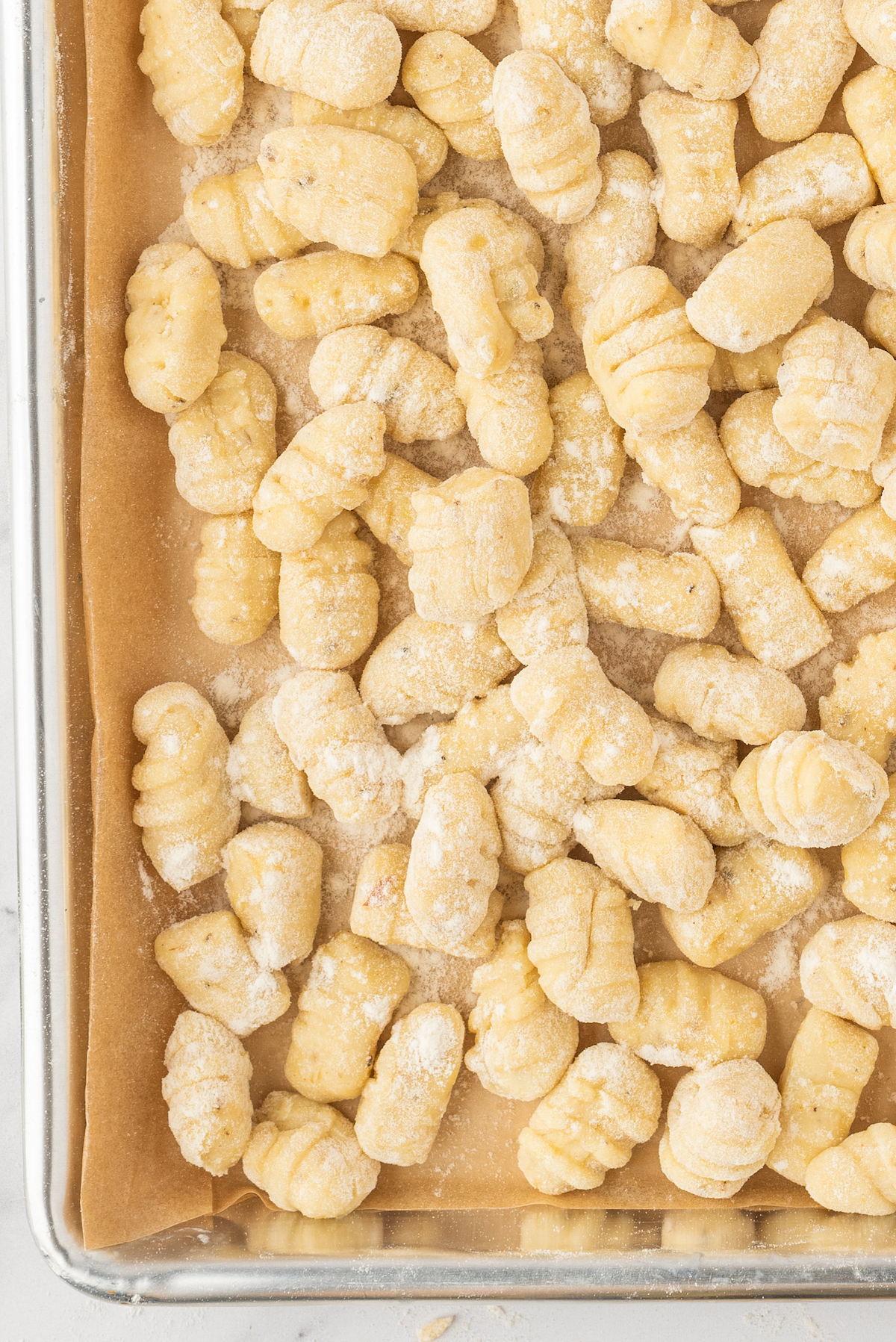 Add Gnocchi and Cheese. Immediately add the gnocchi to the sauce in the pan, and let it heat through. Sprinkle the asiago cheese all over the top.
Enjoy! Serve the finished dish immediately.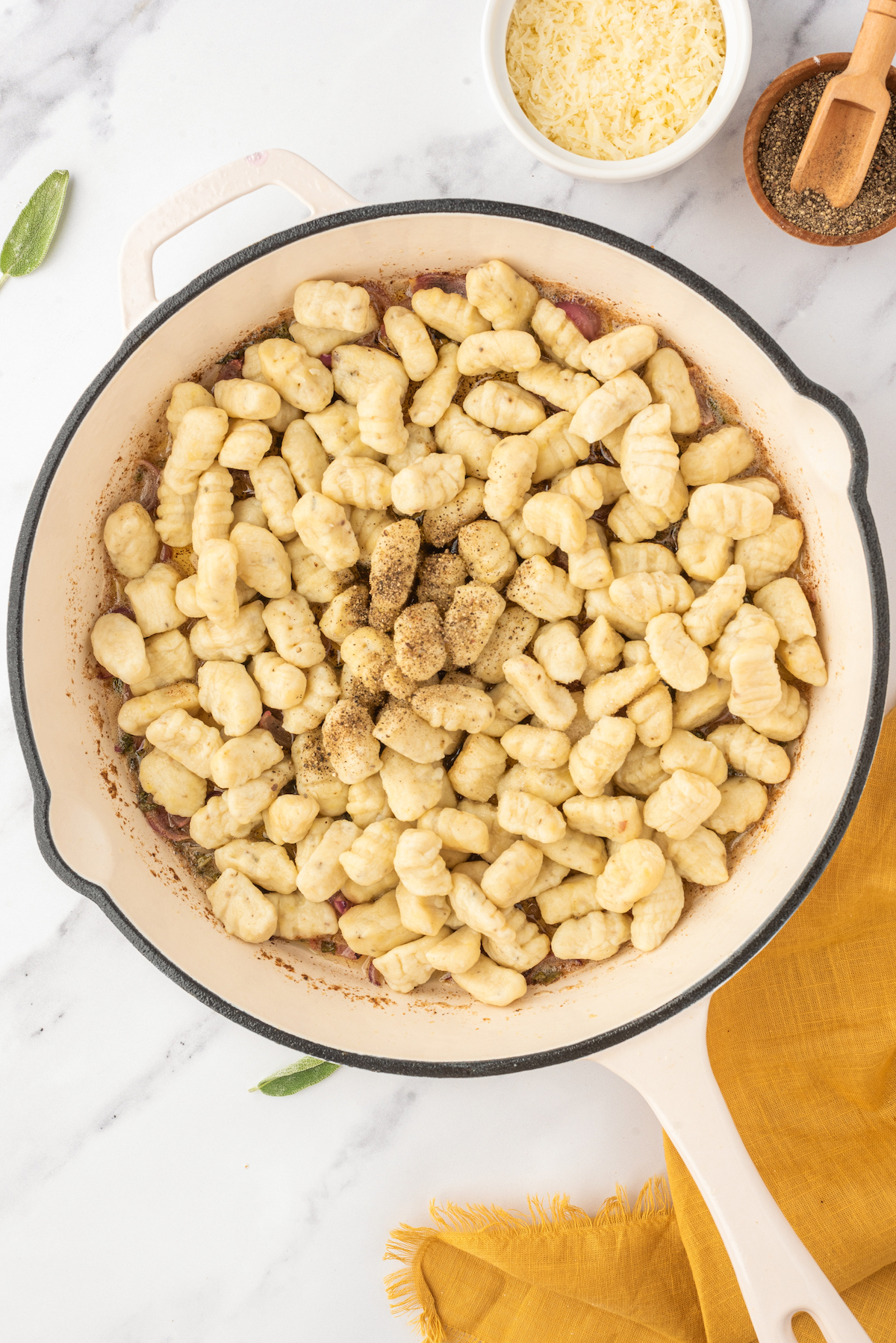 Tips and Hacks
This dish isn't hard to make once you understand the basic process, but there are always a few helpful tricks that can make even the simplest dish a little better. Here are my best bits of advice:
Don't Overwork the Dough: Like many doughs that include wheat flour, this one should be gently mixed so that the gluten doesn't over-develop. Developing gluten is great when you want a chewy loaf of bread, but not so great when you want light, un-chewy gnocchi!
Skip the Fork: Shaping the gnocchi with a fork is traditional, but not necessary – you can definitely make these little dumplings without the fork step.
Don't Overboil (Simmer Gently): Since gnocchi tend to be delicate, it's helpful to cook them in water that's lightly boiling or simmering, instead of a true rolling boil.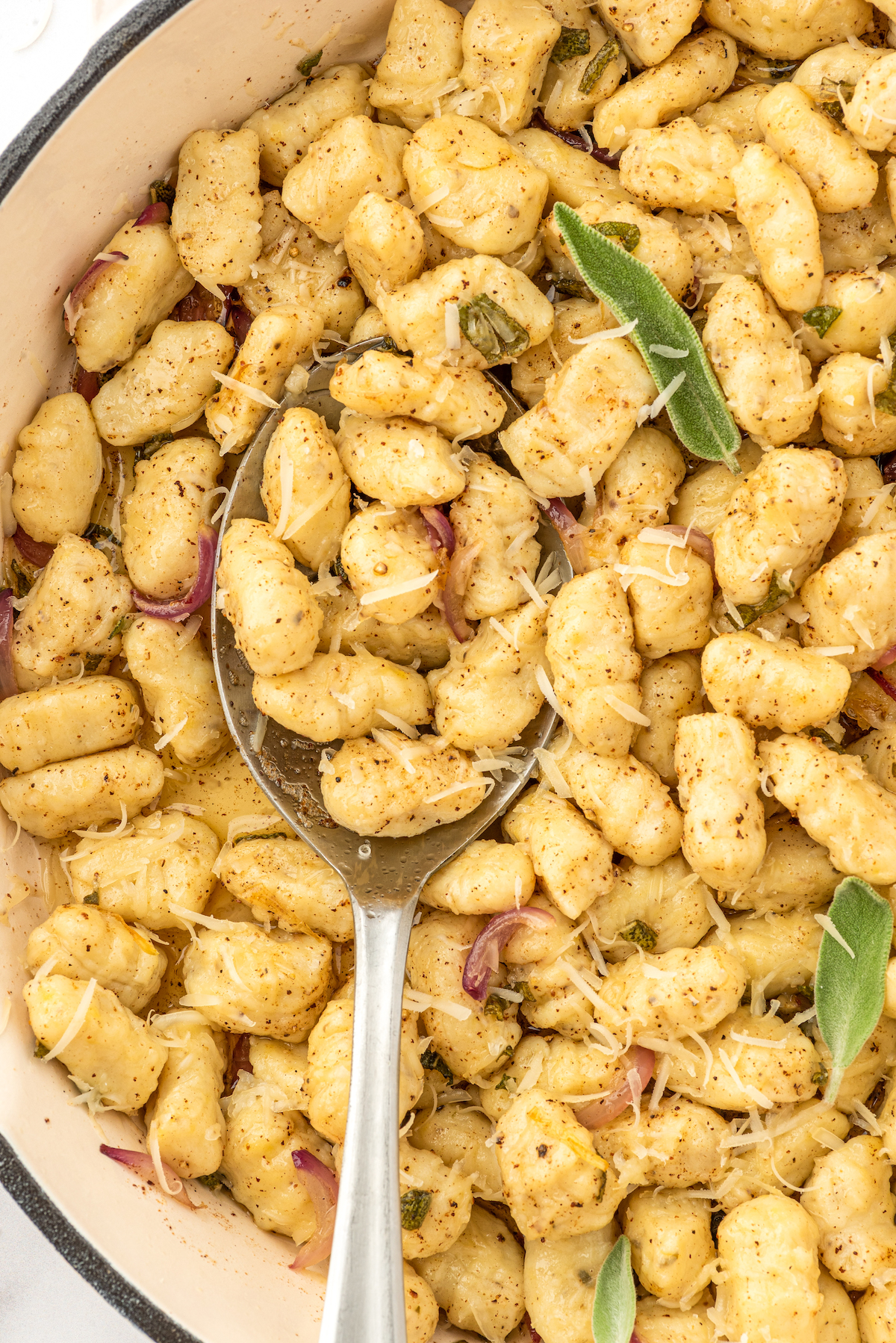 Serving Suggestions
You'll be tempted to scarf these down right out of the skillet, but if you can hold off long enough to make some sides, that's good too! These yummy dishes would be perfect.
Salad: Any easy salad would do – throw together a caesar salad, or drizzle ranch over an iceberg wedge. If you'd like to do something a little fancier, try my spinach strawberry salad – it's the best!
Protein: Chicken, beef, or ham would be wonderful alongside this dish, but I really think some caramelized salmon would be amazing. For an ultra-quick prep, this air fryer salmon can't be beat.
Veggies: Serve up your favorite easy veggie for a nice, nutritious side dish. We love easy sauteed green beans with bacon, and air fryer asparagus. Yum.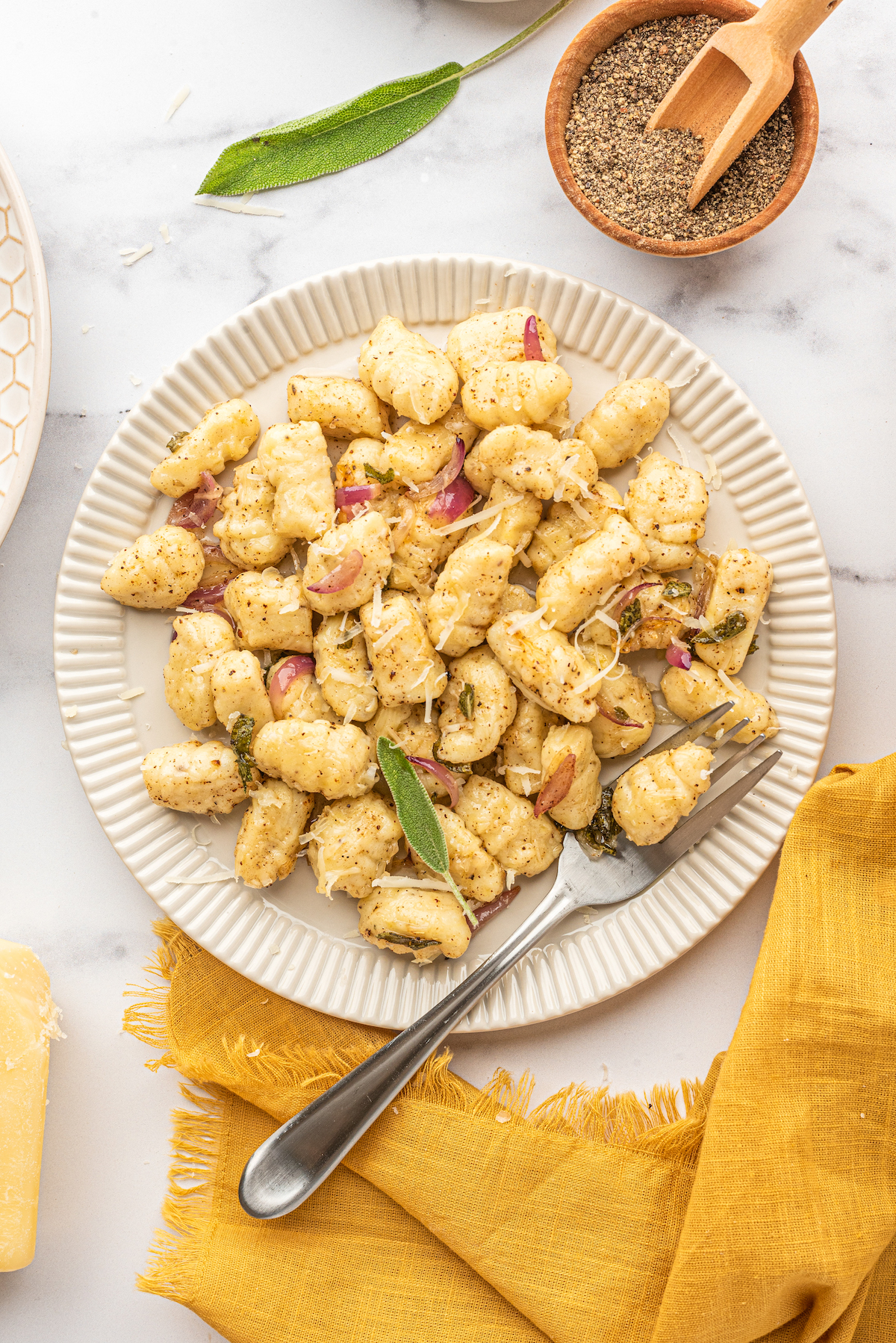 How to Store and Reheat Leftover Gnocchi
You can store gnocchi in the fridge cooked, or uncooked. Here's how:
Cooked Gnocchi: Leftover cooked gnocchi can be placed in an airtight container with any sauce, and then refrigerated for up to 2 days.
Uncooked Gnocchi: Uncooked gnocchi should be laid out, not touching, on a large floured tray or baking sheet. Sprinkle the tops with a tiny bit of flour, and cover with plastic wrap. Refrigerate for up to 2 hours before cooking.
Reheating: If you want to reheat the leftovers, just warm them gently along with their sauce in a covered skillet over low heat, adding more butter as needed if they seem dry.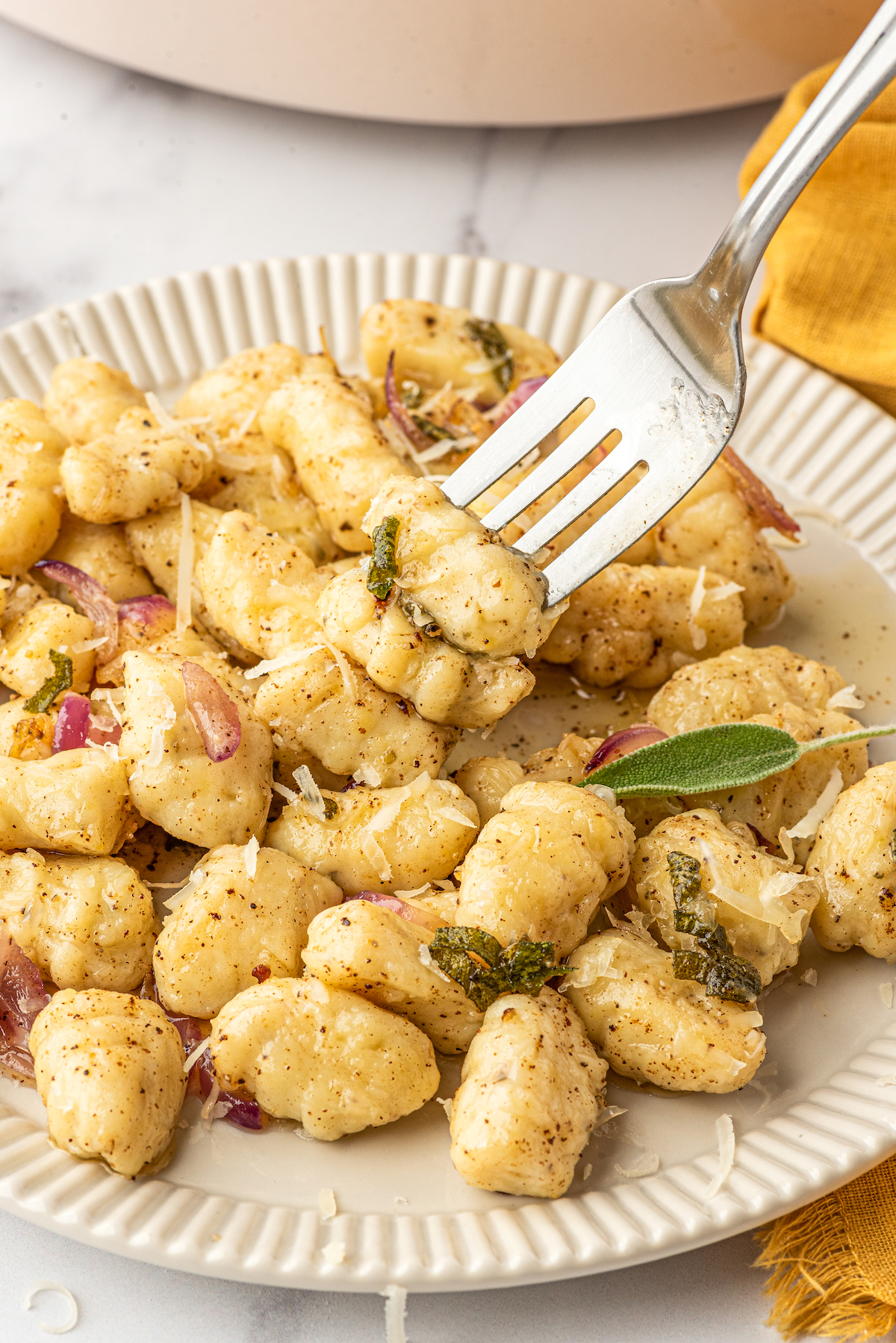 Can I Freeze This Dish?
It's not recommended to freeze cooked gnocchi, because they can get very mushy when thawed and reheated. Freezing uncooked gnocchi is fine, though! Here's how:
To Freeze Uncooked Gnocchi: Spread out the gnocchi, not touching, on a lightly-floured baking sheet or tray. Freeze this way for a couple of hours, until the gnocchi are frozen solid. Then move them to a freezer bag or airtight container, and store in your freezer for 1 month. Cook directly from frozen.
Homemade Gnocchi in a Brown Butter Sage Sauce
Gnocchi in a Brown Butter Sage Sauce is an easy dinner recipe with homemade potato pasta. Take out that food processor and let's get started on some Italian comfort food!
Ingredients
For the Gnocchi
2

cups

instant potato flakes

1

cup

all purpose flour

,

plus more for rolling

1

cup

water

2

eggs

2

tablespoons

butter

,

melted

1

teaspoon

salt

½

teaspoon

oregano

freshly ground black pepper

,

to taste
For the Brown Butter Sage Sauce
1

stick unsalted butter

2

shallots

,

thinly sliced

3

tablespoons

fresh sage

,

minced

Freshly ground black pepper and salt

,

to taste

½

cup

grated asiago cheese
Instructions
In a

food processor

, combine all ingredients (potato flakes, flour, water, eggs, melted butter, salt, oregano and black pepper). Mix at low speed until dough forms.

Cut the dough into 6 equal pieces and place 1 piece on a lightly floured work surface. Roll piece into a long rope, about 1/2-inch in diameter, flouring lightly if needed.

Slice the rope into pieces 1/2-inch wide. Holding one piece at a time, roll the tines of a fork against the dough until slight indentations are formed. Repeat with each piece of dough, setting formed gnocchi on a floured kitchen towel or baking sheet.

At this point, you may refrigerate the uncooked gnocchi for up to 2 hours or freeze them on the baking sheet and then transfer them into a covered container and store in the freezer for several weeks.

Bring a large stock pot of water to a boil. Add a pinch of salt, and cook the gnocchi until they float to the top. With a slotted spoon, remove the gnocchi and spread on a baking sheet while brown-butter sauce finishes cooking.

While the gnocchi are cooking, heat the butter in a deep sauté pan over medium-high heat. Once butter is melted, let sit undisturbed until the outside edges have begun to caramelize, about 2 minutes. Quickly swirl the skillet and add shallot and sage.

Let cook for 1 minute longer, season with salt and pepper to taste and add gnocchi to skillet to toss with sauce and rewarm if necessary. Sprinkle with asiago cheese and serve immediately.
Notes
You can add a little half and half (about 1/4 cup) to the sauce if you are craving a creamy sauce. Just whisk it in right before you stir in the gnocchi!
Nutrition
Serving:
1
,
Calories:
587
kcal
,
Carbohydrates:
47
g
,
Protein:
13
g
,
Fat:
40
g
,
Saturated Fat:
24
g
,
Polyunsaturated Fat:
13
g
,
Trans Fat:
1
g
,
Cholesterol:
192
mg
,
Sodium:
895
mg
,
Fiber:
4
g
,
Sugar:
3
g
Categories:
More Comforting Dinner Recipes
This post may contain affiliate links. Read my disclosure policy.