Gnocchi in a Brown Butter Sage Sauce is an easy dinner recipe with homemade potato pasta. Take out that food processor and let's get started on some Italian comfort food!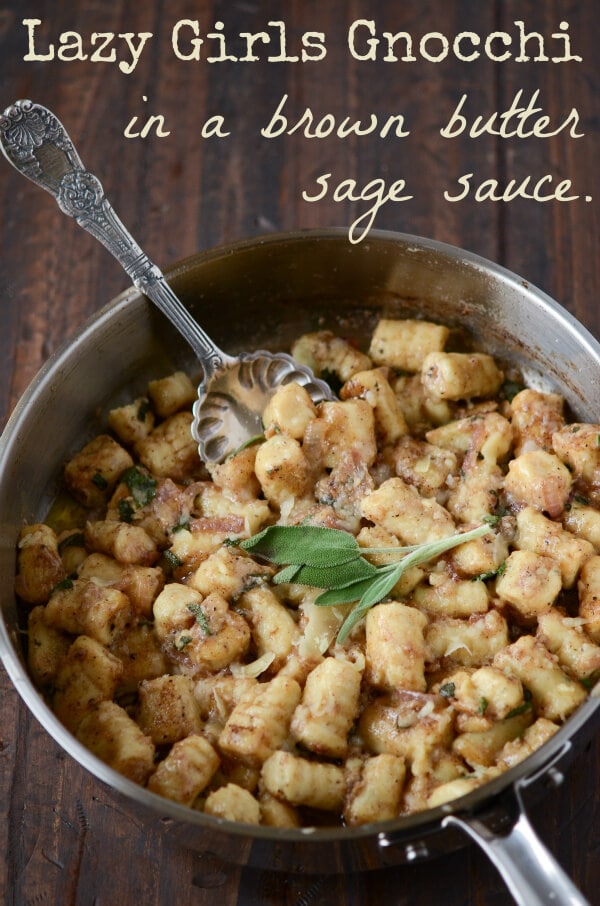 Easy Homemade Gnocchi in a Brown Butter Sage Sauce
What's that? You made some resolutions yesterday? That's cool, but I brought you some potato pasta in a butter sauce. It's like heaven and it makes your diet resolution sound super lame. I promise that I will get around to serving up some ass friendly recipes to help you lose those pesky holiday cookie pounds…but not today, not yet. I'm just not ready.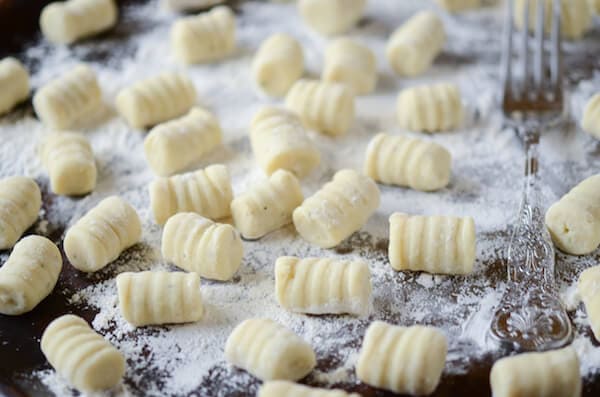 Instead, today we are talking about Gnocchi and using ::gasp:: dehydrated potatoes. A few months back, I got the chance to visit Idaho and visit some of their amazing potato farms. I also got to go behind the scenes and learn about what happens to all the potatoes that are too ugly or too big to make it to our grocery store shelves.
Seeing the process Idahoan goes through with their potatoes opened me up to using them more in my cooking at home. I have used them to thicken soups and to make Gnocchi! Baking and peeling super hot potatoes takes time (and leaves me with burnt fingers because I have zero patience), but whipping up Gnocchi in a food processor is any lazy girl's dream.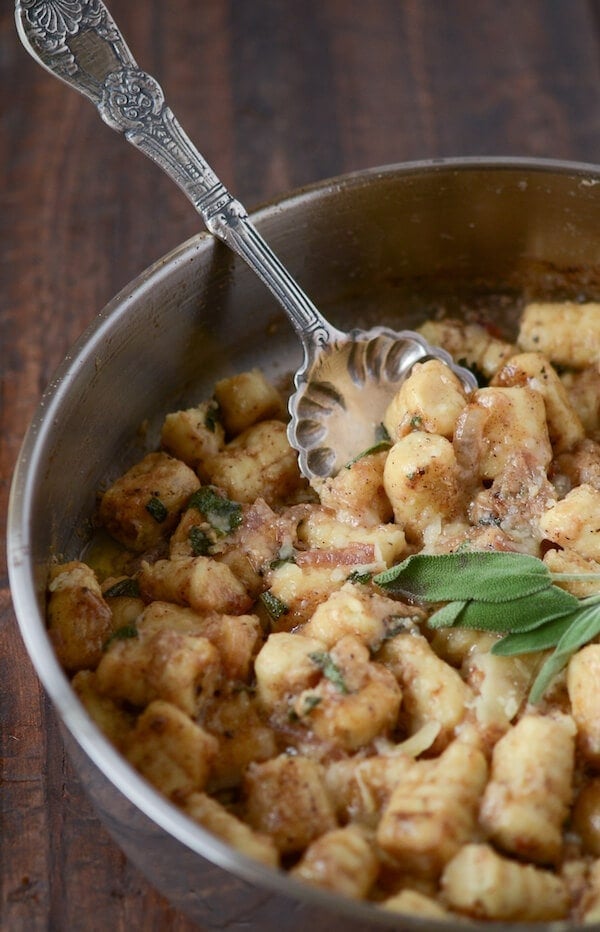 From start to finish, I had dinner on the table in about 45 minutes. Not to bad for Gnocchi! Just a little time to roll out the dough and form the gnocchi…then you are boiling them and whisking up a delicious brown butter sage sauce. Any true Italian is shaking their head at me right now…but I know some of you are thanking me. :)
Yield: 4
Homemade Gnocchi in a Brown Butter Sage Sauce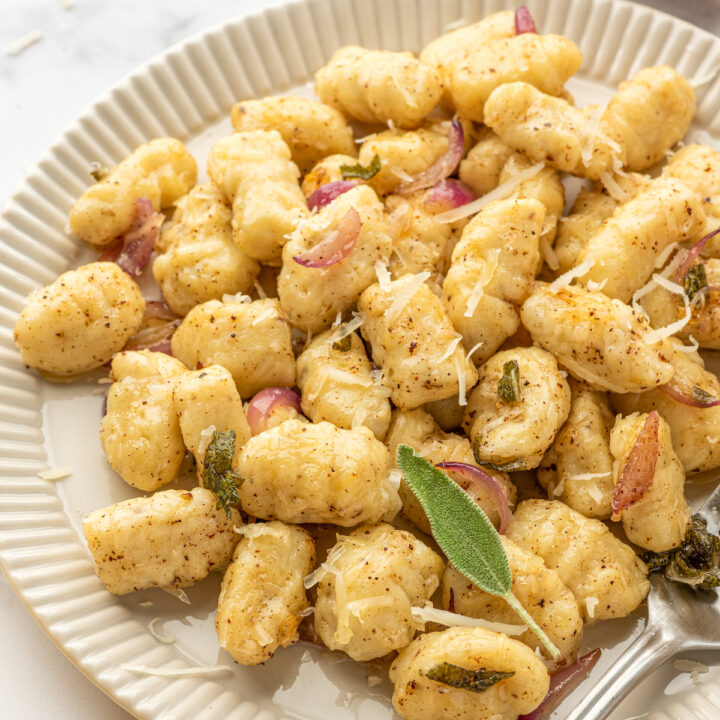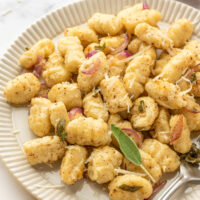 Gnocchi in a Brown Butter Sage Sauce is an easy dinner recipe with homemade potato pasta. Take out that food processor and let's get started on some Italian comfort food!
Total Time
2 hours
40 minutes
Ingredients
For the Gnocchi
2 cups instant potato flakes
1 cup all purpose flour, plus more for rolling
1 cup water
2 eggs
2 tablespoons butter, melted
1 teaspoon salt
1/2 teaspoon oregano
freshly ground black pepper, to taste
For the Brown Butter Sage Sauce
1 stick unsalted butter
2 shallots, thinly sliced
3 tablespoons fresh sage, minced
Freshly ground black pepper and salt, to taste
½ cup grated asiago cheese
Instructions
In a food processor, combine all ingredients (potato flakes, flour, water, eggs, melted butter, salt, oregano and black pepper). Mix at low speed until dough forms.
Cut the dough into 6 equal pieces and place 1 piece on a lightly floured work surface. Roll piece into a long rope, about 1/2-inch in diameter, flouring lightly if needed.
Slice the rope into pieces 1/2-inch wide. Holding one piece at a time, roll the tines of a fork against the dough until slight indentations are formed. Repeat with each piece of dough, setting formed gnocchi on a floured kitchen towel or baking sheet.
At this point, you may refrigerate the uncooked gnocchi for up to 2 hours or freeze them on the baking sheet and then transfer them into a covered container and store in the freezer for several weeks.
Bring a large stock pot of water to a boil. Add a pinch of salt, and cook the gnocchi until they float to the top. With a slotted spoon, remove the gnocchi and spread on a baking sheet while brown-butter sauce finishes cooking.
While the gnocchi are cooking, heat the butter in a deep sauté pan over medium-high heat. Once butter is melted, let sit undisturbed until the outside edges have begun to caramelize, about 2 minutes. Quickly swirl the skillet and add shallot and sage.
Let cook for 1 minute longer, season with salt and pepper to taste and add gnocchi to skillet to toss with sauce and rewarm if necessary. Sprinkle with asiago cheese and serve immediately.
Notes
You can add a little half and half (about 1/4 cup) to the sauce if you are craving a creamy sauce. Just whisk it in right before you stir in the gnocchi!
Nutrition Information:
Yield:
4
Serving Size:
1
Amount Per Serving:
Calories:

587
Total Fat:

40g
Saturated Fat:

24g
Trans Fat:

1g
Unsaturated Fat:

13g
Cholesterol:

192mg
Sodium:

895mg
Carbohydrates:

47g
Fiber:

4g
Sugar:

3g
Protein:

13g
This post may contain affiliate links. Read my disclosure policy.