Mini Pumpkin Cheesecakes are here! You're going to love these velvety little cheesecakes that have a perfectly sweet and buttery graham cracker crust. This is another great fall dessert with its creamy and sweet flavor and perfect contrast in textures.
Creamy Mini Pumpkin Cheesecake
Mini bite-sized desserts are just so fun! It's a win in my book when you can cram a ton of amazing flavors into a dessert that you can hold in the palm of your hand. These Mini Pumpkin Cheesecakes are no exception. They're so beautiful and cute with their perfect fall colors from the graham cracker crust and pumpkin orange filling. And the flavor is just exceptional! Good luck eating just one!
These little cheesecake cups are great for fall dinner parties, Thanksgiving dessert, or even just a fun special treat for you and your family. You don't need any special tins or pans for this recipe. In fact, you'll just use your regular cupcake tin to make these little guys. First, you'll make the graham cracker crust from scratch and then whip up the pumpkin cheesecake filling. Let's get started!
Need a full size cheesecake? Check out my favorite full size Pumpkin Cheesecake!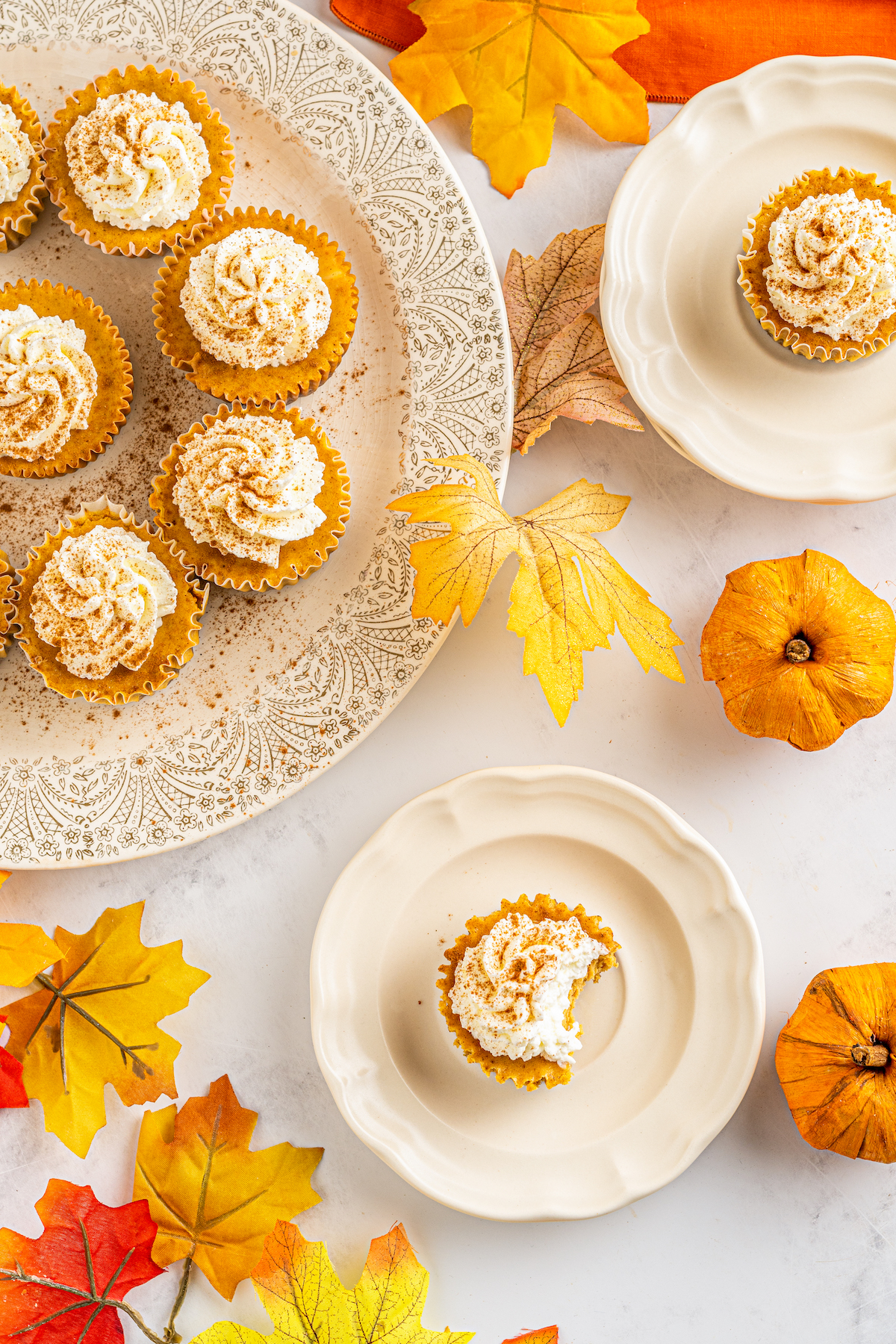 What You'll Need
There are two components to this recipe – the crust and the filling. You'll make them one at a time and need a different set of ingredients for each part. Remember, check the recipe card below for exact measurements for each ingredient.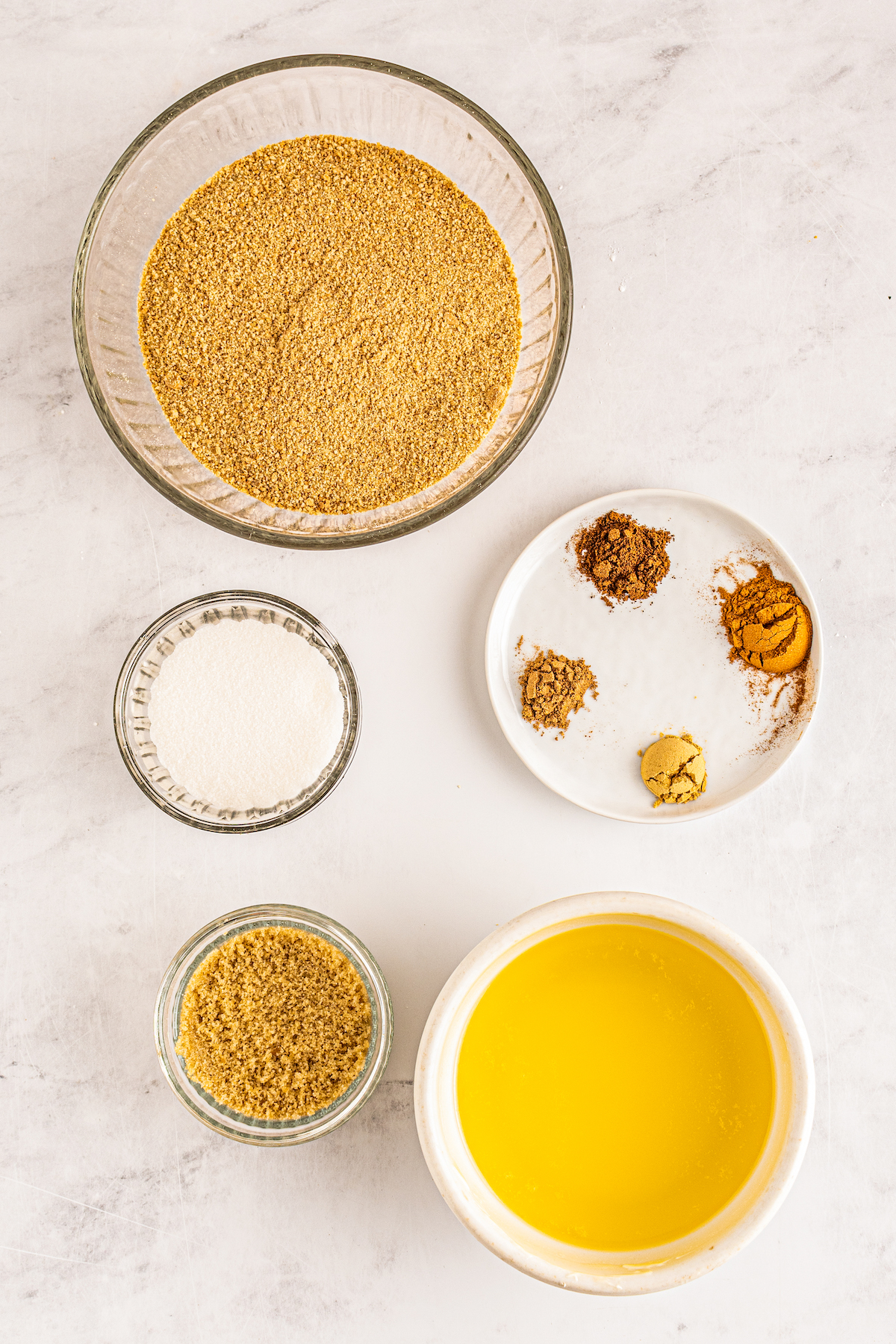 For the Graham Cracker Crust:
Crushed Graham Crackers: Alternatively, crushed ginger snaps may be used instead. Just remember to not use the spices if you go this route. The ginger snaps already have a ton of fall spice flavor.
Granulated Sugar
Ground Cinnamon: An essential spice when making any fall dessert.
Ground Ginger: The combination of ginger and the other fall spices below are what make this dessert so seasonal and delicious. You can compensate with one another if you are out of one of the spices. Also, you could use allspice as a substitute.
Ground Nutmeg: Please see my notes above about substituting this spice.
Ground Cloves: Again, please refer to the notes above.
Melted Butter: This helps the graham cracker crust stay together and gives it a rich flavor, too.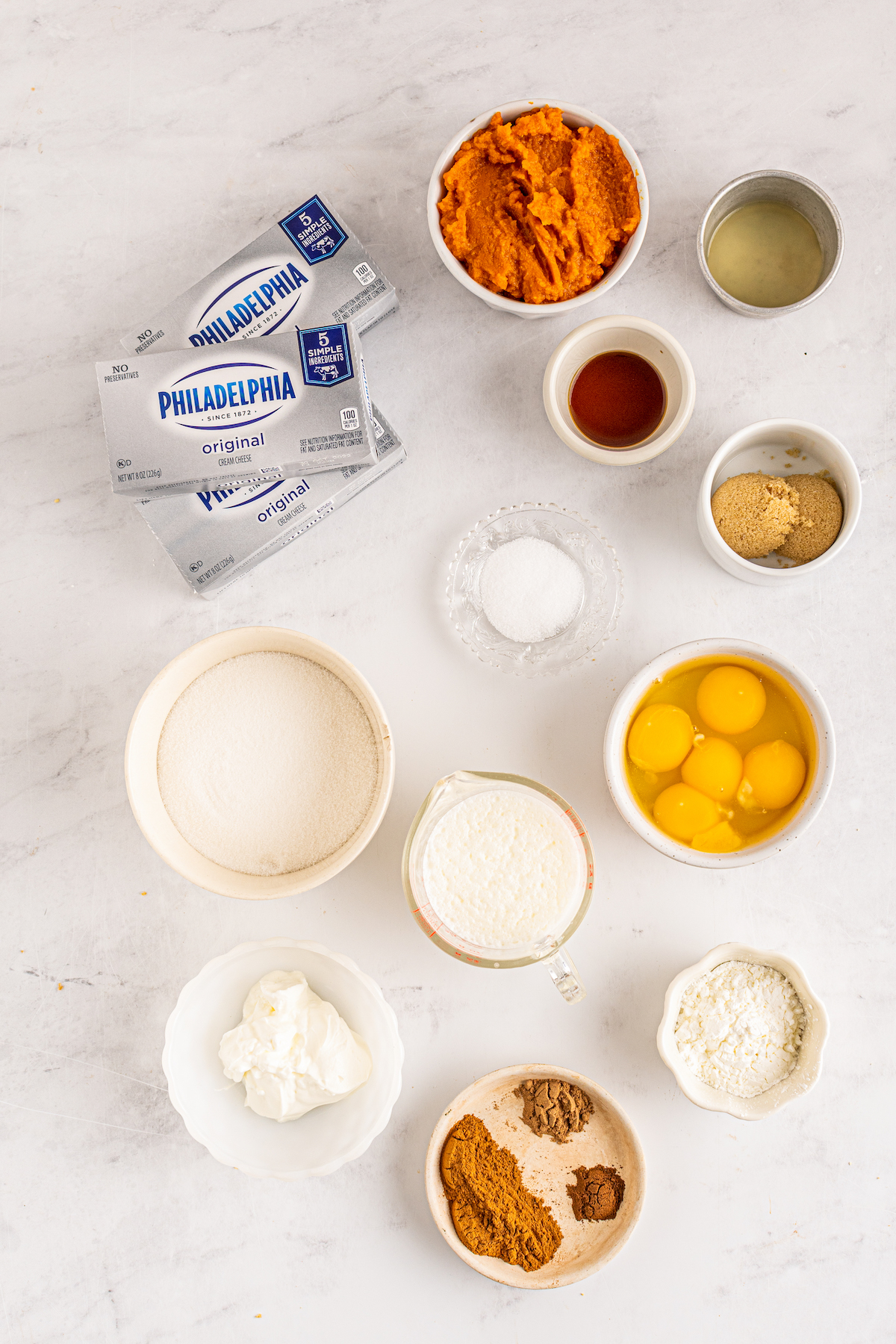 For the Pumpkin Cheesecake:
Cream Cheese: I like to use tried and true Philidelphia Cream Cheese for my cheesecakes. Of course, you can use another brand. I recommend skipping the low-fat version for this recipe. It won't be as rich and creamy.
Granulated Sugar
Brown Sugar
Pumpkin Puree: Adding pumpkin puree helps build that smooth texture and gives it an incredible earthy, but sweet, flavor.
Heavy Cream: Another ingredient that adds to the rich and creamy flavor. Its smooth flavor helps bring the sweet and spice together.
Sour Cream: Sour cream adds a little tanginess to the recipe. You could substitute full-fat plain or regular Greek yogurt.
Lemon Juice: Another ingredient that adds a tangy flavor that also helps bring out the natural flavor of the pumpkin puree.
Vanilla Extract: Please use the real stuff! Nothing beats the flavor of pure vanilla extract.
Eggs: Eggs are a binding agent that holds everything together so it bakes up firm, but still fluffy and smooth.
Cornstarch: Cornstarch also helps everything bind together so that it's not a mushy mess.
Cinnamon: More cinnamon! We have to add the fall spices to the cheesecake filling, too!
Salt
Nutmeg: I like to use the whole nutmeg and use a spice grinder to grind it before putting it in a recipe. The flavor is amazing!
Cloves: You can use ground ginger or mace instead of ground cloves, in case you don't have any.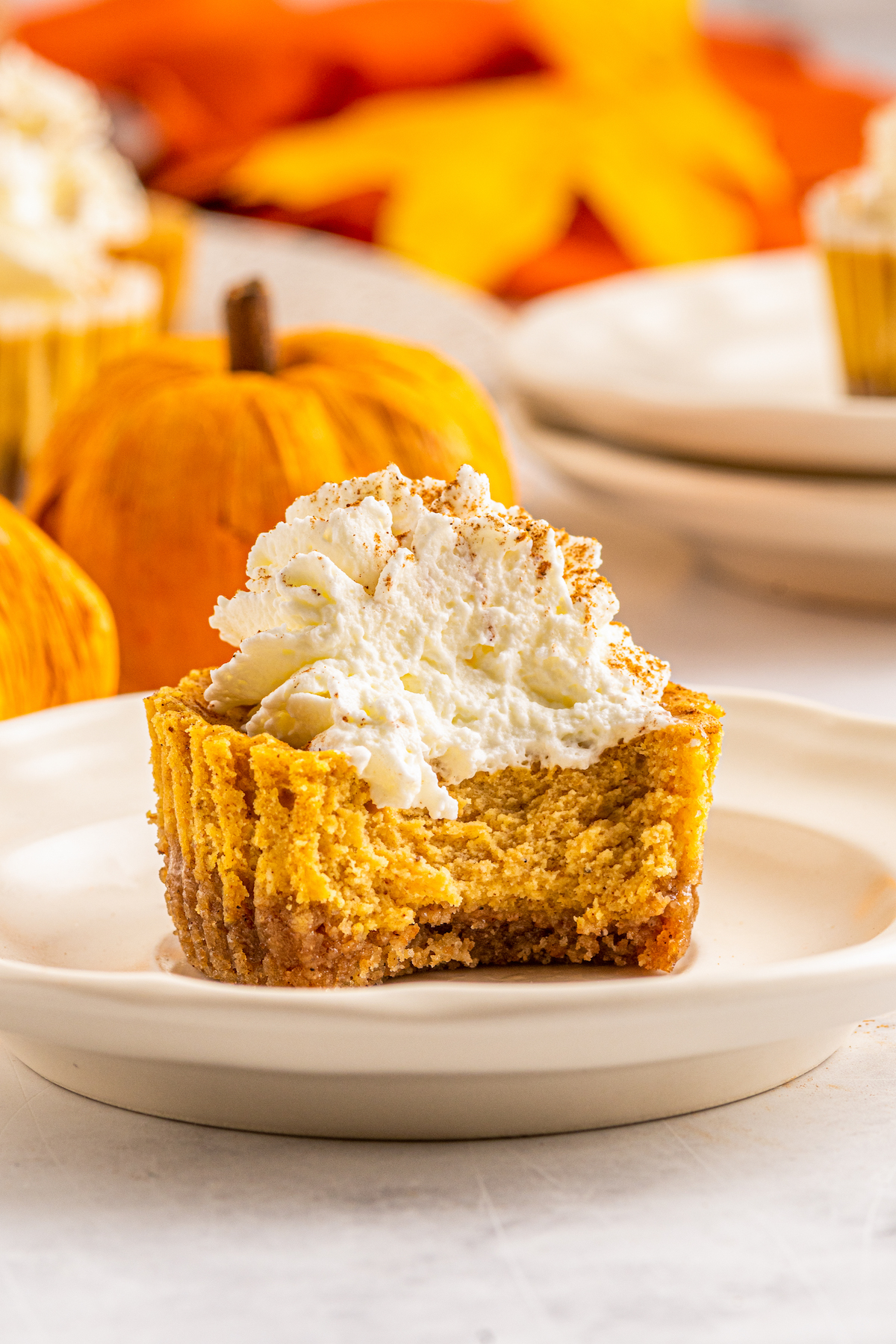 How to Make Pumpkin Cheesecakes
Remember, we're going to do this recipe in two parts. First, we'll make the crust and then we will make the creamy cheesecake filling.
First, prepare the muffin pan. Put some cupcake/muffin liners into the pan so that the cheesecakes are easy to pop out when they are done.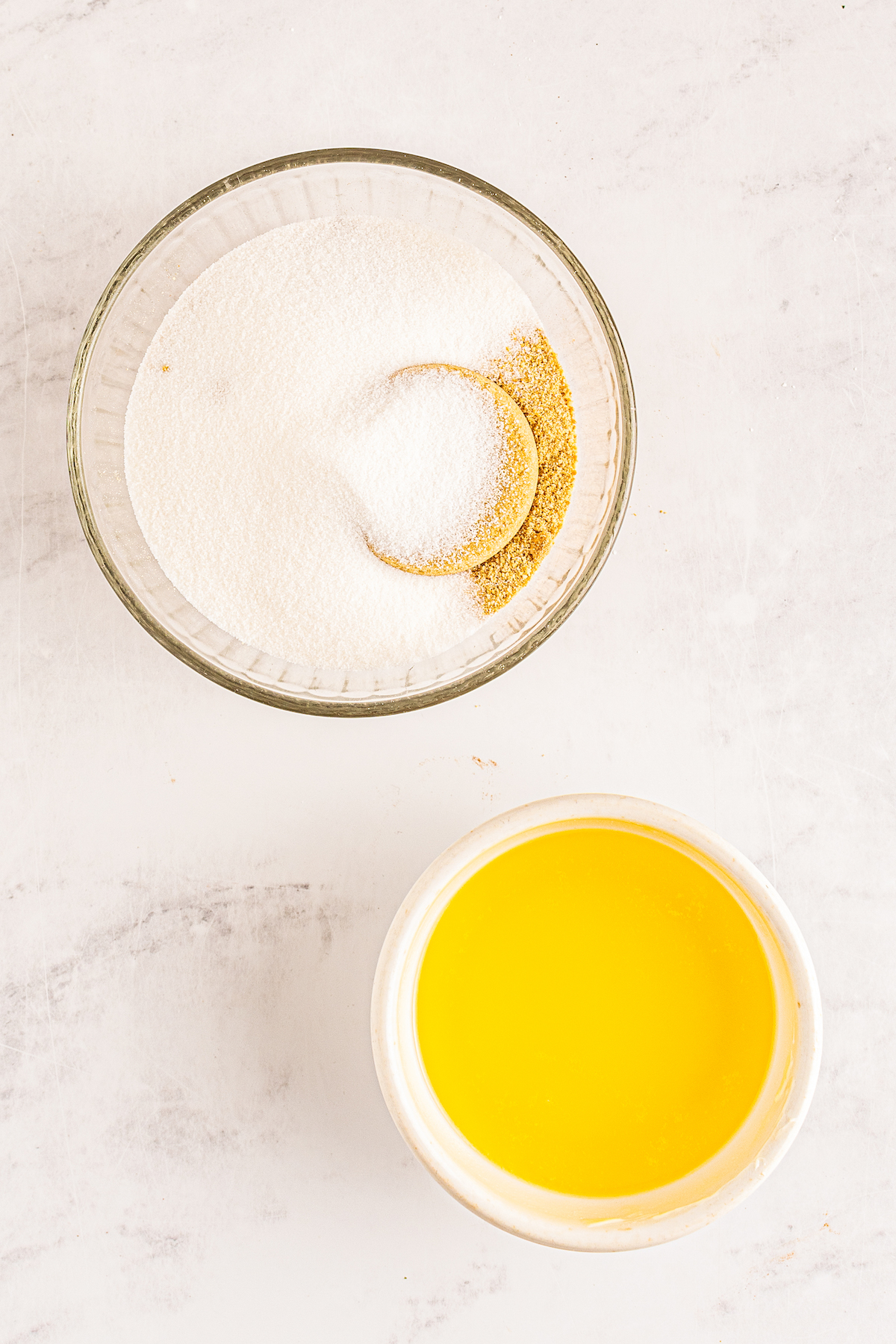 To begin making the recipe, put all of the ingredients for the graham cracker crust in a bowl. Save the butter for last. Mix in the melted butter until everything is combined.
Put the crust in the bottom of the muffin liners. Then, put about one tablespoon of the crust mixture into each muffin liner. Press it down gently to form the crust.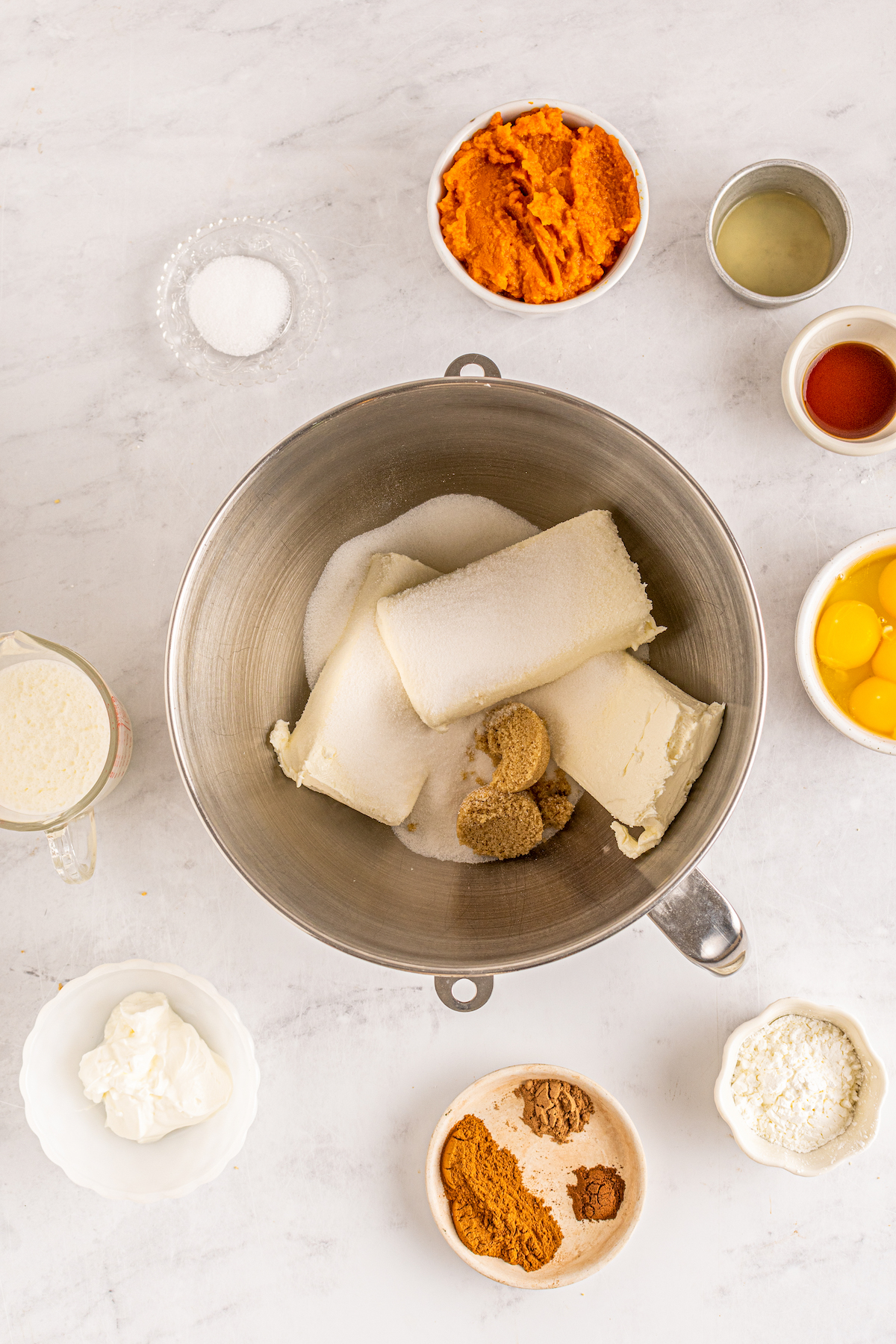 Then, start making the cheesecake filling. Preheat the oven to 350F and then break out the electric stand mixer. You can do this by hand, but it will take a little longer.
Cream together the cream cheese and sugars. Do this by using the paddle attachment on an electric blender.
Add in the pumpkin, heavy cream, sour cream, lemon juice, and vanilla. Then, mix it all again to combine everything.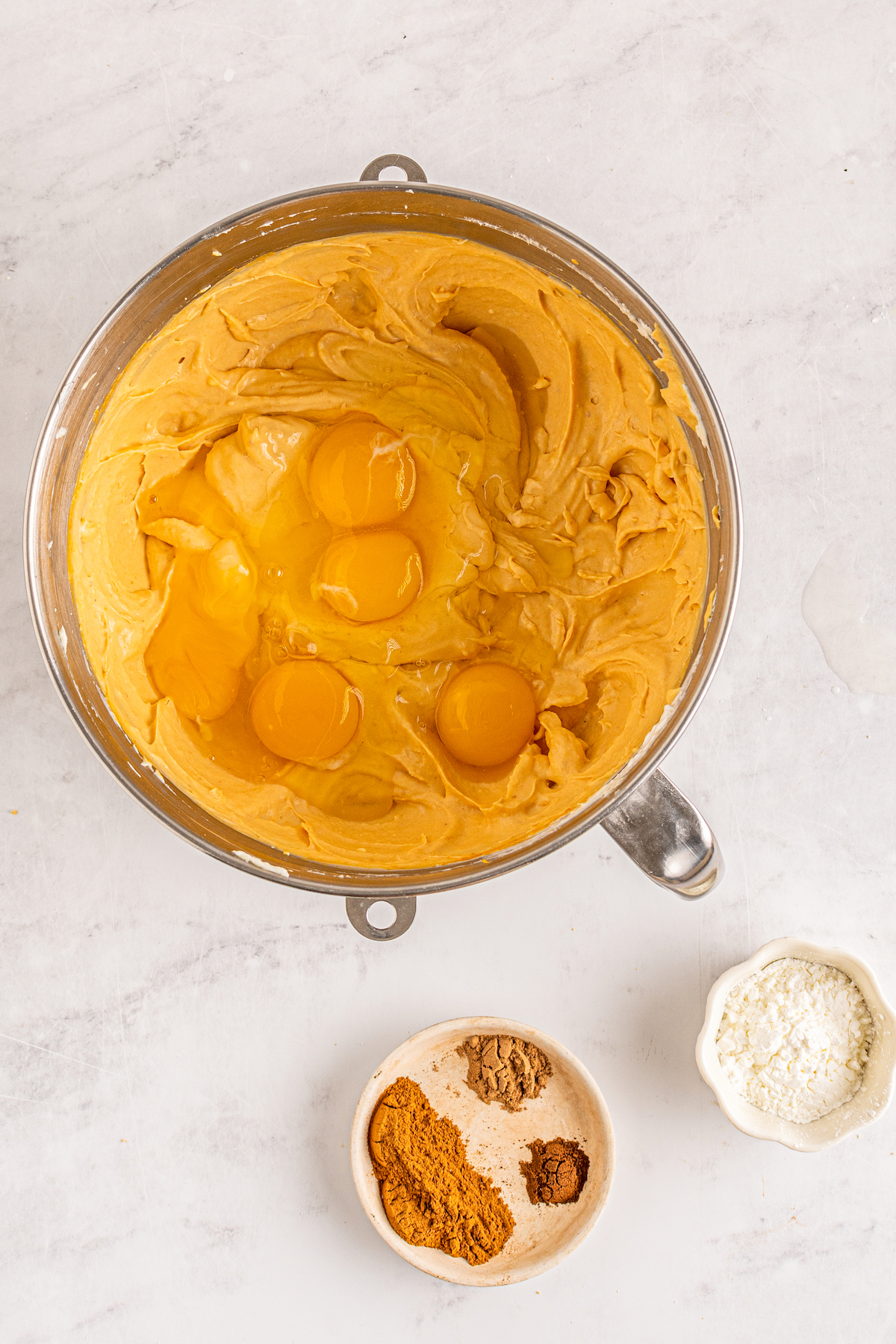 Now, add in the eggs. Mix for about 30 seconds and finally add the cornstarch and spices.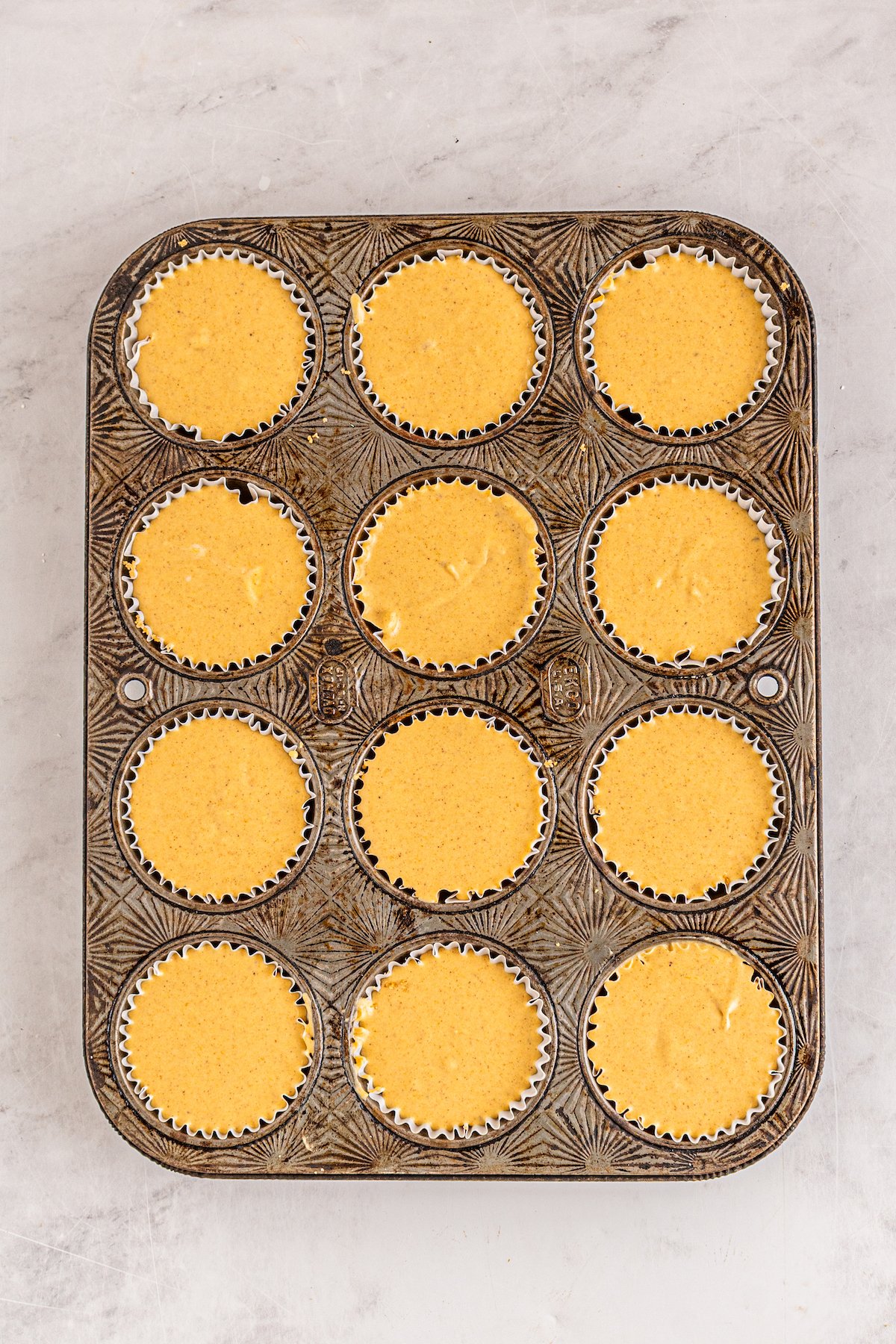 Spoon the cheesecake filling into the muffin pan. You'll want to fill them almost to the top.
Finally, it's time for baking! Put the mini pumpkin cheesecakes into the oven. You'll want to check them after about 24-26 minutes. The centers of the mini cheesecakes should be set and not jiggly.
It's best to serve them chilled. You want them to come to room temperature first and then put them in the fridge for about 2 hours. After that, you're good to go! Enjoy them with a dollop of whipped cream, if you'd like!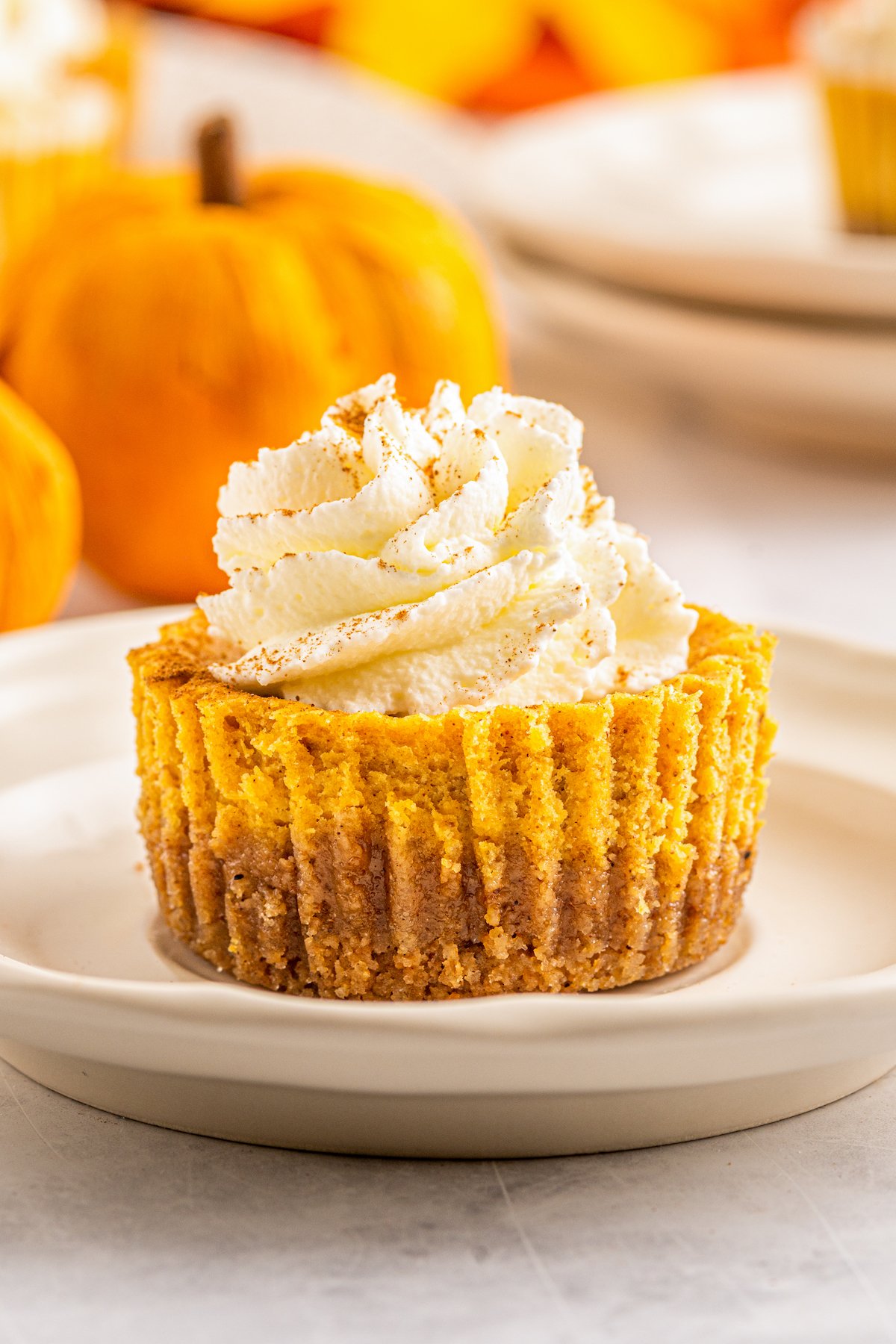 Tips for Success
Some may think that making cheesecake is intimidating, but that's definitely not the case here! The ingredients are simple and the steps are very basic. Follow a few of these tips to make sure that your mini cheesecakes turn out perfectly.
Scrape the bowl while making the filling. Stop the mixer and scrape down the sides of the bowl with a rubber spatula when you're mixing the cheesecake filling. This will ensure a smooth, creamy cheesecake.
Don't forget to chill before serving. For best results, once the cheesecakes have cooled, cover them well and place them in the fridge for at least 2 hours or overnight before serving. This will allow the cheesecakes to finish setting up, resulting in a smooth, velvety texture.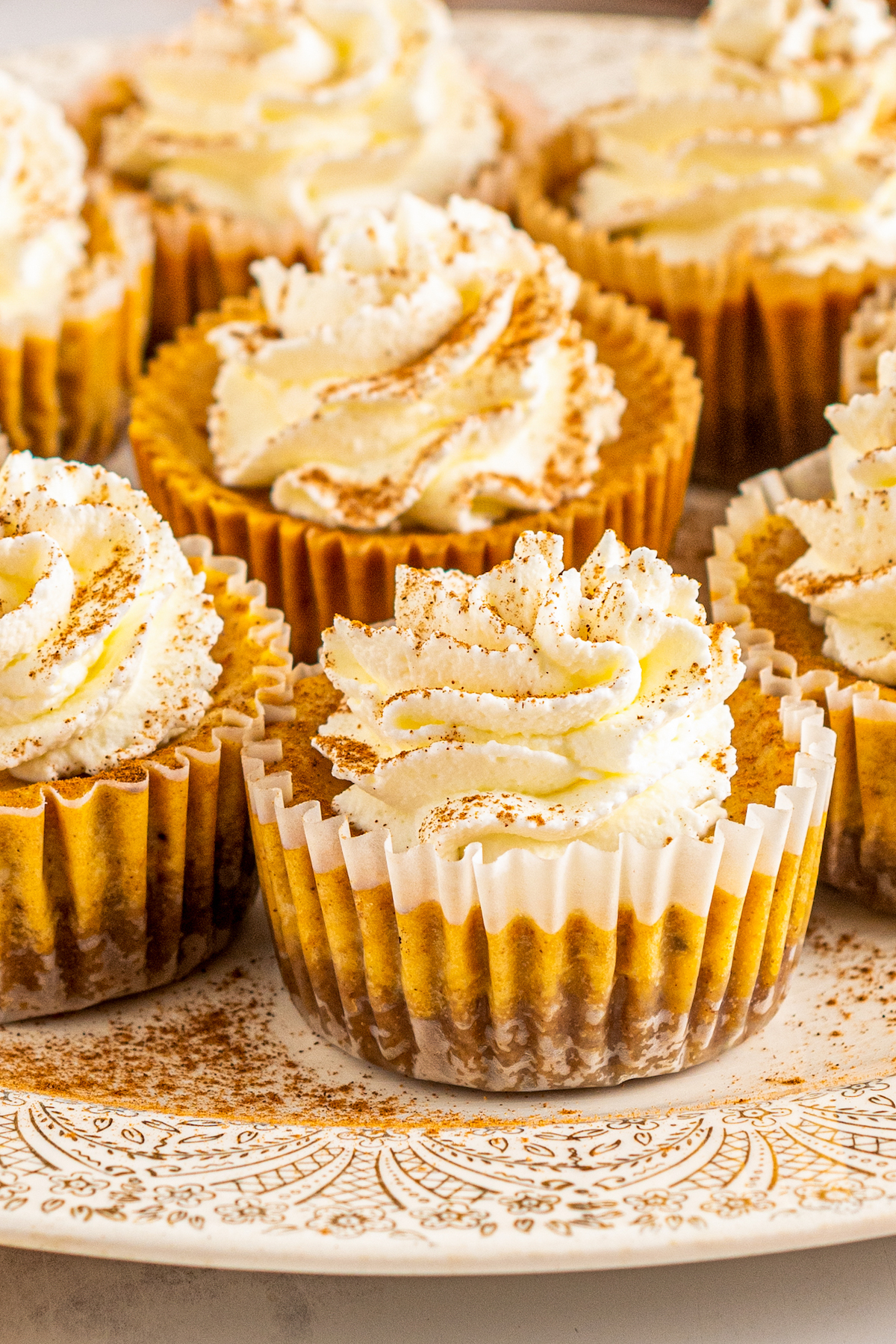 Topping Ideas
Your little pumpkin cheesecakes need a fun topping, right?! Here are some of my favorite ways to garnish these cheesecake bites.
A light and creamy topping like whipped cream with a sprinkle of cinnamon would be a classic way to top the cheesecake bites. You could also frost them with a swirl of Cream Cheese Frosting.
A drizzle of my Chocolate Sauce will keep the chocolate lovers happy!
Some crushed graham crackers or nuts would also go well sprinkled on top.
Or, one year for Thanksgiving, I made mini Pumpkin Snickerdoodles and topped each cheesecake with one!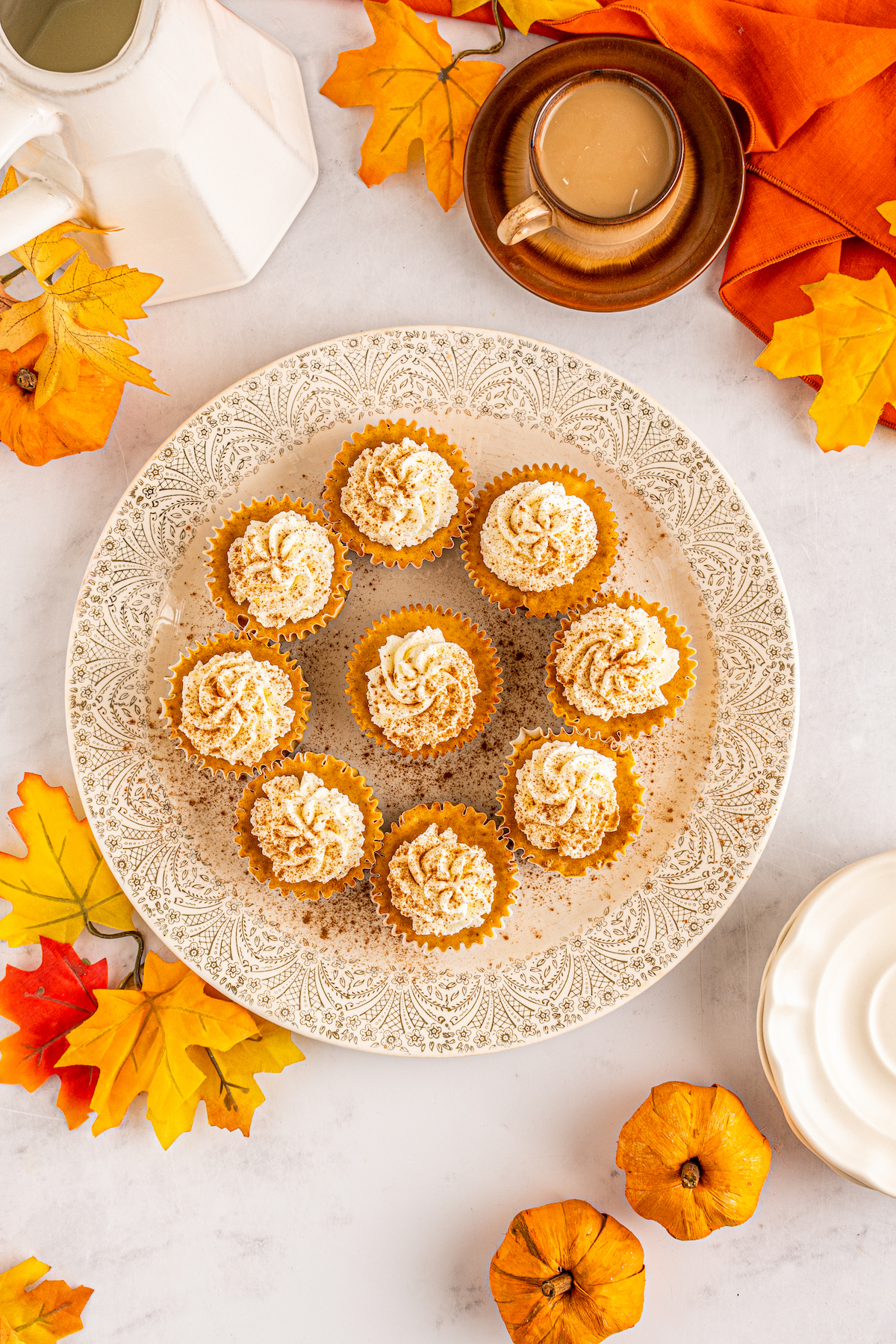 How to Store Mini Cheesecakes
These mini treats are a great dessert to make ahead of time. You can store them in an air-tight container in the refrigerator for up to 5 days. Just make sure that you don't stack them when storing them. They will stick together and not hold their shape.
Can I Freeze These?
I personally don't recommend freezing these mini pumpkin cheesecakes. I think that the original velvety and creamy texture is compromised when you try and freeze this recipe. They may lose their shape and not taste as great after they are frozen and thawed.
Yield:
28
Mini Cheesecakes
Mini Pumpkin Cheesecakes
These Mini Pumpkin Cheesecakes are smooth, velvety, and bursting with all of your favorite fall spices. They're baked on top of a buttery and sweet graham cracker crust loaded with warm spices.
Ingredients
Graham Cracker Crust
3

cups

crushed graham crackers

½

cup

granulated sugar

⅓

cup

brown sugar

1

teaspoon

ground cinnamon

½

teaspoon

ground ginger

¼

teaspoon

ground nutmeg

¼

teaspoon

ground cloves

¾

cup

melted butter
For the Cheesecake Filling
24 oz

(3 blocks)

cream cheese

1

cup

granulated sugar

2

tablespoons

brown sugar

1

cup

pumpkin puree

⅔

cup

heavy cream

¼

cup

sour cream

2

teaspoons

lemon juice

1

teaspoon

vanilla

3

large eggs + 2 yolks

3

tablespoons

cornstarch

2 ½

teaspoons

ground cinnamon

1

teaspoon

salt

½

teaspoon

ground nutmeg

¼

teaspoon

ground cloves
Instructions
For the Graham Cracker Crust:
Line 28 muffin tins with paper liners and set aside.

In a medium sized mixing bowl, combine the crushed graham crackers, sugar, brown sugar, cinnamon, ginger, nutmeg and cloves. Mix until well combined. 

Add in the melted butter and mix until the texture is a wet crumb. 

Place 1 1⁄2 Tbsp of the crust mixture into the bottom of each muffin liner in the prepared pan and press down evenly. Set aside and make the cheesecake.
For the Cheesecake:
Preheat the oven to 350°F. 

In the bowl of a stand mixer, fitted with a paddle attachment, combine cream cheese, sugar and brown sugar. Beat on a medium-high speed until smooth. 

Add in pumpkin, heavy cream, sour cream, lemon juice and vanilla. Mix to combine. 

Add in eggs and mix for 30 seconds. Next, add in cornstarch, cinnamon, salt, nutmeg and cloves. Mix until just incorporated.

Spoon cheesecake mixture into each muffin liner until full. Place into the preheated oven on the middle rack and bake for 24 to 26 minutes, until the centers are set. 

Once baked, remove from the oven and place onto a wire cooling rack to let cool completely. Transfer cheesecakes to the fridge to chill, for about 2 hours before serving.

Serve just as they are, or top each one with some whipped cream and a sprinkle of cinnamon. 
Notes
Storage Fridge: You can store them in an air-tight container in the refrigerator for up to 5 days.
Nutrition
Serving:
1
,
Calories:
275
kcal
,
Carbohydrates:
24
g
,
Protein:
7
g
,
Fat:
17
g
,
Saturated Fat:
10
g
,
Polyunsaturated Fat:
6
g
,
Trans Fat:
1
g
,
Cholesterol:
78
mg
,
Sodium:
325
mg
,
Fiber:
1
g
,
Sugar:
17
g
Categories:
More Pumpkin Recipes to Try
This post may contain affiliate links. Read my disclosure policy.