Crepes are the best way to ring in the weekend! This is the best crepe recipe, ready to be filled with Nutella and fresh juicy raspberries – or any of your family's favorite toppings.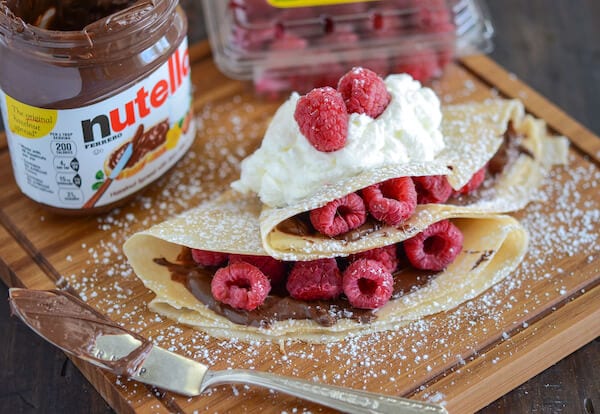 Jorge took French in high school and went on a class trip to France. He insists on pronouncing crepe weird. I keep telling him this is America and how we say it is just fine. He just rolls his eyes at me and continues to say it like the French do.
No matter how you say it, I love crepes. I first fell in love with crepes about 8 years ago. I hadn't had much experience with them before that, but once I had a warm crepe stuffed with nutella and some kind of fruit…well, there was no turning back.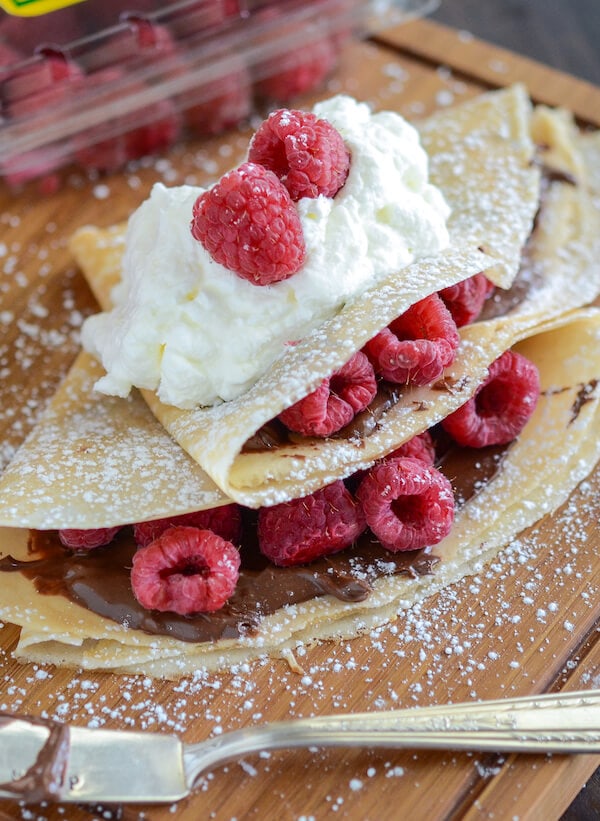 My mom has a handy dandy crepe maker. It makes making crepes a BREEZE. I do not have one and had to use the old school method with a skillet. I burned some of mine and it's really hard to get the batter even in a regular pan.
After the twins come in August, I think Jorge and I are going to start having Crepe Sundays. We usually like to go out to brunch on Sundays, but that won't really be feasible once the girls are here! Either way, I plan on getting my own crepe maker to ease the process. Think people would look at me funny if I added one to my amazon baby registry?? ;-)
I love stuffing crepes with Homemade Nutella and fresh fruit, but you can use any kind of spread you would like. Lemon Curd is also delicious in a crepe as well!
This post may contain affiliate links. Read my disclosure policy.