Every chef needs a great Homemade Bolognese Sauce recipe in their pocket and this is it! This homemade Bolognese sauce is easy to make, but still exploding with so much flavor that you will never want to use jarred spaghetti sauce again!
If you love this spaghetti bolognese recipe, check out my instant pot chicken fettuccine alfredo, homemade mac and cheese, and creamy pasta with roasted cherry tomatoes.
Bolognese Sauce
This extra delicious bolognese recipe has a rich depth of flavors that come from lots of herbs, vegetables and two types of ground meat. All the flavors cook and meld together while slow simmering on the stove until they create the most perfect sauce. It doesn't take a lot of ingredients to make a classic Bolognese recipe, you just need a little time! The key is to go slow and don't rush the bolognese—it'll take around 2 hours total, but most of that cook time is hands-off.
Bolognese can be served over spaghetti, or any other kind of pasta you desire, for a classic comforting dinner that will leave you fully satisfied. You can also use bolognese sauce to make Italian dishes like lasagna or stuffed manicotti. Or if you are like my husband, you can use it over your ravioli! Just make sure and have some garlic bread nearby to soak up any extra sauce.
This Bolognese recipe makes a large amount and it's freezes wonderfully for an easy weeknight dinner. I usually make a double batch so I have some to save for another couple of meals! Or if you want to win friend of the year award, you can also share the leftovers with a friend!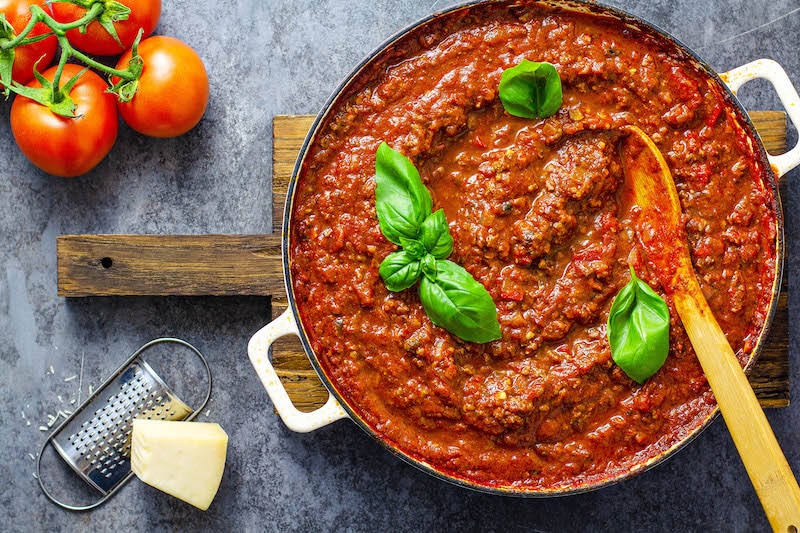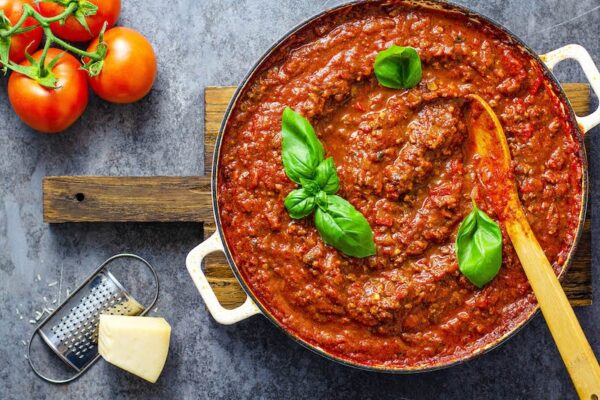 What is Bolognese Sauce?
Bolognese sauce is a rich tomato meat sauce, originally from Bologna, Italy. Classic Italian bolognese sauce is much more meat than tomatoes. Meaning it is a meat sauce with a little red tomato sauce. 
This particular Bolognese sauce recipe is meat heavy with two whole pounds of a combination of ground beef and ground Italian sausage. However, it also has a good amount of rich and flavorful red tomato sauce that it simmers in. This recipe would not be considered truly authentic to Bologna, Italy…but it's insanely delicious and exactly what this American girl is looking for in a Bolognese sauce. 😉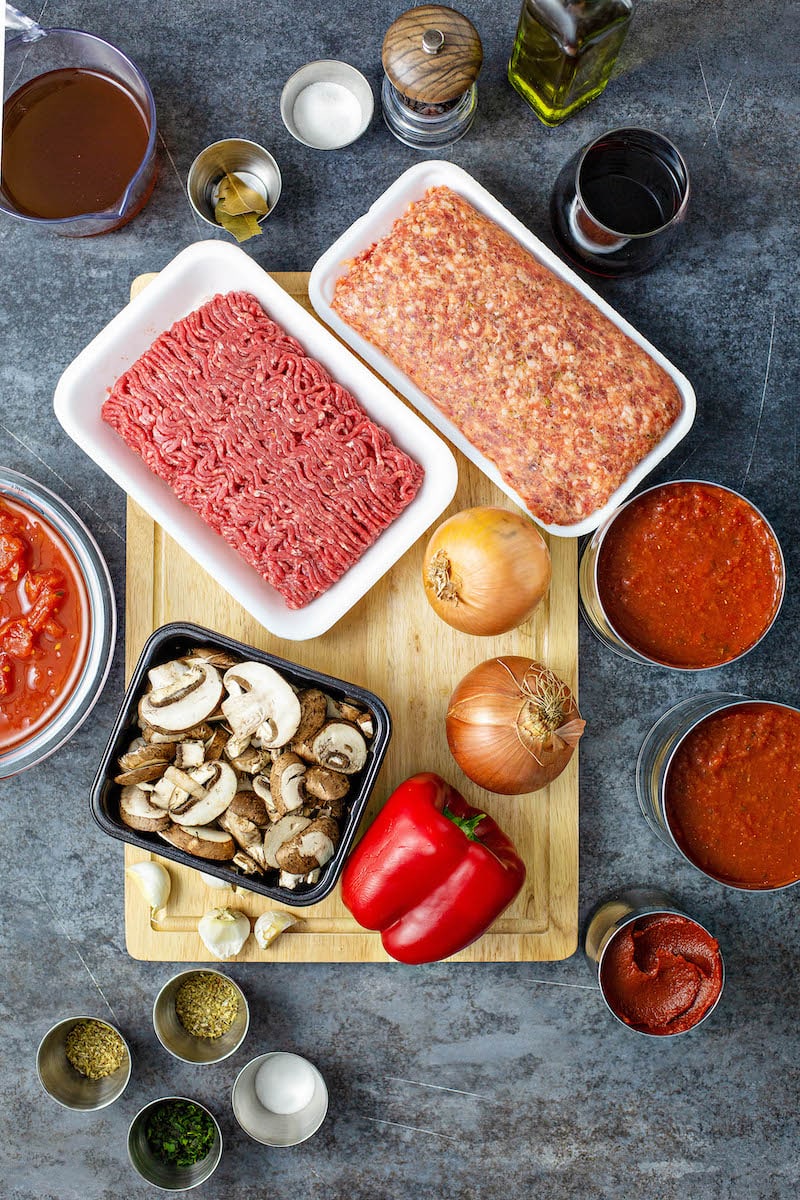 Ingredients
Vegetables:
yellow onion
red bell pepper
baby portobello mushrooms
garlic
2 cans diced tomatoes
2 cans crushed tomatoes
It's important that you use fresh onion, bell pepper, mushrooms and garlic for optimal flavor. It is also important that these ingredients be finely diced (or in case of the garlic — minced). You don't want large vegetable chunks in your Bolognese sauce!
Meat:
lean ground beef
ground Italian sausage
This is my winning combination of ground meats to ensure the best overall flavor. The beef gives the heartiness you crave and the Italian pork sausage is a little lighter with Italian seasonings mixed in. When they combine, they shine together and balance each other perfectly.
Flavor:
tomato paste
salt
black pepper
dried oregano
dried basil
dried thyme
bay leaves
beef stock/broth
dry red wine
a pinch of sugar
Tomato paste is a must for that intense flavor. It makes your bolognese taste as if you have been cooking down fresh tomatoes all day long to get that concentrated tomato flavor, but thankfully you haven't had to.
If you choose to use fresh herbs instead of dried, you will need to use double the amount called for in the recipe. Dried herbs are more concentrated, so make sure and use more. A little added pinch of sugar will cut through the acidity of the tomatoes to give a more rounded sauce in the end.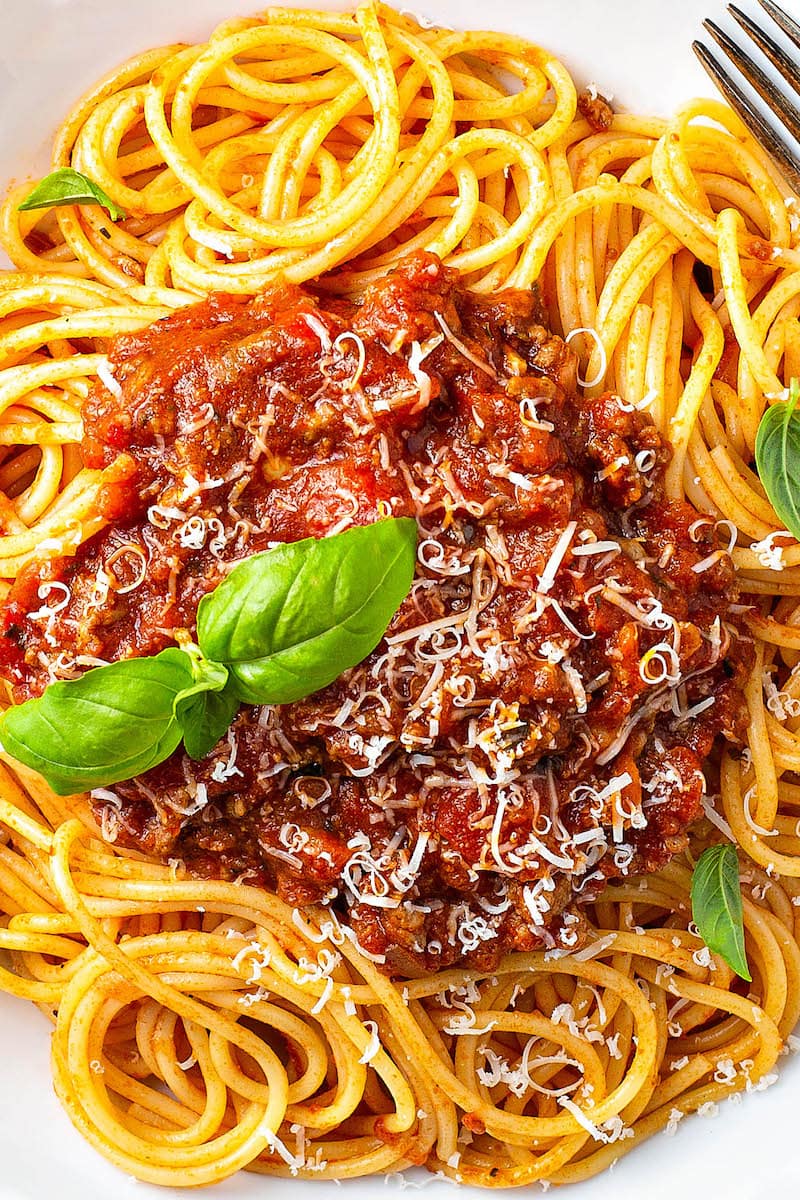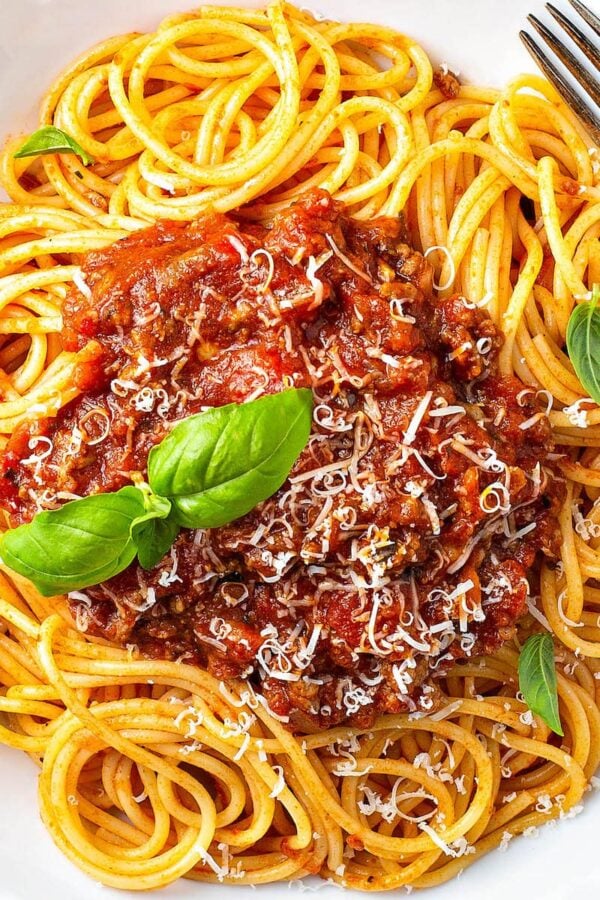 How to make Bolognese in 3 easy steps
This bolognese recipe may look a little daunting, but I promise it's so easy that it only takes 3 major steps.
Sauté: Sauté onions and bell pepper until translucent. Add garlic, followed by ground beef and sausage. Brown meat and drain any excess grease.
Add flavor: Add tomato paste, salt, pepper, oregano, basil, thyme, diced tomatoes, crushed tomatoes, mushrooms, beef broth, red wine, and sugar. Stir until combined and then add a couple of bay leaves
Simmer: Bring sauce to a boil, and then reduce to low and simmer for at least 1 hour, stirring occasionally. Allow sauce to thicken. The longer you simmer, the thicker it will become.
Can I make this ahead or freeze it?
Absolutely! Bolognese is one of those perfect make ahead recipes. You can freeze it for up to 3 months in an airtight container or you can refrigerate it fresh for up to 3 days.
So you can make this ahead for a dinner party and just have to cook the pasta and reheat the sauce when you are ready to serve your guests. This bolognese recipe also makes a great weeknight dinner if you make extra and freeze it for another day.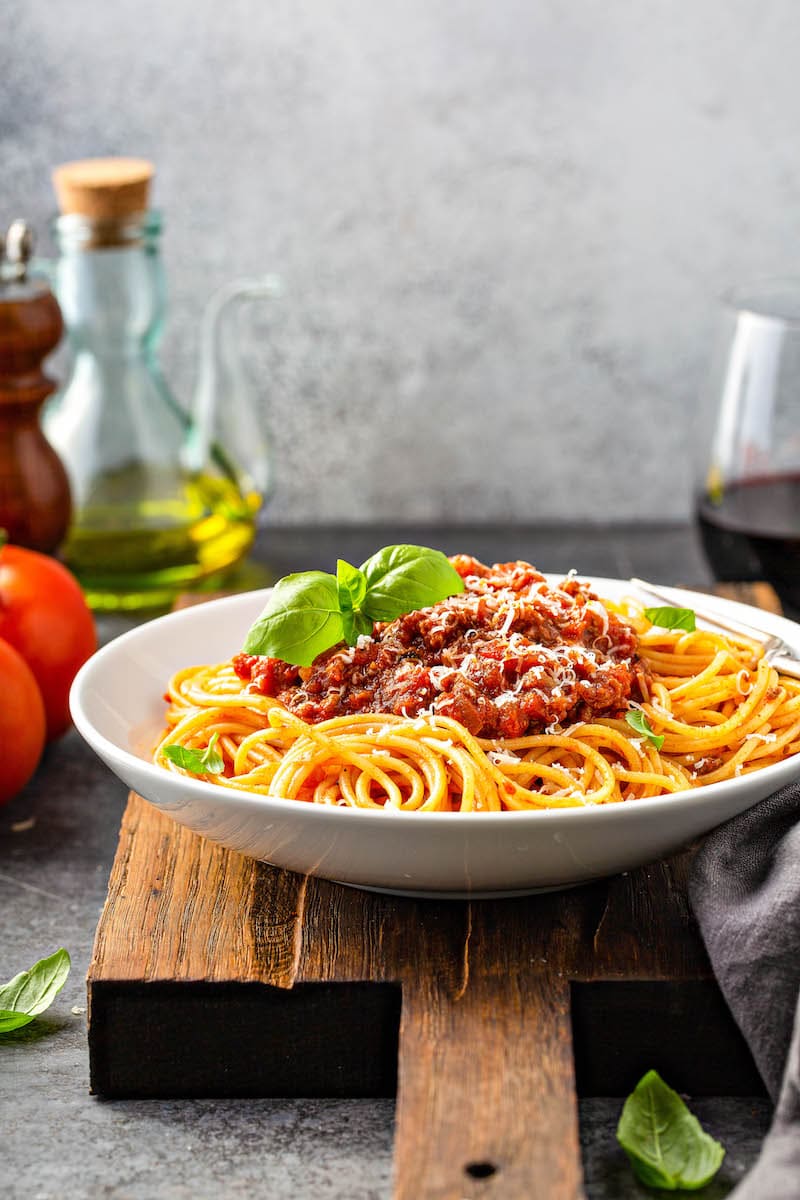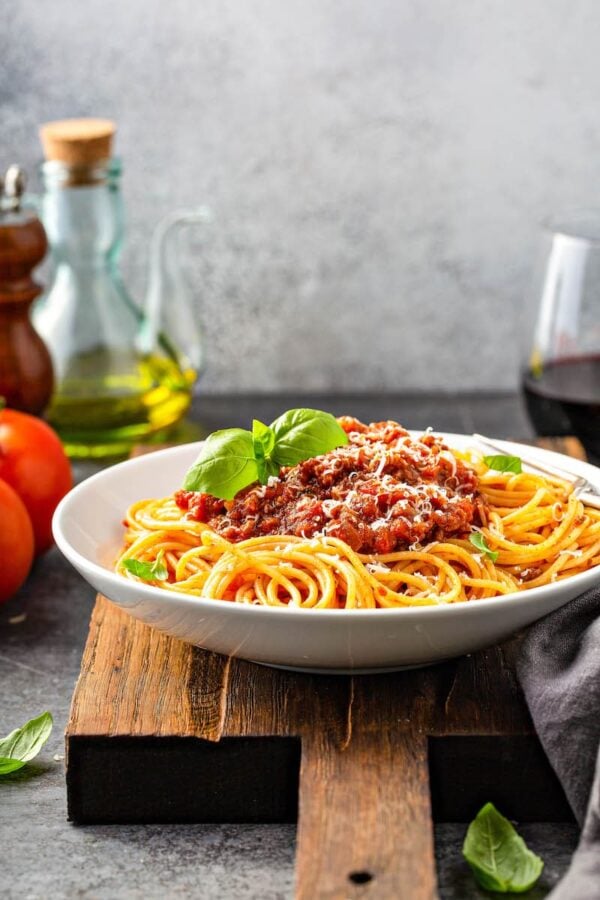 I am excited for you to try this homemade Bolognese sauce recipe. It's one we have been making for years in my family and it's outrageously delicious. Don't get discouraged looking at the ingredient list, I promise this recipe comes together easily and just needs time to be left simmering low and slow on the stove!
Head on over to Dixie Crystals to get the full recipe I developed for them by clicking the button below:
This post may contain affiliate links. Read my disclosure policy.