These fluffy Watermelon Cupcakes are bursting with juicy watermelon flavor – and a secret sprinkle surprise! Filled with a colorful sprinkle center and topped with pillowy, melt-in-your-mouth watermelon buttercream, it's the perfect summer cupcake.
Easy Watermelon Cupcake Recipe
These pretty-in-pink homemade cupcakes are moist and fluffy, filled with flavor and sprinkles! It's an easy cupcake recipe with a major wow factor.
The fruity flavor is perfect for the summertime. Everytime I take these vibrant, surprise-filled cupcakes along to a BBQ, someone always pulls me aside to ask how the cake and frosting tastes SO MUCH like watermelon. It's a simple secret that I'm more than happy to share!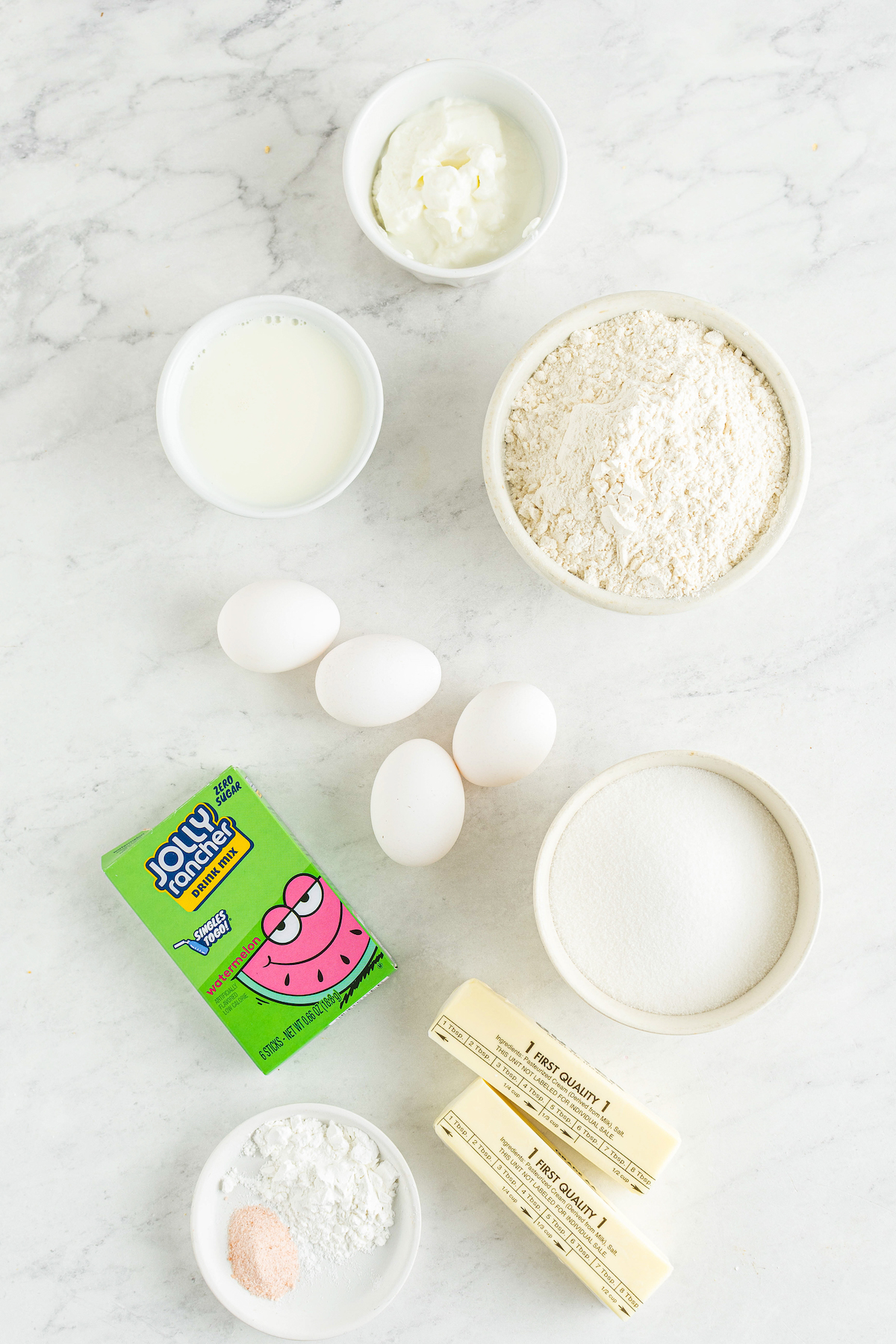 What You'll Need
Here's everything you need to make these super flavorful watermelon cupcakes that are jam packed with a sprinkle surprise. Check out the recipe card for the full amounts!
When assembling the cupcakes, you'll also need: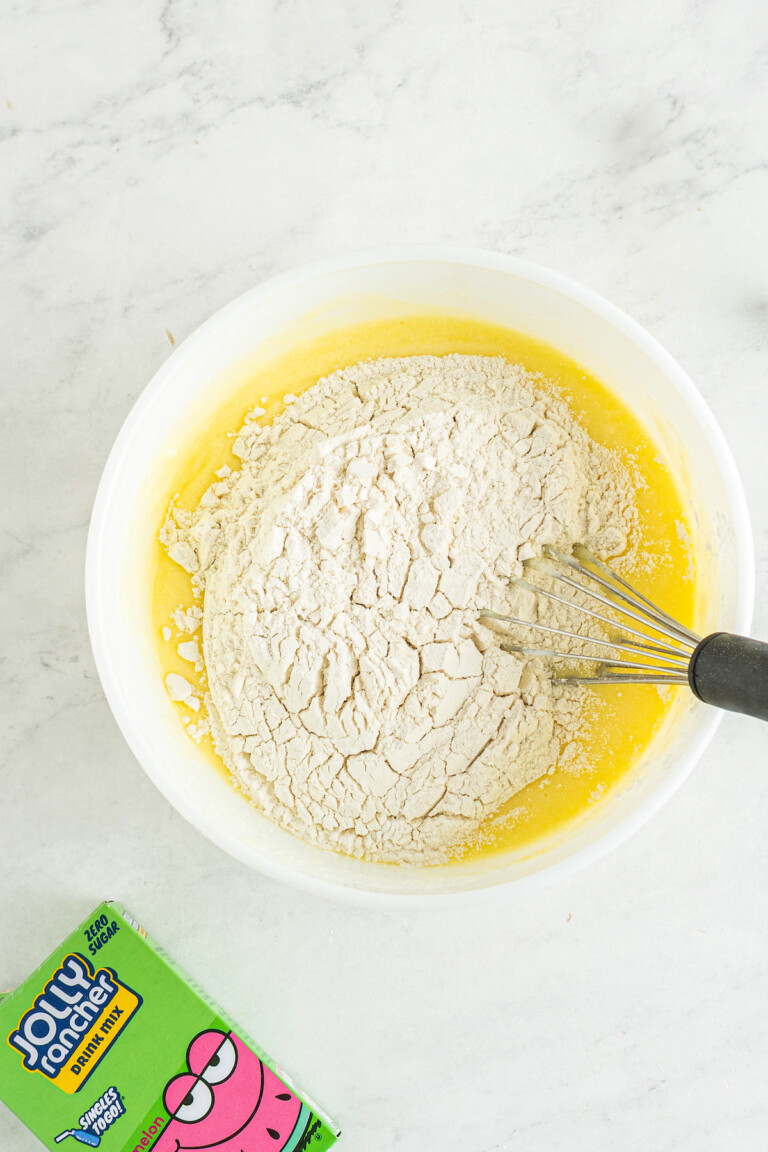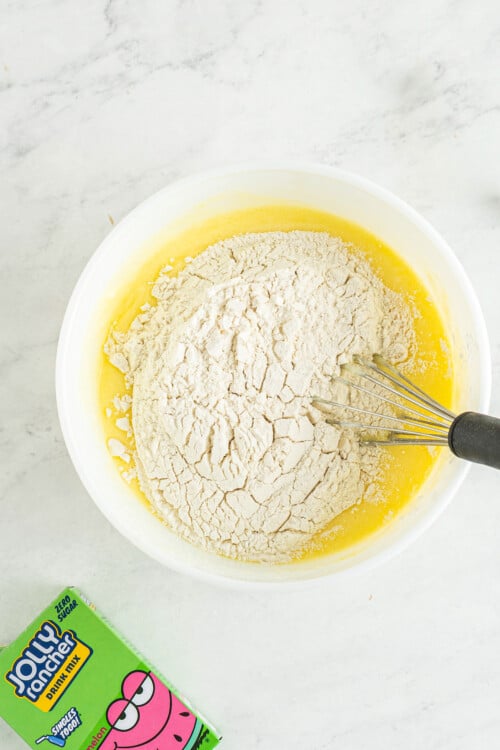 How to Make Watermelon Cupcakes
You'll need to mix and bake your cupcakes before you assemble them in all their melon-y glory.
Make the Cupcake Batter: Combine the dry ingredients and wet ingredients separately. Whisk the dry ingredients into the wet ingredients, and then add the Watermelon Kool Aid into the batter until you reach a uniform pink color.
Fill the Pan: Fill the molds in a lined cupcake pan about ¾ full with batter. I recommend using an ice cream scoop if you have one – it makes it so much easier to get consistent sized cupcakes! You can also use a ¼ cup measuring cup or a spoon.
Bake: Bake the cupcakes at 350ºF until a toothpick inserted into the middle of a cupcake comes out with moist (not wet) crumbs. Place the cupcakes on a cooling rack while you prepare your fillings and toppings.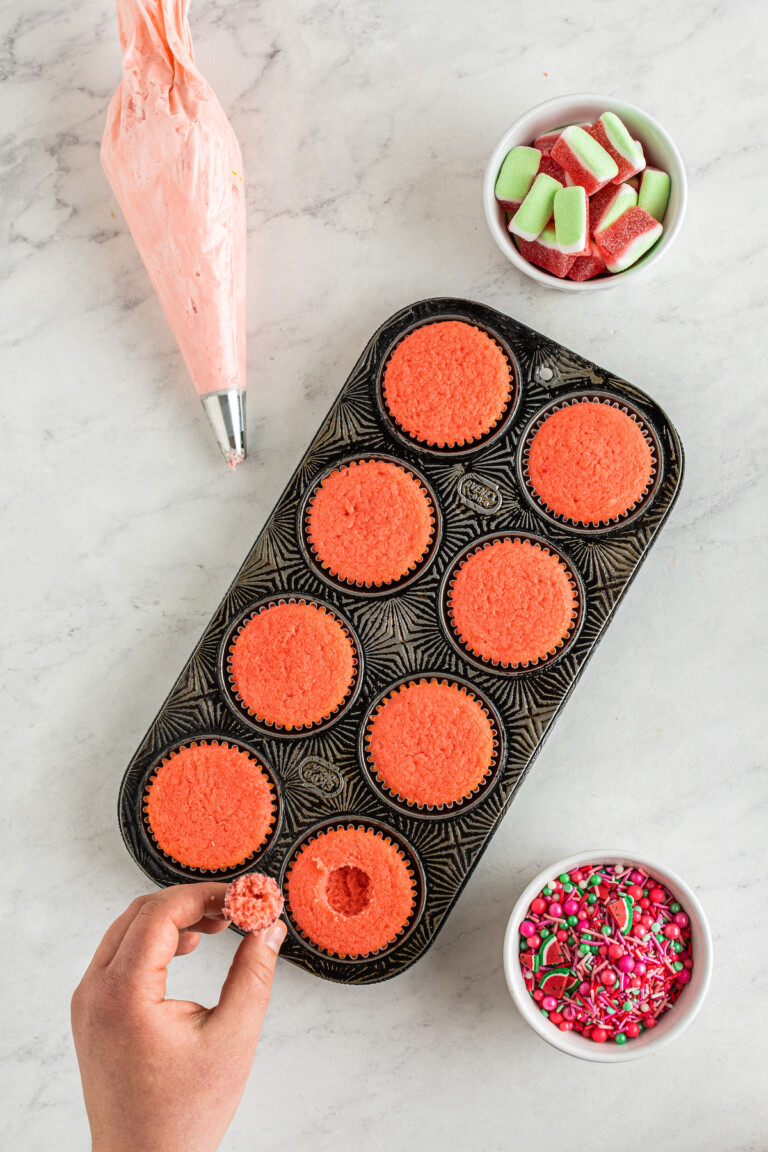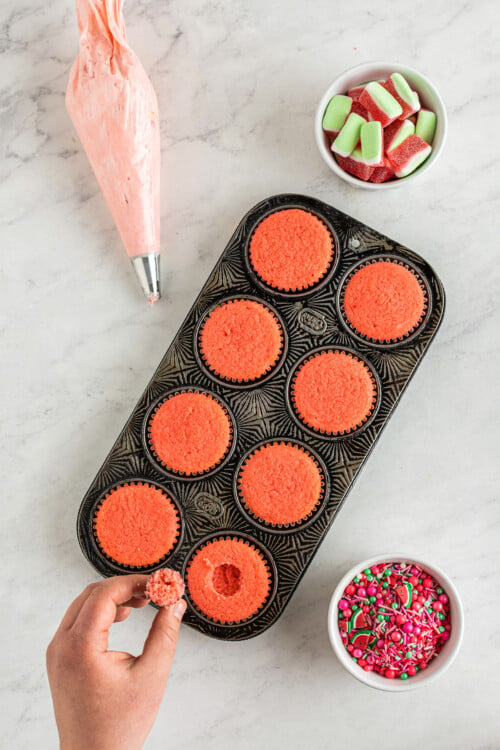 Assembling the Cupcakes
Once the cupcakes have cooled to room temperature, remove the centers of the cupcakes and keep the center pieces aside. Fill each hole with a small spoonful of sprinkles, then gently plug each hole with the piece of cupcake that was removed. It won't look perfect, and that's fine – the end result will be covered with delicious buttercream!
When all your cupcakes are filled, use a piping bag fitted with a 1A tip to pipe on the watermelon buttercream swirls (I've included pointers for the perfect swirl in the recipe card below!). Finally, sprinkle on more sprinkles, or top your cupcakes with watermelon candies before serving.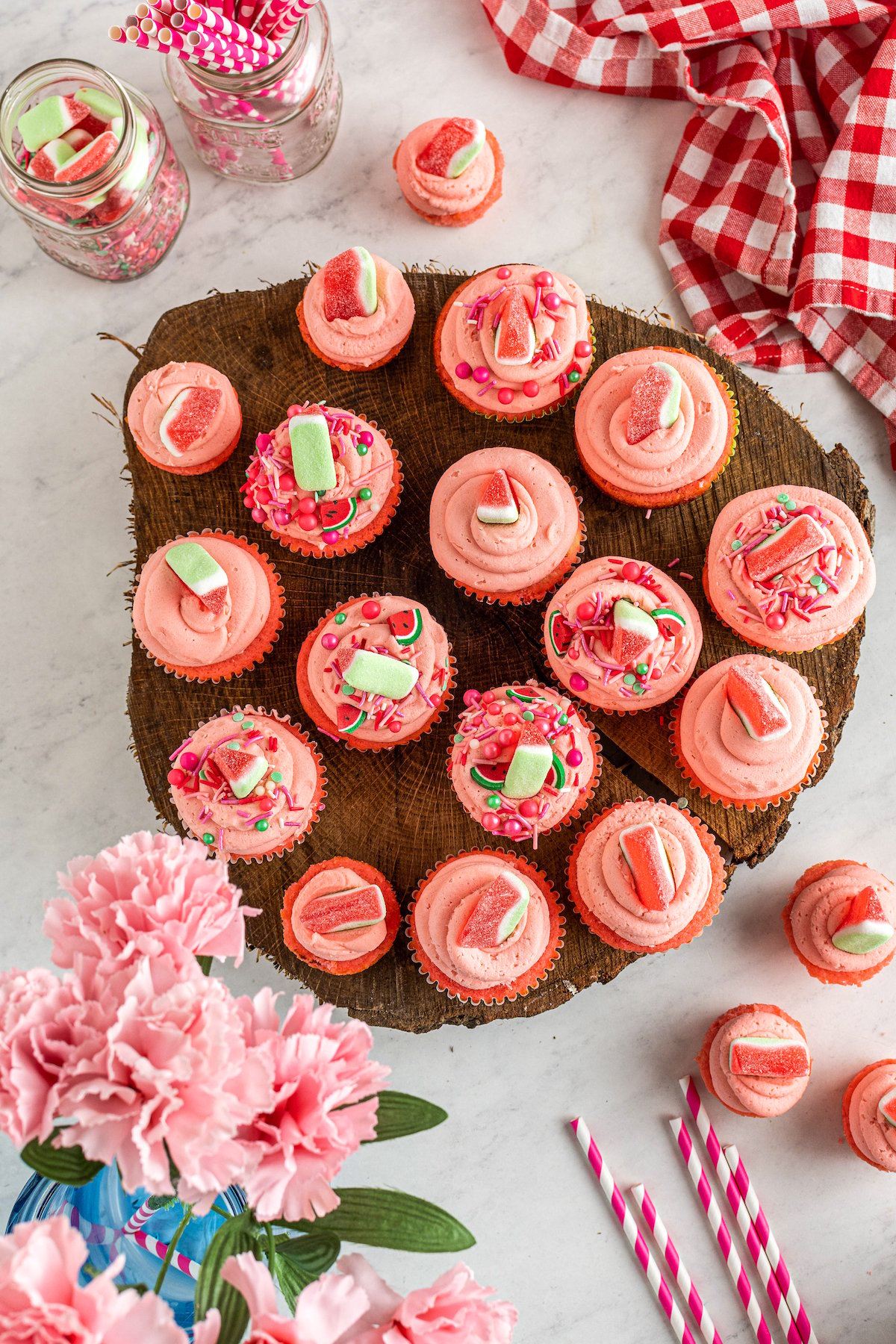 Can I Make Them In Advance?
The cupcakes themselves are great to make ahead if you're party prepping in advance.
Bake the watermelon cupcakes as usual, and then store or freeze them. You can make the frosting up to 2 days ahead of when you plan to thaw and/or frost the cupcakes. See the section later on for more details on storing and freezing!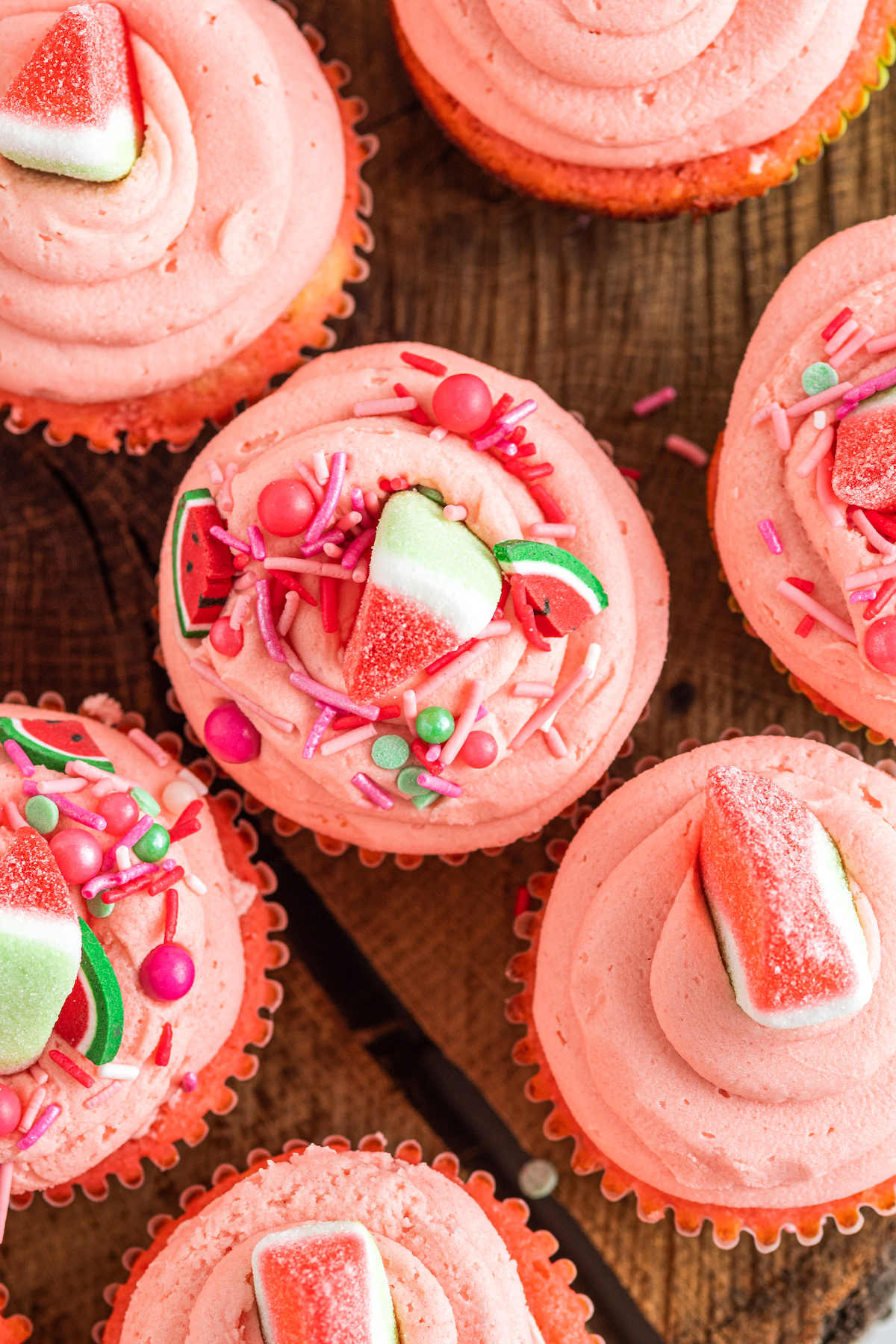 Tips for Success
Here are some tips for the fluffiest watermelon cupcakes with the best possible flavor: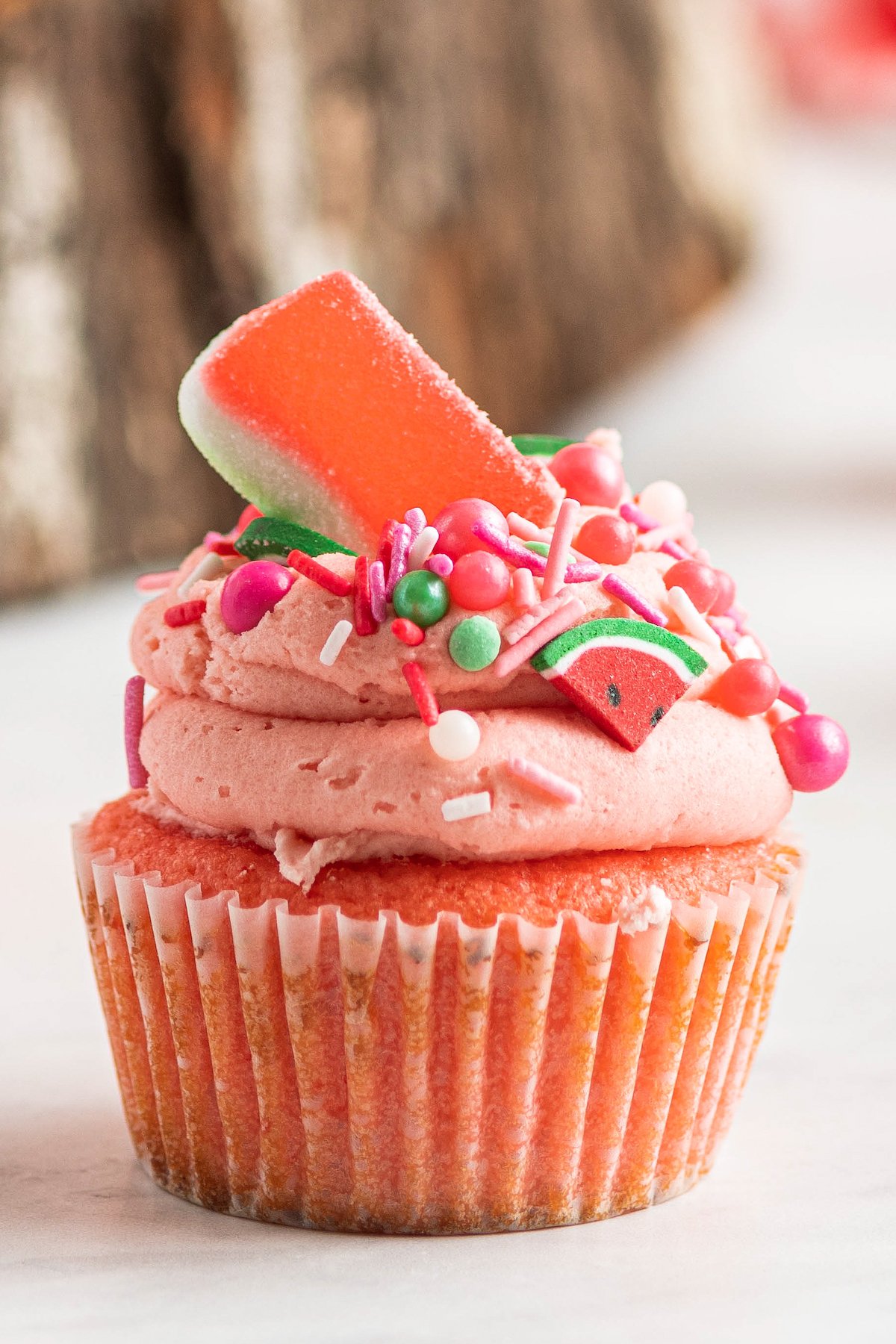 Storage Instructions
These cupcakes can be stored frosted or unfrosted, airtight in the fridge for up to one week. I wouldn't recommend leaving these at room temperature due to the buttercream.
You can also store the frosting airtight and refrigerated for 1-2 days, if you have leftovers or if you'd like to make it ahead.
Can I Freeze These?
These watermelon cupcakes can be frozen once they're completely cool and before they're frosted. Do not freeze frosted cupcakes – the buttercream doesn't hold up well in the freezer.
Freeze the cupcakes tightly wrapped in plastic wrap, or in an airtight container or freezer bag for up to 2 months. Thaw in the fridge, then pipe on the frosting and serve!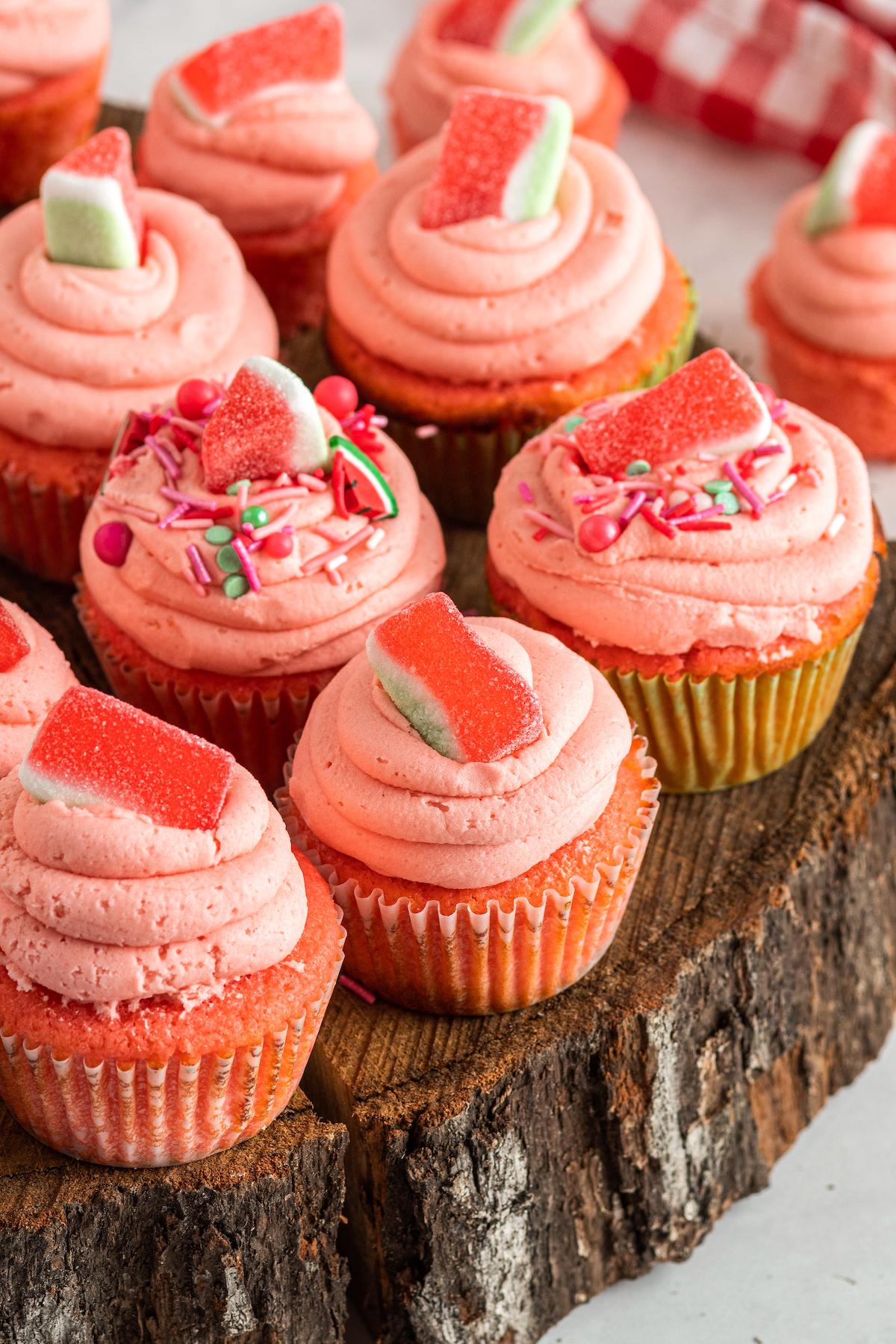 More Fruity Cupcakes to Try
Watermelon Cupcakes
These fluffy Watermelon Cupcakes are bursting with juicy watermelon flavor (and a secret sprinkle surprise!). Topped with pillowy, melt-in-your-mouth watermelon buttercream, it's the perfect summer cupcake.
Ingredients
Watermelon Cupcakes:
2 ¼

cup

all purpose flour

1

tablespoon

baking powder

1

teaspoon

salt

1

cup

2 sticks butter, room temp

1 ½

cups

sugar

4

large eggs

¾

cup

whole milk

½

cup

plain yogurt or sour cream

4

watermelon drink mix** single packs,

(.44 oz total)
Instructions
Cupcakes:
Preheat your oven to 350°F. Place cupcake liners into cupcake pan and lightly spray with baking spray. Set aside.

In a medium mixing bowl, combine flour, baking powder and salt. Set aside.

In a large mixing bowl, combine the butter, sugar and eggs. Whisk together until smooth and butter is well incorporated. Add in the milk and yogurt and whisk to incorporate.

Add in flour mixture and whisk to bring together. Add in the watermelon Kool Aid and whisk until the batter is all pink and the Kool Aid is well incorporated.

Using an ice cream scoop, fill each cupcake mold ¾ full. (An ice cream scoop is not mandatory for this, it just aids in filling each mold with a consistent amount to result in evenly sized cupcakes. If you do not have an ice cream scoop, simply use a ¼ c measuring cup or a large spoon.)

Place into the preheated oven and bake for 18-20 minutes, or until a toothpick inserted comes out with moist, but not wet, crumbs.
Once baked, remove from the oven and place on a cooling rack for about 20 minutes or until they have reached room temperature.

Assembly:
Using the large end of a piping tip, press into the center of the cupcakes about ¾ of the way through to remove some of the cupcake. If you press in too shallow, you will only remove enough cupcake to fill with a couple of sprinkles. Once you have removed the cupcake center, use a toothpick to remove the piece that is in the piping tip and preserve it for later.

Fill with a small scoop of sprinkles. I used a ½ teaspoon to fill as it was about the size of the hole. Once the sprinkles are in the center, press the removed cupcake piece back into the hole. It will not look perfect and that is just fine. (Replacing the cupcake piece helps keep the sprinkles in place in the event that you pipe frosting, don't like the look of it and remove it. Without it, the sprinkles would be removed with the frosting.)

Once all of your cupcakes are filled, using a piping bag fitted with a round tip and filled with watermelon buttercream, pipe frosting on. Using an even pressure, start in the center of the cupcake and pipe in a circle outwards then up until you have reached the top. You should be able to pipe around the cupcake about 3 times before reaching the top. If you do not like the way it looks, simply remove the frosting and start again.

Sprinkle with additional sprinkles or leave plain and top with a watermelon gummy candy if you wish to. Serve and enjoy!
Nutrition
Serving:
1
,
Calories:
304
kcal
,
Carbohydrates:
67
g
,
Protein:
3
g
,
Fat:
3
g
,
Saturated Fat:
2
g
,
Polyunsaturated Fat:
1
g
,
Cholesterol:
37
mg
,
Sodium:
185
mg
,
Fiber:
1
g
,
Sugar:
57
g
Categories:
This post may contain affiliate links. Read my disclosure policy.