Orejas, also commonly known as Palmiers, are light and flaky pastries that are perfectly seasoned with cinnamon sugar. They are a favorite Mexican sweet treat at my house!
Homemade Orejas – A Mexican Pan Dulce
You'll want to cozy up with a good book and a cup of coffee as soon as you make these delightful little treats! Orejas require a little effort, but it's well worth it. It amazes me every time I make them just how easily they put me in a good mood and my worries just melt away…literally!
Orejas are buttery, toasty, and perfectly seasoned with cinnamon sugar. I've always loved the simplicity of cinnamon sugar flavor. It could not be easier to mix the two together, yet when you do – magic happens! This is the same when you use the combo to make Orejas.
Buttery Spritz Cookies and Lofthouse Cookies (Copycat Recipe) are two other buttery and light sweet treats that you should try!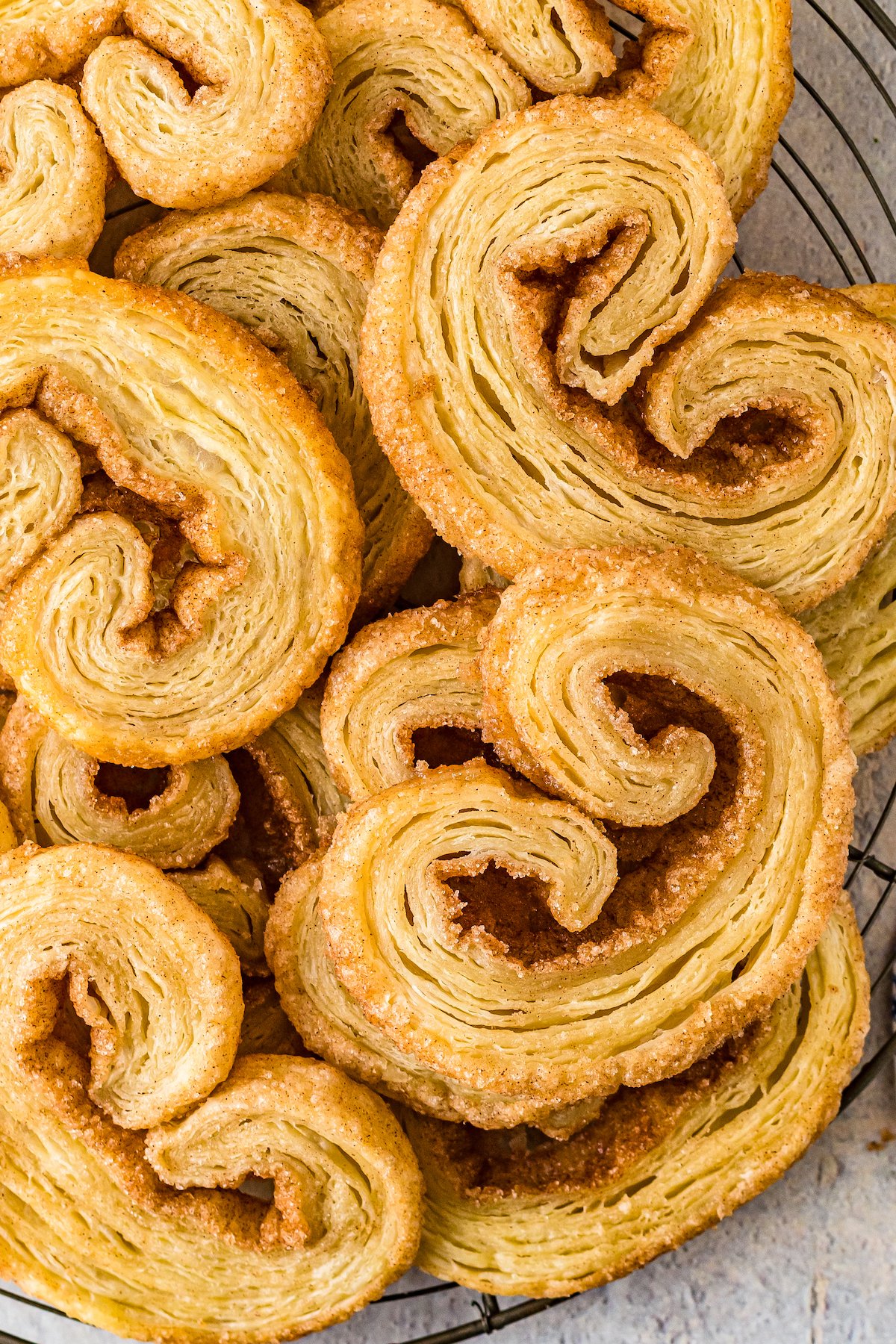 What Are Orejas?
Orejas are Mexican pastries made with puff pastry, sugar, and cinnamon. You'll sometimes see them called Orejas Pan Dolce or Palmiers. Additionally, you might even see them called Elephant Ears (check out their shape!).
Are Orejas and Palmiers The Same Thing?
Orejas and Palmiers are indeed the same things. The reason for having two names is that one is from Mexico (Orejas) and the other is from France (Palmiers). But when you boil it down, they are the same exact cookie!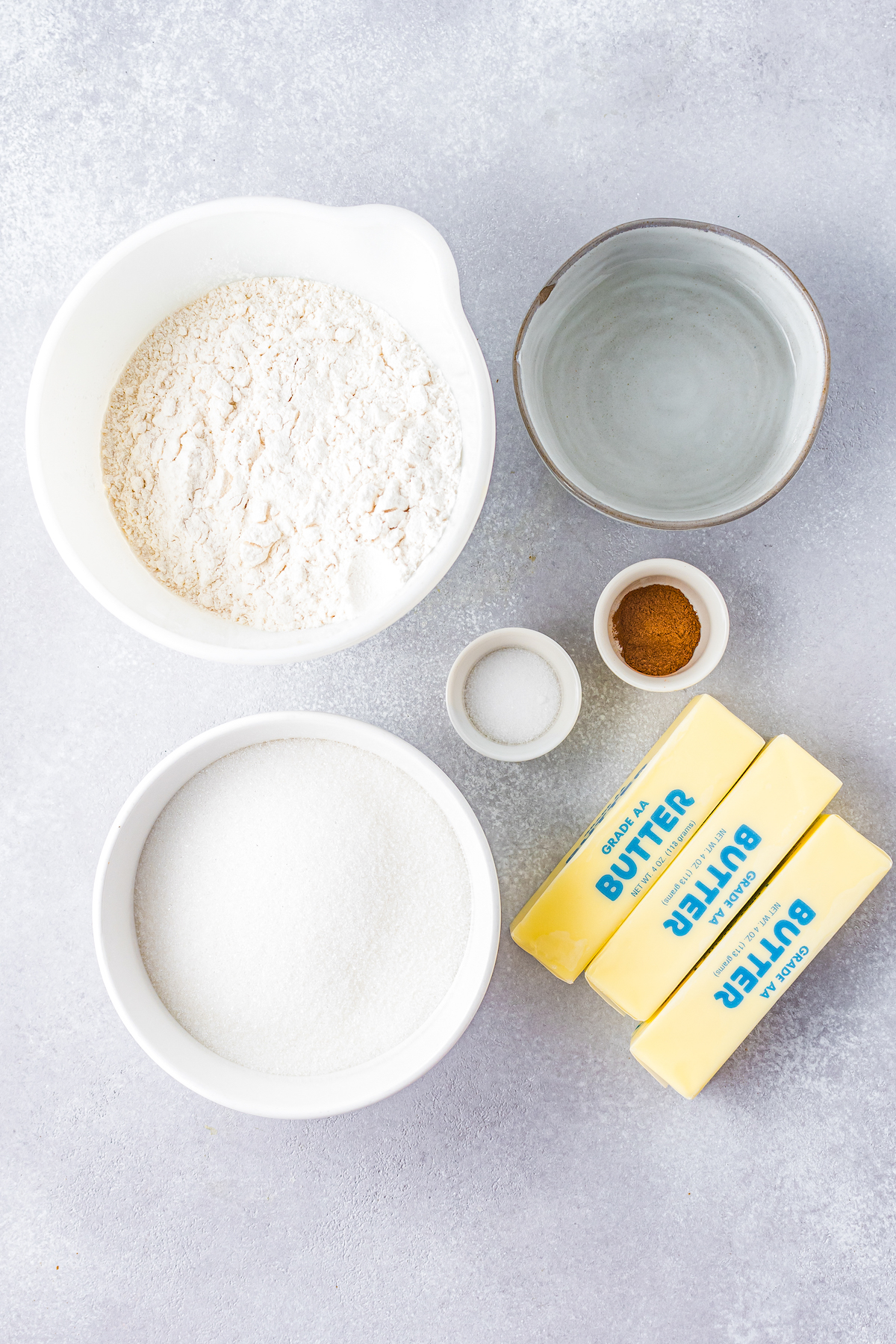 Recipe Ingredients
Here is what you need to make Orejas. Make sure that you give yourself a few extra hours if you're going to make the puff pastry from scratch.
For the Homemade Puff Pastry:
All-Purpose Flour: Always use all-purpose flour for puff pastry, unless a recipe says otherwise.
Salt: Don't skip the salt because it's very important to flavor the puff pastry.
Unsalted Butter: The butter should be very cold! You'll also want to grate it with a cheese grater.
Cold Water: Temperature is very important when making puff pastry. It's what creates the flaky layers in the dough.
For the Orejas:
Puff Pastry: You can make it yourself or buy it at the store. But I highly recommend giving homemade puff pastry a shot! If you have any leftover puff pastry, try out these Cranberry Brie Bites!
Granulated Sugar: White sugar works best for this cinnamon sugar combo.
Cinnamon: I can already smell the cinnamon coming from the oven! It's one of the best parts of this treat.
Salt: Again, a small but crucial ingredient for the best flavor.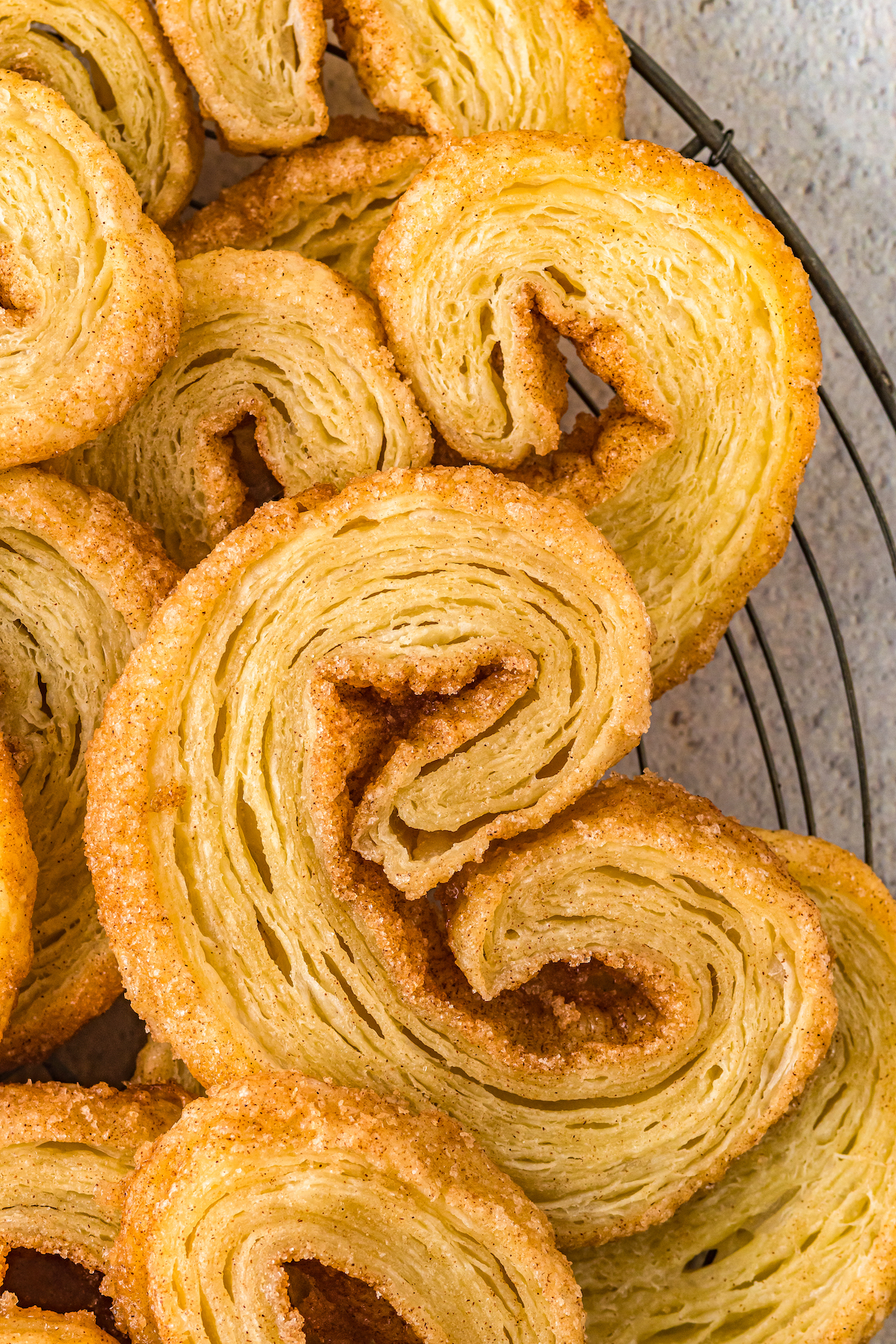 Let's Make Orejas!
You're in for a treat! It's really fun to make these Orejas. So let's get started.
Puff Pastry Instructions:
Mix the flour and salt together in a bowl. Then, add half of the grated butter and mix it again to coat the butter with the flour. You'll then repeat with the other half of the butter.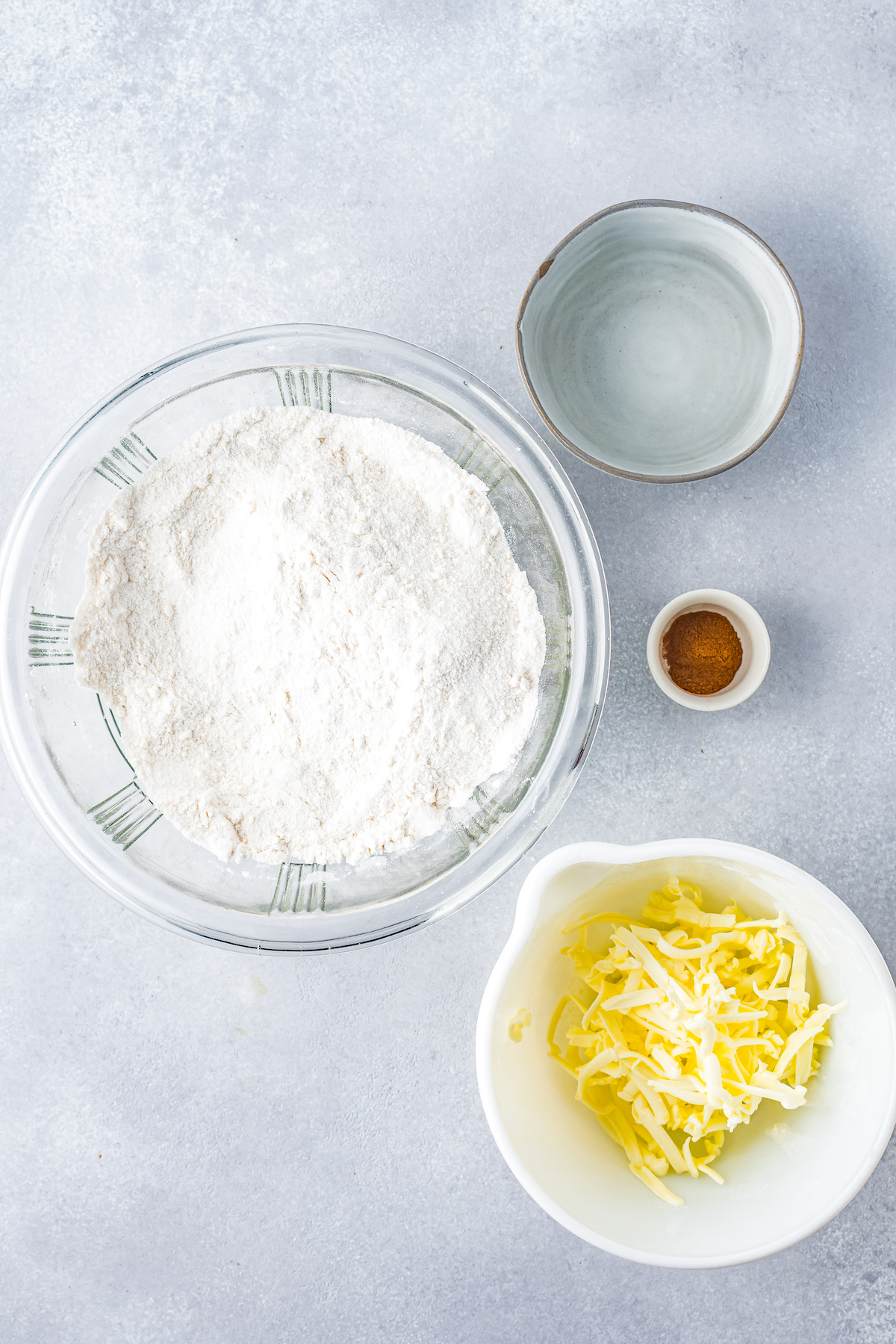 Add the water. Then, add the cold water to the flour mixture and stir together until a ball is formed.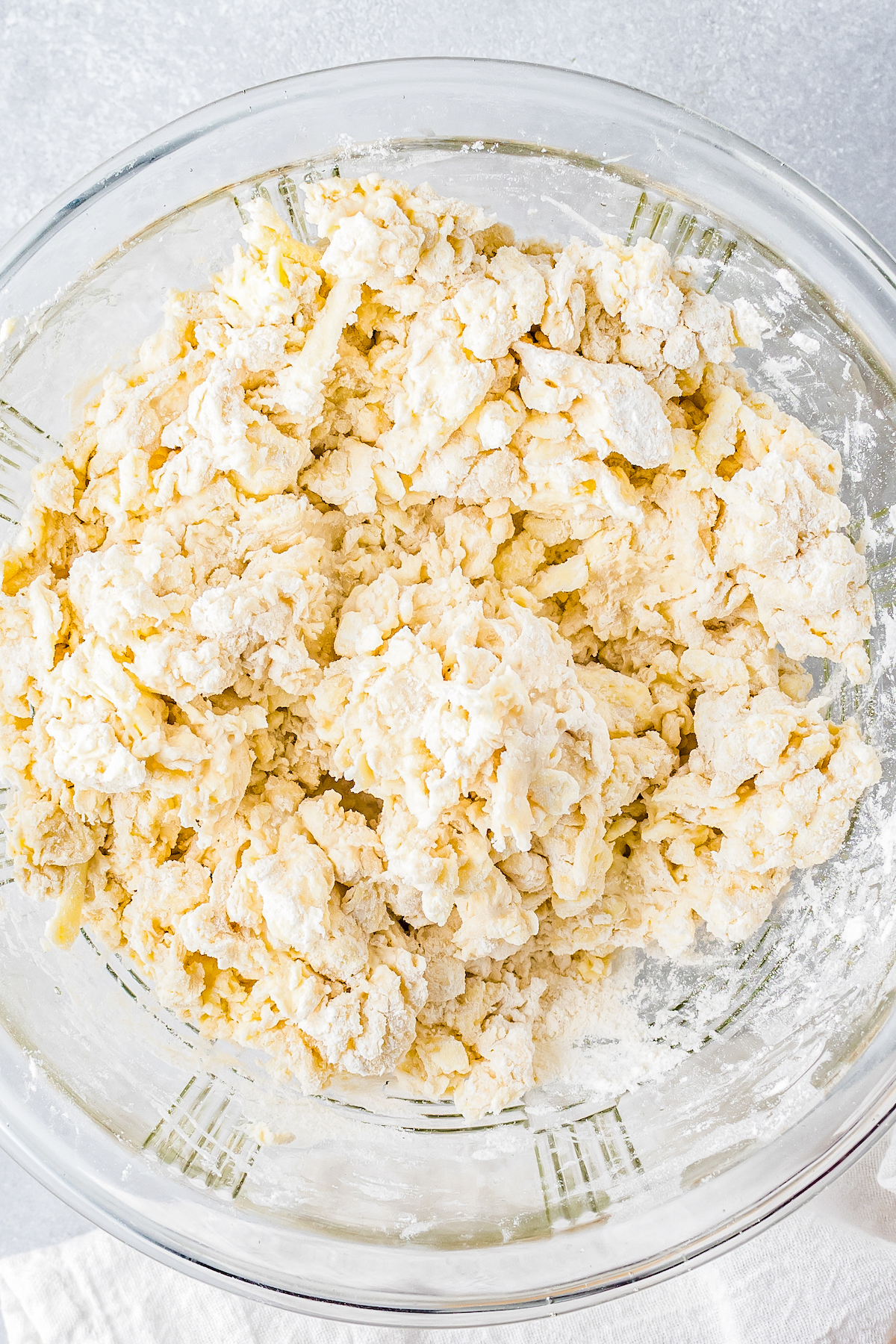 Place the dough onto a clean, floured working surface. Knead the dough a few times and then let it rest for about 2 hours in the refrigerator. (It can also be left overnight.)
Roll the dough out. Next, you'll roll the dough out so that it's flat and in a rectangular shape.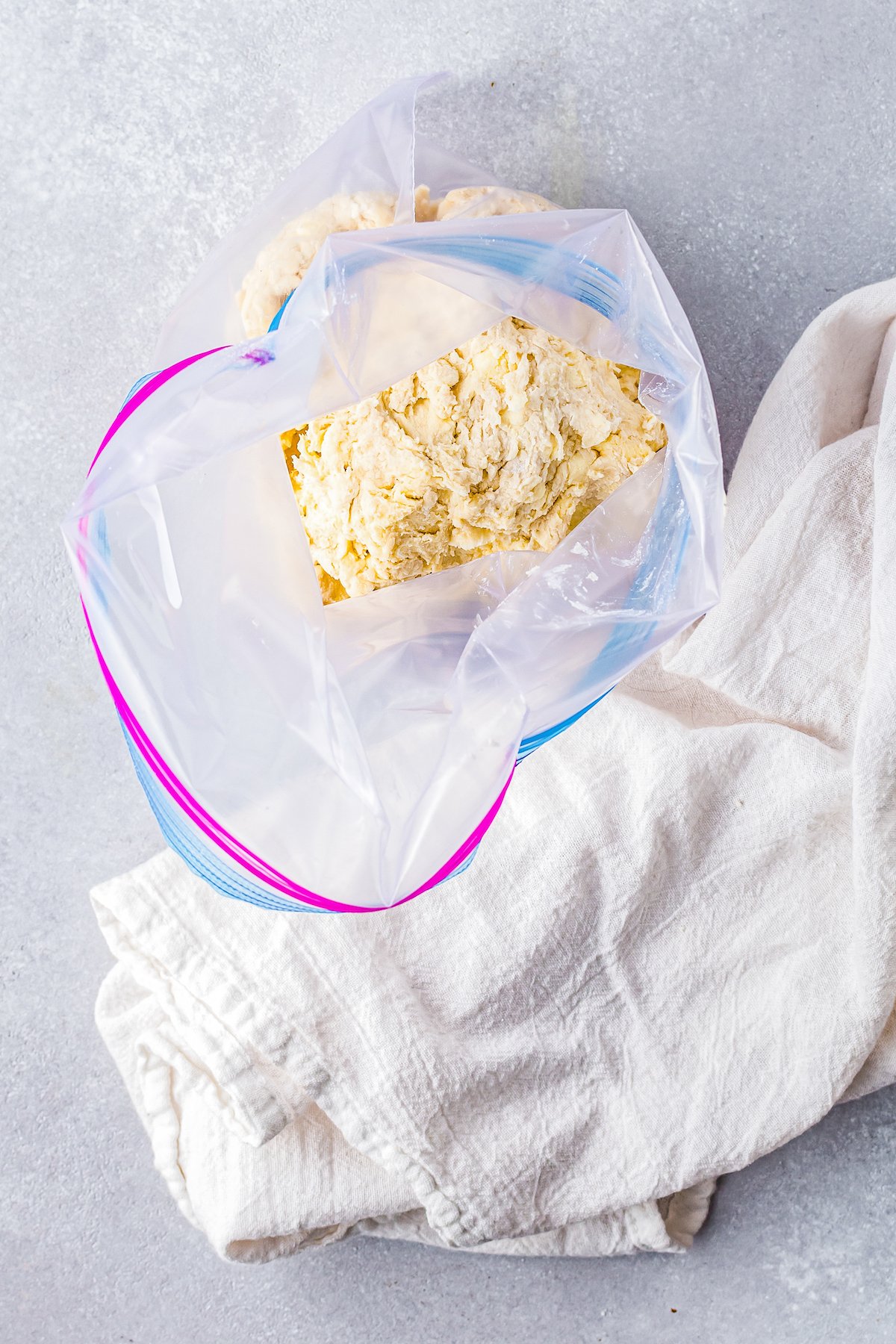 The fun part – folding the puff pastry! Next you'll fold the dough into thirds (like a letter). Then roll it out again to the large rectangular shape.
Repeat this step. You'll repeat the folding and rolling a total of four times.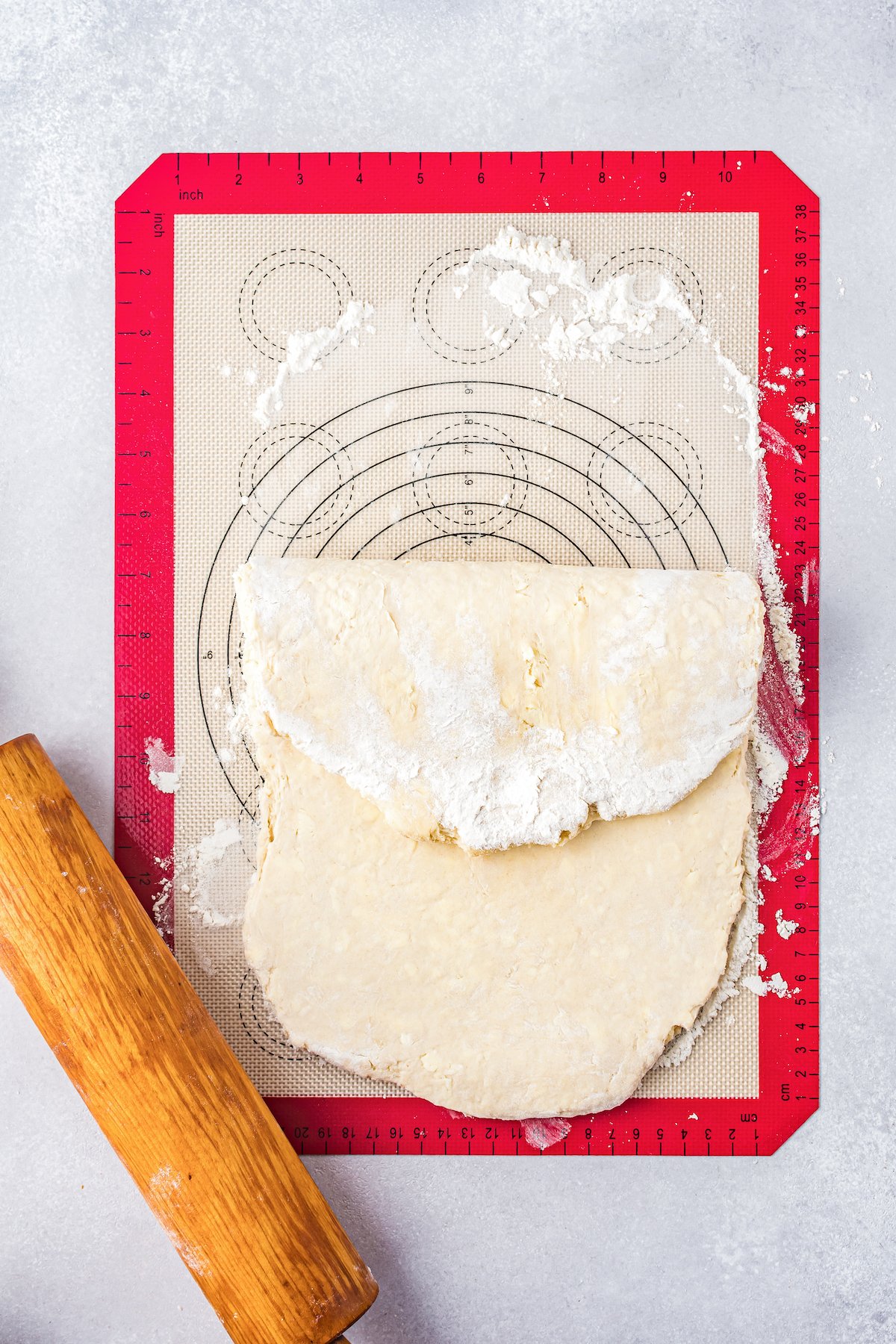 When you're done, fold it again and wrap it with plastic wrap. Next, you'll let it rest in the refrigerator for about 15 minutes. Then we'll move on to making the Orejas!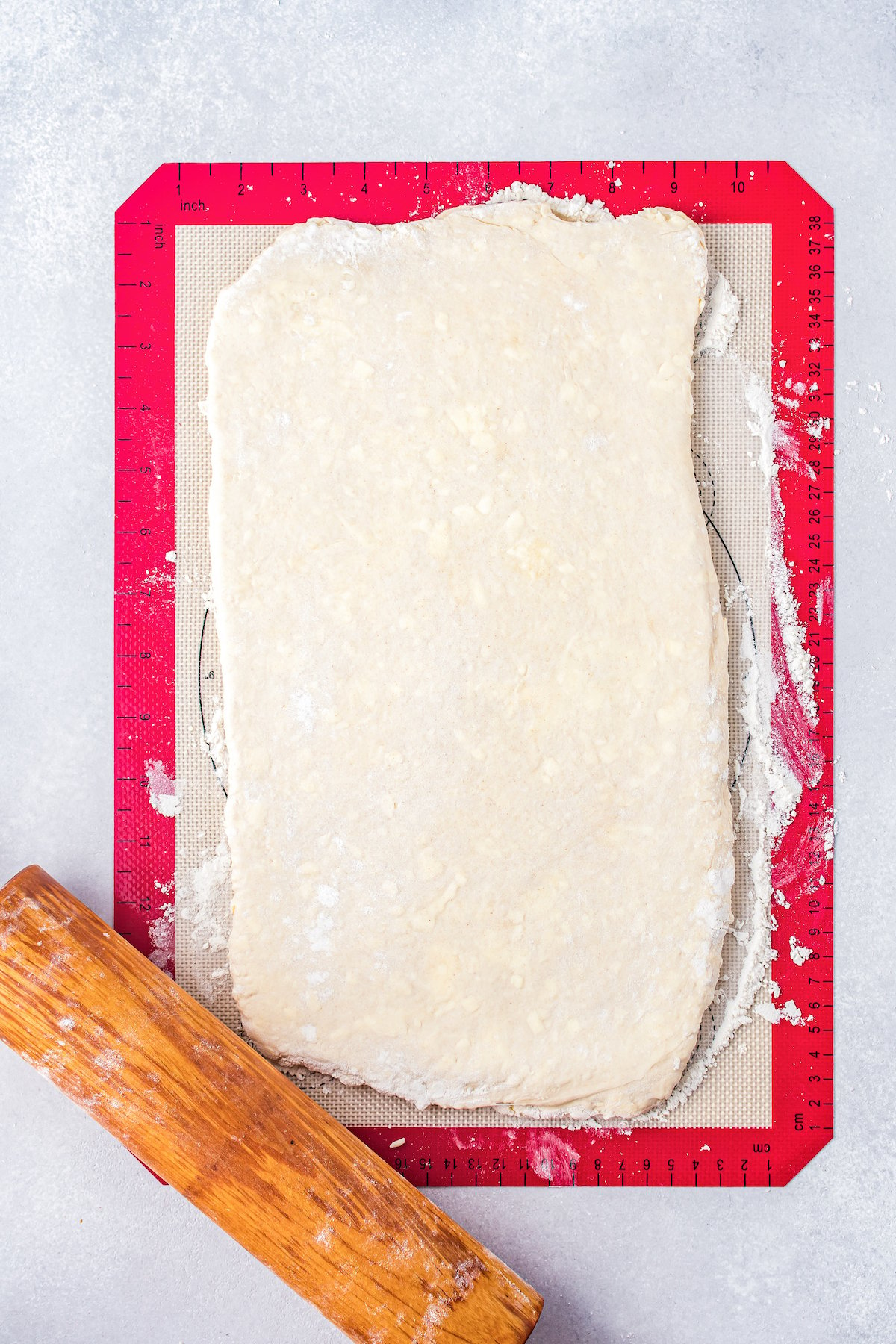 Orejas Instructions:
First, make the cinnamon sugar. Start by mixing together the sugar, cinnamon, and salt. Then sprinkle your countertop with a little bit of the cinnamon sugar mixture.
Then you'll get your puff pastry from the refrigerator. Unwrap the puff pastry and roll it out on your countertop. Roll it until it's a rectangular shape and about 1/4″ thick.
Draw a line down the middle of the dough. You can use a knife with very gentle pressure for this. Keep in mind that you don't want to actually cut the dough. And then sprinkle cinnamon sugar on top to cover the puff pastry.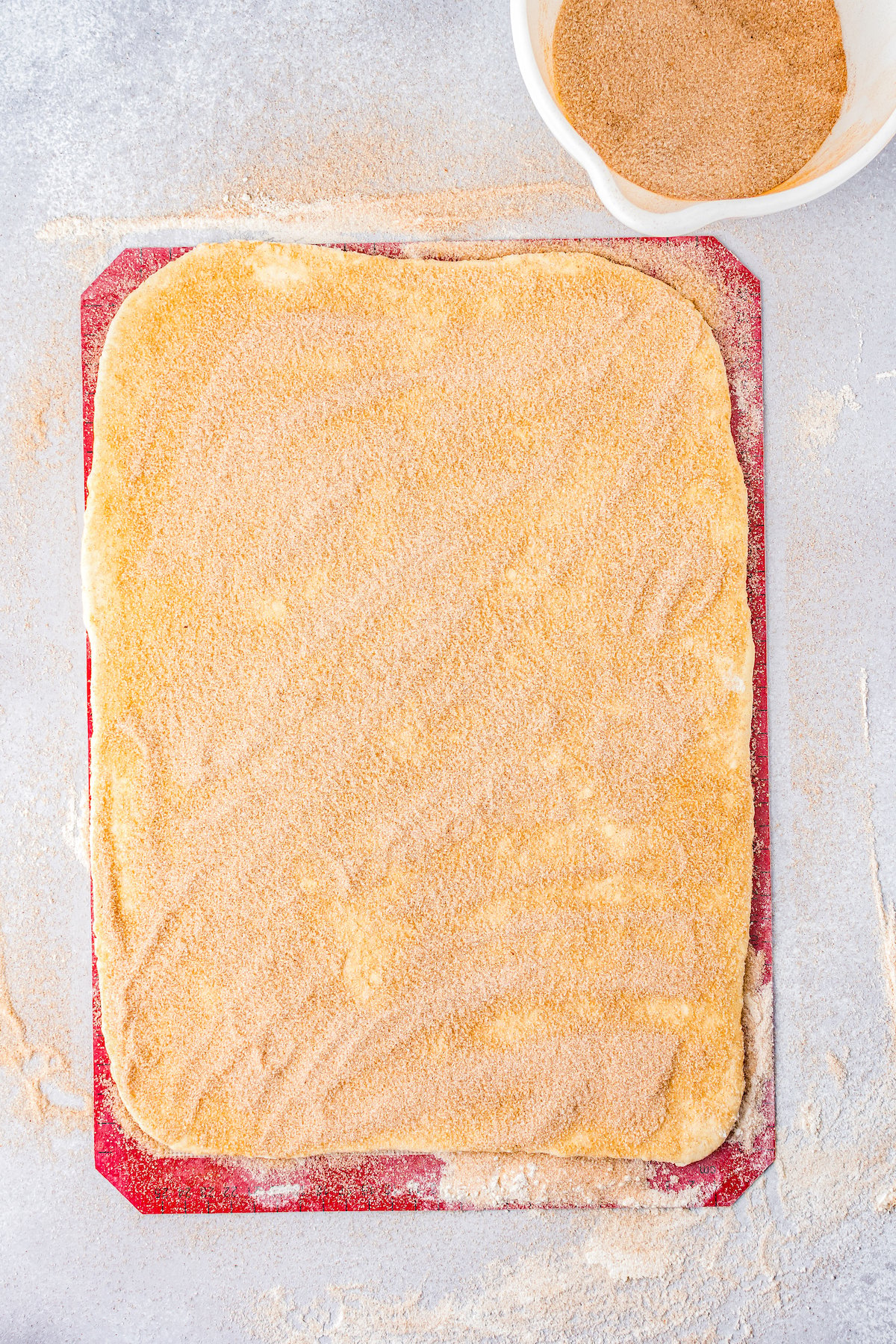 Start rolling! Starting on one side, roll lengthwise towards the line you just drew. Then repeat with the other side. Finally, cut the large roll in half and wrap it with plastic wrap and refrigerate for 30 minutes.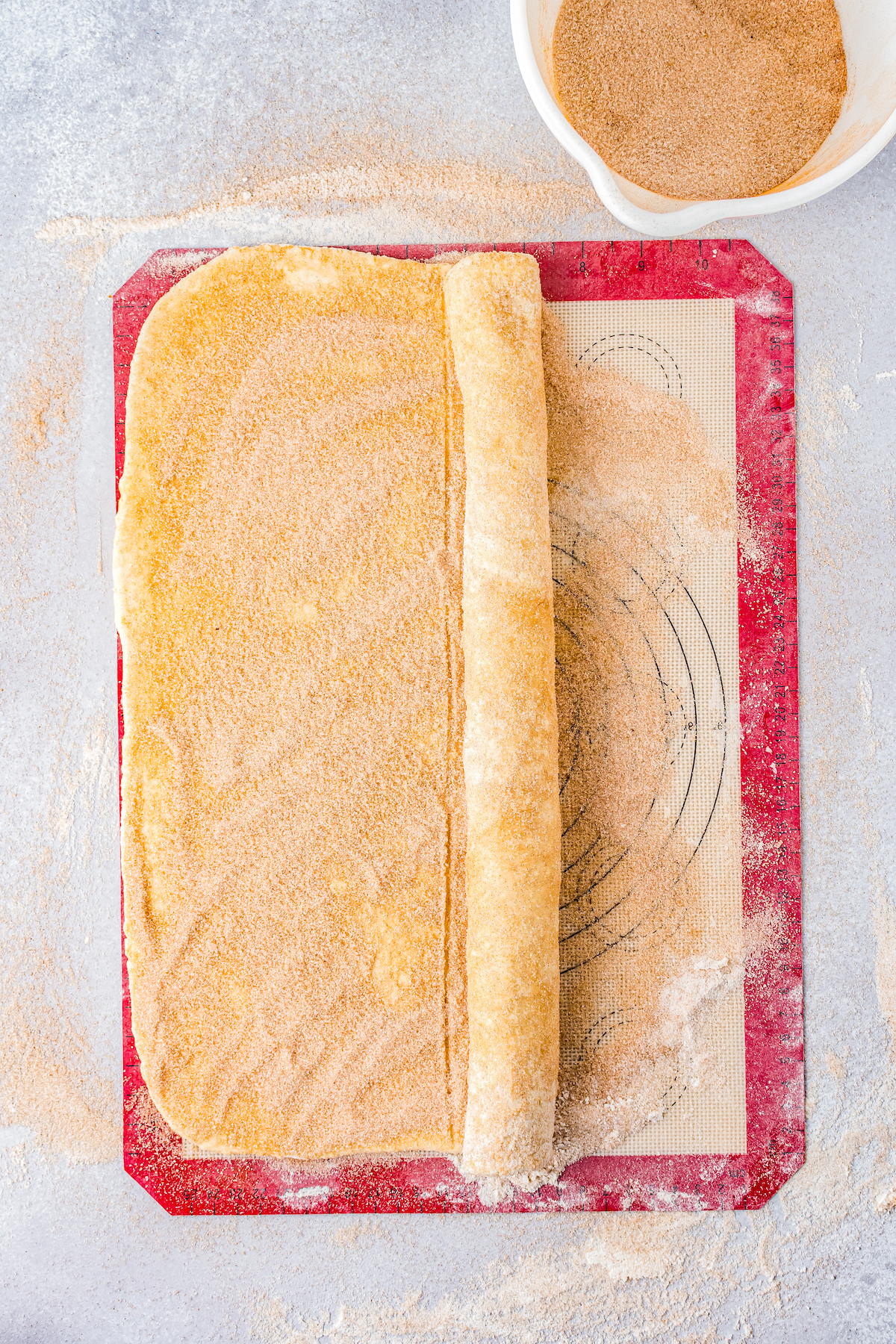 Preheat the oven. Now would be a good time to preheat the oven to 425F. Also, don't forget to prep your cookie sheet by lining it with parchment paper.
Slice the cookies. Now, you'll get the rolled puff pastry back out of the refrigerator. Put it back onto your work surface and slice it into 1/4″ thin cookies.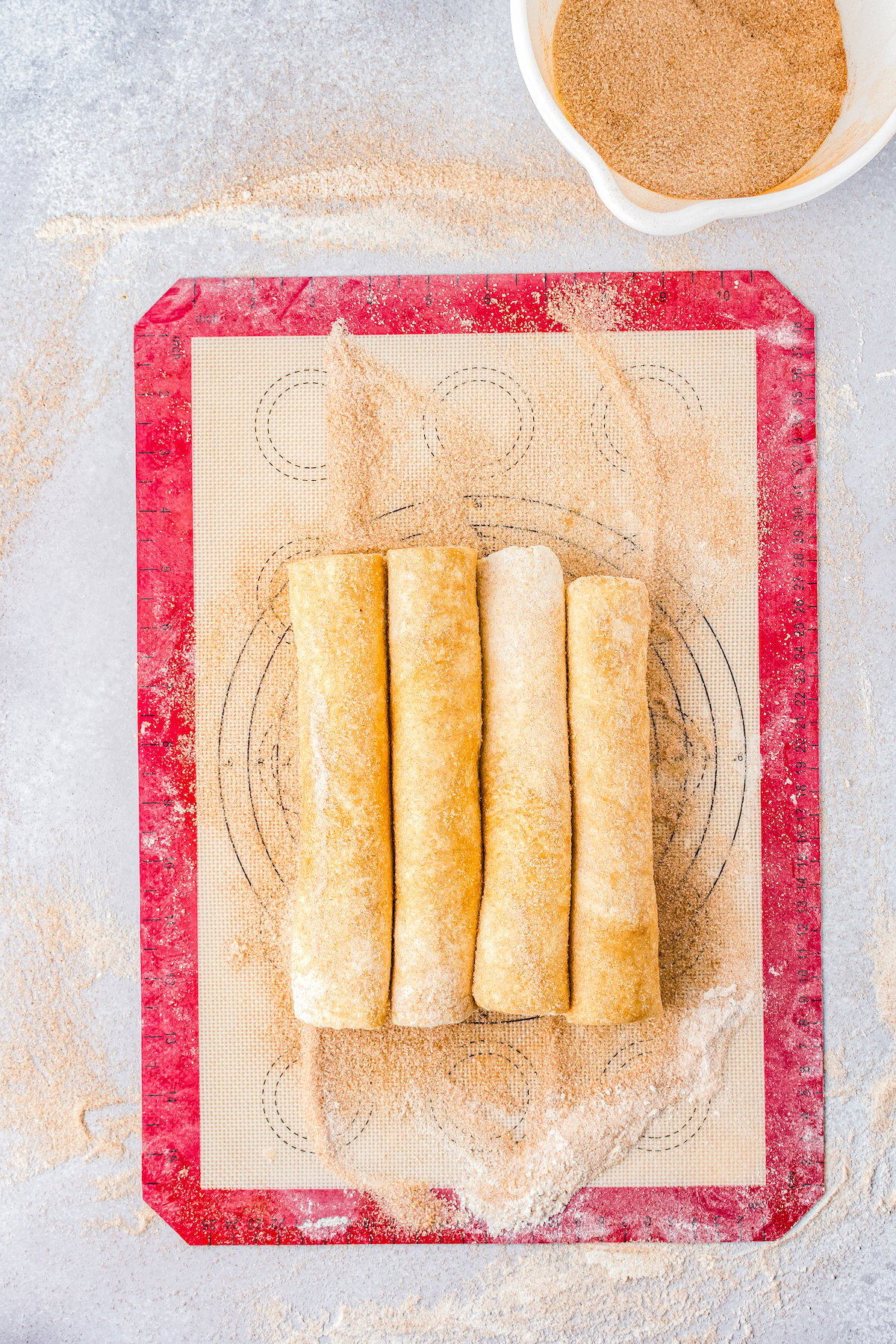 Dip each cookie into the cinnamon sugar. Also, gently press them together before putting them on the cookie sheet. Make sure you leave room for the cookies to spread as they bake. You'll want about eight cookies per sheet tray.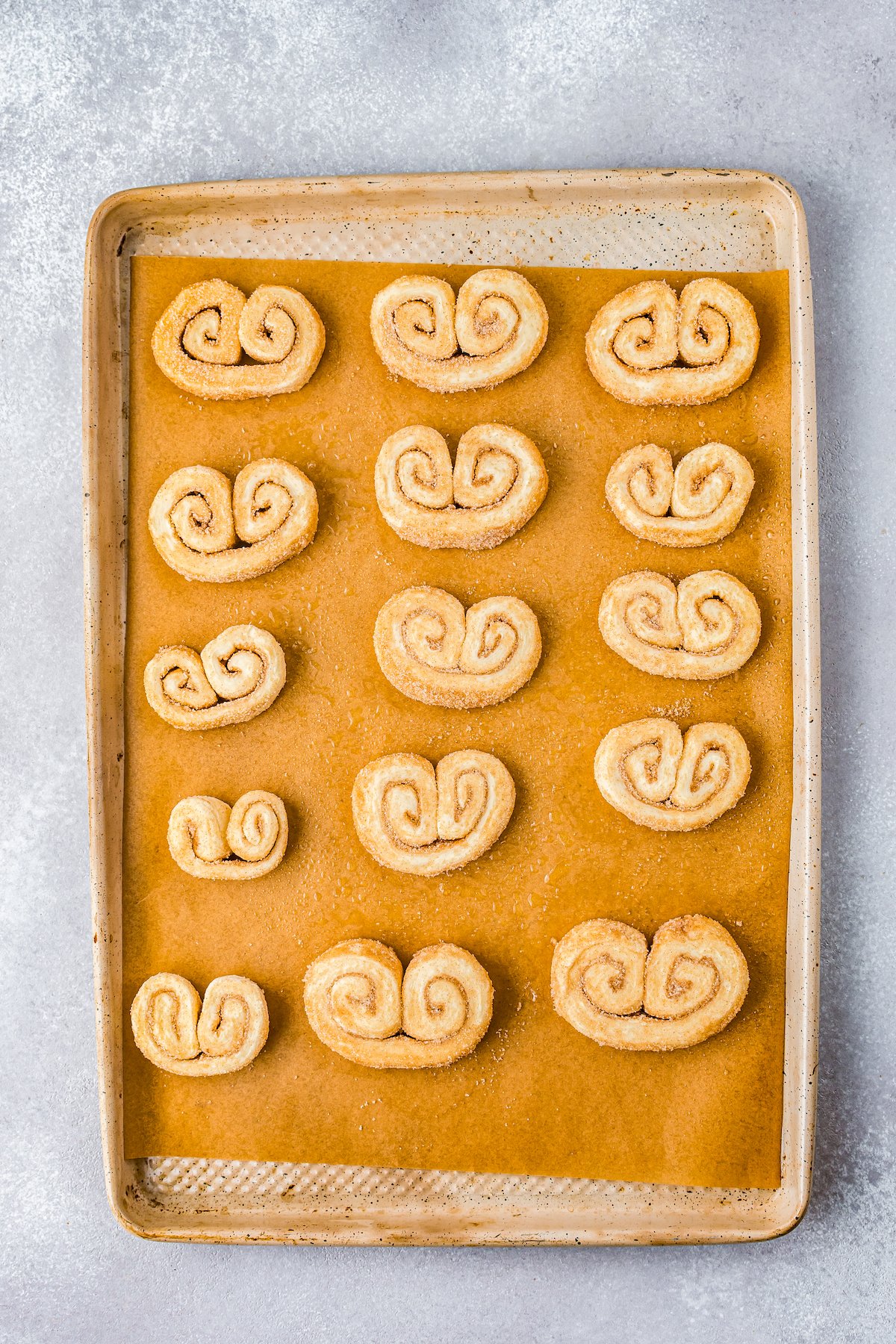 Bake the Orejas. Bake the Orejas for TIME. Take them out of the oven and enjoy them immediately or you can let them cool first.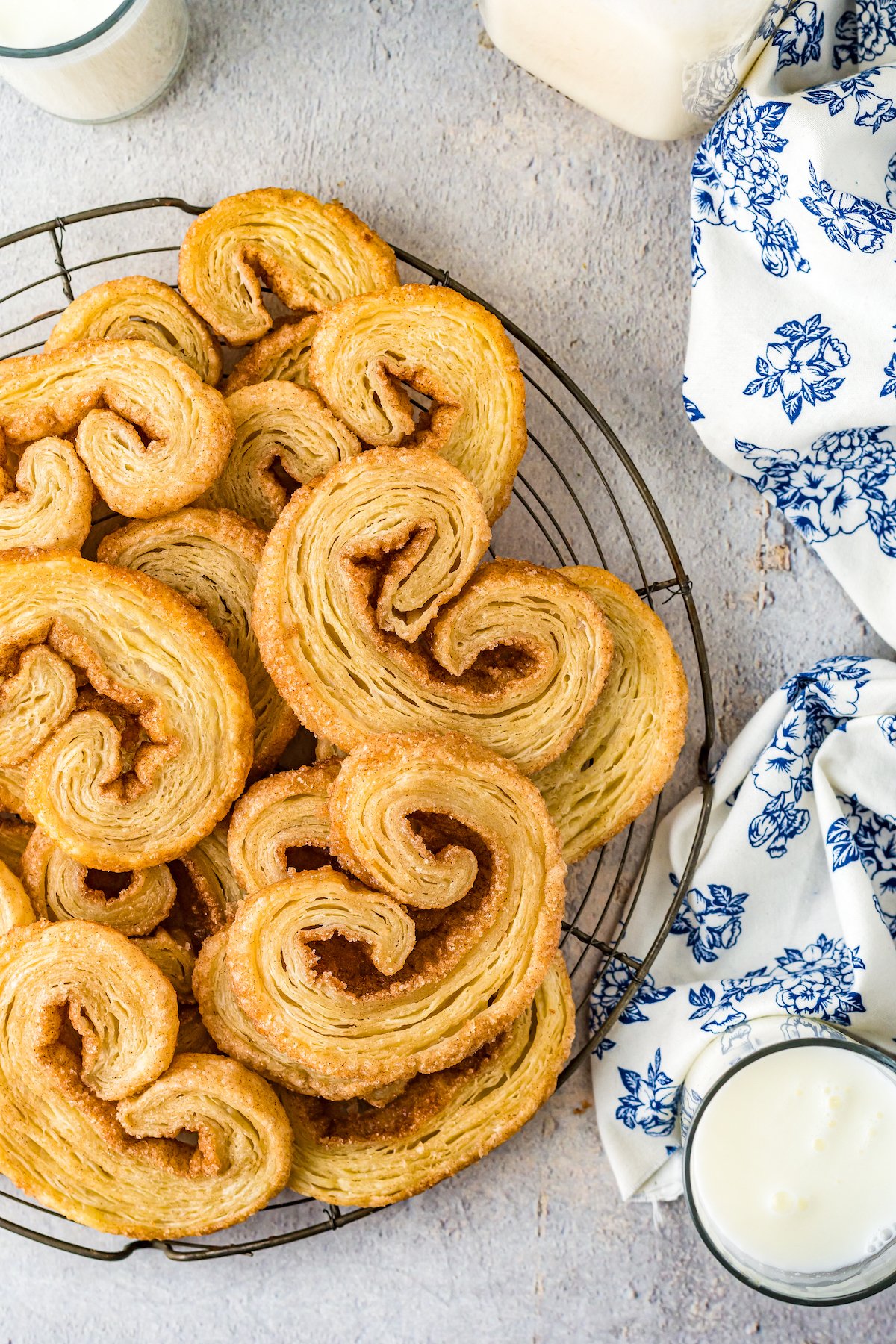 Tips for Success
Here are some helpful tips to follow when making Orejas at home.
These cookies need to be kept very cold while you make them. They are folded and rolled, creating layers and layers of crispy goodness. You won't get the flaky layers if the ingredients don't stay cold.
The cookies spread as they cook. So, you can use a fork to reform and press them back into shape when they come out of the oven.
Baking the cookies at a high temperature makes the sugar crystalize and form a nice crispy crust. Make sure your oven is preheated!
You can dip these in chocolate and add sprinkles for a fun twist.
You can use my recipe for homemade puff pastry, which makes these extra delicious. But store-bought puff pastry works, too!
How to Store Palmiers
It's best to store any leftover Orejas in an airtight container in the refrigerator for up to 5 days. You can use a sheet of parchment paper to separate layers if you need to stack them in your container.
Can I Freeze Them?
You can absolutely freeze these cookies! I like to make a few batches and keep them in the freezer for when we have company or I just want a little sweet treat.
These cookies can be frozen for up to 3 months. Just make sure that you keep them in an air-tight container. And don't forget to label and date them!
Orejas (Palmiers)
These sweet and puffy Orejas (or Palmiers) are delicate and delightful. They are made with homemade puff pastry rolled in cinnamon sugar. You can skip making the puff pastry and just use store-bought if you're short on time.
Ingredients
Puff Pastry
2 ⅓

cup

all-purpose flour

1

teaspoon

salt

1 ½

cup

unsalted butter

,

very cold, grated or diced to pea size

½

cup

very cold water
Orejas
1

batch puff pastry

,

store bought of homemade

1 ½

cup

granulated sugar

1

teaspoon

cinnamon

⅛

teaspoon

salt
Instructions
Puff Pastry:
In a mixing bowl, whisk to combine the flour and salt together. Add half the butter and toss the flour to coat. Add the remaining butter and coat.

Stir in the water until a dough ball is formed.

Lightly dust the surface with flour, then pour out the dough and lightly knead 2 or 3 times until a ball forms. Wrap the dough ball in plastic wrap and place in the refrigerator for at least 2 hours, or overnight.

Remove dough and place on a rolling mat or counter top. Press or roll out the dough into a rectangular shape.  

Fold dough like a letter into thirds. Fold one end up in thirds, then the other end over the other piece.  Roll out dough again.

Repeat 4 times. Fold dough again and rewrap with plastic wrap and refrigerate for 15 minutes.
Orejas:
In a small bowl, stir to combine the sugar, cinnamon and salt.

Sprinkle a rolling mat or counter with some of the cinnamon sugar.

Place the puff pastry dough on the cinnamon sugar and roll out into a 1/4th inch thickness rectangle. 

Make a light mark straight down the middle of the long side, then sprinkle the top with cinnamon sugar.

Starting on one long side, roll up like a cinnamon roll to the middle line.

Turn and roll the other side to the middle. Press gently together and turn over.  Cut in half and rewrap in the plastic wrap. Refrigerate for 30 minutes.

Preheat the oven to 425°F and line a cookie sheet with parchment paper.

Remove the plastic wrap and cut ¼ inch size cookies from the cookie roll.  Dip each cookie in the cinnamon sugar, then press the cookie together before placing it on the cookie sheet. 

Only place 8 cookies per sheet, making sure to give them plenty of room to spread. The cookies will spread as they bake. Use a fork to press them back into shape, if needed.

Remove and serve immediately, or cool before serving and store in an airtight container for up to 5 days. 
Nutrition
Serving:
1
,
Calories:
248
kcal
,
Carbohydrates:
28
g
,
Protein:
2
g
,
Fat:
15
g
,
Saturated Fat:
9
g
,
Polyunsaturated Fat:
5
g
,
Cholesterol:
37
mg
,
Sodium:
125
mg
,
Fiber:
1
g
,
Sugar:
16
g
More Mexican-Inspired Baking Recipes
This post may contain affiliate links. Read my disclosure policy.