These Apple Pie Poptarts start with a warm flaky pastry that is filled with a homemade brown sugar apple filling, baked till golden brown and then topped with a sweet cinnamon frosting.
Homemade Apple Pie Poptarts
I love Poptarts. My kids love Poptarts. I wish I could lie and tell you I am the perfect mother and we never eat junk food for breakfast, but I would be 100% the biggest liar ever.
What I can say, is that sometimes I make our own junk food from scratch and it's even more delicious. ;-) That leads me to today's main subject, these delectable homemade poptarts. They are stuffed with the most delicious homemade apple pie filling and frosted with some sweet cinnamon icing. They are delicious warm out of the oven and always disappear quickly!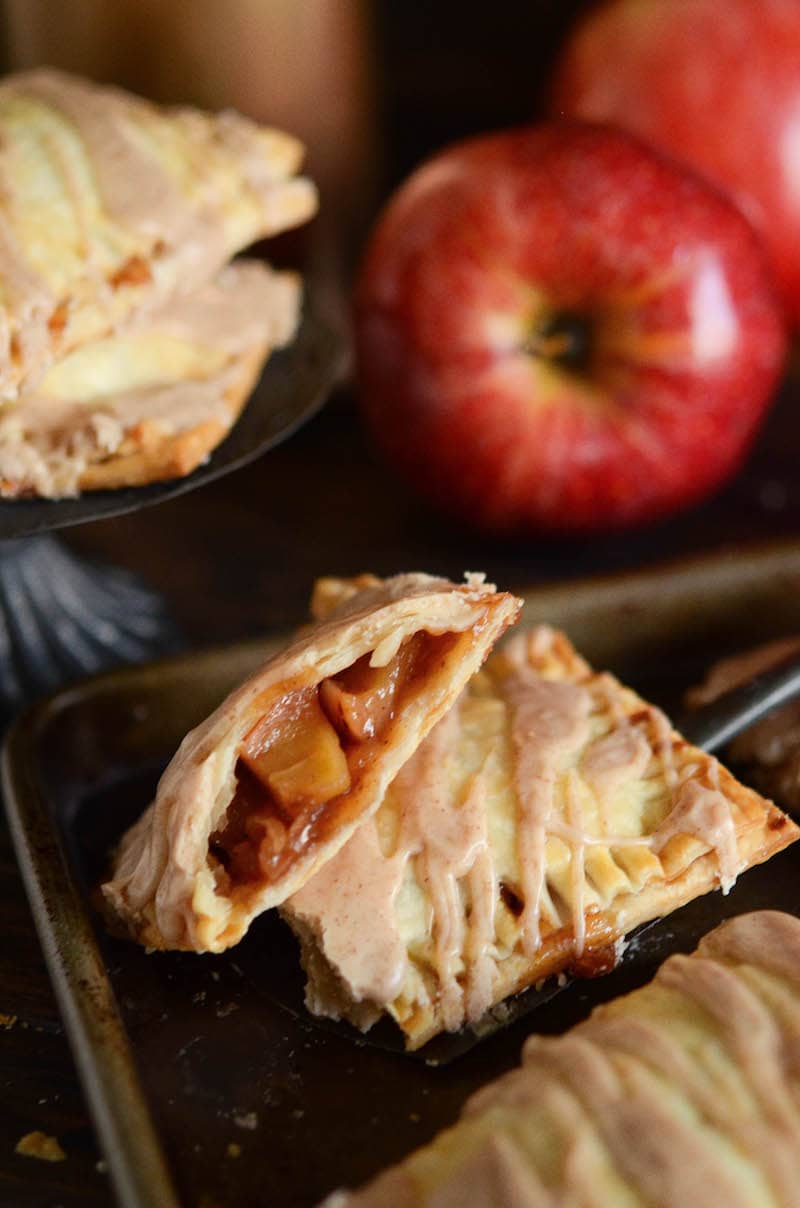 Ingredients
You will need the following ingredients to make these homemade poptarts:
Pie Crust: I like to use my favorite homemade pie crust! Or for a fun grown-up twist, you can use puff pastry.
Apple Pie Filling: You can make your own homemade apple pie filling or use canned apple pie filling.
Egg Wash: Egg and water (or milk) whisked together to brush on the pie crust to help it get golden brown.
Cinnamon Icing: powdered sugar, milk, cinnamon and vanilla extract.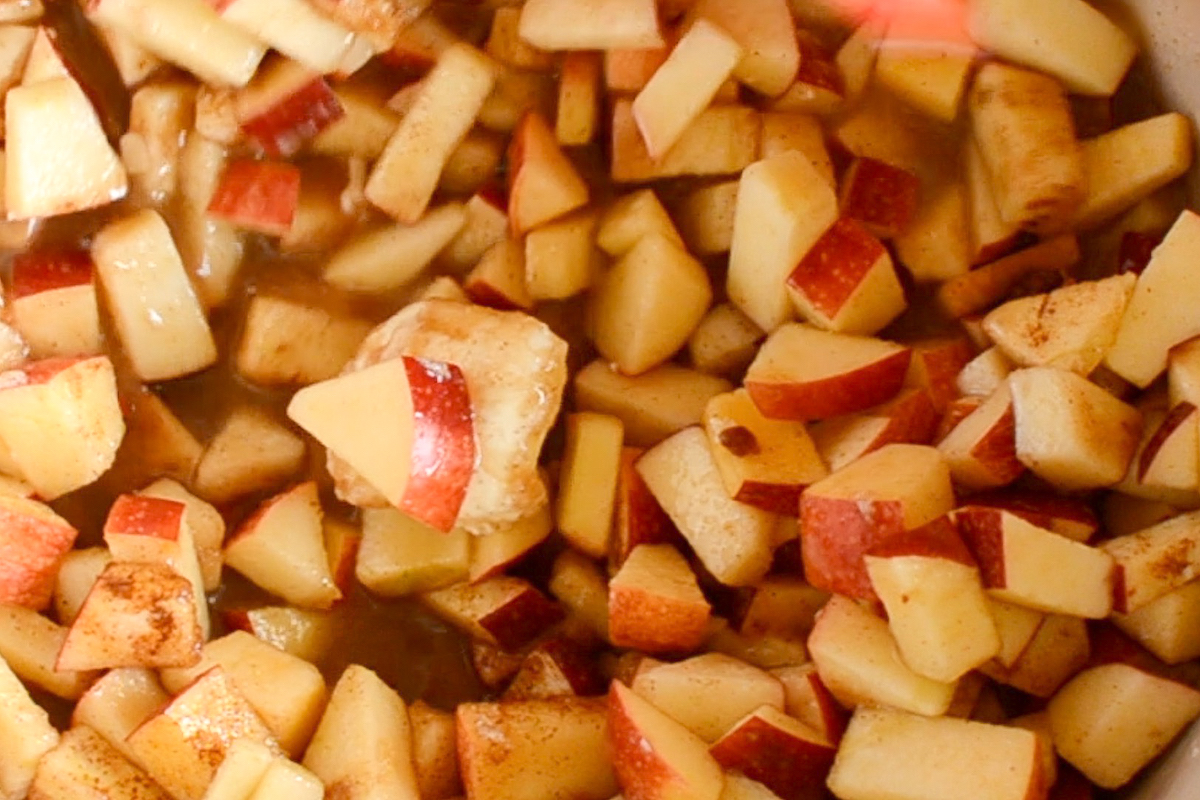 How To Make Homemade Poptarts
Make Apple Pie Filling:
In a large saucepan, add apples, butter, cornstarch, granulated sugar, brown sugar, cinnamon, and salt. Stir to combine and then slowly stir in water.
Bring to a low boil and cook, stirring occasionally, until tender. About 15 minutes. Remove from heat and set aside.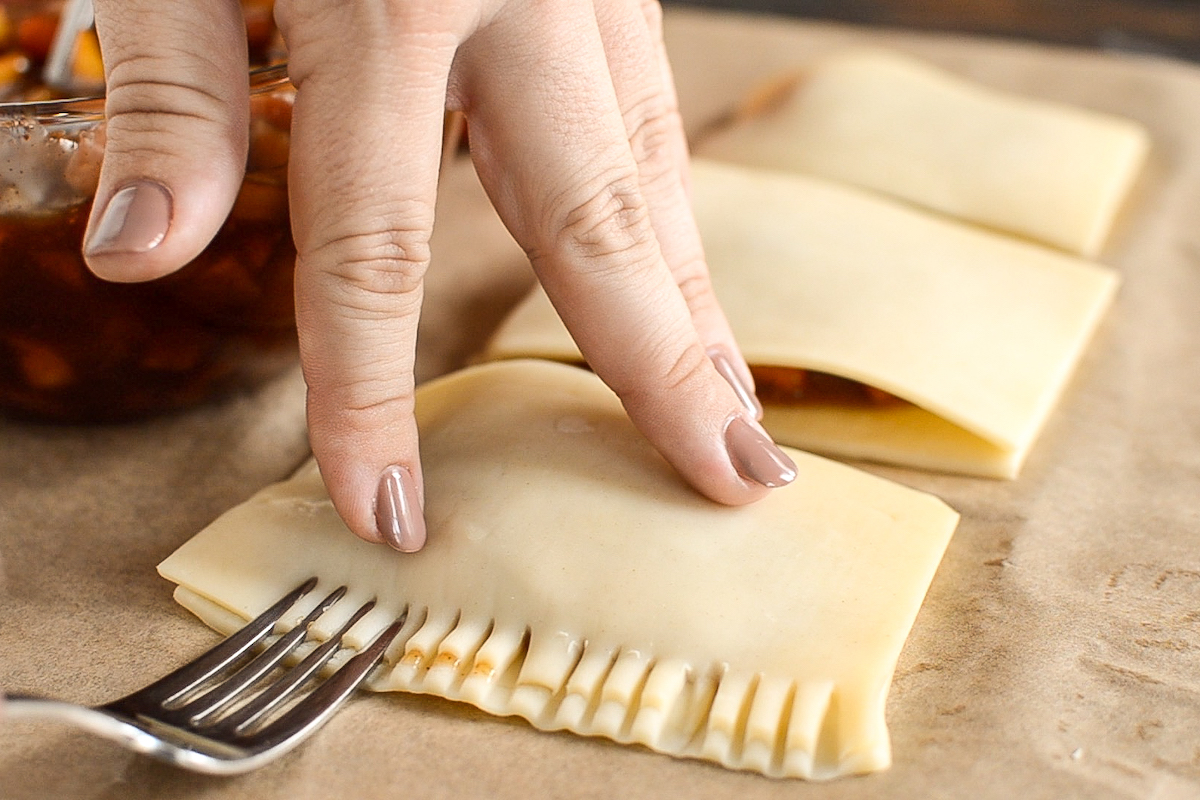 Make The Poptarts:
Roll out pie crust to 1/8-inch thick. Using a pizza cutter or a sharp knife, cut 3-inch by 4-inch rectangles. Reroll pie dough and cut as many rectangles as you can, ending up with 24 pie dough rectangles.
Place 6 pastry rectangles on each cookie sheet. Spoon 1 tablespoon of filling onto each pastry rectangle, leaving 1/2-inch border around edges.
Wet your finger with a little water and run it around the bare edges of dough. Add a top layer of pie dough and press edges with a fork to seal them.
Bake for 12 to 14 minutes, until golden brown. Remove from oven and transfer to a wire rack to cool. Let cool for 10 minutes.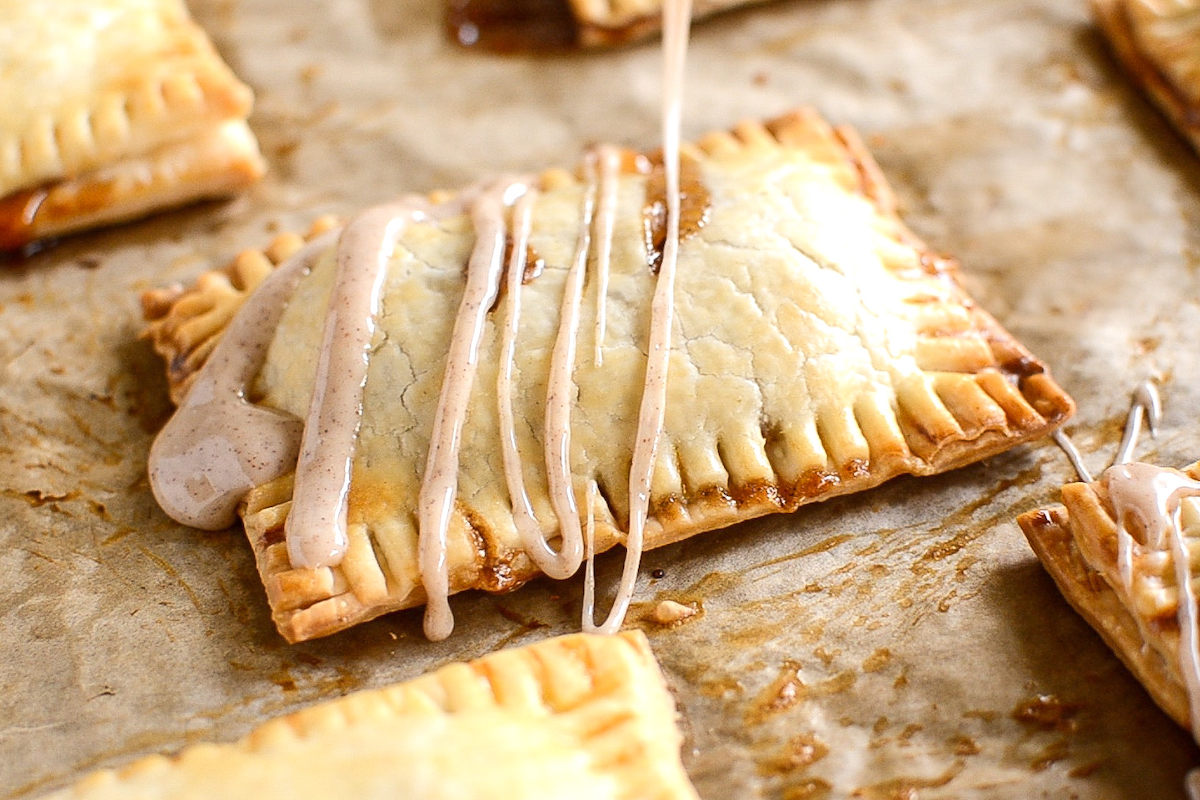 Frost:
In a small bowl, whisk together powdered sugar, milk, cinnamon, and vanilla extract.
Drizzle on top of cooled (or slightly warm) pop tarts. Let rest for 5 minutes and serve.
Storage:
How To Store: Store in an airtight container for up to 3/4 days. If you want to store them at room temperature, use evaporated milk or water in place of the milk in the icing. Otherwise, store them in the fridge just to be on the safe side.
Can I Freeze Them? Yes! You can freeze these before or after baking. I like to double wrap them in a layer of saran wrap and then a layer of foil (or a freezer ziplock bag). This prevents them from getting freezer burn.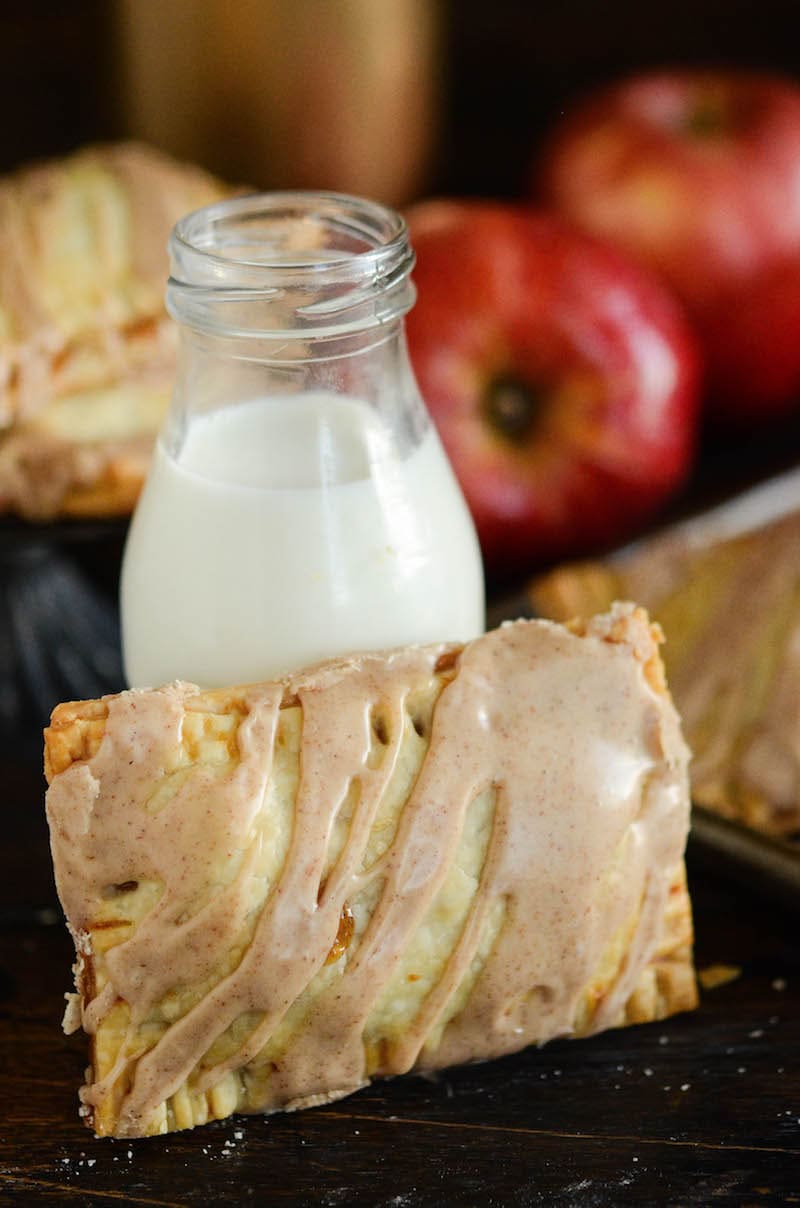 Variations
This is a great basic homemade poptart recipe that you can use with all different filings. Here are a few more ideas of some of our favorites:
Pie Filling: You can use any fruit pie filling (canned or homemade) inside!
Jams/Jellies: Any jam or jelly flavor you love can make a great poptart. Strawberry jam poptart with vanilla icing? Count me in! Our this homemade easy Chia Cherry Jam would be great too.
Nutella: You know that would be delicious!
Fresh Fruit: Banana AND Nutella, that's my plan at least. But you could also use fresh berries, pineapple, peaches, etc.
Lemon Curd: One of my personal favorites, Lemon Curd will give your poptart a perfect zing.
Looking For More Delectable Apple Recipes?
Here are a few of my favorite apple recipes you wont want to miss: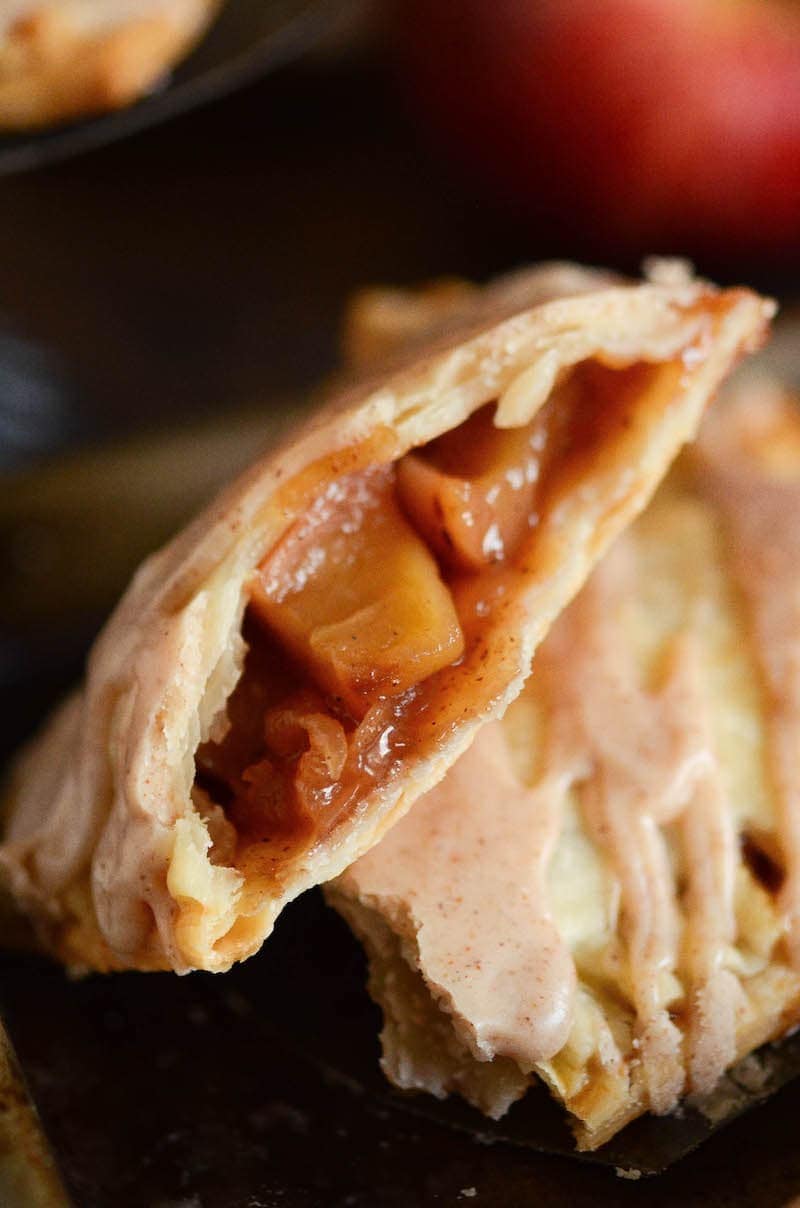 Apple Pie Poptart Recipe
I promise the whole family is going to LOVE these Apple Pie Poptarts! Head on over to Dixie Crystals for the full recipe that I developed for them!
RECIPE: Apple Pie Poptarts
This post may contain affiliate links. Read my disclosure policy.