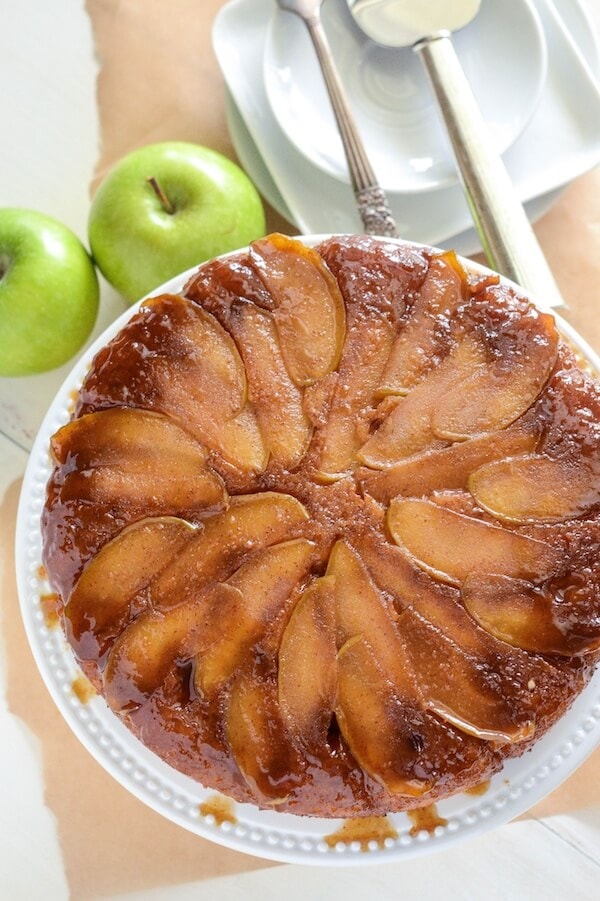 It's APPLE time! Who else is as excited as me? There were some big gorgeous Granny Smith apples at the farmer's market last weekend and I grabbed a few handfuls of them. I came home and knew immediately that I wanted to make an Apple Upside Down Cake.
I love cakes like this because you can eat them for dessert or with coffee for breakfast. Same with my favorite Caramel Apple Monkey Bread — it makes the perfect breakfast treat! Hey, they say you should have your carbs early in the day…no judgement!
I bought so many apples I ended up making two of my favorite savory apple dishes for dinner last week. On Monday we had Spiced Pork Tenderloin With Sautéed Apples. Then over the weekend I made a giant batch of my Butternut Squash Apple & Sage Soup. I put a bunch away for lunches during the week and I love having soup ready to go!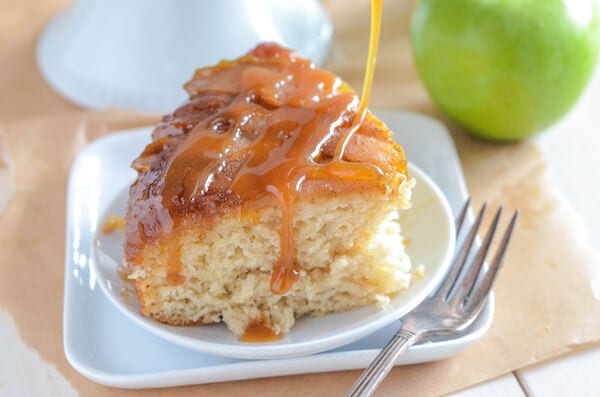 This Apple Upside Down Cake is stuffed with all your favorite Fall spices and brown sugar apples. I sliced the apples thinly and swirled them around in some melted butter, brown sugar and cinnamon and arranged them along the bottom of the pan. Then I topped it with a moist, dense sour cream spiced cake and put it in the oven to bake.
I was nervous when it came time to flip the cake, but it came out so gorgeous! The swirls of caramelized apples on top were perfect! I quickly sliced it up and topped each slice with a generous drizzle of caramel sauce. It was SO GOOD.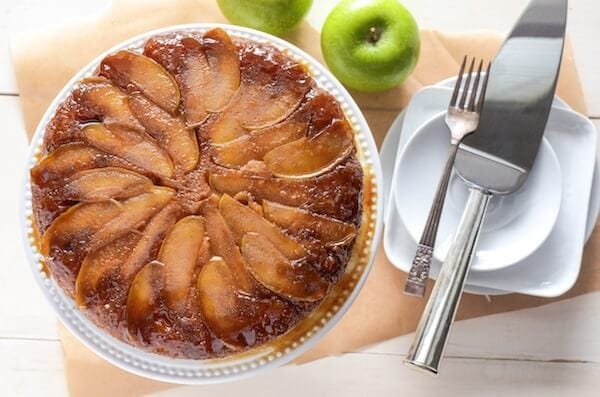 The rest of the family was possibly even more excited about this Apple Upside Down Cake than I was.
The smell had permeated the house and the girls kept going to the oven to check on the cake.
As soon as it made it's way onto the cake plate, we all proceeded to devour it one giant bite at a time.
Thank god it was a single layer cake!
Head on over to Dixie Crystals for the RECIPE: Apple Upside Down Cake
This post may contain affiliate links. Read my disclosure policy.