A quick side dish with lots of tangy-sweet goodness, these Sautéed Brussel Sprouts with Balsamic Glaze are cooked to golden-brown perfection in just minutes.
The Easiest Brussels Sprouts, with a Mouthwatering Balsamic Glaze
Brussels sprouts are a popular vegetable side dish, especially during the holidays. These "mini cabbages" are cute, crunchy, and a bit more elegant than their more common cruciferous cousins, broccoli and cauliflower. You can cook brussel sprouts in a lot of ways, but this easy sauté method is extra quick – and extra yummy!
To give the sprouts lots of flavor, they are quartered and tossed in a rich balsamic glaze. Quartering the brussel sprouts means that more of their leafy layers are exposed to the sauce. It also helps them cook quickly and get some nice color in the pan. Sounds good, right?
(Looking for a different spin on brussels sprouts? Try these Creamy Baked Brussels Sprouts with garlic, cream, and plenty of cheese.)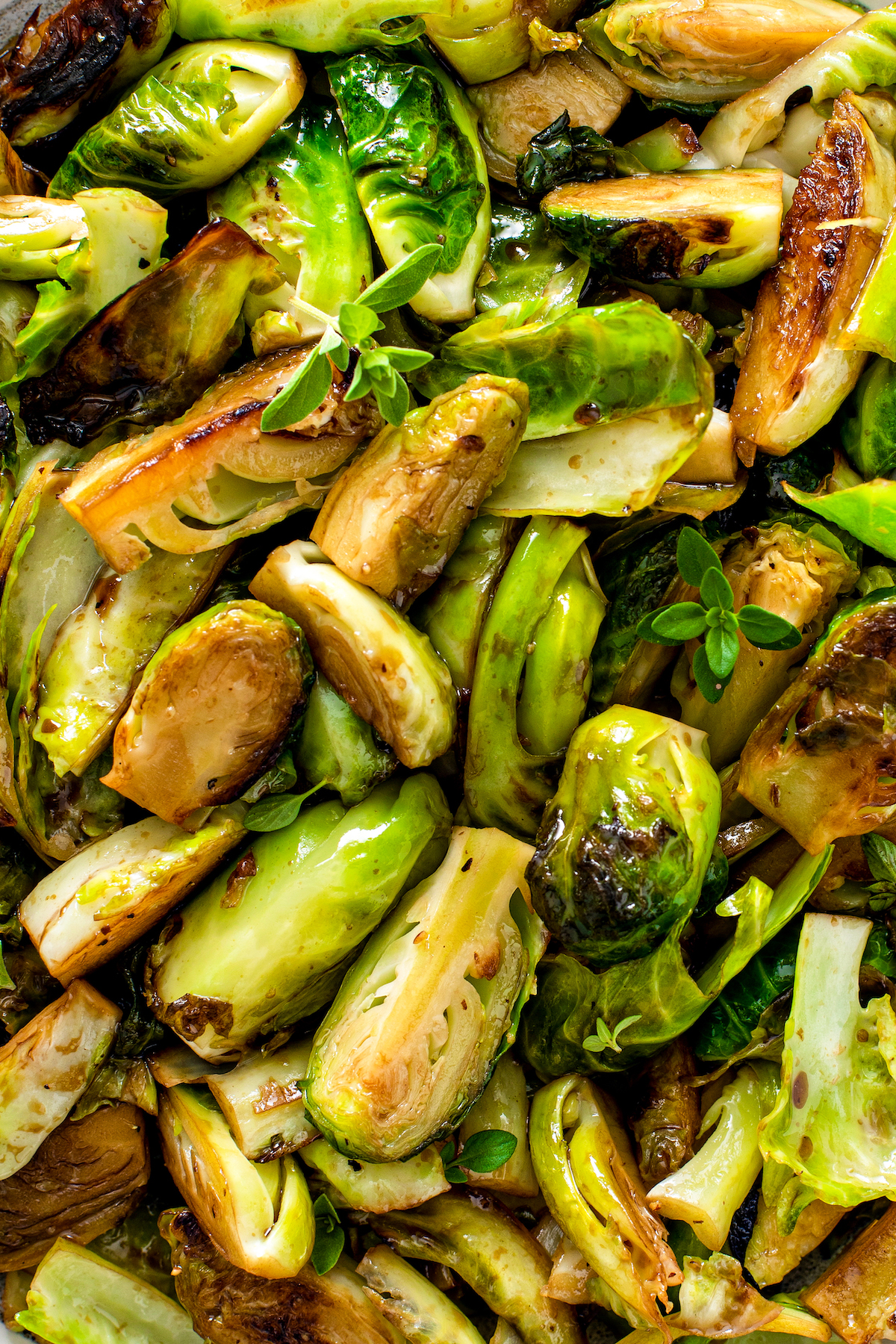 Are Brussel Sprouts Good for You?
Brussels sprouts can definitely be part of a healthy diet. They're low in calories and carbs, which is helpful if you're watching those. However, they're high in some key nutrients, including calcium and vitamin K. They provide fiber, which can help your digestion, and also antioxidants (including vitamin C) which can help prevent cancer. That's a lot of health benefits in one veggie!
How Do You Cook Brussels Sprouts So They're Not Bitter?
In general, cooking methods that brown or caramelize brussels sprouts are better for reducing their bitterness, while methods like steaming or boiling aren't quite as effective. So if you are looking to control any potential bitter taste, go for sautéing, roasting, or frying.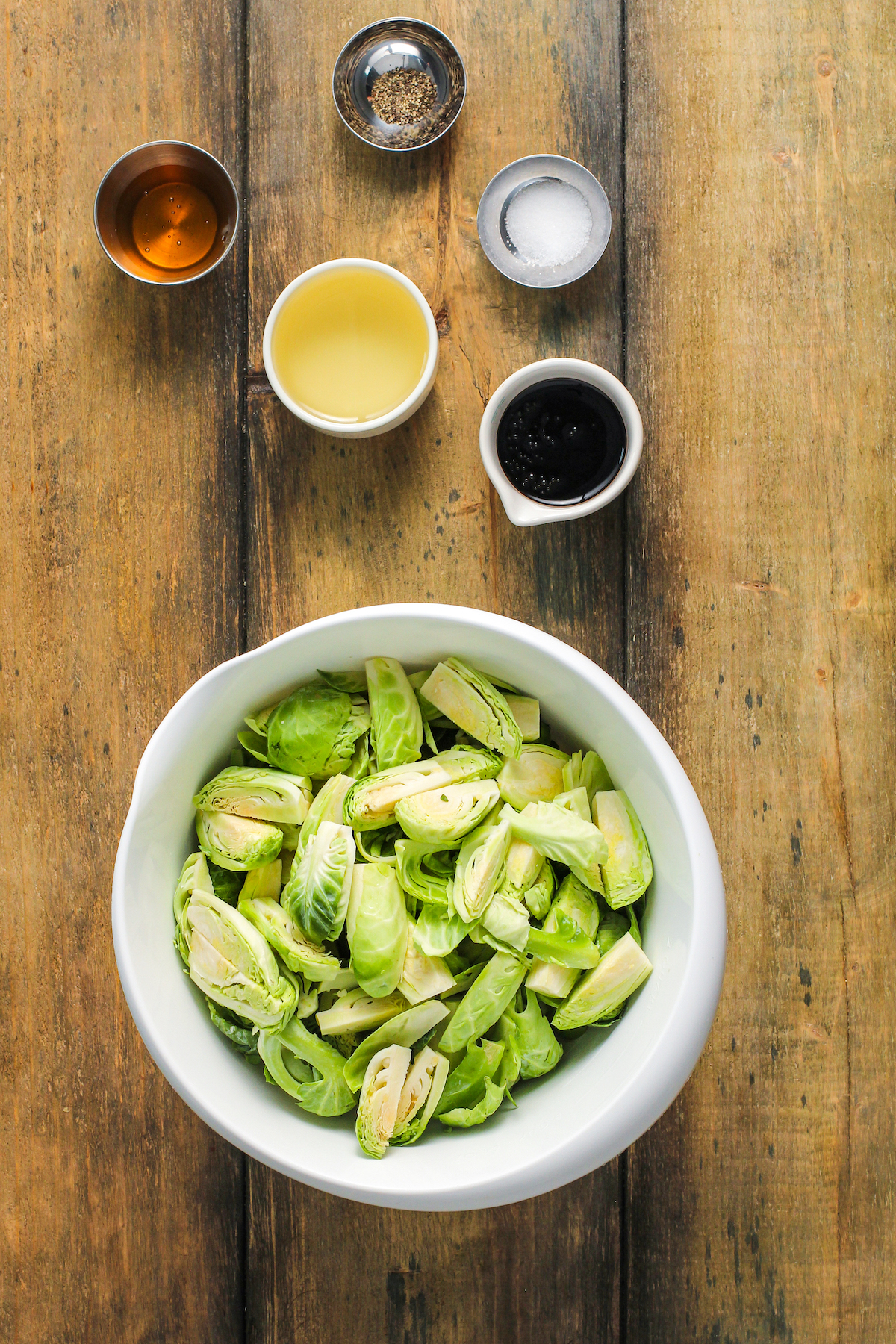 What You'll Need
All you need for this recipe are a few simple items – literally, six things! But there's more here than meets the eye, because each one adds a lot to the finished dish! Here's the list:
Fresh Brussels Sprouts: Trim the stems and any discolored or damaged outer leaves. Then cut the sprouts in quarters.
Oil: I like to use avocado oil or olive oil.
Salt and Pepper
Balsamic Glaze: This glaze is made with balsamic vinegar, and is usually sold with the vinegars, salad dressings, and oils.
Honey: A little of your favorite honey balances out the tangy flavor of the balsamic glaze.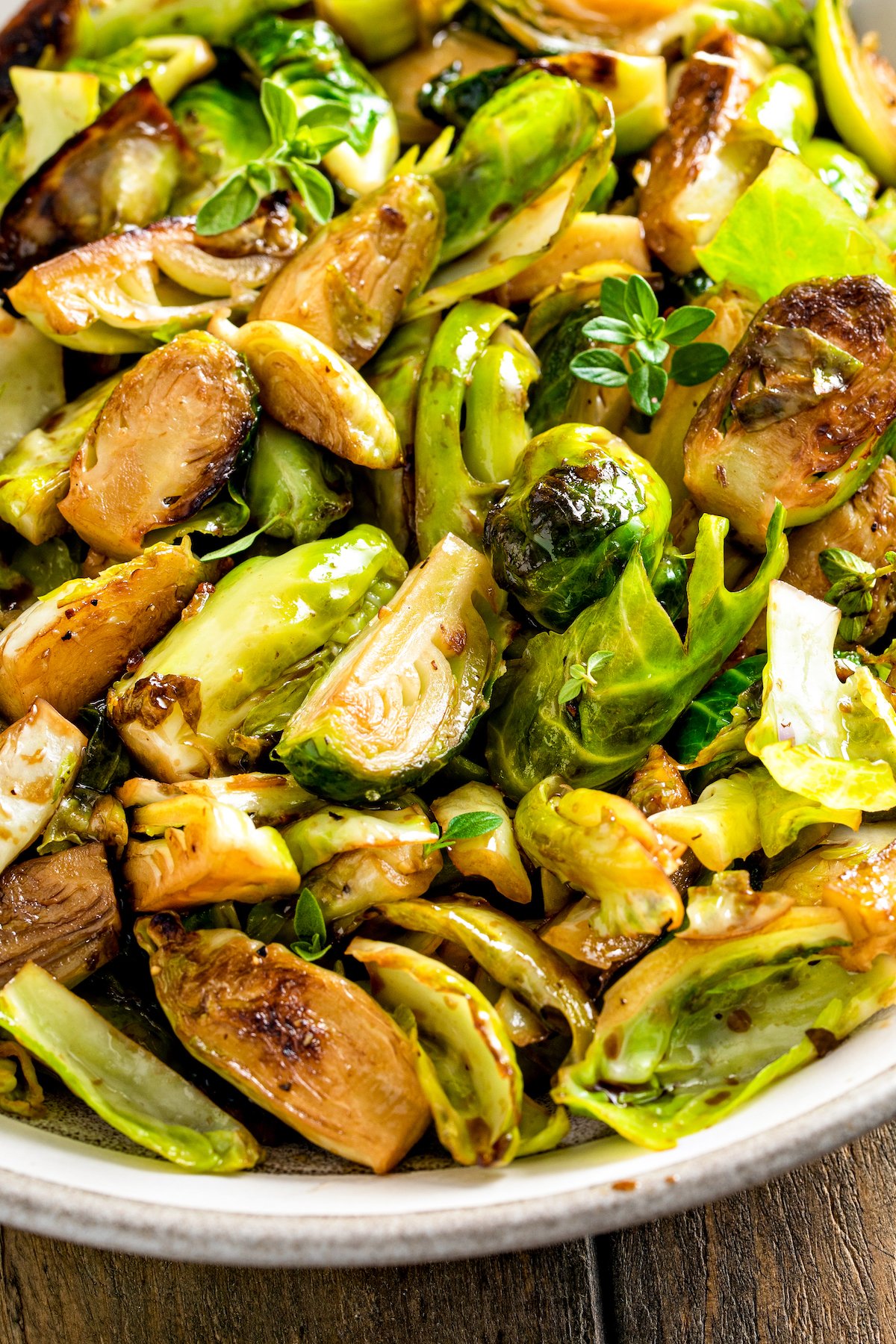 How to Make Honey Balsamic Brussels Sprouts
You've probably made roasted veggies before, including brussel sprouts, but sauteeing is even quicker – and just as easy. You can have this recipe ready in about 15 minutes flat.
Begin Sauteeing the Sprouts. To get started, you'll want to heat a large skillet (or a big cast-iron pan) over medium-high heat. Once the pan is fairly hot, add a generous swirl of oil and spread it in the pan. Then add the brussels sprouts to the pan, and stir a little bit to coat in the hot oil.
Let the Brussels Sprouts Brown. Once the brussels sprouts are coated in oil, let them cook for 4 minutes, without stirring. Then stir them and let them cook for a few more minutes. The goal is to get them browned somewhat evenly. If they seem dry, you can add a little more oil.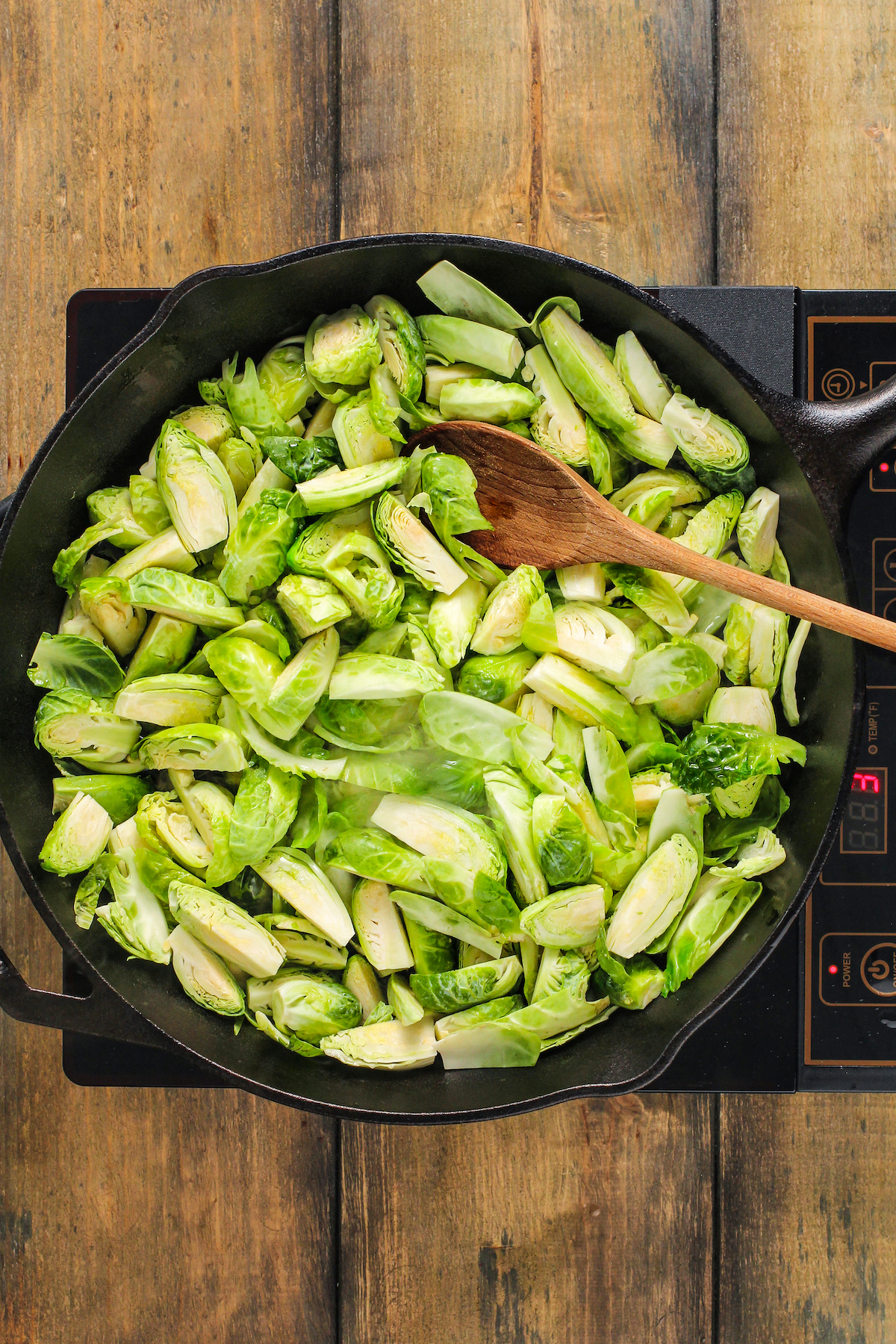 Add the Remaining Ingredients. Season the cooked sprouts with salt and pepper, and then stir in balsamic glaze and honey. Let the brussels sprouts cook for just a minute longer, and then serve immediately.
Enjoy!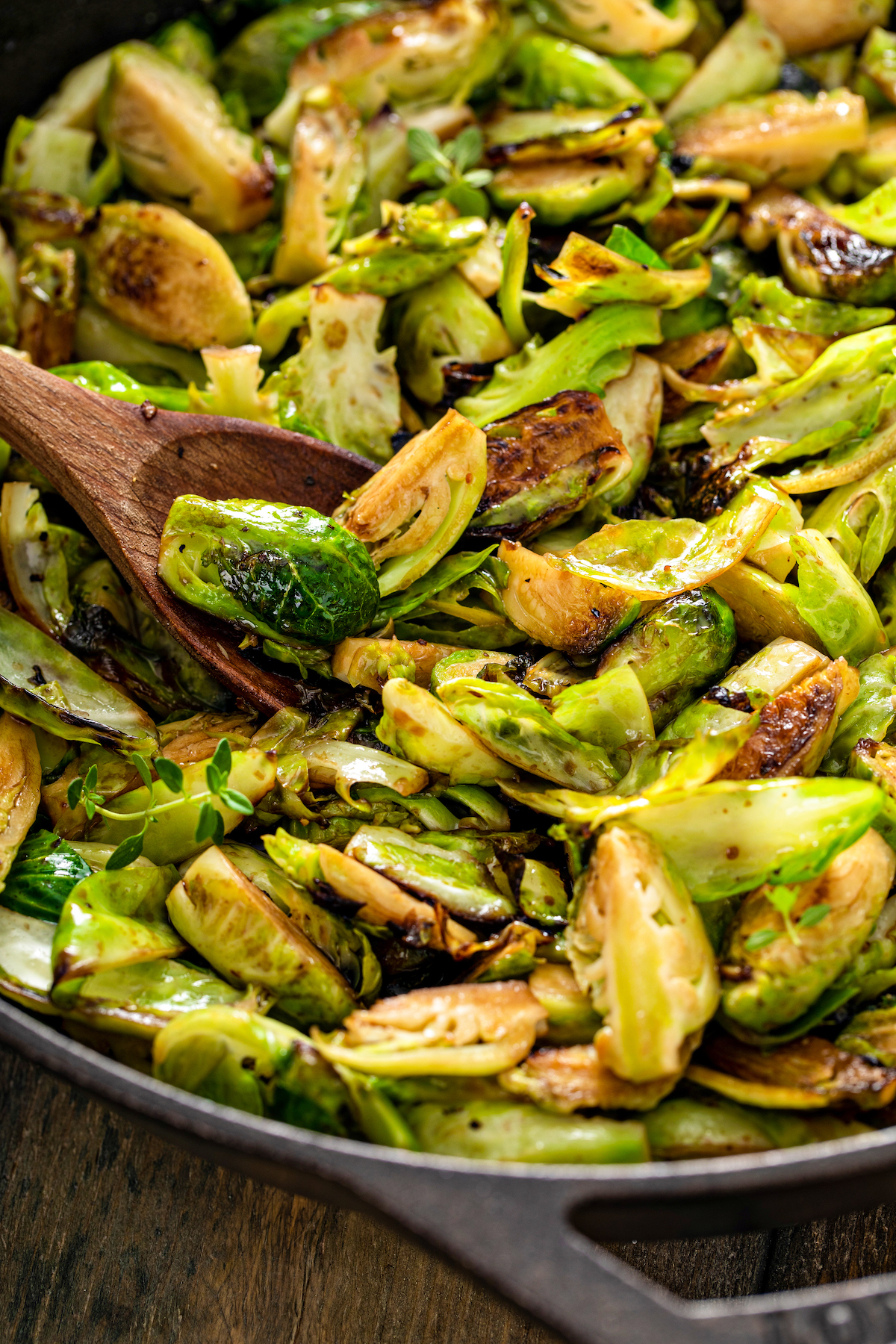 Helpful Tips
So there you have it – perfect sauteed brussels sprouts, with the best balsamic glaze. Keep reading for some easy tips for success and recipe variations. Enjoy!
Pan Size: The best pan size for this recipe is one that lets the sprouts sit in a single layer, at least for the most part. If you don't have a pan that large, try cooking them in two batches.
Handle with Care: To get browned, crispy sprouts, make sure you handle them with care: keep the heat high enough to get a healthy (but not crazy) sizzle from the sprouts, and make sure to let them cook without stirring too much. That way, they can rest on the heat long enough to develop some caramelization.
Toppings: For even more depth and texture, try topping your brussel sprouts with chopped, cooked bacon, feta cheese, chopped toasted nuts, or crispy fried onions.
Oven Method: Want to make this dish in the oven? No problem! All you have to do is toss the brussels sprouts with oil, salt, and pepper. Then spread them out on a parchment-lined baking sheet, and bake at 425°F for 20 minutes, stirring them halfway through the baking time. Once the brussels sprouts are done, toss them with the balsamic glaze, and honey, and serve.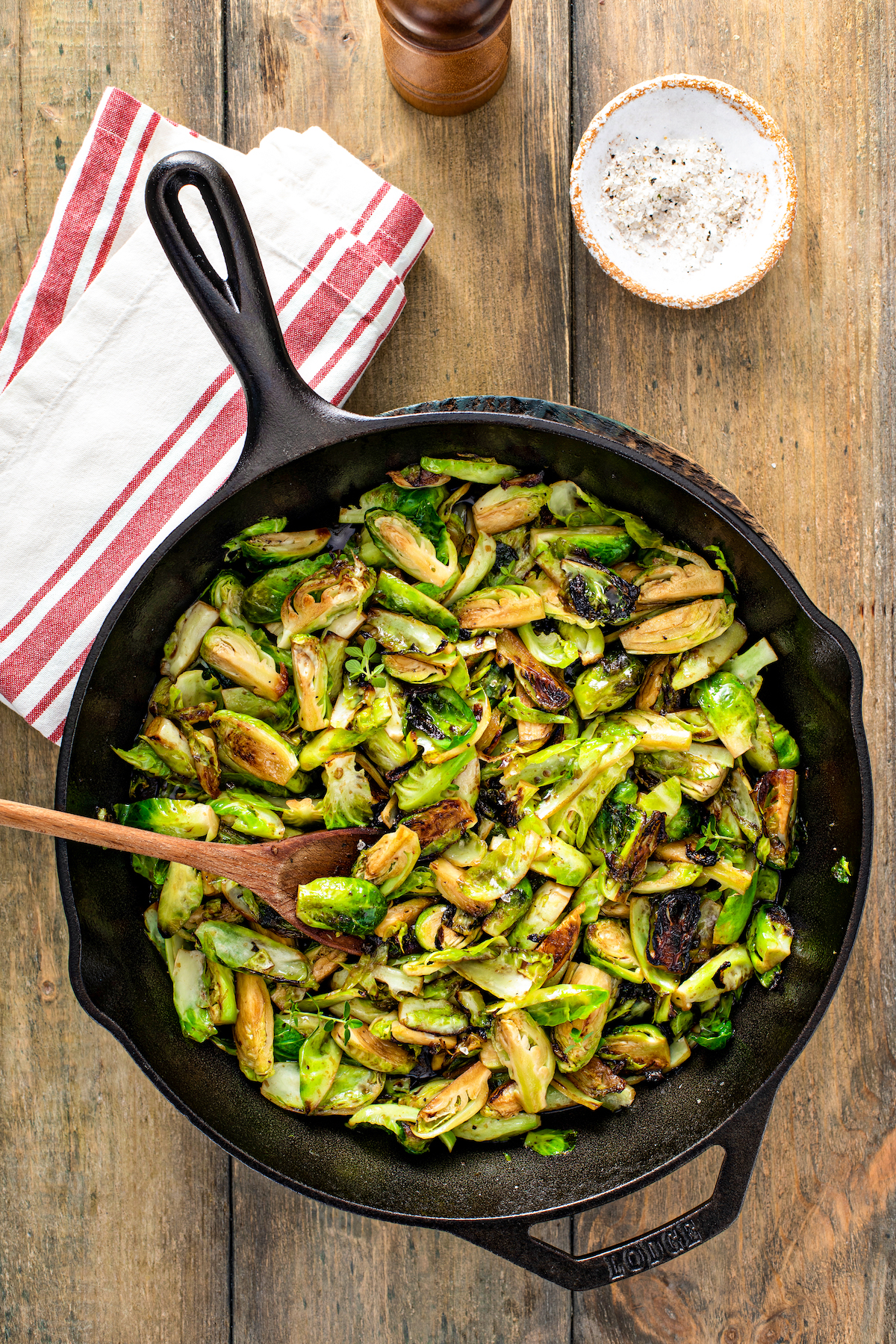 Serving Suggestions
I like to serve brussels sprouts with a bold, rich entree that can stand up to the bold, rich flavors of the sprouts. These hearty dinner recipes are just a few examples:
Pork Chops: Pork chops go really well with brussels sprouts, especially these succulent Cranberry Apple Stuffed Pork Chops. These two dishes together would be an easy meal with lots of fall flavor.
Short Ribs: Red Wine Braised Short Ribs are a hearty, meaty meal that's perfect for a special occasion or for a Sunday dinner. Serve them with your favorite veggies, like these brussels sprouts!
Chicken: This Baked Honey Mustard Chicken is a family favorite, and it pairs well with all sauteed veggies. Healthy and easy to make!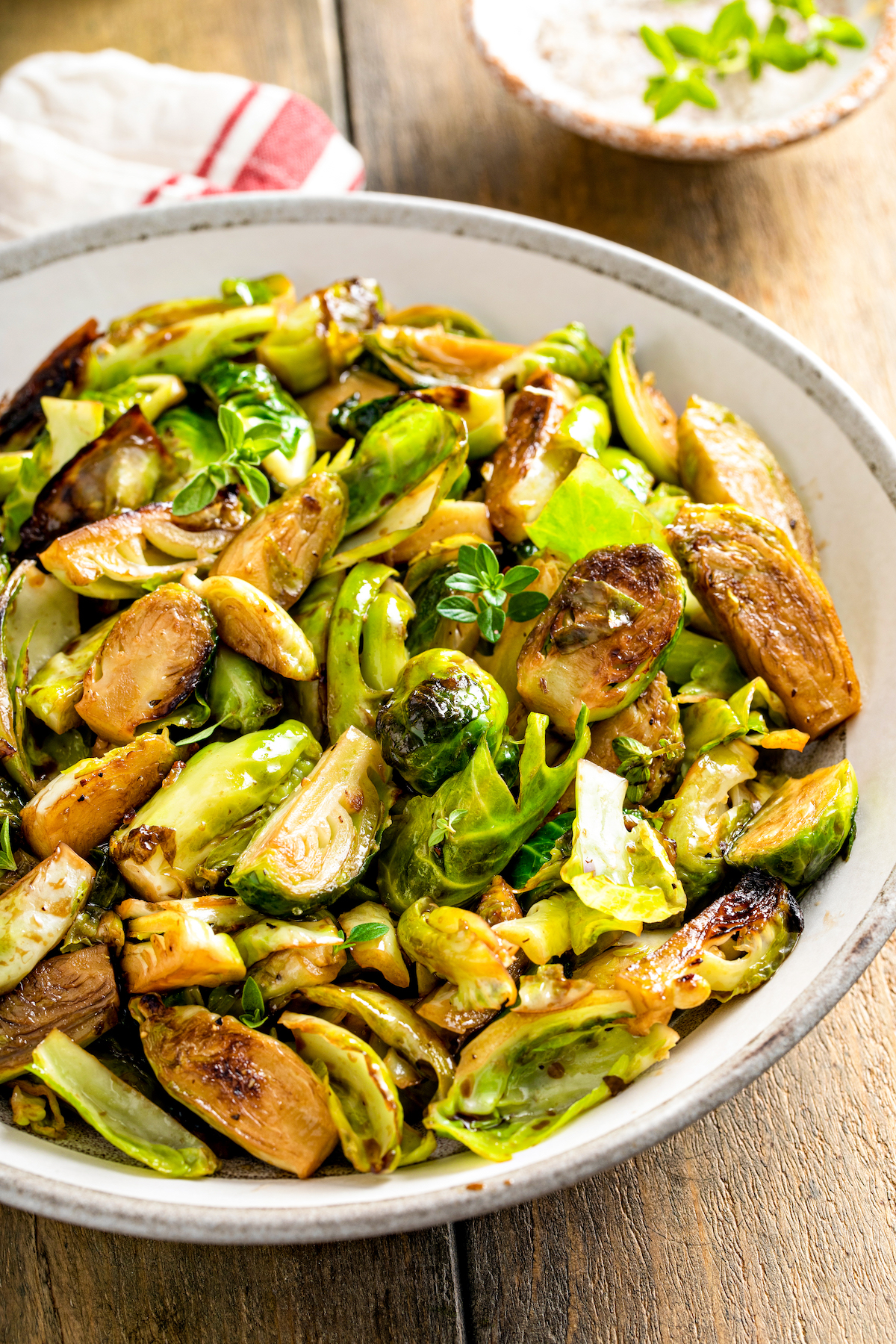 Storing and Reheating
Leftover sauteed brussel sprouts can be stored in an airtight container in the fridge for 3 – 4 days. To reheat, place the sprouts in a covered skillet over low heat until they are hot. If they seem dry, you can add a drizzle of oil.
Can I Freeze Honey Balsamic Brussels Sprouts?
Sure! You can freeze cooled, cooked brussels sprouts easily. Just place them in freezer bags and seal, pressing out as much air as possible. Label with the date, and use them within 6 months to a year.
Sautéed Brussel Sprouts with Balsamic Glaze
A quick side dish with lots of tangy-sweet goodness, these Sautéed Brussel Sprouts with Balsamic Glaze are cooked to golden-brown perfection in just minutes.
Ingredients
1.5

lbs

Brussels sprouts

,

stems removed and sliced in quarters

3 to 4

tablespoons

avocado oil

,

or olive oil

½

teaspoon

salt

¼

teaspoon

pepper

2

tablespoons

balsamic glaze

1

tablespoon

honey
Instructions
Heat a large skillet (or cast iron skillet) over medium-high heat. Add 3 tablespoons oil and swirl oil around the pan. Add Brussels sprouts and stir to coat in oil.

Allow Brussels to cook for 4 minutes, undisturbed. Then stir Brussels and continue to cook until sprouts have taken on color and become tender, about 8 minutes more. (If Brussels become too dry while cooking, add the additional 1 tablespoon oil.)

Season with salt and pepper, then stir in balsamic glaze and honey. Stir and cook 1 minute longer. Serve immediately.
Notes
Optional Oven Directions:
Preheat oven to 425°F. Line a large baking sheet with foil or parchment paper.
In a large bowl, toss to combine Brussels sprouts, 3 tablespoons olive oil, salt, and pepper. Transfer sprouts to prepared baking sheet.
Roast brussel sprouts in oven for 20 minutes, rotating baking sheet halfway through, until brussel sprouts are tender.
Remove from oven and toss brussels sprouts in balsamic glaze and honey. Serve immediately.
Nutrition
Serving:
1
,
Calories:
219
kcal
,
Carbohydrates:
21
g
,
Protein:
4
g
,
Fat:
15
g
,
Saturated Fat:
2
g
,
Polyunsaturated Fat:
12
g
,
Sodium:
303
mg
,
Fiber:
4
g
,
Sugar:
12
g
Categories:
More Veggie Side Dish Recipes
This post may contain affiliate links. Read my disclosure policy.