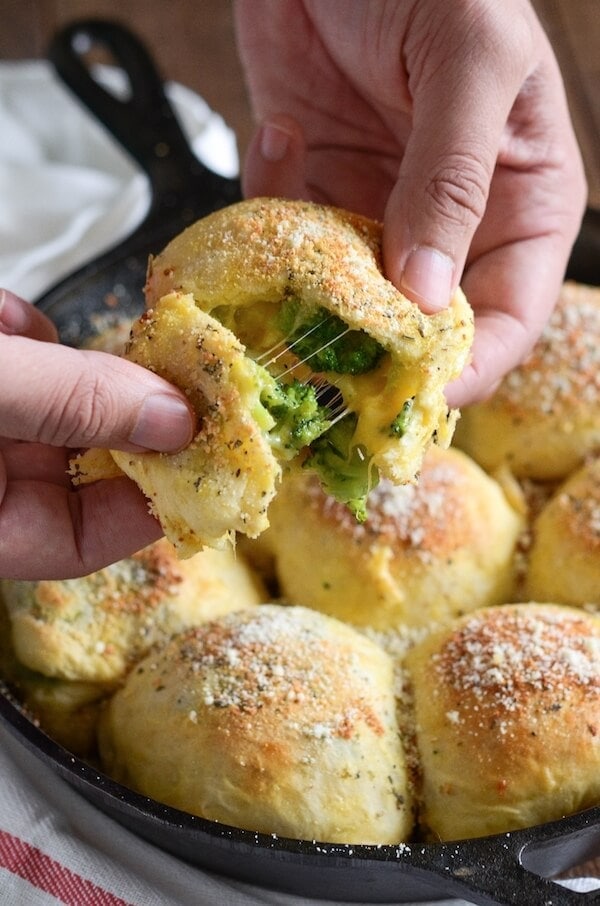 You see these Broccoli Cheese Bombs? I ate THREE of them for lunch. THREE. I seriously couldn't stop myself. It was a combination of things. One, I skipped breakfast (except for the two goldfish I stole from the kids). Two, they were crazy good. Like crazy, crazy good.
Remember those amazing Meatball Bombs I made last month? Well, I loved them so much that I had a dream that I made them as Broccoli Cheese Bombs. I also dreamed I made a dessert version — but I am not sure if you all are ready for that. Are you??
My dreams are sometimes insane, but this one made sense. Broccoli and cheese stuffed inside dough? How could that be a bad idea??

So you start with some canned biscuits and flatten them out into a disk. Then you stuff them with broccoli florets and cheese — I used an Italian blend. Seal up the biscuit into a ball and then top it with some seasoned butter.
A quick 16 minutes in the oven and then add a little grated parmesan at the end! HEAVEN.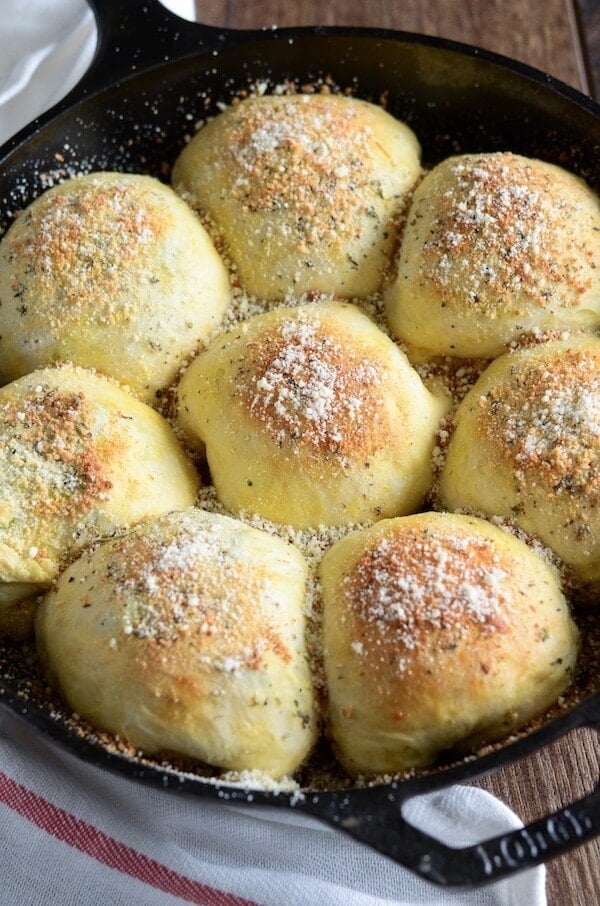 I made these Broccoli Cheese Bombs in a cast iron skillet. If you do not have a cast iron skillet, don't fret!
You can absolutely make them on a baking sheet with parchment paper (or a silicone baking mat) like I did the Meatball Bomb version.
I do like them best in a cast iron skillet because of the sides baking next to each other and the butter pooling at the bottom while you bake them. It makes them super soft and buttery, but you can definitely do it without a skillet!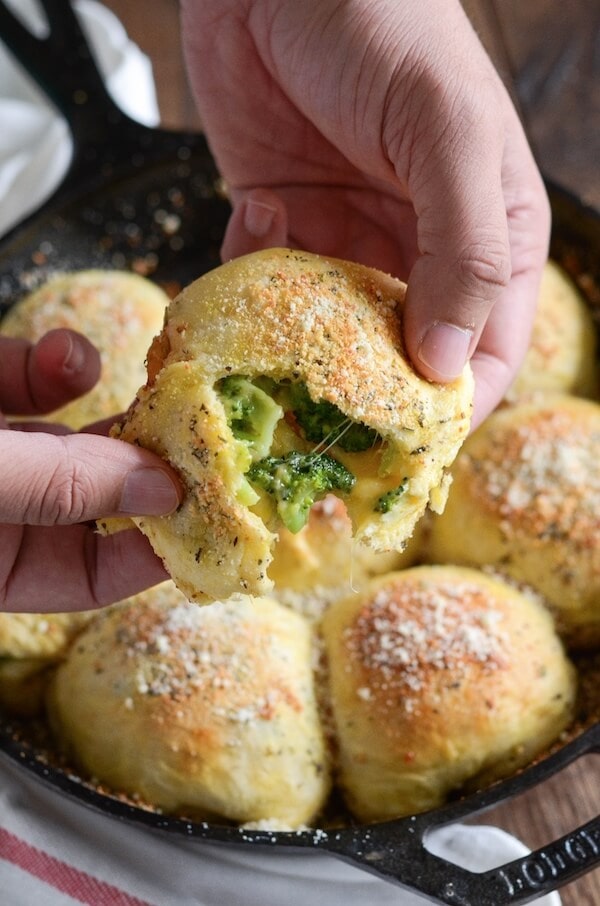 I know you are all going to love these Broccoli Cheese Bombs as much as we did. The whole family enjoyed them and I like that the girls actually ate a vegetable. Sure that vegetable was covered in cheese and wrapped in a carb, but it was a vegetable none the less.
These would make an awesome snack, appetizer or party food. We ate them for lunch and I won't lie — they were great for that too. If you are a fan of broccoli and cheese, these are a must make!
Yield: 8 servings
Broccoli Cheese Bombs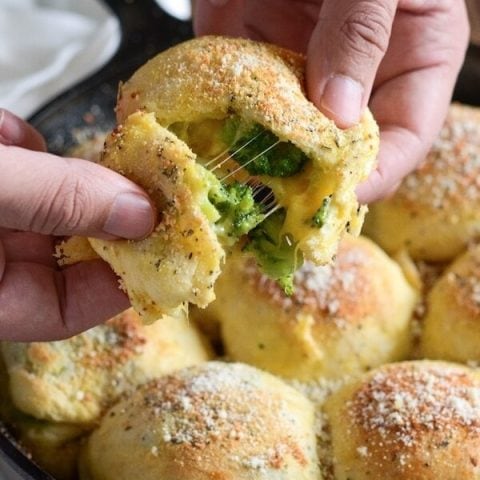 Broccoli Cheese Bombs! Biscuit dough is stuffed with broccoli and cheese and topped with seasoned butter and parmesan cheese!
Ingredients
5 tablespoons butter, divided
1 can (12 oz) Pillsbury Homestyle Butter Tastin' refrigerated biscuits
2 cups broccoli florets, cooked/steamed till tender
2 cups shredded cheese (sharp cheddar or a cheddar blend)
1 teaspoon Italian seasoning
1/4 teaspoon salt
pinch of black pepper
1/4 cup grated parmesan
Instructions
Preheat oven to 375°F. Grease a 10-inch cast iron skillet with 1 tablespoon butter. Set aside.
Using your hands or a rolling pin, flatten each biscuit into a 4 inch round.
Place a few pieces of broccoli and 2 tablespoons cheese in center of each dough round.
Wrap dough around broccoli and cheese, pressing edges to seal. Place seam side down in prepared iron skillet, leaving a little room for spreading. Continue until all biscuits have been completed.
In a small bowl, melt remaining 4 tablespoons butter. Whisk in Italian seasoning, salt and pepper. Evenly spoon on top of each biscuit.
Bake for 16 to 18 minutes, or until golden brown. Top with parmesan and serve warm!
Want to Save This Recipe?
This post may contain affiliate links. Read my disclosure policy.