Caprese Stuffed Avocado is a refreshing caprese salad recipe tossed with a bright green pesto, piled into avocados and topped with fresh basil and a balsamic glaze. Is a super simple and healthy appetizer that is especially great with an Italian themed meal!
This Stuffed Avocado Recipe Is The Best Way To Eat Caprese Salad
I wish I could invent a scratch and sniff screen for all of you, because this Caprese Stuffed Avocado would seriously make you drool.
Fresh gorgeous heirloom tomatoes, with little buffalo mozzarella balls, tossed in pesto is one thing.
Then stuff it inside a gorgeously ripe avocado and add some fresh basil and balsamic glaze? HEAVEN.
I could seriously eat my weight in caprese salad, but then you add avocados and I am over the moon excited.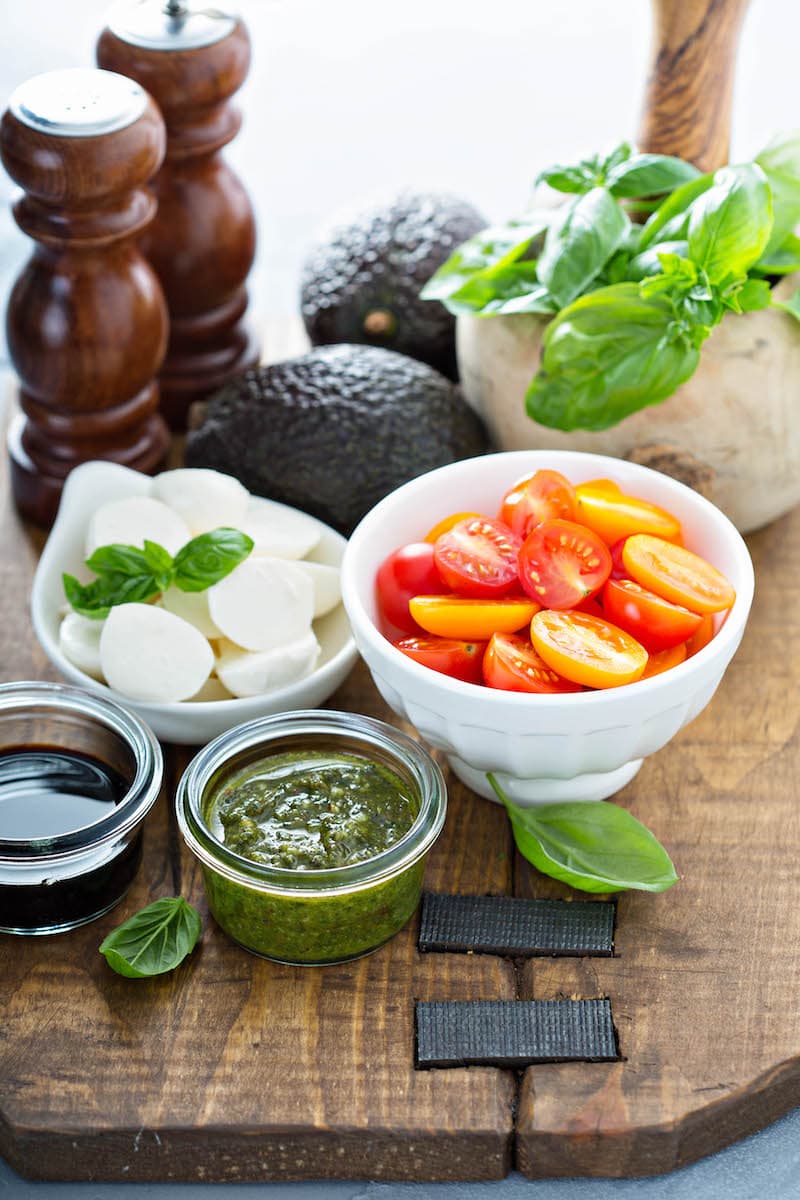 I had seen this idea many times before, but had yet to eat it myself, until last month.
We were down on Anna Maria Island for our annual extended family trip to the beach and most of my family is low carb.
So when we get together, we make sure our meals accommodate everyone as much as we can.
We had brought a ton of avocados with us and my Aunt Gay suggested we use them for her favorite Caprese Stuffed Avocados.
It was so refreshing and flavorful — everyone loved it. You know it's good when an entire room of people are completely silent as they stuff their faces!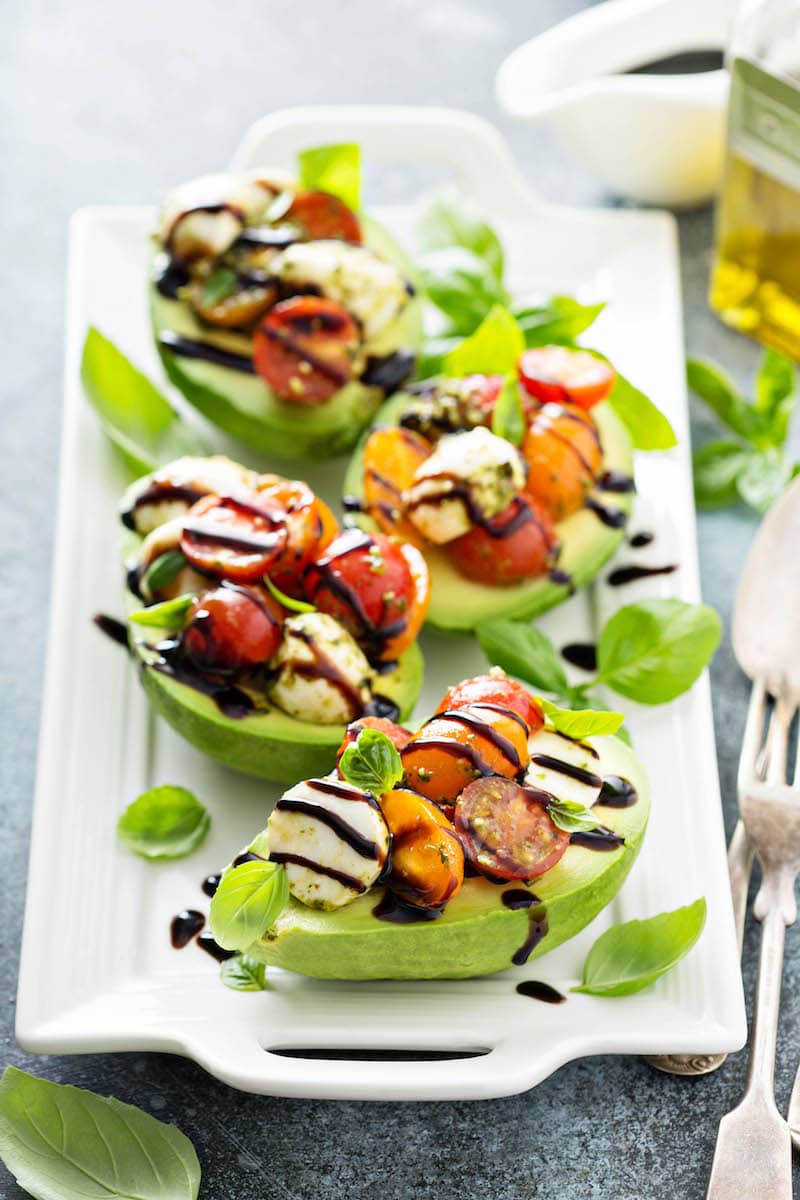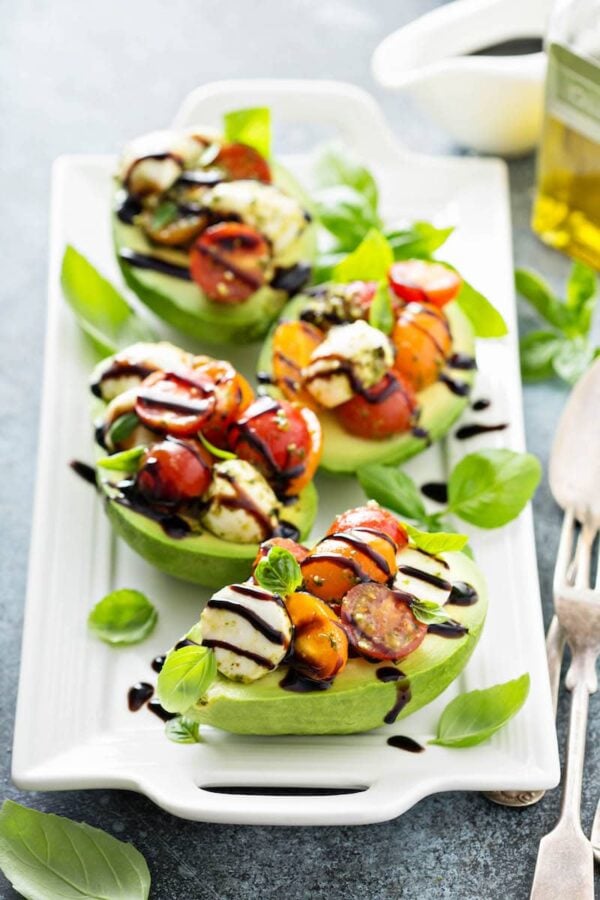 Everyone Will Love This Easy Appetizer Recipe
She whipped these up as a first course appetizer and they looked so good that I shared videos on instagram (on instastories) of her making them.
Everyone immediately was begging for the recipe and I literally sent it out to about 50 people that night.
I had so many people respond with pictures of their empty plates after making these! It was too fun.
So I knew then, I better share this easy recipe here with all of you so you can recreate it at home too!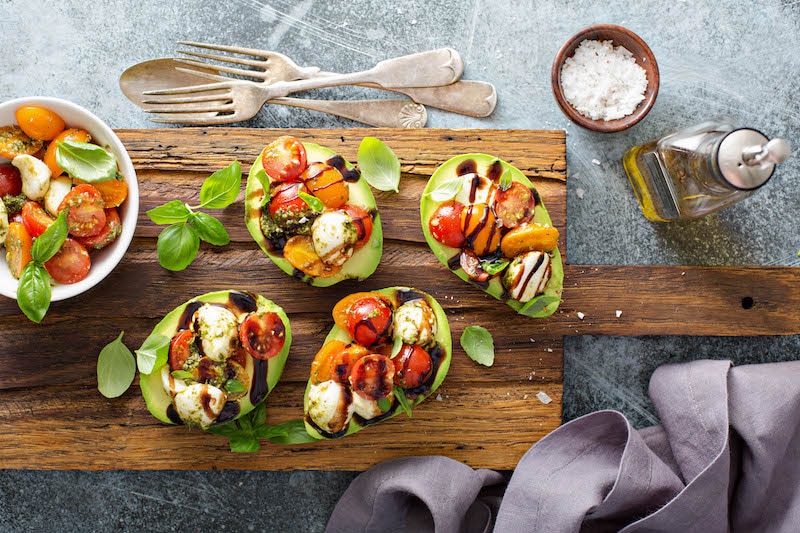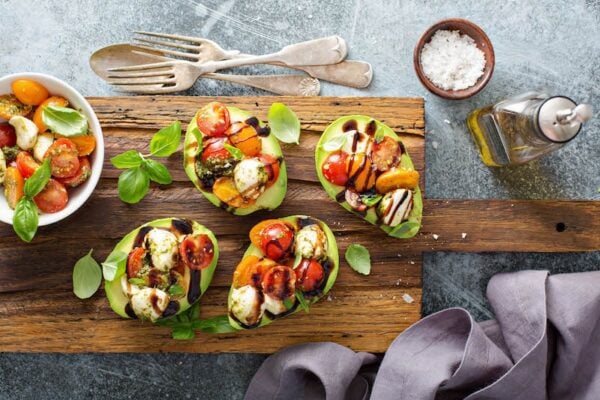 Can You Add Garlic To Caprese Stuffed Avocados?
I have been making these Caprese Stuffed Avocados for a few weeks now and have made some very minor tweaks to them.
My Aunt includes some fresh garlic and olive oil into the caprese salad mix, but I find with a good pesto it's not needed.
If you want to make them her exact way, just add a couple of cloves of minced garlic and a drizzle of good olive oil to the caprese mix.
But you really don't need those added ingredients if you make your own pesto, which I included a recipe for below as well.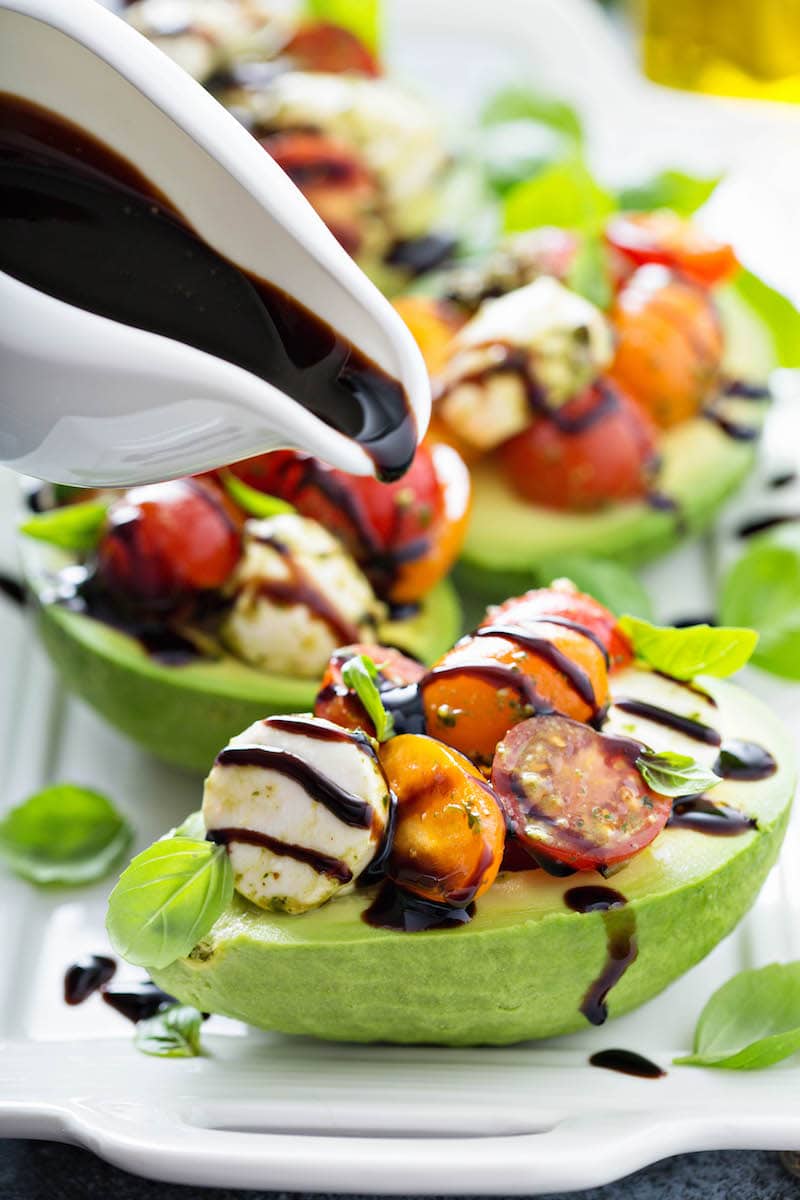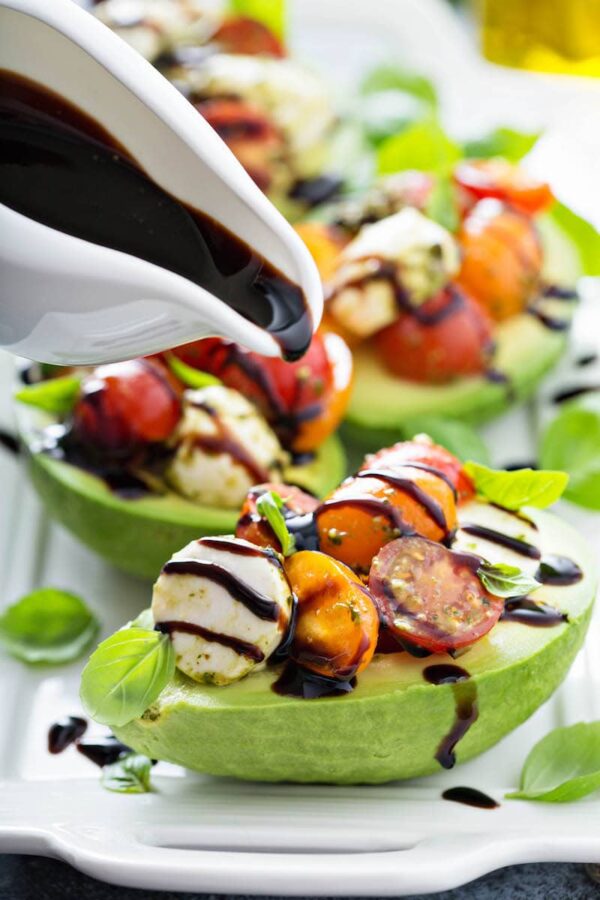 Are Stuffed Avocados Vegetarian Friendly?
This recipe for Caprese Stuffed Avocados happens to gluten free, vegetarian, low carb and keto friendly as well.
It fits a lot of brackets for when you are having guests over with limited diets, but it has so much flavor that it pleases everyone!
They make a wonderful appetizer, first coarse salad or lunch! I eat these for lunch easily once a week.
You only need a few ingredients to whip these up and can keep it super easy with store bought pesto.
However, I did include my favorite classic pesto recipe below just in case you want to make your own. You can freeze the leftovers for future use as well!
I can't wait for all of you to try these Caprese Stuffed Avocados! You're going to love them!
A few handy items (or ingredients) that will make this recipe easier:
Balsamic Glaze (in a handy squeeze tube!)
Food Processor (to make your own pesto – you can also use a blender)
Pesto Storage (I freeze my leftover pesto using one of these!)
Caprese Stuffed Avocado
Caprese Stuffed Avocado is a refreshing caprese salad recipe tossed with a bright green pesto, piled into avocados and topped with fresh basil and a balsamic glaze. Is a super simple and healthy appetizer recipe!
Ingredients
CAPRESE STUFFED AVOCADO:

½

cup

grape or cherry tomatoes

,

halved

4

oz

baby mozzarella balls

3 to 4

tablespoons

basil pesto

,

homemade or store bought

Salt and pepper

,

to taste

2

ripe avocados peeled

,

seeded and halved

2

tablespoons

balsamic glaze

Fresh basil

,

garnish

CLASSIC HOMEMADE PESTO:

3

cloves

garlic

½

cup

pine nuts

2

cups

packed fresh basil leaves

¾

cup

olive oil

¼

cup

parmesan cheese

1

teaspoon

salt

black pepper

,

to taste
Instructions
Combine tomatoes, mozzarella balls, pesto, salt and pepper in a bowl. Toss well to evenly coat the tomatoes and mozzarella.Arrange prepared avocado halves onto a plate and fill each avocado halve with caprese filling.Drizzle with balsamic glaze and top with fresh basil. Serve immediately.Classic Homemade Pesto:
In food processor, pulse garlic and pine nuts until fine paste forms. Add basil, olive oil, parmesan cheese, salt and black pepper. Pulse until smooth.Store in an airtight container for up to a week in the refrigerator or freeze for up to 3 months.
Nutrition
Serving:
1
,
Calories:
1844
kcal
,
Carbohydrates:
49
g
,
Protein:
36
g
,
Fat:
174
g
,
Saturated Fat:
33
g
,
Polyunsaturated Fat:
130
g
,
Cholesterol:
85
mg
,
Sodium:
2190
mg
,
Fiber:
17
g
,
Sugar:
20
g
Categories:
*this post contains affiliate links to amazon. Thank you for helping me continue to bring you free recipes!
This post may contain affiliate links. Read my disclosure policy.