This Rich and Creamy Cauliflower Mac and Cheese is so cheesy you won't even miss the macaroni! Plus, it's an easy way to sneak in veggies!
I know you all must sit at home watching Chopped sometimes and think that you know exactly what you would do with the ingredients given. I know I usually do. Unless they are given something insane like sea urchin. Then I would have to tap out. Immediately.
When I heard of Food Network's Chopped Challenge sponsored by Sargento®, I was all in. Then I saw the list of ingredients and drew a total blank. It's harder than I thought it would be! The first round includes 4 required ingredients: Sargento Sharp Cheddar, Cauliflower, Cremini Mushrooms and Leeks.
You still have 13 days to enter — the grand prize is $10,000! — and I would love to hear your ideas if you do enter! I also thought about a cauliflower soup or a flatbread…but of course I settled on Mac & Cheese. Given the choice, I will always pick pasta.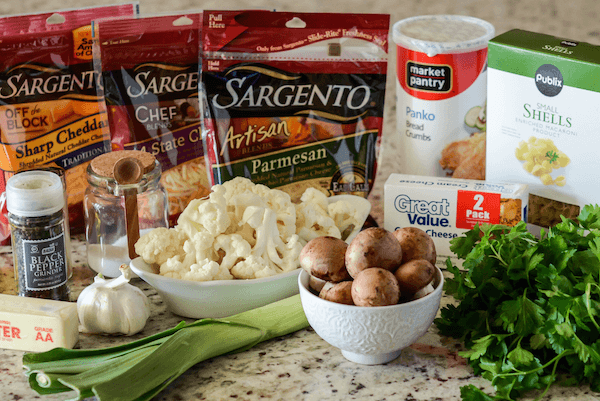 Easy Cauliflower Mac and Cheese
When I started playing around with this Mac & Cheese recipe, I knew I wanted it to be super super cheesy. I tried a lot of different cheese combinations and settled on sharp cheddar, parmesan and Sargento's 4 state cheese blend.
I had not tried the 4 state cheddar cheese blend before (it's a mix of Wisconsin Cheddar, Vermont Cheddar, New York Cheddar and California Cheddar cheeses), but it was the prefect accompaniment to the traditional sharp cheddar and parmesan. Sargento cheese is available in 30 versatile varieties and is always cut from blocks of 100% real, natural cheese. Who doesn't love cheese??
You are going to absolutely love this Cauliflower Mac & Cheese. It has so much flavor packed into each bite with the addition of the leeks and cremini mushrooms. Jorge looked at me like I was crazy when I was adding roasted cauliflower and mushrooms to our Mac & Cheese, but after the first bite he was sold.
Once I won the vegetable hating husband over, I tried this out on the twins and they each ate an entire bowl. Of course, their favorite dinner is mac & cheese, but I was not sure how they would take to the vegetable additions. They didn't even seem to notice and gobbled it up! Yay for hidden vegetables!
Hope your family enjoys this Cauliflower Mac & Cheese as much as we did!
Yield: 6-8 Servings
Cauliflower Mac & Cheese
This Rich and Creamy Cauliflower Mac and Cheese is so cheesy you won't even miss the macaroni! Plus, it's an easy way to sneak in veggies!
Ingredients
1 head cauliflower, chopped
1 cup cremini mushrooms, finely chopped
3 tablespoons oilve oil, divided
1 (16 oz) box small shells
2 large cloves garlic, minced
1 large leek (white & light green part only), finely chopped
8 oz Sargento® Sharp Cheddar, Fine Cut Shredded Cheese
8 oz Sargento® 4 State Cheddar, Shredded Cheese
5 oz Sargento® Parmesan, Shredded Cheese
1/3 cup sour cream
1 cup whole milk
2 teaspoons ground mustard
1 teaspoon freshly ground black pepper
3/4 teaspoon salt
2 tablespoons butter, melted
1 cup panko bread crumbs
1 tablespoon minced parsley
Instructions
Preheat oven to 400°F. Grease a baking sheet and a 11×7 inch casserole dish, set aside.
Toss cauliflower, cremini mushrooms and 2 tablespoons olive oil together and place on a greased baking sheet. Roast for 30 minutes, stirring half way through.
In a small sauté pan over medium-high heat, add 1 tablespoon olive oil. Add garlic and let cook for 30 seconds. Add leeks, cooking until softened, about 10 minutes.
While leeks are cooking, boil pasta according to package directions in a large pot and drain. Return pasta to pot and place over medium-low heat. Stir in the Sargento Sharp Cheddar Cheese, 4 State Cheddar Cheese, And Parmesan Cheese.
Once all cheese have melted, stir in sour cream, milk, ground mustard, pepper and salt. Fold in roasted cauliflower, mushrooms and the leek/garlic mixture. Transfer mixture to greased casserole dish.
In a small bowl, combine melted butter, bread crumbs and parsley. Sprinkle on top of the Mac & Cheese.
Bake for 10-12 minutes – just until the bread crumbs on top are lightly brown. Serve immediately!
Nutrition Information:
Yield:
8
Serving Size:
1
Amount Per Serving:
Calories:

486
Total Fat:

34g
Saturated Fat:

16g
Trans Fat:

1g
Unsaturated Fat:

14g
Cholesterol:

78mg
Sodium:

971mg
Carbohydrates:

23g
Fiber:

3g
Sugar:

5g
Protein:

24g
Categories
This is a sponsored conversation written by me on behalf of Sargento. The opinions and text are all mine.
This post may contain affiliate links. Read my disclosure policy.