Camarones a la Diabla are Mexican "deviled" shrimp, made with a spicy chipotle sauce and ready in 20 minutes. Versatile, flavorful, and low-carb!
Bold, Flavorful "Deviled" Shrimp in Red Chile Sauce
Cooking with shrimp is so easy, and so rewarding, isn't it? They are truly one of the easiest seafoods to make at home, because there's basically just one rule: cook until opaque and pink, and then take off the heat. From there, you can do almost anything: add a pungent sauce, use flavorful spices, serve with rice, pasta, bread, veggies, fruit – whatever your mind can conjure up, there's probably a shrimp dish to go with it.
For this quick shrimp skillet meal, shrimp are combined with a deeply-flavored chile sauce, some fire-roasted tomatoes, and a few other odds and ends for seasoning and extra flavor. It's about as simple as cooking gets, but the results? Out of this world. Let's dig in!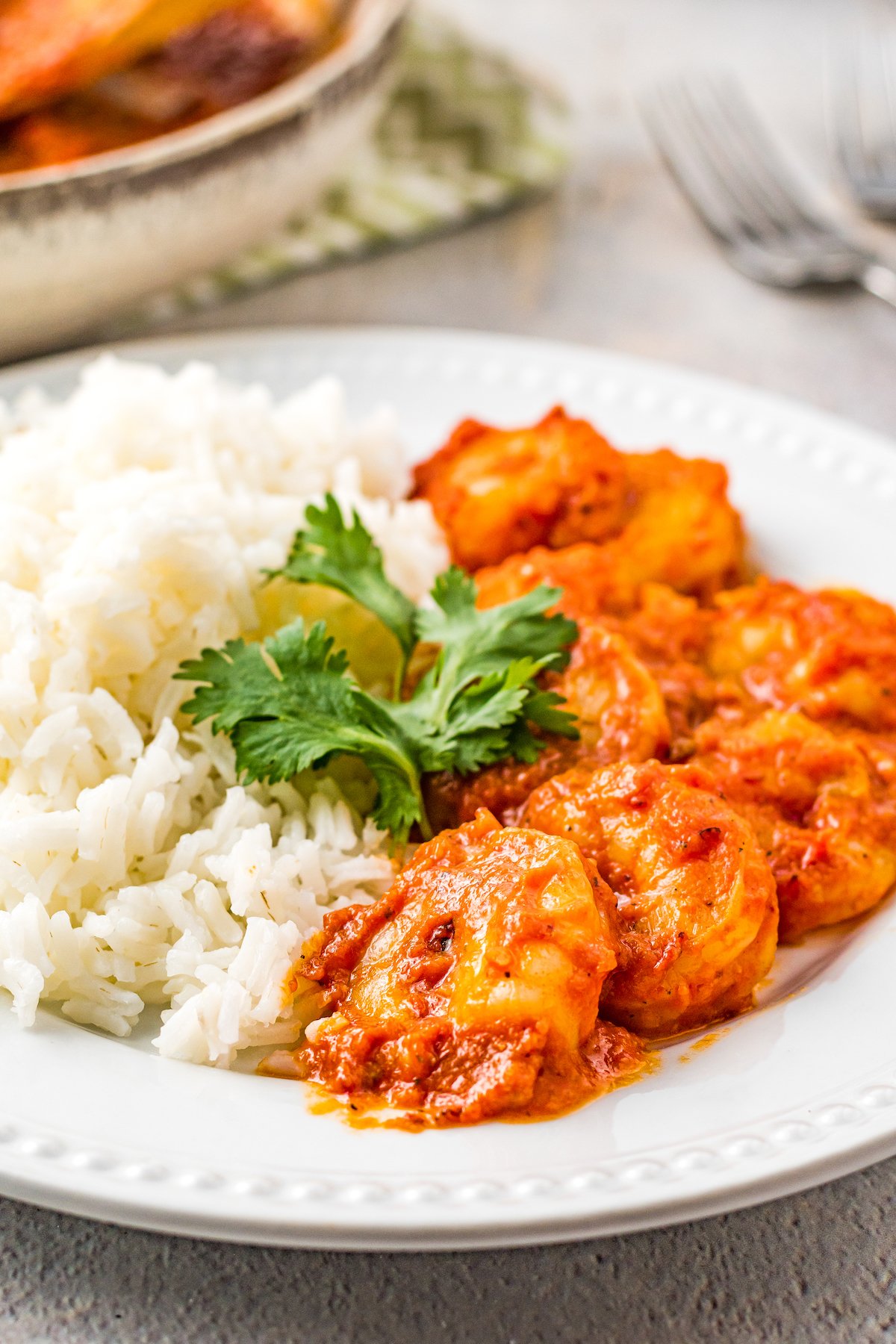 What Is Diabla Sauce Made Of?
Diabla sauce is the red chile sauce that we're using to flavor the shrimp here, and it's made differently according to different recipes. The basics are chiles and tomatoes. Some recipes call for soaking dried chiles and blending them, but in this version, I'm taking two tasty shortcuts: chipotles in adobo sauce, and canned fire-roasted tomatoes. Both of these savory ingredients will pack the sauce with flavor, while taking practically no time to prepare. Told ya this was a quick recipe!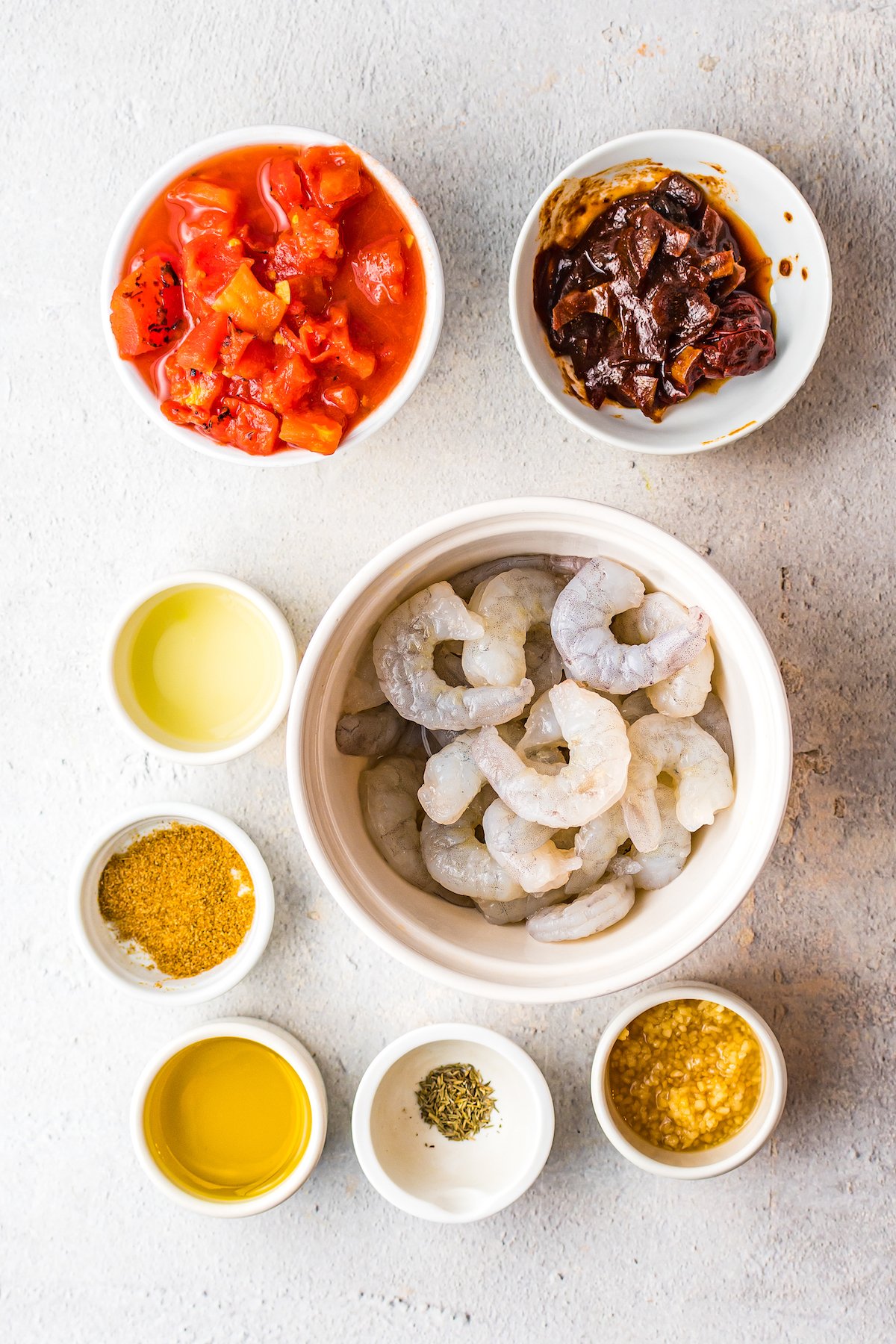 The List of Ingredients
Now let's dive into the rest of the ingredients. You will need just a few spices and seasonings, plus the shrimp. Here's the full list, in detail. (Note: for recipe amounts, just scroll down to the recipe card at the bottom of the post.)
Chipotle Peppers in Adobo Sauce: These are usually easy to find in cans on the international foods aisle of your grocery store. You can also find them on amazon: Chipotle Peppers in Adobo Sauce.
Fire Roasted Tomatoes: Drain the excess juice before you use them, so the sauce doesn't get watered down. 
Lime Juice: Freshly squeezed is ideal, but bottled would work also.
Olive Oil
Raw Shrimp: I used medium-sized shrimp, but you can choose the size you prefer. Make sure they are peeled and deveined before adding them to the recipe. Tails off or on is up to you!
White Onion: Minced or grated. You could also use a sweet onion or a yellow onion.
Garlic: Fresh garlic, minced or pressed.
Seasonings: Thyme, cumin, salt, and pepper. 
Can I Use Frozen Shrimp?
Definitely! I often recommend buying good-quality frozen shrimp and defrosting them yourself. Unless you live very close to the coast and have access to seafood that's caught the same day, most shrimp sold behind a fish counter has been frozen before shipping and defrosting at the grocery store. So simply buying frozen and defrosting it yourself is a sensible way to make sure the shrimp don't sit around longer than necessary!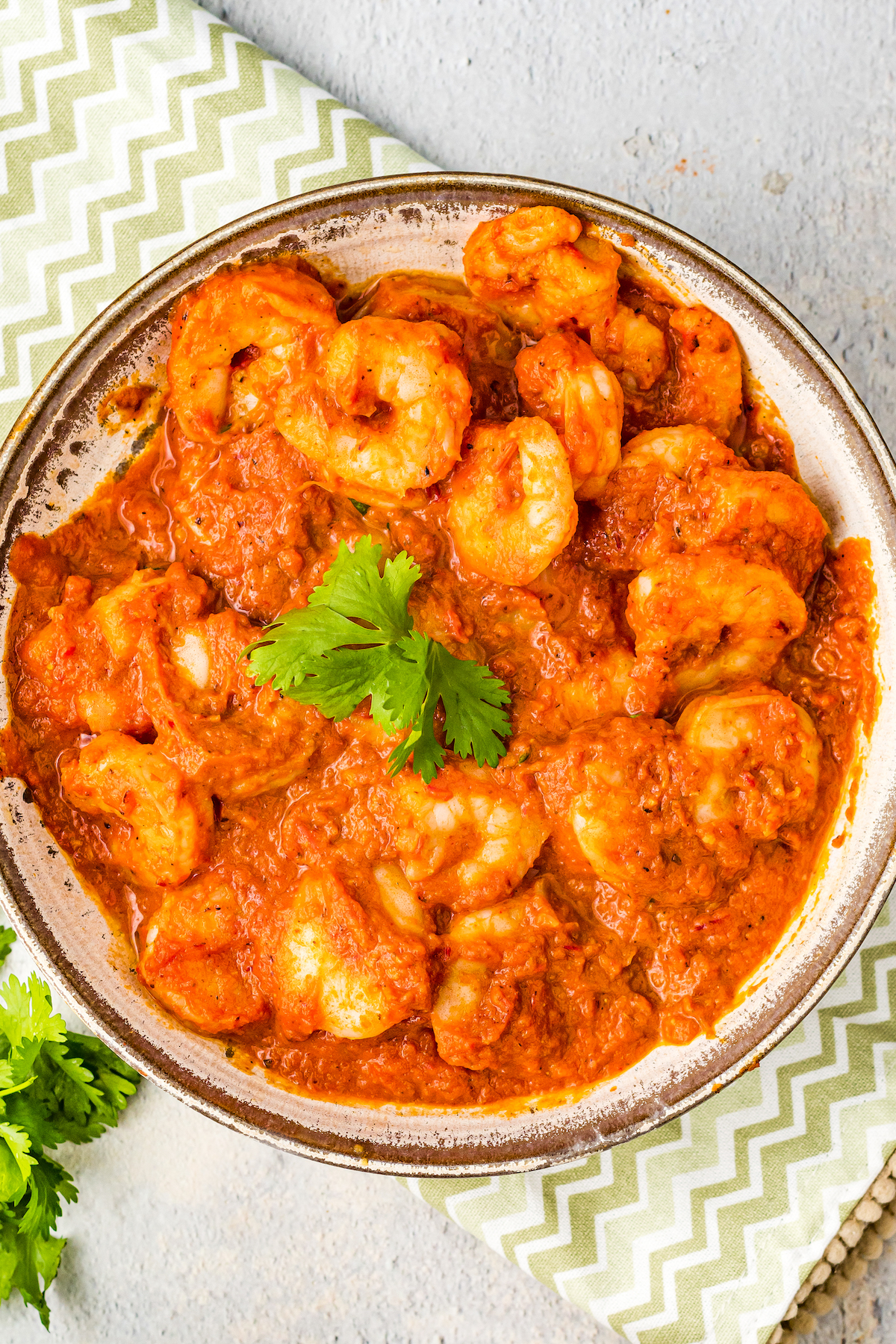 How to Make Camarones a la Diabla
It's easy to make this recipe, and you don't need any special techniques. Just blend up the chiles with the tomatoes and lime, saute the other ingredients in a pan, and combine the two.
Start the Sauce. In a blender or food processor, combine the chipotle peppers, fire-roasted tomatoes, and lime juice. Blend into a smooth sauce and set aside.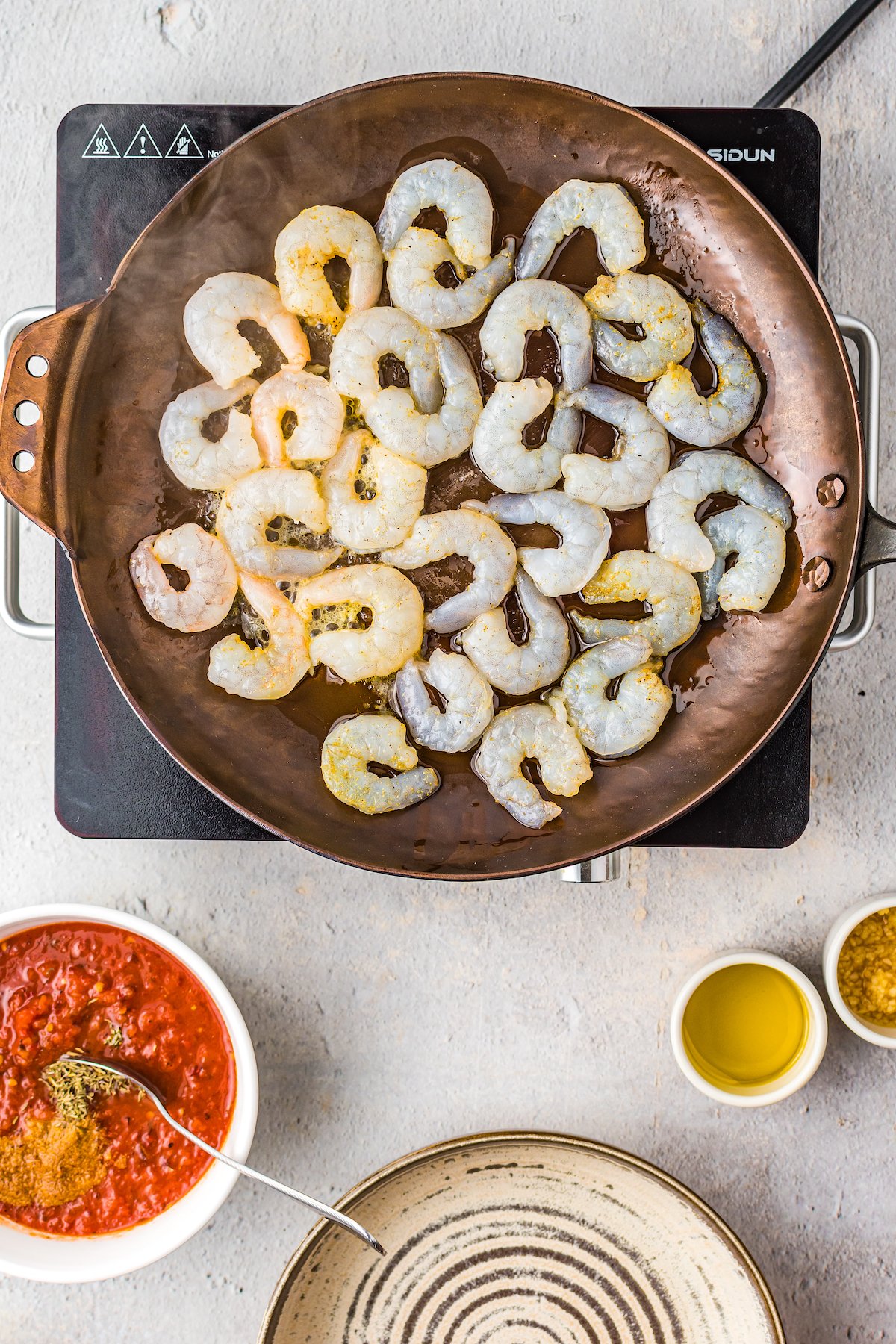 Cook the Shrimp. Next, set a large skillet over medium heat. Swirl in some olive oil, and let that heat up as well. Then place the shrimp in the pan, making sure you don't crowd them – we don't want steamy shrimp, we want sizzling shrimp! Let them cook for a minute or so per side. Transfer to a clean bowl or plate, and cover to keep warm.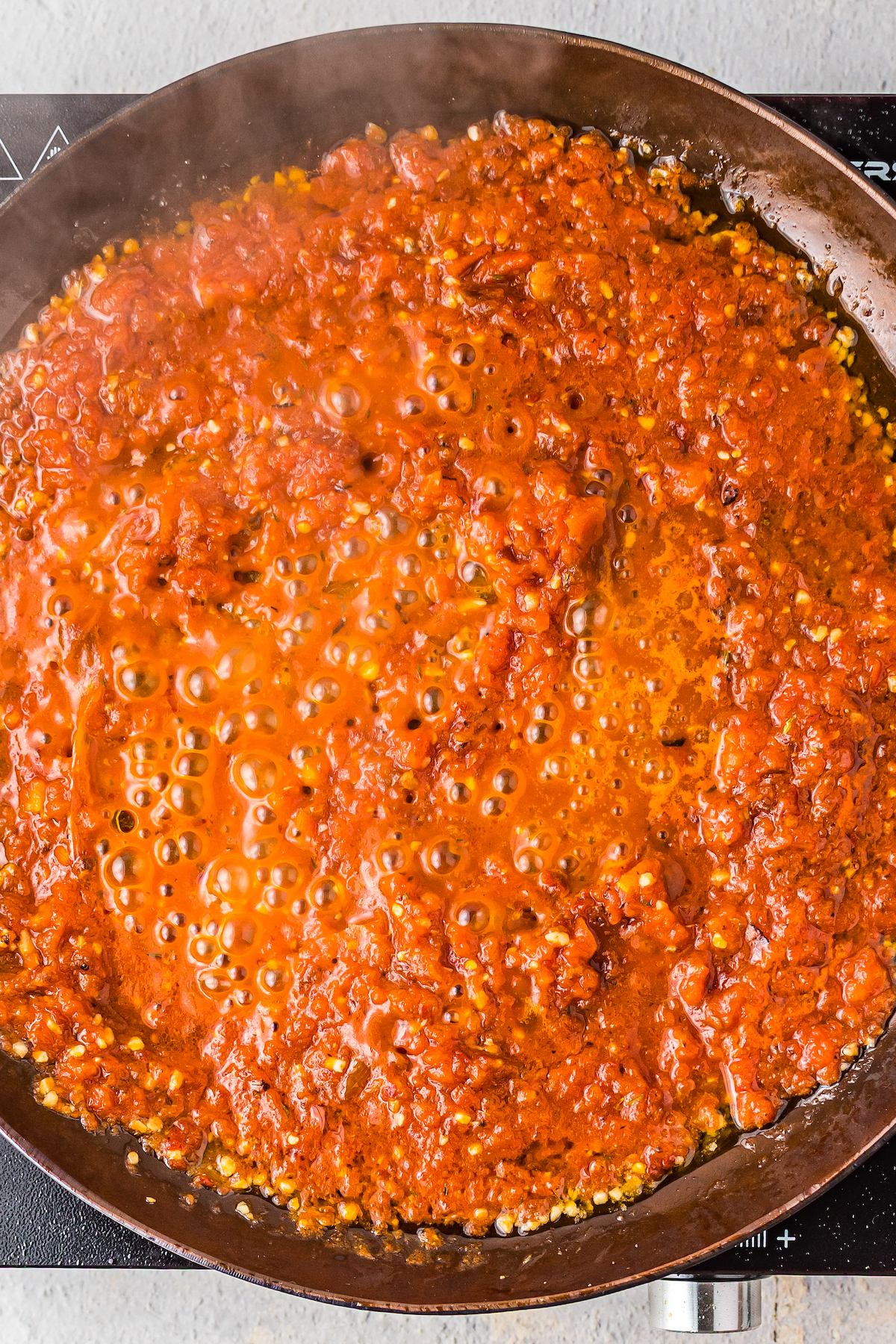 Finish the Sauce. Add the remaining olive oil to the skillet, along with the onion and garlic. Cook those for a couple of minutes, and then pour in your blended chiles and tomatoes. Sprinkle in the seasonings, and simmer for 10 minutes or so until thickened.
Finish the Dish. Finally, add the shrimp back to the skillet, coat with the sauce, and cook for 3 to 4 minutes. Taste for salt and pepper, and adjust if needed.
Enjoy! Serve your camarones a la diabla with your favorite sides.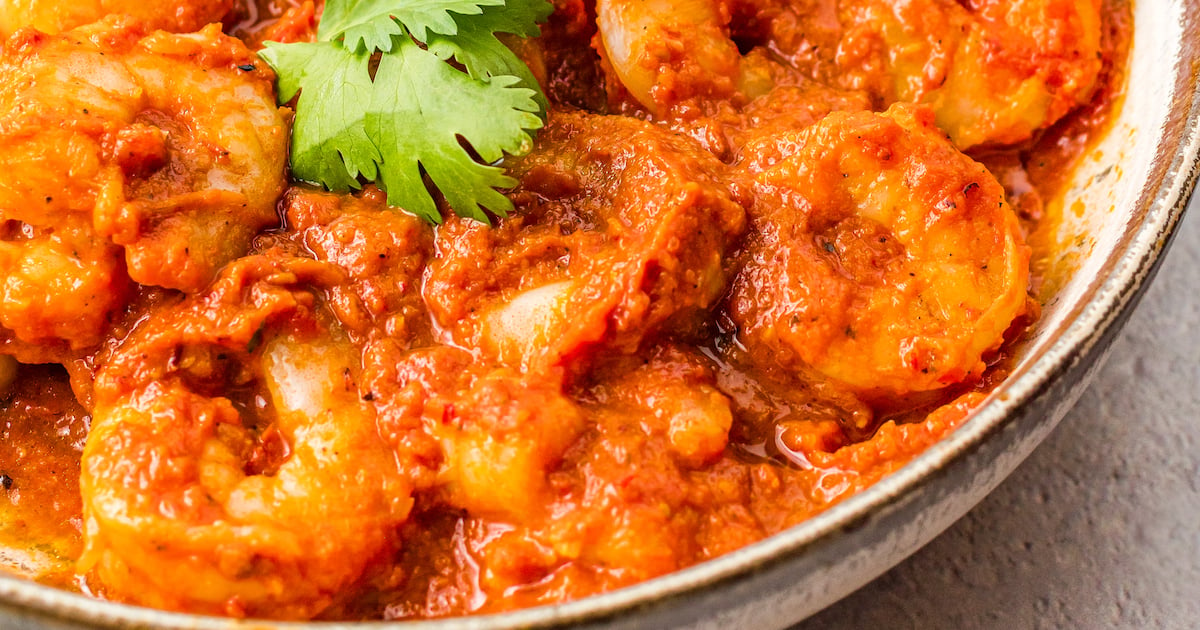 Recipe Notes
Okay, so that's the recipe in a nutshell! I also have a few tips and pointers to share. Read on, and enjoy!
Cooking the Shrimp: Since the shrimp cooks twice (once in the oil and once in the sauce) make sure to saute it just until it turns pink. Then immediately remove it from the pan, and add it back in once the sauce is nice and bubbly.
About the Chipotles: I like to use 2 chipotles for this recipe, but you can use more if you like things extra spicy. Don't toss the leftover chipotles, either. They freeze well in a freezer bag for use in other dishes.
Fire Roasted Tomatoes: I like to use canned fire-roasted tomatoes to save time. But if you like, you can make your own. Just broil 3 roughly chopped Roma tomatoes until blackened and blistered, and use those in place of the canned tomatoes. Easy!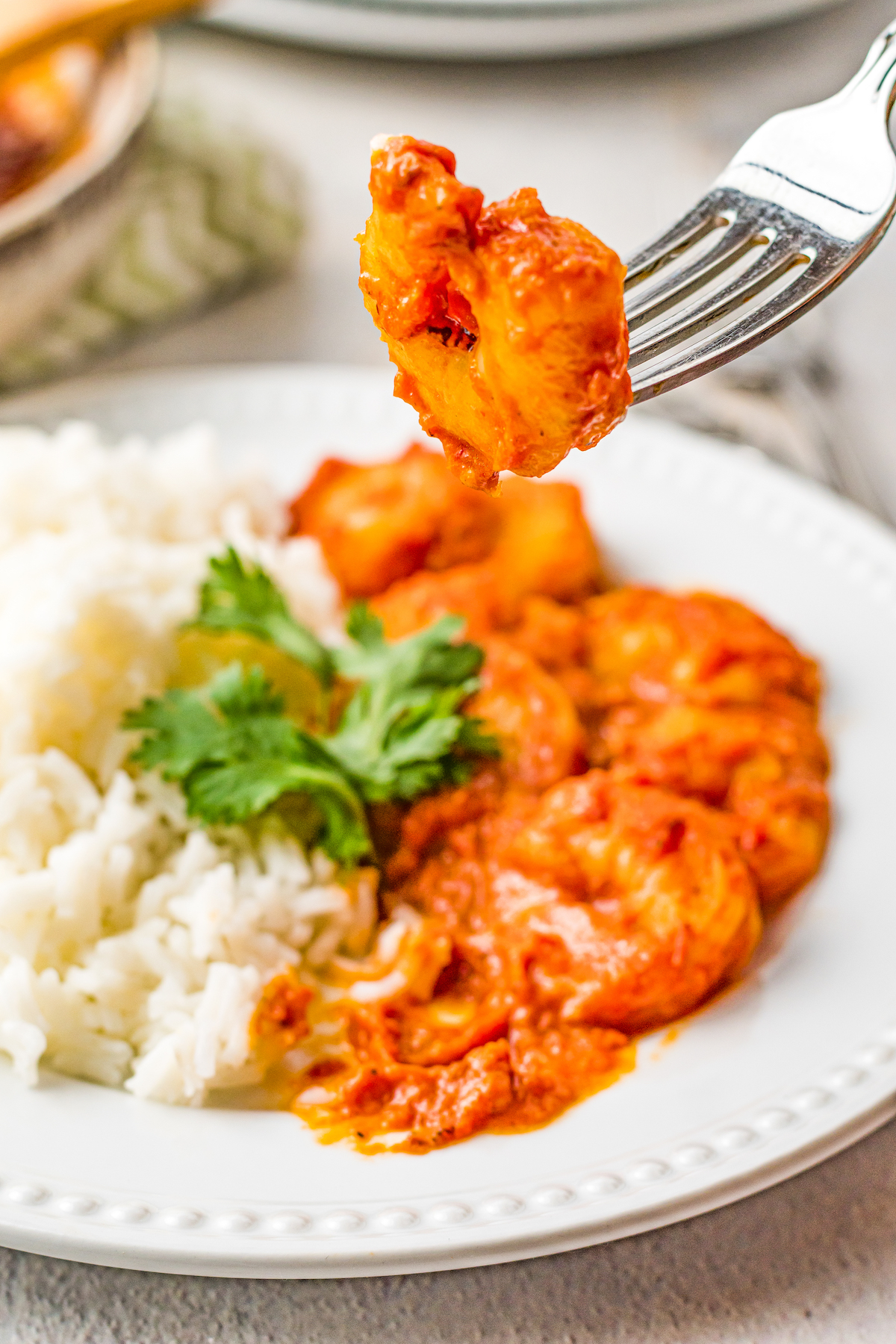 What to Serve with Camarones a la Diabla
Serve these spicy deviled shrimp with anything! They have an earthy, umami flavor that plays well with all things tangy, sweet, or mild. Here are a few ideas:
Rice: A simple bowl or cup of steamed rice would be great as a side dish with this saucy shrimp – but if you really want to go all out, go for some Authentic Mexican Rice! If you are looking for white rice, I love this recipe for my husband's Arroz Blanco!
Maduros: Fried sweet plantains, aka Maduros, are a simple side dish that's perfect with any Mexican dinner. The combination of their sweetness and the spiciness of the shrimp is fantastic.
Tortillas: Homemade Flour Tortillas are great with these shrimp. Just fill a tortilla and add whatever toppings you like – slaw, avocado, crema… the options are endless!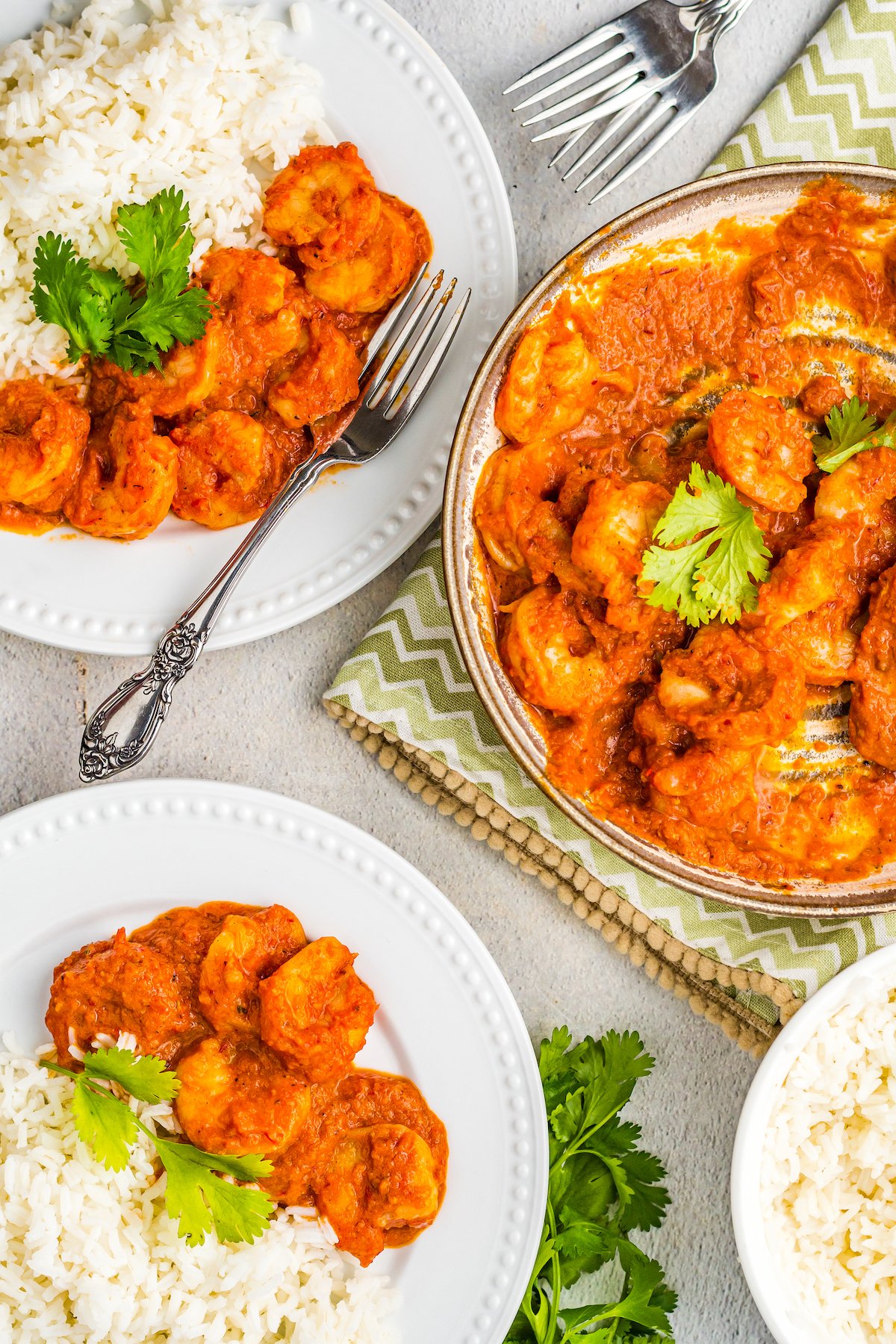 How to Store and Reheat Leftovers
Store leftovers in an airtight container in the refrigerator, for up to 5 days.
Reheat in a covered skillet over low heat, or in the microwave in 30-second bursts. When reheating, be careful to heat just until the shrimp are warmed through – any additional cook time will make the shrimp tough and rubbery.
Do Deviled Shrimp Freeze Well?
This dish is best served fresh, but you can freeze if you like. Place the cooled shrimp and sauce into a freezer bag, and press out as much air as you can before sealing it. Then store in the freezer for up to 2 months. Thaw in the fridge before reheating.
Camarones a la Diabla (Deviled Shrimp)
Camarones a la Diabla are Mexican "deviled" shrimp, made with a spicy chipotle sauce and ready in 20 minutes. Versatile, flavorful, and low-carb!
Ingredients
¾

cup

drained

,

canned fire roasted tomatoes

1

tablespoon

lime juice

,

freshly squeezed

3

tablespoons

olive oil

1

pound

medium fresh shrimp

,

peeled and deveined

¼

cup

finely minced

,

or grated white onion

1

tablespoon

minced garlic

¼

teaspoon

dried thyme

½

teaspoon

cumin

Salt and pepper

,

to taste
Instructions
Place the chipotle peppers, tomatoes and lime juice in a blender or food processor. Blend until smooth. Set aside.

Heat one tablespoon of olive oil in a large skillet over medium heat. Place the shrimp in the pan making sure not to crowd the pan.

Cook shrimp until one side has turned pink (about a minute), then flip and cook the shrimp are completely pink (about another minute). Remove the shrimp and keep warm. (I place them in a bowl and cover it with a plate or foil on top.)

Add the remaining olive oil to the pan and then add the onion and garlic. Cook  for 2 minutes. 

Pour in the blended peppers/tomato mixture into the skillet with the onions/garlic. Add the thyme and cumin and simmer for about 10 minutes, until thickened. If the sauce gets too thick, add a tablespoon or two of water, as needed. 

Add the shrimp back into the sauce and cook for 3 to 4 minutes.

Season with salt and pepper, to taste. Serve over rice, beans, or in tacos!
Notes
Storage:
Storage: Store leftovers in an airtight container in the refrigerator for up to 5 days.
Reheat: Be careful reheating to not cook the shrimp anymore as they will become tough. I recommend microwaving the shrimp in 30-second intervals.
Nutrition
Serving:
1
,
Calories:
225
kcal
,
Carbohydrates:
5
g
,
Protein:
28
g
,
Fat:
11
g
,
Saturated Fat:
2
g
,
Polyunsaturated Fat:
9
g
,
Cholesterol:
214
mg
,
Sodium:
268
mg
,
Fiber:
1
g
,
Sugar:
2
g
Categories:
More Easy Shrimp Recipes
This post may contain affiliate links. Read my disclosure policy.