Homemade Achiote Paste is an easy-to-make rub that will add intense flavor to your food. It's a great sauce and meat rub that brings an earthy and smokey sweetness to your meals.
If you're looking for other good sauces that you can slather onto steaks and other grilled meats, try my "Oh My" Steak Sauce and Homemade Pesto.
Homemade Achiote Paste
Achiote Paste is an amazing flavorful spice mix that is popular in Mexican and Caribbean cuisines. It is mild in heat, but packed with flavor from many different spices. The key spice being annatto seeds, which are brightly colored red seeds, with an earthy flavor. Annatto seeds are also commonly used in coloring foods naturally, so you have probably had them many times without even knowing it!
This Achiote Paste is a wonderful way to practice your rub and sauce-making skills. It's really simple and can be made traditionally in a mortal and pestle, or with a blender, spice grinder, or food processor. Plus, the reward of insanely flavorful meat is well worth the effort! Your family will be extra curious (and hungry!) once you start grinding up the spices. The aroma while grinding the spices is enough to get your taste buds going!
Do you know how coffee tastes so much better when you grind the beans yourself? The same goes for Achiote Paste. Sure, you could buy it at the store. But the flavor is just so much better if you make it yourself. The robust flavor that comes from fresh ground spices is rich, bright, and much more developed than if it came from a jar.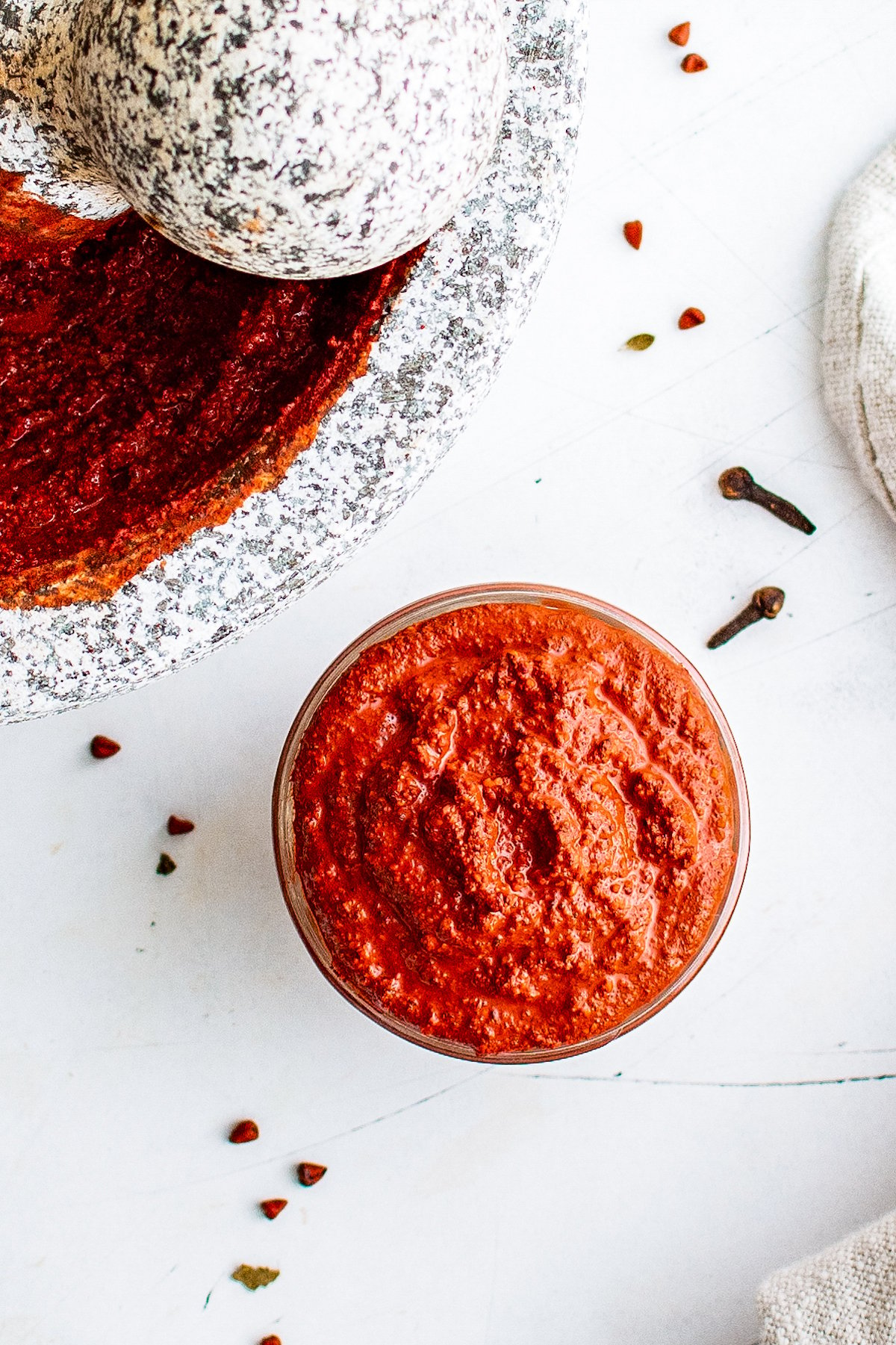 What Does It Taste Like? Is It Spicy Hot?
Achiote paste packs in a lot of different flavors. It has annatto seeds, coriander seeds, Mexican oregano, black pepper, cumin, cloves, garlic, and (in my opinion, the secret weapon) bitter orange juice!
Notice how there aren't any spicy dried peppers in this recipe. So, you'll get lots of authentic Mexican flavors but not a lot of heat. Achiote paste is very earthy and has a bit of smokiness to it. Plus, it has this incredible tangy sweetness to it. Adding Naranja Agria (bitter orange juice) really brings this paste to the next level. You're going to love it!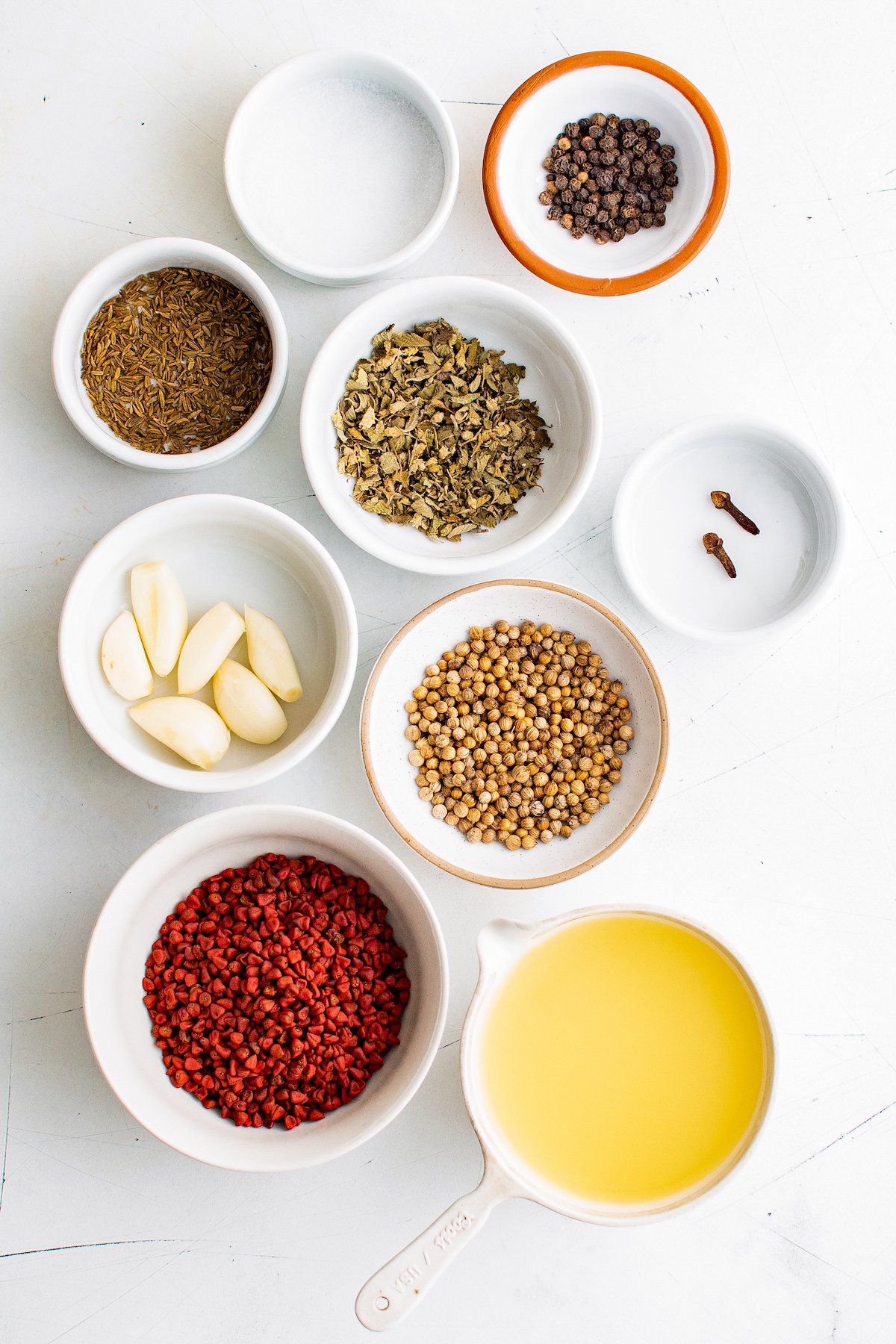 Recipe Ingredients
Here is what you'll need to get started:
Annatto Seeds: I like to use Annatto Seeds, but you can also use Ground Annatto. This spice is what makes it that beautiful red color.
Coriander Seeds: Did you know that coriander is the seed for cilantro? They both have the same tart flavor. If you can't find Coriander Seeds, you can also use already ground coriander.
Mexican Oregano: If you can't find this ingredient, you can use regular oregano instead. But, I suggest finding the Mexican Oregano because it provides a ton of authentic flavor.
Black Peppercorns: This will provide just a little bit of earthy spiciness but not too much heat.
Salt: A meat rub isn't complete without salt. The spice flavor wouldn't come alive without adding salt!
Cumin: You can also just use whole cumin seeds.
Cloves: Cloves have a woody sweetness to them. They smell amazing!
Garlic: Use fresh garlic for the best flavor.
Bitter Orange Juice: You can find bottled bitter orange juice in the Latin aisle at the grocery store. Goya and Badia are brands that are easy to find. Also, it can be listed as Naranja Agria, sour orange juice, or bitter orange juice.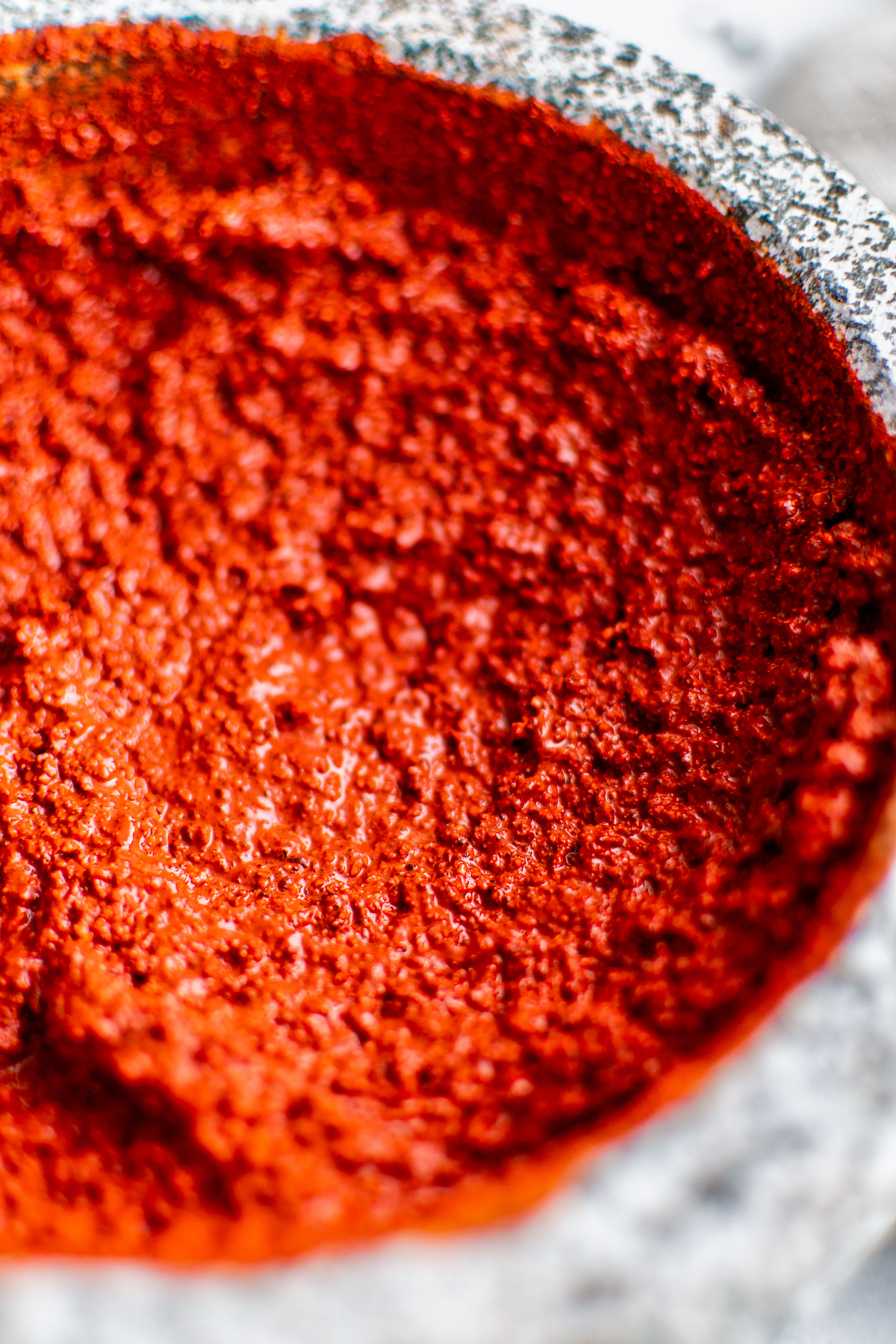 How to Make Achiote Paste
Break out the ingredients and let's get to work. Here's how to make achiote paste: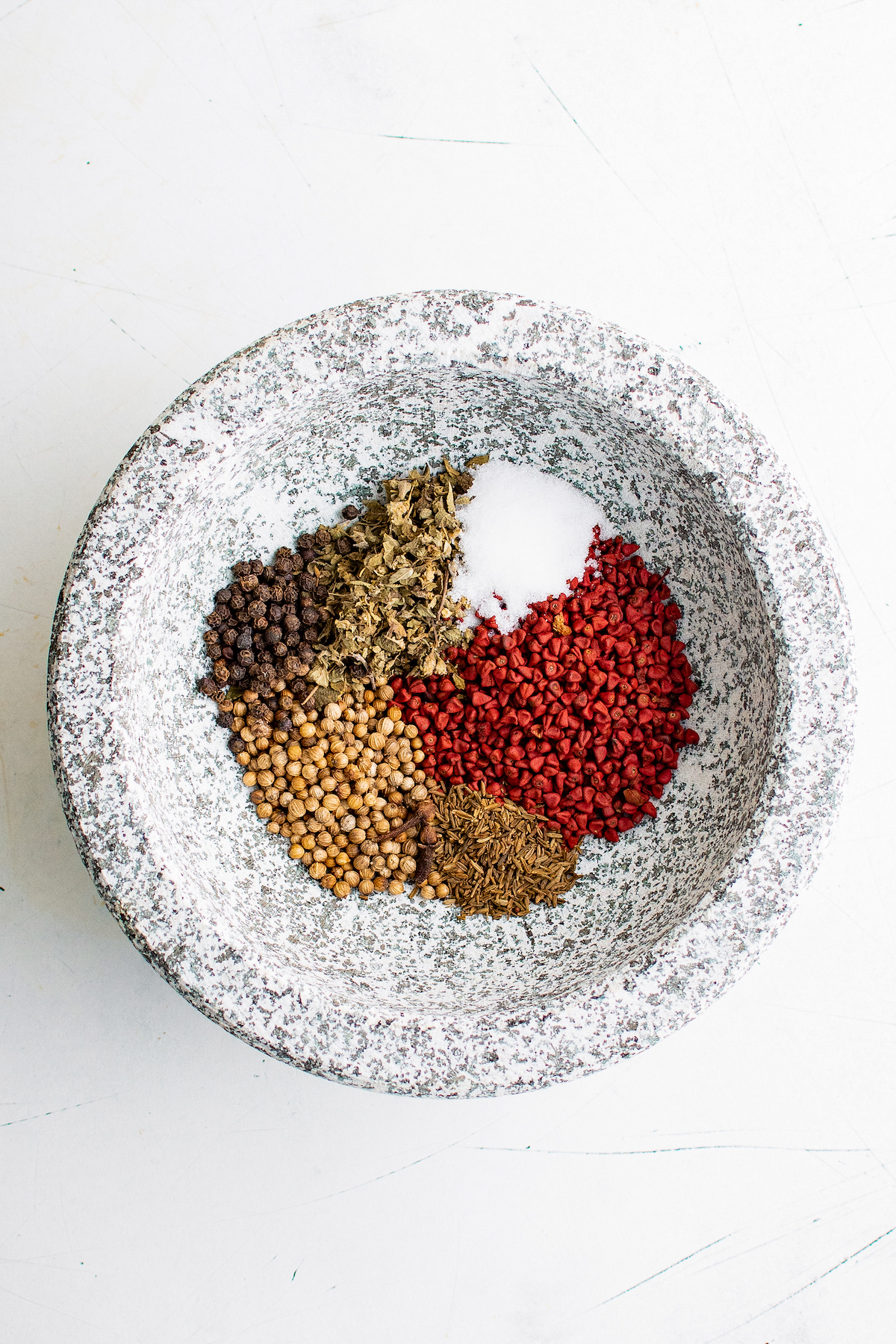 First, grind the spices. You will need to grind the dried spices with a spice grinder, blender, or food processor. If you want to be really authentic, you could use a mortar and pestle. It's so much fun to do it this way, too!
Then, add the garlic. You can always chop the garlic by hand to help speed things along with the mortar and pestle.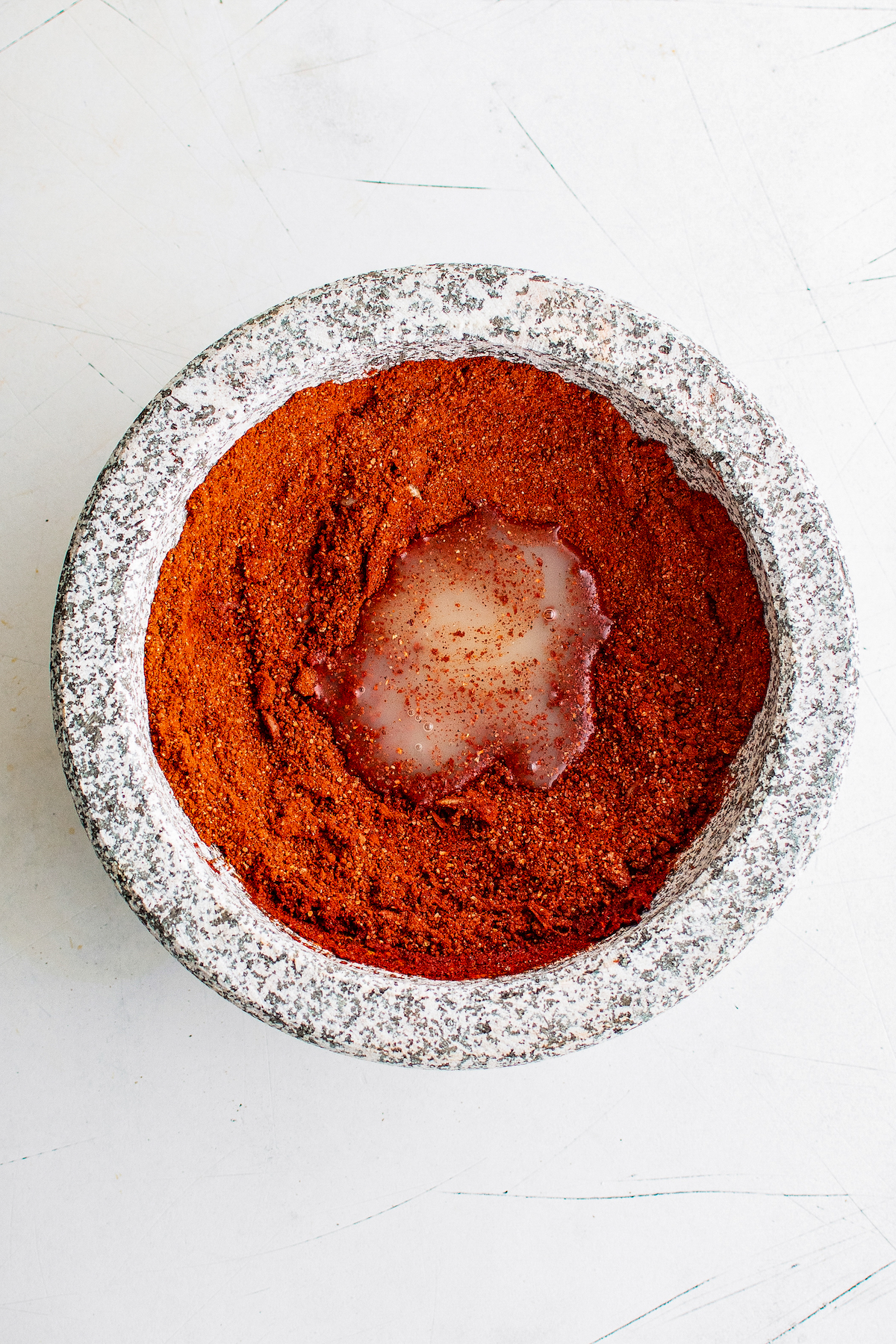 Next, add the bitter orange juice. Once you add the remaining ingredients, puree until you get a smooth, spreadable paste. You may want to add extra orange juice if you'd like to have a thinner sauce consistency.
Now you can use the Achiote Paste however you want! You can use it immediately or store it in the refrigerator for up to two weeks.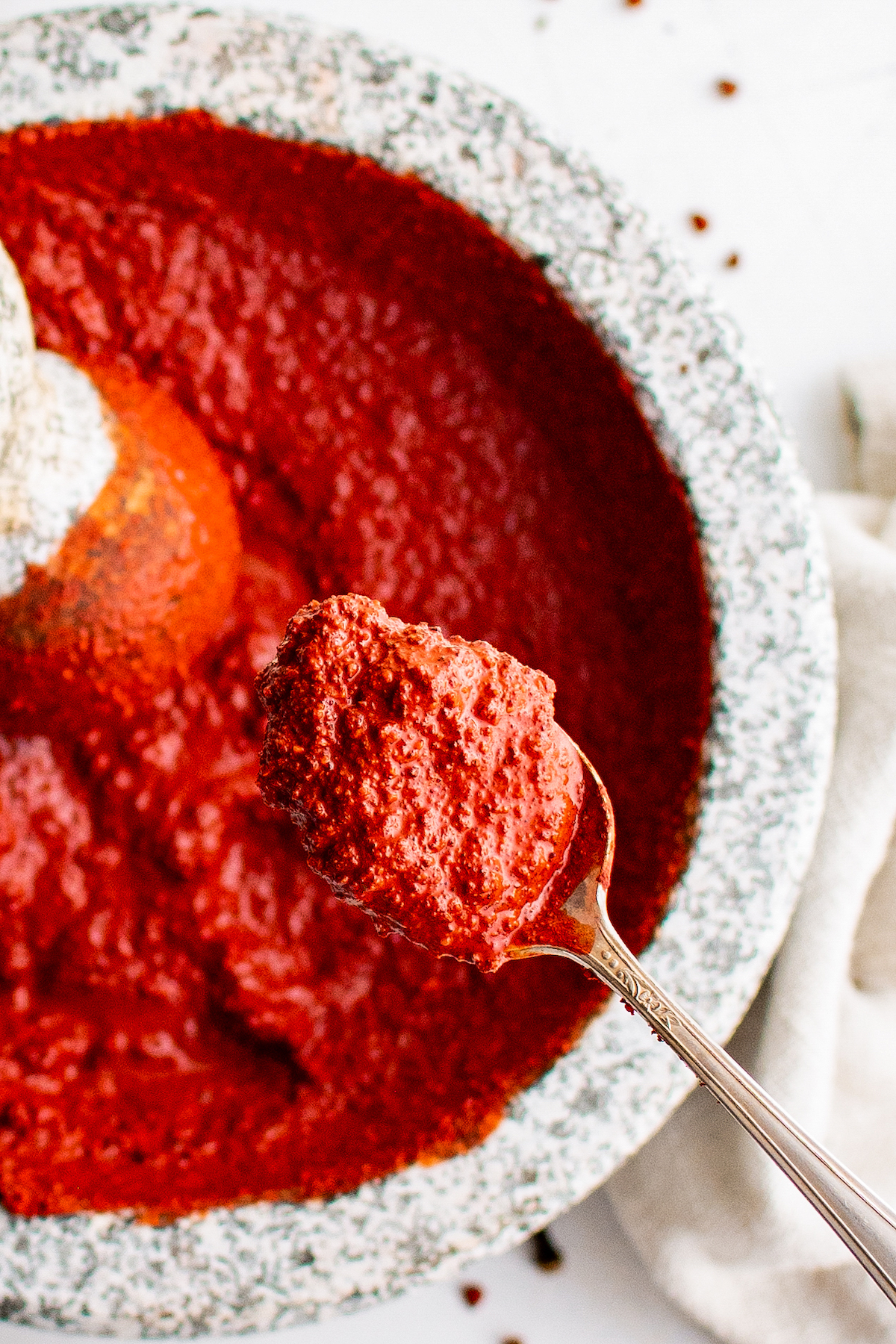 Ways to Use It
The options are endless with Achiote Paste. Here are some of my favorite ways to use it in the kitchen.
Use it as a topping or sauce. It would taste amazing poured onto this Juicy Grilled Flank Steak or roasted vegetables.
It's a great marinade for chicken, beef, or pork. To use it as a marinade, rub it all over the meat and seal it in a plastic bag or container. For the best results, let the meat marinade for 4-6 hours.
Dip your meat into it. Achiote Paste would be a great dipping sauce for kabobs! Try it with my Chicken Kabobs and Steak Kabobs. You might want to thin it out a little bit with more orange juice, lime juice, or broth.
How to Store Achiote Paste
It's best to store Achiote Paste in an airtight container in the refrigerator for up to 2 weeks.
I usually wrap my jar or container with my paste in plastic wrap and then store it inside a ziplock bag. This way I know it's staying fresh and flavorful.
Can I Freeze It?
I wouldn't recommend freezing Achiote Paste because it will lose the intensity of all of the flavors. Remember, if you seal it up really well, it will stay fresh in the refrigerator for up to 2 weeks!
Achiote Paste
This rich and savory meat rub features earthy flavors from freshly ground spices, a little garlic kick, and a bit of sweet and sour from bitter orange juice.
Instructions
Grind the annatto seeds, coriander seeds, Mexican oregano, black peppercorns, kosher salt, cumin, and cloves, until finely ground. You can grind them in a food processor, blender, spice grinder, coffee grinder (that has been well cleaned), or in a mortar and pestle.

Add the garlic cloves and bitter orange juice, and process (or grind) until it is smooth and a paste has formed. If your paste is too thick for your liking, you can add an extra tablespoon or two of the bitter orange juice, as desired. 

Use paste immediately, as desired.
Notes
*Or 3 tablespoons ground annatto.
**If using a mortar and pestle, you may find it easier to pre-mince your garlic before adding it to the pestle. 
***If you do not have bitter orange juice (Naranja Agria), you can make a substitute by whisking together 1/4 cup orange juice plus 2 tablespoons lime juice and 2 tablespoons white vinegar. You can find jarred bitter orange juice in the Latin aisle at the grocery store commonly sold by Goya and Badia brands. It can be listed as Naranja Agria, sour orange juice, or bitter orange juice. 
Nutrition
Serving:
1
,
Calories:
20
kcal
,
Carbohydrates:
4
g
,
Protein:
1
g
,
Sodium:
211
mg
,
Fiber:
1
g
,
Sugar:
2
g
Categories:
This post may contain affiliate links. Read my disclosure policy.