This Achiote Chicken recipe is bursting with flavor from a homemade achiote paste. It packs rich Mexican flavors into tender chicken thighs and goes perfectly with a side of fluffy rice.
Easy Marinated Achiote Chicken
Achiote chicken is a Mexican dish with seemingly endless amounts of flavor. Despite the gorgeous red color, this isn't an overly spicy recipe. There's a little bit of heat from the homemade achiote paste, but it's more warm than hot.
This achiote chicken recipe has a lot of tomatoes and lime juice in it, which gives it a good acidity. The spice and acidity, paired with the richness of chicken thighs and the earthy flavor of cumin, make for a complex and well-balanced dish. You'll be drooling before this chicken is even finished cooking! 
I recommend serving this pollo en achiote with Arroz Blanco (Puerto Rican white rice), Instant Pot Charro Beans, and Maduros (fried sweet plantains).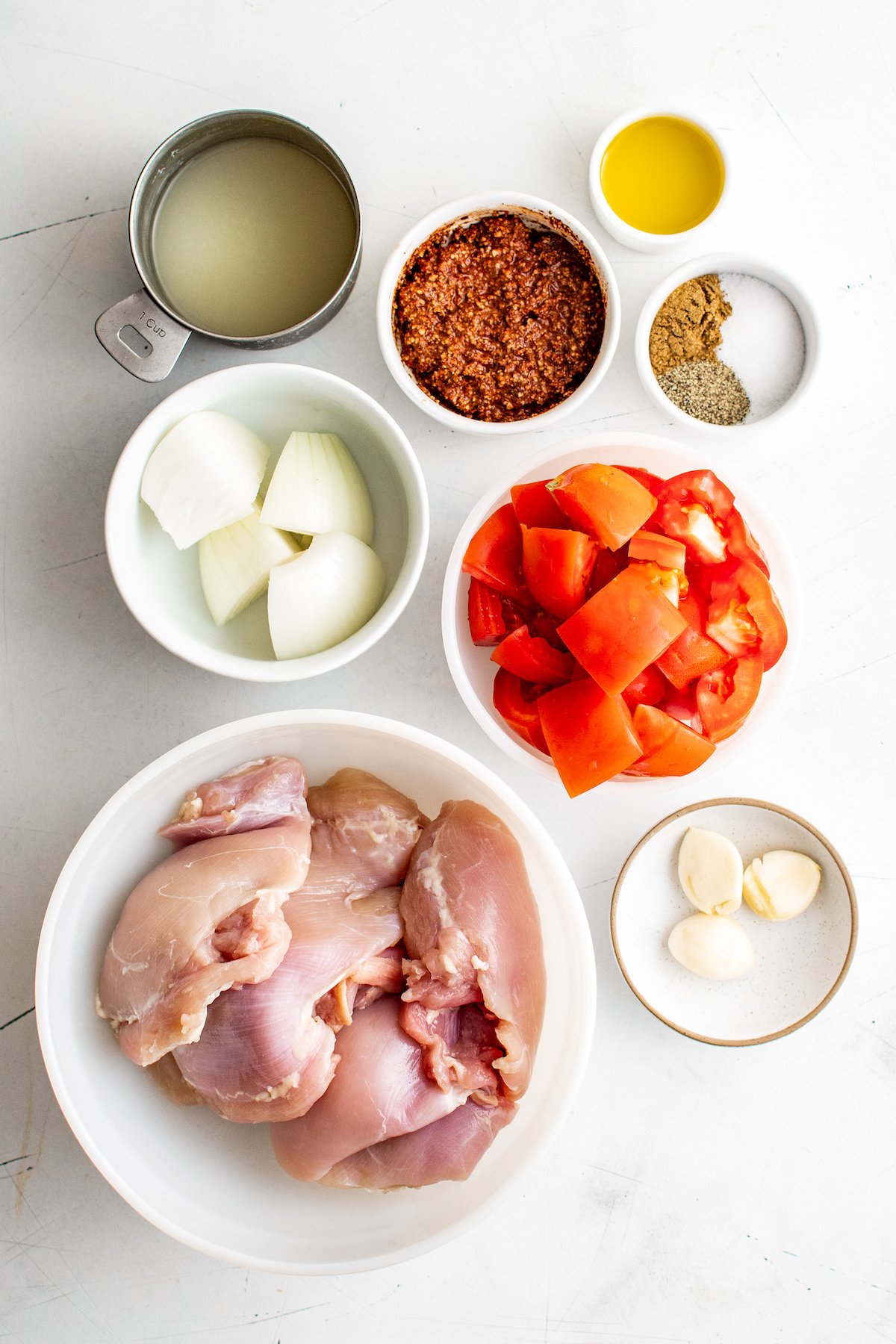 What You'll Need
Scroll to the recipe card at the bottom of the page for the exact quantities for this tender and flavorful achiote chicken.
Roma tomatoes: Roma tomatoes have a low moisture content, which makes them perfect for sauces and marinades.
White onion
Lime juice: Fresh lime juice will give you the best flavor!
Homemade achiote paste – Here's my achiote paste recipe.
Garlic
Seasonings: cumin, salt and freshly ground black pepper.
Boneless, skinless chicken thighs: You can use chicken breasts for this recipe, but thighs are more tender and have a flavor from the fat that works well in this dish.
Olive oil
Cilantro: It's fine to omit the cilantro if you don't like it.
What is Achiote Paste?
Achiote paste is a popular spice mixture in Mexico and the Caribbean. The base is achiote (also known as annatto) seeds, which give it a stunning, deep red color. Achiote paste has earthy flavors, as the mixture includes cumin, oregano, cloves, and coriander seeds. It has a little bit of heat, but it's not a spicy mixture. It can be used as a condiment, but I think it's best in a marinade, such as in this recipe.
How to Make Achiote Chicken
This is a pretty simple recipe, even though the final product tastes anything but simple. Here's how to make achiote chicken at home: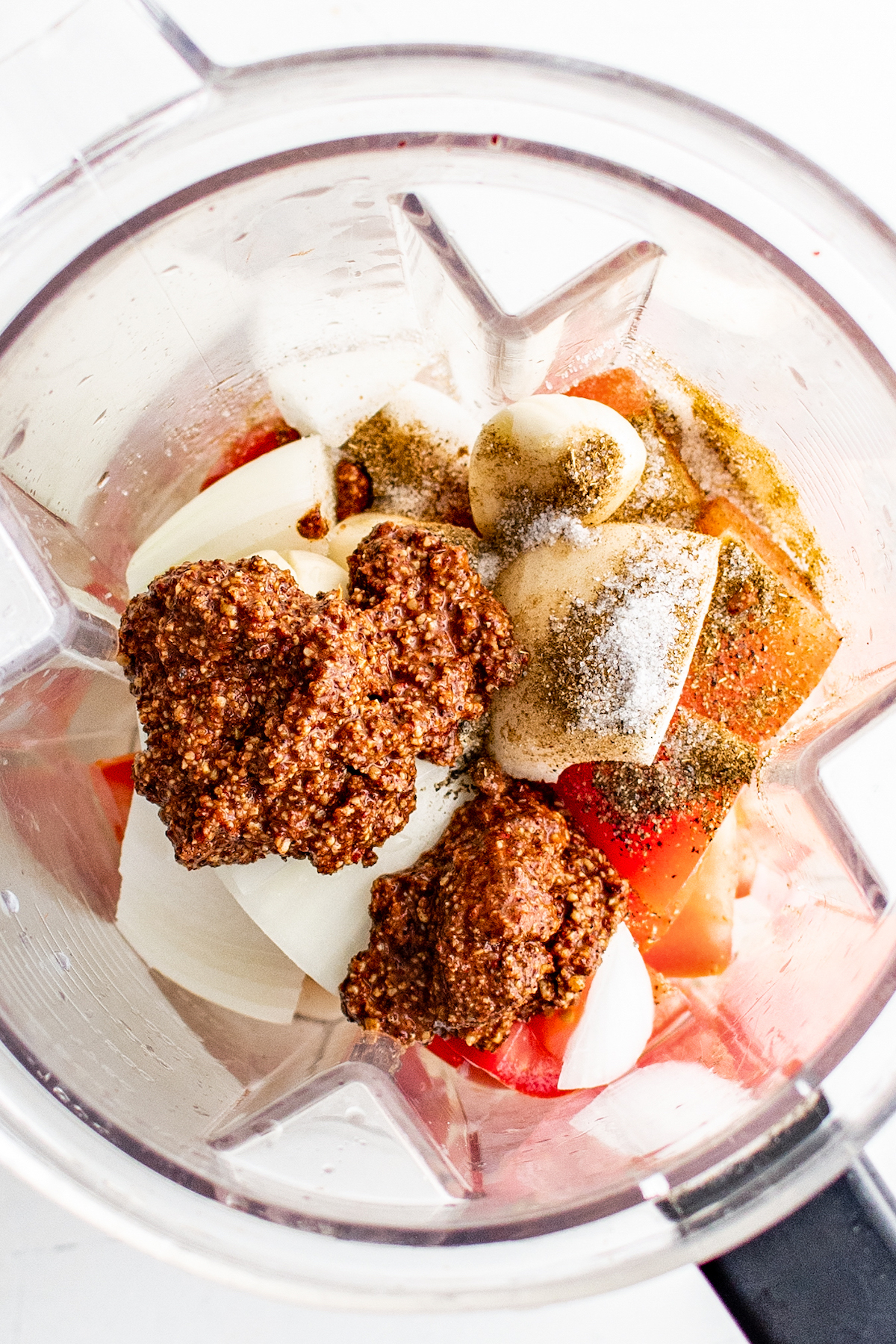 Make the marinade. Blend achiote paste, tomatoes, onion, garlic, lime juice, cumin, salt, and pepper until the mixture is smooth.
Marinate the chicken. Put chicken thighs in a ziplock bag, and then pour the marinade in. Squeeze as much air out of the bag as possible, and marinate in the fridge for a minimum of 3 hours.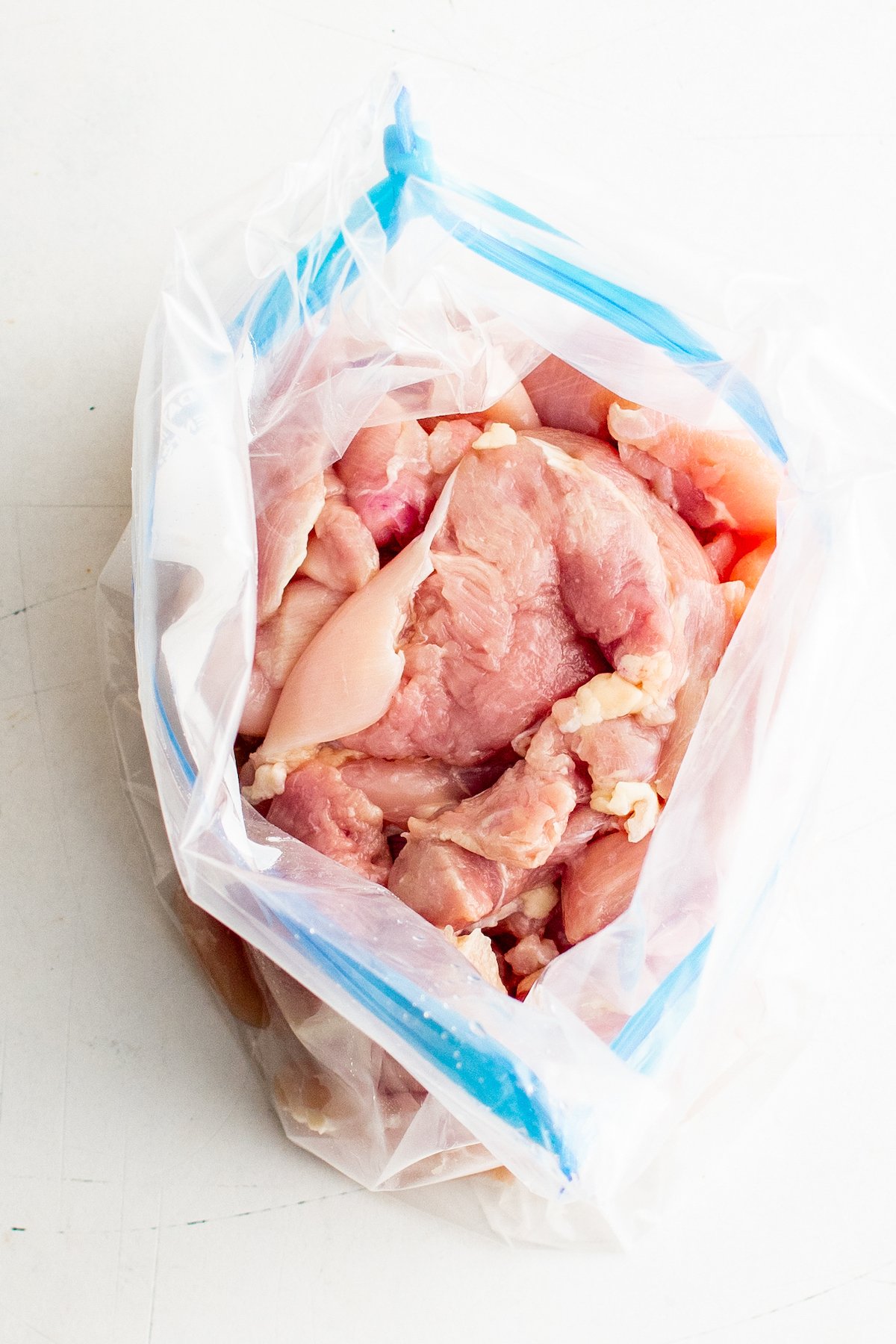 Cut the onion and garlic. When you're ready to cook the chicken, dice some onion and mince some garlic.
Cook the aromatics. Heat oil in a skillet over medium heat, then add the onion. Cook while stirring until translucent, about 5 minutes, then add the garlic and cook for 30 seconds.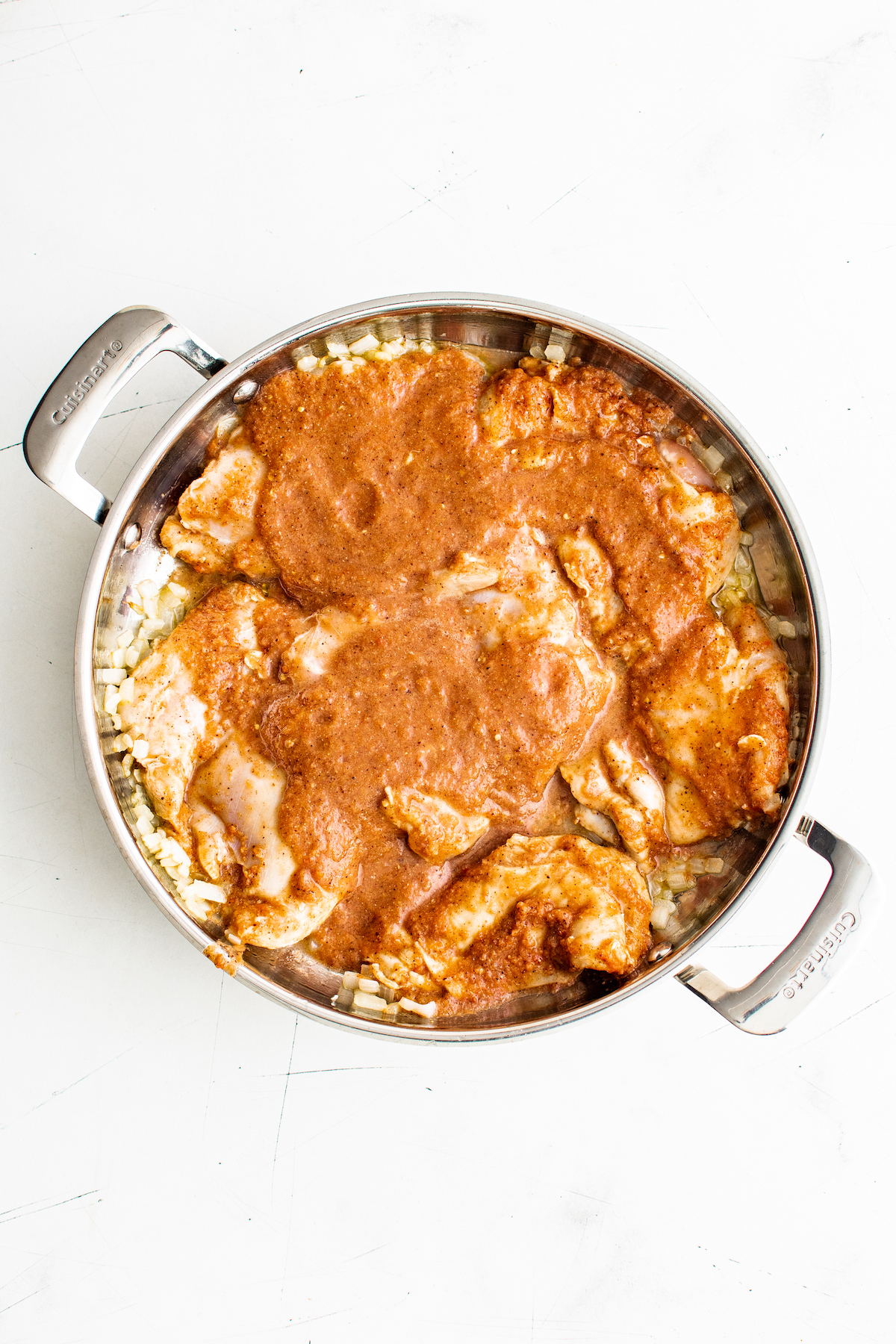 Cook the chicken. Add the chicken and the achiote marinade to the pan, and let it cook for 5 minutes. Flip the chicken over and cook for another 8-10 minutes, or until the sauce is thick and the chicken is cooked through.
Serve. Plate the chicken with your desired sides, and top with minced cilantro.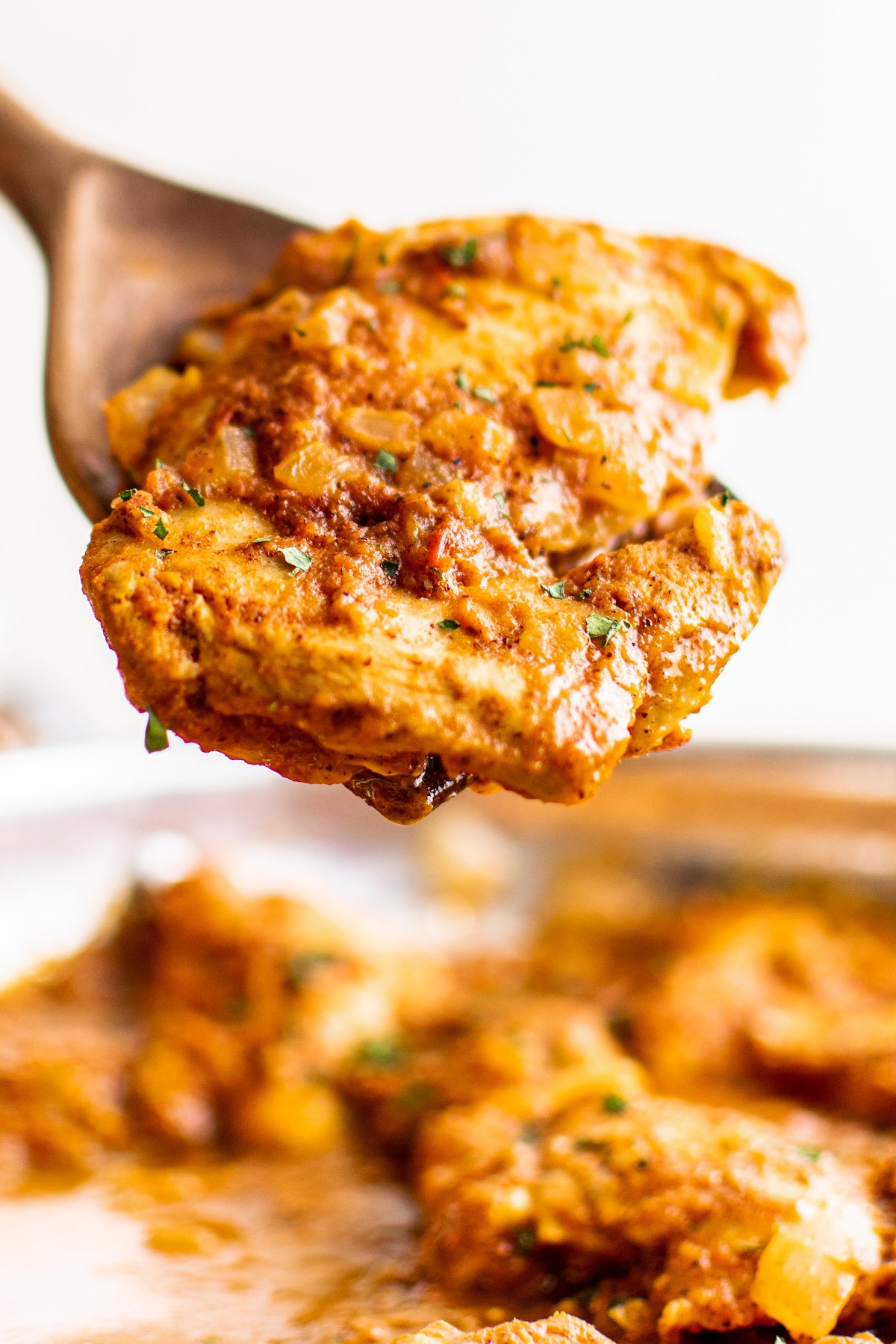 Tips for the Best Achiote Chicken
Here are a few pointers for making the best achiote chicken.
Marinate for a long time. The chicken should be marinated for at least 3 hours, but you can marinate it overnight and get an even better result. Marinating the chicken thighs overnight will infuse them with even more flavor, and make them more tender.
Use freshly-squeezed lime juice. The lime juice is an important part of this recipe, because the acid balances out the heat and the richness. For best results, use freshly-squeezed lime juice instead of pre-squeezed juice.
Be careful with the garlic. When sautéing the onions and garlic before cooking the chicken, be careful not to burn the garlic. Garlic burns easily and will leave an acrid flavor in the achiote chicken.
What To Serve With Achiote Chicken?
Wondering what to serve with your chicken adobo? Here are a couple of ideas that will soak up that delicious sauce!
Rice: I like to use Mexican Rice or Arroz Blanco, but pick your favorite! I also have an amazing recipe for Arroz Con Gandules, which is Puerto Rican yellow rice with pigeon peas.
Soup: Any light, broth-based soup will pair well with this chicken.
Vegetables: beans, plantains (while not traditional with Mexican cuisine, we love them with this dish anyways!), tostones, yuca, Calabacitas, a light side salad, Mexican Street Corn Salad, or any roasted vegetables.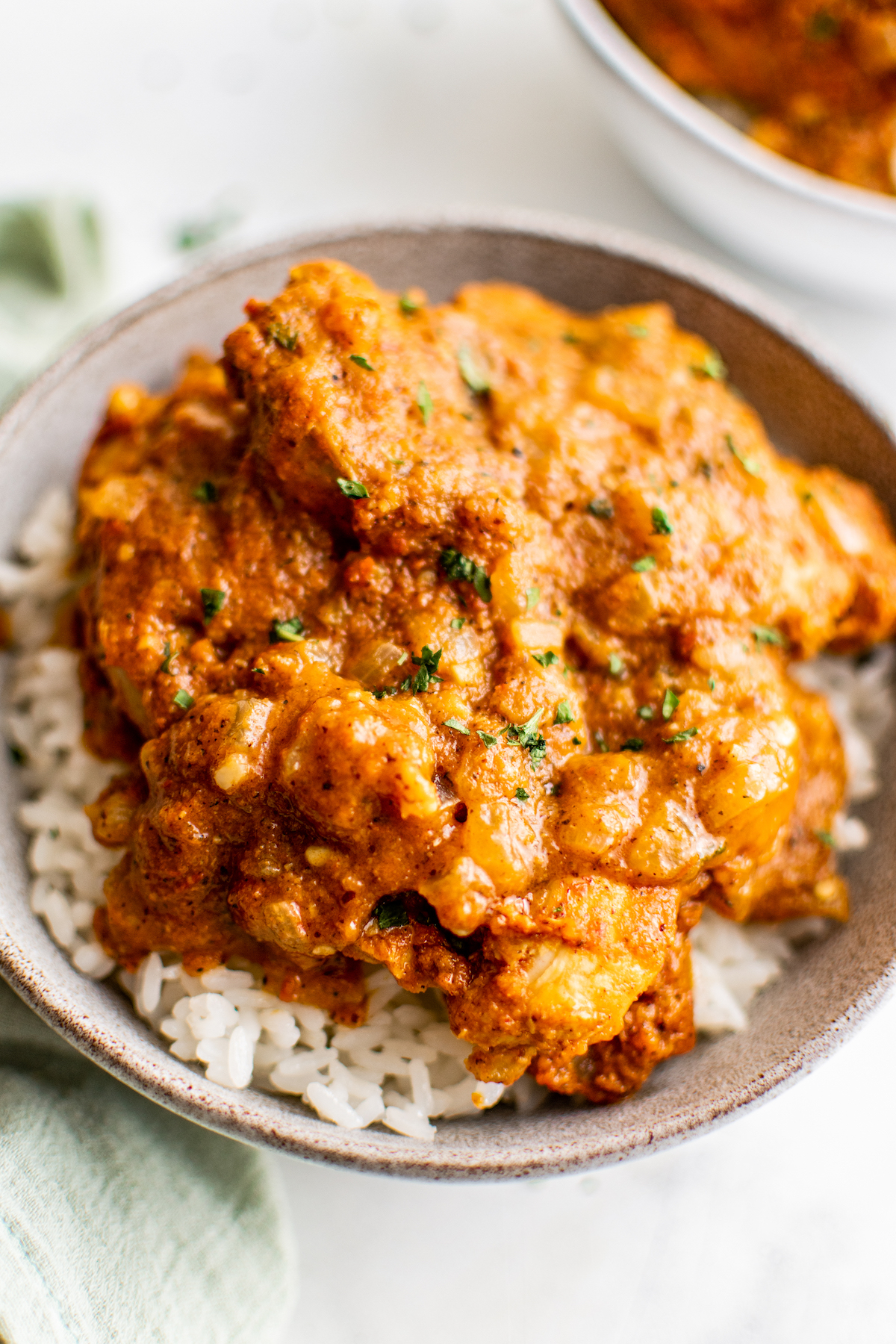 Variation Ideas
While this dish is delicious as is, there are a few changes you can make. These variations might make the achiote chicken better suited to you.
Crank up the heat. This dish isn't very spicy, but you can change that if you're looking for more heat. Add more achiote paste to the marinade, or add some cayenne pepper.
Use a crockpot. If you're a fan of crockpot cooking, then you can make this dish that way. Skip the marinade, and instead just add the chicken and the sauce to the crockpot, with some sautéed garlic and onions, and cook on low for 7 or 8 hours (or on high for 3 or 4 hours). I also like to sear my chicken before putting the thighs in.
Use sour orange juice. If you have sour oranges, or sour orange juice on hand, then you can use it instead of lime juice for a different flavor.
How to Store and Reheat Leftovers
Chicken achiote will last in the fridge for 5 days. Store it in an airtight container, and reheat in the oven or on the stovetop.
Can I Freeze Achiote Chicken?
Yes! Store the achiote chicken in an airtight container in the freezer for up to 3 months. Thaw in the fridge, then reheat.
Achiote Chicken
This achiote chicken recipe brings rich Mexican flavors to tender chicken thighs. Using a homemade achiote paste, this dish looks, smells, and tastes delicious.
Ingredients
3

roma tomatoes

,

cut into pieces

1

white onion

,

divided

¼

cup

lime juice

,

freshly squeezed

3

tablespoons

achiote paste

3

cloves

garlic

,

peeled and divided

1

teaspoon

cumin

1

teaspoon

salt

½

teaspoon

freshly ground black pepper

8

boneless

,

skinless chicken thighs

1

tablespoon

olive oil

Cilantro

,

optional garnish
Instructions
Add the tomatoes, half of the onion, lime juice, achiote paste, 2 cloves of the garlic, cumin, salt and pepper to a large blender (or food processor) and blend until smooth.

Add the chicken to a large ziplock bag, then pour in the marinade and push as much air out of the bag as possible then seal. (You can also place the chicken in the marinade in a large bowl and cover with a lid or saran wrap.)

Let it marinate in the fridge for at least 3 hours, or overnight.

About 10 minutes before cooking the chicken, dice the remaining half onion and finely mince the last clove of garlic.

Heat the oil in a large skillet, over medium heat, then cook the onion until translucent, about 5 minutes. Stir in the garlic and cook for 30 seconds, or until it becomes fragrant.

Add the chicken with the marinade to the pan and let it sit without moving the chicken for about 5 minutes.

Flip the chicken over and let mixture simmer for another 8-10 minutes, or until the sauce has thickened to your liking.

Serve the chicken over arroz blanco and garnish with freshly minced cilantro, if desired.
Notes
To store: Seal in an airtight container in the fridge for up to 5 days. Reheat in the oven.
To freeze: Seal in an airtight container in the freezer for up to 3 months. Reheat in the oven.
Nutrition
Serving:
1
,
Calories:
426
kcal
,
Carbohydrates:
7
g
,
Protein:
55
g
,
Fat:
21
g
,
Saturated Fat:
6
g
,
Polyunsaturated Fat:
15
g
,
Cholesterol:
273
mg
,
Sodium:
930
mg
,
Fiber:
1
g
,
Sugar:
3
g
Categories:
More Mexican Recipes
This post may contain affiliate links. Read my disclosure policy.