Kick off the holidays with this rich Cranberry Eggnog Bread Pudding with cranberries, eggnog, cinnamon, and a generous pour of buttery rum sauce!
The holidays are finally here and I couldn't be more thrilled. This should come as no surprise to any of you, but I have already started putting out some of my Christmas decorations around the house.
I am excited to be partnering with Handsome Brook Farm again to bring more delicious recipes your way. Today's recipe being this gorgeous and delicious Cranberry Eggnog Bread Pudding. It's the perfect holiday dessert for Thanksgiving, Christmas and New Years!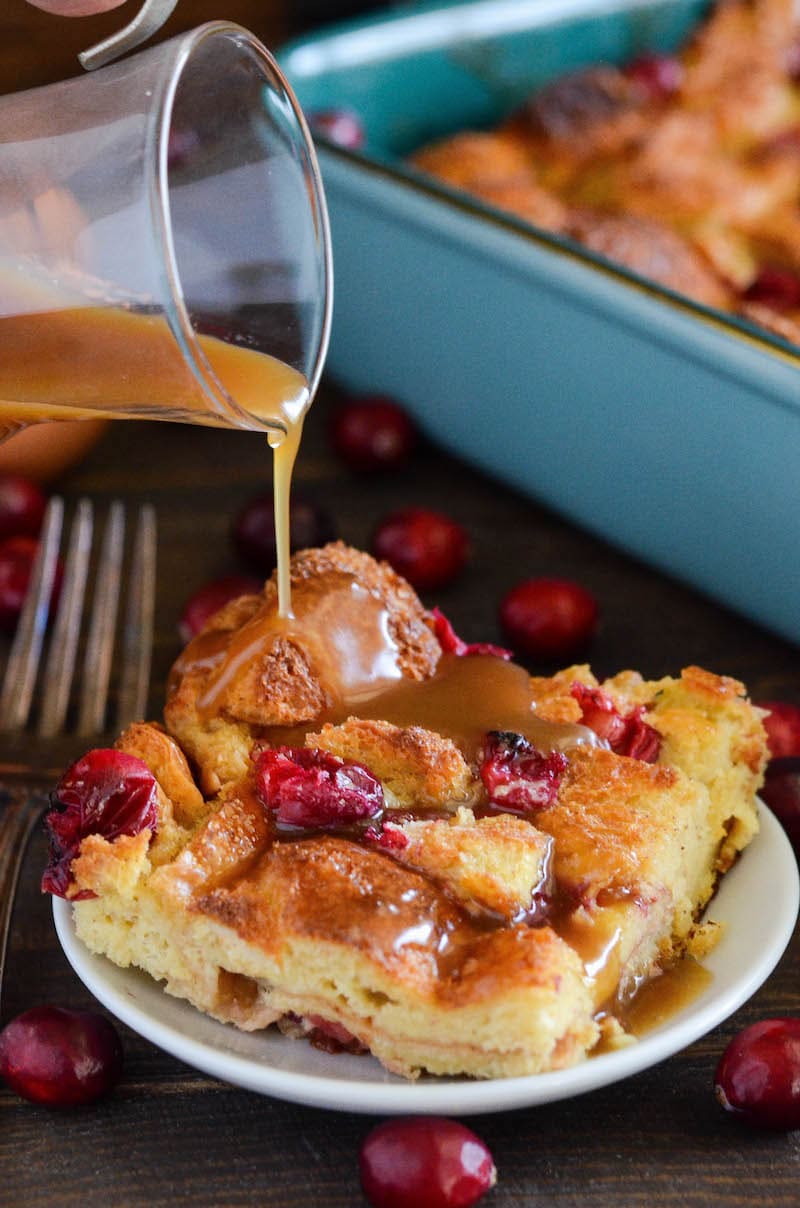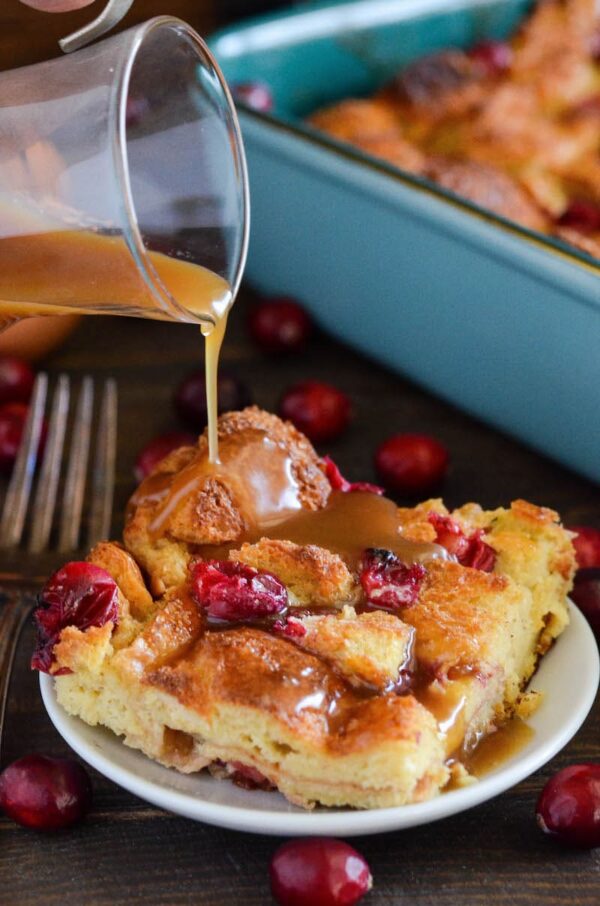 The Best Bread Pudding Recipe
The key to any amazing bread pudding is stale bread. I know it's a pain to remember to buy bread a few days ahead of time, but it truly makes all the difference in the world to the final product. If you use fresh bread, you will wind up with a super mushy bread pudding and it's just not the same.
Some people like to place their bread cubes in the baking dish and then pour the custard mixture on top. I find it best to mix it all in a bowl and let it soak first before transferring it to the baking dish. It creates a more even bread pudding!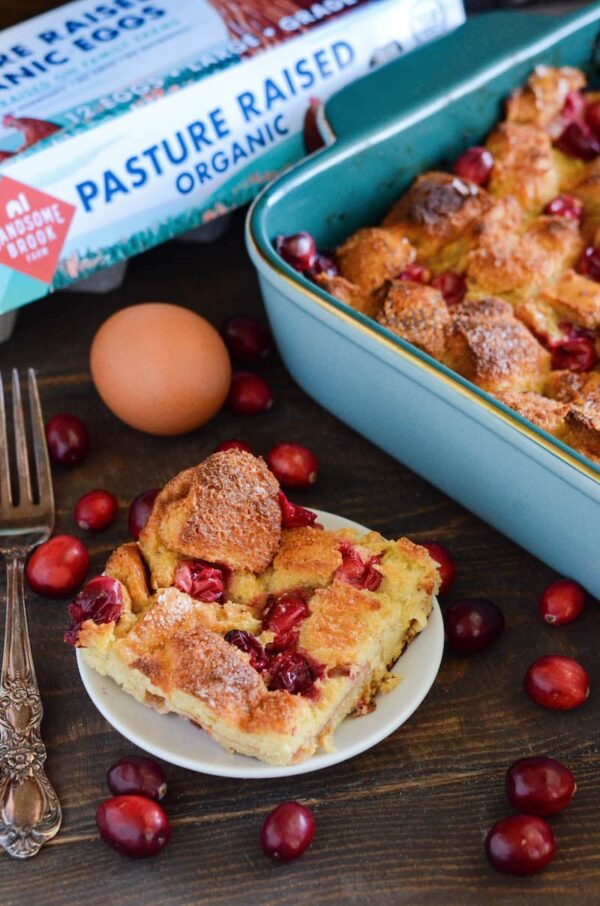 The other key to a good bread pudding are the cream (in this case eggnog) and eggs to create a great custard base. I used my favorite gorgeous organic pasture raised eggs from Handsome Brook Farm. Their rich dark golden orange yolks make the best custard!
Handsome Brook Farm are pioneers in organic pasture raised eggs. The American Humane certifies that their hens get at least 108 square feet per chicken (which is 50x more space than a "free range" chicken) and their pastures are rotated.
Handsome Brook Farm eggs are USDA Certified Organic, American Humane Certified, pasture raised, have no pesticides, no hormones, no GMOS and no antibiotics. Ever.
And my favorite part about Handsome Brook Farm? They are not a large factory farm. Handsome Brook Farm is a unique supply network made up of small, organic family farms. How cool is that?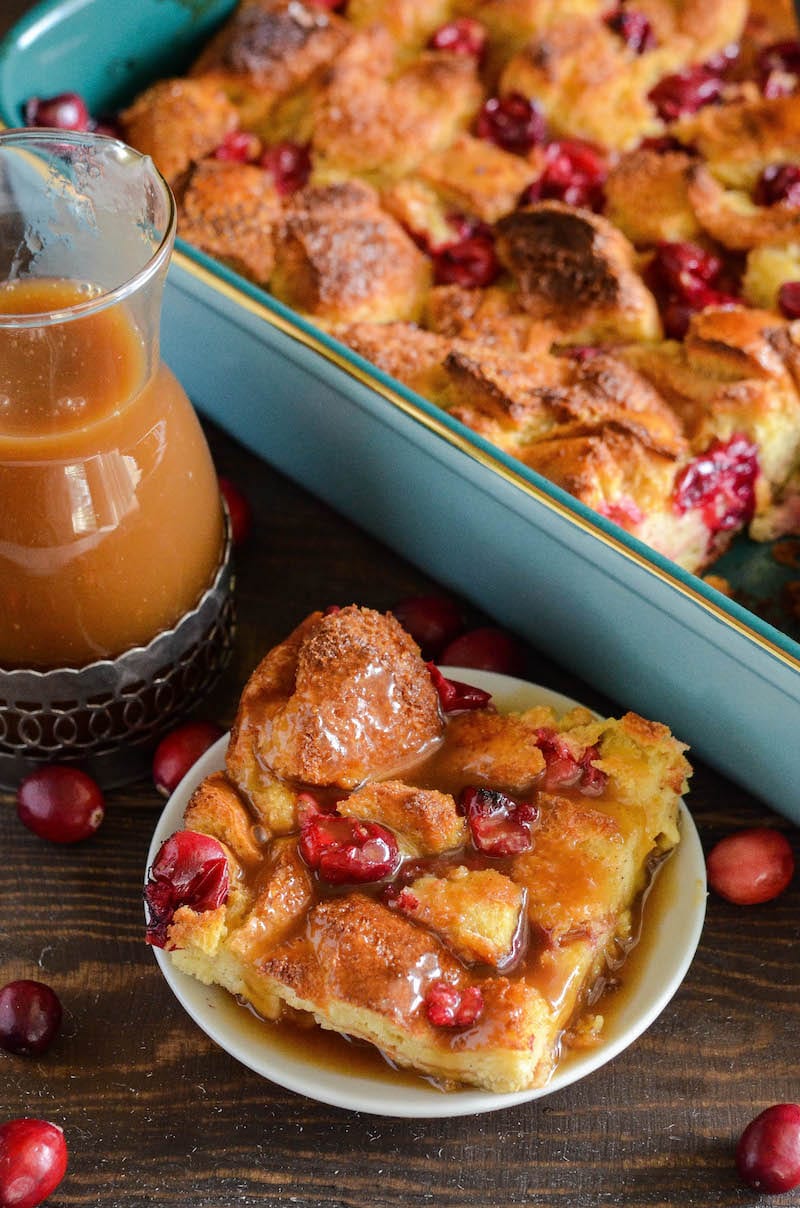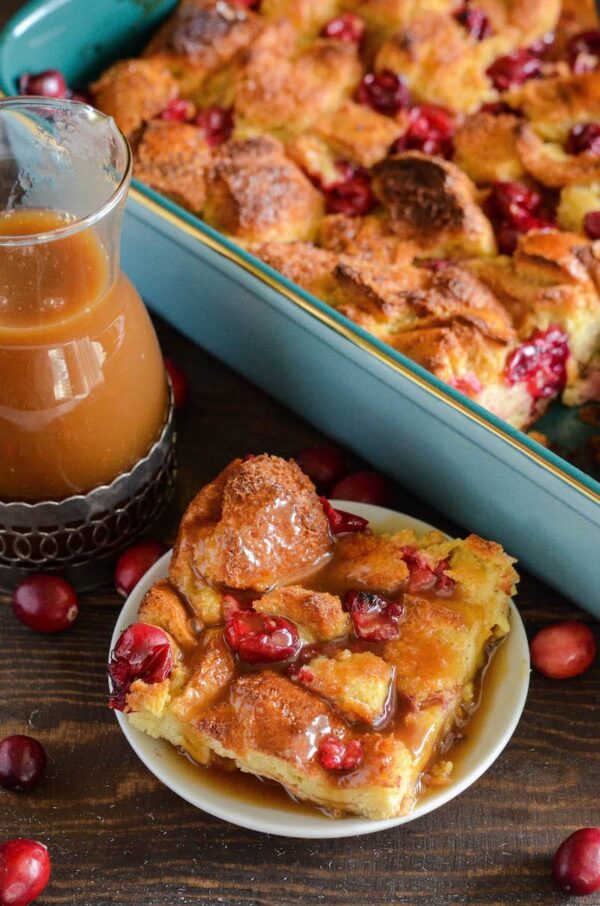 Easy Holiday Dessert
To take this Cranberry Eggnog Bread Pudding to the next level, I topped it with a very generous pour of my favorite buttery rum sauce. If you aren't a rum dessert fan, a couple of good swaps would be amaretto or brandy.
While cooking, the alcohol does cook off – so this sauce is perfectly safe for kids to share too! However, if you would prefer not to use alcohol, I would add vanilla extract and orange juice in place of the alcohol.
I hope you try this Cranberry Eggnog Bread Pudding for the holiday with your family. It is super easy to make and oh so delicious!
I love the bright little pops of fresh tart cranberries mixed in among the sweet eggnog pudding. Not only do they make it gorgeous, but they really make it feel like the holidays.
Cranberry Eggnog Bread Pudding
Kick off the holidays with this rich Cranberry Eggnog Bread Pudding with cranberries, eggnog, cinnamon, and a generous pour of buttery rum sauce!
Ingredients
5

large Handsome Brook Farm's Pasture Raised Organic Eggs

2 ½

cups

eggnog

3

tablespoons

spiced rum

,

optional (amaretto or brandy also work great!)

¼

cup

granulated sugar

1

tablespoon

vanilla extract

1

teaspoon

cinnamon

½

teaspoon

salt

1

loaf stale french bread

,

cubed

1 ½

cups

fresh cranberries

Buttery Rum Sauce

½

cup

1 stick unsalted butter

1

cup

packed light brown sugar

½

cup

heavy cream

2

tablespoons

spiced rum
Instructions
Preheat oven to 375°F. Butter a 9×13 casserole dish.

In a large bowl, whisk together eggs, eggnog, rum, sugar, vanilla extract, cinnamon and salt. Fold in bread cubes and cranberries and let soak for 15 minutes.

Transfer the bread pudding mixture into the prepared casserole dish. Bake for 40 to 45 minutes, until the top is golden brown and springs back when lightly tapped (the pudding should be puffy but firm).

Remove from the oven and allow to cool so that it solidifies before serving. I like to serve it still warm.

While the bread pudding is cooling, make the rum sauce. Combine the butter and brown sugar in a small saucepan. Heat over medium heat, stirring often, until smooth.

Add the cream and rum and bring to a simmer. Simmer for 5 minutes, stirring often. Remove from heat and let cool for 10 minutes.

Serve bread pudding warm, drizzled with buttery rum sauce.
Nutrition
Serving:
1
,
Calories:
308
kcal
,
Carbohydrates:
47
g
,
Protein:
8
g
,
Fat:
8
g
,
Saturated Fat:
4
g
,
Polyunsaturated Fat:
3
g
,
Cholesterol:
59
mg
,
Sodium:
418
mg
,
Fiber:
2
g
,
Sugar:
27
g

This post may contain affiliate links. Read my disclosure policy.