June 22, 2017
Low Carb Pancakes
Low Carb Pancakes: these gluten free, low carb pancakes, made with almond flour, are a delicious family approved breakfast when topped with butter and syrup!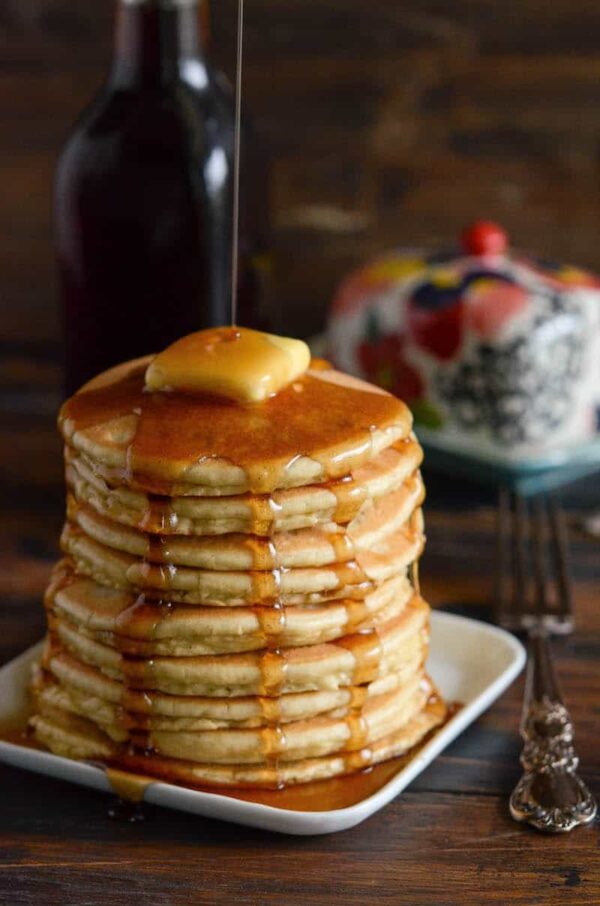 Jorge and I have been doing the low carb diet thing for a little while, but we were desperately missing our favorite Sunday breakfast — pancakes.
My families love of pancakes has been well documented on this blog over the years, but never has a recipe been considered low carb or healthy.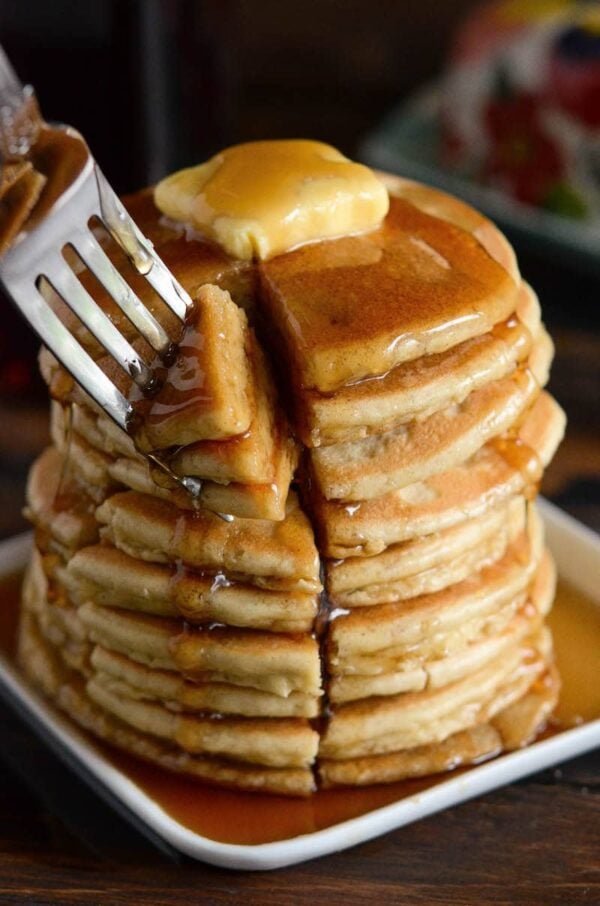 Jorge and I both sincerely missed pancakes on our lazy Sunday morning brunches at home. I was still whipping up pancakes for the girls for breakfast and the smell was slowly KILLING me.
So I started off on the hunt for a low carb pancake that we would love and look forward to eating. Boy, did we try some really bad pancakes.
I tried some with coconut flour that were horrid. I mean, truly horrid. Then I tried some where you whip egg whites into stiff peaks and add almond flour. They tasted like weird fluffy egg whites with syrup.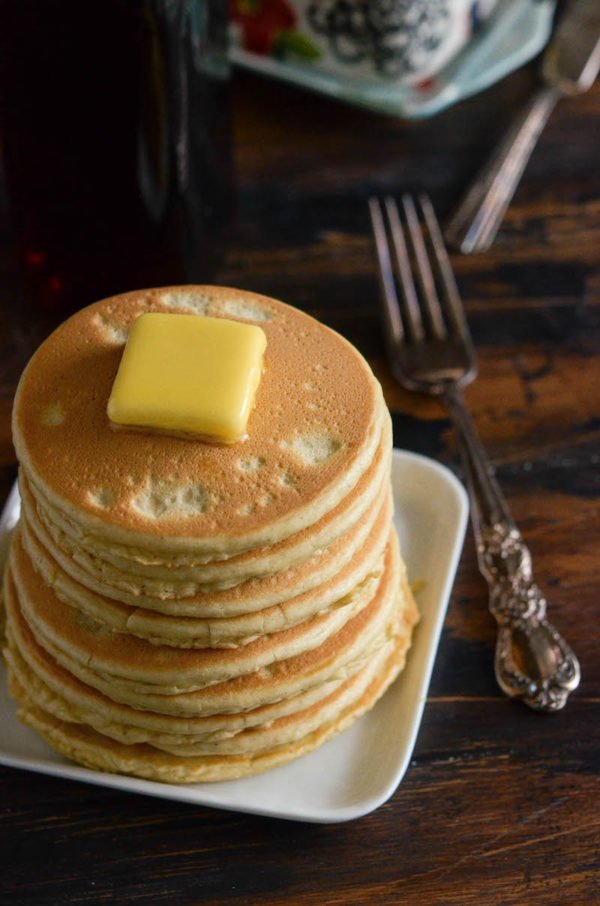 I eventually decided to try my own almond flour version based off regular pancake measurements. However, because it was made with almond flour and cream cheese, I threw it in the blender to smooth out the batter.
I nervously poured out enough batter for my first pancake and it looked pretty good. I took it out of the pan, slathered it with butter and hit it with a dab of (sugar free) syrup and JACKPOT.
Jorge seriously gobbled up the entire first batch before I had eaten more than a couple of bites myself! He was so impressed that these Low Carb Pancakes didn't taste like anything other than regular pancakes.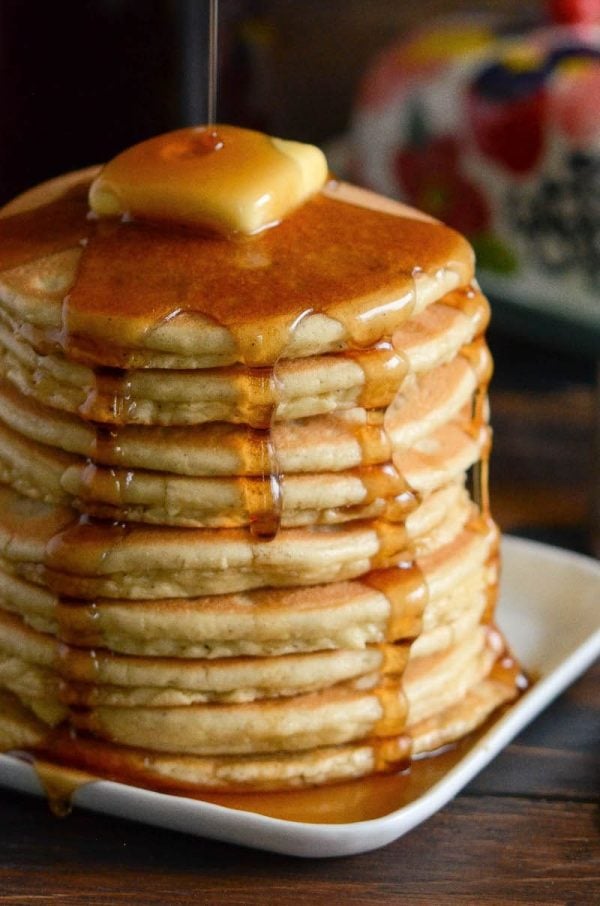 So I decided to try them out on my toughest critics, Ellie and Lyla. If two almost 3 year olds like them, then they pass the pancake test!
I topped their pancakes with butter and regular syrup and set them down without saying a word. They gobbled them up and were quickly trying to steal bites off of our plates!
These pancakes are a great healthier option to regular pancakes. They are gluten free, keto friendly and low carb. Watch the video to see how EASY they are to make!
You can make them with regular sugar for the kids and they are still a lot healthier than regular all purpose flour pancakes would be.
You have to give these Low Carb Pancakes a try! I promise they taste like actual pancakes!
Low Carb Pancakes
Low Carb Pancakes: these gluten free, low carb pancakes, made with almond flour, are a delicious family approved breakfast!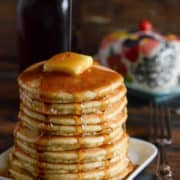 Ingredients:
2 large eggs
1 tablespoon water
2 oz cream cheese, cubed
2/3 cup almond flour
1 teaspoon baking powder
2 teaspoons vanilla extract
1/2 teaspoon cinnamon
1/2 teaspoon Sweetleaf - stevia sweetener (or 2 tablespoons regular sugar)
butter and syrup (sugar free syrup for low carb option)
Directions:
Add all ingredients to blender. Start with eggs and water and cream cheese so you don't have anything get stuck at bottom.
Blend until smooth, scraping down the sides if needed. Let batter sit for 2 minutes.
Heat a non-stick skillet to medium heat. For each pancake, pour 3 to 4 tablespoons of batter onto skillet.
Once you start to see little bubbles form, flip and continue to cook until pancake is browned on each side. Continue until you have used all pancake batter.
Serve pancakes topped with butter and syrup!
I am not a dietician, I just share recipes, so please calculate your own nutritional information using the nutrition labels on your products used. However, with the brands I used, an entire batch of these pancakes came out to 5 net carbs.   *update June 22nd, 2017, these appear to be closer to 6 net carbs if you use Philadelphia cream cheese, Blue Diamond Almond Flour and a sugar free (I make my own!) vanilla extract. However, again, I am not here to debate the nutrition, I am only here to share the recipe! Please calculate your own nutrition facts. 
Make sure you have a good super fine almond flour, not almond meal. Almond flour is blanched almonds ground into a super fine flour.
You can see the difference because almond meal has dark brown flakes and almond flour is a solid light color. This is my favorite almond flour*, I but it at Costco.
Also, to speed the process along, I like to cook my pancakes on a 2 burner griddle pan*. When you are feeding a 6'4 man and two hungry toddlers, it helps to be able to cook multiple pancakes at once!


*these are amazon affiliate links. If you buy through them, I get a small percentage of your purchase. Thank you for helping support my blog to keep more recipes coming!