Brown Butter, Brown Sugar Cookies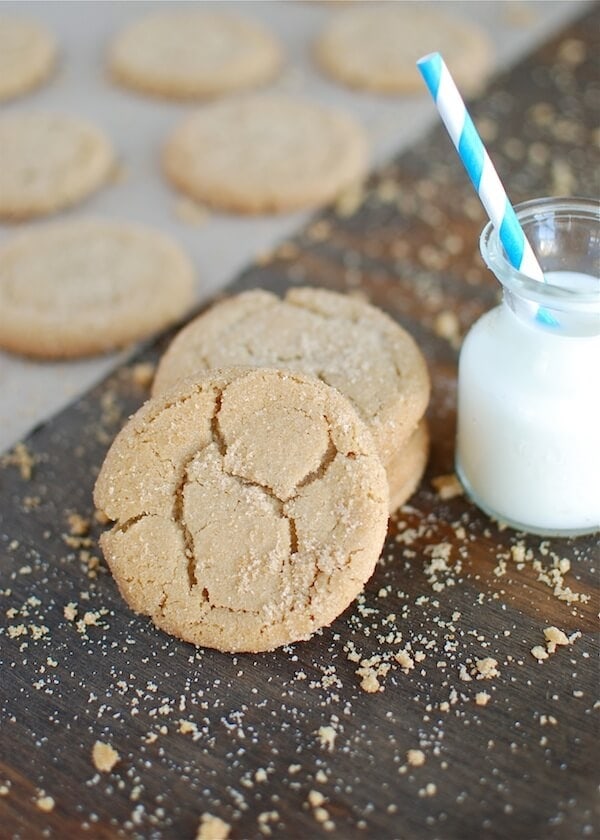 I love when readers tell me that I am obviously not as "novice" as my blog's name claims to be. And thankfully for all of us, it's true. I know my way around a kitchen these days. But when I tell you that wasn't always true, I mean it.
It used to take me for-freaking-ever to chop anything. ANYTHING. I had no idea what mince, dice, chop, or roughly chop actually meant. I just chopped everything the same, every single time. Cooking meat was a joke. Everything was cooked for so long, that I am sure it was classified as jerky. I was terrified of undercooked chicken and had no idea there were nifty little digital thermometers to help me out.
But one my worst "novice" experiences, by far, was my ignorance for Brown Butter. I heard people talk about this glorious "brown butter". They would say how wonderful it was…and how it would completely change the flavor of any recipe. They told me it added a glorious nutty flavor to blondies, or made the worlds most amazing buttercream, or could even be added to ice cream. So I was on the prowl, I had to find it. Immediately.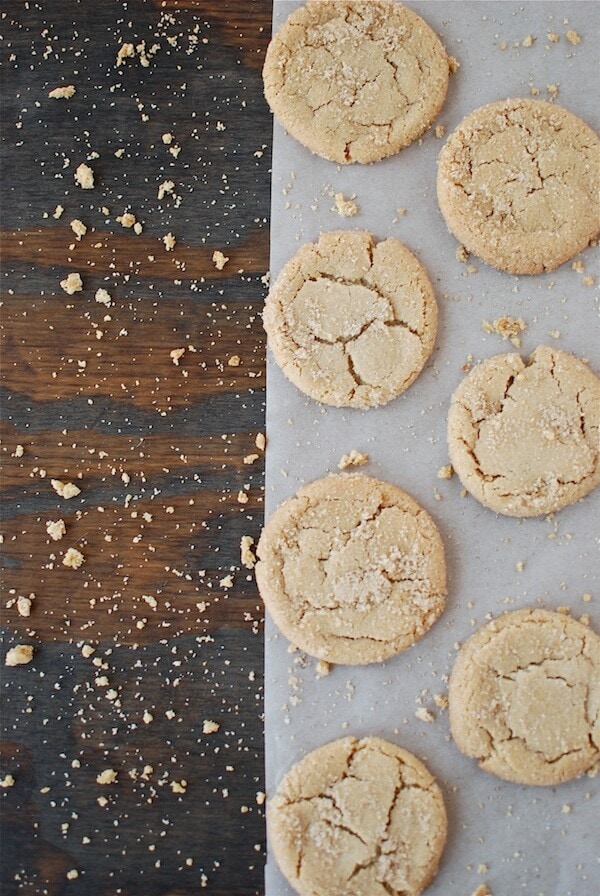 Publix. Whole Foods. Winn Dixie. The Fresh Market. At each store I would stand in front of the butter, staring. Eventually I would ask, "Do ya'll carry Brown Butter?". They would all help me look, ask the manager, and sadly turn me away. I left each store with determination to find it at the next…and then the next….and then the next. But I would leave each one empty handed, defeated, and a little more hungry.
Six months later, I found the gloriousness that is food blogs and I started TNCB. I began reading cookbooks, magazines, and other blogs, like I used to read trash novels. Then, one day while flipping through Gourmet, I saw a Brown Butter recipe. My eyes skimmed the recipe — not at all interested since I knew Brown Butter was like a glittery unicorn, a made up myth — but then I saw it. The first paragraph…
YOU MAKE BROWN BUTTER! What?! Dude. Seriously?? Do you know how much gas I wasted driving from store to store in my gas guzzling old mustang? If only I had read into the actual recipe…or googled it…I would have known that all I needed was plain old regular unsalted butter. I would have known I just had to toss it into a sauce pan and cook it…until it turns brown. That's it. That's all there was to this mystical "Brown Butter". It was literally butter that has been browned.
Little did I know, something so small and silly as cooking butter, was life changing. That's right. You heard it here first folks, Brown Butter is life changing!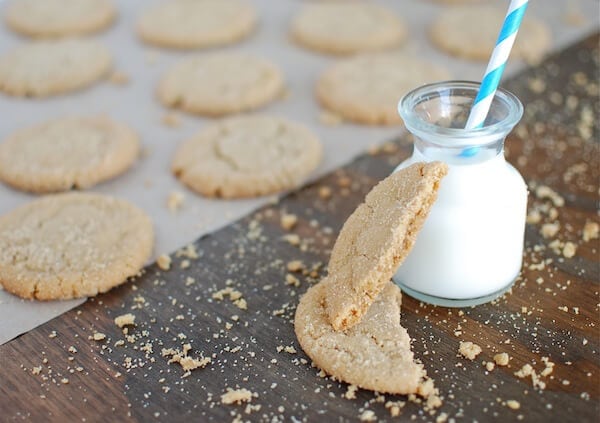 Brown Butter takes any recipe to the next level and that level is called pure amazingness. The nutty-ness, the depth of flavor, the creamy quality that still lingers…it just can't be described. So when you take a standard cookie dough, add browned butter and brown sugar, you get cookies worthy of the Pope. Or Buddha. Or Queen Elizabeth. Or me. Especially me. So please send me all your leftovers to my house! 😀
Brown Butter, Brown Sugar Cookies
I found this recipe in the back of an old cookbook at the library many years ago. It was on an old index card and was being used as a bookmark. I like to imagine the kitchens that little index card passed through…leaving these amazing cookies in their wake.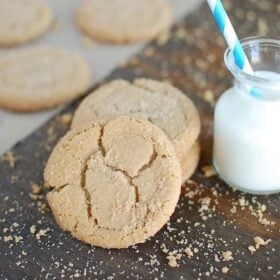 Ingredients:
8 tablespoons (1 stick) butter
1 cup unbleached flour, plus 2 tablespoons
1/4 teaspoon baking soda
1/8 teaspoon baking powder
1/2 teaspoon salt
1 cup packed brown sugar
1 large egg
2 teaspoons vanilla extract
2 tablespoons packed light brown sugar
2 tablespoons granulated sugar
Directions:
Heat butter in small saucepan, over medium heat, until melted. Continue cooking butter, whisking or swirling the pan as needed, until the melted butter takes on a light golden brown color. There will be small flakes of dark brown on the bottom of the saucepan. Remove butter from heat and transfer to a small bowl immediately. Let cool until the bottom of the bowl is no longer warm to the touch, about 20 minutes.
Preheat oven to 350 degrees and line a large baking sheet with parchment paper or a silpat.
In a shallow bowl, combine the 2 tablespoons brown and granulated sugar. I used my fingers, but you could also use two forks. Set aside. In a medium bowl, whisk together the flour, baking soda, baking powder, and salt. Set aside.
Add 1 cup brown sugar to bowl with cooled, browned butter and mix until combined. Add egg and vanilla and mix until combined and there are no lumps. Add flour mixture and mix until just combined.
Roll about 1 1/2 tablespoons of dough into a ball using your hands. Then toss the dough in the brown/granulated sugar mixture. Place on prepared baking sheet, leaving 2 inches between each cookie.
::Edit:: After some readers had some issues with flat cookies, I retested the recipe. I baked them immediately after rolling and they came out great. I also rolled some, put them in the fridge for 15 minutes, and then baked them…and those came out great too. If you are having issues, and you know your ingredients are fresh & your oven is the correct temp, try popping them in the fridge before baking.
Bake for 10-12 minutes, rotating the baking sheet halfway through. The cookies are ready to come out when the edges have just turned a light golden brown. They will appear underdone in the center…but they will be fine after resting!
Remove cookies from oven and let cool on baking sheet for 5 minutes before transferring to a wire rack. Let cool completely and store in an airtight container until ready to enjoy! I found they were the best after 12 hours of resting…if you can wait that long. 🙂