This incredible Blueberry Coffee Cake features a soft blueberry filled coffee cake center with a sweet cinnamon spiced crumb topping. Serve it with a cup of coffee or tea and it's the perfect pick-me-up to start the day!
Blueberry Coffee Cake
Are you looking for the perfect treat to enjoy with your warm cup of coffee each morning? If you want something sweet, moist, and delicious, this Blueberry Coffee Cake recipe is everything you need in your life. It's not a challenging recipe to follow, in fact it's pretty easy!
The Blueberry Coffee Cake is a versatile cake that you can eat for breakfast, as a quick snack between meals, or even for dessert after your dinner. If you serve it warm with a scoop of ice cream after dinner, I promise your guests will be begging for a second slice!
This coffee cake contains fresh blueberries and other flavorful ingredients, including vanilla and cinnamon, to create an undeniably delicious treat. The cinnamon crumb topping sprinkled around on top really makes it truly addicting! So, what are you waiting for? Gather your ingredients and let's get started!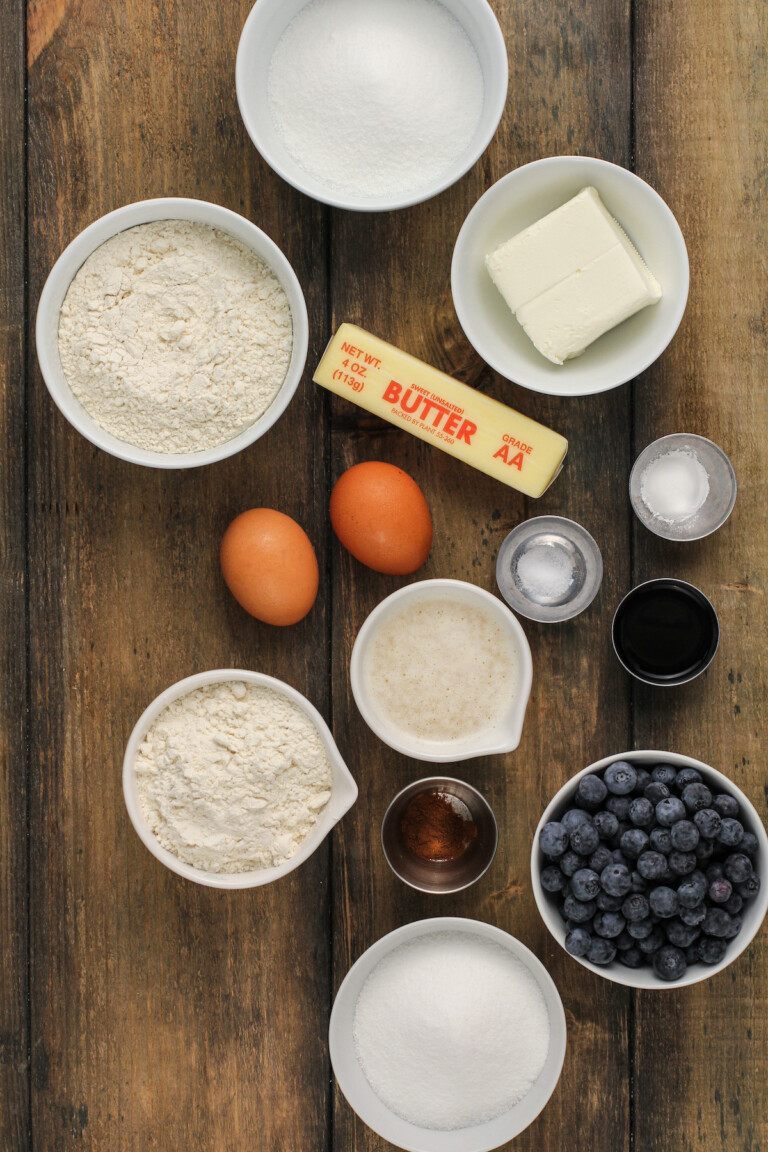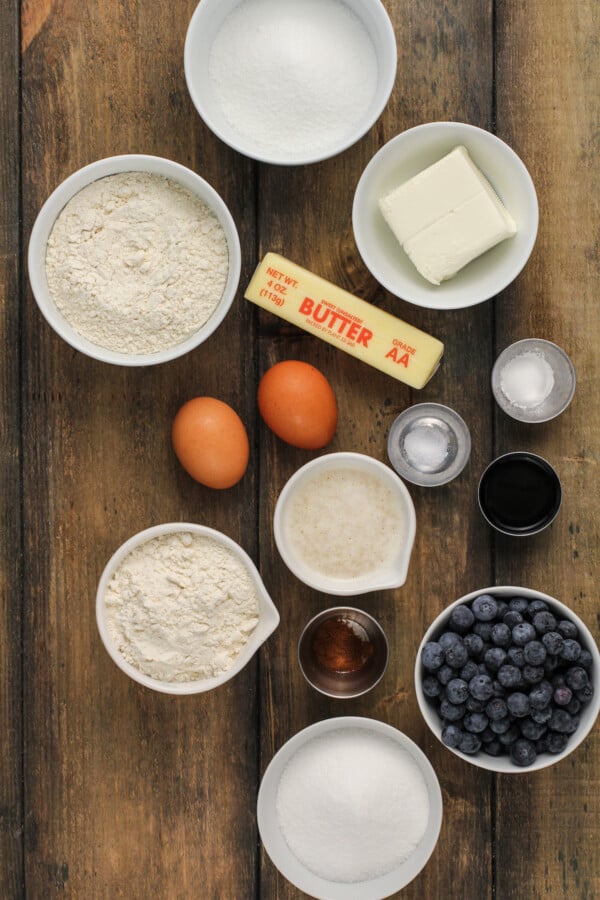 Blueberry Coffee Cake Ingredients
The Blueberry Coffee Cake consists of several fresh ingredients that create something magnificent when combined, including:
Blueberry Coffee Cake:
All Purpose Flour
Baking Powder
Salt
Cream Cheese: Make sure your cream cheese reaches room temperature to soften before you use it as well.
Butter: Leave the butter out of the fridge to allow it to reach room temperature before using it, otherwise your batter will end up lumpy.
Granulated Sugar: you can also use light brown sugar, but don't pack the measuring cup.
Eggs
Vanilla Extract
Fresh Blueberries: Use a cup of fresh, clean blueberries. Make sure you're rinsing them off in the sink before you add them to the cake batter.
Streusel Topping
All Purpose Flour
Granulated Sugar
Cinnamon: a little pinch of nutmeg is also a great addition!
Butter: you want to melt the butter to easily make your streusel.
How to Make Blueberry Coffee Cake
Prepare: Preheat oven to 350°F. Butter a 9×9 inch square baking pan. Line the bottom of the pan with parchment paper and butter the parchment paper as well. Set aside.
Streusel Topping: Start by making streusel topping. In a medium-sized bowl, whisk together flour, sugar, and cinnamon. Add melted butter and use a fork or your fingers to press the butter into the flour mixture, until it is crumbly and the size of peas.
Dry Ingredients: In a medium bowl, whisk together flour, baking powder and salt. Set aside.
Beat: In stand mixer, beat together cream cheese, butter and sugar until light and fluffy, about 2 minutes. Add eggs one at a time, thoroughly mixing each time. Add vanilla extract, mixing until combined.
Combine: Pour flour mixture over the batter mixture. Using a large rubber spatula, gently fold in the flour until it's completely mixed in and there are no pockets of dry flour. Lastly, gently fold in the blueberries.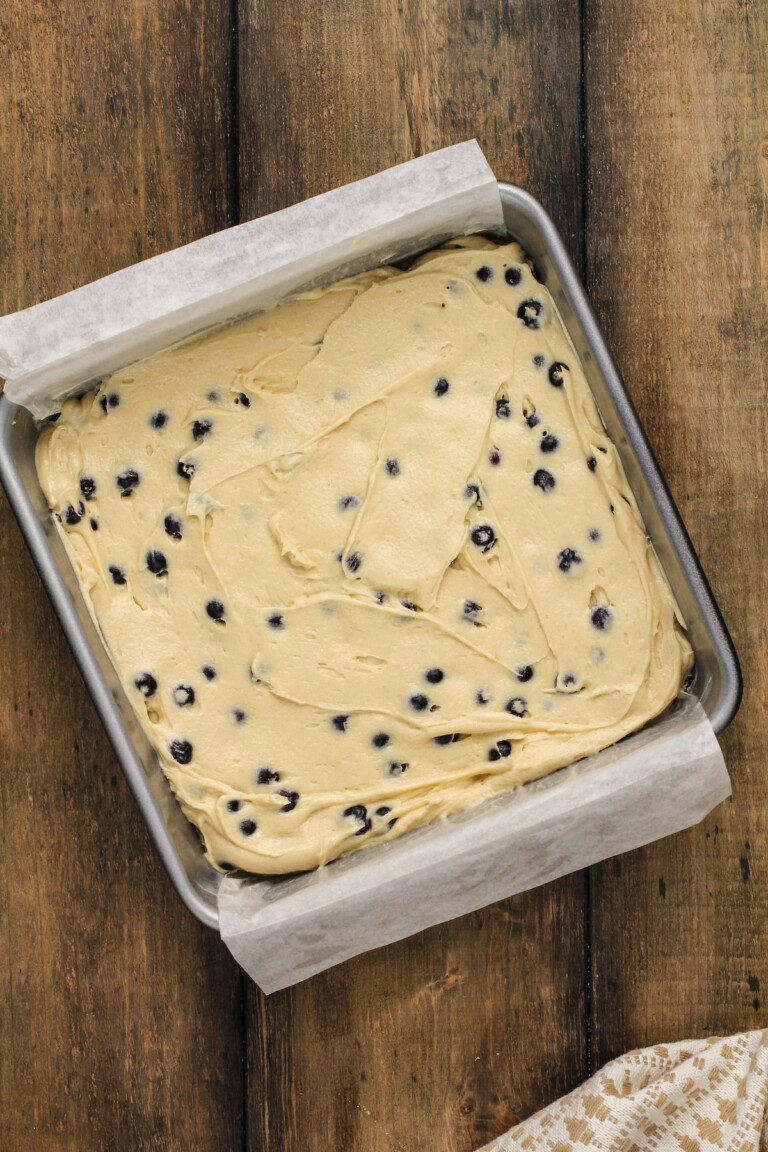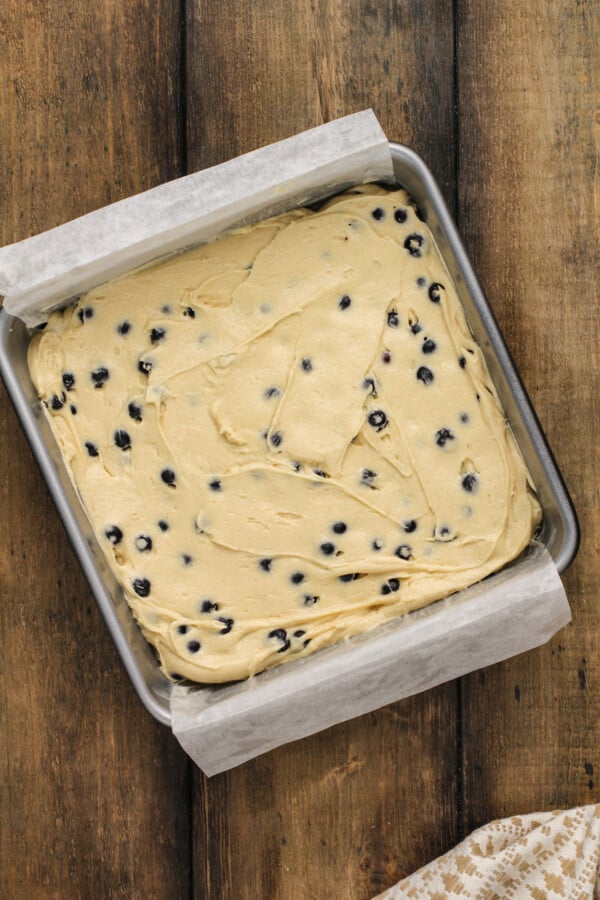 Transfer: Transfer batter to prepared baking loaf pan. Top batter with prepared streusel topping and spread into an even layer. Gently press into top of cake with your hands.
Bake: Bake for 45 minutes, or until a toothpick inserted in the center comes out clean. Let sit until cool, at least 30 minutes, and then remove from pan and slice/serve as desired.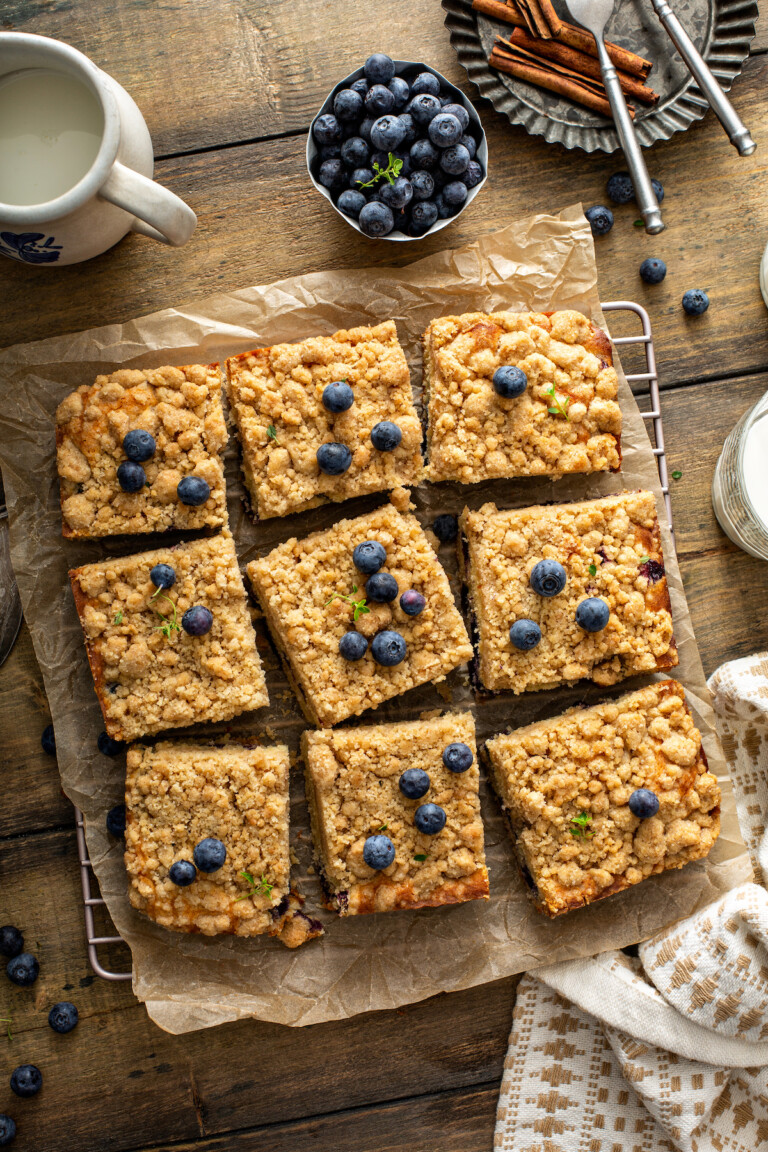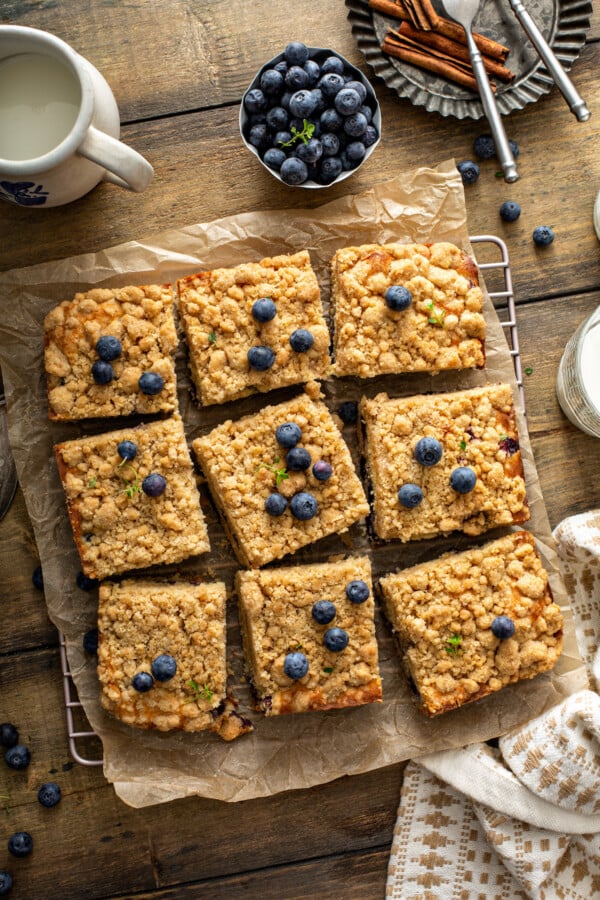 Variations to Try
This is a wonderful base recipe for a soft and tender coffee cake with a cinnamon crumb topping. You can switch it up with the below flavor ideas:
Lemon Blueberry Coffee Cake:

If you love the way that blueberries taste when paired with a bit of lemon juice, you can add some lemon juice to your cake mixture and lemon zest to the streusel topping. The citrus flavor adds something extra to the incredible coffee cake.

Cranberry Orange Coffee Cake: Swap the blueberries for fresh cranberries and one to two tablespoons of orange zest.
Chocolate Chip Blueberry Coffee Cake:

Add a hint of chocolate to your Blueberry Coffee Cake. You can toss a few chocolate chip morsels into the cake mixture and even sprinkle a few mini chocolate chip morsels in with the streusel mixture. Nothing tastes quite as good as chocolate with blueberries! You can't go wrong when trying this tasty variation of the cake.

Strawberry Blueberry Coffee Cake

: Combine two fruits into one with fresh blueberries and strawberries. They'll taste great together to create a fruit-filled coffee cake that you'll like to eat for breakfast or dessert.

Blueberry and Banana Coffee Cake:

Add a bit of mashed bananas to your cake batter when preparing your coffee cake. The flavor of the banana tastes great with the fresh blueberries, the cinnamon streusel, and the vanilla extract added to the cake batter!
You can also create a glaze to go on top of your Blueberry Coffee Cake and the streusel. If you'd like to make a glaze, combine equal parts of heavy cream or milk with confectioners' sugar and vanilla extract. The sweet glaze offers an added touch to a sweet treat that already tastes great.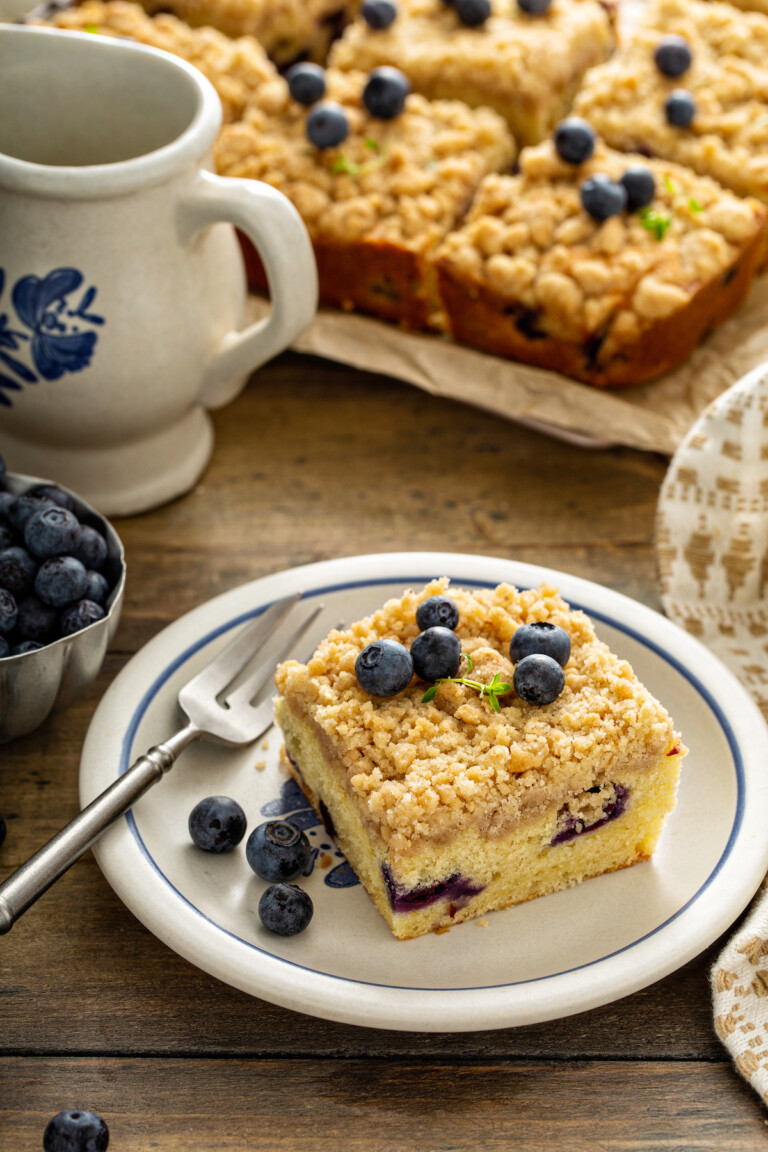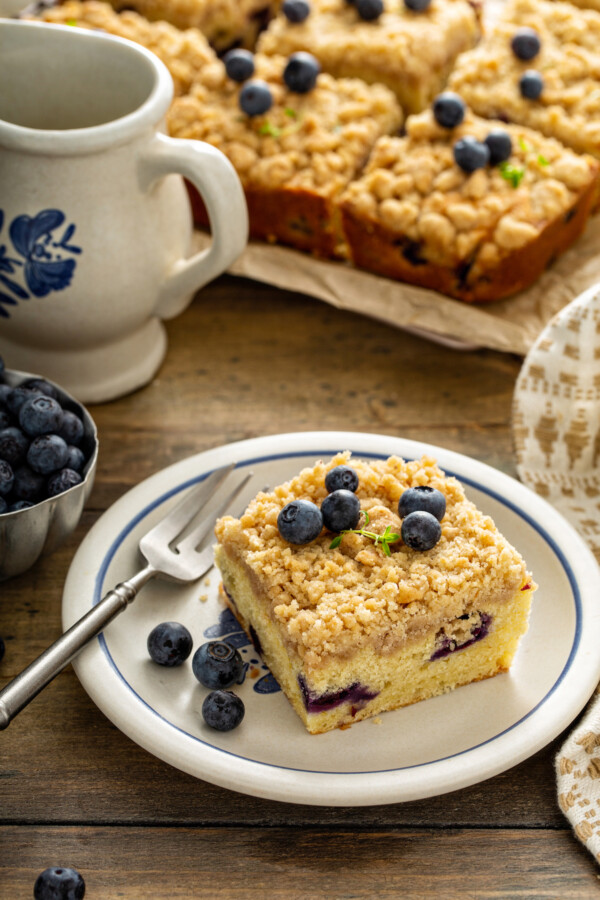 Tips for Success
Preheat.

Preheat your oven to 350°F before you get started. If you preheat the oven while you're preparing the cake batter and assembling everything, it'll be as hot as you need it to be when it's time to put the cake pan in the oven.

Streusel:

Easily prepare the streusel by combining the flour with butter and mashing it together using a fork. You can keep mixing the ingredients with the fork until you have a pebble-like streusel to add to your coffee cake.

Toothpick Test:

Use a toothpick to check the center of your cake to see if it's done. It takes roughly 45 minutes to bake the Blueberry Coffee Cake, but the total time may vary based on the size of the oven and other factors. If you want to make sure it's done, place a toothpick in the center to check.

Browning On Top: If your streusel topping starts getting too brown, you can cover the coffee cake loosely with a piece of foil. This will make sure your coffee cake doesn't brown too quickly on top. I didn't need to cover mine, but it's always a good tip since all ovens are different!
Let It Cool:

Don't slice the cake as soon as you pull it out of the oven. You may feel tempted to cut into it and eat it right away, but let the cake chill for at least 30 minutes before slicing into it to keep it from falling apart. You should be able to easily remove it from the pan within 30 minutes.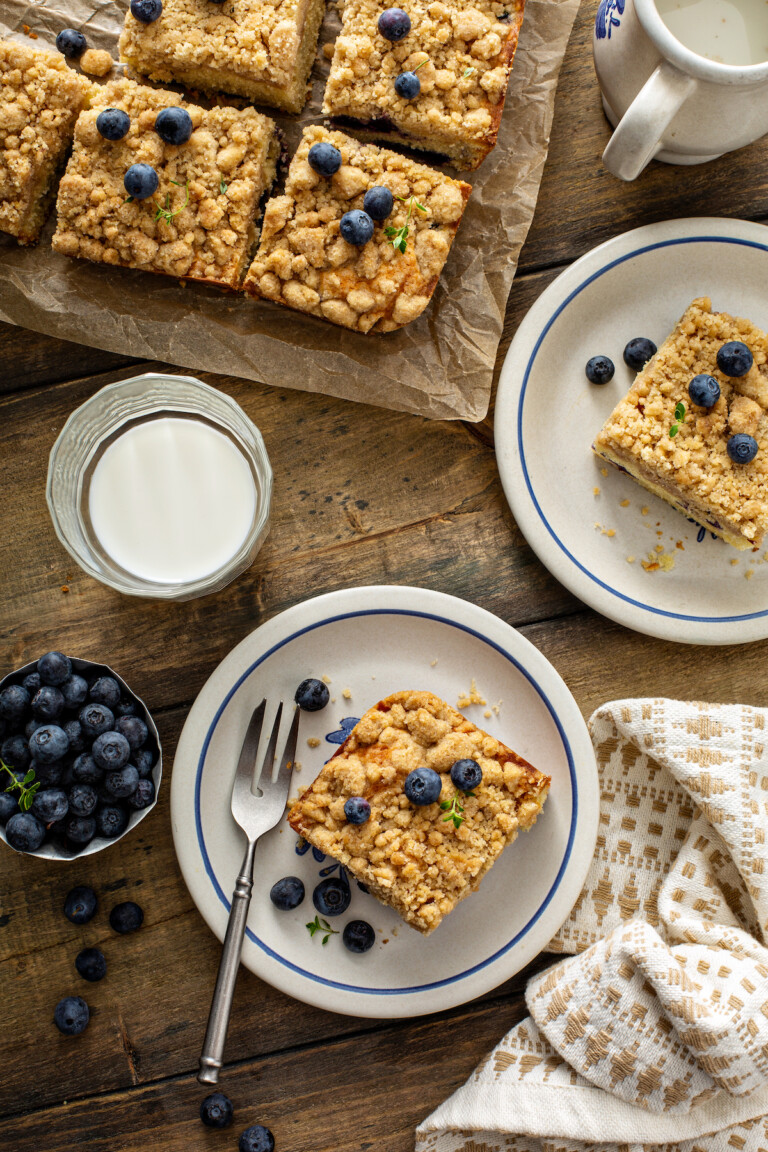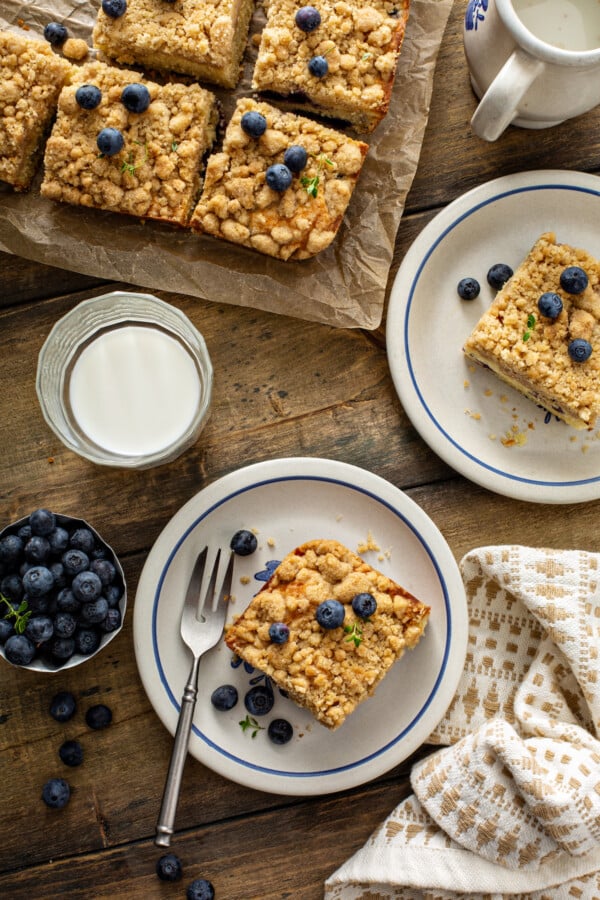 Serving Suggestions
The Blueberry Coffee Cake recipe makes enough coffee cake for up to eight people to enjoy a slice of it. If you'd like to make more of this coffee cake, be sure to double the recipe. Of course, if you're doubling the recipe, you'll need to use a larger 9×13 baking pan.
If you do not have a 9×13 baking pan, you can also use multiple baking pans to create several Blueberry Coffee Cakes. You might even decide to make different variations of it at once to have throughout the week.
After you've allowed the Blueberry Coffee Cake to cool down completely, cut it into individual serving slices and wrap each slice in plastic wrap. Place the sliced cake in a food storage container and put it in the fridge to keep it fresh. You may also freeze the cake for up to three months if you need to save it for later.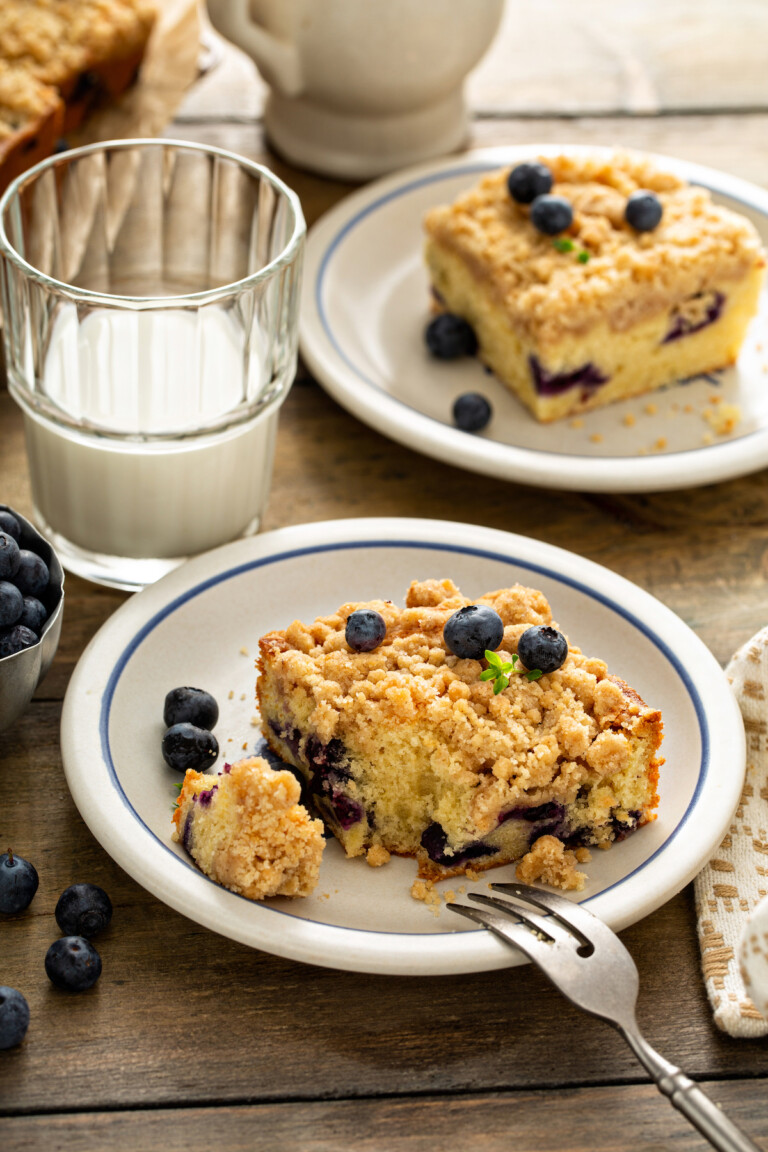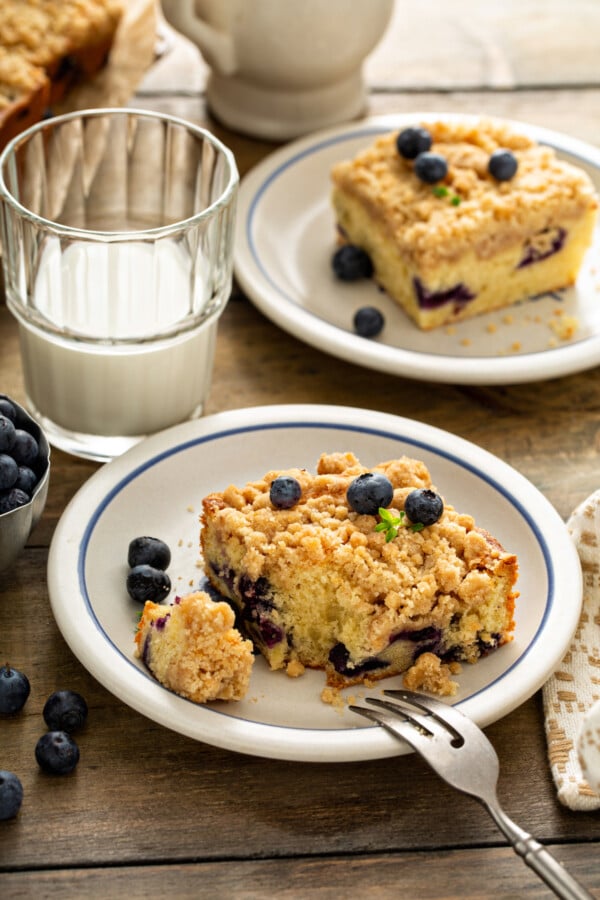 Head on over to Dixie Crystals to get the full recipe I developed for them by clicking the button below:
This post may contain affiliate links. Read my disclosure policy.