Looking for a sweet burst of energy on a hot day? These gorgeously layered Brown Sugar Oat Milk Espresso Popsicles are a sweet and delicious frozen treat with just the right amount of caffeine kick in them!
*This recipe is sponsored by Dixie Crystals!*
What Are Espresso Popsicles?
These epic Brown Sugar Oat Milk Espresso Popsicles are a heavenly little dessert for adults of all ages. If you have ever had the Starbucks drink version of this little popsicle, you know you are in for quite a treat. Made with oat milk and espresso, they are gluten free, dairy free, and vegetarian. It's like having your morning cup of coffee on a stick!
With a combination of espresso, oat milk, a little vanilla, brown sugar, and cinnamon, you will get a sweet and addicting popsicle. They are similar to the Starbucks brown sugar oat milk shaken espresso that is super popular, but in a fun popsicle form! It's still insanely hot here in Florida and we have been enjoying these for the past few weeks!
I love these espresso popsicles because they are great for the dog days of summer. You can easily whip them up and pop them out when you need a quick pick me up, but don't want to drink anything hot. They make the perfect pool side treat while I sit and watch the kids swim!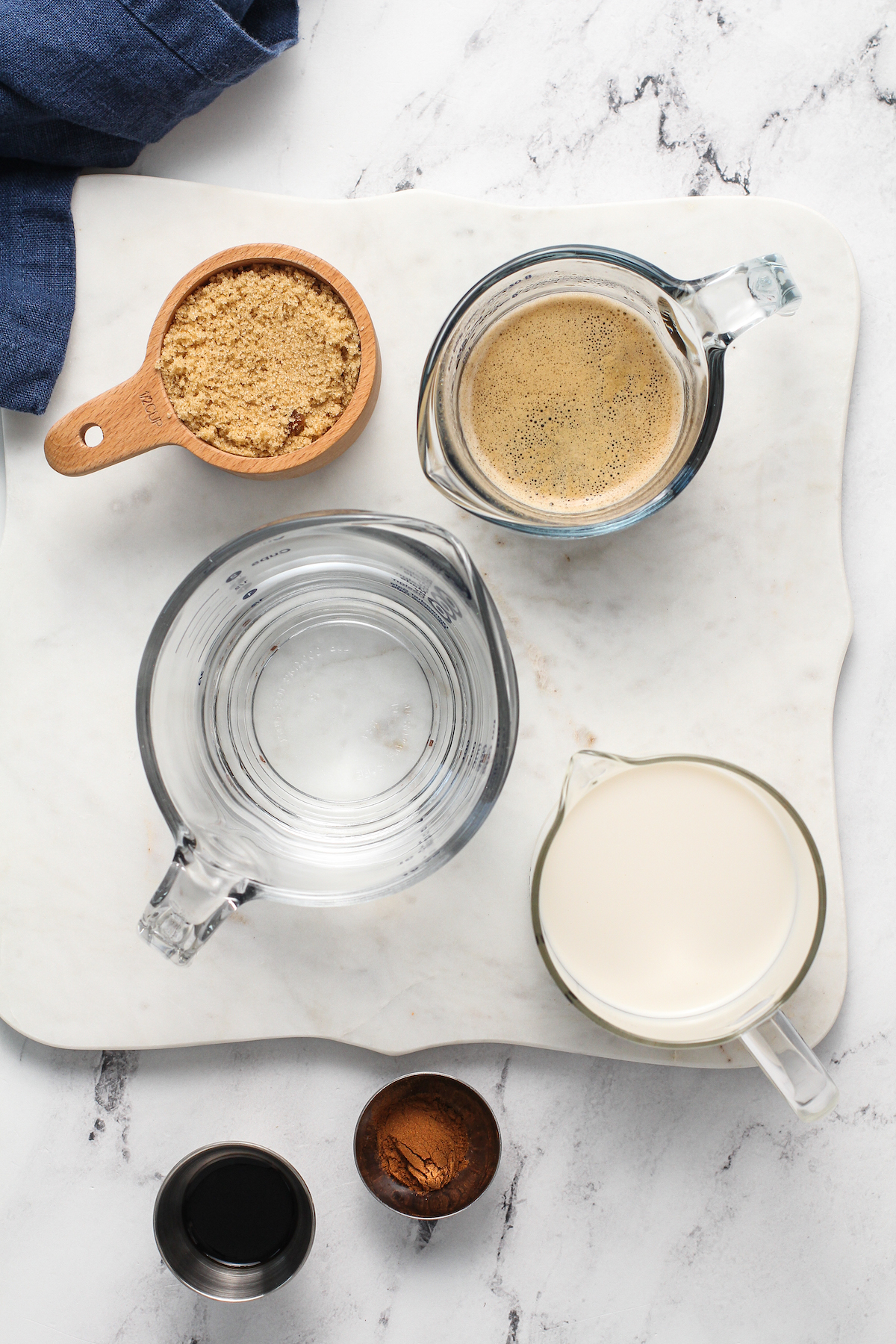 Oat Milk Espresso Popsicle Ingredients
I love simple recipes that don't require odd ingredients. These espresso popsicles can be made with only 6 ingredients!
Oat milk: For this dairy free treat, you will need some oat milk. Oat milk can be found in the milk section of most grocery stores. I suggest grabbing an unsweetened version since you will be using brown sugar to sweeten the popsicles.
Dixie Crystals Light Brown Sugar: Dixie Crystals Light Brown Sugar is a non-GMO pure cane sugar known for its rich aroma, soft and fluffy crystals, light molasses flavor, and a hint of moisture. The brown sugar in this recipe provides a layer of richness to your popsicles. Use your measuring scoop to pack the sugar for accurate measuring.
Cinnamon: Cinnamon pairs beautifully with the brown sugar for an earthy, rich flavor.
Espresso: Check the coffee section of your grocery store for espresso powder. It may be next to Instant coffee. Additionally, you could use espresso concentration or cold brew coffee
Vanilla: I use vanilla extract. It gives the popsicles a burst of flavor that pairs well with the brown sugar and cinnamon.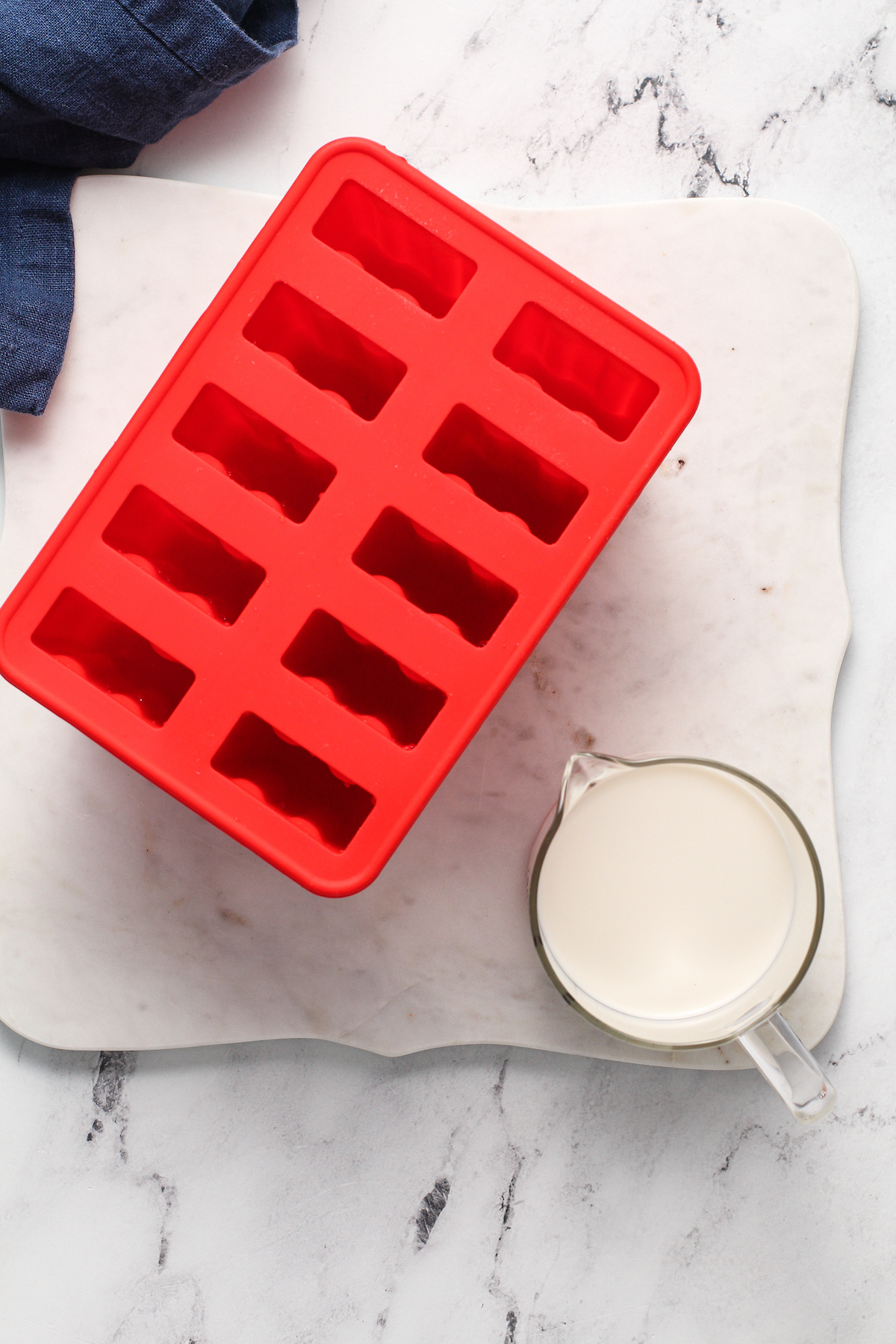 How to Make Brown Sugar Oat Milk Popsicles
The best thing about these coffee popsicles is that they are so easy to make! You probably already have everything you need on hand.
Freeze the oatmilk: First, pour 2 tablespoons of oat milk into the bottom of 4 molds. Then, place it in the freezer for an hour and a half.
Dissolve sugar: Bring your water to a boil in a saucepan. Then, remove it from the heat and immediately add the Dixie Crystals Brown Sugar and cinnamon to it. Stir until the sugar is completely dissolved. Allow to cool.
Brew espresso: Next, either brew coffee or espresso. Then, add the vanilla to it. Allow it to cool.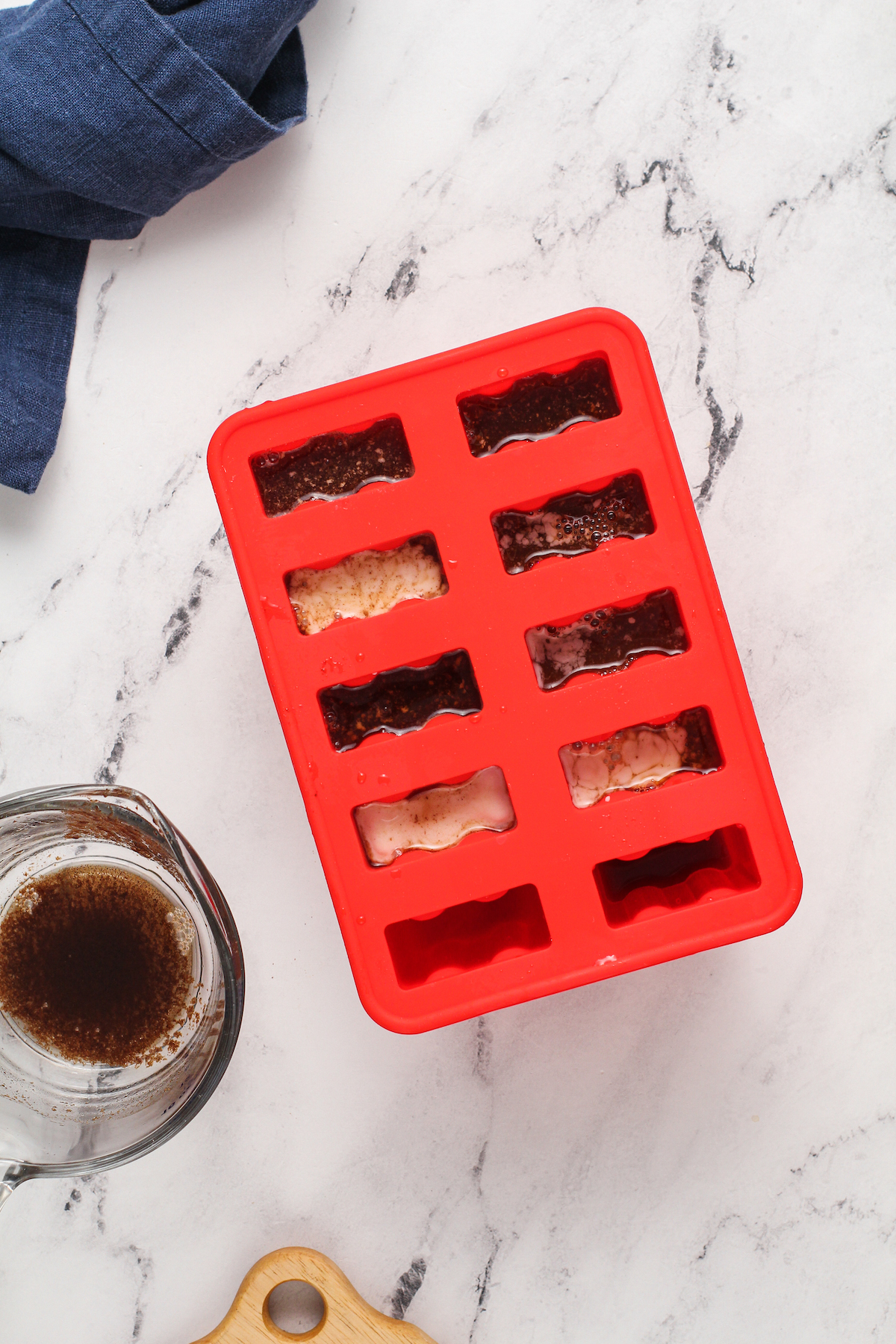 Add espresso to the mold: After your oat milk has frozen for 1.5 hours, evenly distribute the espresso between your 4 popsicle molds.
Top with sugary syrup: After you've distributed the espresso, top off your molds with the brown sugar syrup.
Freeze the pops: Cover your popsicle mold and insert popsicle sticks. Place them in the freezer for at least 6 hours.
Serve and Enjoy!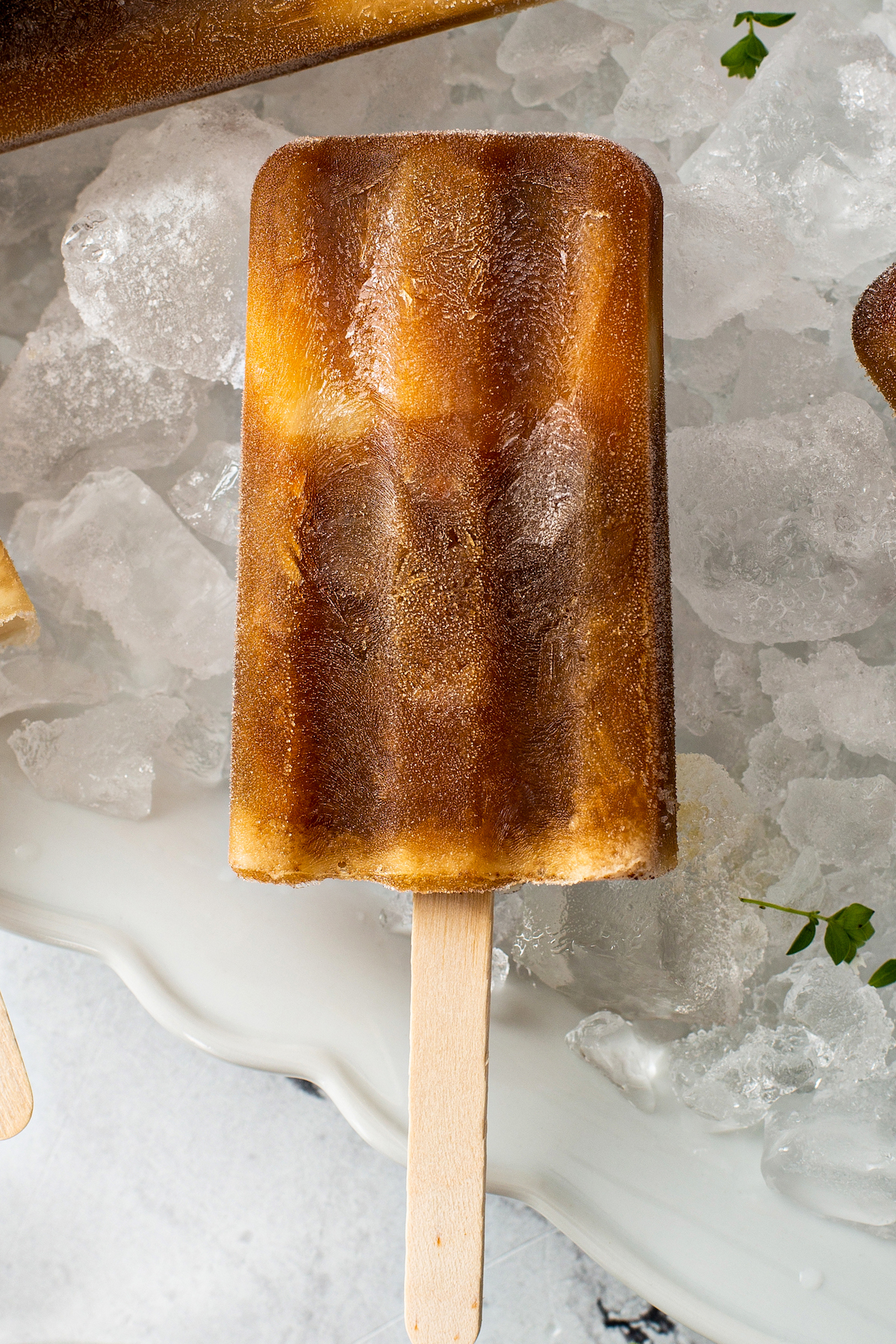 Tips for Perfect Espresso Popsicles
Keep your mold level. Be sure to place your mold on a level surface in your freezer. This will prevent liquid from falling out and uneven popsicles.
Choose your flavor. Espresso is going to give you a stronger flavor. If you want a lighter flavor, use coffee instead.
You can use cream. Oat milk is used as a cream, but if you don't like it, you can use any cream you prefer. Almond milk, heavy cream, half and half, etc.
The cinnamon won't dissolve. When dissolving your brown sugar, keep in mind that the cinnamon will not dissolve, and that's ok!
Leave room for expansion. When pouring the liquid into the mold, be sure to leave room at the top for the popsicles to expand as they freeze.
Freeze overnight. For best results, I recommend allowing your popsicles to freeze overnight.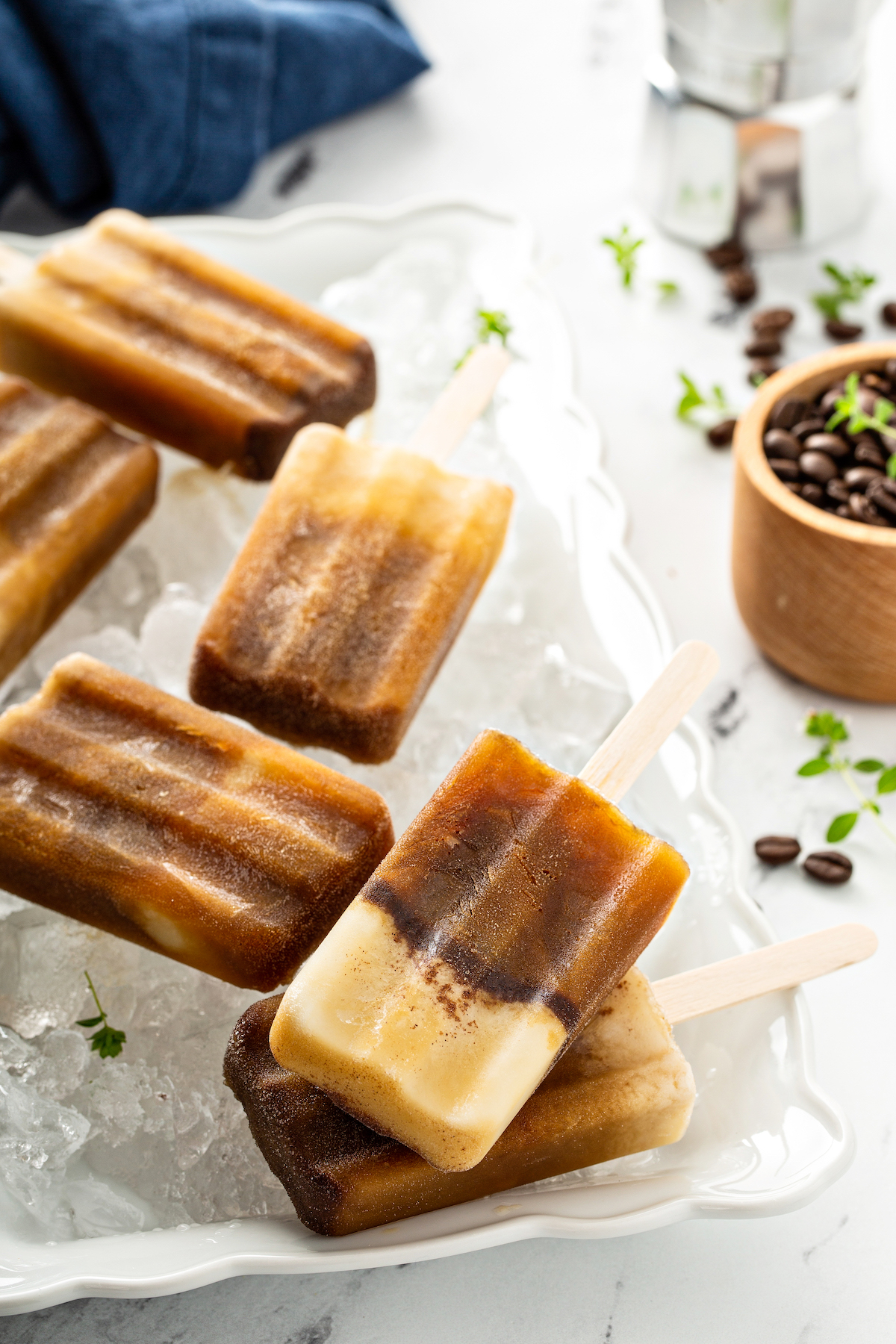 How Many Espresso Popsicles Does This Recipe Make?
If you use exact ingredients and follow the steps in the recipe, you will make 4 popsicles. So, you will want a popsicle mold with 4 cavities. However, you can easily double this recipe and use a mold with 8 cavities or additional molds.
Is Oat Milk Gluten Free?
Oat milk is a plant-based milk. So, it is absolutely dairy free, but is it gluten free? Oats are naturally gluten free, but they are often grown near wheat and processed in factories that handle wheat products. This means the oat milk can get contaminated. So, if you are gluten intolerant, be sure to read the label and pick oat milk that states it is gluten free. Here are a few brands that state their oat milk is gluten free:
Oatly
Planet Oat
Califia Farms
Elmhurst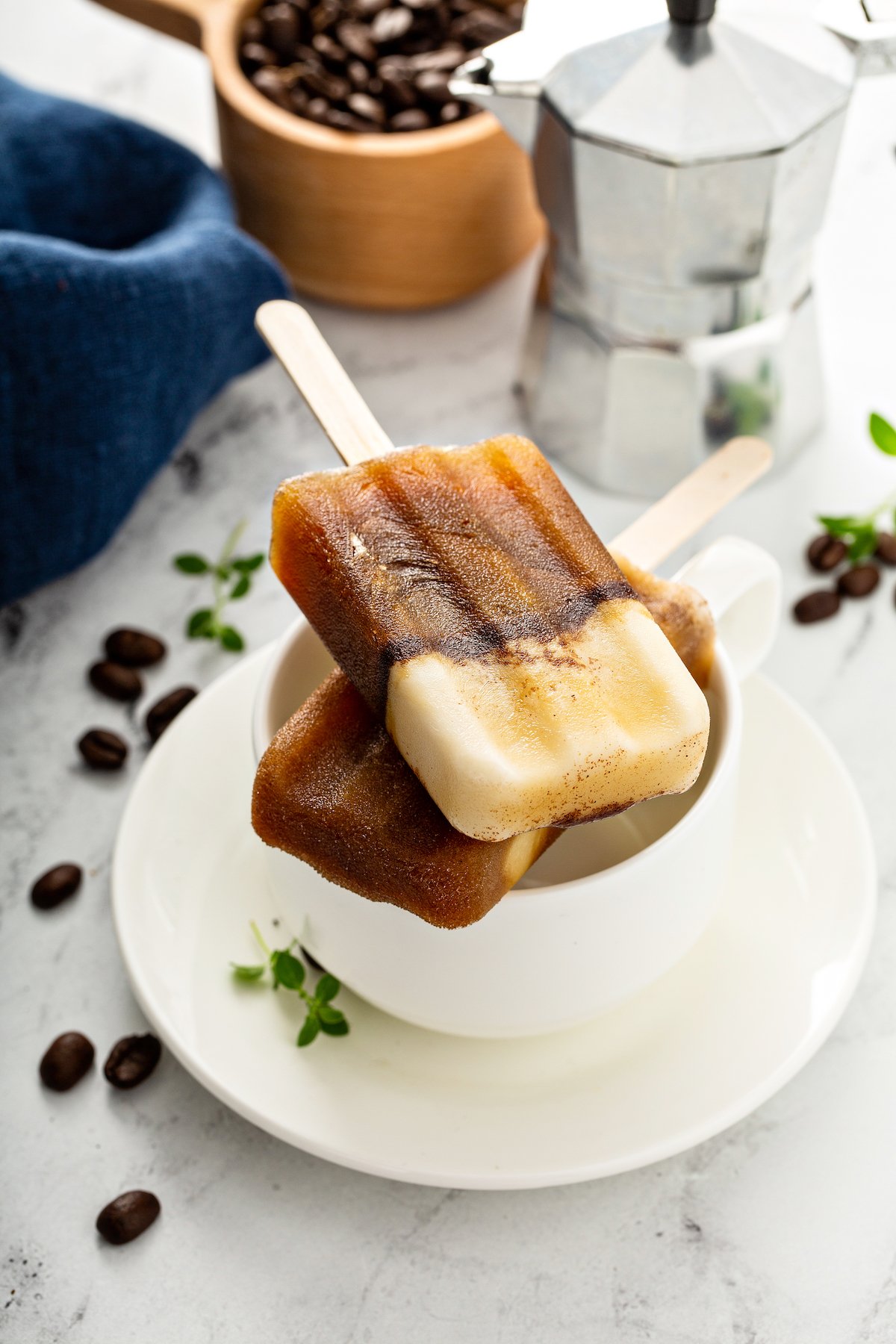 How Do I Make Espresso Without a Machine?
For this recipe, if you don't have an espresso machine, you can make really strong coffee instead. If you really want the flavor of espresso and you don't have an espresso machine, grab Instant espresso powder. To make espresso, you just add boiling water to the powder.
More Espresso Treats
As adults, there's never enough caffeine. Try some of these other espresso treats to help get you through the day!
How to Store Oat Milk Espresso Popsicles
Once your express and cream have transformed from liquid to popsicles, it's time to store them long term. First, you will remove your popsicles from the molds. To do this, you can run the bottom of the mold under warm water for 20 seconds and gently pull them out. If you have a silicone mold, just push them out.
Then, place your popsicles in individual quart sized ziploc freezer bags so they don't stick together OR individually wrap each one with Saran Wrap then place them all in a large freezer bag. You can store them in the freezer for 8-12 months this way.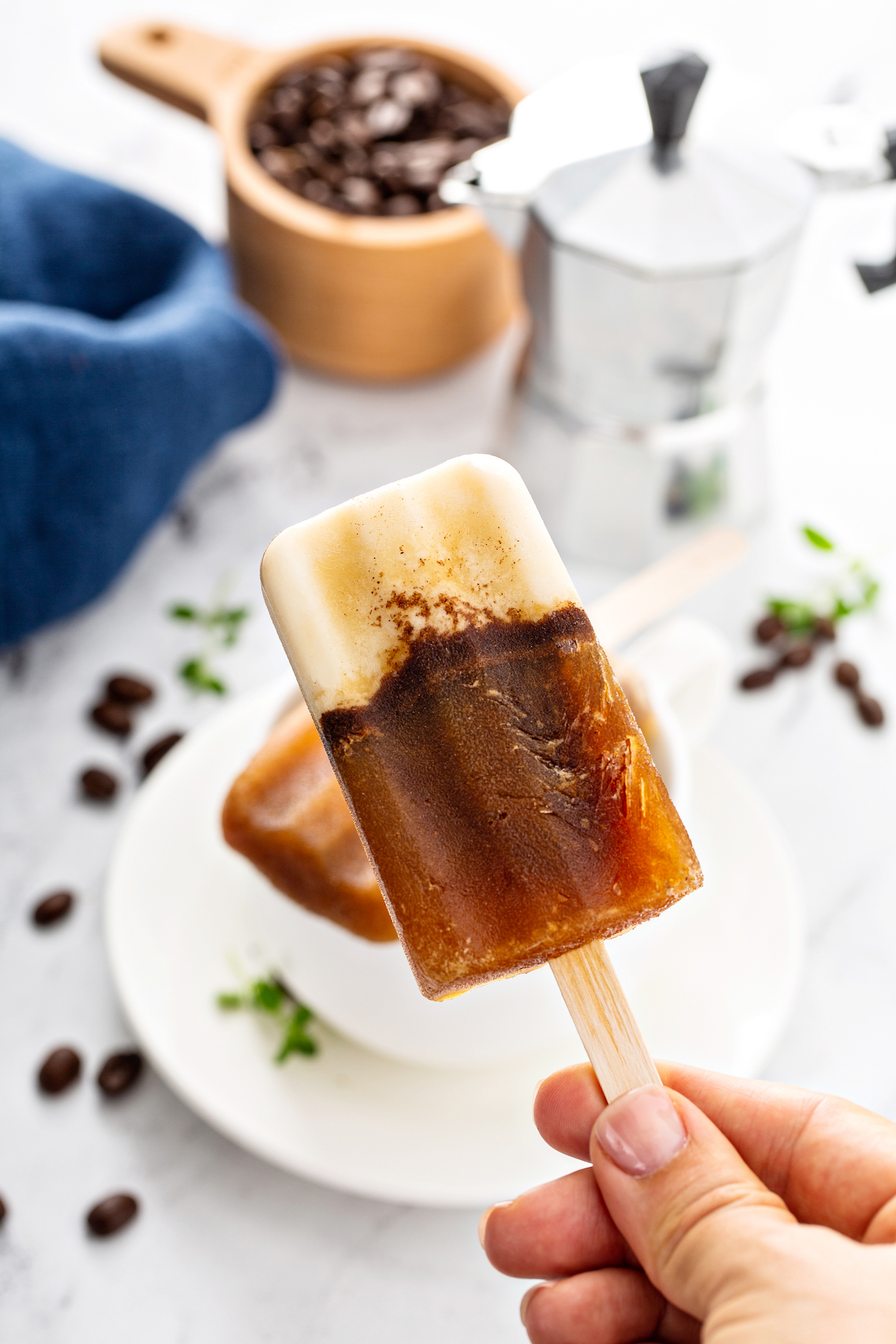 Other Popsicles to Try
Looking for more popsicle recipes? Here are some of our other delicious popsicles to try!
Raspberry Cheesecake Popsicles
Yield: 4 Popsicles
Brown Sugar Oat Milk Espresso Popsicles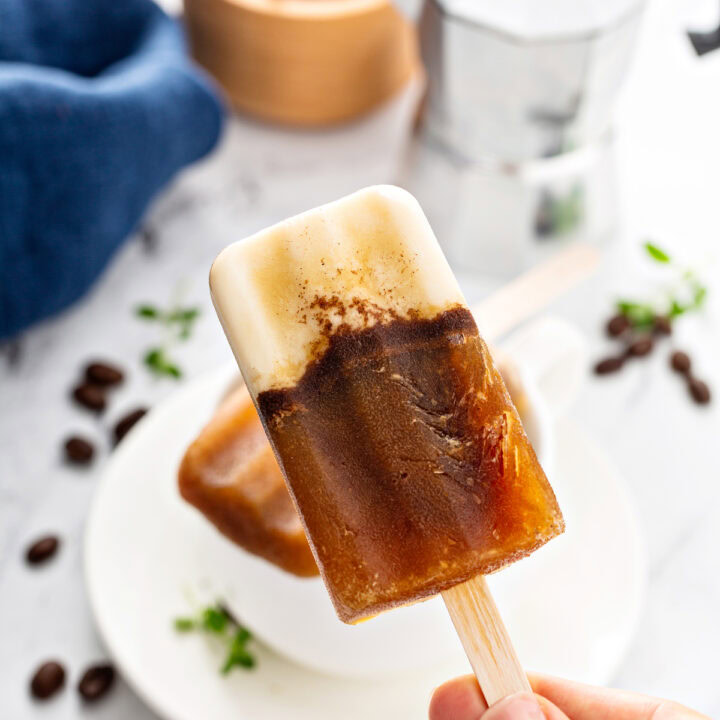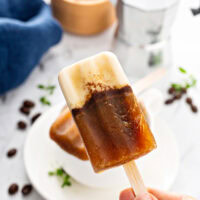 Looking for a sweet burst of energy on a hot day? These gorgeously layered Brown Sugar Oat Milk Espresso Popsicles are a sweet and delicious frozen treat with just the right amount of caffeine kick in them!
Total Time
4 hours
15 minutes
Ingredients
1/2 cup oat milk (2 tablespoons per mold)
1/2 cup water
1/4 cup Dixie Crystals Light Brown Sugar
1/2 teaspoon cinnamon
1/3 cup espresso or fresh brewed coffee
2 teaspoons vanilla extract
Instructions
In a popsicle mold, add 2 tablespoons of oat milk into bottom of 4 molds. Place into freezer for 1.5 hours.
Meanwhile, in a small sauce pan, bring water to a boil. Once boiling, remove from heat and add brown sugar and cinnamon. Stir until sugar is dissolved (cinnamon will not dissolve). Allow to cool while oat milk begins to freeze.
Next, brew choice of coffee or espresso. Add vanilla and allow to cool.
After 1.5 hours, remove popsicle mold from freezer. Evenly distribute coffee between 4 popsicle molds.
Next, top coffee layer with even amounts of brown sugar syrup. Cover with popsicle mold cover and insert popsicle sticks.
Freeze for at least 6 hours or overnight. To easily remove from popsicle mold, run briefly under warm water and push out. Enjoy!
Nutrition Information:
Yield:
4
Serving Size:
1 popsicle
Amount Per Serving:
Calories:

26
Total Fat:

0g
Saturated Fat:

0g
Trans Fat:

0g
Unsaturated Fat:

0g
Cholesterol:

0mg
Sodium:

7mg
Carbohydrates:

5g
Fiber:

0g
Sugar:

3g
Protein:

0g
Categories
This post may contain affiliate links. Read my disclosure policy.