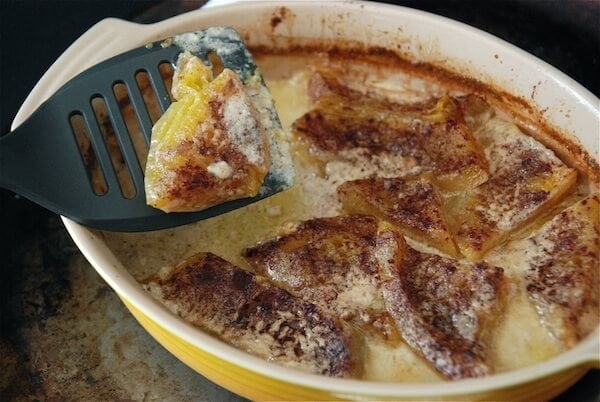 I lied to you. It wasn't a big lie…like I kissed your boyfriend or anything. It was more of an off handed lie. Like, ya I folded the laundry type lie. I didn't actually make these cupcakes for my birthday. I mean, I kind of did. I made them to celebrate my birthday with y'all. I know y'all love cupcakes and I love cupcakes, so I made cupcakes to celebrate. But for my actual birthday, we had Cinnamon Baked Cushaw.
That's right cats and kittens. I had SQUASH as my birthday dessert. I'm sure dieticians everywhere just jumped for joy…don't worry, once they scroll down they will be weeping. How could I turn a healthy squash into the most delicious, fat laden, creamy dessert? It's easy. I added butter, brown sugar, half and half, and heavy cream. Yes ma'am, this is a hold on tight, rub butter directly onto your thighs, while you jog in place, kind of dessert.
You know what, before we proceed, why don't you just go ahead and push back your chair and do some squats while reading the rest of this post. It's ok, I'll wait for you to assume the omfg my thighs are burning seriously stop laughing I think they are literally on fire squat position.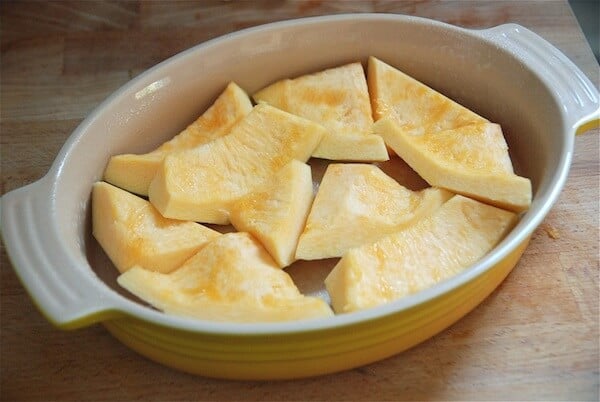 So we start with some of that lovely Cushaw that you carved up. Lay it flat in an oven safe glass dish that was sprayed with your misto or coated in butter. I sprayed mine with my misto because it's easier…and I'm lazy. :-)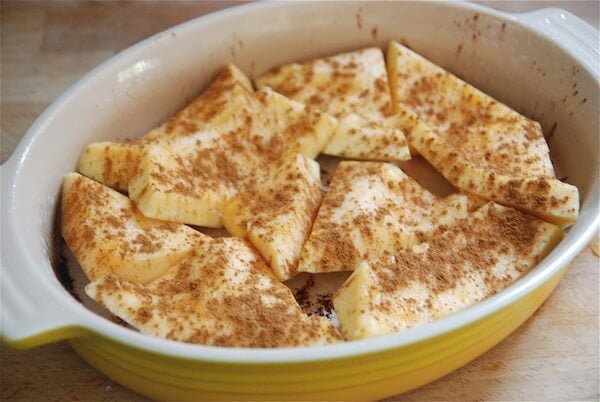 Next, give a heavy sprinkle of cinnamon all over the cushaw. Then follow up with some freshly grated nutmeg.
Hold that squat position. Feel the burn. We are headed into bad territory now.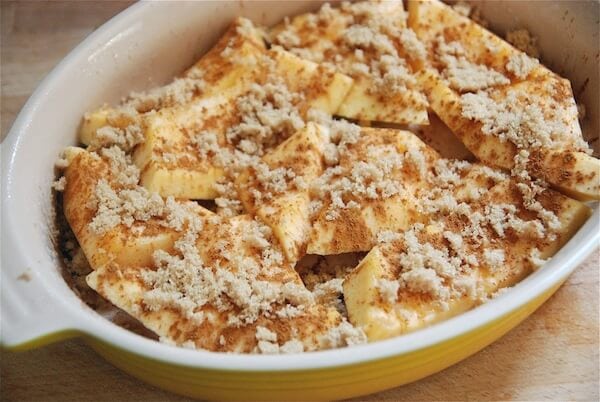 Sprinkle the entire pan with brown sugar. Seriously, the entire thing. Don't be shy.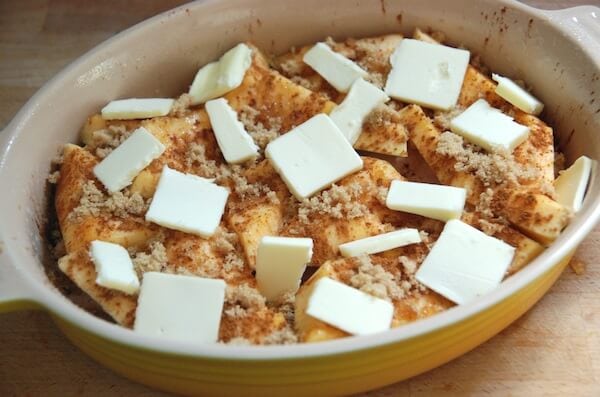 No your eyes are not deceiving you. Butter! And a lot of it. Coat each of those pretty cushaw slices with a nice slice of butter.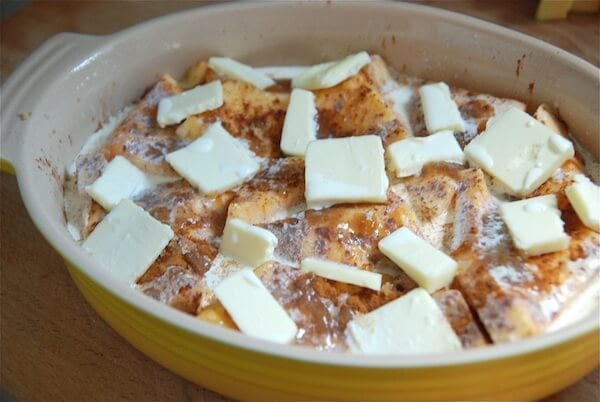 And now for the grand finale! My last and final try at hardening your arteries!
Pour heavy cream around the edges of the pan…and then come back a second time and do another round with some half & half. The liquid will come up to about half way up the sides of the cushaw.
Pop it in the oven and wait. And wait. And wait. You might need to leave the house because the smell will almost be unbearable.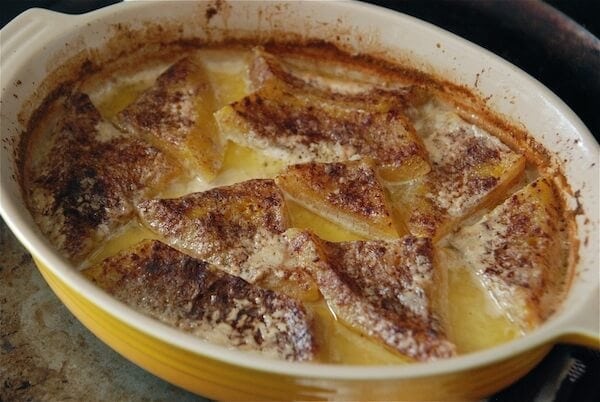 And then when you finally can't take it anymore, this will come out of your oven.
I know it's ugly. You don't have to tell me. But trust me when I tell you, this is the most amazing dessert I have ever had in my life. I love it so much, I had it for my freaking birthday dinner. Ya'll know girlfriend loves her some cupcakes…so for me to make this for my birthday…well you know it's damn good.
The cushaw has a wonderful fall flavor and a texture almost like a custard. The cream bakes into an amazing sauce that is seriously drinkable on it's own. The tops of the cushaw pieces are beautifully browned and full of spice. And the combination is just…perfect. Seriously, perfect. But hey, something with this much cream, sugar, and butter better be!
*surgeon general warning: make this once, or twice, a year. save yourself, save your skinny jeans*
Cinnamon Baked Cushaw
Cinnamon Baked Cushaw is a buttery, creamy dessert recipe made with... cushaw squash. That's right; squash for dessert. Baked cushaw has a texture that is very similar to custard, and it's filled with homey fall flavors that you're sure to love!
Ingredients
2.5

lb

Cushaw

,

cored, peeled, and sliced

2

teaspoons

cinnamon

½

teaspoon

freshly ground nutmeg

¾

cup

brown sugar

6

tablespoons

unsalted butter

,

sliced

¾

cup

heavy whipping cream

¼

cup

half & half
Instructions
Preheat oven to 400°F. Coat a 9x13 casserole dish with butter or a non-stick spray.

Arrange cushaw slices into an even, flat layer along the bottom of the dish. You do not want the cushaw slices packed in too tightly. Leave a little wiggle room for cream along the sides of each slice.

Give each cushaw slice a heavy sprinkle of cinnamon. Then follow up with some fresh grated nutmeg. Lastly, sprinkle the brown sugar all around the pan. Don't worry about being precise, just make sure each piece is brown sugared!

Lay the butter slices on top of each slice of cushaw. Larger pieces get two slices of butter….smaller pieces get 1. And your personal piece you already picked out gets 3 slices of butter.

Pour the heavy cream around the edges of the pan…and then come back a second time and do another round with the half & half. The liquid will come up to about half way up the sides of the cushaw.

Cover the dish with foil and bake for 45 minutes to 1 hour, until incredibly tender when pierced with a fork. Then remove the foil and bake for 10 minutes more. Serve immediately.
Notes
Recipe Note: The below recipe is for a 2.5 lb cushaw. It is sometimes hard to find a cushaw that small. If you are unable to find a small cushaw, use half of a larger one for this recipe and the other half for Cushaw Puree.
TNCB original
Nutrition
Serving:
1
,
Calories:
305
kcal
,
Carbohydrates:
24
g
,
Protein:
1
g
,
Fat:
23
g
,
Saturated Fat:
15
g
,
Polyunsaturated Fat:
7
g
,
Cholesterol:
68
mg
,
Sodium:
22
mg
,
Fiber:
1
g
,
Sugar:
23
g
Categories:
This post may contain affiliate links. Read my disclosure policy.