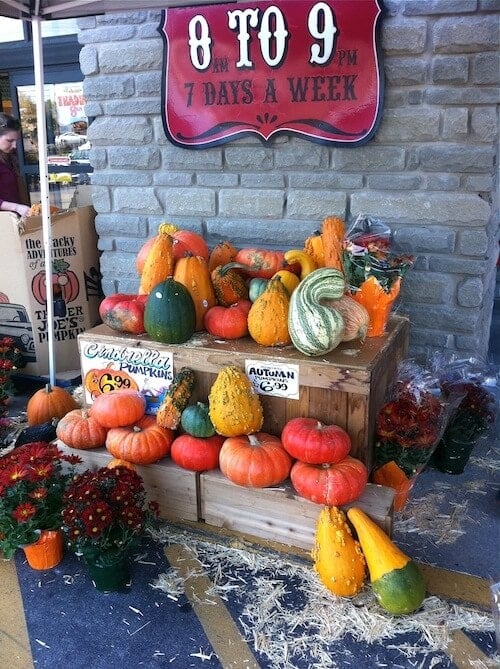 Let's play a game! What…you don't want to play? Well too damn bad. :-D
Which of the squashes above is a Cushaw (pronounced Coo-Shaw)?
I will give you a hint…it's not orange. Oh and it's not warty looking either.
…You didn't even try to guess did you? You just scrolled right on down. Well fine, just ruin my fun why don't ya??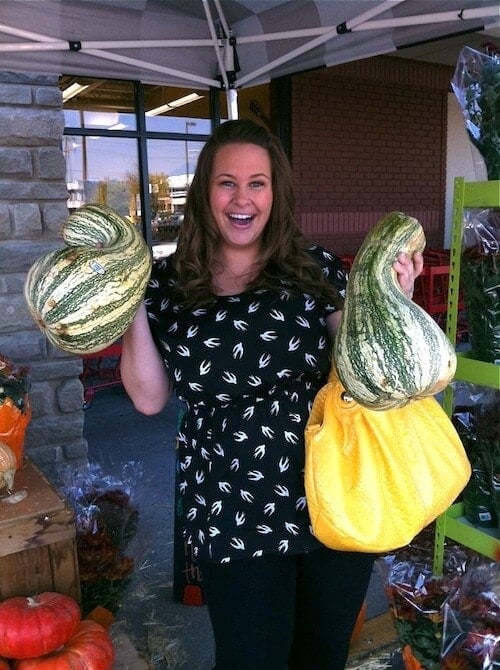 These babies are Cushaws! Aren't they sexy?? Ok, maybe you don't think they are sexy, but by the end of this week you will most definitely think they are the cat's meow. I mean…do I get that excited over just anything? …well ok, maybe a lot of things like wine, cupcakes, and shoes…. But trust me when I say, nothing get's me more excited then when I spot a cushaw laying among some pumpkins.
I guess you might be wondering what the hell I am blabbering on about. Well, a cushaw is the South's best kept secret. Sure we share our chicken fried steak recipes and you can find 500 recipes for biscuits and gravy online. But if you google cushaw recipes, you wouldn't find very much at all…because this is one secret we have kept to ourselves. A cushaw is a member of the crookneck squash family and is technically a winter squash despite being sold in Fall. It is only grown south of the mason dixon line throughout the southern United States and is only available during the Fall months. It has a tender, pale orange/yellow flesh and a very mild flavor that can be overpowered if not careful.
Until I moved to Florida, I had no idea cushaws were not as available as Pumpkins. Growing up they were a staple and every year I looked forward to picking out a big cushaw to cover in brown sugar and cream. It truly was my favorite part of Fall! At 18, my family moved to Tampa, FL and when October came around that year there were no cushaws to be found. We checked the grocery stores (where they are commonly sold in Texas), the pumpkin patches, and everywhere we could think of. It was like they just didn't exist anymore. I was heartbroken. Yes, heartbroken over a squash.
A few years after that, we took a family trip to Blue Ridge, GA. While driving around exploring the town, we came across a road side Pumpkin Patch that had 5 cushaws scattered amongst their display. That trip we came home with 5 cushaws — of course I bought all they had. This year Jorge and I moved to Jacksonville, Florida for his job…and I had high hopes that I might find someone selling cushaws since we live so incredibly close to Georgia. As September rolled into October, I lost hope. So while on my trip to Nashville, I bought 3 big cushaws to bring home! They barely fit in our over packed car….but I would have carried them home like babies if I had too!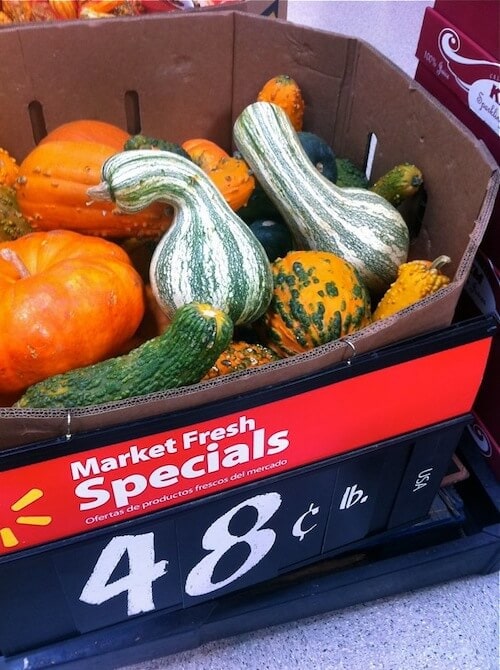 Then last week, I ran into Walmart to grab some laundry detergent…and you will never guess what I saw?! CUSHAWS! I bought the two best ones in the box and rushed home because I had a plan.
You! You are my plan! For 5 days, today through Friday, I am going to blog about Cushaws! By the end of this week, I know you will be dying to get your hands on one of these babies. You will know what it is, how to clean it/prep it, and have 4 recipes to use it in! It's all about supply and demand….if the demand goes up, so will the supply…and finding cushaws will be as easy as finding a pumpkin…well at least I hope it will be. ;-)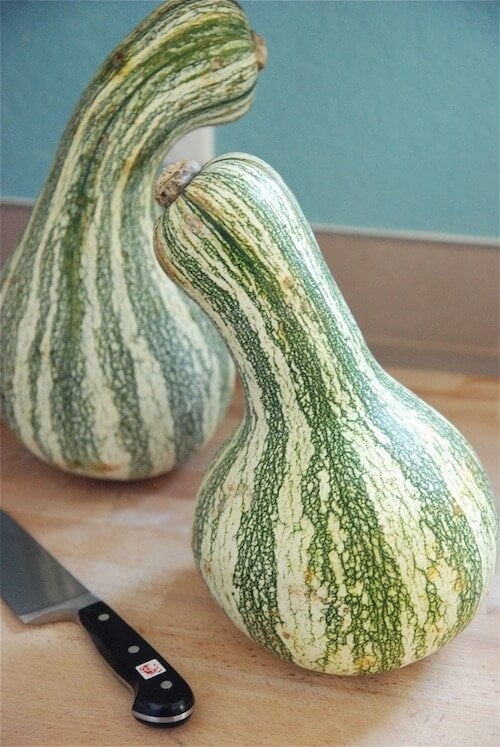 Ok, so let's break it down.
You will need a very sharp knife to do this easily. A dull knife will take forever…and can easily slip causing you to cut yourself.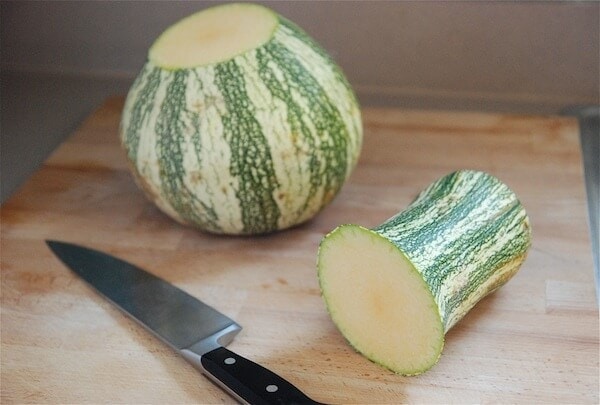 Now, with that super sharp knife I just told you to get, hack off the neck.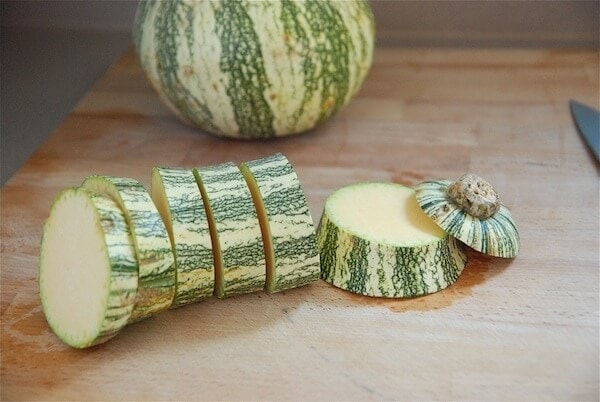 Slice the top off the neck and throw it away.
Slice the remaining neck into 1 1/2 to 2 inch pieces.
The neck tends to be the toughest part of the cushaw. When cooking it, plan on cooking it a little longer than the other parts…or just slice it thinner than the pieces from the bottom half.
Slice off the outer rind and throw away.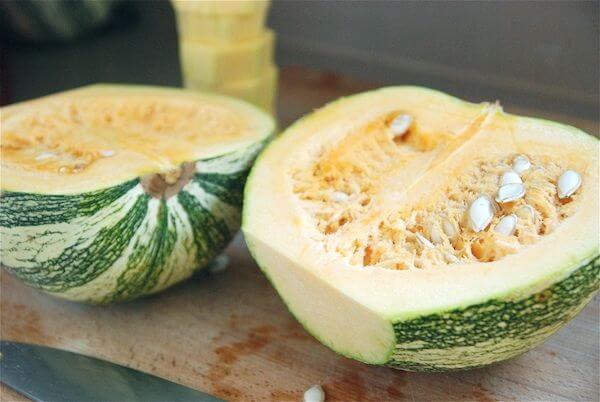 Set aside the pieces from the neck.
Grab the bottom part of the cushaw and slice it vertically, right down the center.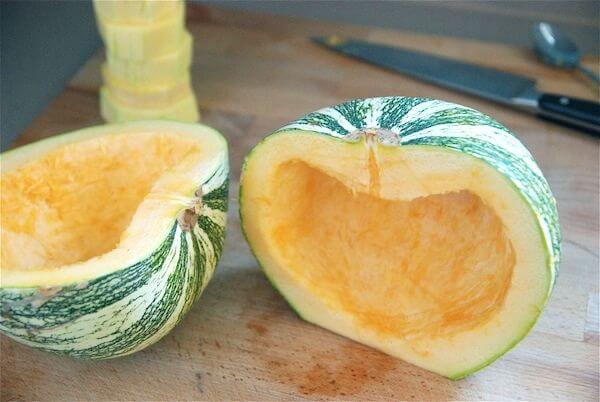 Scoop out all the seeds/guts using a large spoon. I usually run my knife blade around the edges of the guts before using a spoon. It helps to loosen them for easy removal.
If you like roasted pumpkin seeds, cushaw seeds are just as delicious! Toss them in your favorite coatings and roast away!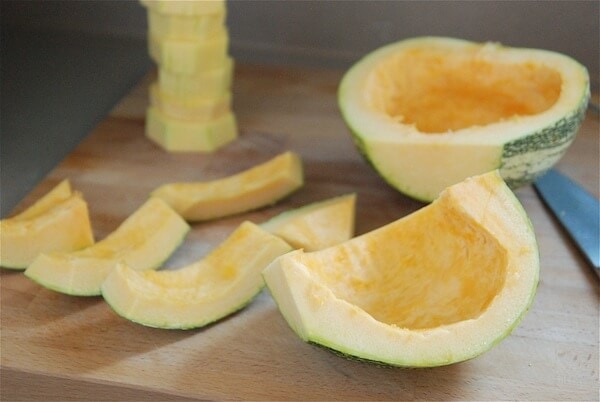 Working with one half at a time, slice into large slices, about 2 inches in width.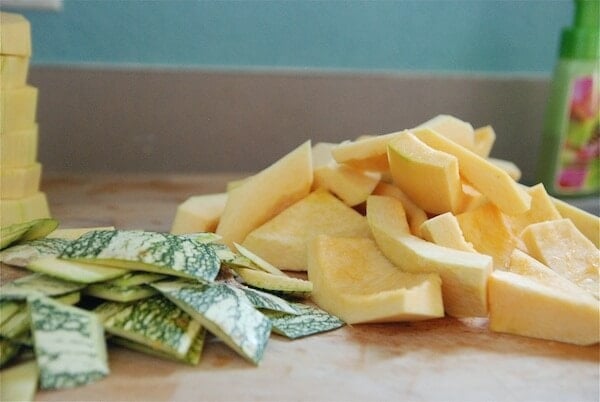 Again, remove all of the rind from the outer edges and throw away.
Now you should have beautiful, clean cushaw flesh. Tomorrow's recipe will have you baking the cushaw as is, however the remainder of the recipes will be using pureed cushaw. Pureed cushaw is the equivalent of canned pumpkin…but instead you made it yourself. You can store it in ziplock baggies in the freezer for up to 3 months, or if you aren't terrified you will kill yourself like I am, can it!
Yield: about 8 cups
Cushaw! How to clean it and how to use it!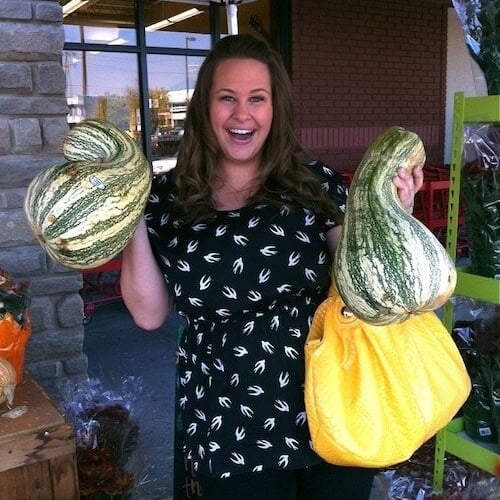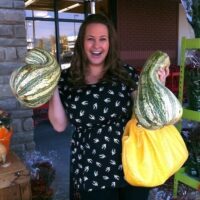 Cushaw squash can be used to make so many different recipes and meals! Here's a little tutorial on how to clean and use them:
Ingredients
5 lb Cushaw, cored, peeled, and diced
large glass microwave safe bowl with a lid
water
Instructions
In a large microwave safe bowl, place diced cushaw in a single layer. Not all of the cushaw will fit at once; you will have to repeat the steps multiple times.
Add just enough water to start coming up the sides of the cushaw, about 1 inch of water.
Cook on high for 8 to 10 minutes, until the cushaw is easily pierced with a fork.
Using a slotted spoon, transfer cushaw to a blender or food processor. Puree until completely smooth, no lumps.
Cool and use in a recipe or freeze for up to 3 months!
Notes
Pureed Cushaw can be used in just about any recipe that normally uses Pumpkin. However, cushaw puree has more liquid than pureed/canned pumpkin. So when using cushaw in place of pumpkin, use less liquid than the recipe originally calls for.
Nutrition Information:
Yield:
8
Serving Size:
1
Amount Per Serving:
Calories:

0
Total Fat:

0g
Saturated Fat:

0g
Trans Fat:

0g
Unsaturated Fat:

0g
Cholesterol:

0mg
Sodium:

1mg
Carbohydrates:

0g
Fiber:

0g
Sugar:

0g
Protein:

0g
Categories
Here are a couple of delicious recipes featuring Cushaw!
This post may contain affiliate links. Read my disclosure policy.