Granny's "Gulf" Gumbo
This recipe for Granny's "Gulf" Gumbo is an easy gumbo recipe loaded with shrimp, crab, oysters, and your choice of sausage, chicken or alligator! It's the perfect filling recipe for a comforting family dinner.
If you enjoy this soup recipe you should also try my Rosemary Ham Bean Soup or my Roasted Poblano Chicken Cauliflower Soup.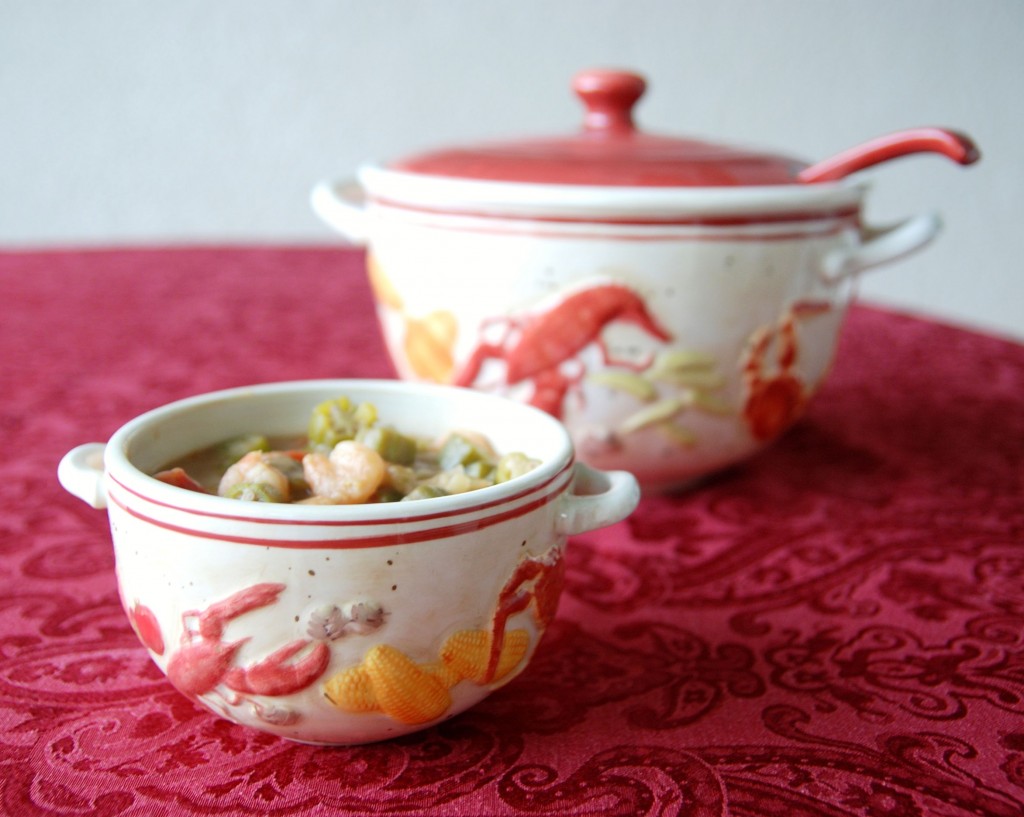 Granny's "Gulf" Gumbo
I have been trying to decide how to approach this post for the last week. Should I just graze over the subject of the oil spill in the Gulf? Should I go deep and tell you exactly what I think? Should I badger you with tons of photos of the animals and people it is affecting? Should I talk about it just a little and then move on?
In the end, I came to the conclusion that there is no good way to go about this. It is something close to my heart and an issue that can easily get me "hot under the collar". So, I figured I will just talk to you from my heart.
My family lives all around the Gulf Of Mexico…all the way from Galveston, Texas to Tampa, Florida. My grandmother was born and raised in Louisiana and my grandfather in Mississippi. My mother was born in Louisiana and raised in Texas and I was also raised in Texas, and now live in Tampa, Florida.
To say the least, our lives have involved the beautiful beaches surrounding the Gulf forever. Almost every single vacation we took growing up was one to the Gulf. Eventually it became a ritual, for our entire family, to take a week vacation to stay in one of the beach houses on Galveston Island. We would fish, eat, sunbathe, boogie board, walk looking for shells, build sand castles and just generally enjoy our time there and each others company.
These days, now that I live in Tampa, just as many of my days are spent at the ocean. We spend weekends upon weekends out on the beaches, snorkeling the flats and fishing the Gulf. One of my favorite places in the whole world is Anclote Key. It is a beautiful key off of Florida that is only accessible by boat. Whenever I get the chance, I go with my family out there and we have the time of our lives.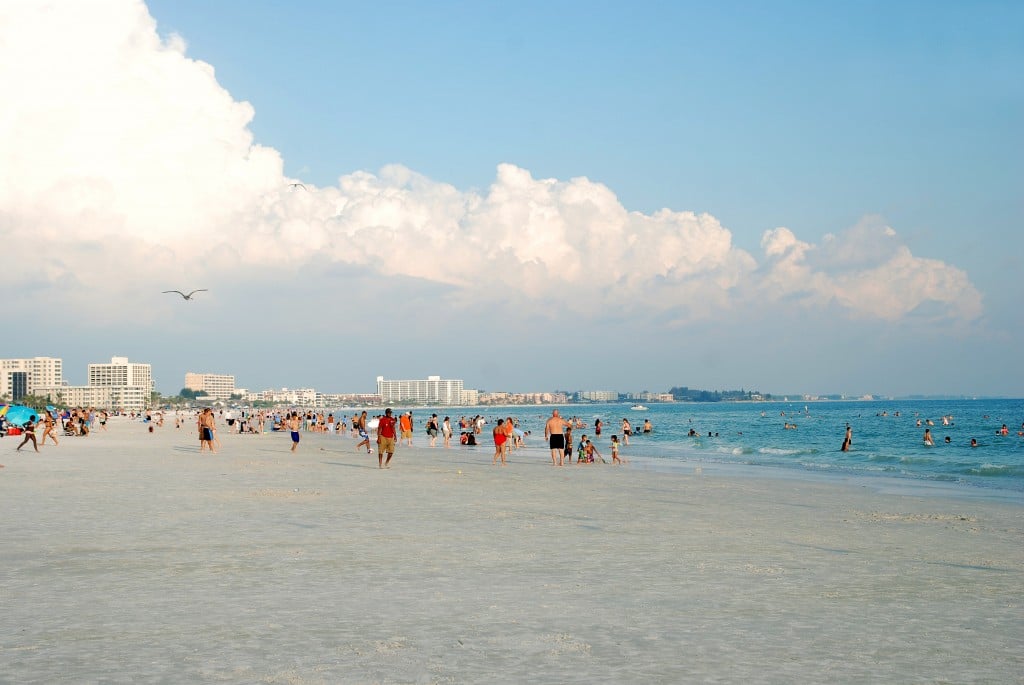 These beautiful beaches will be filled with oil. Can you imagine? I can't. I also can not even begin to fathom what the people of Louisiana, Alabama and Mississippi feel like. The oil has been detrimental not only to their coasts, but to their people, wildlife, and livelihood.
Take for instance the P&J Oyster Company, in New Orleans, that has been open since 1876. Thanks directly to the oil spill, it is now closed. A 134 year old company, done.
And that is JUST oysters! That is not to mention all of the other marine life living in, and along, the Gulf Of Mexico. Or the tourism money that some of these coastal cities rely on. To put it in a different perspective, this is the equivalent of a giant sinkhole swallowing up the Midwest, and for years farmers not being able to use their land to grow anything. Instead it would just sit there. No money in, no money out, and no true hope in sight.
This is still happening. It has not gone away. And it is not going away any time soon. But it will, in time, get better. And eventually, hopefully, be a thing of the past. I am writing this post, and sharing my thoughts, feelings, pleads, and Granny's "Gulf" Gumbo recipe with you in hopes that it reaches people who are not living here along the Gulf Of Mexico.
I can understand how it could become easy for someone living far, far away from the Gulf to forget…or to become numb to the pictures on the news every night. But don't let yourself fall into that. It is still very, very real. And the animals, marine life, and people still need your help.
I am just one person. And you are just one person. But if we all stand together and help each other, we can all overcome this and help save the Gulf. There truly are no beaches like it in the world. There are no people, as kind, as true, as welcoming, as you will find in the coastal cities. There are no tastier shrimp, oysters, or fish. In other words, there is only one Gulf Of Mexico.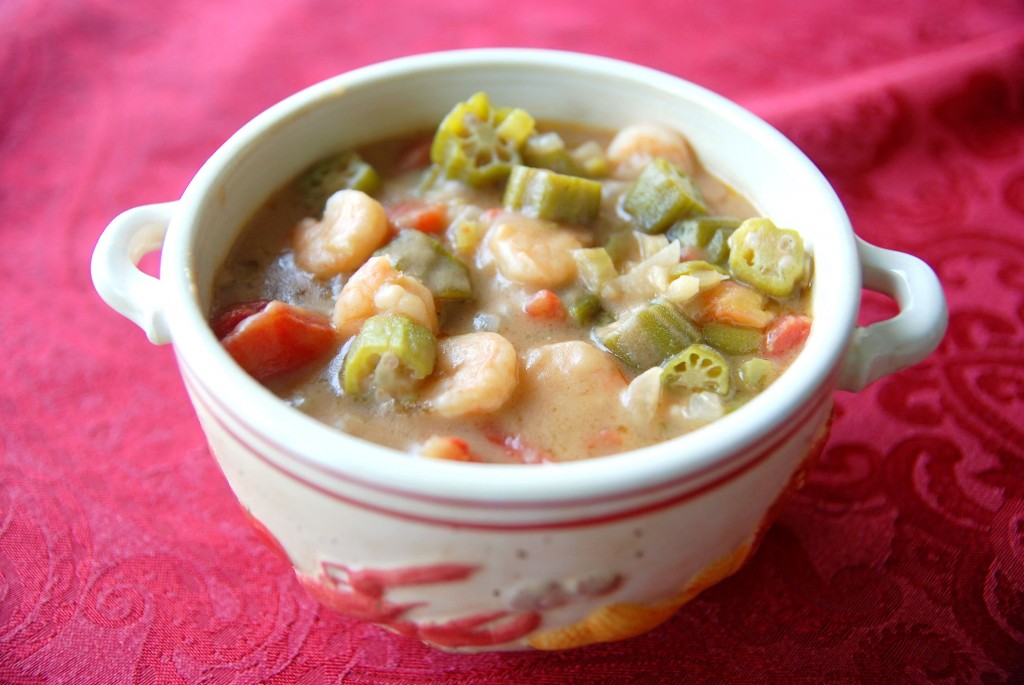 This Easy Gumbo Recipe Has Been In My Family Forver
Now let's lighten the mood! GUMBO! My Granny's Gumbo to be exact! I wish I could call it Granny's "Gulf" Gumbo…which is normally would be since it would be all fresh, delicious seafood from the Gulf…but with everything going on I had to use frozen seafood. My Granny has been making this recipe forever. Ok, so maybe not forever, but for as long as I can remember…and as long as my Mom can remember…so a long time 😉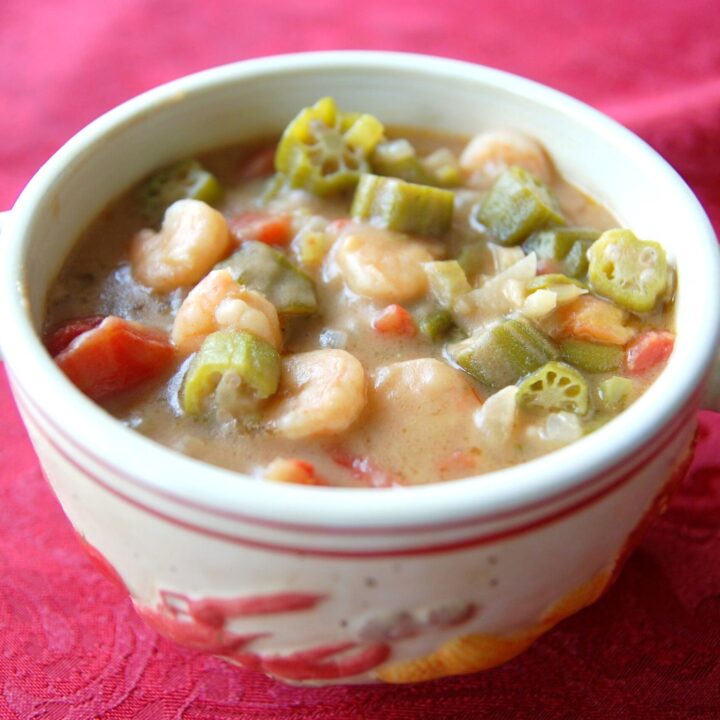 Granny's "Gulf" Gumbo
Yield: 6 servings
Prep Time: 20 minutes
Cook Time: 1 hour 15 minutes
Total Time: 1 hour 35 minutes
This recipe for Granny's "Gulf" Gumbo is an easy gumbo recipe loaded with shrimp, crab, oysters, and your choice of sausage, chicken or alligator! It's the perfect filling recipe for a comforting family dinner. 
Ingredients
1 large Vidalia onion, chopped
1 large green bell pepper, chopped
1 1/2 cups celery, chopped
16 oz frozen cut okra, precook until soft (or fresh if you are as patient as my Granny)
1 14 1/2 oz can whole peeled tomatoes, chopped
4 lbs shrimp, cleaned
1 1/2 to 2 cups flour
1 1/2 to 3/4 cups vegetable oil (Do not do 1:1 ratio like "traditional" rouxs. It will make a greasy Gumbo)
1 lb crab meat
8 oz oysters
andouille sausage or chicken or alligator (pre-cooked), roughly chopped
3 tablespoons garlic powder
4-5 tablespoons slap ya mama
5 tablespoons Tabasco sauce
Instructions
The hardest part of a good gumbo is the roux. After that, it should be pretty easy. Using a 12 qt stock pot over medium-high heat, add flour and oil. Continuously stirring until the roux reaches a dark reddish brown color. You cannot stop stirring otherwise it will burn and you will have to start all over again. Have everything chopped and ready to go before starting so you do not risk a ruined roux.
After you have gotten your roux to the desired color, you are going to mix in the "Holy Trinity", a.k.a. the onion, bell pepper, and celery. Cook until wilted (only takes a minute or two). Next add shrimp, and cook for just a few minutes until they just begin to turn pink, but have not completely cooked.
Turn heat down to low and add 8-10 cups water to the roux, 2 cups at a time. You can decide how much water you would like to add. A traditional gumbo should be a little less thick then a bisque, but if you prefer it to be a little soupier, add more water. Now, in a separate pan, sauté the okra with a little Pam until it is soft, and add it to the gumbo. Next add the additional meats (sausage, chicken, or alligator) you have chosen. Also add tomatoes, garlic powder, Slap Ya Mama, and Tabasco. Make sure your gumbo does not come to a boil. At this time you can add more water if your rue is too thick.
Cook for 1 hour on very low then turn off and while it's still hot add both crab and oysters and place lid back on and let sit for a while until the oysters and crab meat cook (about 10-15 minutes depending on the size of your Oysters). Check your seasonings and adjust accordingly. Serve over rice.
Notes
Notes on this recipe: I have written the recipe below, but the great thing about Gumbo is that it can be anything you want it to be. Shrimp, Oysters, Sausage, Crab Meat, Chicken, or Alligator...or any other meat you can get your hands on. In the recipe it states that things like Sausage, Chicken, and Alligator should be slightly pre-cooked. Meaning that you should have it cooked partly before adding it, and let it finish cooking in the Gumbo. Things like crab meat or oysters should be added at the very end, since they cook fast and are easy to over cook. You can also adjust any seasonings to your liking. We like it hot, but below I have left it at what we consider to be mild. Season along the way so you do not end up with too spicy of a Gumbo. And lastly, this makes a very large batch of Gumbo....probably enough for 8-10 people (depending on if someone eats 3 bowls like my Dad did). You can size down the recipe, or like my Granny does, just freeze it! It freezes wonderfully in a Ziplock freezer bag. And whenever you are ready for gumbo, just let thaw in the refrigerator and reheat on the stove!
Nutrition Information:
Yield: 6
Serving Size: 1
Amount Per Serving:
Calories: 1237
Total Fat: 56g
Saturated Fat: 7g
Trans Fat: 1g
Unsaturated Fat: 44g
Cholesterol: 778mg
Sodium: 3717mg
Carbohydrates: 70g
Fiber: 5g
Sugar: 7g
Protein: 109g