This recipe for Granny's "Gulf" Gumbo is an easy gumbo recipe loaded with shrimp, crab, oysters, and your choice of sausage, chicken or alligator! It's the perfect filling recipe for a comforting family dinner.
If you enjoy this soup recipe you should also try my Rosemary Ham Bean Soup or my Roasted Poblano Chicken Cauliflower Soup.
Granny's Gumbo
This recipe is for my Granny's gumbo. My grandmother was born and raised in Louisiana and this is her famous gumbo recipe. I followed her around the kitchen the last time I visited writing down and measuring everything as she added it it to her gumbo pot!
This recipe does require a roux. If you have never made a roux, I promise it is easy to make. It is equal parts of fat and flour, that you cook on the stove until nice and brown. Just follow the directions and you will be fine!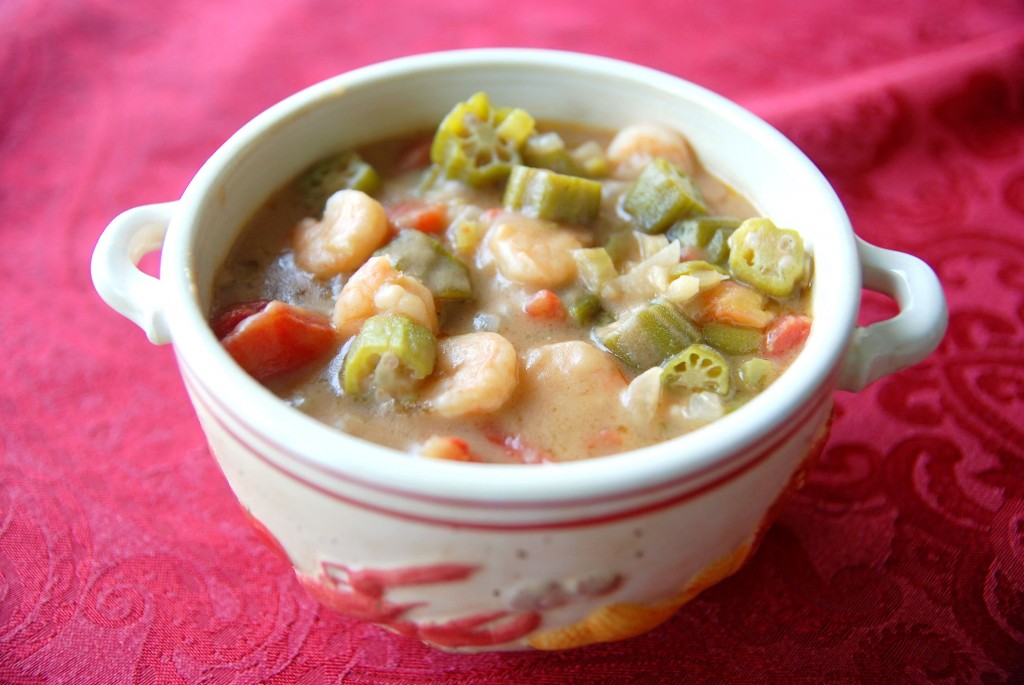 This Easy Gumbo Recipe Has Been In My Family Forever
My Granny has been making this recipe forever. Ok, so maybe not forever, but for as long as I can remember…and as long as my Mom can remember…so a long time ;-)
Granny's "Gulf" Gumbo
This recipe for Granny's "Gulf" Gumbo is an easy gumbo recipe loaded with shrimp, crab, oysters, and your choice of sausage, chicken or alligator! It's the perfect filling recipe for a comforting family dinner. 
Ingredients
1

large Vidalia onion

,

chopped

1

large green bell pepper

,

chopped

1 ½

cups

celery

,

chopped

16

oz

frozen cut okra

,

precook until soft (or fresh if you are as patient as my Granny)

1 14 ½

oz

can whole peeled tomatoes

,

chopped

4

lbs

shrimp

,

cleaned

1 ½ to 2

cups

flour

1 ½ to ¾

cups

vegetable oil

,

Do not do 1:1 ratio like "traditional" rouxs. It will make a greasy Gumbo

1

lb

crab meat

8

oz

oysters

andouille sausage or chicken or alligator

,

pre-cooked, roughly chopped

3

tablespoons

garlic powder

4-5

tablespoons

slap ya mama

5

tablespoons

Tabasco sauce
Instructions
The hardest part of a good gumbo is the roux. After that, it should be pretty easy. Using a 12 qt stock pot over medium-high heat, add flour and oil. Continuously stirring until the roux reaches a dark reddish brown color. You cannot stop stirring otherwise it will burn and you will have to start all over again. Have everything chopped and ready to go before starting so you do not risk a ruined roux.

After you have gotten your roux to the desired color, you are going to mix in the "Holy Trinity", a.k.a. the onion, bell pepper, and celery. Cook until wilted (only takes a minute or two). Next add shrimp, and cook for just a few minutes until they just begin to turn pink, but have not completely cooked.

Turn heat down to low and add 8-10 cups water to the roux, 2 cups at a time. You can decide how much water you would like to add. A traditional gumbo should be a little less thick then a bisque, but if you prefer it to be a little soupier, add more water. Now, in a separate pan, sauté the okra with a little Pam until it is soft, and add it to the gumbo. Next add the additional meats (sausage, chicken, or alligator) you have chosen. Also add tomatoes, garlic powder, Slap Ya Mama, and Tabasco. Make sure your gumbo does not come to a boil. At this time you can add more water if your rue is too thick.

Cook for 1 hour on very low then turn off and while it's still hot add both crab and oysters and place lid back on and let sit for a while until the oysters and crab meat cook (about 10-15 minutes depending on the size of your Oysters). Check your seasonings and adjust accordingly. Serve over rice.
Notes
Notes on this recipe: I have written the recipe below, but the great thing about Gumbo is that it can be anything you want it to be. Shrimp, Oysters, Sausage, Crab Meat, Chicken, or Alligator...or any other meat you can get your hands on. In the recipe it states that things like Sausage, Chicken, and Alligator should be slightly pre-cooked. Meaning that you should have it cooked partly before adding it, and let it finish cooking in the Gumbo. Things like crab meat or oysters should be added at the very end, since they cook fast and are easy to over cook. You can also adjust any seasonings to your liking. We like it hot, but below I have left it at what we consider to be mild. Season along the way so you do not end up with too spicy of a Gumbo. And lastly, this makes a very large batch of Gumbo....probably enough for 8-10 people (depending on if someone eats 3 bowls like my Dad did). You can size down the recipe, or like my Granny does, just freeze it! It freezes wonderfully in a Ziplock freezer bag. And whenever you are ready for gumbo, just let thaw in the refrigerator and reheat on the stove!
Nutrition
Serving:
1
,
Calories:
1237
kcal
,
Carbohydrates:
70
g
,
Protein:
109
g
,
Fat:
56
g
,
Saturated Fat:
7
g
,
Polyunsaturated Fat:
44
g
,
Trans Fat:
1
g
,
Cholesterol:
778
mg
,
Sodium:
3717
mg
,
Fiber:
5
g
,
Sugar:
7
g
Categories:
This post may contain affiliate links. Read my disclosure policy.