You only need 4 ingredients to make these easy Lemon Mousse Jello Cups! Layers of lemon jello and lemon mousse combine to make this amazing no-bake dessert!
Want more amazing lemon desserts? Try my double thick lemon bars, gorgeous layered Strawberry Lemon Trifle and Lemon Lava Cake!
Lemon Mousse Jello Cups
Spring has definitely sprung here in Florida! The temps are climbing every day. This is when I love to make some no bake treats for our family. These Lemon Mousse Jello Cups are a treat that is hard to beat. The kids love them, and they take just a few easy ingredients to put together!
These Lemon Mousse Jello Cups have a layer of classic lemon jello on the bottom with am extra creamy top layer of sweet Lemon Mousse! Top it all off with some whipped cream or cool whip for a light and refreshing treat.
It doesn't matter if you are serving these for a shower, afternoon pool party or an after school snack with the kids, they are sure to be a hit. My kiddos love to make them almost as much as they love to eat them! Below you will find all my tips and tricks on how to get those perfect angled layers to make this little lemon treats as pretty as they are tasty!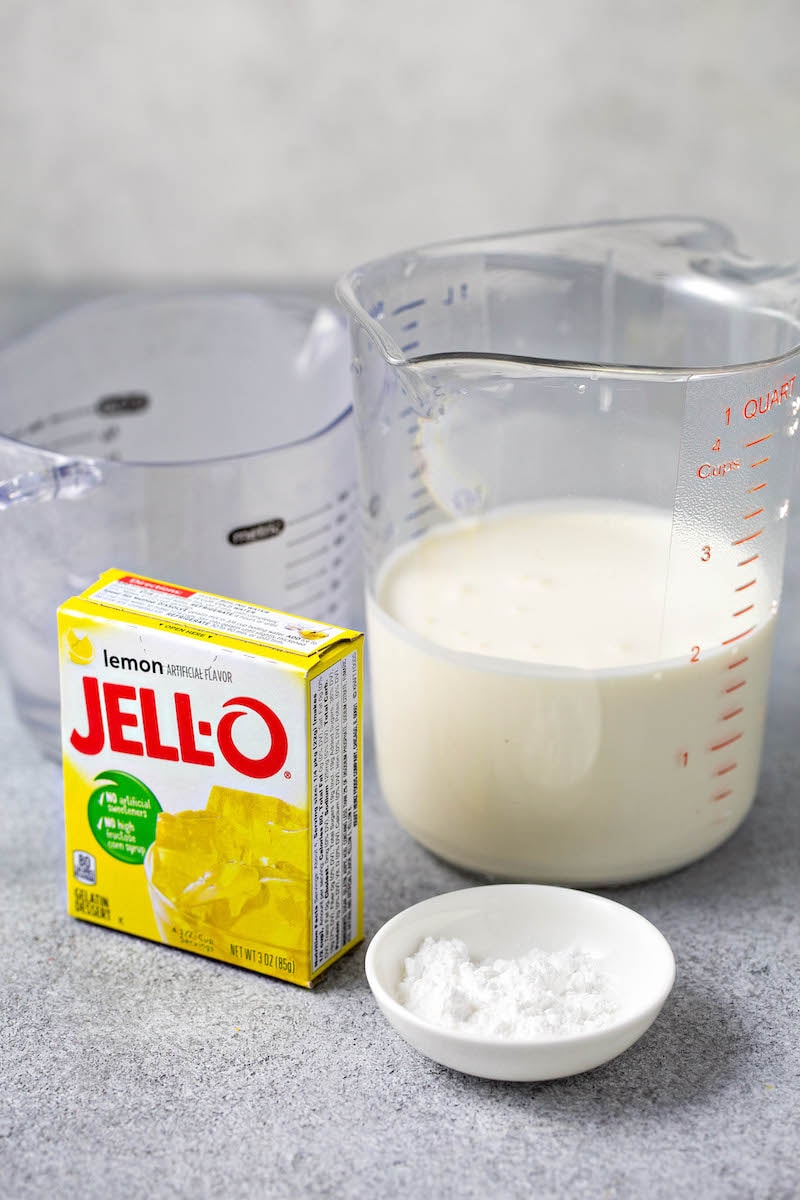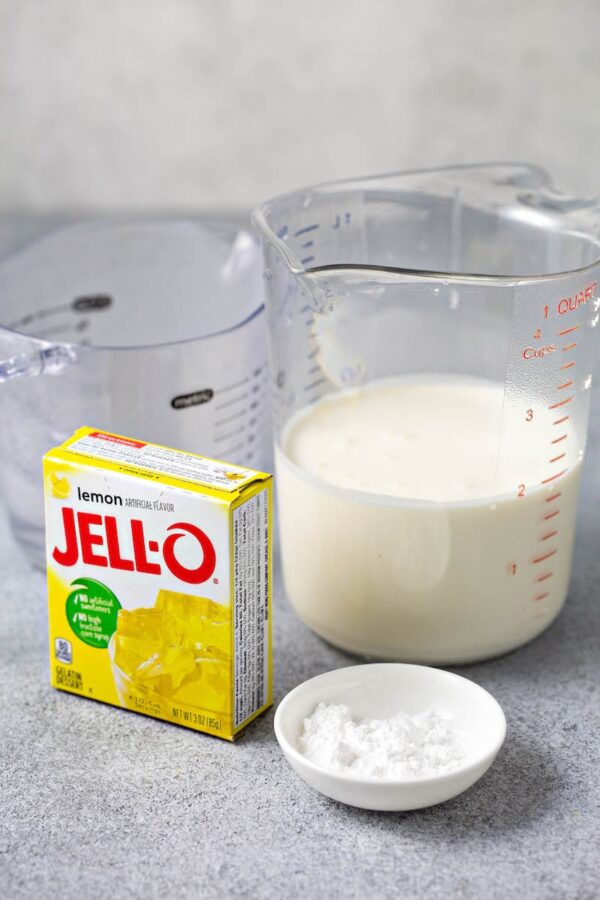 Just 3 Ingredients!
What makes this recipe even better is that it is made with just THREE ingredients! (I don't count water since we all have that!)
Lemon Jello
Heavy Whipping Cream
Powdered Sugar
Water
This is such a versatile recipe. You can also use any flavor of jello your heart desires. For instance, you can use cherry jello and to amp that up a bit, throw in some almond extract! You could even do raspberry jello and lemon extract.
Sometimes, I like to include fresh fruit in the jello – for the lemon jello, strawberries or raspberries are great options! Seriously, there are so many great options for this easy dessert! Just use your imagination!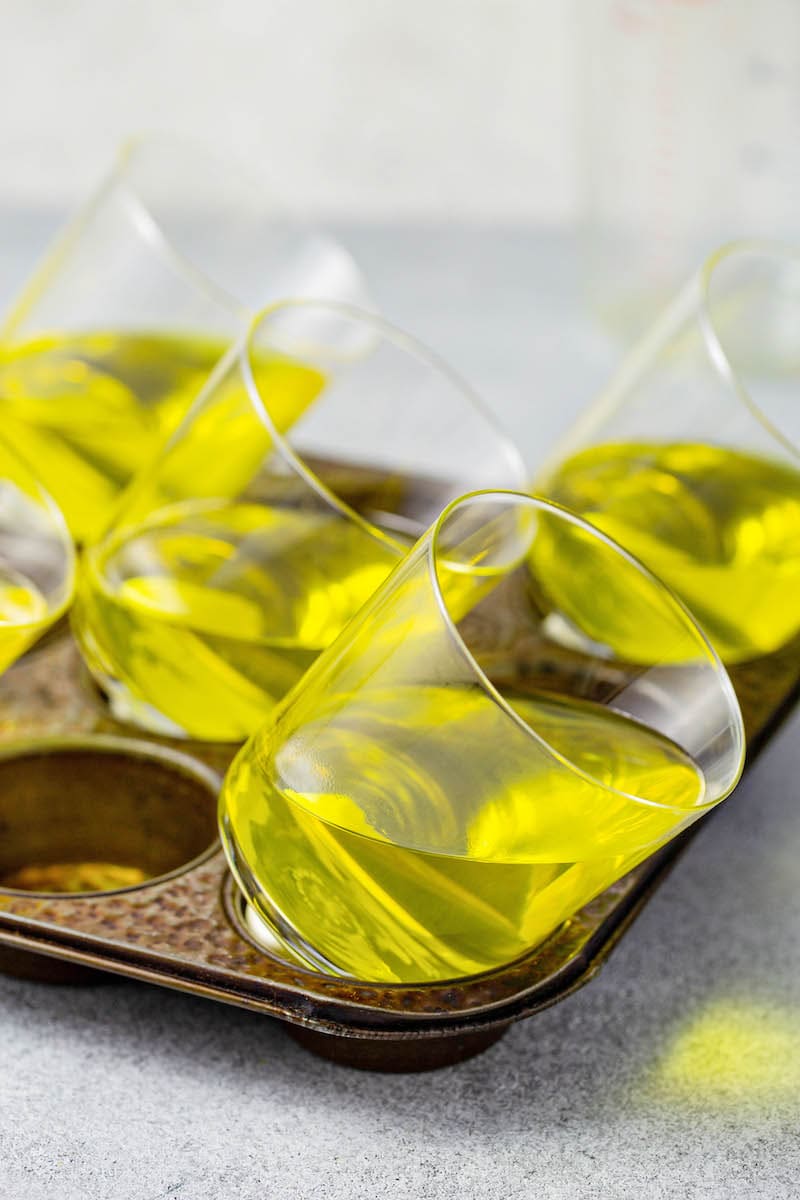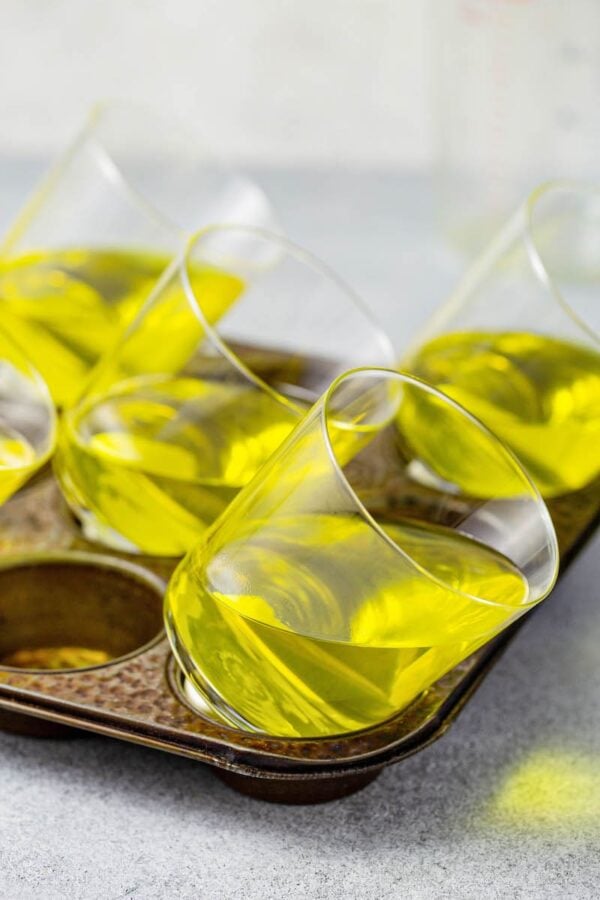 How to make Jello Cups
Make lemon jello according to package directions and divided it evenly in small individual cups.
In order to make the jello cups angled as pictured, use a muffin tin and standard size marshmallow to tilt your cup and keep it in place. Then, make the jello according to the package directions and let the cups chill in the fridge until completely firm.
For the Lemon Mousse Layer:
Dissolve jello in a small bowl with boiling water and allow to cool in fridge for a few minutes. Do not let it start to form into solid jello.
Beat cream and powdered sugar until stiff peaks begin to form.
Add cooled jello mixture and beat until well combined and fluffy!
Spoon mousse into glasses and set onto of jello.
Chill your finished Lemon Mousse Jello Cups in the fridge until you are ready to serve!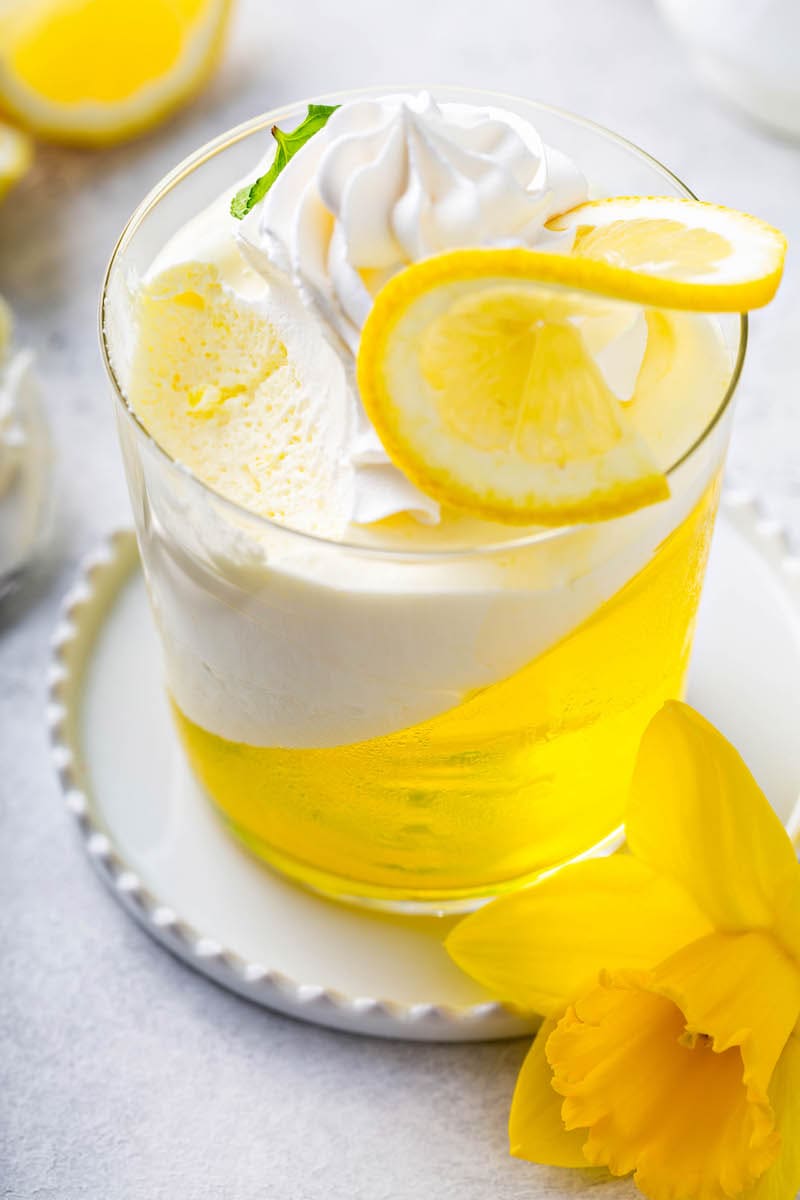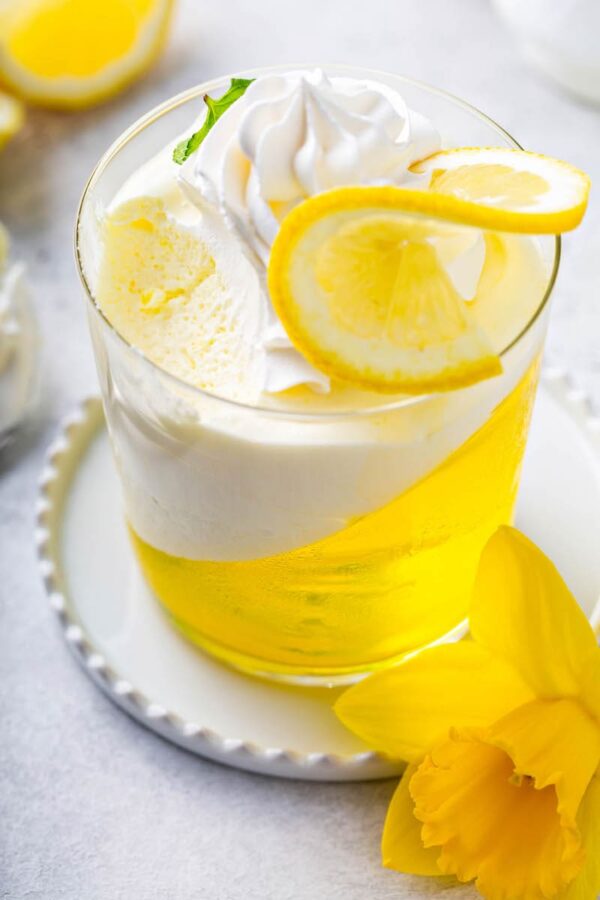 Can these be made ahead?
Yes! These Lemon Mousse Jello Cups are a great make ahead recipe! They can be made up to 3 days in advance. I strongly advise that you cover each individual cup with saran wrap to help keep them as fresh as possible.
If you want to serve them with whipped cream and a lemon slice, I recommend adding these right before serving!
Can I make these jello cups low carb with sugar free jello?
Absolutely! These are a great dessert to make low carb! Just substitute regular jello with sugar free jello and skip adding the powdered sugar to the mousse. These also make great fat bombs if you are on a Keto diet. They make a great little sweet treat when you have a craving. Definitely satisfied your sweet tooth!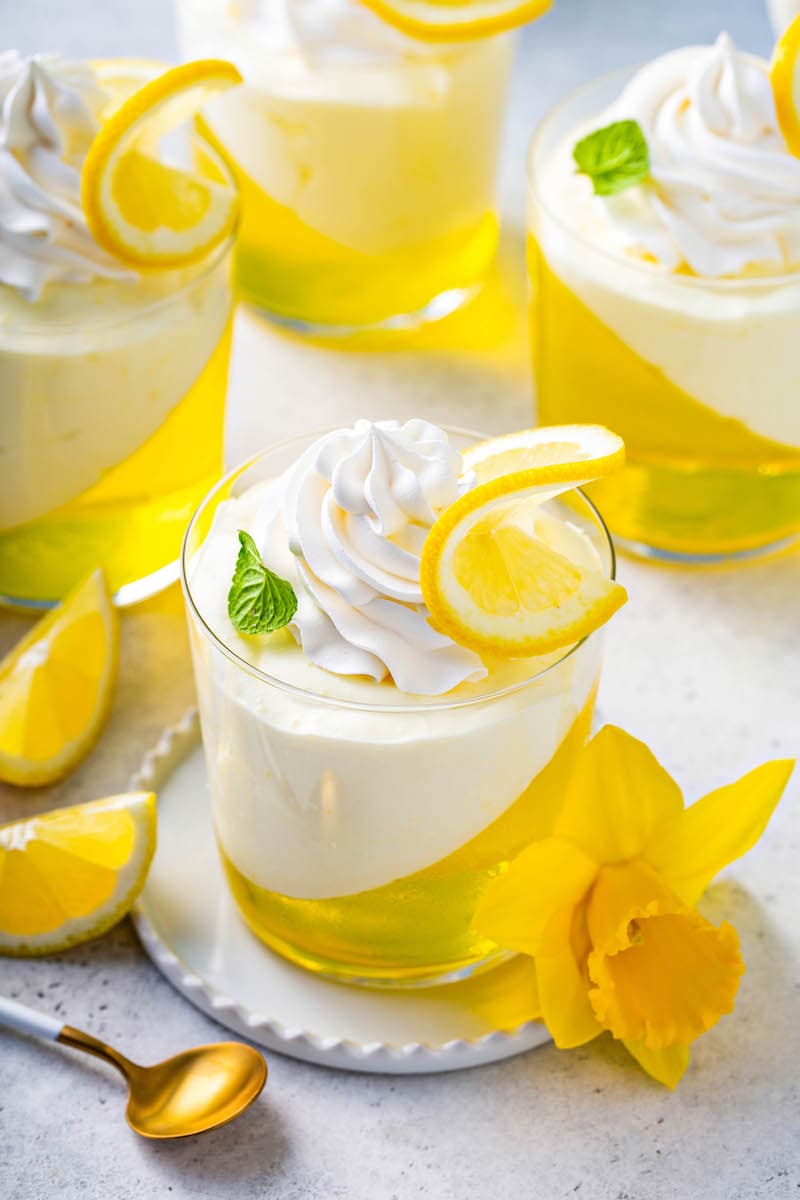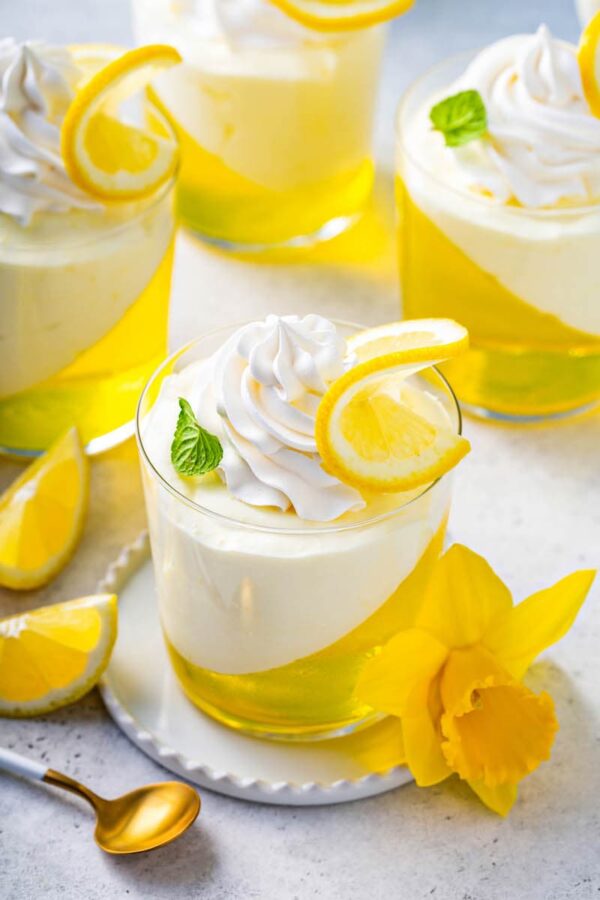 This is the perfect dessert to make on a hot day. With the weather warming up, it will help keep your kitchen cool since you don't have to use your oven! They also make a beautiful addition to a bridal or baby shower – especially since you can make them a couple of days in advance!
These Lemon Mousse Jello Cups take just a few minutes of time in actual work and the rest of the time you are waiting for the jello to firm up. Our kiddos also really love this recipe — to help make and eat. We make it at least once a month and the girls always help me put them together. We make several different versions based on what flavors or colors they want to try!
Head on over to Dixie Crystals for the full recipe I developed for them by clicking the button below:
This post may contain affiliate links. Read my disclosure policy.