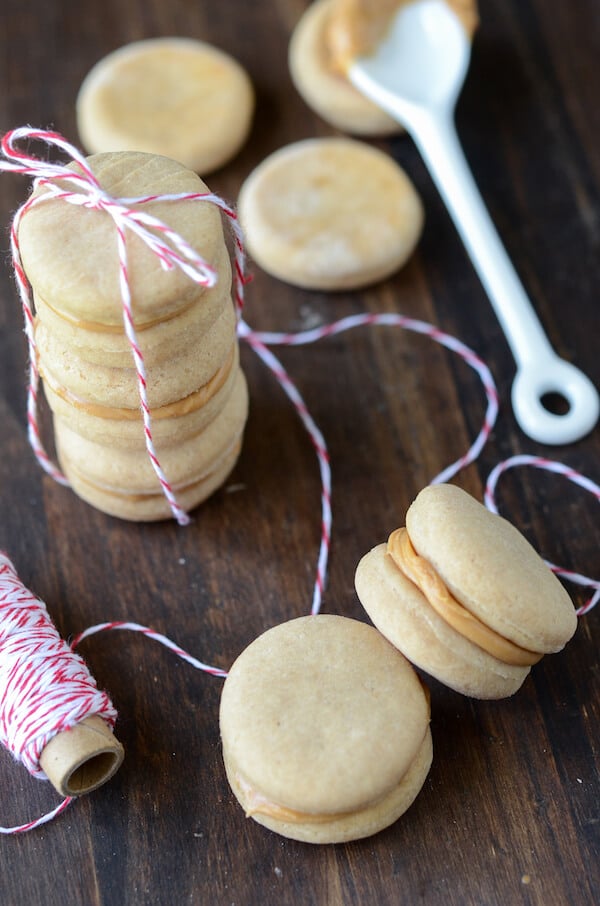 I don't have kids in the traditional sense, but I do have Brody (and the cats). And as my Granny likes to say, Brody thinks he is my baby. Considering how spoiled he is, it isn't much of a surprise.
Jorge and I got Brody very early in our relationship. Brody was 4 months old and had ears that were bigger than him. After looking at his paperwork, we discovered that Brody was actually born on our first date and that his mother was named Driving Miss Daisy.
At the time that was my nickname. I was driving around in a big white Cadillac DeVille. If you don't know much about Cadillacs — it's the land yacht of cars and couldn't fit in a normal parking spot. Plus, I'm pretty sure no one under 50 drives them (I was 19 at the time). I thankfully only had to drive it for a couple of months, but the name stuck.
We like to think that Brody was destined to be ours…and here we are 7 years later and I'm still spoiling him rotten.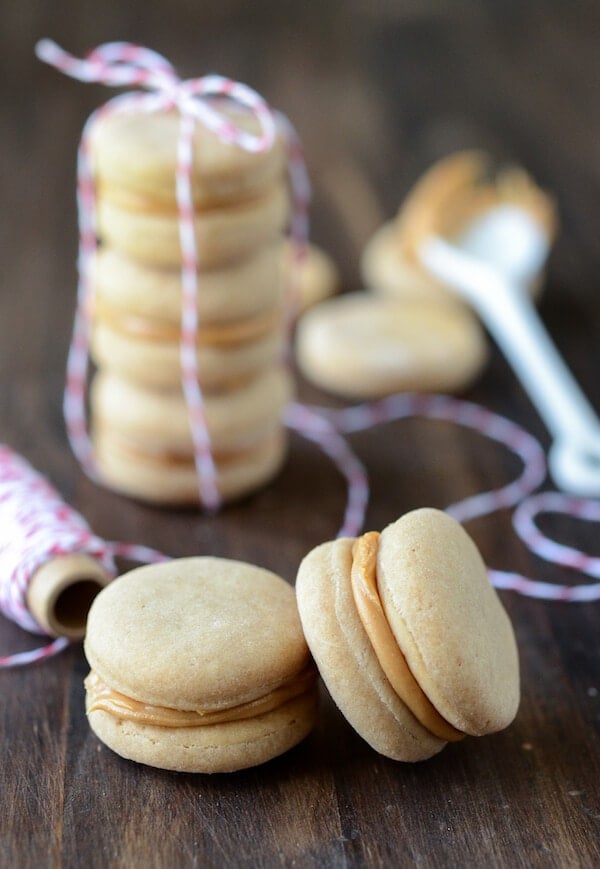 This is my third version of treats I have made just for Brody. He is a fool for peanut butter. You can not even open up the jar without him loosing his mind! So while I have made three different treats…they are all peanut butter! You have the Peanut Butter & Oat Bones with Frosting & Sprinkles, the Banana Peanut Butter Cookie and now these Peanut Butter Sandwiched Dog Treats.
I made these with the dog treats you find at Petco in mind. You know the ones they have in those buffet style treat bins? They make these sandwich peanut butter cookies that Brody goes gaga over. I figured I could make something similar, but for a lot less money. By the way he has been gulping these down, I think they are a major success!
Yield:
32
sandwiched treats
Peanut Butter Sandwiched Dog Treats
Peanut Butter Sandwiched Dog Treats are the stuff of dreams for your furry friend. Once these homemade dog treats are out of the oven, you won't be able to keep your pup(s) out of the kitchen!
Ingredients
1 ¼

cup

flour

,

plus a little extra for cutting dough

½

teaspoon

baking powder

½

cup

creamy peanut butter

1

large egg

2

tablespoons

honey

½

cup

milk

additional peanut butter for sandwiching
Instructions
Preheat oven to 350°F. Line two baking sheets with parchment paper, set aside.

In a large bowl (or stand mixer), combine all ingredients, beating until a soft dough forms.

Dust counter with flour. Pat out dough into a large rectangle, about 1 inch in depth. Using a 1 1/2 inch circle shaped cookie cutter, cut into circles. Use all dough.

Bake for 10 to 12 minutes, or until they are a uniform color on top (as they bake, the color will actually lighten instead of darken). Transfer to a wire rack and let cool completely.

When your pup deserves a treat, smear a little peanut butter in the center of two cookies and sandwich them together!

I store these cookies without the peanut butter in the center. Then when I want to give Brody a treat, I put some fresh peanut butter in the center and sandwich the cookies together right before I hand it to him. The treats stay fresh for much longer this way (up to 2 weeks).
Nutrition
Serving:
1
,
Calories:
87
kcal
,
Carbohydrates:
10
g
,
Protein:
2
g
,
Fat:
5
g
,
Saturated Fat:
1
g
,
Polyunsaturated Fat:
3
g
,
Cholesterol:
6
mg
,
Sodium:
65
mg
,
Fiber:
1
g
,
Sugar:
1
g
Categories:
Brody says they are lip smacking good!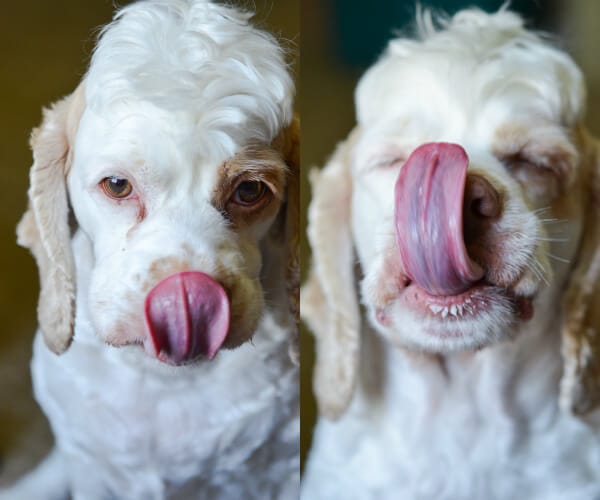 This post may contain affiliate links. Read my disclosure policy.